Hi girls. It has been a long time coming, but I am finally sharing Part I of my half marathon training guide. This has been one of the most requested posts. Clearly I am not a professional athlete, even calling myself a "runner" sounds funny. I am a self proclaimed couch potato, so trust me, if I can do it, so can you. My hope is that this post inspires you to get outdoors, go for a walk, jog or run. No one ever regrets going for a run!
"Exercise gives you endorphins.
Endorphins make you happy."
Elle Woods via Legally Blonde
Before I share all my tips and the training plan I follow, let's chat about gear. Good running gear is essential. First of all (cute) workout clothes are totally motivating, am I right? But weather appropriate gear is 100% necessary to keep you not only warm and comfortable, but also motivated to continue your fitness journey. Today, I am partnering with Backcountry to share my winter running essentials. I have been shopping there for years. In fact I bought my first Patagonia jacket from Backcountry just last year (thinking about investing in Patagonia? you can read my review in THIS post). Whether you're an outdoor enthusiast, or a regular gal like me, Backcountry has you covered with amazing selection of clothing, shoes and gear for all lifestyles.
GREAT NEWS! I AM SO EXCITED TO SHARE BACKCOUNTRY HAS AN EXCLUSIVE OFFER FOR BLUSHINGROSESTYLE READERS!!!
SAVE 15% ON YOUR FIRST BACKCOUNTRY PURCHASE WITH CODE ANNA15
VEST // LEGGINGS // SNEAKERS //HEADBAND // GLOVES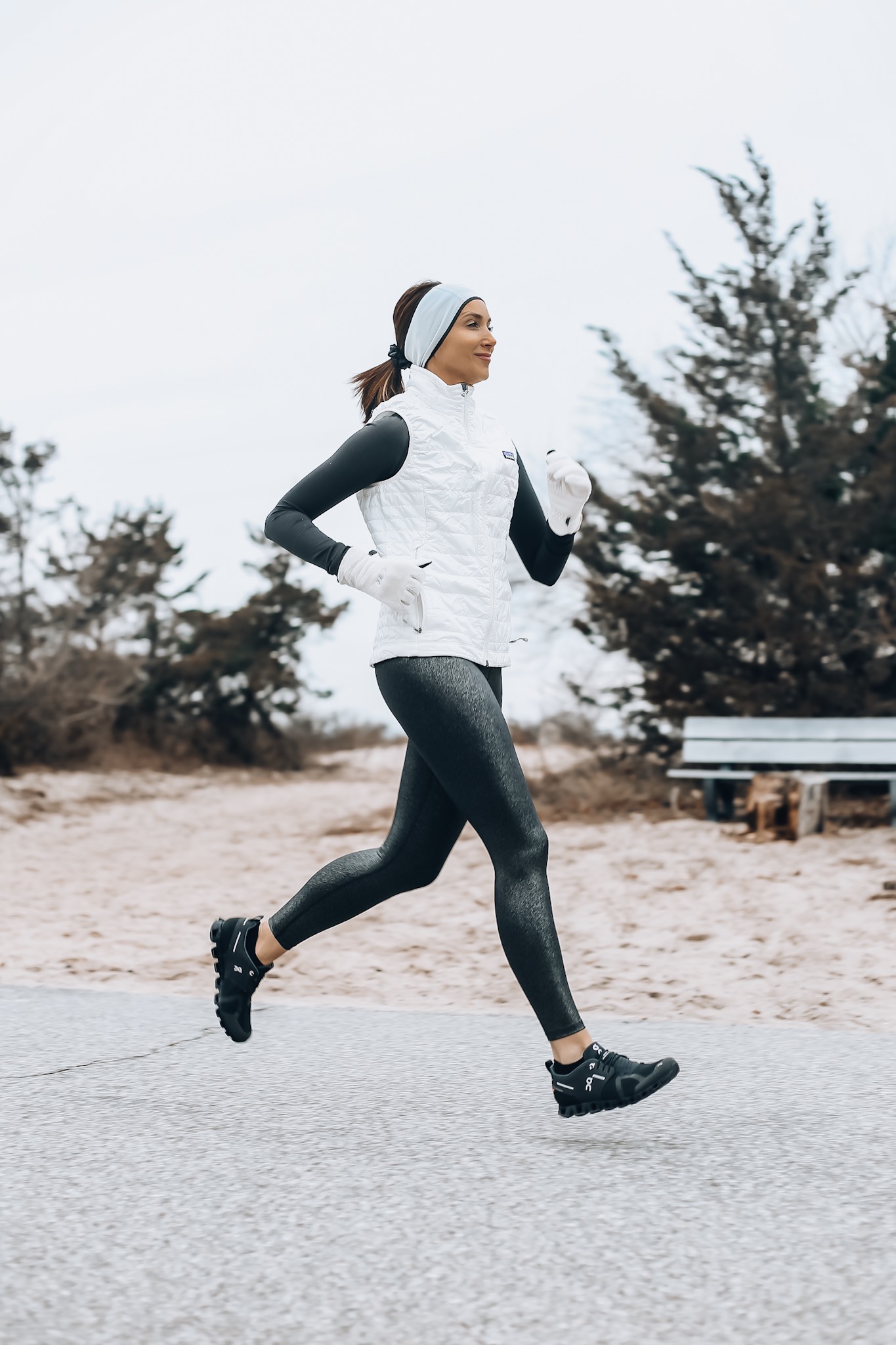 January and February are the coldest months of the year in NY. Since I plan on doing all of my long runs outside, I decided to invest in the Patagonia Nano Puff Insulated Vest. I already own the jacket and I love how light-weight, yet warm it is. The vest does not disappoint. It is just as warm, but allows easy movement of the upper body, which is ideal for running. I love that I can wear it for my runs, but it's also cute enough to wear with my everyday outfits. The fabric is wind resistant, and sheds light moisture. I am wearing size Small, it fits TTS and is available in 5 color options.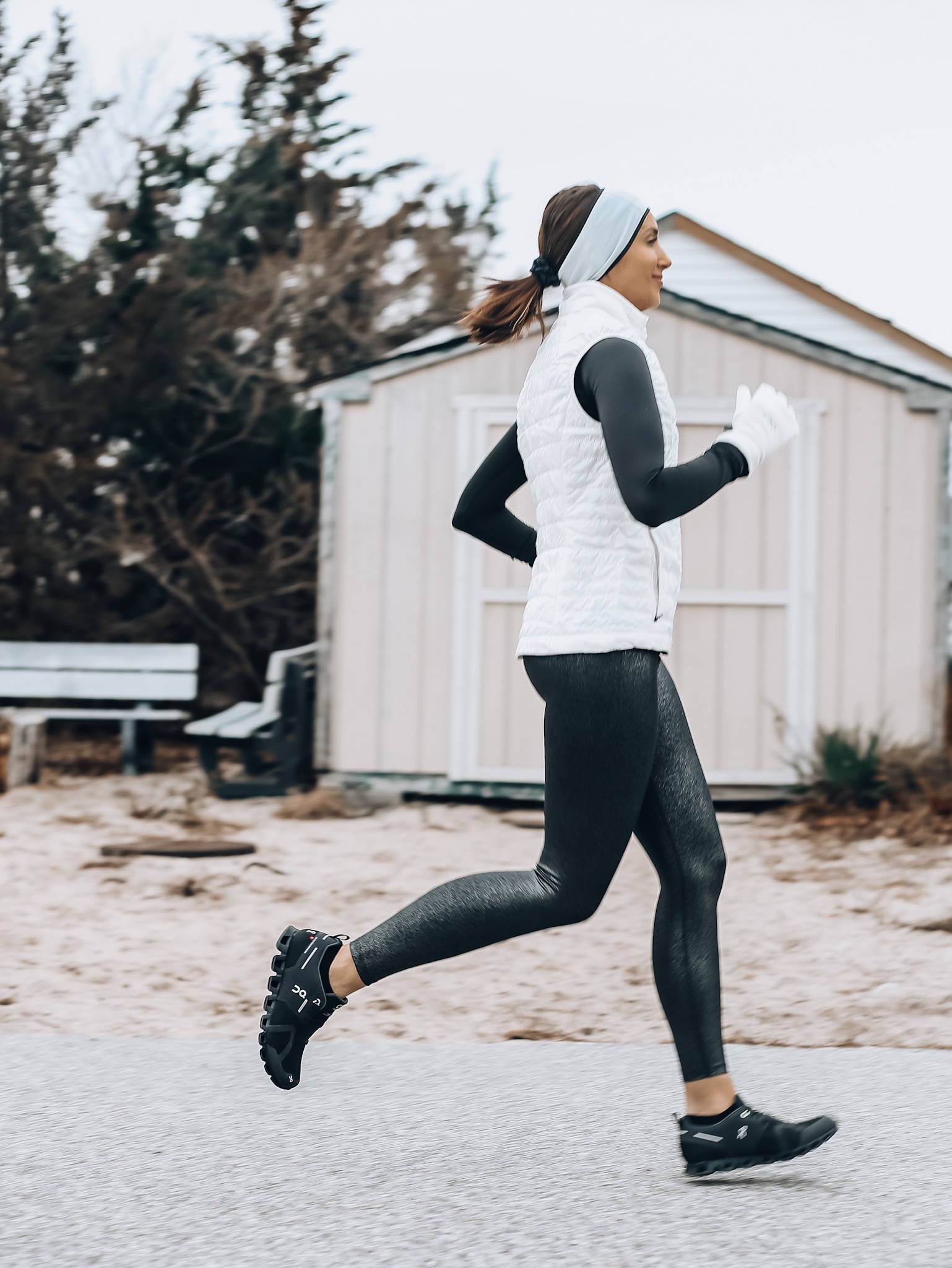 I own more leggings than I care to admit. After all, leggings are pants. But Beyond Yoga is one of my favorite brands. The leggings are comfy, high waisted and I can never resist the cute designs. How fun is the sparkly finish on these black leggings? I am wearing size Small, they fit TTS. But hurry sizes are selling out fast.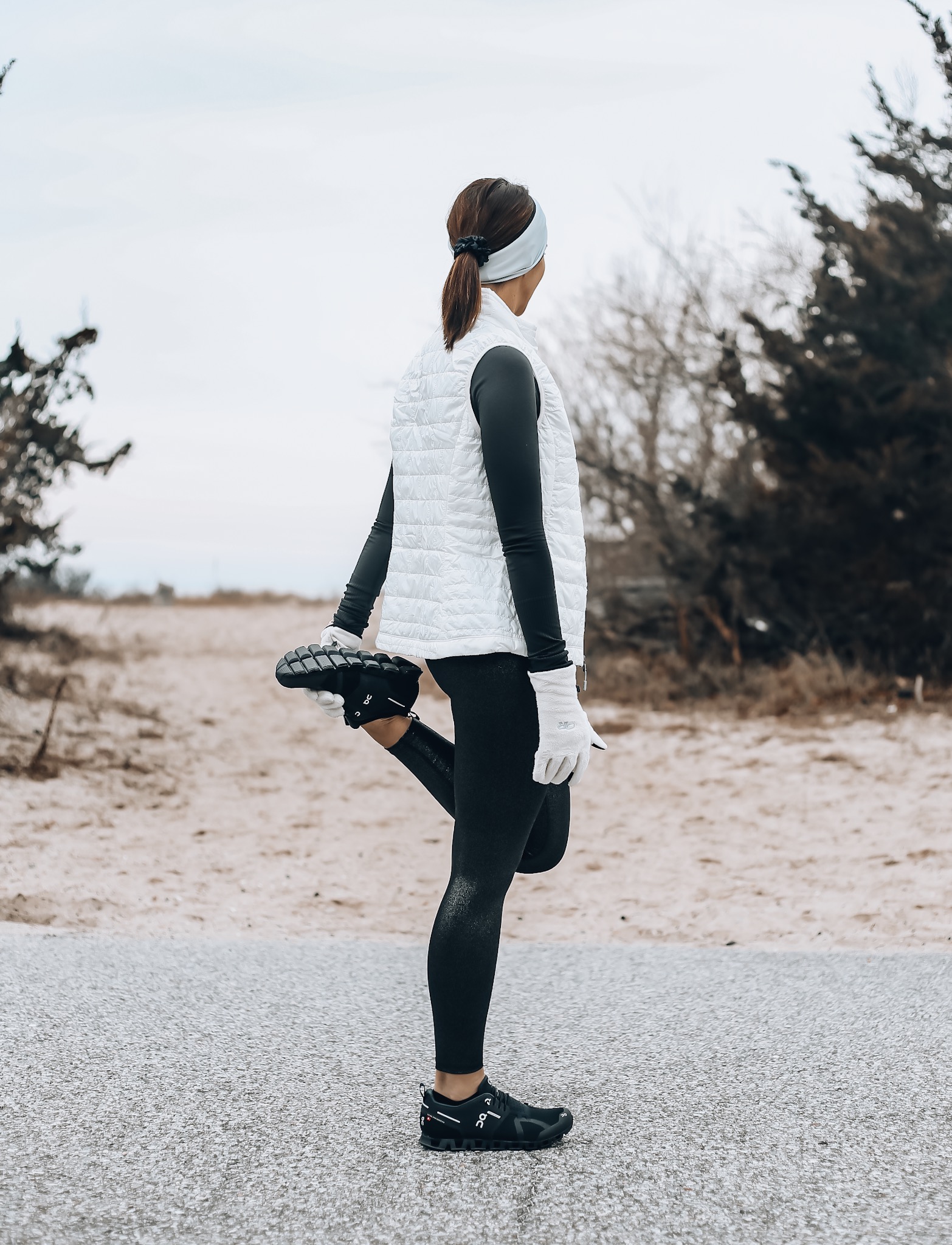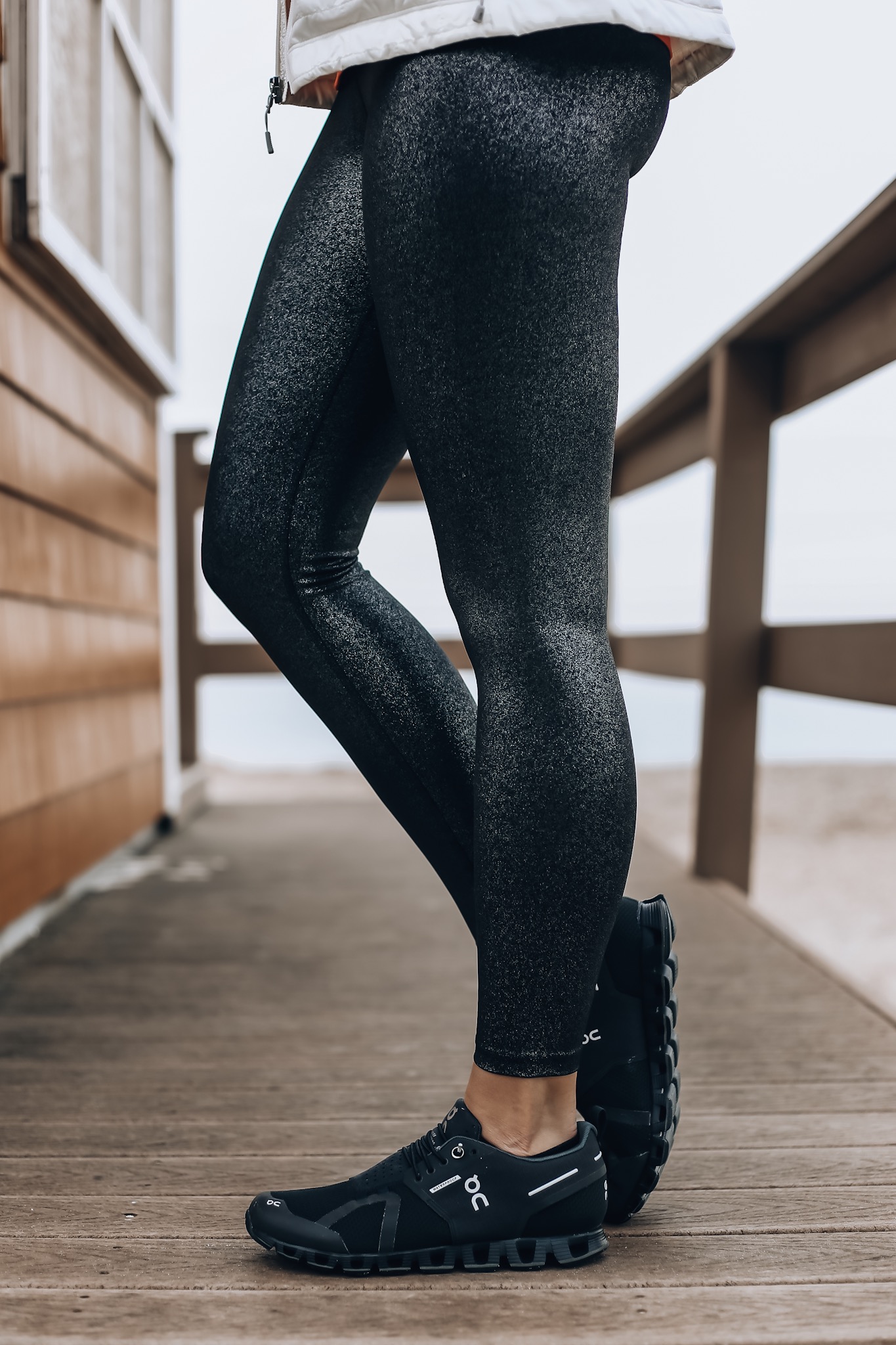 My Trusted Running Shoes
Let's talk about shoes. I have been running in ASICS for the last decade. I really love the Gel Nimbus, and buy new model every year ( I replace my running shoes every 300-400 miles). Size wise, I recommend sizing up by entire shoe size (I am 8 or 8.5 in regular shoes and 9.5 in these). Last year when I was training for the NYC marathon, I picked up a pair of the Brooks Ghost sneakers. I ended up running the race in ASICS, you can read why in THIS post, but now I do most of my treadmill runs in Brooks. I have been searching for waterproof sneakers. I am currently training for the United Airlines NYC half marathon. Even though I used do most of my winter runs on the treadmill, I feel more prepared to run outside with proper gear. I have heard amazing things about the ON Running Cloud sneakers and since they are waterproof, I thought they would be great for trail runs. I had an opportunity to test them out this week, and my first impression is that they're really light and comfy. I would totally recommend these for the weekend runs, hikes and outdoor exploring.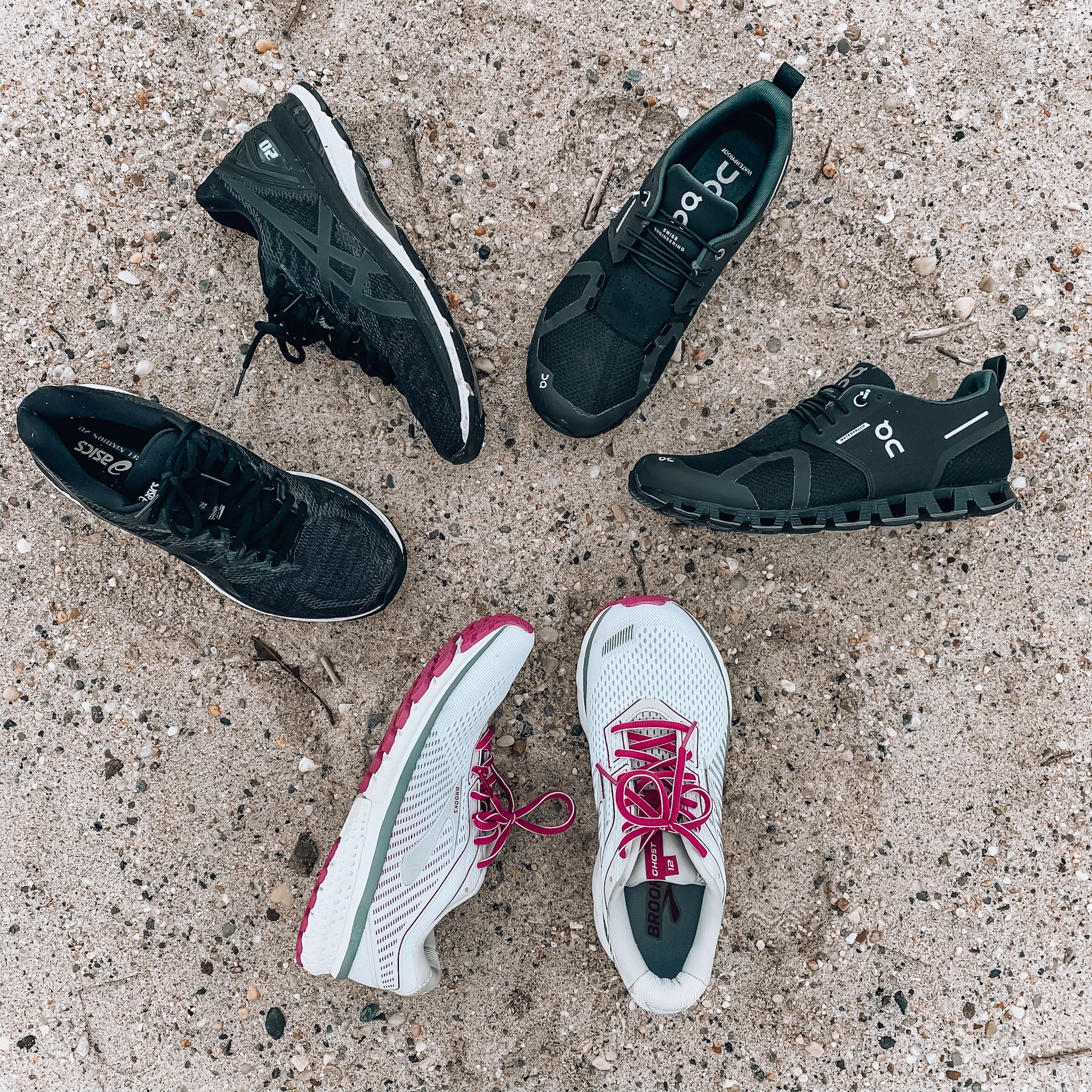 My Running Schedule – Week 1 through 5
I am currently training for the United Airlines NYC Half Marathon. It is one of my favorite races to run. It is the only race where you get to run through Times Square. It is truly an amazing experience. For my training I am following a 10 week schedule. There are so many plans available for all fitness levels. If you are a beginner you may want to consider a 12 or 15-week plan.  Since I just completed marathon training (and race) less than two months ago, I feel confident 10 weeks will give me enough time to prepare. If you are interested in the NYC Marathon, you can read about my experience and training in THIS post.
I selected a plan with 4 running days, one flex day and two rest days. The mileage increases every week. In addition to the long runs, I incorporate hills, FARTLEK,  tempo or AYF (as you feel) runs. If you plan on running a race, do your best to learn about the course (elevation gains, etc.) ahead of schedule, this way you can condition accordingly to prepare for the challenges. I often complete hill workouts on the treadmill to mimic the incline of the course.
Here is an example of my FARTLEK workout- 6 mile run: WARMUP – 2 MILES at race pace, 2 MILES FARTLEK ( 60 seconds hard , 60 seconds easy), 1 MILE at goal pace and WARMDOWN- 1 MILE at relaxed pace.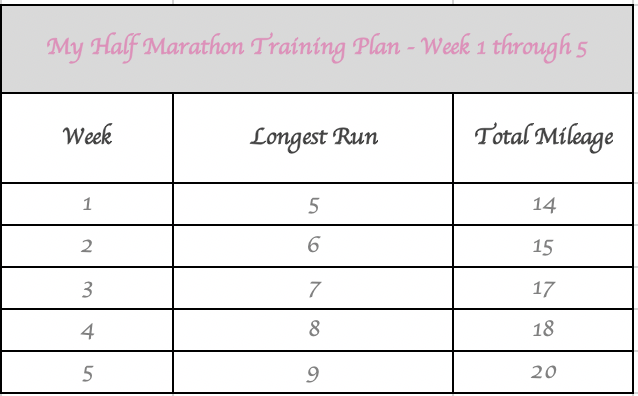 Ever since I started sharing my fitness journey with you girls, so many of you reached out and shared your running goals and experiences with me.  If you are interested in taking up running, I thought I would answer some of the most frequently asked questions. And btw stay tuned, I will be sharing part II of my running schedule in the next couple of weeks along with race day tips.
VEST // TEE // LEGGINGS // WATER BOTTLE // SNEAKERS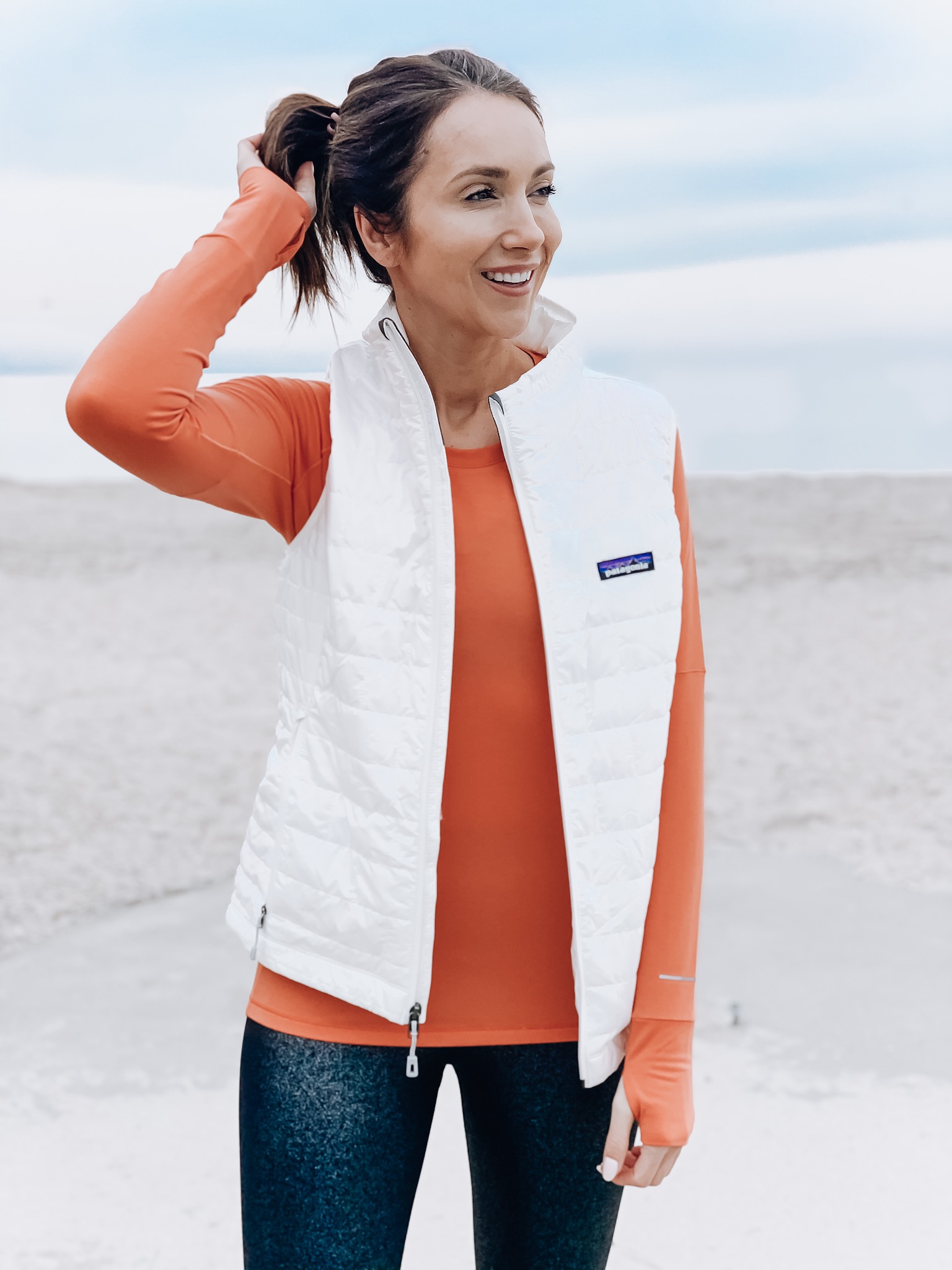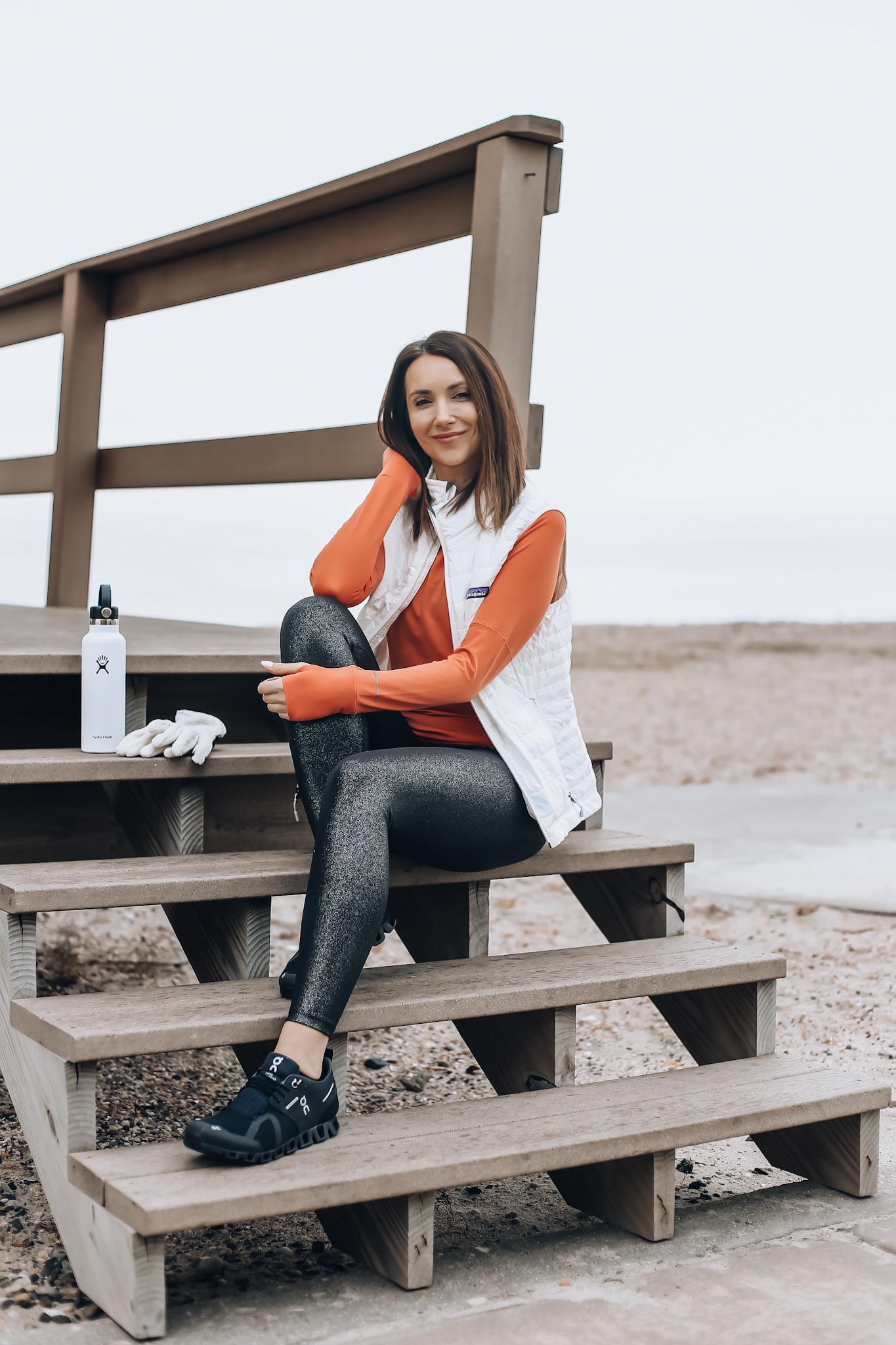 Running FAQs
How long have you been running? Have you always been a runner?
I ran my first race in 2007. Even though I have a handful of races under my belt, calling myself a runner sounds so foreign haha  I do try to sign up for at least one race a year just so I can stay motivated.
Do you use an app to train?
I do not use any tracking apps. I have purchased several running plans from New York Road Runners and I follow their schedules.
How do you stay motivated?
This is the sole reason I sign up for races. As I mentioned earlier, I consider myself a couch potato. I need a goal to stay motivated snd keep going. Training for the NYC Marathon definitely helped me form better fitness habits. I trained 4 x per week for 20 weeks. Running simply became a part of my weekly routine. When you sign up for a race, it forces you to train. You cannot NOT train and show up on race day unprepared.
Any tips for making treadmill runs tolerable?
I don't mind treadmill runs at all. I completed some of the longest marathon prep runs on the tread, even my 20 mile run. The first tip I have is for you to stop saying "I hate treadmill", "It's so boring", "This will be awful". It would be an equivalent of an athlete walking onto the playing filed assuming the worst! You can't win that way! Change your mindset – treadmill gives you security (safe environment, no cars , no strangers), you control the speed and incline and the bathroom is always near by. Isn't that great?
For all my tread runs, I stream digital running classes via Peloton app. I choose classes based on length and / or goal (race prep, HITT, fun run). I find running along a trainer is a game changer – you don't think, you just run! If running classes are not your thing, I recommend streaming your favorite tv show or movie.
How do you fight the mental urge to stop?
It's a tough one! I know that once I stop once, it will be all down hill from there – I will continue stopping until run is over. I often pick a target i.e. run to the next traffic light, pass the runner in red shirt, etc. – then set another target right after – just to keep going. I remember during my marathon training runs, I would dedicate certain parts of the run to a friend. There was someone in my life going through hardships, I would tell myself " If I can crest that hill, it will give her strength".  As the Imagine Dragons sing – WHATEVER IT TAKES! Remember pain is momentary, the pride will last much longer.
What motivated you to sign up for marathon // half marathon?
Running a marathon has been a bucket list item. I never thought I would have the courage to do it, but once I was offered the bib- I knew it was meant to be. You can read how I was accepted into the race in THIS post.
I try to do at least one half marathon a year – it is my motivation to get (or stay) in good cardiovascular shape.
Can you recommend cold weather running accessories?
Backcountry has the best selection of cold weather running gear. I just got my new gloves and they're so warm! The earband is a must in my opinion – whether it's windy or cold. This one is pretty light weight but definitely keeps your head warm.
How do you fuel on your long runs?
I drink NUUN with my water after runs. During long runs I fuel with Honey Stinger Energy chews I found these to be really gentle on my stomach. Before the run I will usually have a Honey Stinger Waffle (these are delish).
Tips for cold weather running?
I do a quick 5 minute warm up at home before I head outside
I use hand warmers in my gloves at the beginning of the run, then discard them as I run.
But as far as tips for running in the cold – right gear makes all the difference! I learned so much reading this article on Backcountry.com
If you have a question I haven't answered please feel free to email or leave the comment below. I will do my best to answer as soon as possible. Thank you so much for visiting Blushing Rose Style blog. And very special thank you to Backcountry for partnering with me on this post. As always, all views and opinions are mine.