Anna Runs A Marathon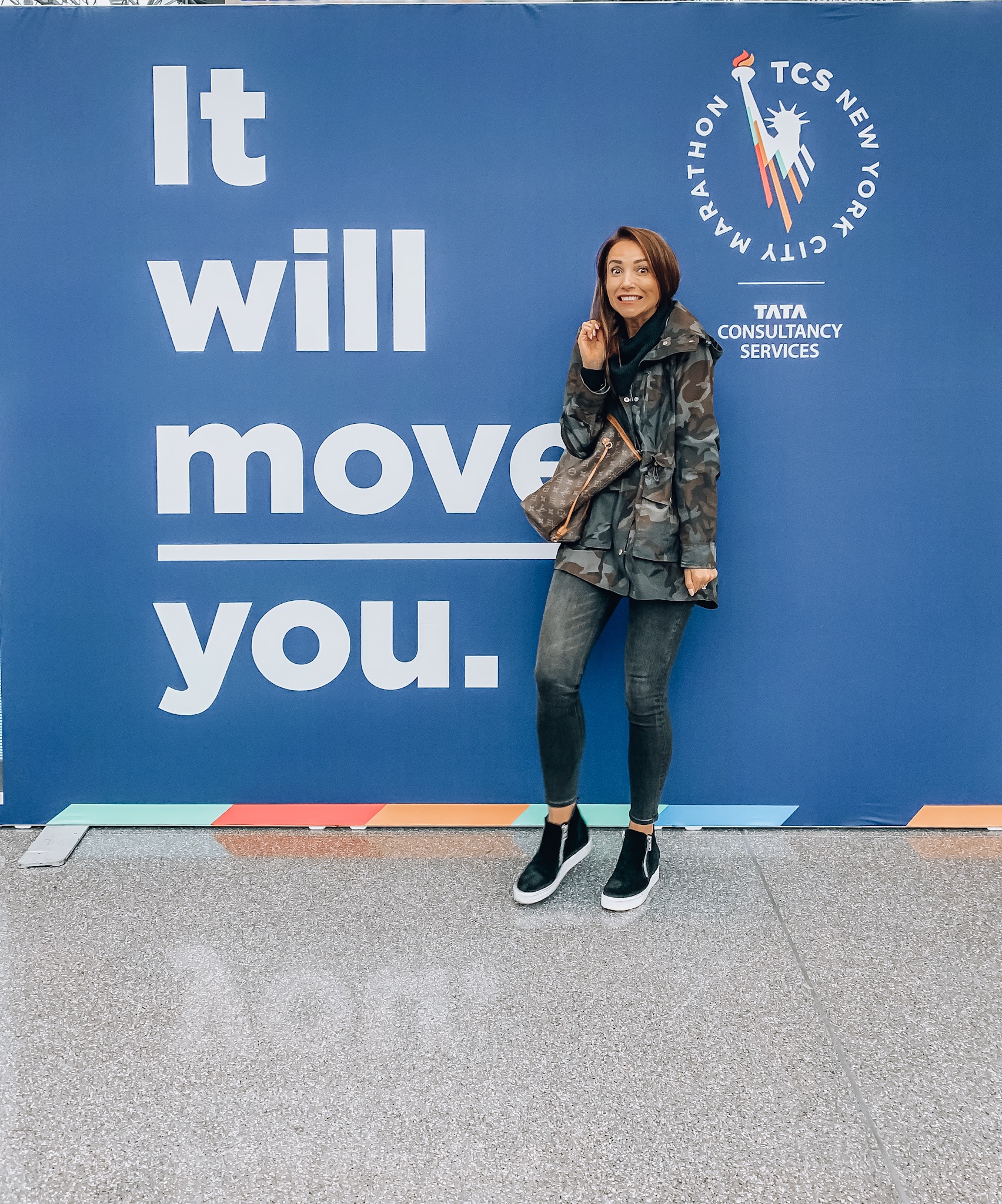 Title of this post definitely inspired by the Netflix movie ("Brittany Runs A Marathon"), I have not seen it yet, but  I can't wait to watch it once its finally available for streaming. I wanted to start this post with big thanks to The Foundation for Prader Willi research and my friend Dana. You can read more about how I got accepted to the TCS NYC Marathon in THIS post. I also wanted to thank you all for your encouragement, support and the sweetest comments, DMs and emails. From the bottom of my heart- THANK YOU! Without you all, this journey would have never happened.
Anna Runs A Marathon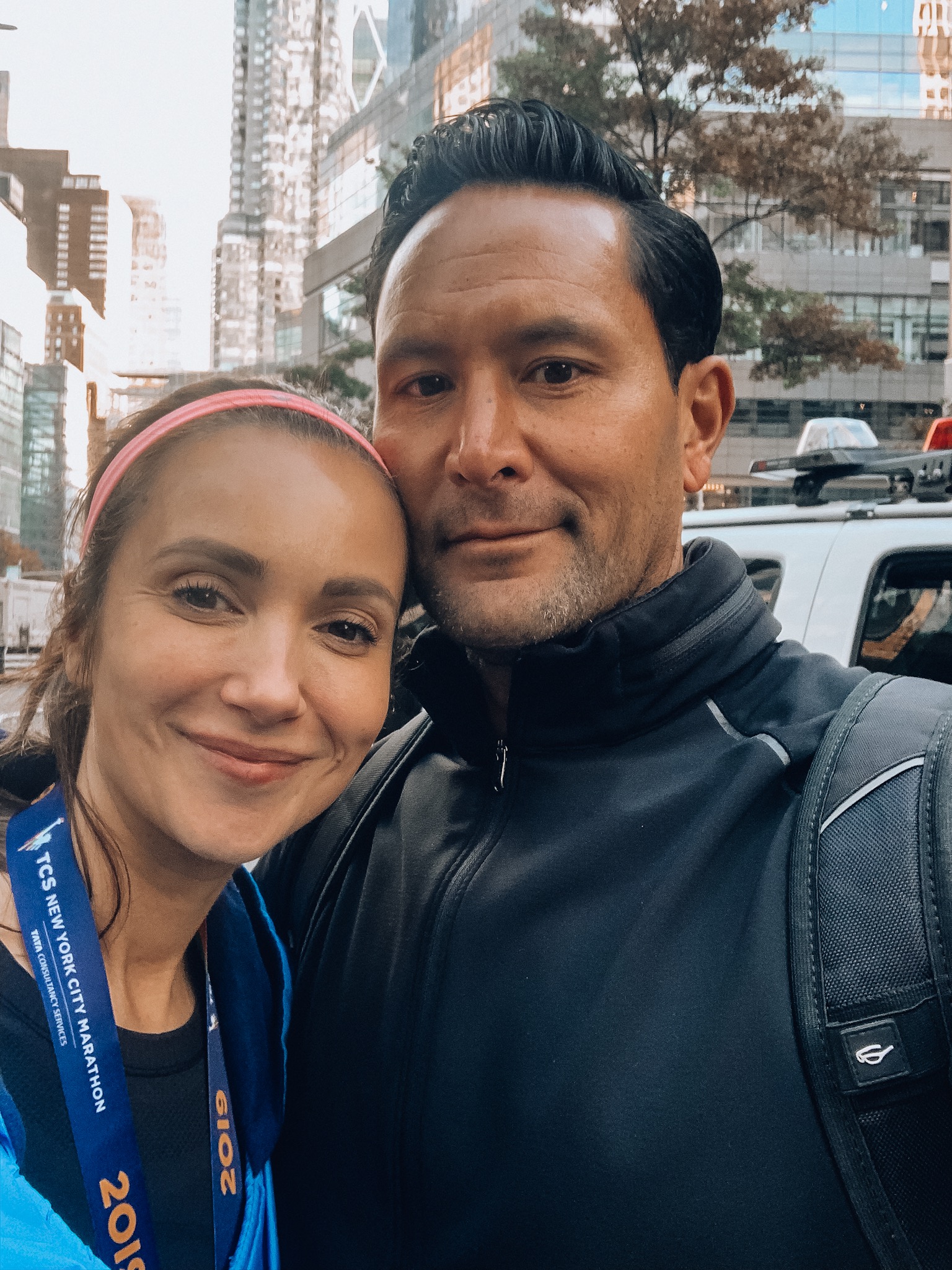 I cannot believe I get to say " I ran the NYC Marathon"! It has been a bucket list item for me, and honestly I never thought I would have the guts to take on this challenge. Now that it's over, the question remains… will I do it again? Hmm… I want to! One of the most exhilarating experiences of my life. I have been overwhelmed with the inquiries and questions about the process, the training, etc. I hope this post will address any questions, and I will include all the tips for all of you girls training for your first races/ running events.
First Impression
Everyone's experience is so different -this is my story. I truly believe when running long distances like half or full marathon it's 70% mental, 30% physical. I have ran 5 half marathons. My last one was in NYC in March. I was stressed, I didn't trust the training, I was "hate" running. I didn't allow myself to enjoy the course. Even though my time was pretty good (I finished at 1:58) it was one of the toughest races mentally. I knew I could not let myself get to that point during the marathon. Just days before the race, I got my mind straight. I decided to trust the training and convince myself I was ready to take on this challenge. I decided to run the race without the headphones, no music, just me and the crowds and views of NYC. I savored every moment, every sound and every smell along the way. I imagined the crazy crowds were there to cheer me on. It may come across over confident, but I have to tell you, the marathon was way easier than I thought it would be. I never hit the proverbial wall. NYC is known as a challenging and hilly course. Looking back, I think I was in a daze, because frankly I cannot recall any "heart break" hills or inclines. I smiled the entire time, I rocked to the music (DJs, bands playing along all 26 miIes), high-fived strangers. At one point I remember thinking my face actually hurt from all the smiling. Every time my legs felt weak or sore I kept thinking "it's just my body warming up". When I was climbing the incline of the 59th St bridge I thought of my dear friend going through personal struggles, and I pledged to climb that hill in her honor. This race for me was mind over matter. I am actually sad it's all over.
Training
I purchased a virtual trainer plan from the New York Road Runners. There are few different options to choose from. I opted for 20 week plan (to allow room for error / sickness / travel). 20 weeks is a long time, by week 17 I remember thinking " I just want the training to be over". I would say I stuck to the plan about 80% of time. We took several family vacations during that time, I got sick once and had to travel for work. At the end of the day, I can say I did my best. The training was far from ideal. I really struggled with finding local trails that would allow me to run long distances (12-20 miles) where I felt safe. I spent a lot of time running on the treadmill. In fact two of my longest runs 14 and 20 were tread runs. Best advice I have for you when running on the treadmill, either find a good movie or show, or get yourself a Peloton app. I have access to the app because we have the bike (best purchase ever btw). I took marathon prep classes, simulation runs, etc. Running with the app is so fun and it helps you get better, also prepares you for running a race.
So many of you asked for my training plan. I am hesitant to share because it was designed for me based on my running history, and this particular race. But here is the general mileage schedule. I opted for a plan with 4 running days per week.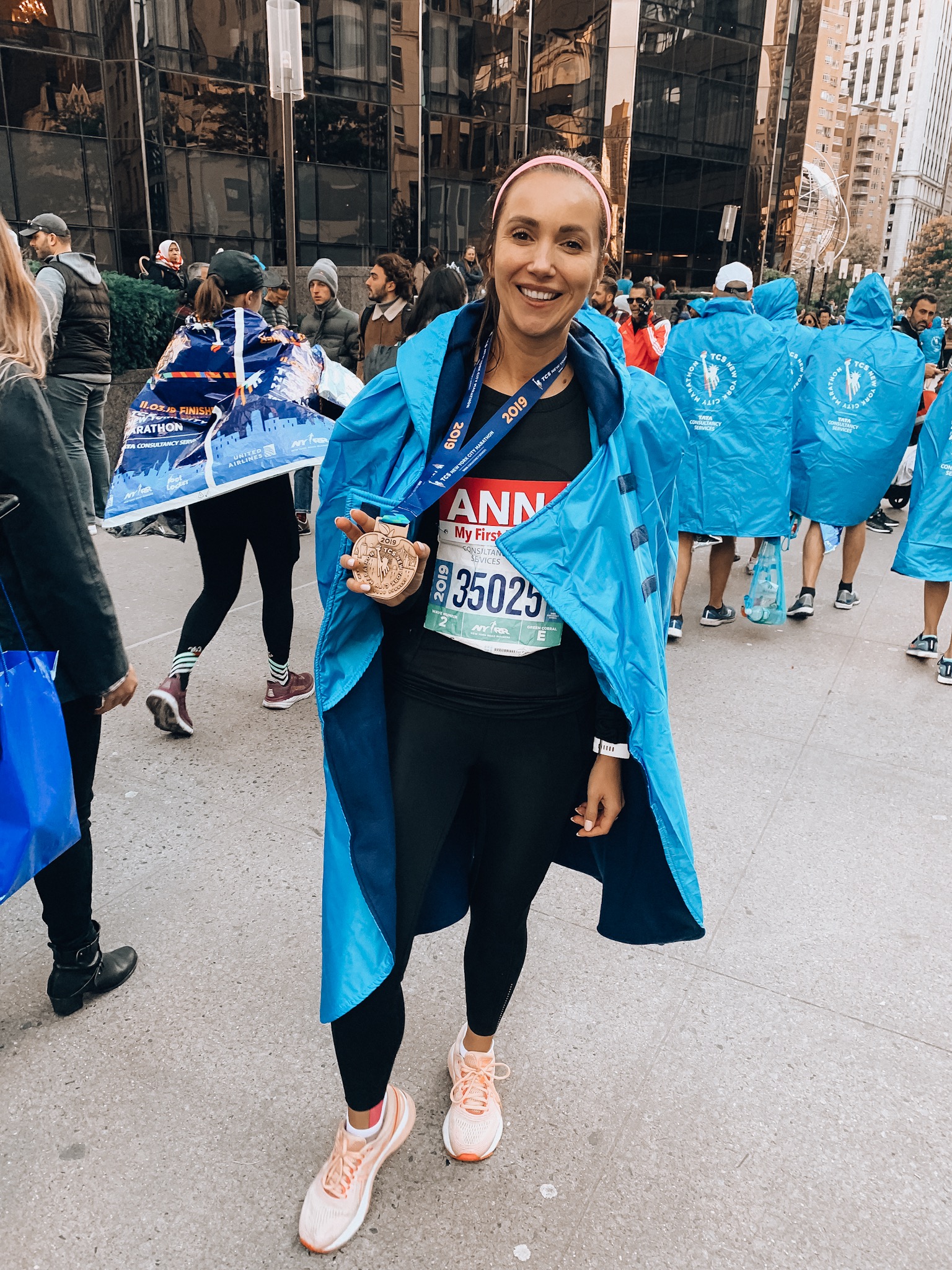 FAQ
How did you start?
One mile at a time. Sounds super cheesy,  but truly this is how you start. For me it started with a 3 mile run, and I continued adding mileage on the weekly basis.
Did you have a running coach?
No running coach, just the virtual plan from NYRR. However the plan I purchased did come with access to trainer. I could email them questions and progress anytime. Frankly, I never utilized that part of the program.
What did you do if you had pain /injuries?
I was lucky. I had no pain or injuries throughout the training until the very last week. I started feeling pain in my right ankle. I opted to skip the remaining runs and rest. I iced my ankle and used KT tape for stability. I felt great race day, but by mile 2 I felt the pain. I just kept telling myself, it is just my ankle getting used to the running. It worked. I would say with any pain or injuries, listen to your body. Sometimes the best thing you can do is rest.
Diet  / fuel?
Everyone is on their own journey. I felt overwhelmed and inadequate learning how others were adjusting their diets and lifestyle (carb loading, no alcohol, waking up at 3 am to run 16 miles before work) during this is your journey. I have to tell you, I did not make nay dietary adjustments. I think I am a pretty healthy eater overall. I follow intermittent fasting (eat for 8 hours, don't eat for 16). On my long run days I would make sure to have a good breakfast – toast with PB, protein waffles with almond butter or perfect protein bar (my fav is the chocolate chip) and Honey Stinger waffles. During my long runs I fuel with Honey Stinger Chews and drink water or NUUN.
Shoes? Did you train in the same shoes?
The best advice I can give you, is to stop by your local running store. They will be able to fit you with best running shoes for your feet and the way you run. They will also help with sizing – most people don't realize your running shoe size varies significantly from your regular shoe size.  I have always ran in Asics Gel Nimbus 21. Turns out I was running in shoes that were half size too small for marathon training. I already completed most of my training in these (even my 20 mile run). I bought new shoes 2 weeks before the race (big no no btw). I got the Brooks Ghost and I love them. However when my ankle pain appeared out of nowhere… I could not tell if that was due to new shoes not being broken into or another unrelated injury. I decided to run the race in the old shoes. When I pick up running again, I plan on wearing the Brooks.
Gear
Shoes – Asics Gel Nimbus, Belt – I trained with hydration belt, but I ran the race with this belt. Bottles can feel heavy and since there are hydration stations at every mile I didn't think it was necessary to carry my own water. Leggings – LuluLemon Fast and Free 25″ (I run all my races in these), and Lululemon Swiftly Tech  long sleeve tee.
How long did you train? How long does it take to build endurance?
20 week training plan. I was in a pretty good shape before. I started running again in January of this year and ran a half marathon in March. After the race I took some time off (maybe a month) and I started running again in April (maybe twice a week). The actual marathon training started mid June.
What was the actual marathon day like?
Long day! 4 am wakeup call. I ordered room service coffee. It may be TMI for some, but you need to do your best to do no2 before the race. It is not something you wanna be thinking about while running 26 miles. I find that coffee always helps haha  I brought my own breakfast – bread and PB. I was scheduled for 6 am bus pickup from the NY Public library (10 min walk from my hotel). I left at 5:15 am to make sure I had plenty of time. The bus ride to Staten Island took a bit over an hour. I arrived at the marathon village with 3 hour window to start time. I walked around a bit – there's food, drinks hot and cold, therapy dogs to help calm your nerves and of course 100s of porta potties. I found a spot on the ground and decided to sit it out. Time went by really fast. I chatted with few runners, ate another PB sandwich and honey stinger waffle, drank some water and before I knew it I was in my corral getting ready to start.
Tips for the day?
It is usually cold in NY in November. I had plenty of extra layers. You can shed these off right before the race starts – and everything is donated. I was wearing sweatpants over the leggings, sherpa lined sweatshirt, sherpa vest, and gloves. I brought a blanket to sit on. I also brought a pack of hand warmers – I put them in my gloves, shoes and leggings. It worked really well – I was never cold. I actually brought a ton of extras, which I shared with fellow runners. I also brought my own food (there is plenty of food in the village, I just wanted to eat something I knew worked well for me), battery pack for my phone and chapstick!!
Did you eat more while training / during the race?
While running – only the Honey Stinger Chews.
What did you listen to while training and the race?
While training  and during my outdoor runs I listened to either music or crime junkie podcast. While on the treadmill I used Peloton app (running classes). During the marathon I opted for no headphones. The crowds are so amazing, I didn't want to miss out on this experience. I had my name on my t-shirt and it was so cool because there were strangers screaming my name, cheering me on through all of the 26 miles of the race!
How to stay motivated during training?
This is a tough one, spoiler alert I am a couch potato at heart. I find signing up for the race will keep me accountable. I cannot NOT TRAIN. You can't just show up and run a race. Even on the days I didn't feel like running, I knew I had to. Something to keep in mind "you never regret working out".
Tips for getting started especially for someone just beginning to run.
Start small, one step, one mile at a time. Don't get discouraged, it takes time to build stamina. Maybe sign up for local 5k race, find a running buddy. For me, I know that even when I go on a quick 3 mile run, that time is all about me – peace and quiet.
How to fit training into your life?
As my old friend Nike would say… "just do it".  Not going to lie – training is super tough, only because it is so time consuming. It is pretty much a part time job. The guilt of " mommy is busy", "mommy has to go for a run". It is a team effort – it requires sacrifice from you, your family and often work. Having said all that it is absolutely do-able. I did plenty of 5 am runs, afternoon runs and even more midnight runs. I remember coming back home from a weekend trip with my family and jumping on the treadmill for 14 miles at about 10:30 PM. Yes …totally nuts! Some of it, because of my poor planning, some because that is the only time I could do it. Having to train while on vacation – also not so fun. But 100% worth it! If it was easy, everyone would do it!
How did you feel while running?
Amazing! I had great attitude and positive mind set. I enjoyed every moment. I could not stop smiling!
Have you lost weight?
No idea! I have not weighed myself in months. It's a lot of cardio but you also tend to eat a lot more while training. Losing weight was not a part of my goal during this journey.
Were you a runner before?
I have ran several races before including 5 half marathons. But I do not consider myself an avid runner. I truly enjoy it. But I am a couch potato by nature.
How do you feel after? what is sore? Recovery?
I feel great. My legs, knees and ankles were sore but I am back to normal just few days later.
How to run with charity?
There are a ton of options. I would recommend doing some research to find a charity you can connect with for personal reasons. It will make this race that much more special!
Was it worth it?
OMG YESSSS!!!! One of the best days of my life!
That's all I got girls. If you have any more questions fee free to leave the comment and I will add it to this post. Again, thank you so much for all the love and support.
XX,
Anna