HANDS DOWN the most important post I ever published. It has been sitting in my draft folder for a while, and I was just waiting for the right time to hit publish.
* if you're new to my blog, first of all Hello & Welcome! fyi English is my second language, this post may not be written in the perfect English, but with pure heart*
Bloggers are often called "influencers" … it had me thinking a while back. What am I influencing you to do? Other than sharing some cute outfits, great deals and sale alerts? I always wanted my blog to be more, to do more. I started sharing glimpses of my personal life on the blog and IG. Started with small things like lunch ideas for the kids, my running / fitness journey, potty training, mom struggles and Reese's IEP. But this… this is the first time, I feel I am doing something more, something that is special.
If you remember back in January, I started my fitness journey. From couch potato to running a half marathon in 10 weeks. I fell in love with running again. I felt inspired to put my name in the drawing for NYC marathon. This has been a bucket list item for me for years, and I just never had the courage to do it. But I had this feeling that 2019 was going to be my year!
Well, you may not know, but is actually not that easy to get a spot in the race. You can enter the lottery, qualify based on your time or previously completed qualifying races, you can also run for charity. I told myself, I will run if I get the lottery entry, if not – it just wasn't meant to be. The day of the drawing, I was sitting on pins and needles. I read my daily devotion… and it was so on point. It was about trusting God. We pray for things, and have to trust God will provide us with what we need. It may not be on our time, or exactly how we expect it to be… but God knows what we need, and when we need it. On that morning, this resonated with me on another level. I prayed for race entry, and there was no doubt in my mind I was getting it. Hours later, I received the dreaded rejection email. I was so disappointed, but I chose to trust God. I went home, read the same devotion one more time, and deep down I knew this was not the end of my marathon journey.
I shared my disappointment on social media. And few hours later I received a message that changed it all. God had a plan for me, it was more than checking item off the bucket list. God wanted me to do something good.
A message from a follower, a local mom. She is more than that, Dana is a superwoman. She ran the marathon three times! Now, you maybe wondering, why would anyone do something crazy like that TIMES 3! is tramadol available online https://99percentinvisible.org/ ?? Dana sits on the board of directors for a charity that helps fund very important research. Dana's younger daughter Ella has a rare, non-inherited genetic disorder called Prader Willi Syndrome (PWS). Ever since Ella's diagnosis, Dana and her family have been committed to working with Foundation For Prader Willi Research (FPWR)  and began fundraising for them. To date, they have raised more than $1.5 million from the local community. PWS is so rare, and research is expensive. This excerpt is from- soon to be published – article written by Dana.
As I learned that day, FPWR was founded by a group of moms that saw a gap in the
space. There was no research happening around PWS, and they knew that without
research we would never be able to find a cure, or any treatments, so they created it.
Together these women created a space where researchers could submit projects
pertaining to PWS and receive funding. It was then and there that our small
community began to see the change that many parents, like me, dreamed of for their
children.
I signed up, that very day on the phone to run a half-marathon and raise money for
FPWR. I knew that every penny that I raised would go to the research that my
daughter's life depended on, and so I quickly went from someone that didn't like to
ask for help, to a fund-raiser.
Dana asked me to run for Ella… every time I share this story, I cry. I get to run the New York City Marathon for a cause! My blog, our community here on social media put Dana in my life. And she was gracious enough to allow me to do something good for her daughter and many others living with PWS.
Meet Ella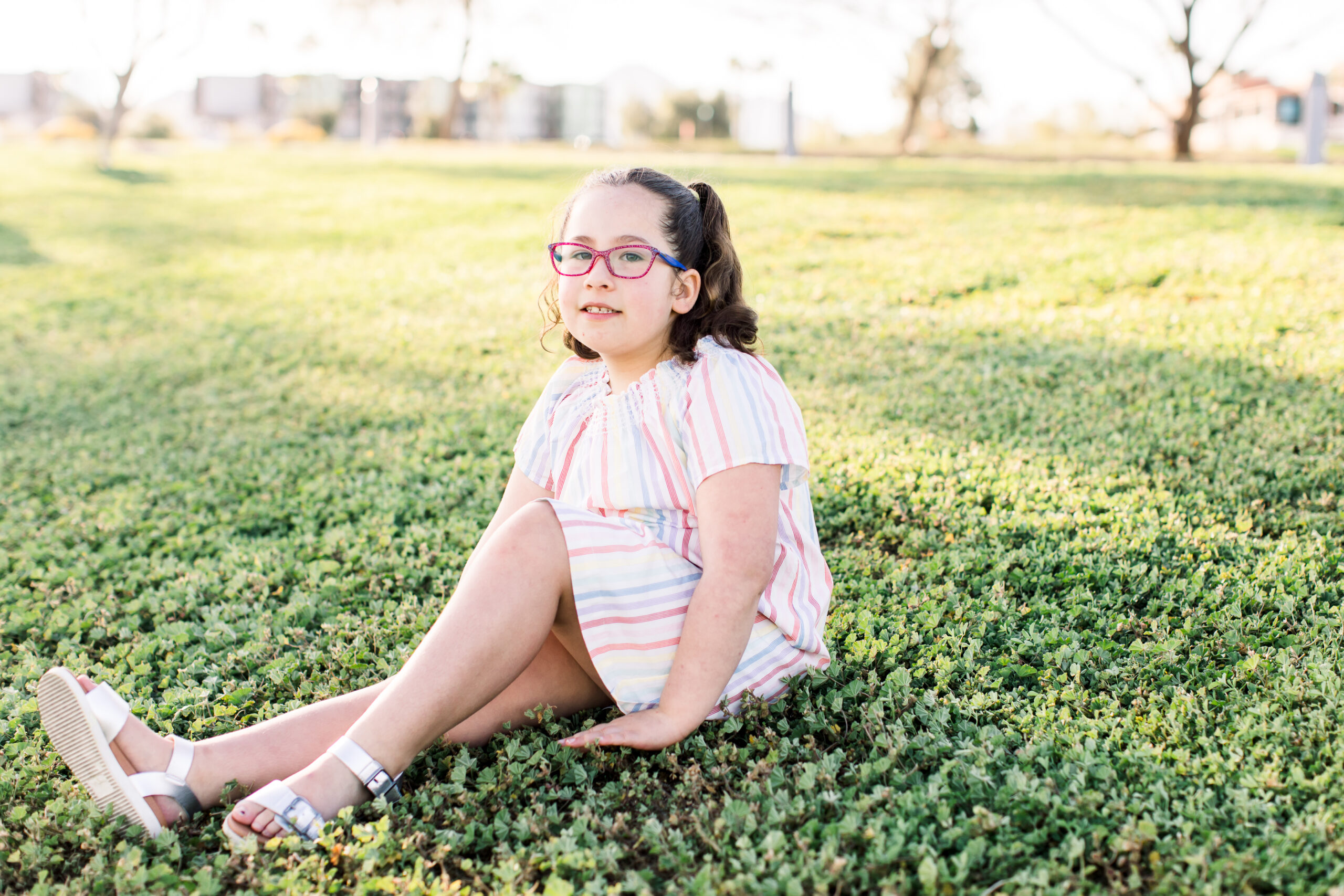 Meet Ella, a beautiful 7 year girl. I can't help but feel so close to this family. Even though we never actually met in real life (hoping this will change real soon ), we have so much in common. Our little girls are almost the same age and we both live on Long Island. I am forever grateful to the social media community for bringing us together.
Here's more about Ella in Dana's words.
Ella is beloved by so many! She is said to be the "mayor" of her school,
holding the hearts of almost everyone she meets in her little hand. She is the
sparkliest girl you'll ever know from her glittery glasses, to her colorful hair-ties,
light up shoes, and pink unicorn everything, she is sure to brighten your day when
you see her. She'll most definitely engage you in a conversation about your pet,
because she absolutely LOVES animals and can talk endlessly about them. Ella has
many friends her age. She is in Girl Scouts, gymnastics and art after school with her
typical peers, and works hard to build meaningful relationships with them. She is
witty and quick and very bright. We are incredibly proud of the 7-year-old young
lady that Ella is becoming and are awestruck when we remember where she came
from. That said, we are often saddened by the reality that unless the research yields
a breakthrough soon, there is a chance that Ella will not be able to live
independently in the future. That thought only inspires us to charge forward, and
maintain our dedication to the promise to brighten that bleak future promised to
Ella 7 years ago.
This is the story I have been waiting to share with you. I am honored to help raise funds for the research for the Prader Willi Syndrome, a research which can and will help kids like Ella. If you feel it in your heart, or if you're in the position to donate, you can do so HERE. Or maybe you can help us, by sharing this post to raise awareness of the importance of the research.
Thank you all so much for reading and being part of the Blushing Rose Style community.
Love you!
XX,
Anna