Can you believe December is here and 2020 is coming to an end? Is anyone going to be sad this year is going to be over? I am definitely looking forward to a way better 2021. LiketoKnow.It has just released the most loved items of 2020 with over 65 items that made the list! These were the most popular items among all buyers. I am sharing 10 items which I personally own, love and have reviewed over the last year, 2 or even 3 years because some of these items have been in my closet for that long. Let me know which item is your favorite and if you own any of these!
Top 10 Most Loved Products Of 2020
Juliette Sweater Blazer
It's no surprise to me that the J.Crew Juliette sweater blazer made this year's list. It's hands down one of my all time ever favorite J.Crew purchases. It's been around for years, but it wasn't till 2019 that I finally decided to snag it. I honestly wear it way more than I thought I would. It's such a great layering piece you can pretty much wear year round. It looks great draped over a dress on a cool summer evening, or in the fall with leggings. Size wise, I feel it runs big so size down. I'm wearing xs. For outfit ideas with this blazer check out THIS post.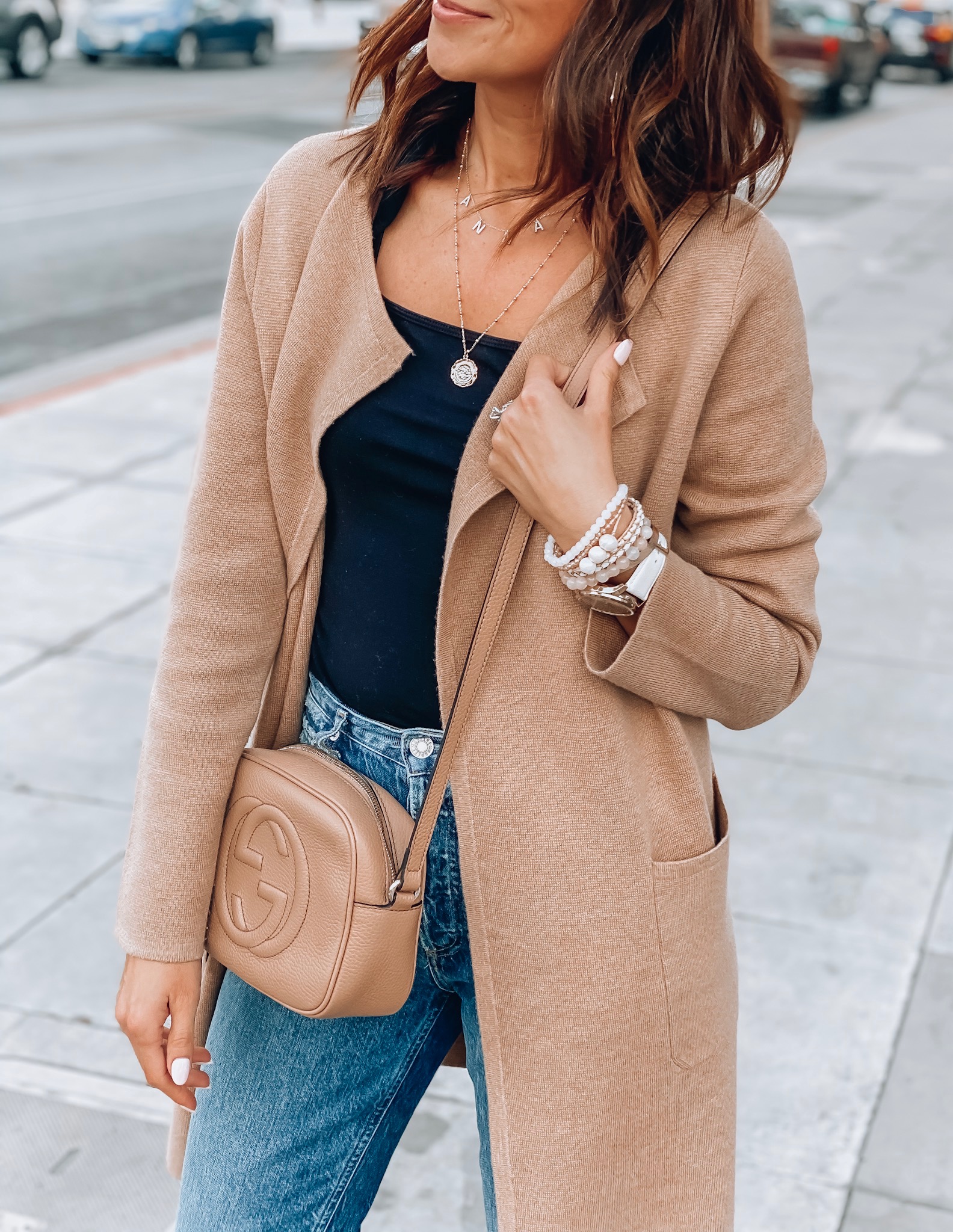 Spanx Faux Leather Leggings
Spanx faux feather leggings are one of my most worn pair of leggings. They are so great for all your athleisure inspired looks, travel and casual outings. Fit wise, I recommend keeping to you true size since these are supposed to be tight. They are Spanx after all and will give you that "hugged" feeling. They're also high waisted so if you size up, the waistband will roll down. If you're curious on other faux leather leggings on the market check out THIS post where I review and compare the top 5 most popular ones.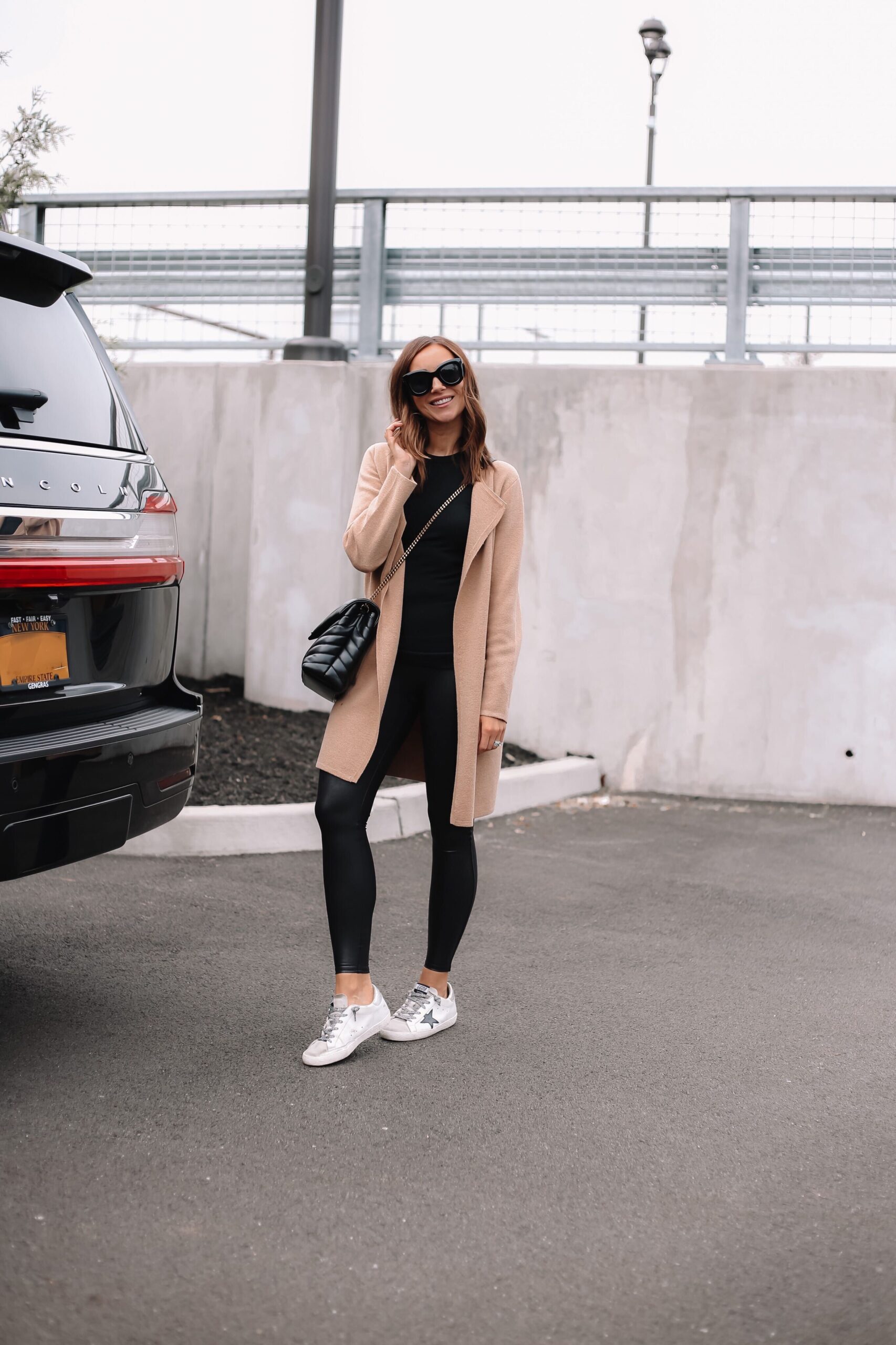 Oversized Cardigan
There are so many great things to note about this cardigan. It's comfortable, soft and perfectly oversized. Easy to see how it was a top seller, right? Th best part? It has hidden pockets! I'm wearing xs.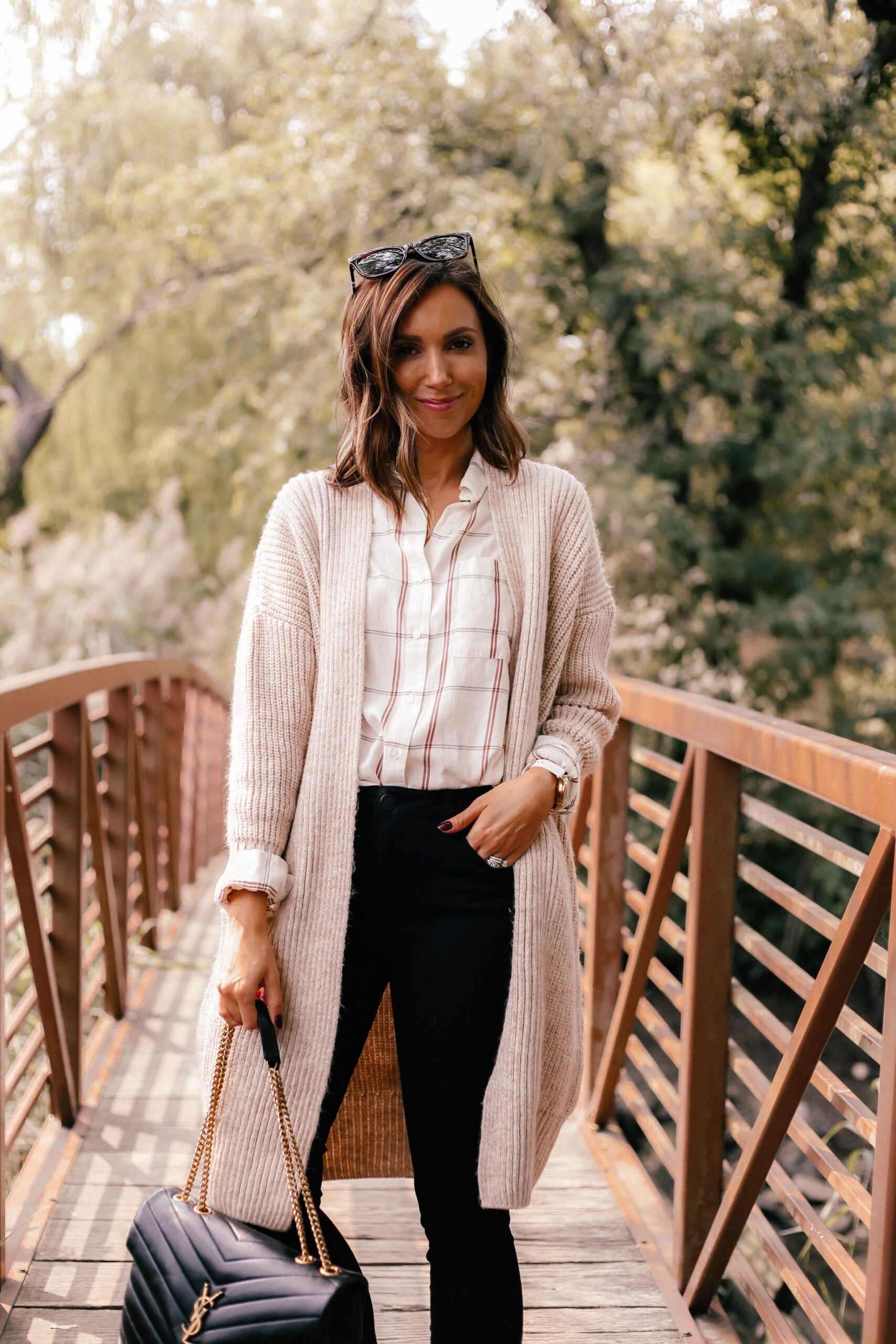 Sweater Dress
I'm so glad that you girls loved this dress from Express as much as I do. I love the higher neckline, ribbed texture and I actually wore this dress for my fall family photos. Fits tts, I'm wearing size small.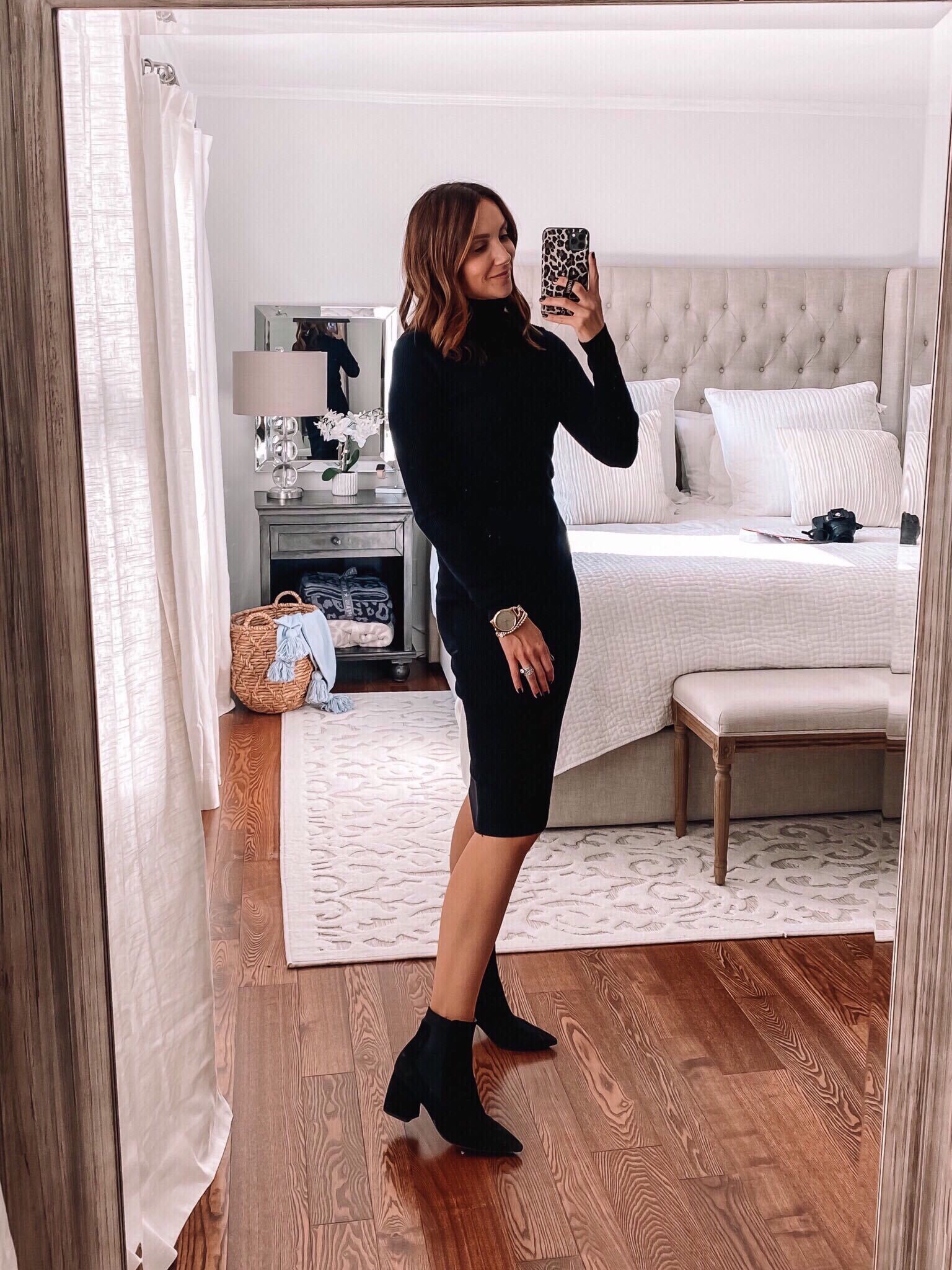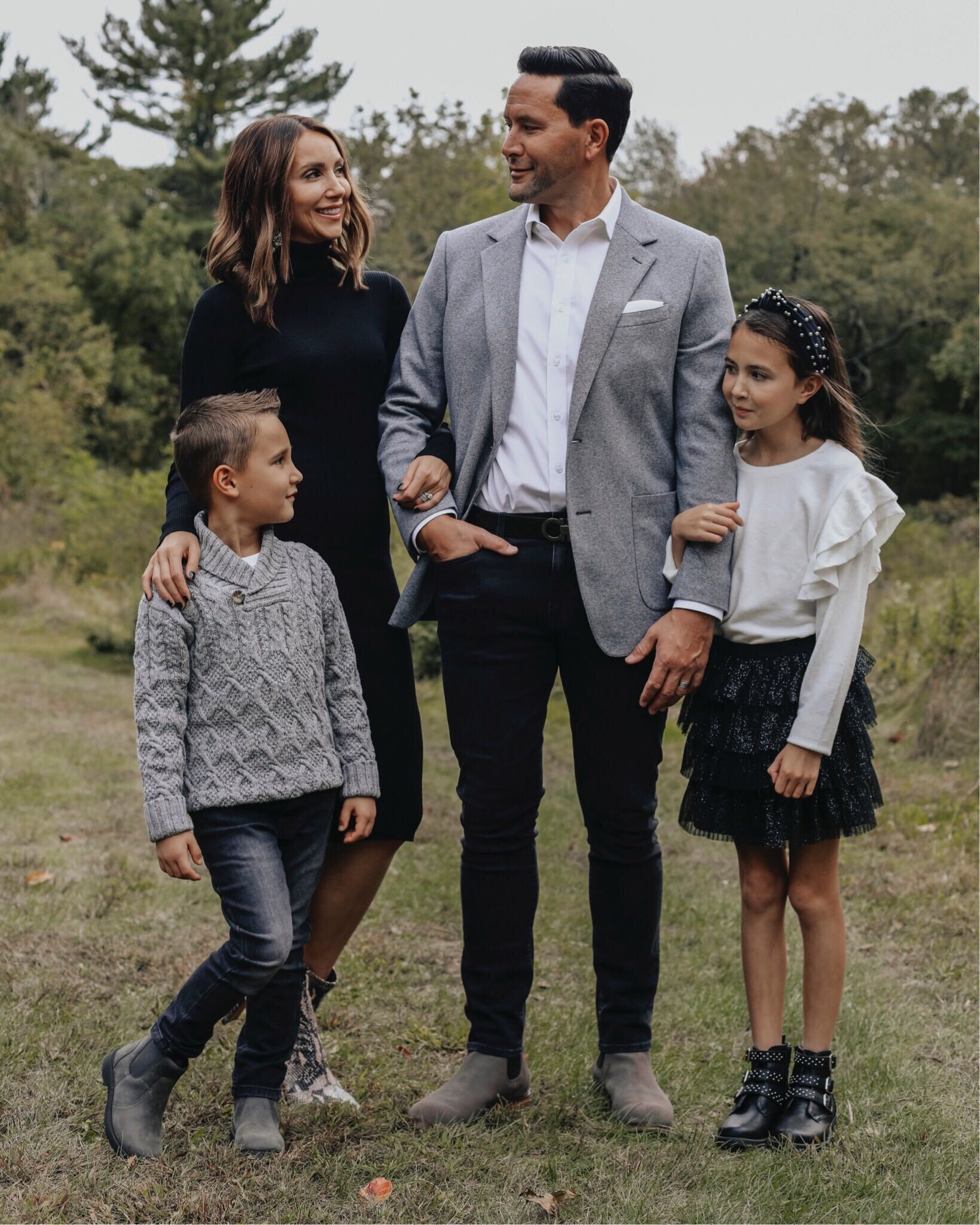 Abercrombie Skinny Jeans
Abercrombie is one of my favorite places to shop for denim. This pair of high rise skinny jeans are by their curve love line and my most preferred fit. They are high waisted, ankle length and have distressing which makes them more of a casual option. I am in size 26. For more details on Abercrombie denim check out THIS post.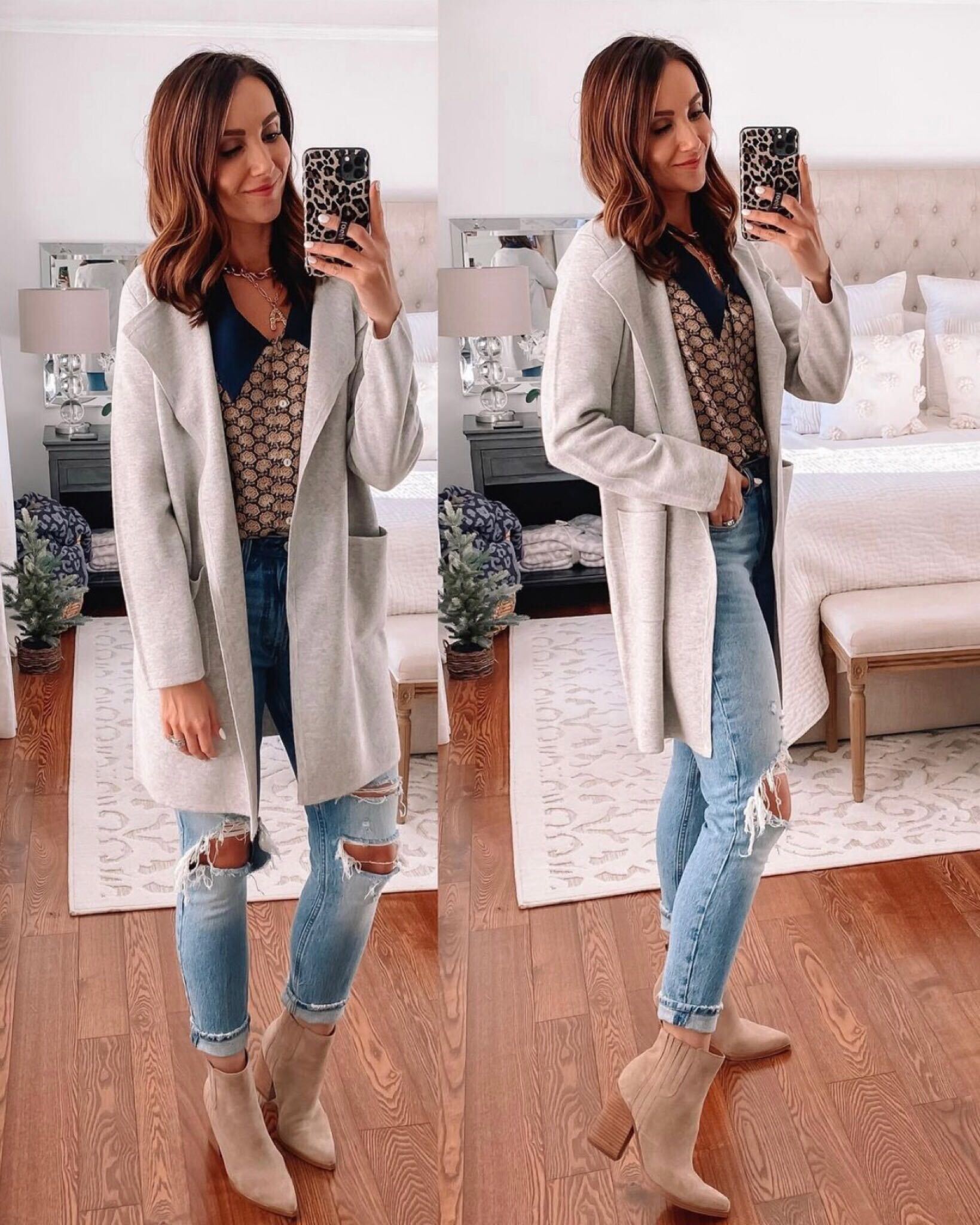 Garmin vivomove
I have had my Garmin Vivomove Watch for over a year now and it's become my accountability partner. Not only is it fashionable and goes with everything but it's smart watch features keep me on track. Recently, I launched a 10k Step a day challenge and it was a great motivator to get me moving. The great part of this challenge is you can do it at any time – check out THIS post for more details and my favorite features of the watch. I love all the styles in the vivomove family and currently the vivomove HR is $200 off, which is an amazing deal!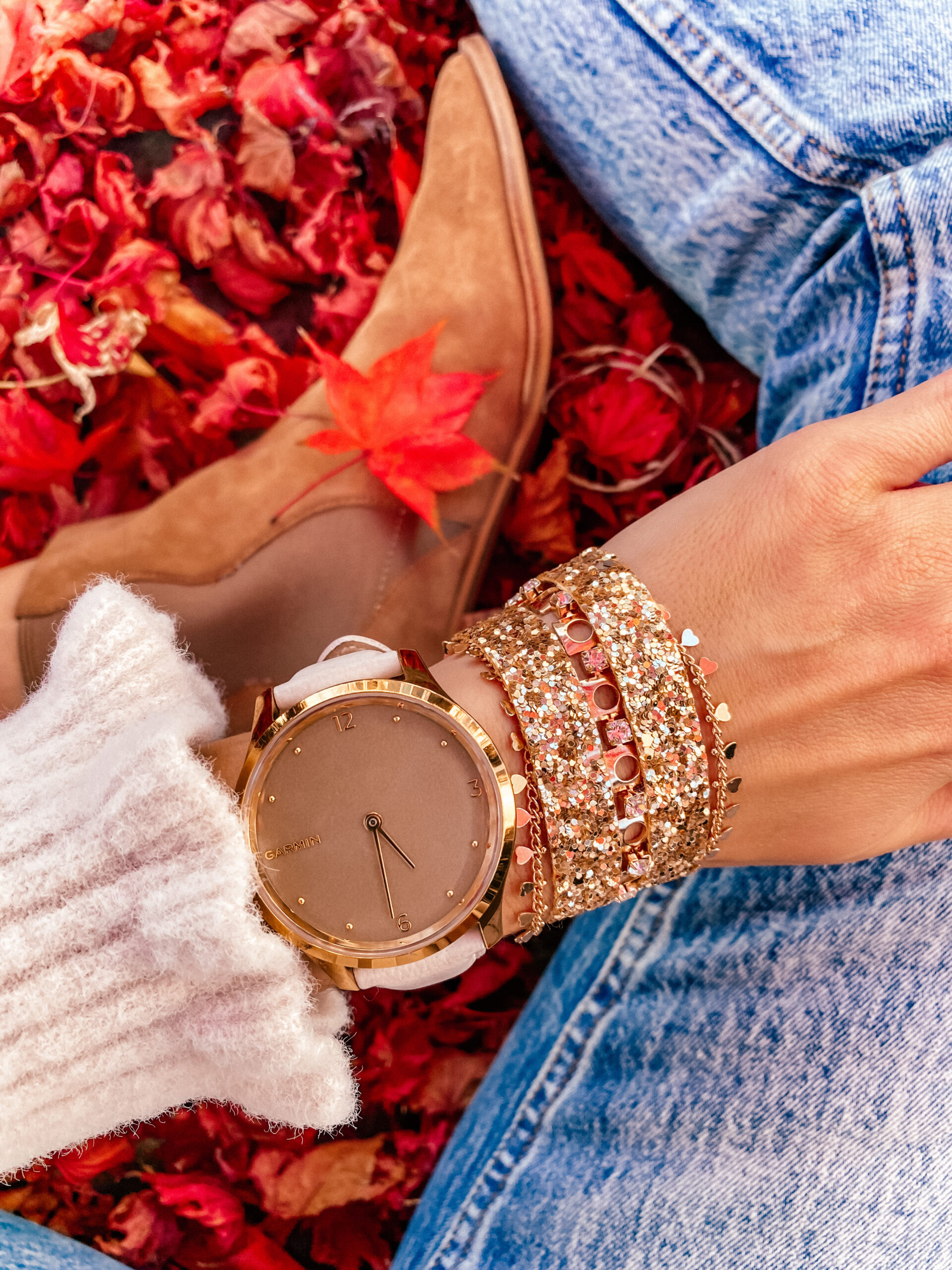 Zella Live In High Waist Leggings
I like to call these the perfect outfit leggings. While you can work out in them, I prefer to style them for my fall and winter looks and really any time of year. They're thick, not see through, high waisted and give a "hugged feeling" which means they're really flattering. They look great wash after wash and they are the leggings that will last you for years. I am wearing size small and fit tts.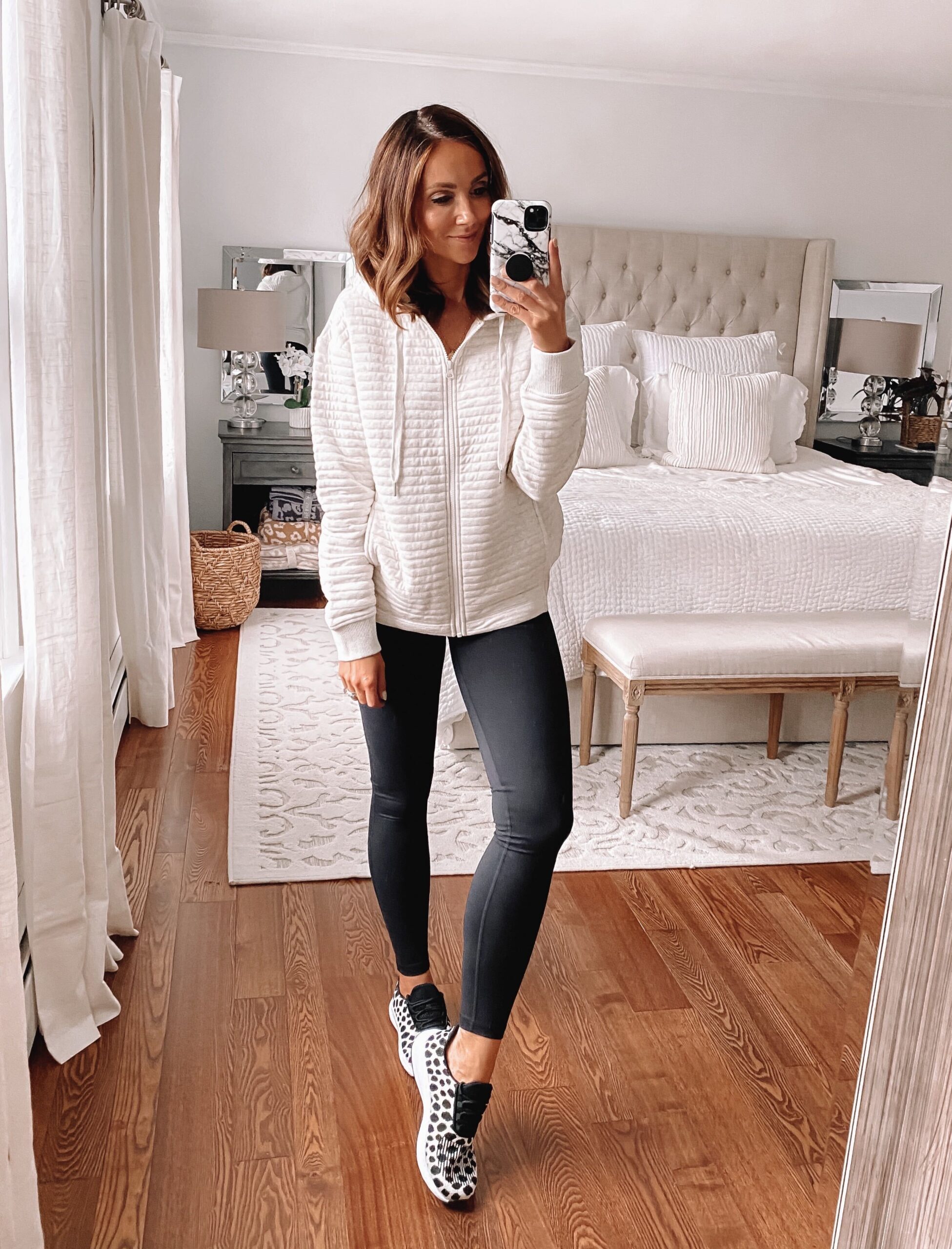 Quench & Shine Restorative Hair Mask
Colleen Rothschild is one of my favorite beauty brands and one of my go-t0 products is this hair mask. While it works great as a weekly mask, it's so lightweight you can use it daily as your conditioner. It makes your hair so soft and shiny. The container is also such a great size, it will last you!

Olaplex Hair System
I have been using the Olaplex hair system for a little over a year now and I am really happy with the results. I feel that my hair is in the best shape it's ever been in and this is coming for a gal who has their hair professionally colored every 4-6 weeks, damn you grey hair! I use Step 3 which is a hair treatment and Step 4 and Step 5 which is shampoo and conditioner. I use that in addition to the Colleen Rothschild hair mask which I use on a weekly basis.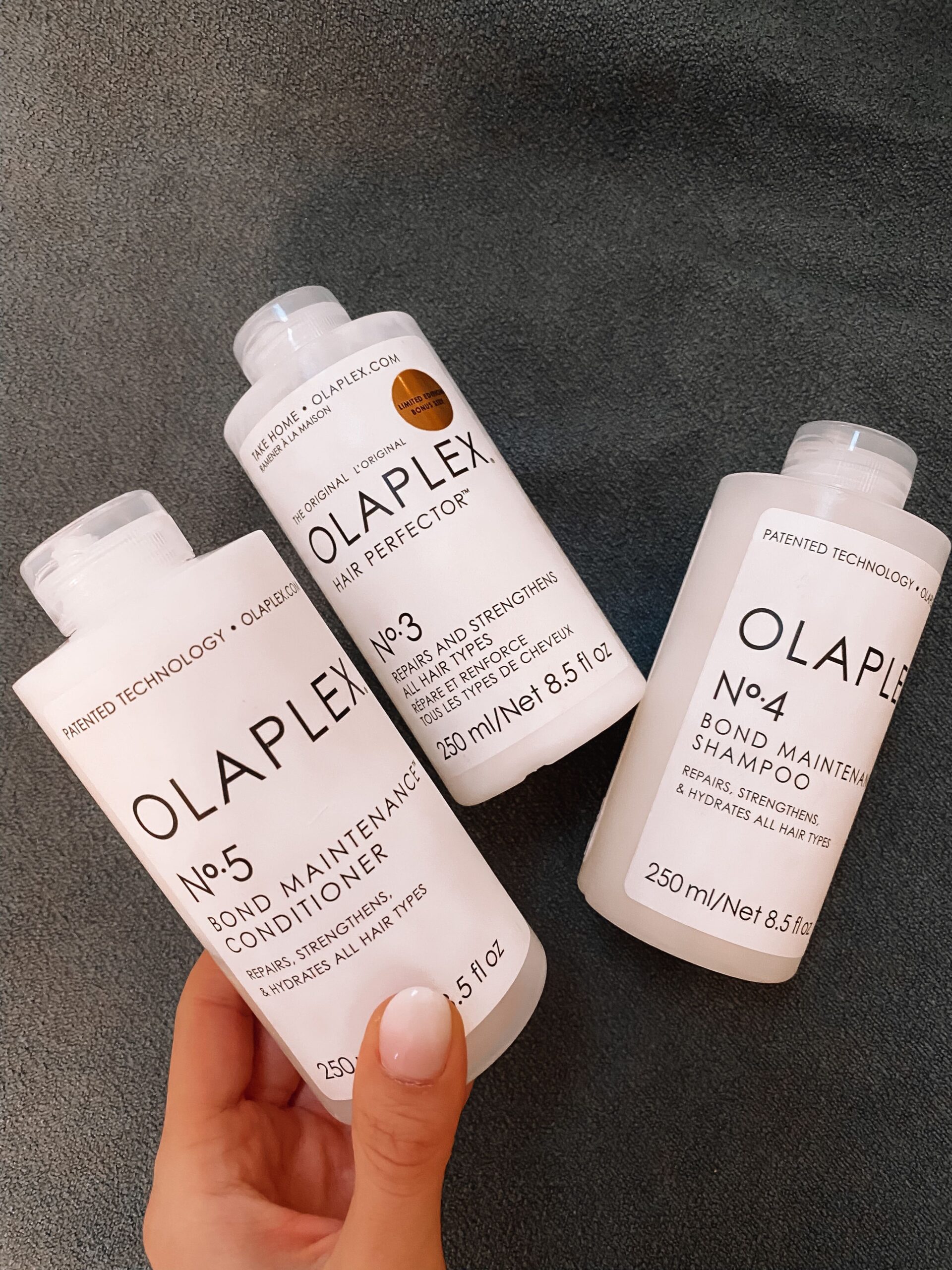 SkinCeuticals C E Ferulic Serum
I've been using this vitamin C serum for a while now and I feel it definitely has helped improve with the appearance of fine lines and has helped brighten my complexion. I use it in the morning after cleansing. In THIS post, I share more of my beauty routine and how I'm prepping my skin for winter.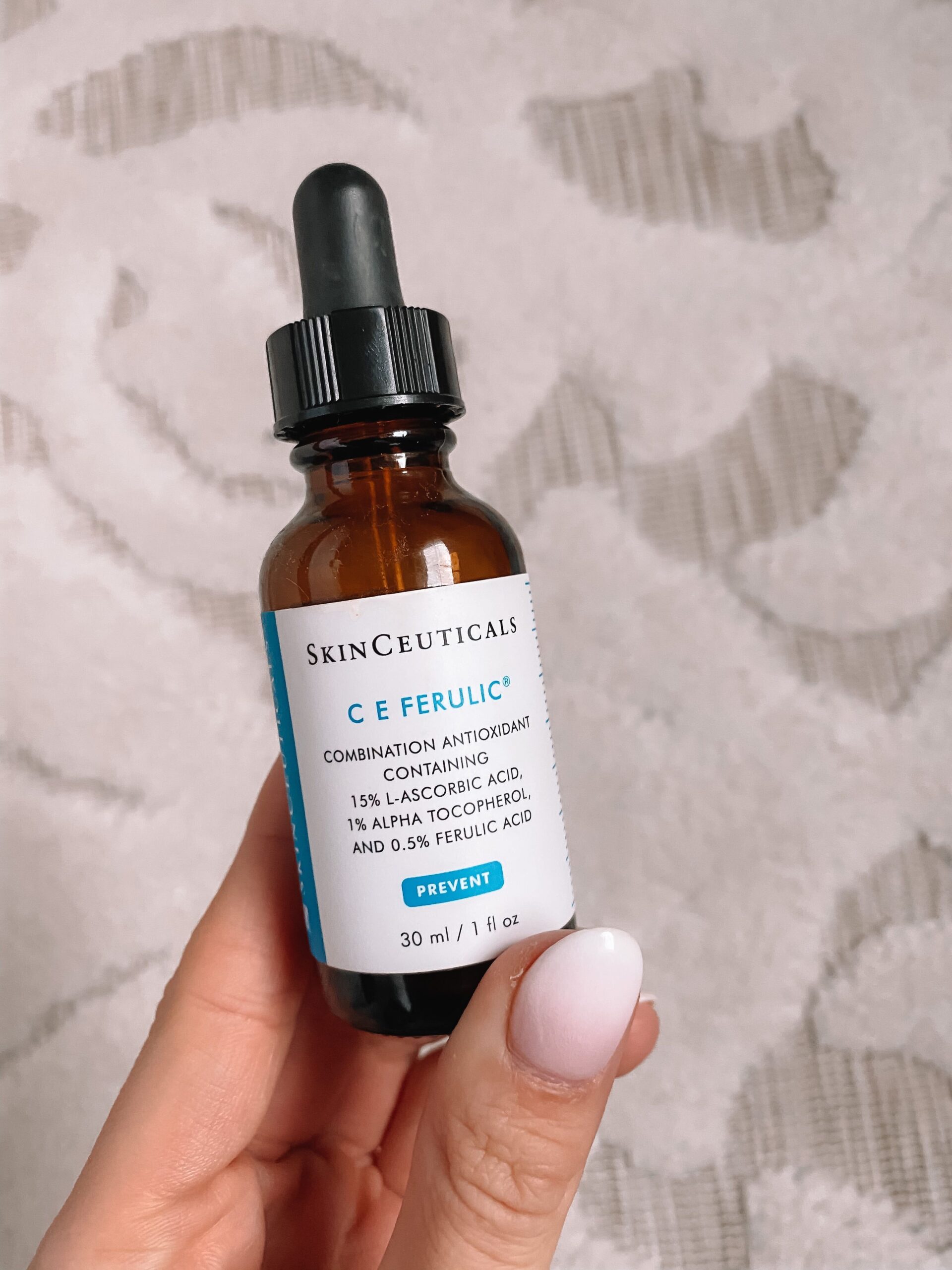 Thank you so much for visiting Blushing Rose Style Blog!