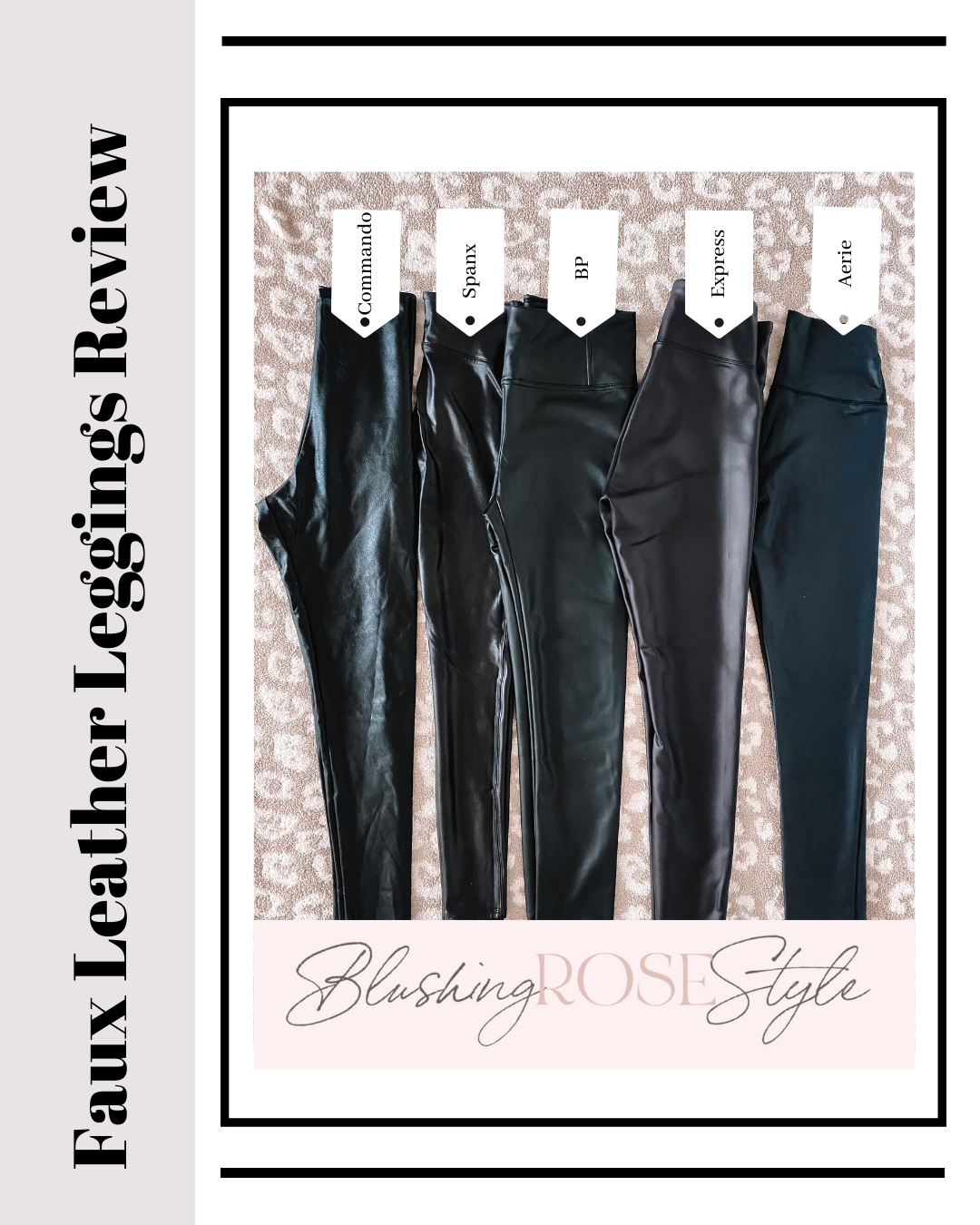 Let's chat about the best FAUX LEATHER LEGGINGS. The legging season will be here before we know it (make sure to pin or bookmark this post for future reference). Three of the leggings I will be reviewing BP., Commando and Spanx are actually a part of the Nordstrom Anniversary Sale. The other two are from Express and Aerie. These are the most talked about (popular) faux leather leggings from the past few seasons.
Faux leather leggings – The Look
COMMANDO // SPANX // BP // EXPRESS // AERIE// SWEATER (XS)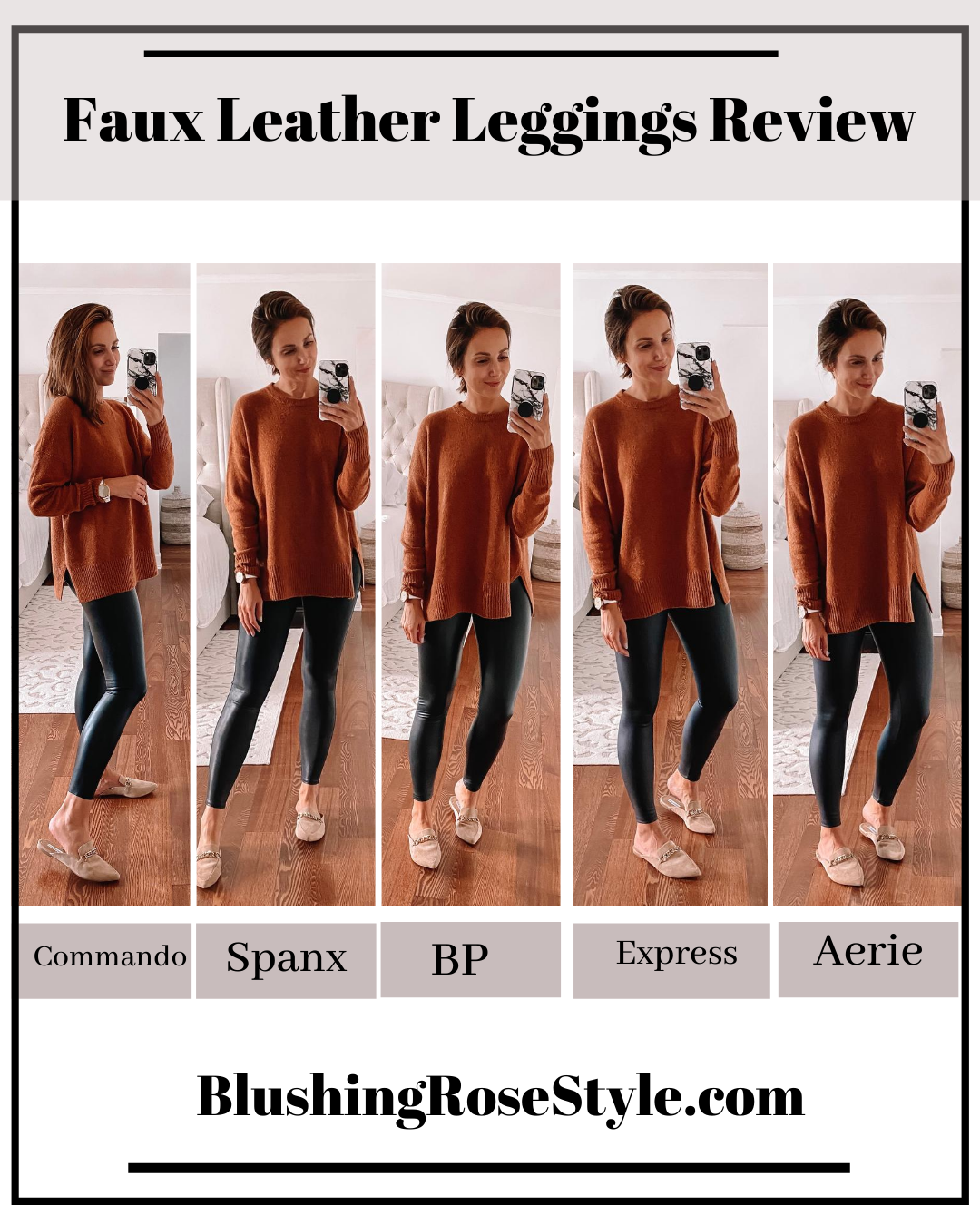 All these leggings have a different look. The Commando leggings definitely have the most realistic faux leather look. The Spanx leggings are just thicker leggings with sheen and crackle details to create that faux leather look. I like to think of the Spanx as athletic leggings with fancy look.
The BP leggings are very comparable to the Express leggings in both "look" and price point. Both have the faux leather look, definitely not as realistic as the Commando pair. BP may look just a tad more leather like than the Express pair. And they are fleece lined, so will keep you warm during colder months.
The Aerie leggings are probably the most comparable to the Spanx ones. Quick note: I bought my Aerie leggings last year, they have since been re-designed and more crackle details were added.
Commando Vs. Spanx
From Left Commando // Spanx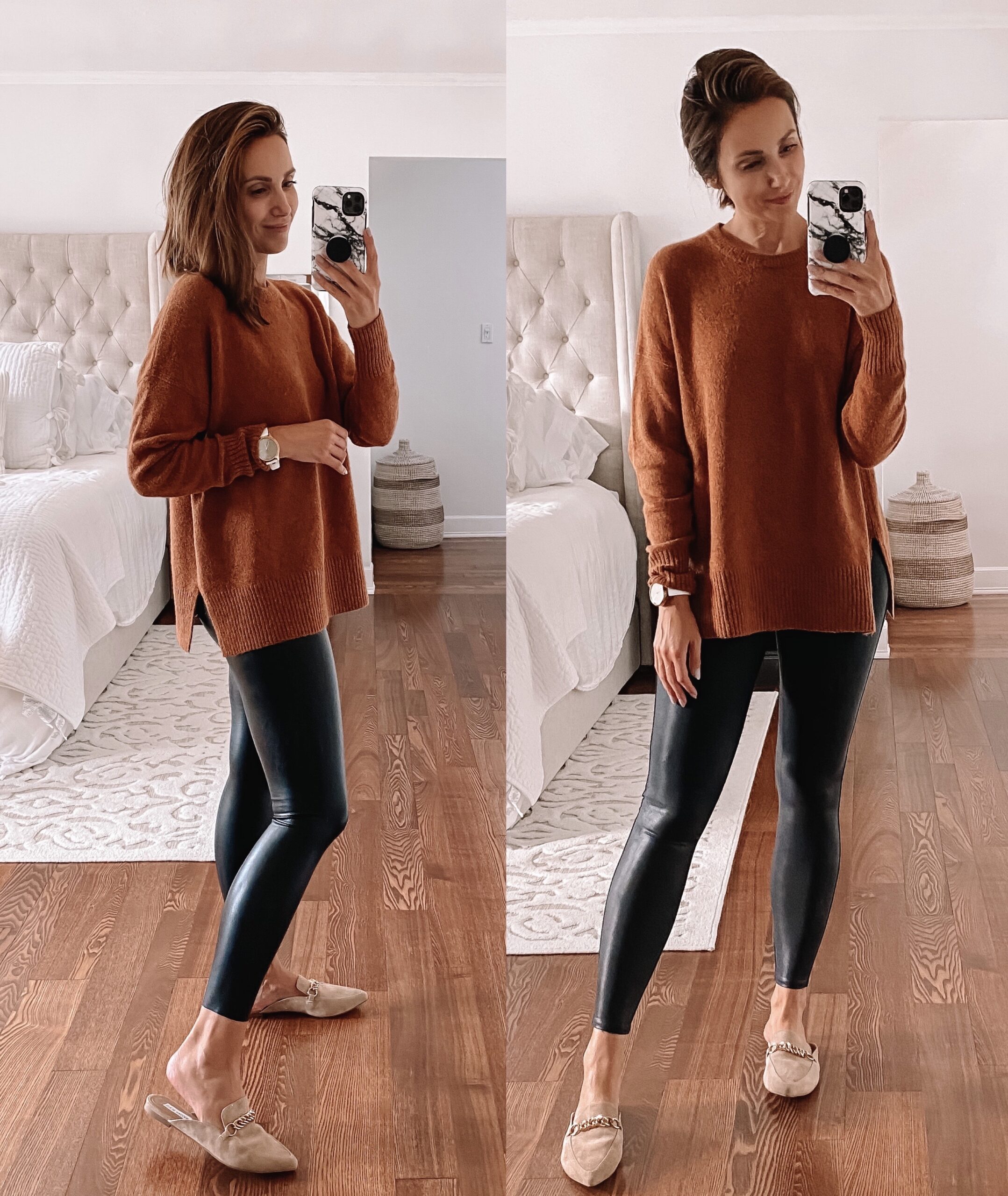 LOOK. These two seem to be the biggest competitors of each other and at similar price point right under $100. Commando are true faux leather leggings, while Spanx are more on the athletic side (with the faux leather look).
FIT. Both fit TTS. Be prepared however to shimmy your way into the Commando pair. They will be tight, but they do stretch. If you size up, you may see creasing. Same goes for Spanx leggings. I know many recommend sizing up. In my opinion stay TTS. These are supposed to be tight. They are Spanx after all. They will give you that "hugged" feeling. Both of these leggings are super high waisted. If you size up in Spanx, the waistband will start rolling down.
WAISTBAND. Spanx has thick (yoga inspired) waistline. There is no seam under the waistband. There is however, rather noticeable seam on the side of the legs. The Commando Leggings don't have a waistband. They are super high waisted. There is a seam. However these do not have the seam going down the leg! Also note Commando leggings have unfinished raw hemline.
FEEL. They are both super comfy. Again, know they will both be pretty tight at first. I would recommend Spanx for all your athleisure inspired looks, travel and casual outings. The Commando ones feel and look a bit more leather like, so they will be great for your dressier looks.
BP. vs Express
From Left BP. // Express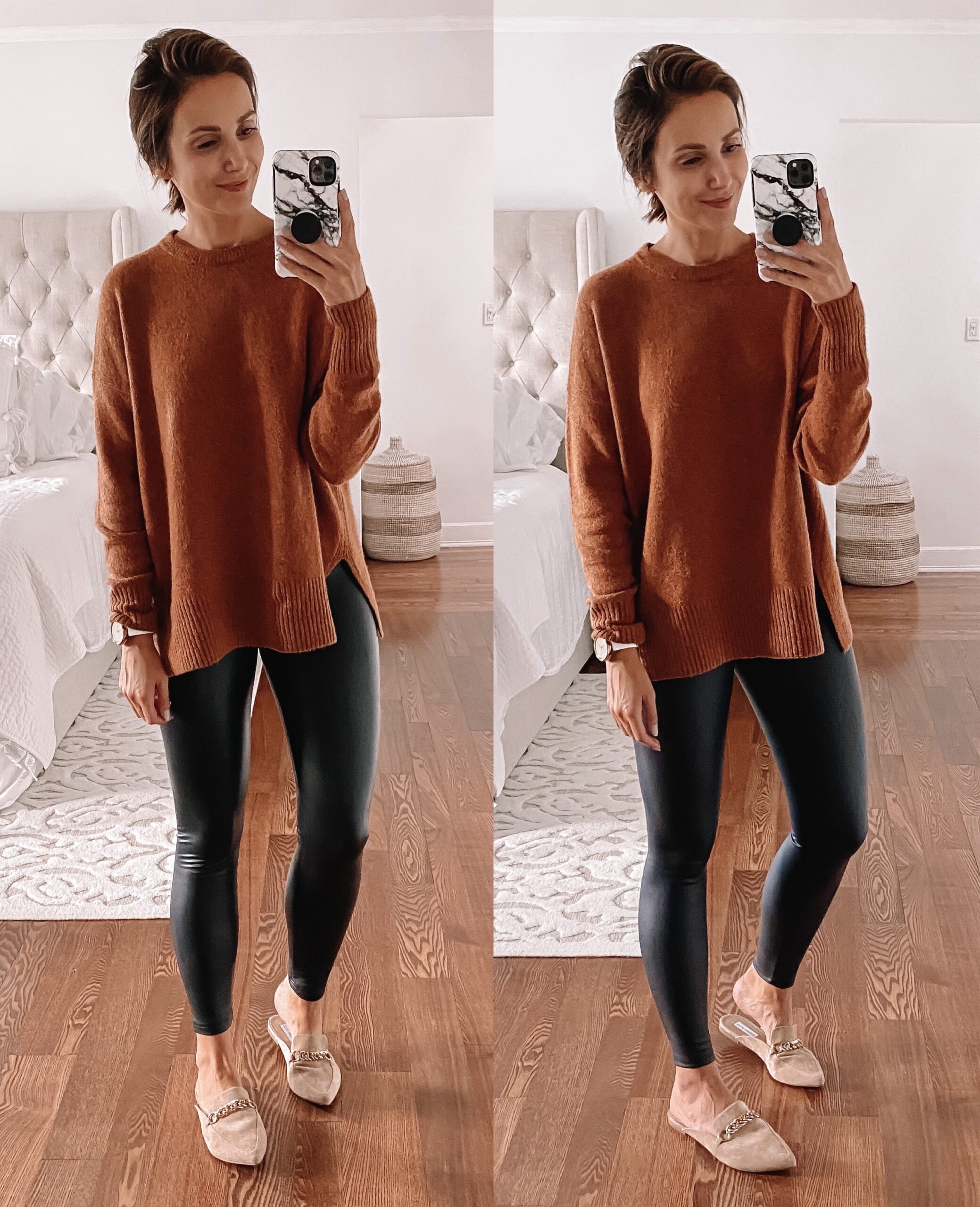 LOOK. These two are very similar in price and look. I would say BP has bit more edge and could almost pass a faux leather pants. Every time I see faux leather pants, I think of Ross Geller, anyone else? LOL.
FIT. Both fit TTS.
WAISTBAND. Both have has thick athletic style waistline with seam under the waistband. There is no seam on the (outer side) of the leg on either pair. Both leggings have finished hemlines and are similar in length.
Aerie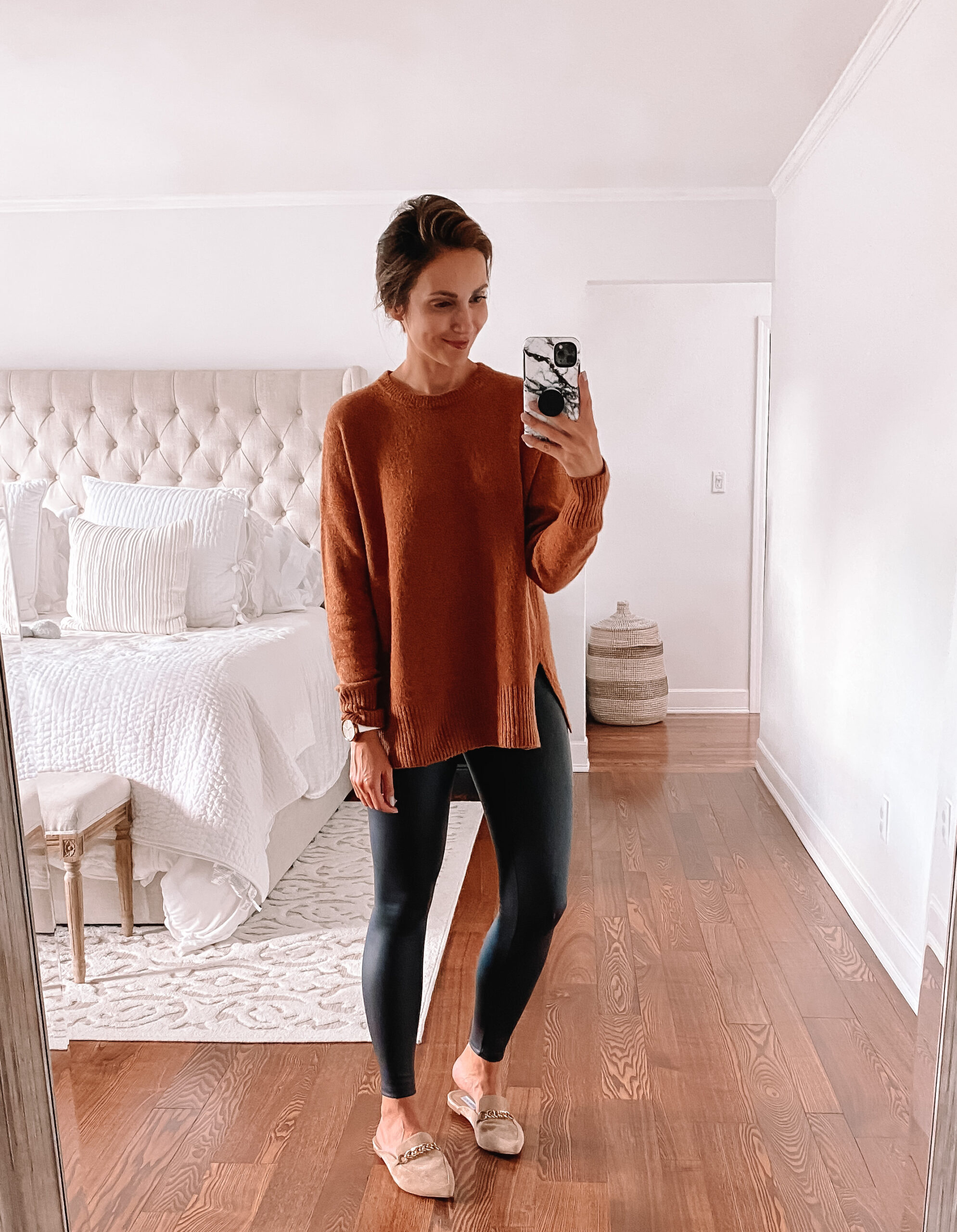 These remind me of the Spanx leggings the most with the athletic design and feel. The are not are compressive as Spanx and fit and feel like other Aerie leggings. As I mentioned earlier, they updated these leggings by adding crackle texture.
Hope you girls enjoyed this post. Do you own any of these leggings? Let me know which ones are your favorite.