Hello another day! Friends, I hope you are having a great week so far. I have to say … even though we are at home, days seem to be just zooming by! Anyone else feels this way? It has been almost 4 weeks of the new normal  – social distancing & self-isolation. For those of us working from home, it has definitely been a learning curve!
Working from home always sounded appealing, until I actually started working from home. Turns out it's not as easy as I thought. Constant distractions from house hold chores to kiddos asking for snacks 24/7. As we all learn to navigate through these challenging times, I thought sharing a few tips might be helpful. Now, I'd like to caveat that with Do as I say, not as I do haha. I know what works for me, but I don't always adhere to my own advice. I think we are just trying to do our best, and you know what, I think that's good enough right now.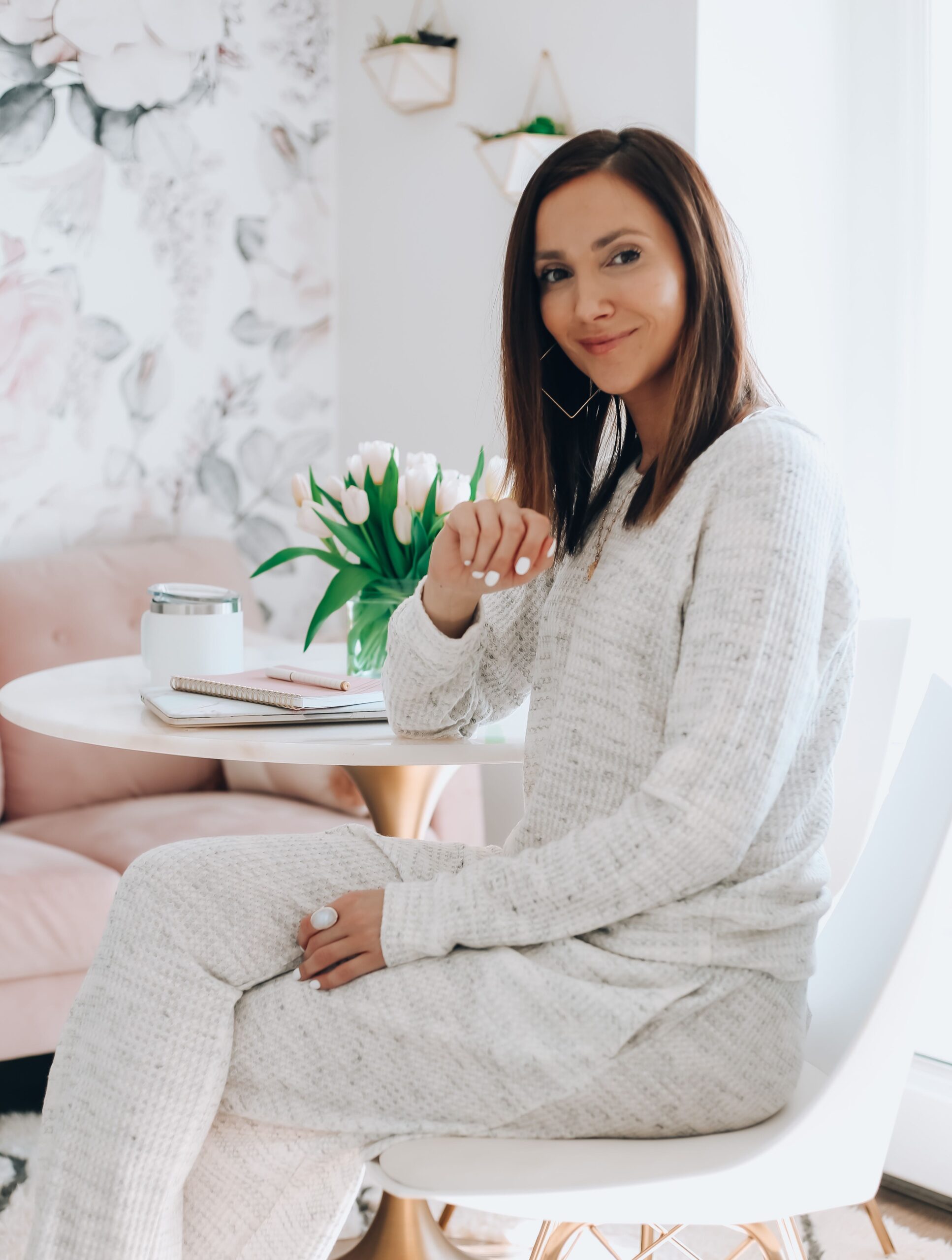 Tips For Working From Home
Here are some tips that are helpful for me. So many of you shared what has been working for you, so I am listing these helpful tips as well.
Wake Up Sunshine
Waking up before my kids has been so helpful. I will never underestimate the value of quiet time. This allows me to enjoy my coffee in peace and set intentions for the day. I typically organize my office, make a to do list for myself, get the kids school work ready and make a list of things Michelle and I will be working on that day on the blog. Having that uninterrupted time allows me to create positive mindset for the day even if the circumstances are less than ideal. You can read more about that in THIS post.
Get Ready
Seems super simple, but even I struggle with this one. I definitely have days, when I just hang out in my pjs all day. This is not the time to be hard on yourself, if pjs make you feel good, go for it. I know I feel 100% better, more productive and definitely more motivated to tackle the day when I am dressed and put on (even a tiny bit) of makeup.
Set The Schedule
Take it from someone who works from home. It is so important to set a schedule / office working hours. Otherwise you will feel like work never ends. I have struggled with this since I transitioned from my corporate job into working for myself. Never getting a break is not good for you or your loved ones. I feel very lucky to have a supportive husband, but trust me even John was fed up when I was answering emails at bedtime. Of course we are learning to navigate through the new normal and having kids around makes working remotely more challenging.
Schedule Breaks
It is so easy for me to forget about taking breaks. I am a task oriented person and now that kids are home, I have to time block my tasks. For example, I will plan on answering emails, drafting posts for 2 hours, and when time is up I will take my kids for a quick 20-30 min walk on the trail or set up the bounce house in our backyard.
Communication
I work with my assistant Michelle every single day. We are so used being next to each other Monday through Friday. Working remotely was definitely a learning curve for us. We were able to maintain productivity by utilizing communication tools (we use SLACK) and at least once a day we check in via phone call. Working from home can feel lonely, so I highly encourage you to reach out to your teammates, co-workers, etc.
Office Space
After so many years of working from my kitchen table, I finally have a dedicated office space at home. If you are a long time reader, you may remember last year my (not so handy) husband decided to take on this project. After 5 short months my office was complete, you can see the reveal in THIS post. Dedicated office space allows me to set boundaries between my home and work life.
If you don't have a home office, try finding an area you can dedicate to work. Hopefully somewhere quiet where you can stay focused. I would probably advise not working from your bed… high chance of taking a nap is a real danger.
Take Care of Yourself
2019 was my year, I finally took control of my health. I incorporated a healthy lifestyle and a regular fitness routine. Now, this year is a totally different story and being confined at home is not making things any easier. I made a promise to myself to incorporate daily workouts into my schedule. Even 30 minutes makes such a big difference in the way I feel. I have been working out either first thing in the morning or during my lunch break.
PULLOVER // LOUNGE PANTS // EARRINGS // NECKLACE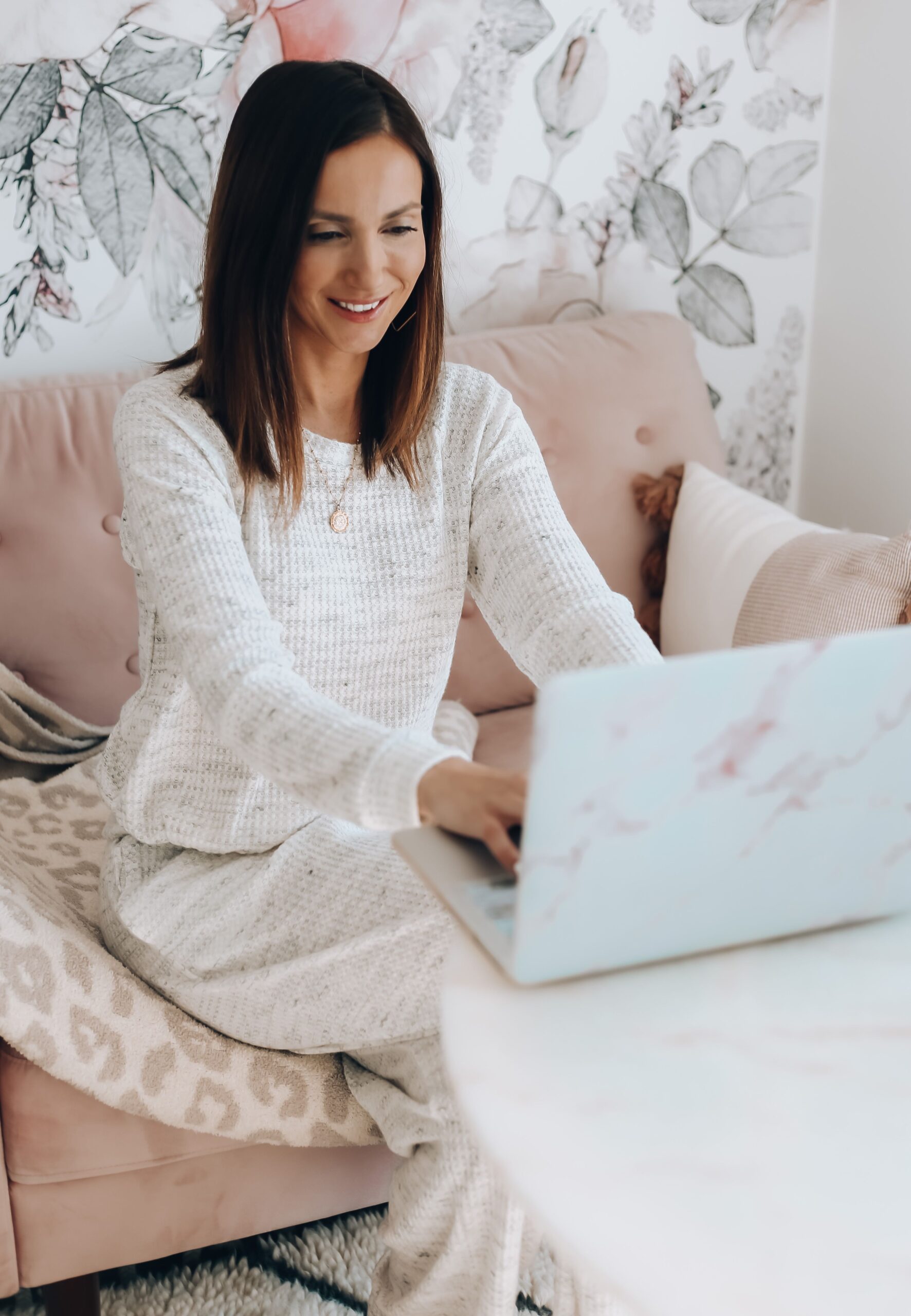 Tips From Blushing Rose Style Readers
work in time increments. – 30 minutes work , take a break (do a chore, snack or hang out with kids)
keep the TV off
take your lunch break away from your desk, outside if possible
start the day by writing down your thoughts and intentions for the day
keep healthy snacks around
make your bed, shower, get dressed
make a list of things you need to accomplish that day
wake up before the kids
prepare your lunch in the morning (just like you would if you were to leave for the office)
play soft music in the background – I actually do that too! Alexa play spa music!
establish boundaries with your family – give them heads up if you're on an important call or zoom meeting
keep your work area clean and organized
My Work From Home Attire
When I said get dressed, I simply meant getting out of your pjs. I hardly ever wear actual office attire while working from home. I stick to cozy loungewear. I shop for most of my cozy pieces at Nordstrom. I have always loved the excellent customer service and wide range of merchandise (catered to all budgets). But now I also admire the retailer for their response to the current situation and making health the priority for its employees, customers and community.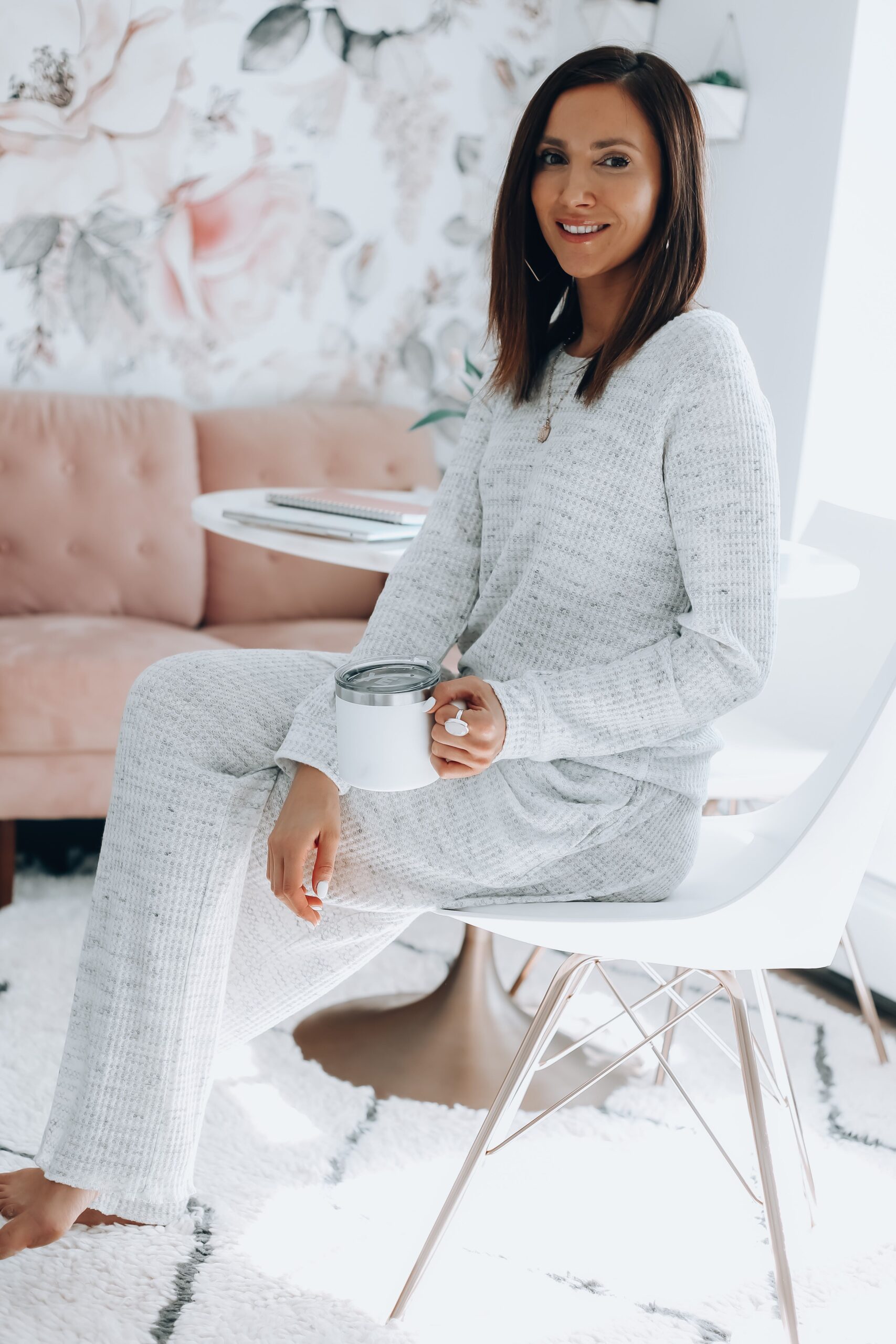 THROW BLANKET (SIMILAR)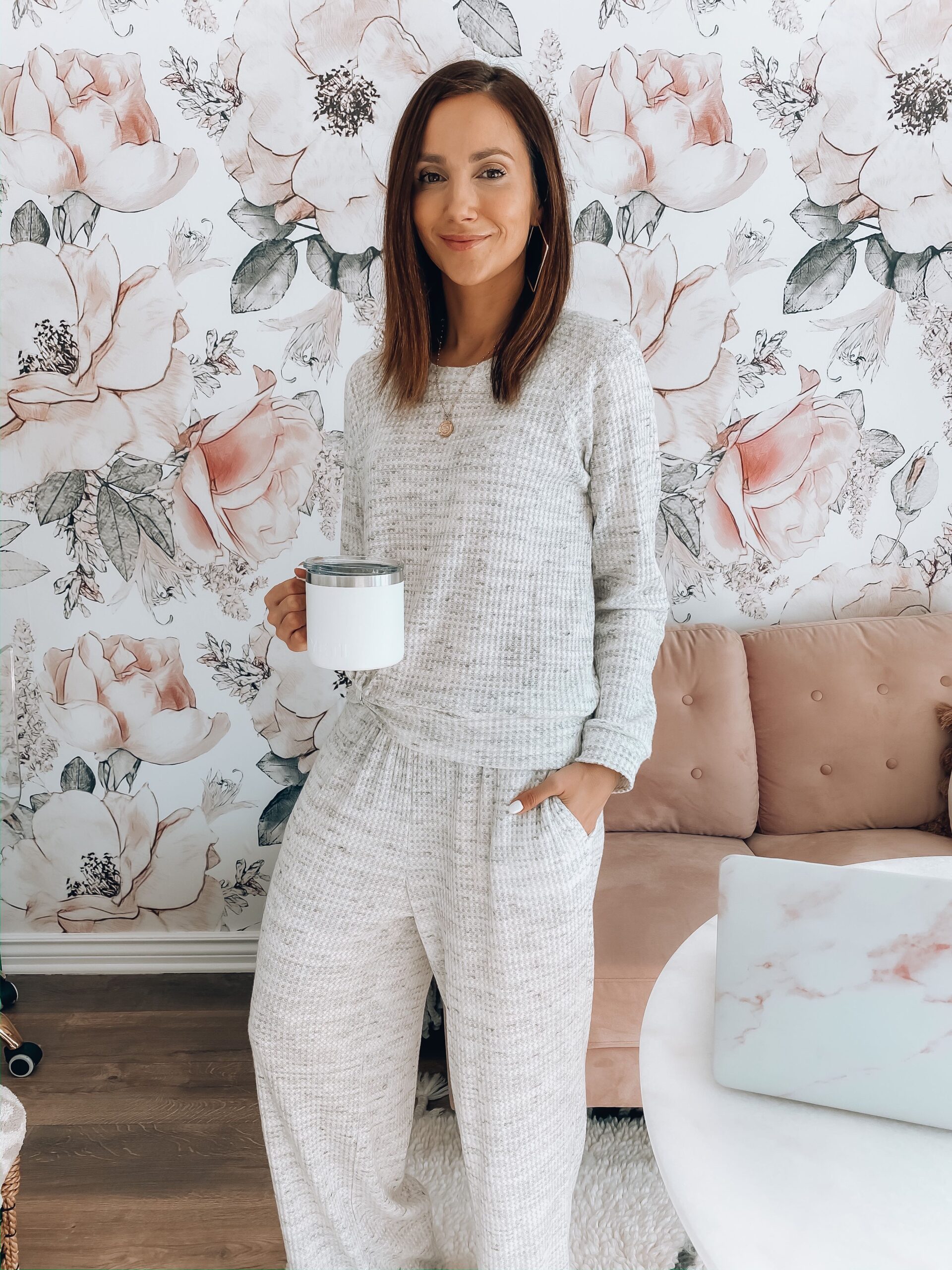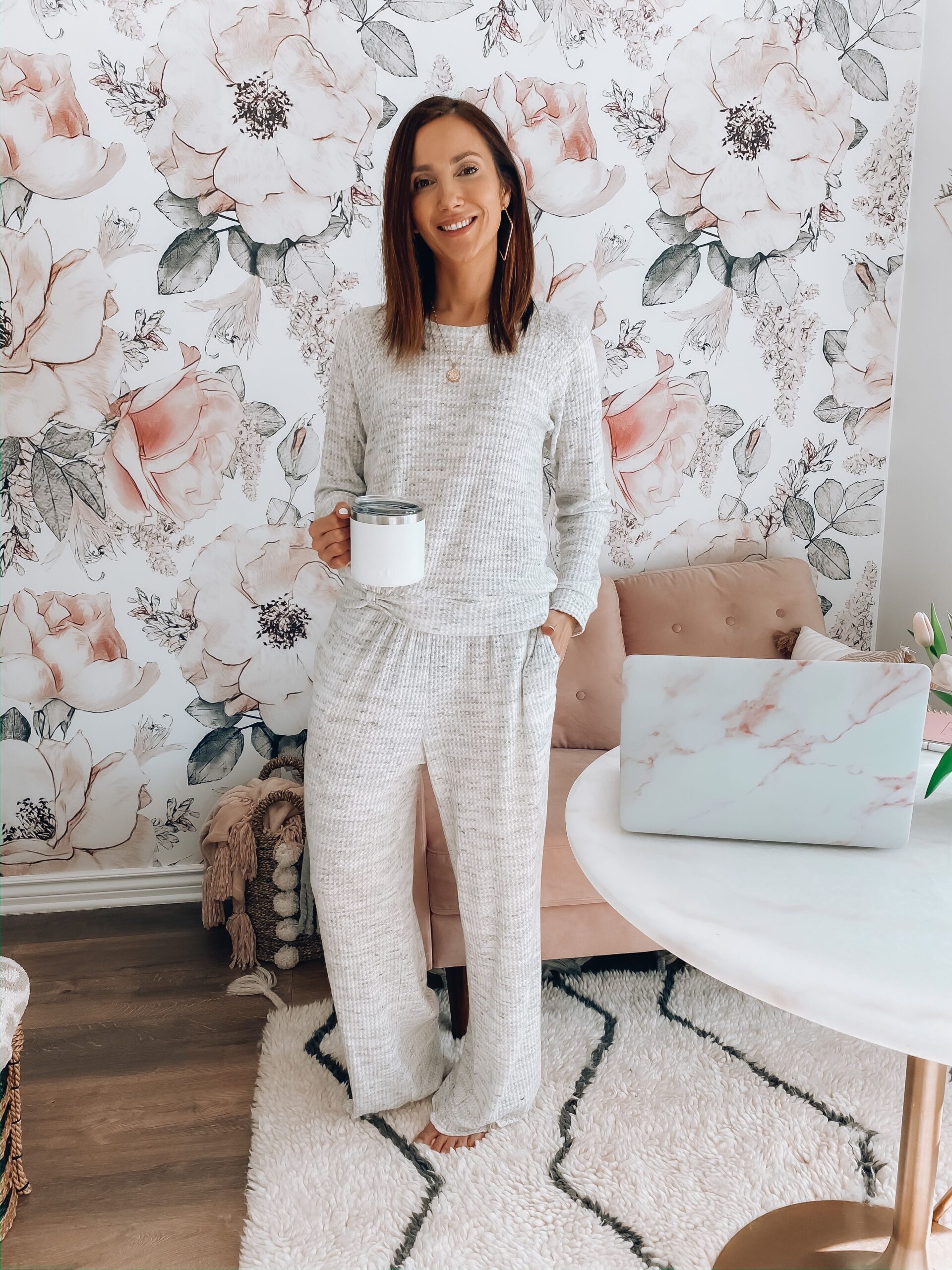 More Working From Home Essentials
If you are in a need of WFM essentials, make sure to check out Nordstrom. Big sale is happening now with up to 60% OFF. Great time to save on your favorite brands or address the gaps in your wardrobe. And Nordstrom offers free shipping and free returns – worry free shopping!
SWEATSHIRT // JOGGERS // SLIPPERS // BLUE LIGHT GLASSES
CANDLE // HAND CREAM // FACE MIST // THROW BLANKET // NOTEBOOK // MUG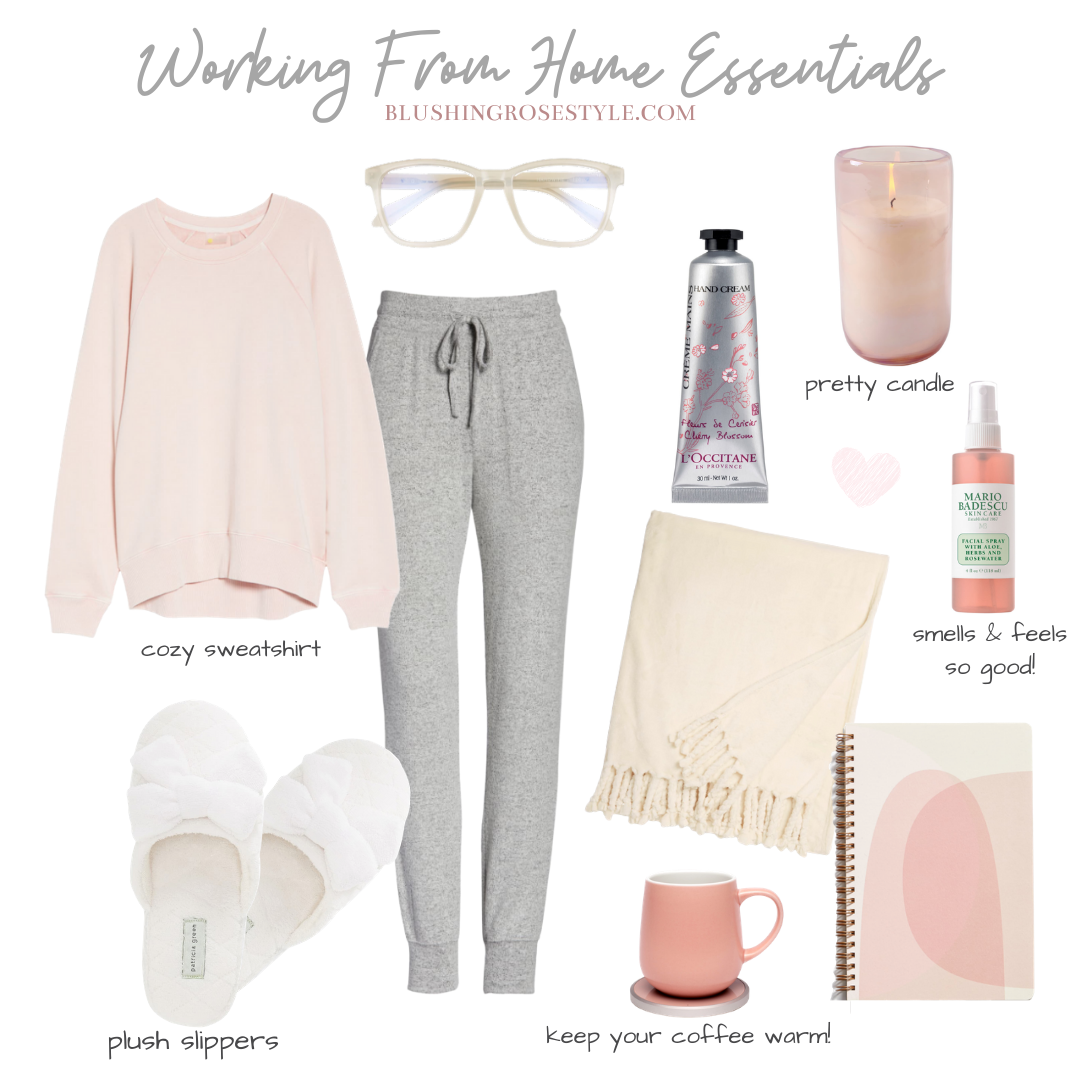 Thank you so much for visiting Blushing Rose Style blog. I hope you found these tips helpful. And very special thank you to Nordstrom for partnering with me on this post. As always, all views and opinions are mine.