Good morning, happy … whatever day that is? Do we even know anymore? How are you girls feeling? I am in a pretty good state of mind today. The sun is out, so I plan on taking a full advantage of that. I will take my kids for a walk, or play in the backyard. I am also planning on making chicken noodle soup for dinner. Comfort food is where its at these days. Stay tuned for the recipe, I will post it to the blog soon.
I have been thinking, we could all use some self-care these days. We do not know when this situation will end, and frankly I do not want to think about that. I wanted to share some of my self-care ideas and practices. And of course I would love to hear from you if you have any suggestions.
Self-care ideas and practices
Exercise
Exercise- go for a walk or hike, as long as it is safe and not against your local recommendations. I take my kids on the trail every single day. As much as I need the exercise, I do it for them. Honestly, I was so amazed with their little inquiring minds. On the last hike we talked about mushrooms, moss and bugs – it's like a biology class right?
If going outdoors is not an option, I highly recommend signing up for online streaming workouts. Peloton is available free for 90 days. Obé Fitness is amazing – 10 or 28 minute classes, live and on-demand. Wide variety of workouts (yoga, dance, HIIT, kickboxing and kids classes- code ANNA will get you a free 7-day trial and 30% off first month). And of course there is Beachbody –  I love 21 Day Fix  and T25 videos.
Bottom line is that a little workout will do wonders for how you feel. I have been eating horribly, non-stop snacking and just not feeling my best (mentally). This is something I actually need to remain sane!
Practice Gratitude
Things are not easy, things are not going well right now for most. But I have so much to be grateful for, and I am sure you do have as well.  Write it down, say it out loud, repeat so it really sinks in! Every morning I read Trusting God Day By Day, and it does wonders to my mindset. I highly encourage you to add a devotional or any positive affirmation to your morning routine. I also journal in 52 Lists for Happiness – once a week.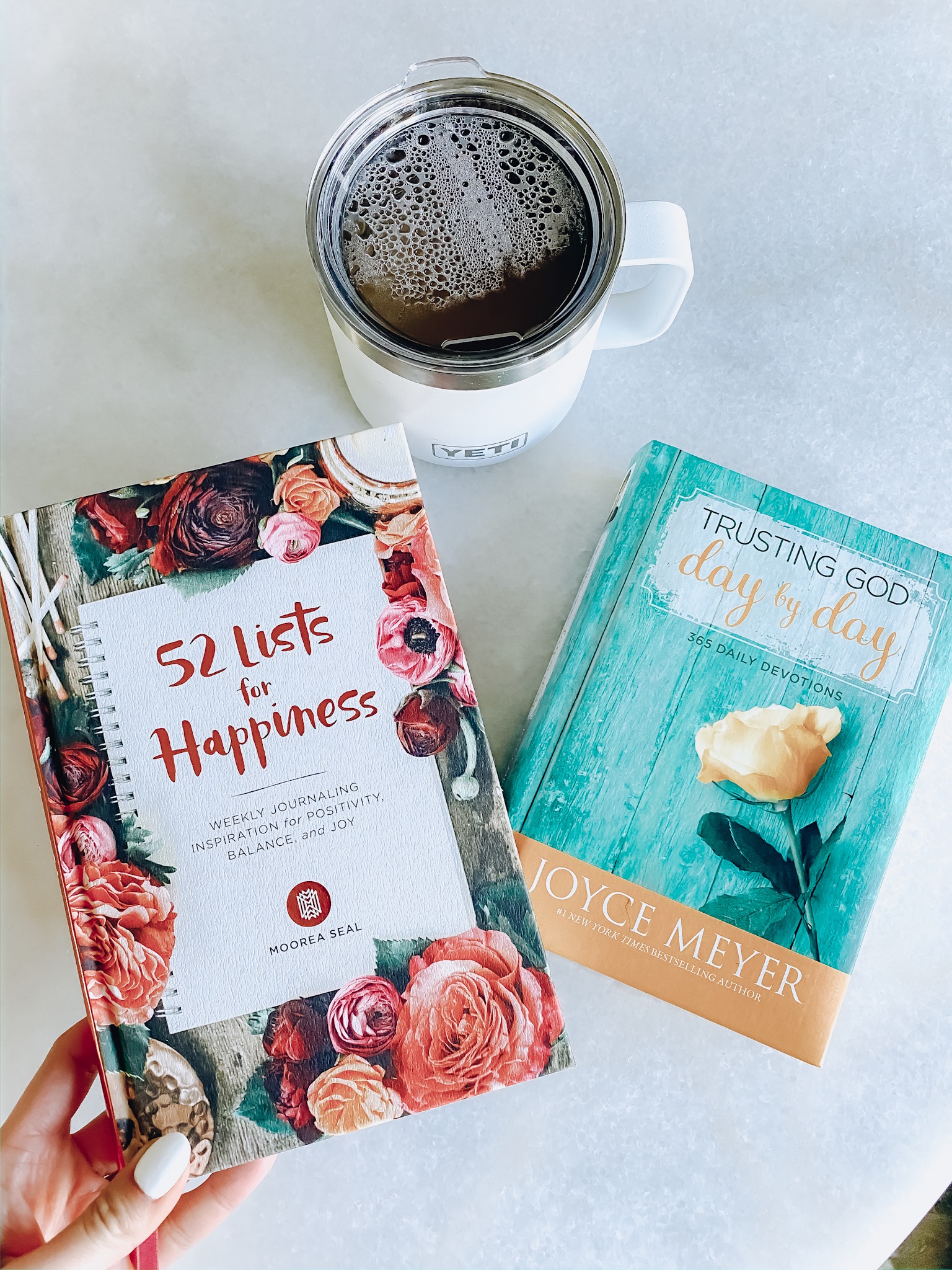 Get Creative
Whether it's embracing a new hobby – like mastering the best chocolate chip cookie recipe, or learning how to watercolor, try something you have been curious about. I learned I truly enjoy play-dough, building Legos and simple (kid level) painting. Last night I spent 45 minutes working on a tiny canvas art with Reese. It was the most relaxing thing i've done in years!
Get Organized
Well, I have seen this phrase circling around. First of all, during this stressful time, no pressure. If you don't feel like de-cluttering, do not do it. If you happen to be working from home, and all of a sudden if just became a homeschooling parent, you have enough on your plate. But if you have free time on your hands, get a head start on spring cleaning. I linked my favorite acrylic organizers from Amazon for makeup, jewelry and more in THIS post.
Read A Book
I am taking this time to catch up on professional development reading. Here is my line-up : The One Thing, Rocketfuel and Traction.

I recently read Open Book by Jessica Simpson. It was amazing, page turning and just wow! I love her even more and can I just say yuck… John Mayer and Nick Lachey!
Here are some other book recommendations
from the Blushing Rose Style readers
The Silent Patient: Alex Michaelides
The Husband's Secret: Liane Moriarty
Where The Crawdads Sing: Delia Owens
The Unwanted Guest: Shari Lapena
Little Fires Everywhere: Celeste Ng
Three Women: Lisa Taddeo
The Nightingale: Kristin Hannah
Verity: Colleen Hoover
Educated: Tara Westover

You Are Not Alone
Remember, we are all in the same crappy boat right now. Even though we are social distancing, we are in it together. You can continue your hang-outs virtually via Facetime or Zoom calls. Misery loves company, but while chatting with your loved one, try to remain positive. The energy you give, is the energy you get.
Work On Your Beauty Regimen
You're so vain … I don't know about you, but a good face mask, makes me feel so much better haha . While the possibility of horrendous post- COVID19 appearance maybe high for me – imagine grown 0ut chipped nails, grey hair, mustache… too graphic? Listen physical appearance is not important, but if it makes you feel better, do whatever it takes. I decided to do my own hair to get rid of greys. You can see the step by step tutorial in THIS post. And a full list of my beauty products in THIS post.
Here are my favorite masks

Clean Beauty – Michelle's Picks

Let's Get Cozy
Make your home smell good! Light up your favorite candle, burn some oils  or use a room spray. You're going to be stuck here for a while, might as well make the best of it!
Play some music. Whether you have Alexa, Pandora or any other device or app, stream some music – maybe kids bop for the little ones, maybe spa music in your office. If it was up to John we'd be listening to some explicit hip hop all day long, and while I am a fan , during this time I prefer more relaxing tunes.
If music is not your thing, start a podcast. I love the Crime Junkie podcast, however it is not the most relaxing one to listen to. If you have any suggestions, I would love to hear.
I have been living in cozy loungewear pieces lately. I have zero desire to dress up! Anyone else?  I am rounding up my favorite cozy options below.
ROBE // CANDLE // HAIR TIES // PJ SET // TEE // QUARTZ ROLLER
FLORAL DIFFUSER // PILLOW SET // SHORTS // HOODIE // SWEATPANTS
STRIPED PJS  // BLANKET // DIFFUSER // SLIPPER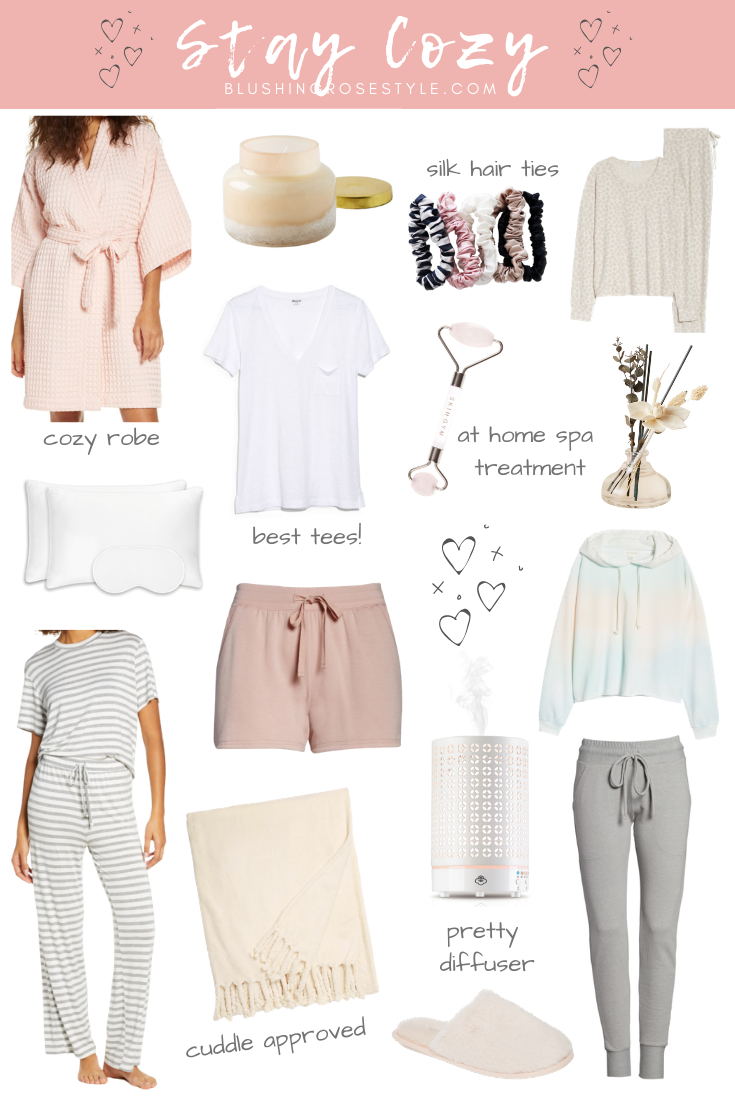 Thank you so much for visiting Blushing Rose Style. Hope you enjoyed this post. If you have any recommendations or suggestions, please leave the comment below! I'll add it to the post!