Hi girls. The day is finally here – my home office tour. This has been one of the most requested posts, and I apologize it took me so long to do it. To be honest I am not really done decorating, and there are some things I would like to add / change. But that will have to wait for now.  As many of you know I work from home and I have a full time assistant working with me side by side 5 days a week. It was really essential to create a separate work space (we used to work from my kitchen table). Luckily our house had a big den area off the kitchen, the room was big enough to be divided into 2 spaces: mudroom for the kiddos and office for me.
After getting estimates for building a wall , my husband decided to take on this project himself. After many trips to Lowe's and hours on YouTube my office is finally done!
Furniture
I spent months searching for decor inspiration on Pinterest. The office space is pretty small, so finding the right furniture pieces was crucial. John came up with the idea of accent wall or wallpaper. And this was really the starting point of the design process. Once I picked the color palette and floral print I knew I needed a blush colored couch. It only seemed fitting to go with the name of the blog, right? Plus, the rest of my house is very neutral toned so this would be a fun, pop of color for my new office! I also was excited for my bold wallpaper from Loomwell and the print is called Pippa. I found my loveseat on Wayfair. Unfortunately, this color is sold out, but here are a few that are similar.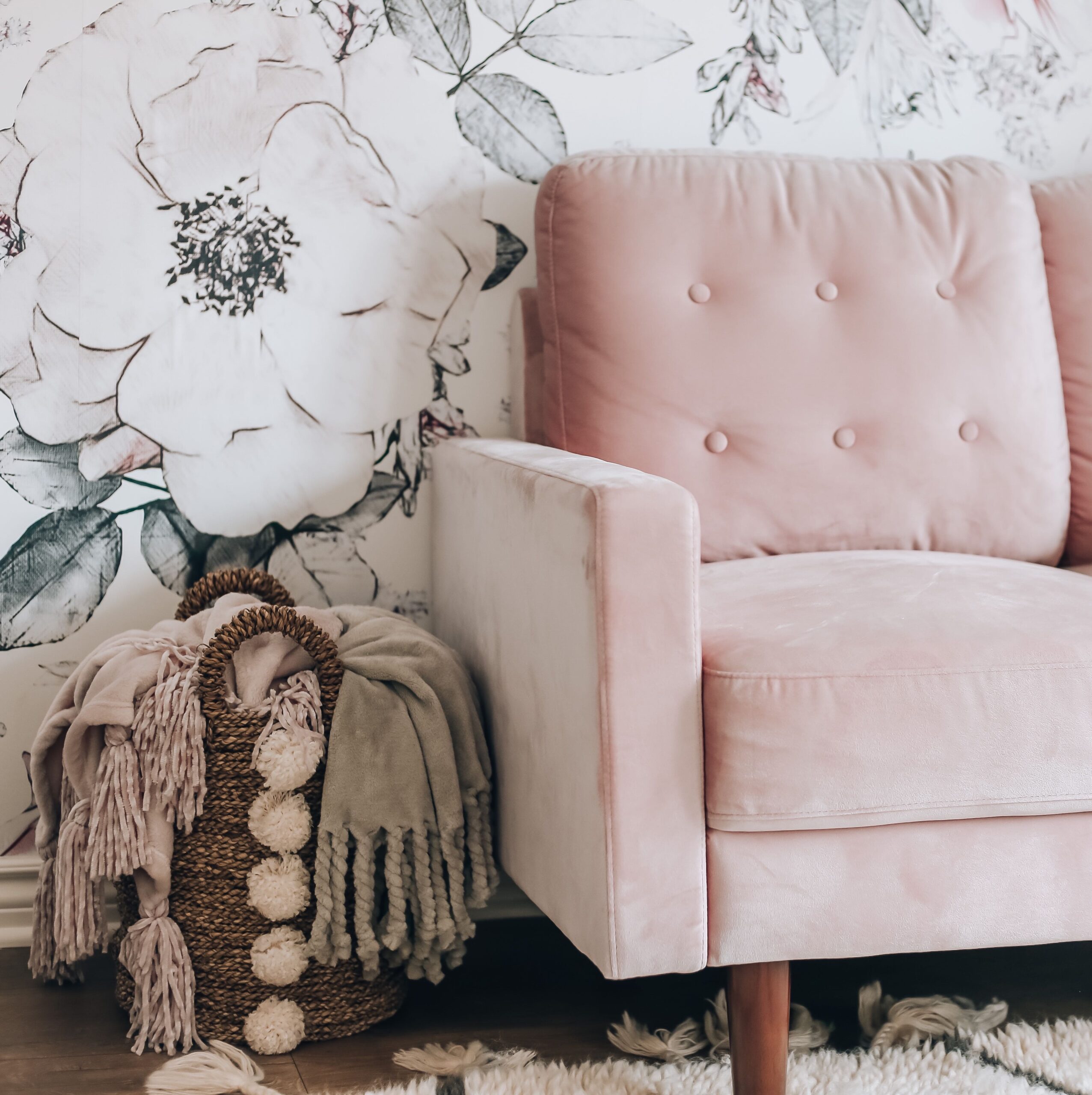 The marble table is from World Market and the chairs are from Amazon, but similar ones  can be found on Wayfair. I was really excited for my rug because I absolutely love the print and the texture! It is really soft, but it sheds like a beast and I wouldn't recommend it. And most likely I will be replacing it in the near future (the fuzz-balls are floating all over the house).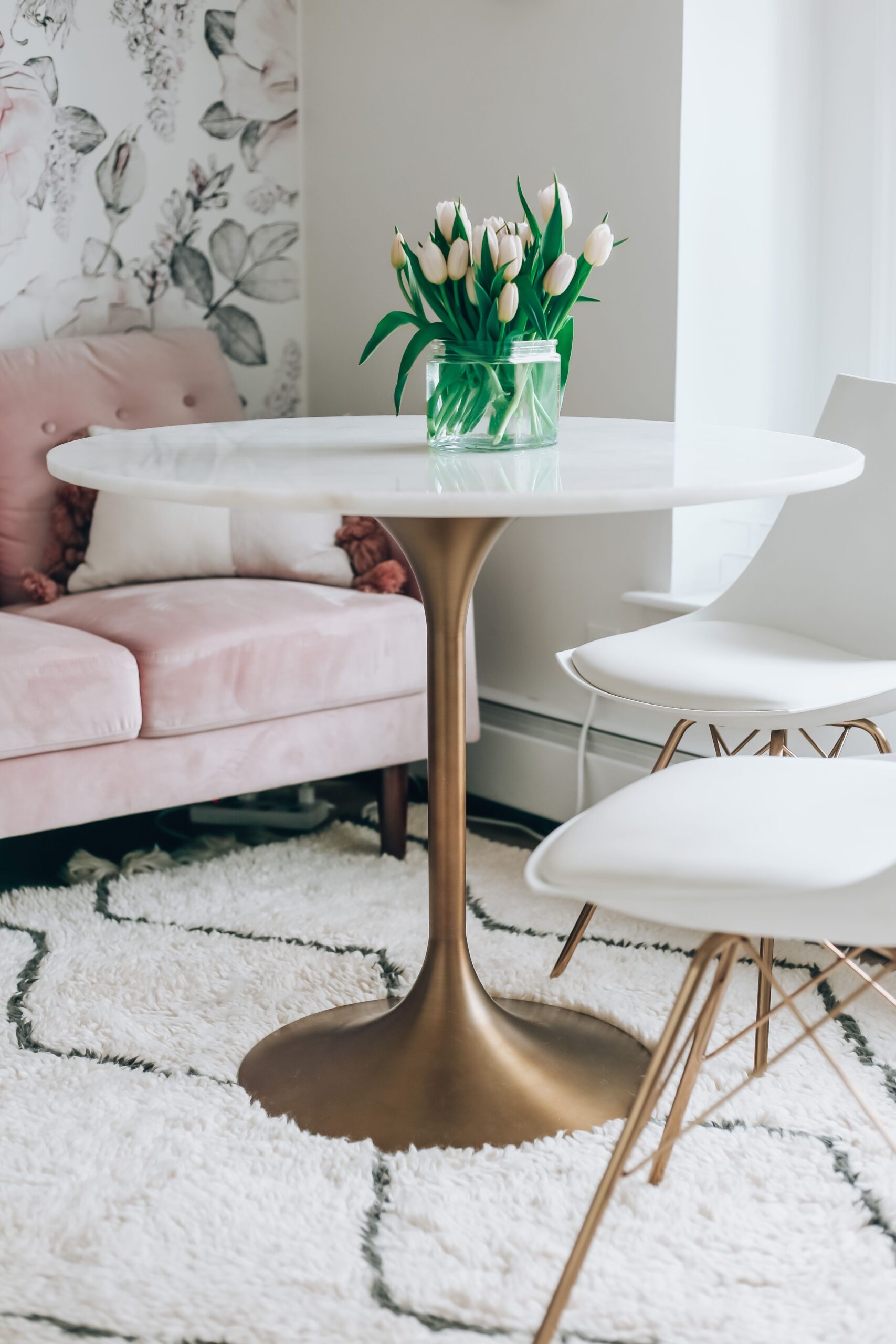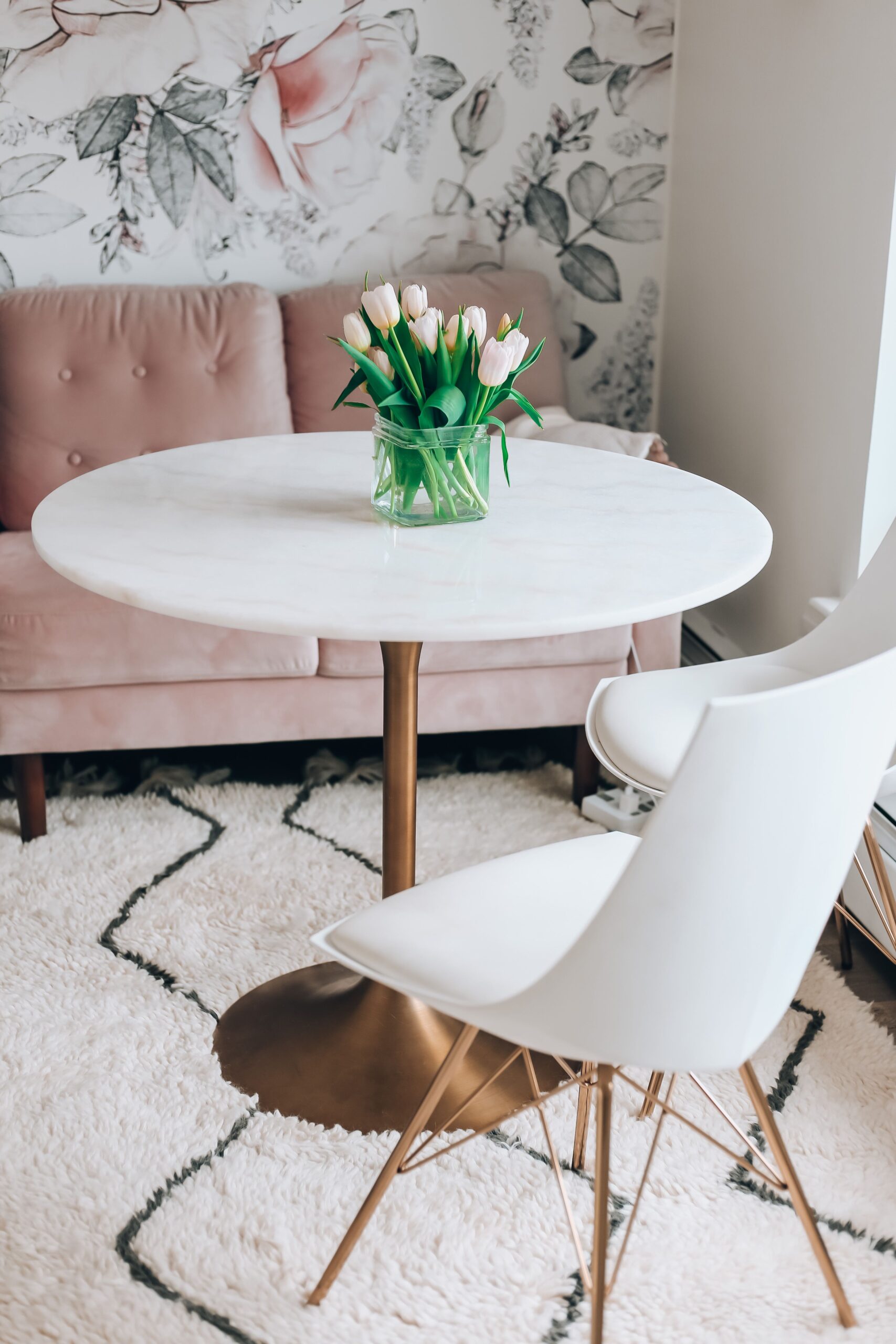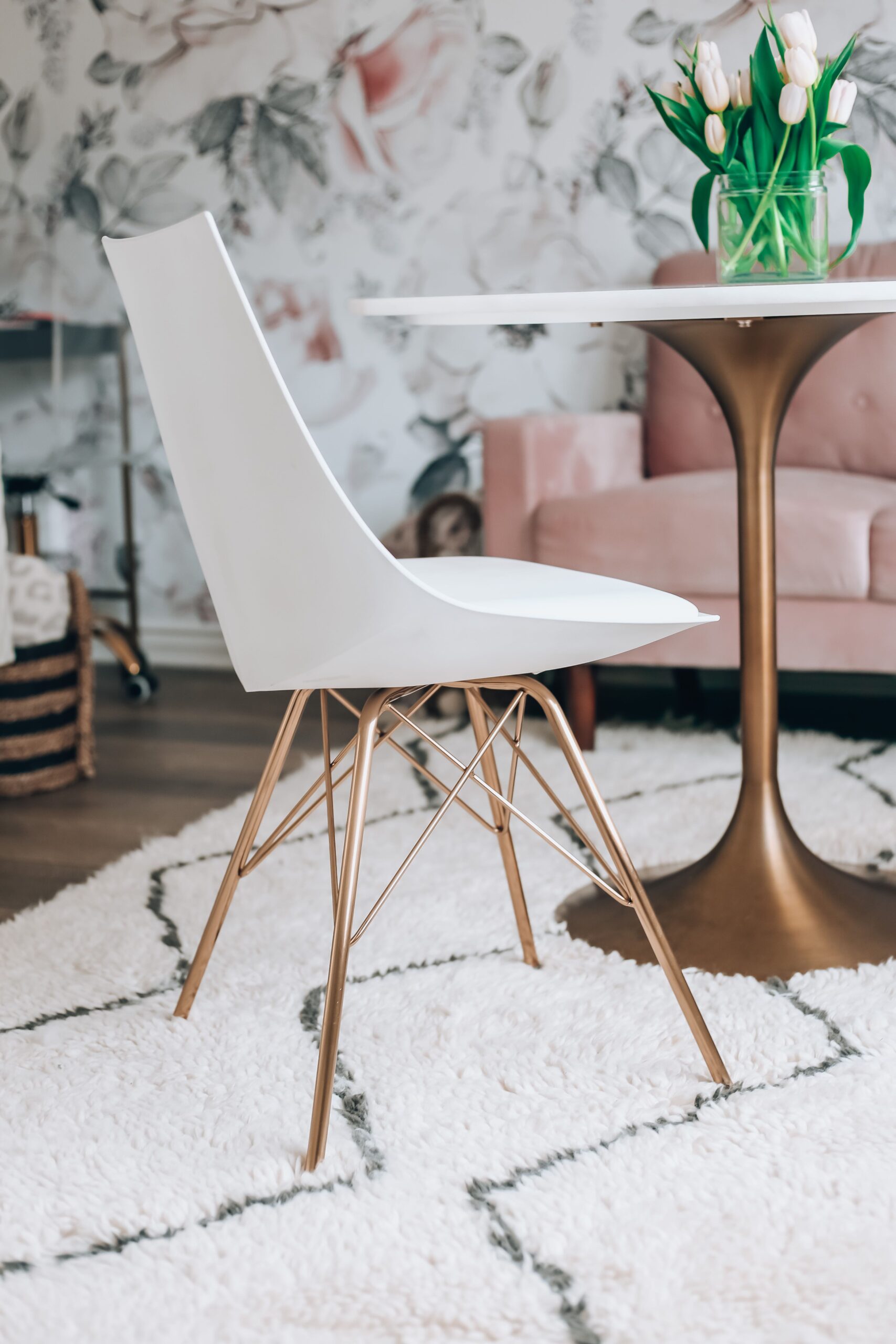 I love getting work done sitting at the table with my laptop. But I also needed another workspace to accommodate my iMac. I found this little desk which fits perfectly in this spot in the room. This is where Michelle sits when she is working in the office. The swivel chair is from Amazon. My gold finish is sold out but here is a similar one from Pottery Barn.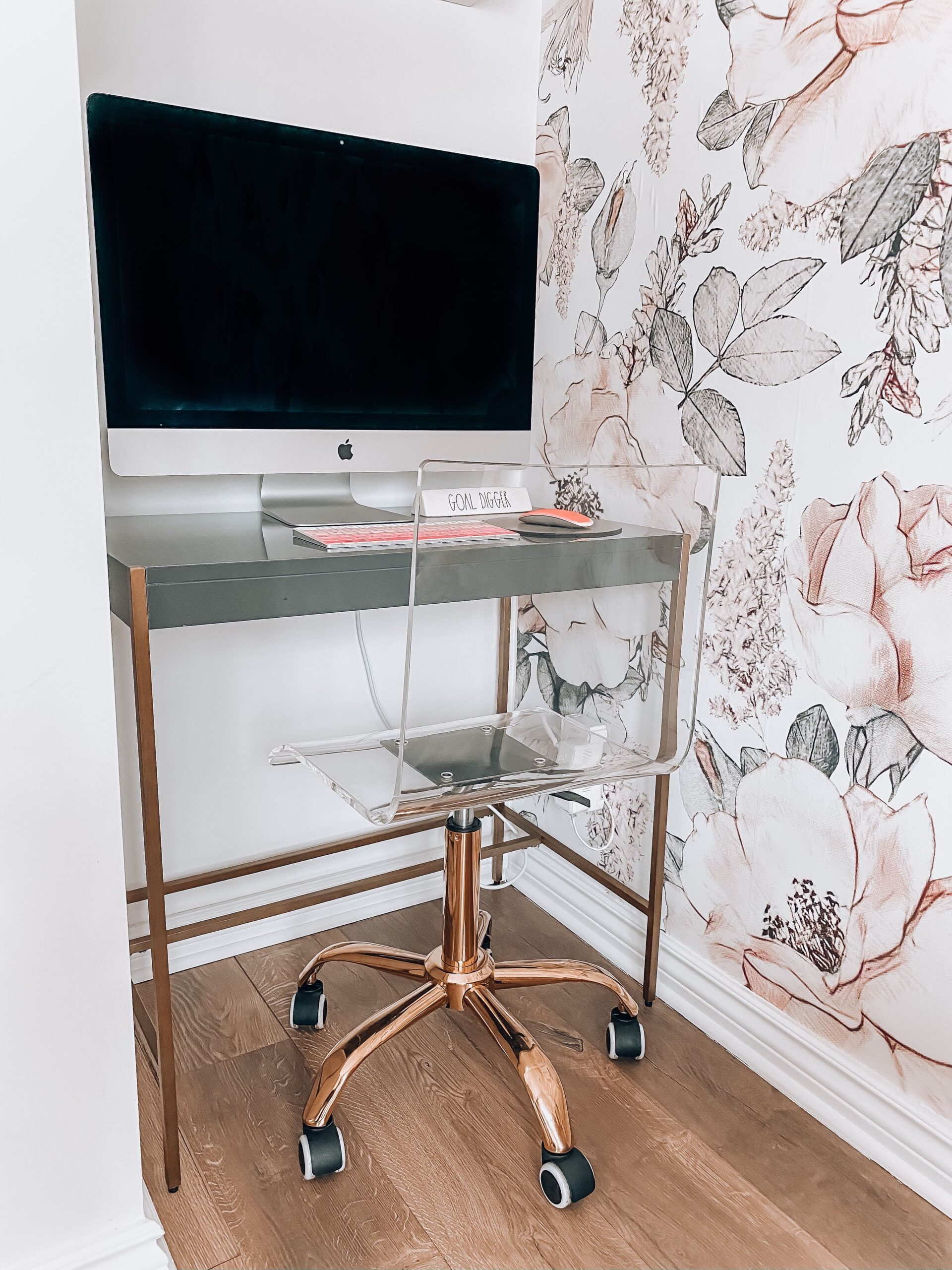 Above the desk, I hung floating shelves to add a bit of decor in the space. They were super easy to hang and I got them at Target. My little knick-knacks are from Target, Homegoods and Tj Maxx. These are such great places for finding the finishing touches for a space.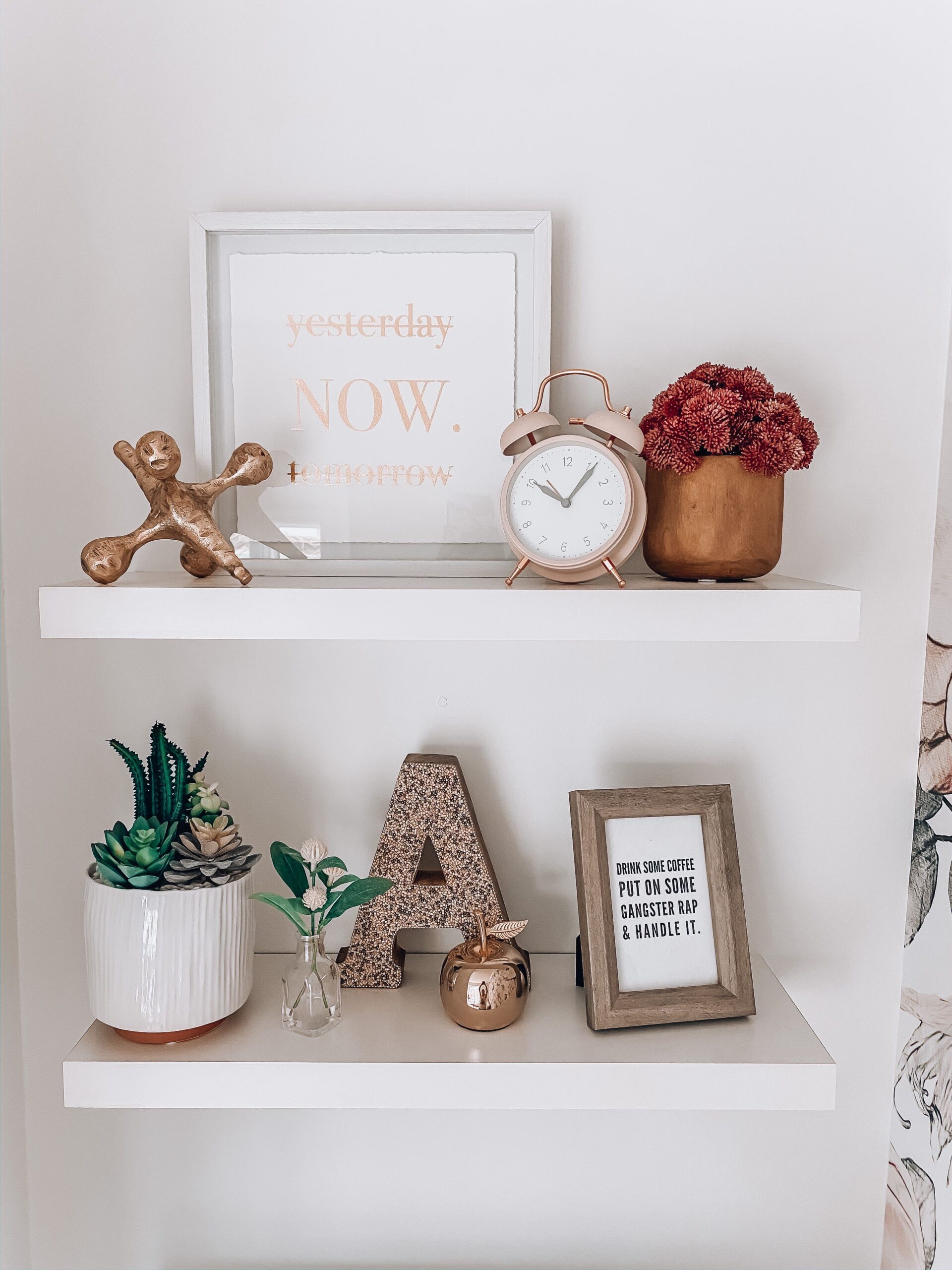 To keep me organized and on track, I am a girl who loves planners. I use an actual paper planner but to visually see everything at once I bought this acrylic wall calendar. It uses wet erase markers and is so helpful to see my month all at once.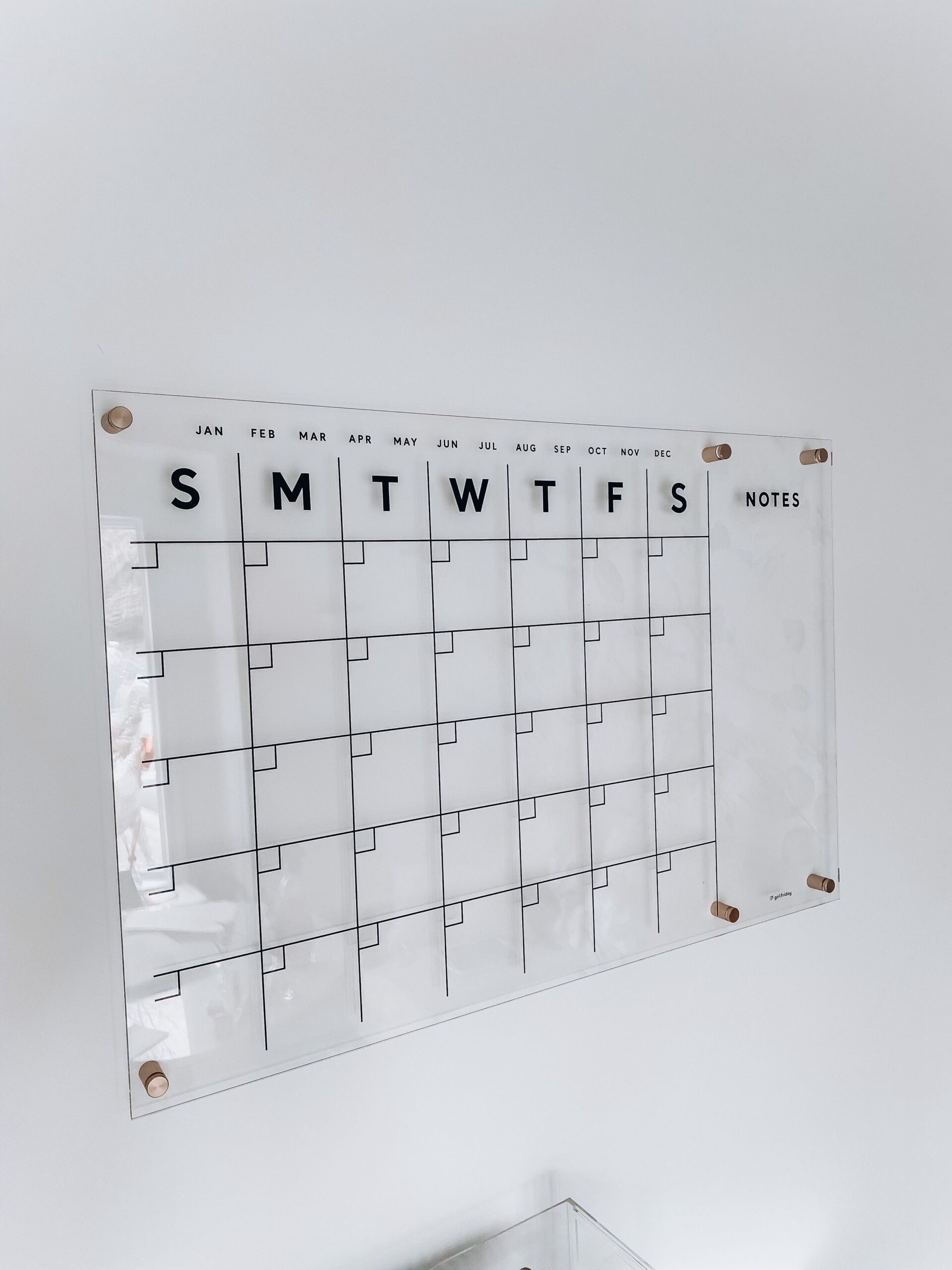 All the cabinetry is from West Elm, I love the style of these pieces. To be honest I found everything at the outlet (if you live near West Elm outlet, I highly recommend checking it out first). Everything was marked down and the imperfections are barely noticeable. This cabinet stores my office supplies.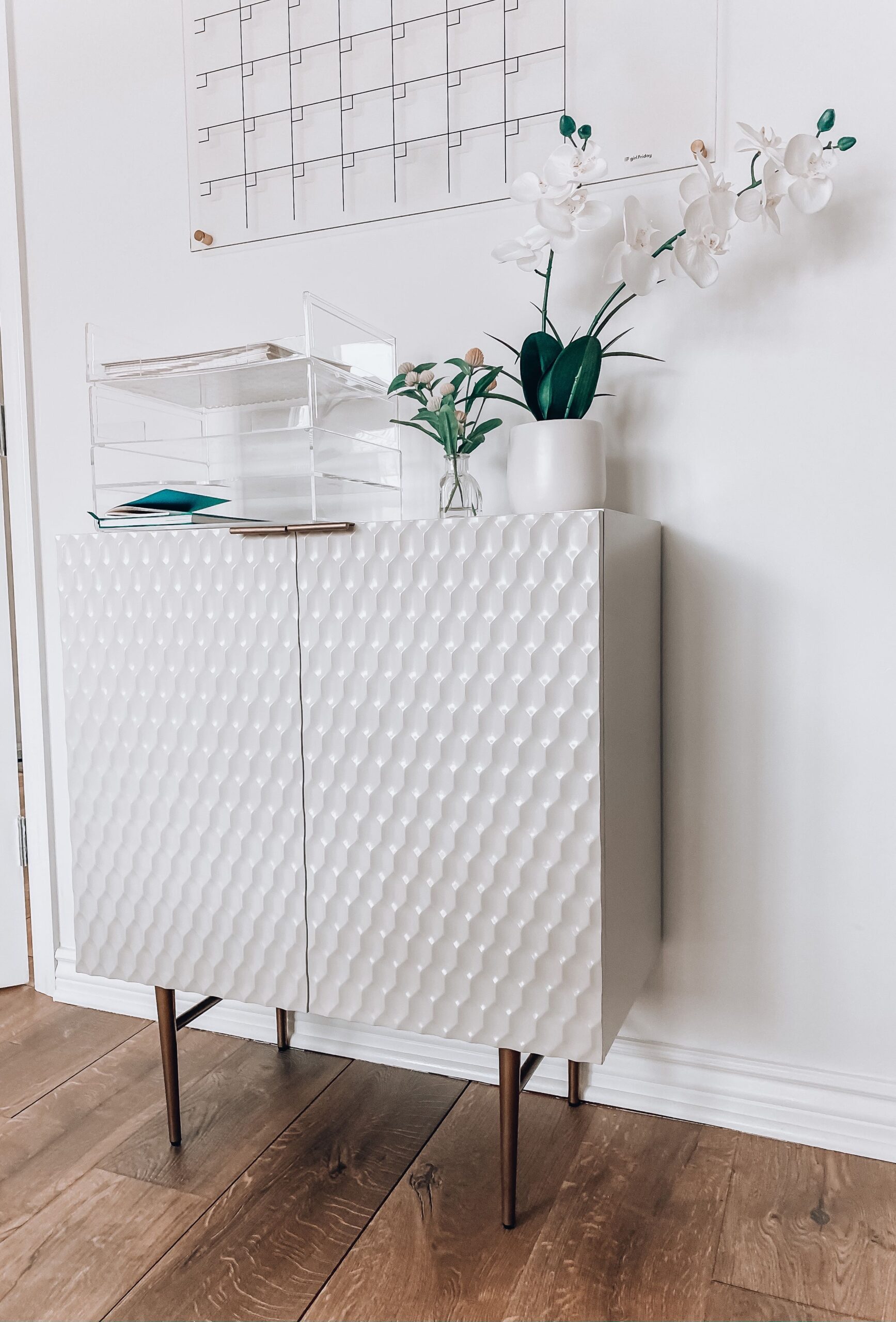 The cabinet is super roomy. It fits perfectly on the wall, I use it to store my printer, camera, and additional paperwork.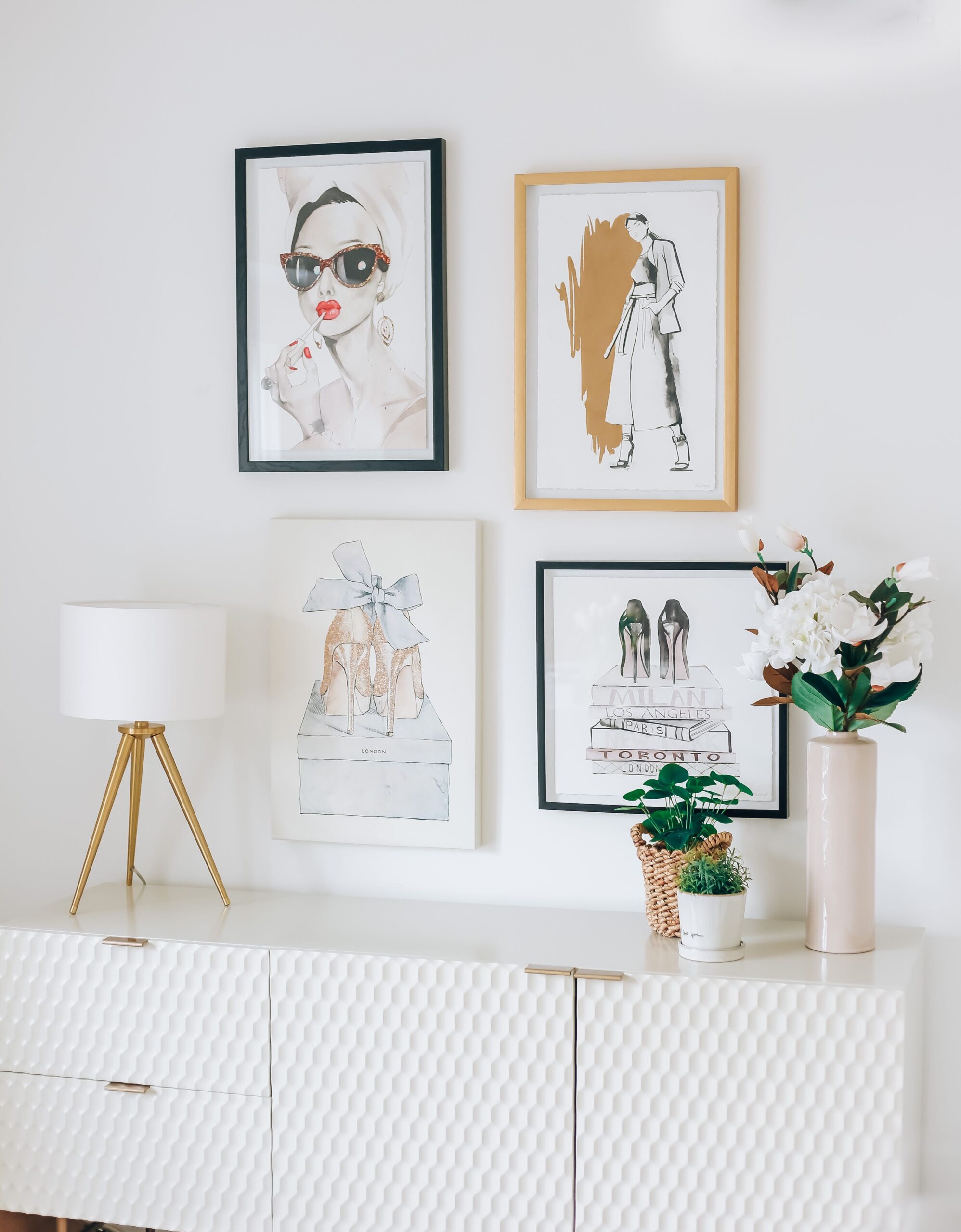 The office gets great light during the day since I have a nice bay window, but for additional lighting I use this desk lamp.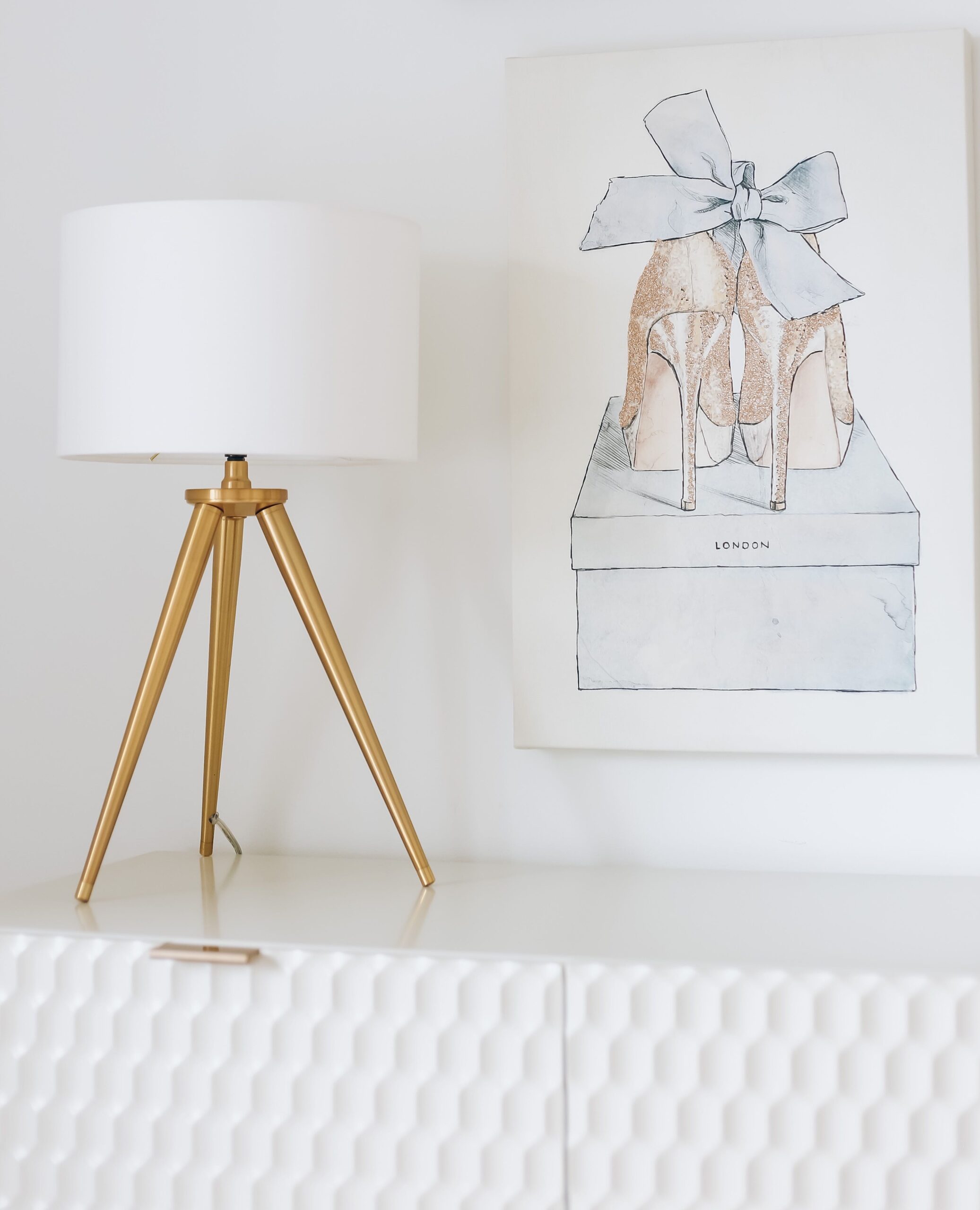 While getting to design and put together your own space is fun overall, I think my favorite part is gathering the finishing details. For a while, I kept going back and forth with what I wanted to do with this wall space. Should I add a mirror?  I finally committed to putting together a gallery wall. I found these on my trip to Homegoods and TJ Maxx which I highly recommend checking out if you are looking for affordable art pieces.
Similar Art Finds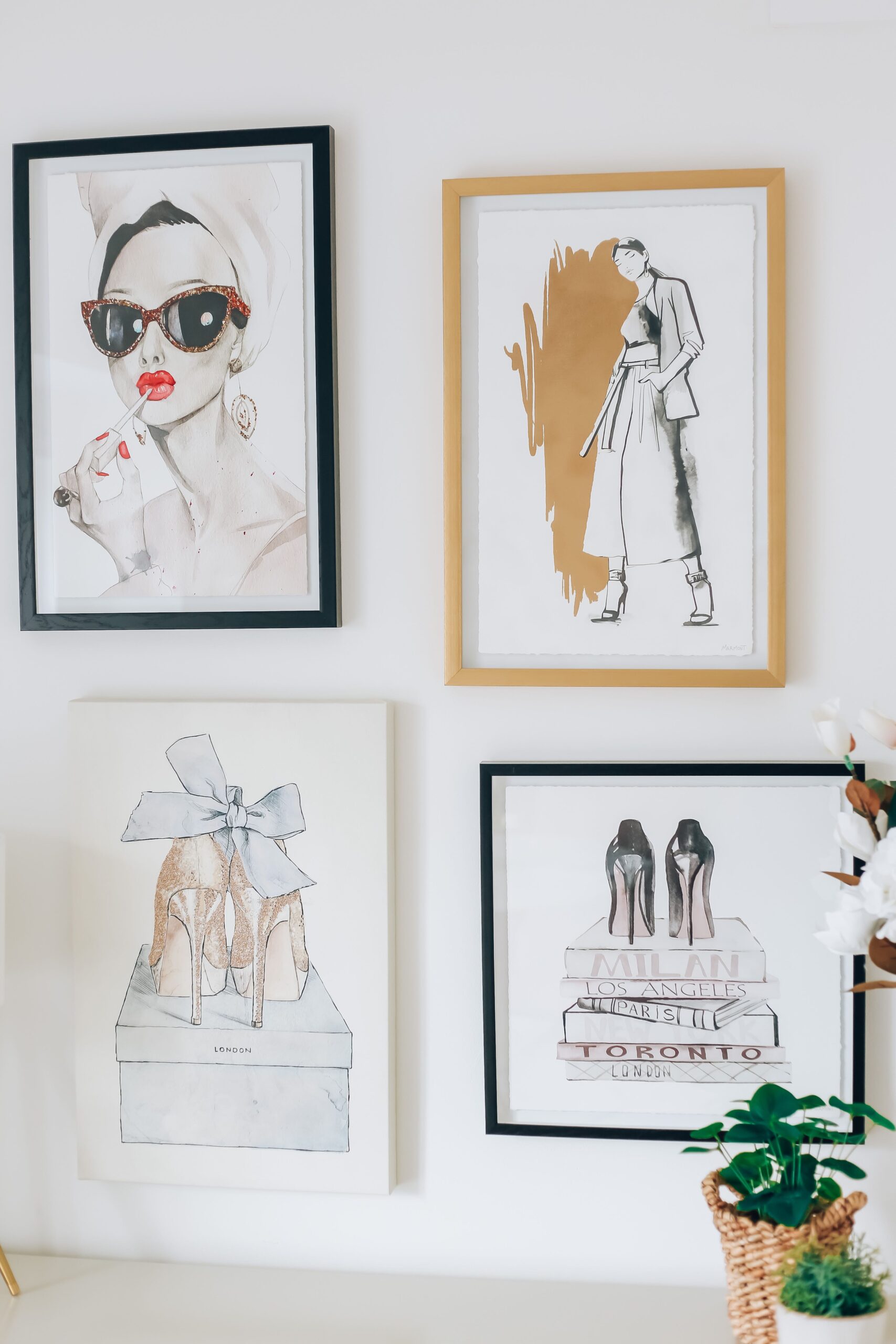 I also love filling my space with faux flowers and plants. Target has amazing selection of these.
BASKET // PLANT // CERAMIC POT // ROSEMARY // HYDRANGEA STEM //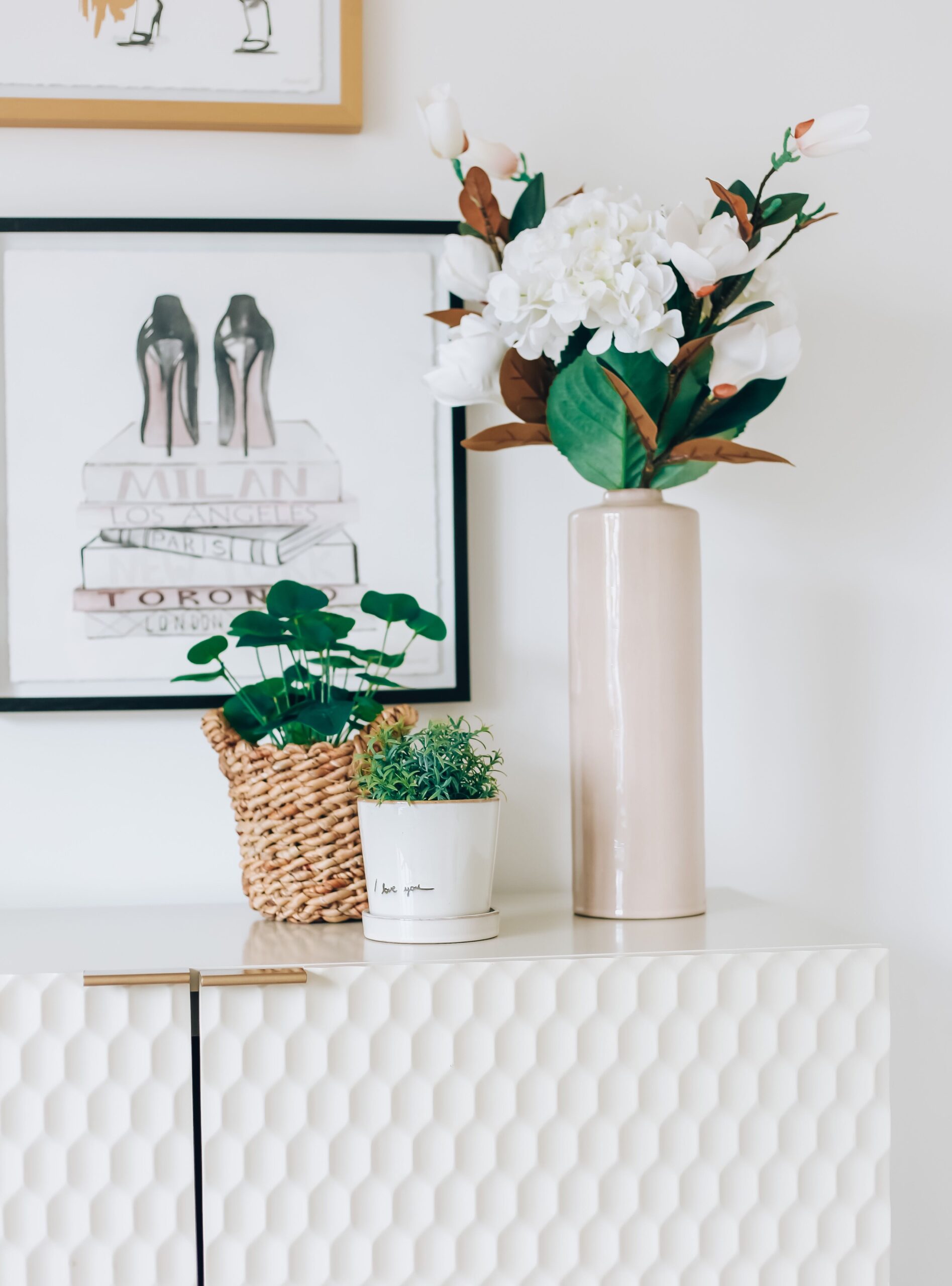 ROUND BASKET (SIMILAR) // ROSES (SIMILAR) // CANDLE HOLDER // VASE (SIMILAR)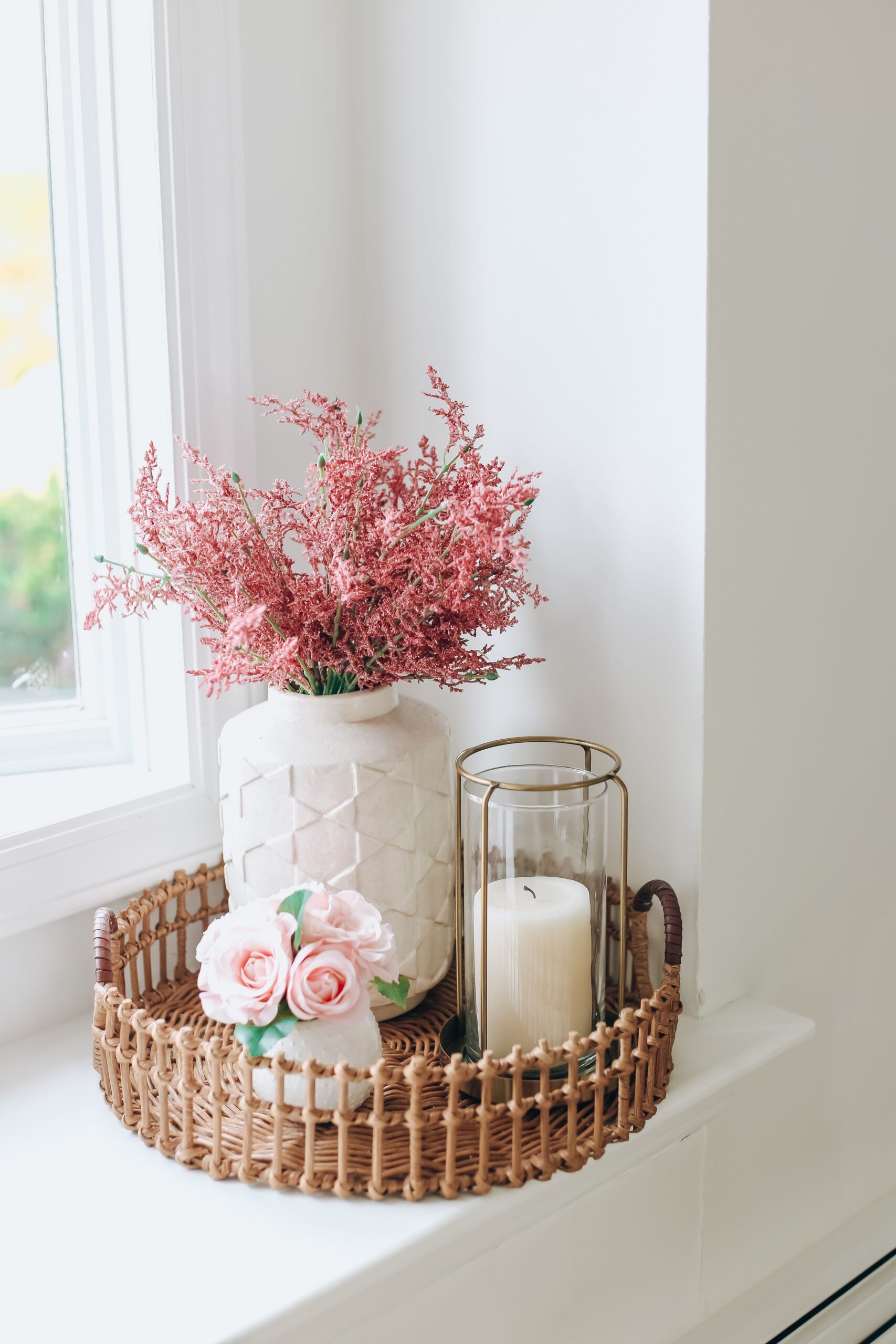 More Home Office Inspiration
DESIGNER CANVAS // JEWELRY BOX // PENCIL HOLDER // CHARGING DOCK // PRADA ART // MIRROR
LAMP // STORAGE BINS // BOOKCASE // RUG // DESK // CHAIR // POUF // SUCCULENT // ALARM CLOCK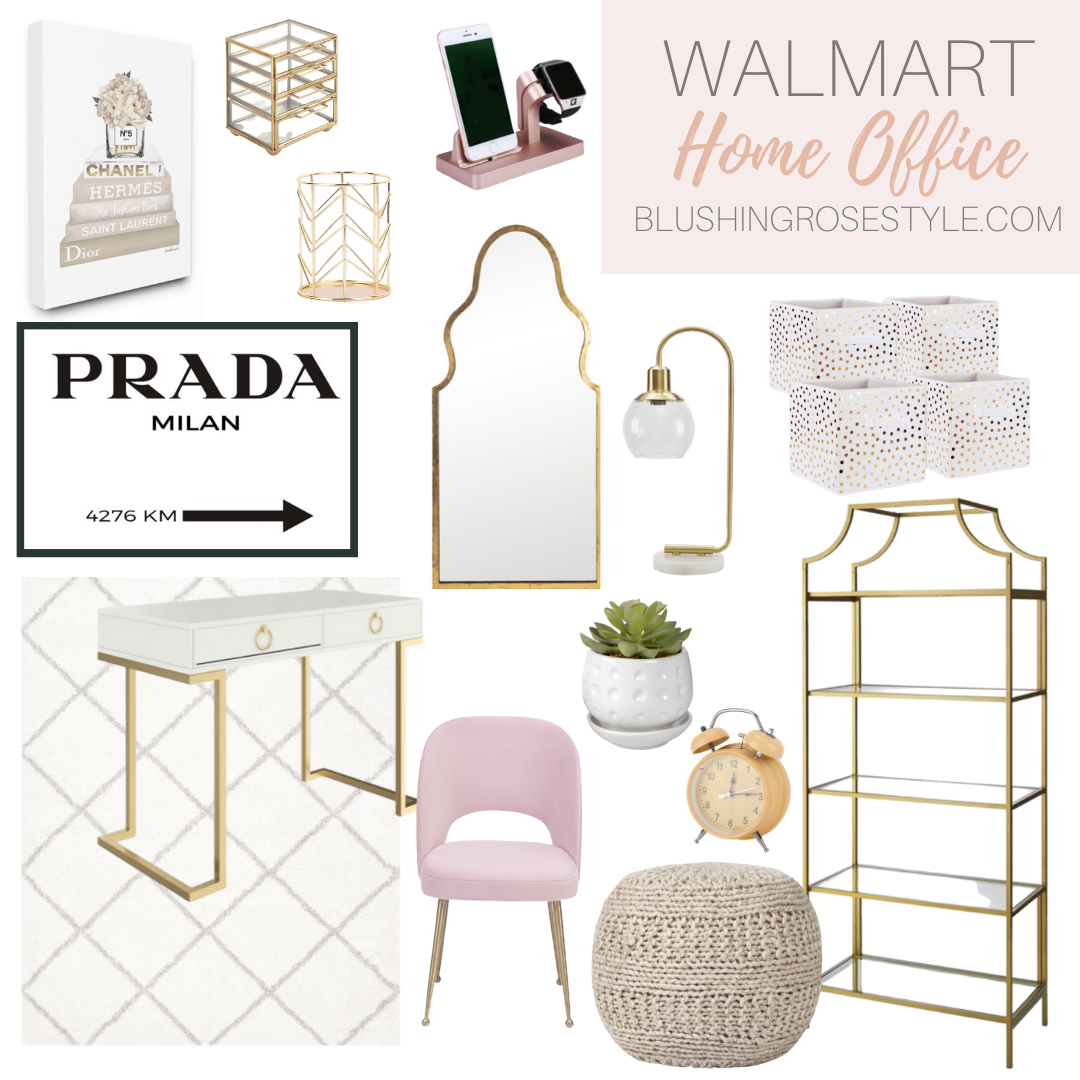 Thank you so much for visiting Blushing Rose Style!