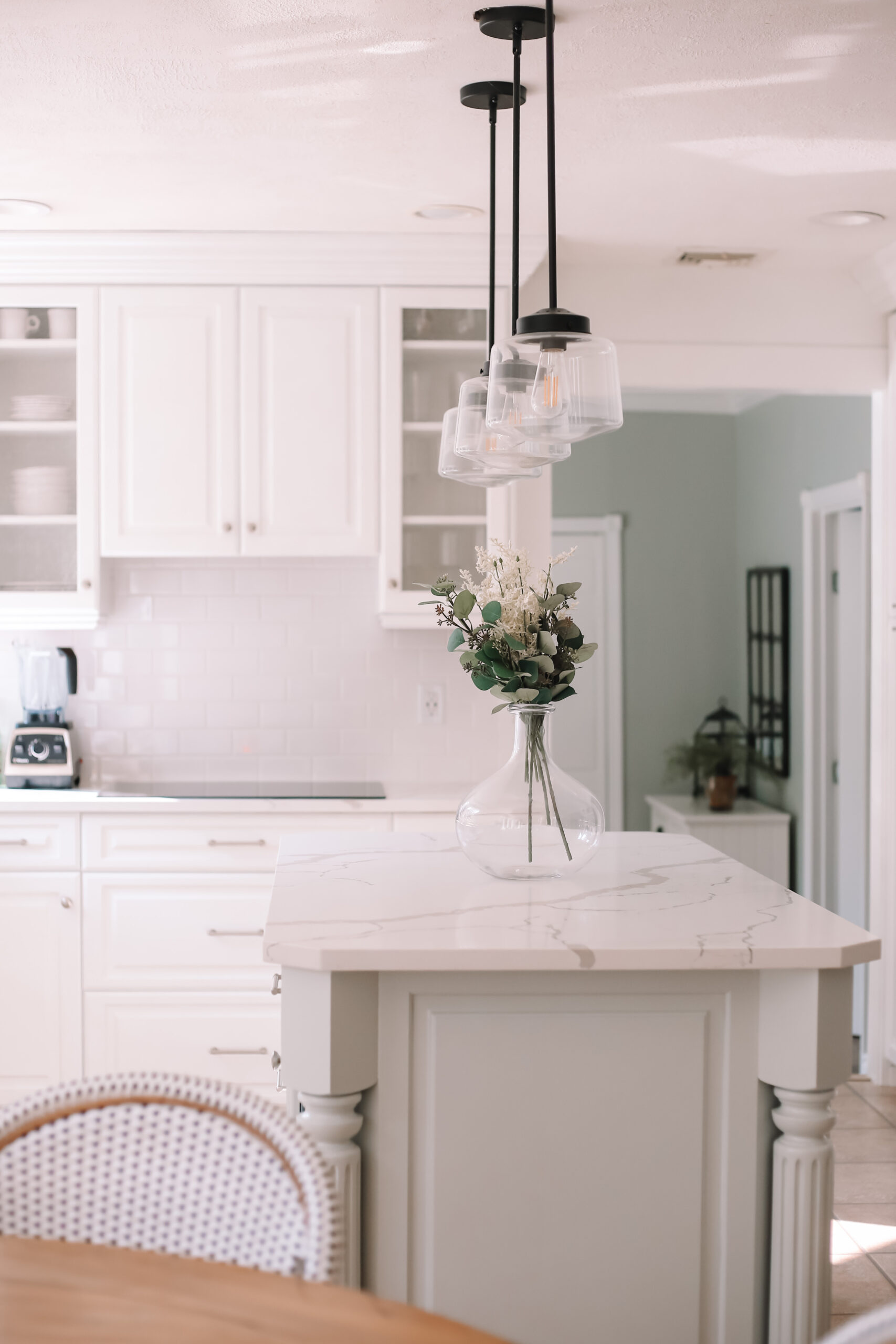 Our kitchen is almost done! Friends, it's been an exciting 3 weeks with some mishaps but we can finally share our kitchen update – painted cabinets, new backsplash and countertops and some fresh wall paint. Still to do – flooring. We are narrowing down the options. I'll touch more on that later in this post.
Kitchen Update -Before and After
The picture on the left was taken 2 years ago, right before we made an offer on this house. We fell in love with the neighborhood, huge (flat) backyard with a swimming pool and amazing school district. These are the things that CANNOT be changed and were most important to us. The inside needed some updates and we are still working on that. Last year, we converted the den (you can see a sneak peek in the doorway) into mud room and my office. It was pretty much a (large) second family room located between the kitchen and the garage. That room also has slide glass doors leading to the pool and backyard – kids going in and out all day, it was a much needed addition. I also needed a dedicated office space. For my home office reveal, visit THIS post.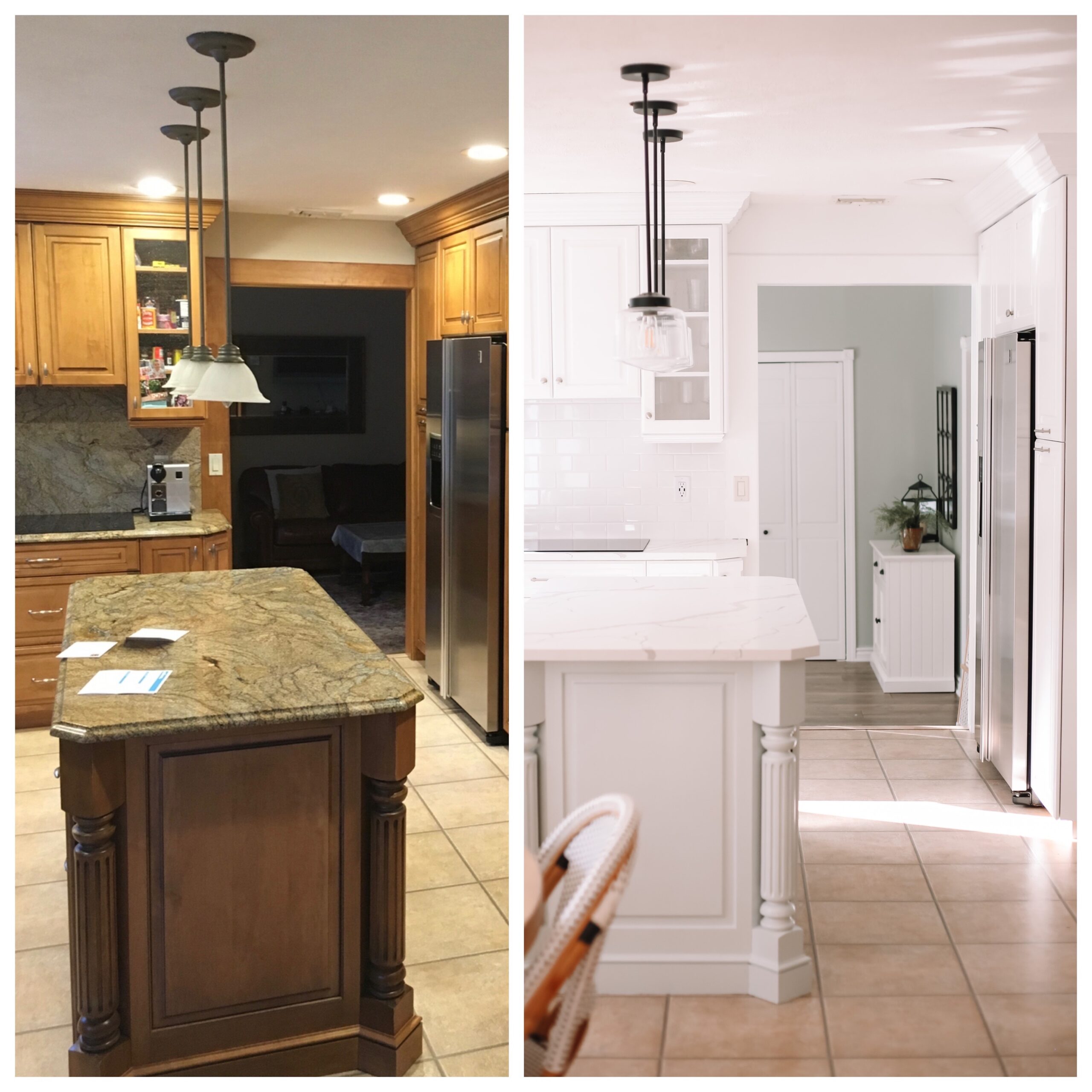 Kitchen Update – Paint Colors & Countertops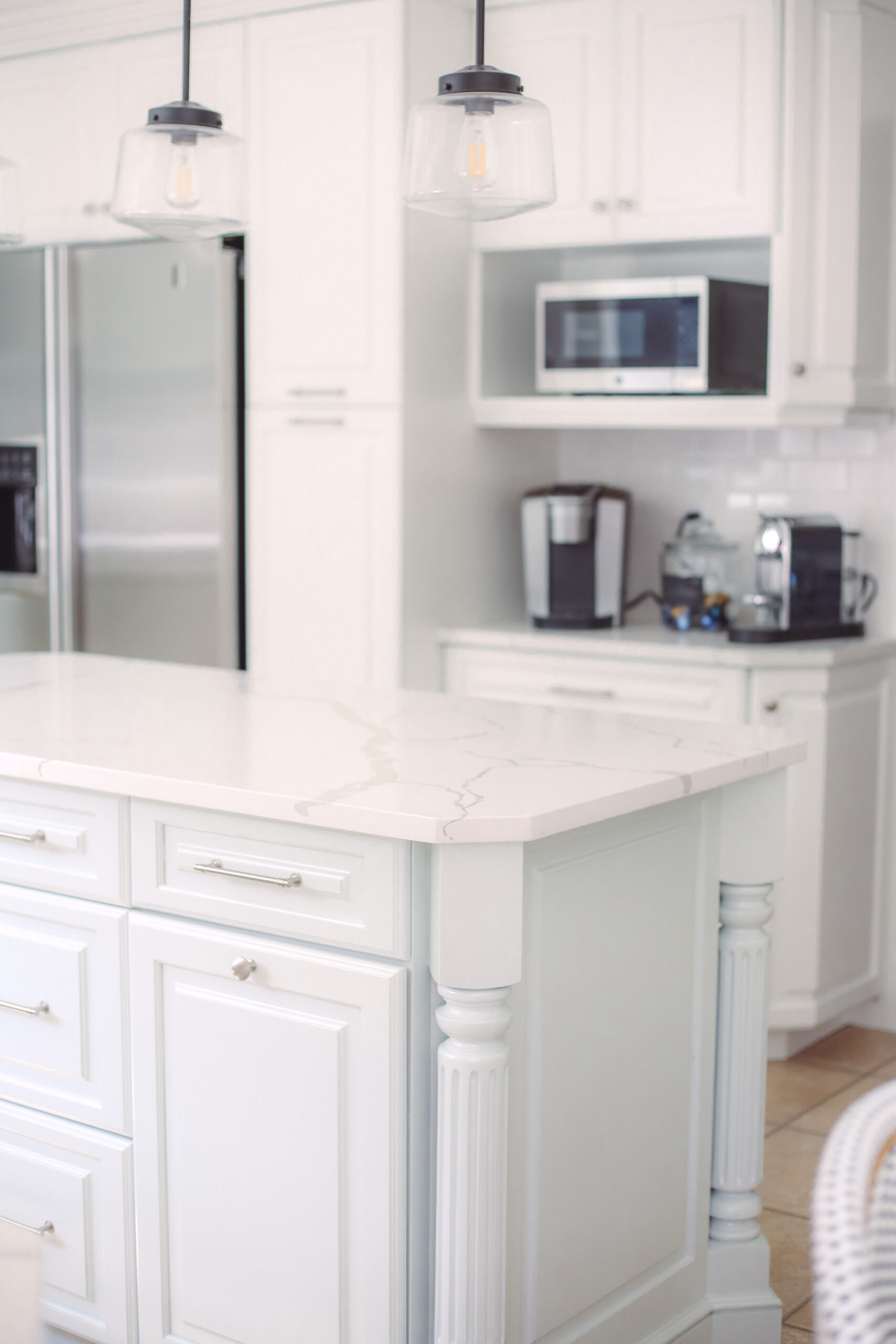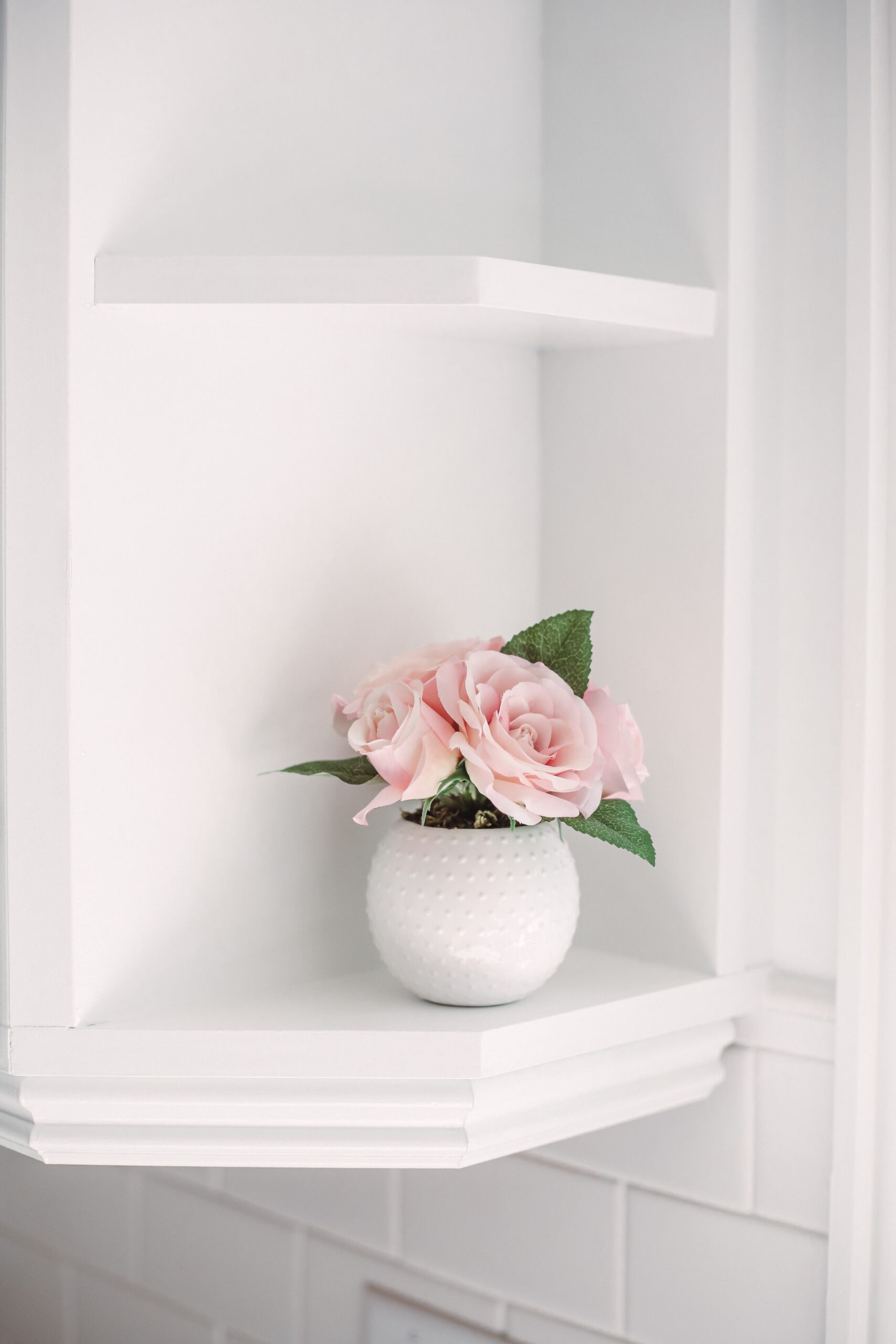 Cabinets – Sherwin Williams PURE WHITE
Walls & Trim – Sherwin Williams PURE WHITE (trim is semi gloss)
Kitchen Island -Sherwin Williams SEA SALT
Let's talk about the SEA SALT color. In some pictures it looks more grey, in some green or blue. That's just it. The color has grey and green undertones and really looks different at different times of the day (with change in natural light). It also looks different in different rooms. We had it in our master bath in the previous home we owned and it looked totally green. Best way to see if the color will work in your space is to just get a sample and test it. Also keep in mind the camera lens alters the colors slightly.
New Countertops & Backsplash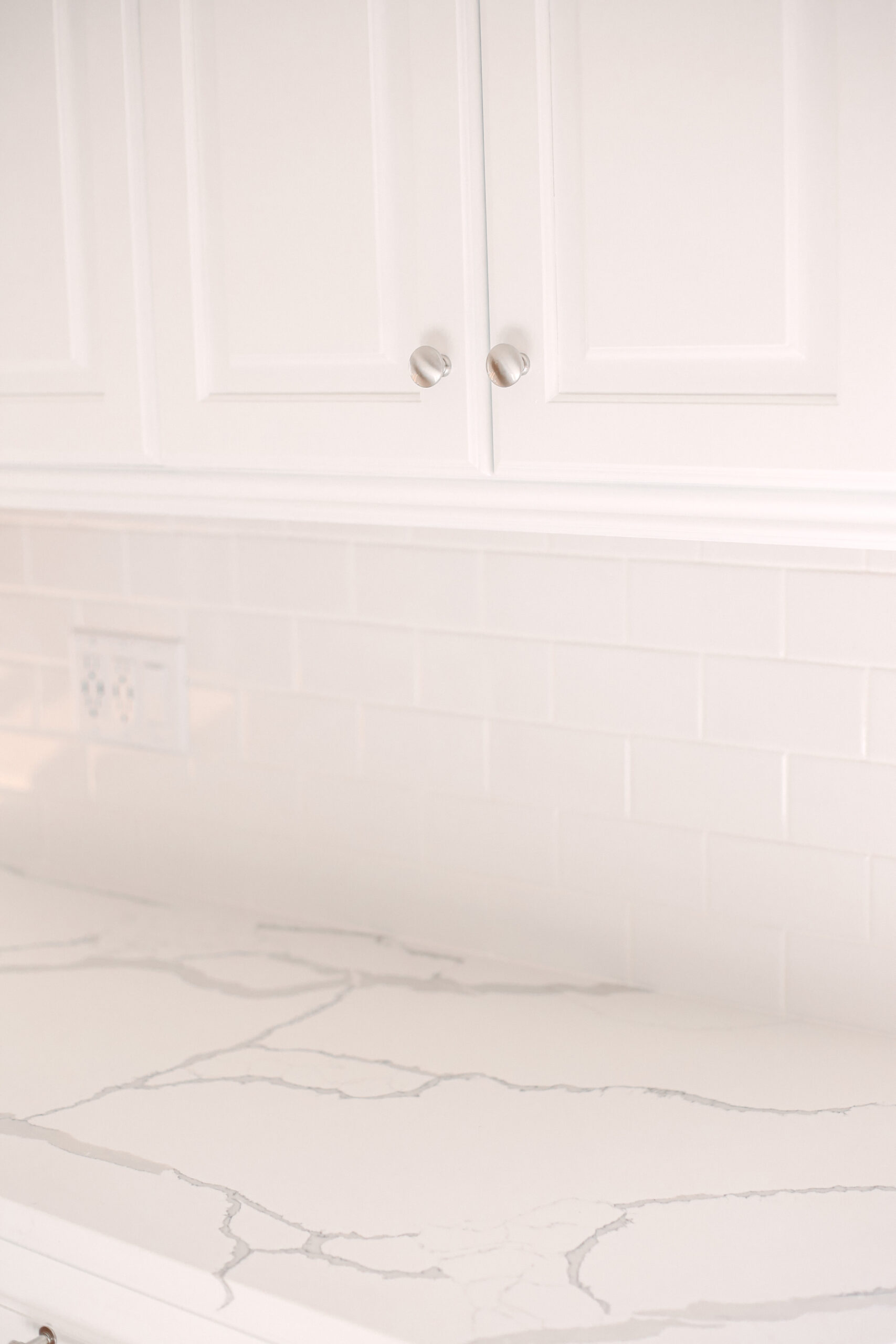 Backsplash – Simple subway tile. Brand is Daltile.
Countertop – Calcatta Romeo Quartz
Kitchen Update -Faucet , Knobs and Pulls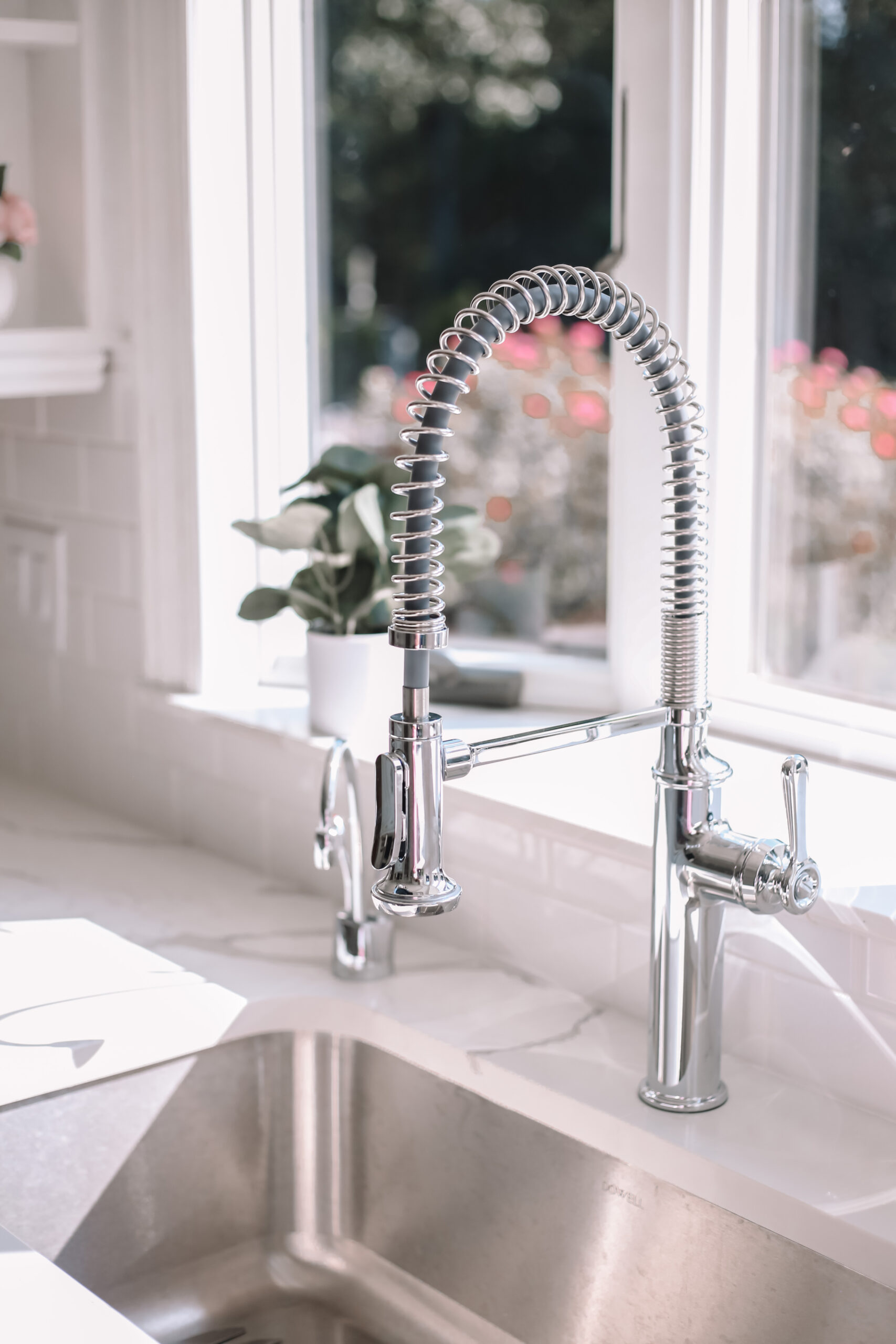 The faucet is Kohler available HERE. Knobs and pulls are from Wayfair. Make sure to measure the pulls correctly. I estimated and of course ordered the wrong size.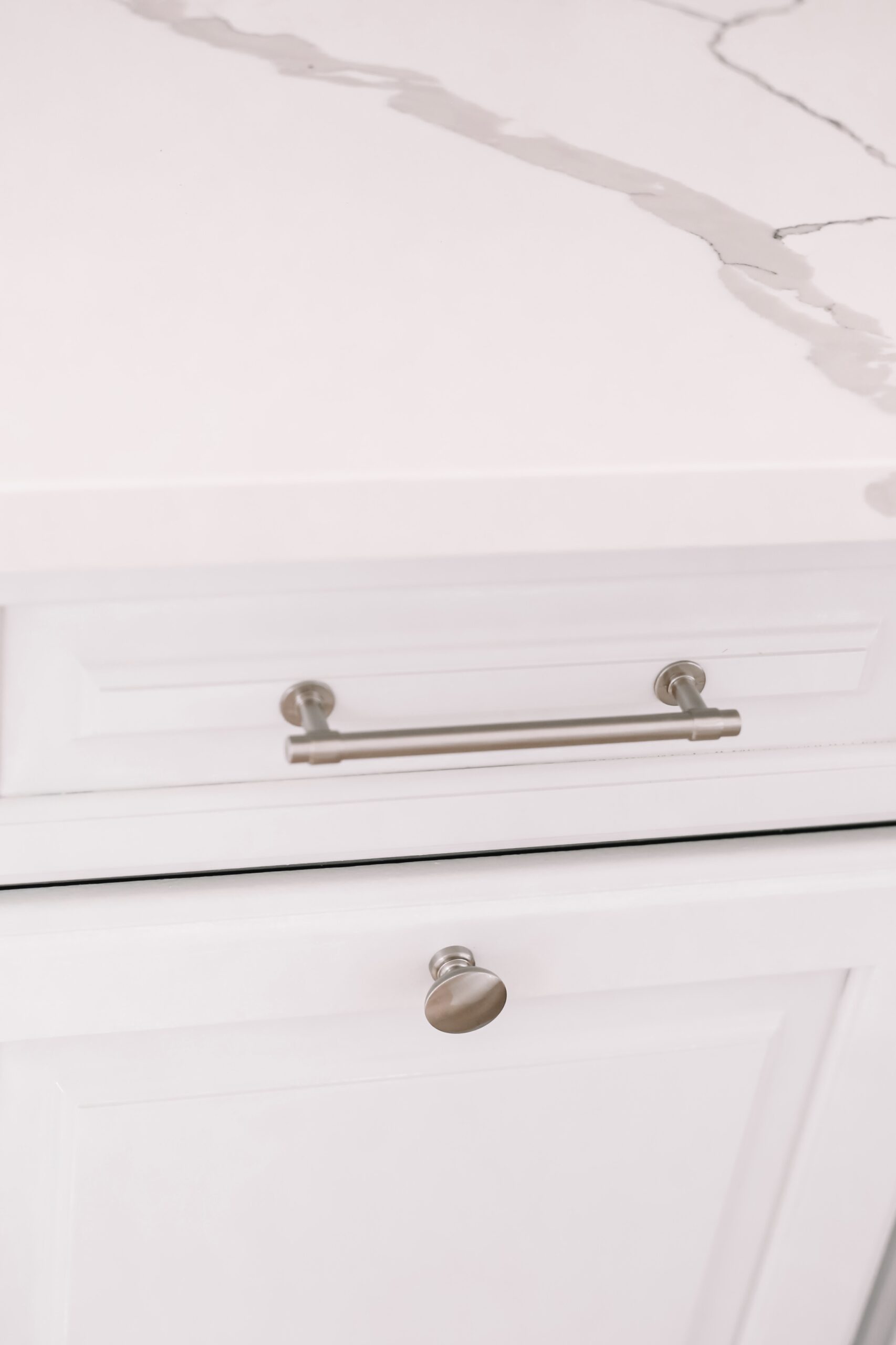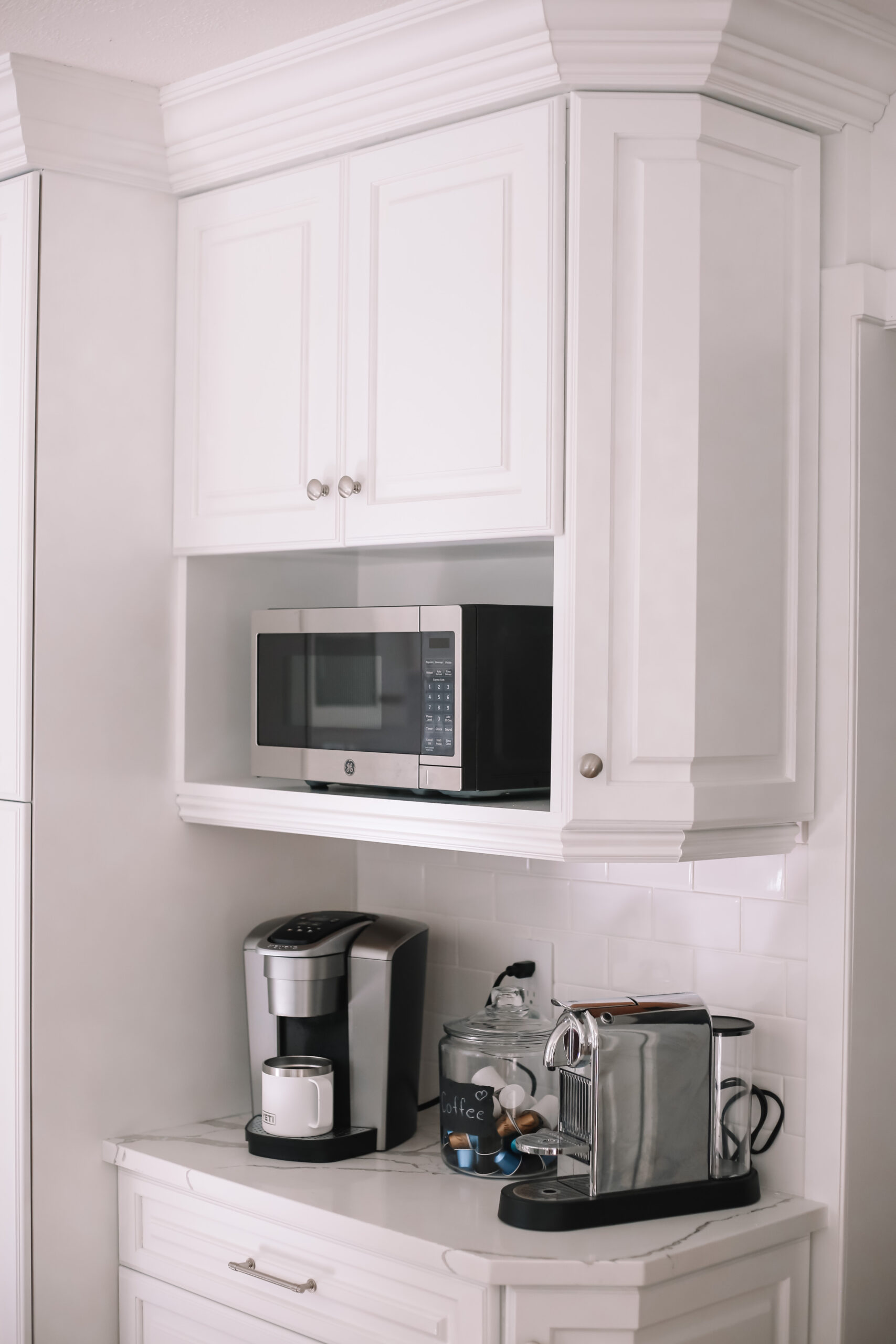 Kitchen Update – Light Fixtures & Furniture
We replaced the pendant lights as soon as we moved in 2 years ago. The Lantern Chandelier is still available and on clearance.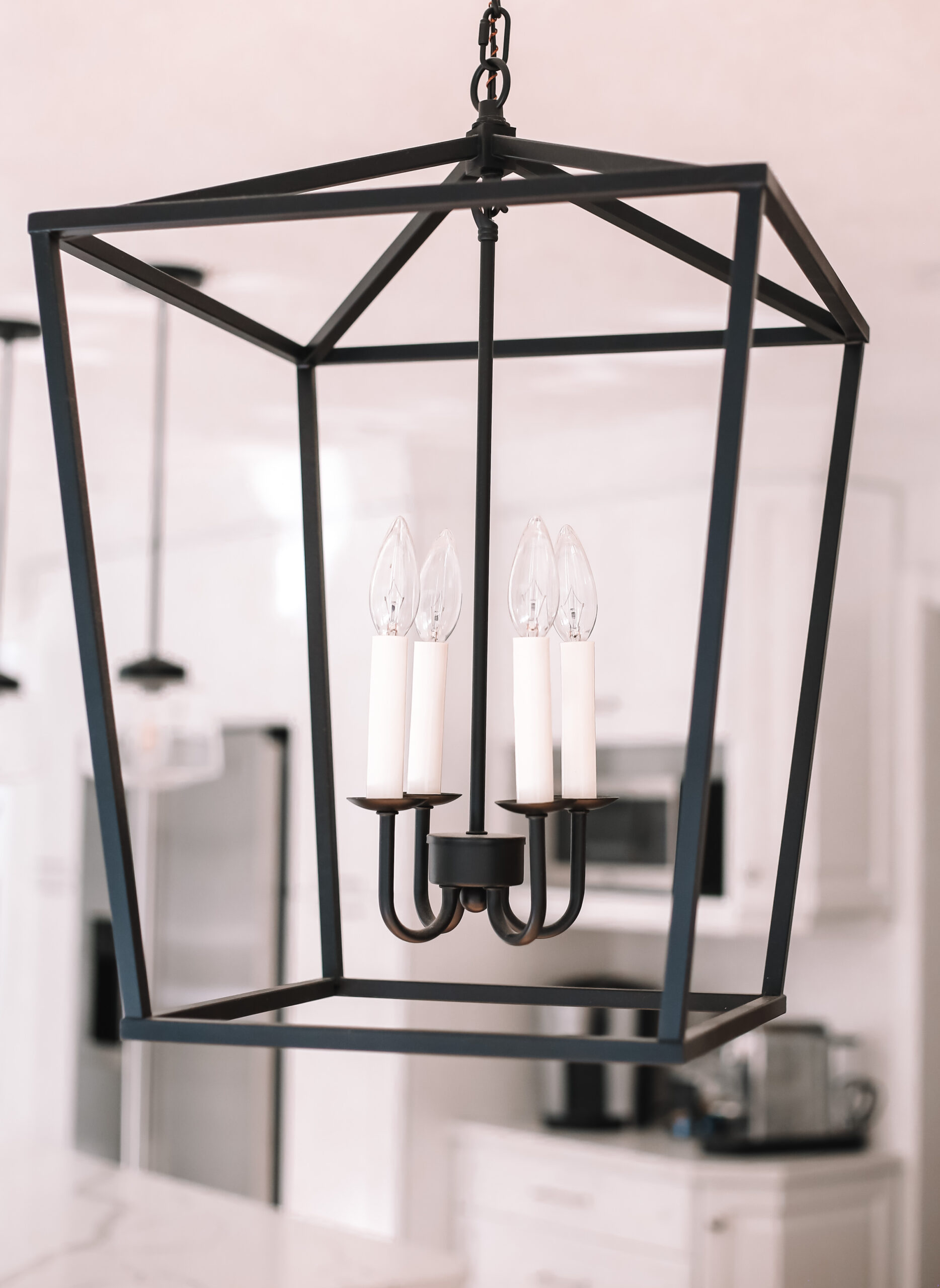 The dining chairs are from Serena and Lilly. They are quite a splurge, but the quality is amazing and they're so comfortable. You can sit on them all day. The table is from Wayfair.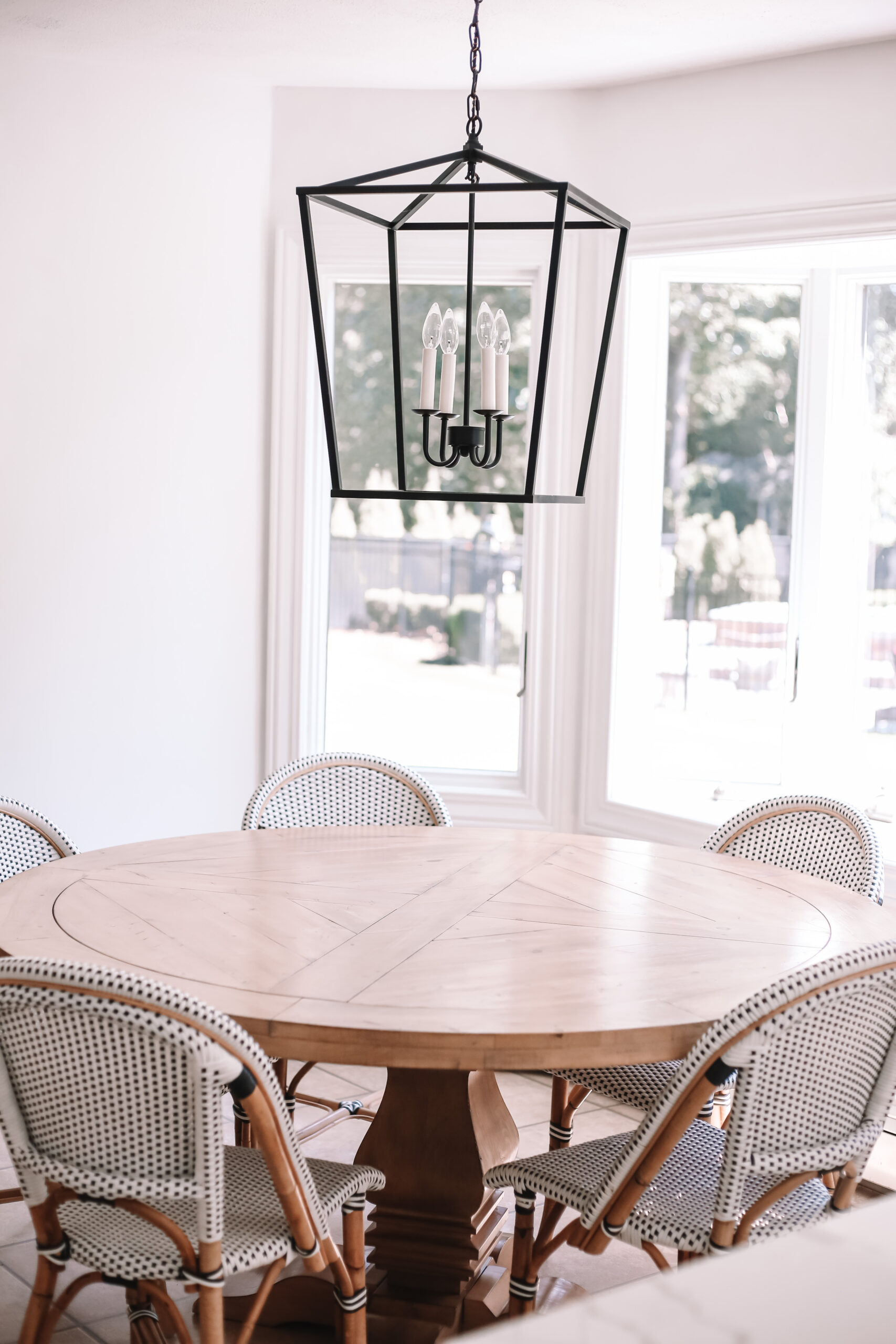 The pendant lights are sold out (bought these 2 years ago) but there are few similar options still available.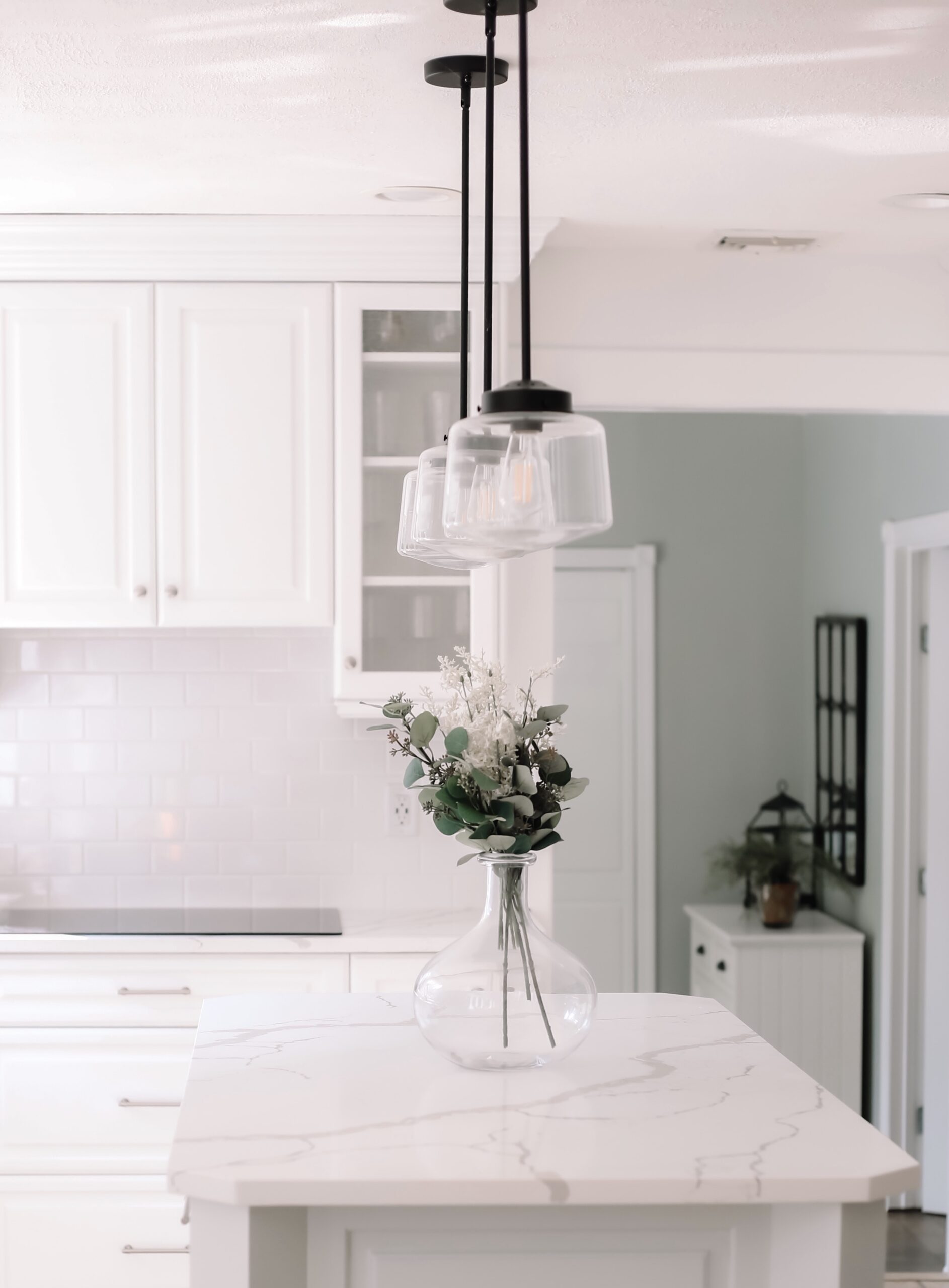 Kitchen Update – FAQ Painted Cabinets
So many of you asked about the process, so I thought I would ask the experts. The ladies of Rinnovare (find them on FB if you're a Long Island local) painted our cabinets. They were a pleasure to work with. The project was done on time (and schedule), the estimate was the final price (no surprises) and there was no mess left behind. Most of all, they were just so pleasant to be around. I work from home and I felt like I was hanging out with friends. And the cabinets look brand new!!! I could not be happier. Highly recommend their services.
Our cabinets were in great shape. There was no reason for us to replace these cabinets. Painting was the best option. Many of you asked how much did we save by going with painting vs replacing. Based on the few estimates for our kitchen, we saved at minimum $20, 000! Isn't that crazy?
Here are top asked questions -answered by the pros.
How do you prepare cabinets for painting? Do you have to strip the cabinets?
Rinnovare: You don't have to strip cabinets for painting. Each project is different, we don't know the exact steps / prep process until we get our hands on the cabinets. We prep doors with wet sanding. We clean the cabinets prior to painting, we use degreaser (some people use kitchen cleaners like Pledge), then sand. We sand all cabinets, some need more sanding than others, especially if there is some damage. Depends on the condition of the cabinets.
Do you use specific type of paint?
Rinnovare: We use alkyd based paint.
Tips for hiding brush strokes? Is spraying the best option?
Rinnovare : Spraying is never the best option. Most people thing is spraying is the way to go, but in fact brushing makes the paint adhere so much better. And we use self -leveling paint. We don't use standard painting brushes. Not to give away our secrets, but we use artist brushes. And it's all about the technique… it takes years to master 🙂
How long does an average project take?
Rinnovare: It really depends on the size of the kitchen. It would be a lot faster if you didn't have the drying time. You're supposed to wait 16 hours between coats.
Can you use chalk paint to paint bathroom cabinets?
Rinnovare: Yes you could. We don't.
Can you paint laminate cabinets?
Rinnovare: Yes.
What is the cost?
If you are local, message Rinnovare on FB. They will send you a list of questions, ask for images and you'll be able to get estimate shortly. It varies on the size of your kitchen, details (crown, etc), and so much more. Price may also vary based on the area you live in.
What are most popular colors for cabinets (whites & greys)?
Rinnovare:
Whites: White Dove, Decorator's White, Pure White , Chantilly Lace, Dove Wing.
Greys: Grey Owl, Metro Grey, Revere Pewter.
What are the most important things to look for when hiring a cabinet painting company? Red flags?
Rinnovare: Makes sure the company specializes in cabinet painting (not just painting). Look for references, ask for before and after pictures.
I'm worried cabinets will peel and chip? Will they?
Rinnovare: The cure time for the paint is 30 days. Be careful with cleaning and harsh use for the first 30-60 days. This may be a problem if the cabinets were not prepped or not the right products were used in the process. Don't cheap out on your products. We use high end paints.
Kitchen Update – Before & After Pics
Thank you so much for visiting Blushing Rose Style Blog. What did you think of this transformation? I smile every time I walk into the kitchen. I'm just so happy. Let me know if you have any questions.