Hey girls. For those of you who don't know me, I am Anna's assistant, Michelle. I have been with Anna for almost a year now (wow, time flies by) and I absolutely love working with her which is clear because you girls already know how amazing and wonderful she is.
I am excited for this post today because I am going to be sharing with you some of my favorite clean beauty products. As someone who has been a vegetarian for twenty years I have made some choices in my life regarding health, what I wear and the products I use. On the market today, there are so many products to choose from that are clean and cruelty free ranging from makeup, skin-care and sunscreen.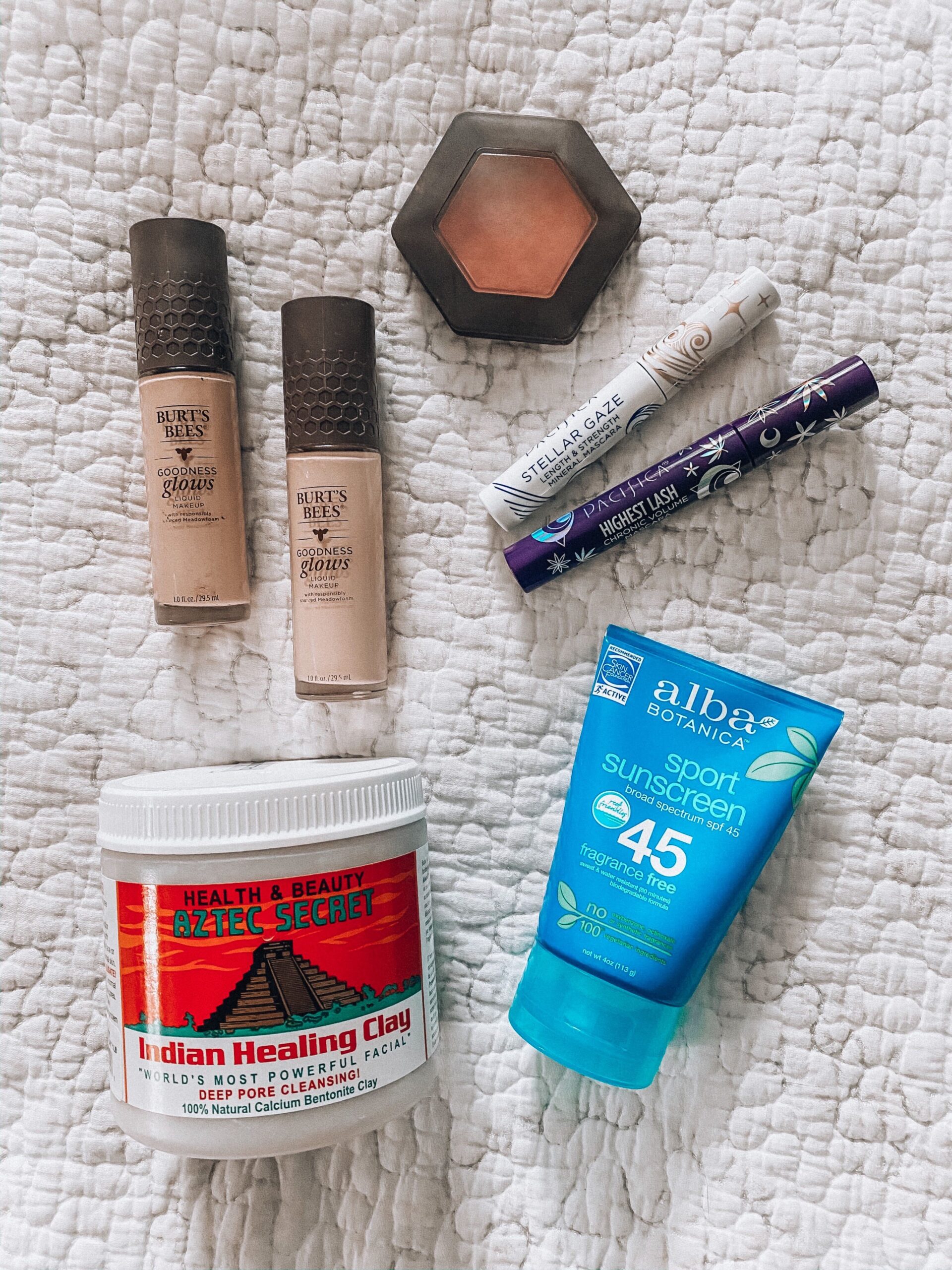 Pacifica Mascara
I have been a long time user of Pacifica products. They are a drugstore brand which makes them super affordable. I have used their face masks, eye shadow palettes and face wash but my all time favorite of theirs is definitely their mascara. I have very sensitive eyes so a lot of products tend to irritate me. After trying many on the market, I have found that theirs works the best for me. It's long lasting, doesn't clump and doesn't run. My go-to is the Stellar Gaze but recently have been using the Highest Lash and love the application wand and feel it really applies the product so well and my lashes look elongated.
Burt's Bees Foundation
Now we all have heard of Burt's Bees but have you ever tried their make-up line? I use their blush in shy pink and have been using their Goodness Glows foundation for a little over a year now. I have acne prone skin, but have found that I prefer light to medium coverage over the cakey-full coverage look. This foundation does just that, covers just enough and leaves a bit of a glow. Depending on the time of year, I use either Ivory and Porcelain on their own, or I mix together to find my perfect shade.
Face Oil
As someone who absolutely loves skincare and make-up, wants to try it all, but has blemish prone skin, it can be quite the experience when trying different products. I  get so excited when I purchase a new product but get more disappointed when the result wasn't exactly the one I was looking for. I started using the Juice Beauty Stem Cellular Replenishing Oil last summer and I just ran out a couple of weeks ago. Looking back, it was probably my favorite face oil I've ever used and this is a reminder to myself that I need to re-order it! I would apply it in the morning as my primer and it would keep my skin hydrated and my makeup in place. It never clogged my pores or broke me out. It's on the pricier side, but I don't mind investing in a good product if it works and lasts awhile.
Face Mask
If you are looking for a deep pore cleaning face mask, I highly recommend the Aztec Secret Indian Healing Clay mask. The description says that your skin will pulsate and it is so true! I have used so many masks and this one is the one I use the most. It truly works for me and cleans out my pores. The tub costs around $8 and will last you for months. I will warn you that it is a bit messy but I find the benefits outweigh that con.
Sunscreen
Last but not least, I wanted to share some of my favorite sunscreen picks now that summer is on the rise. I am a very big advocate for sunscreen and protecting your skin from the sun. I've had a few skin scares in my life and to me there is just no reason or excuse to not wear any! For my face, I love Coola Organic Classic Sunscreen. It's light, unscented and has broad spectrum protection. I've also recently ordered Supergoop! Unseen Sunscreen and their Shimmershade eye shadow in golden hour that also has SPF in it. Eye shadow with SPF? Yes, please!  I cannot wait for that to arrive. My favorite drugstore sunscreen for the rest of my body is Alba Botanica Emollient Sunscreen. It is fast absorbing, water resistant, and coral reef safe.

I hope you enjoyed this mini round-up of my favorite products. If you have any clean beauty recommendations, I would love to hear!