Thanksgiving will be here before we know it. I can just hardly wait, it is my absolute favorite holiday. Even though it's just the four of us, I cook a big feast, we dress up and enjoy every moment. What are your plans? Are you hosting or visiting with loved ones? Btw, if you need outfit ideas, make sure to check out this post.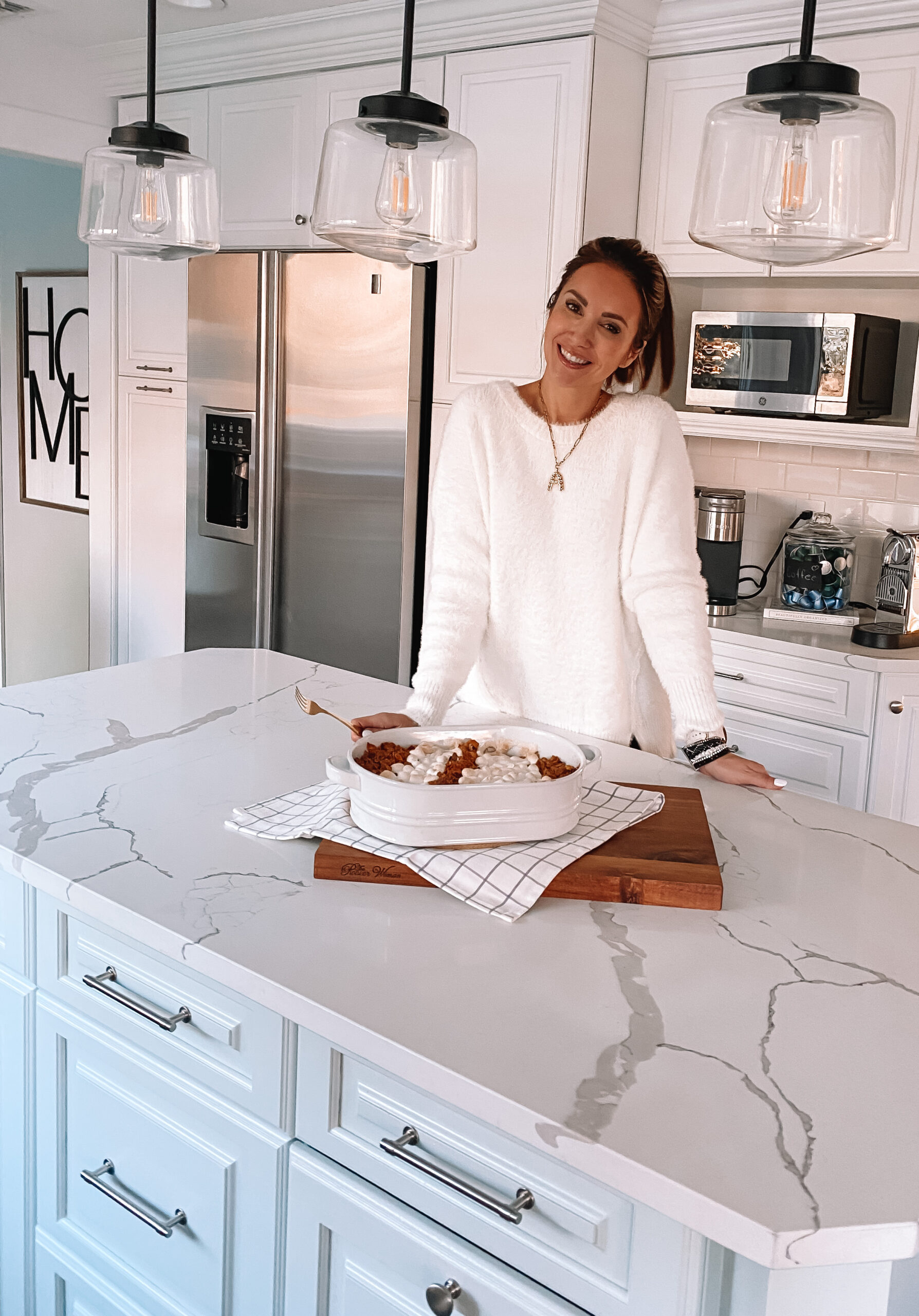 We recently re-decorated our dining room (check out the reveal in THIS post, which has been a long overdue project, but Thanksgiving is such an intimate setting for us, that I plan on setting up the food on the kitchen island and we will eat at the kitchen table instead of in the formal dining room. If you need some tablescape inspiration, I am sharing a simple / light and airy setting and everything is super affordable and most available with one or two day shipping so you can have it just in time for the holidays. That's what I love about Walmart, everyday great prices, huge selection and fast and free shipping! Btw make sure to keep reading for my sweet potato casserole recipe. I've been making it for over a decade now. Funny when John and I started dating he asked me to make it (I never even had sweet potatoes before – You know yams are not widely available or popular in Poland). But I was a woman on a mission, and after trying few recipes I kind of made my own. Promise you will love, it's a crowd pleaser. And so easy to make.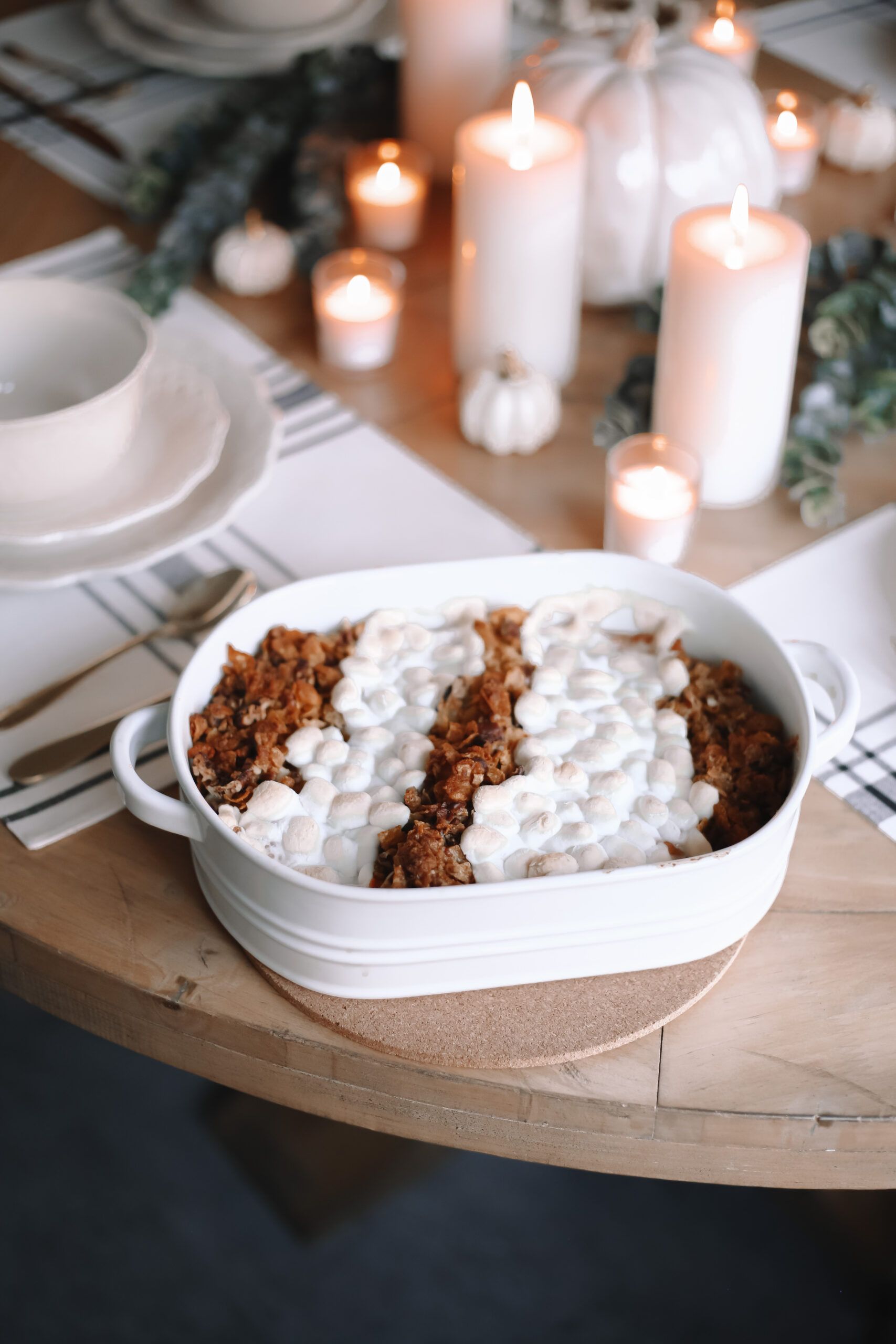 Thanksgiving Tablescape
I wanted a simple and classic look, and these placemats can really be used year round. I added small faux pumpkins, and eucalyptus stems. Btw this will transition easily from Thanksgiving to Christmas just swap pumpkins for pine cones and eucalyptus for faux cedar branches or garland.
CHEERS (similar)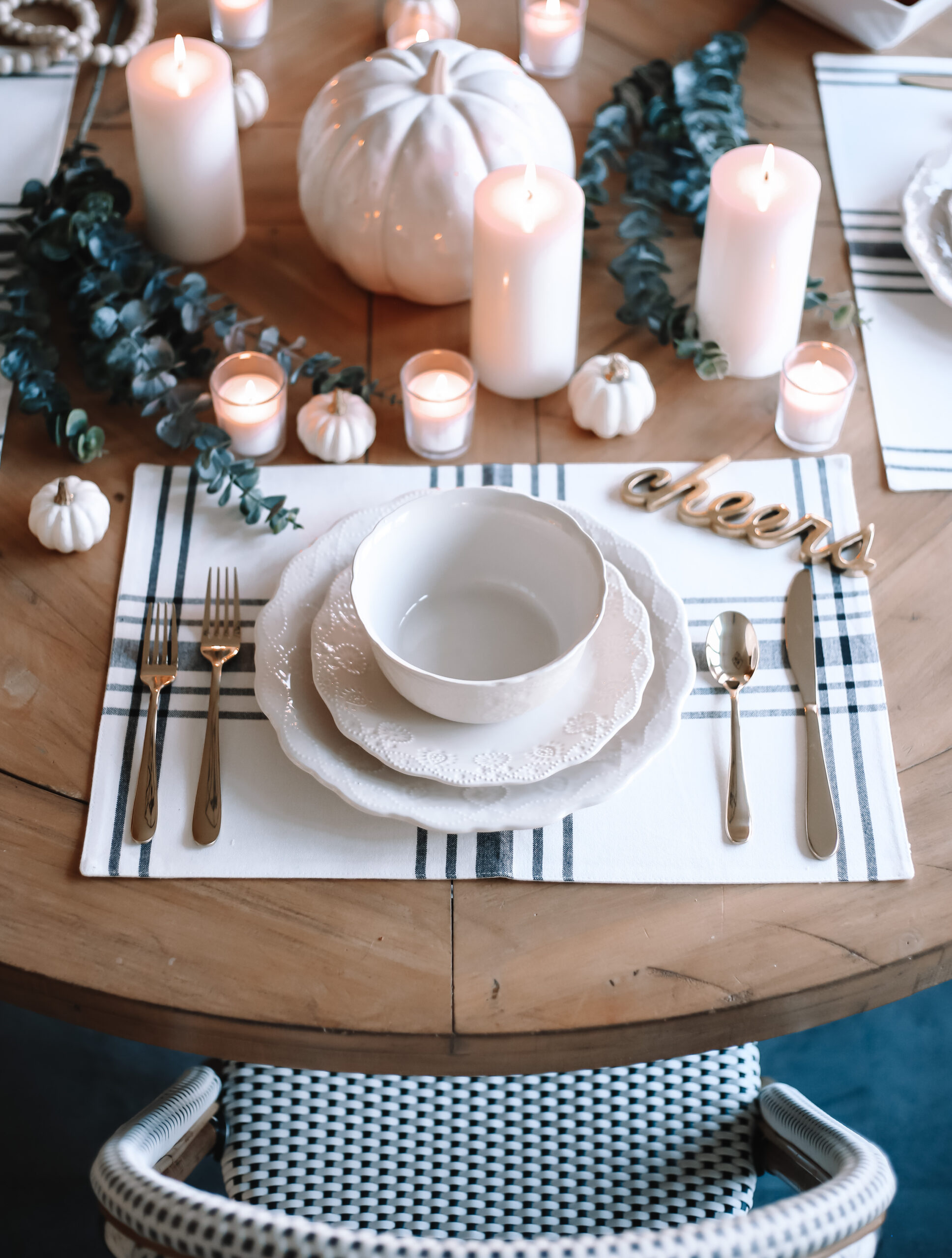 The plates are absolutely stunning, great quality and such a great price.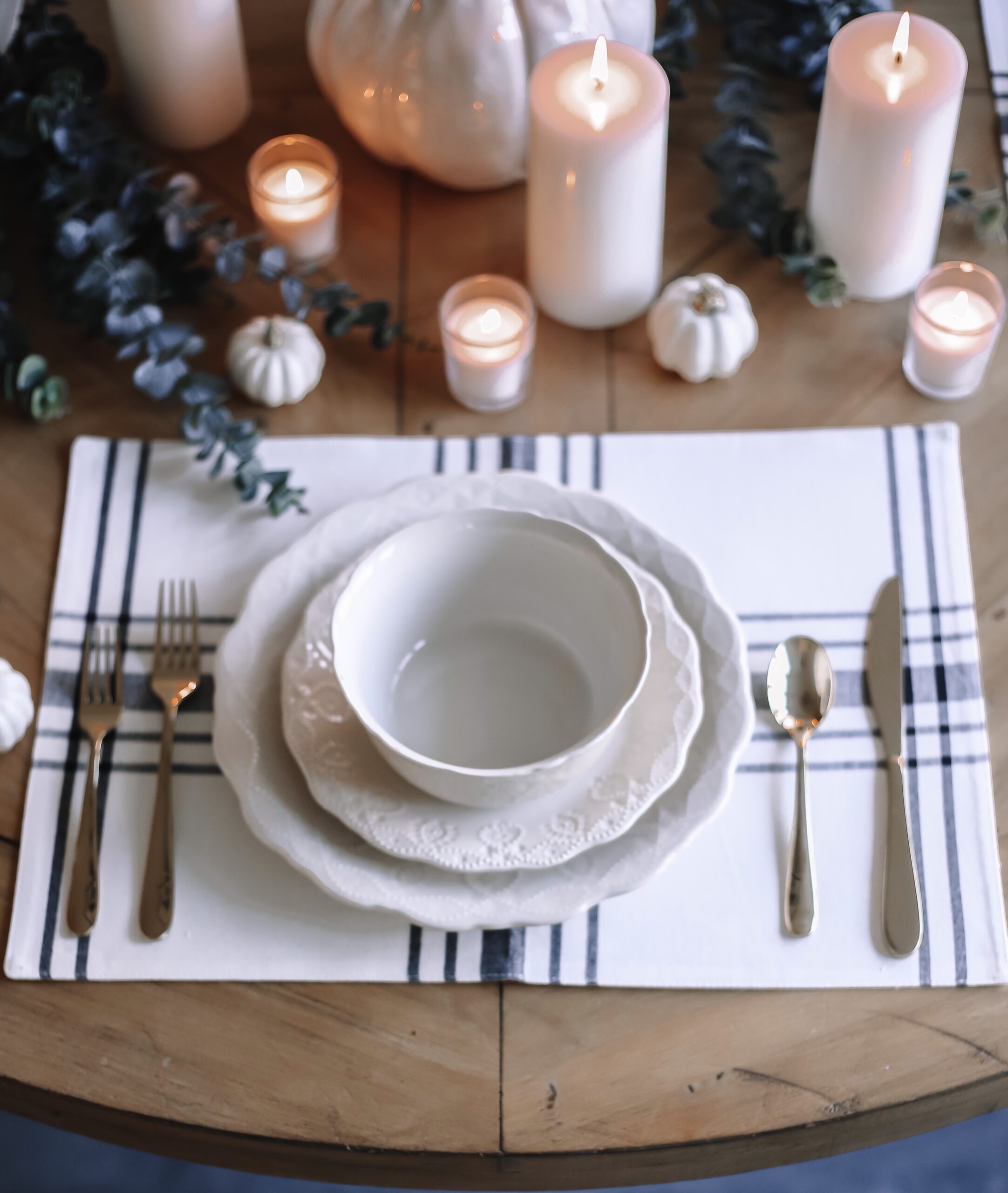 The white candles (large and small) set the ambiance.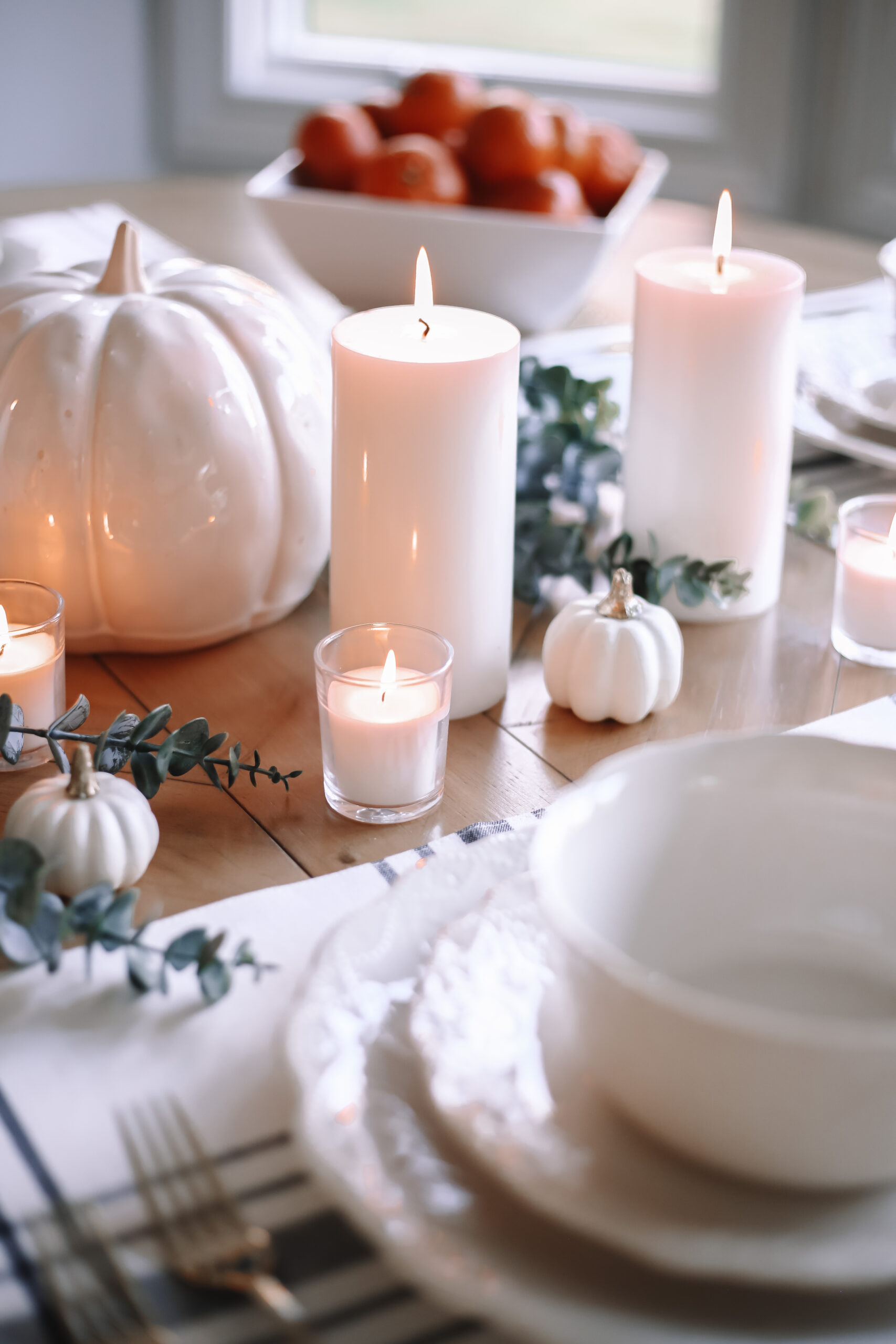 The 20 pc gold flatware set is so beautiful, chic and available at great price.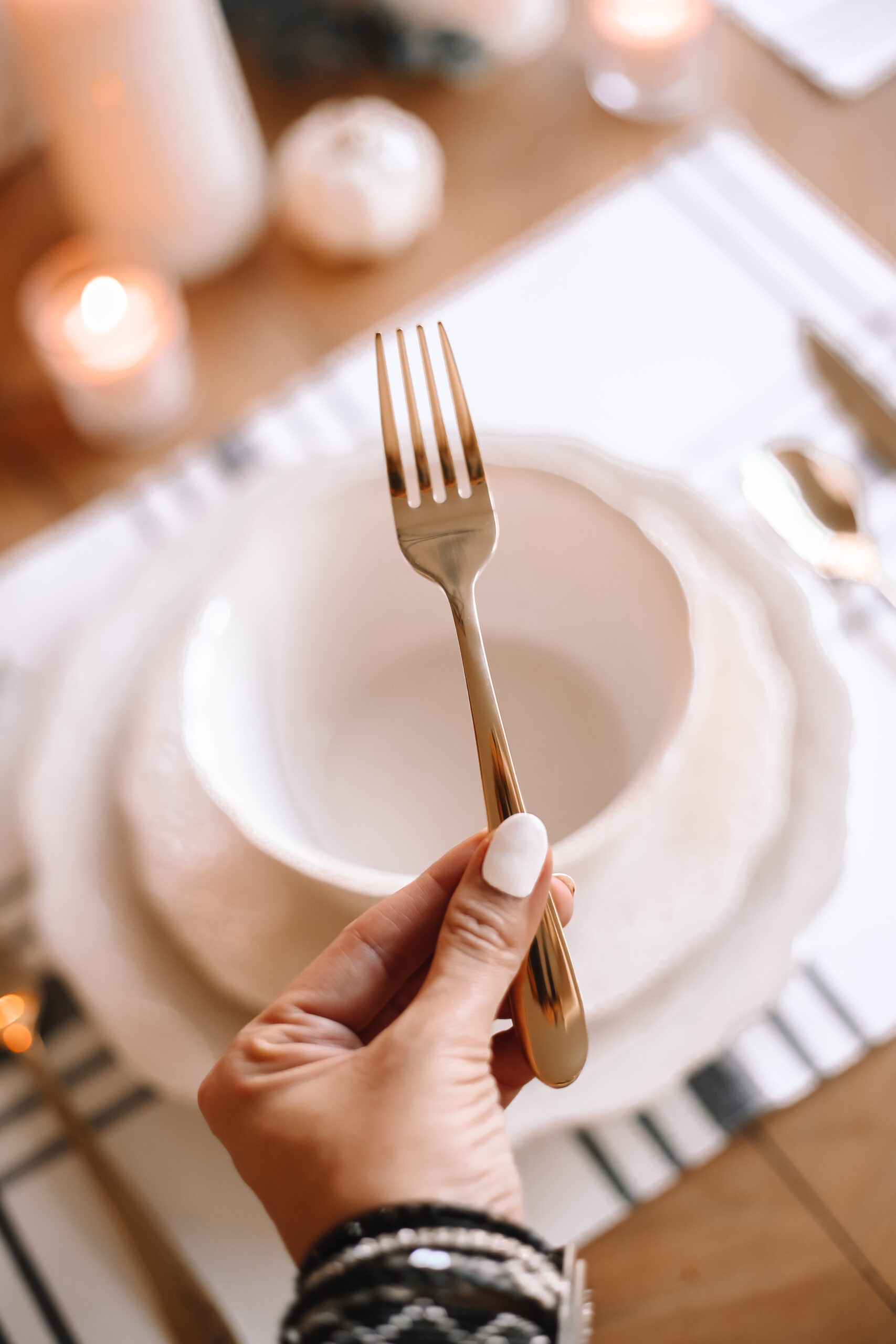 And if you're wondering about the clementines in the bowl I grew up in Poland when it was still in communism and food rationing was a real thing. We didn't always have access to fresh fruits especially exotic ones like citrus. But every holiday season my parents had either clementines or oranges for us (it was one of our holiday gifts) and to this day, the smell reminds me of holidays at home. I somewhat carry on the tradition with my kids by always having these at the holiday table.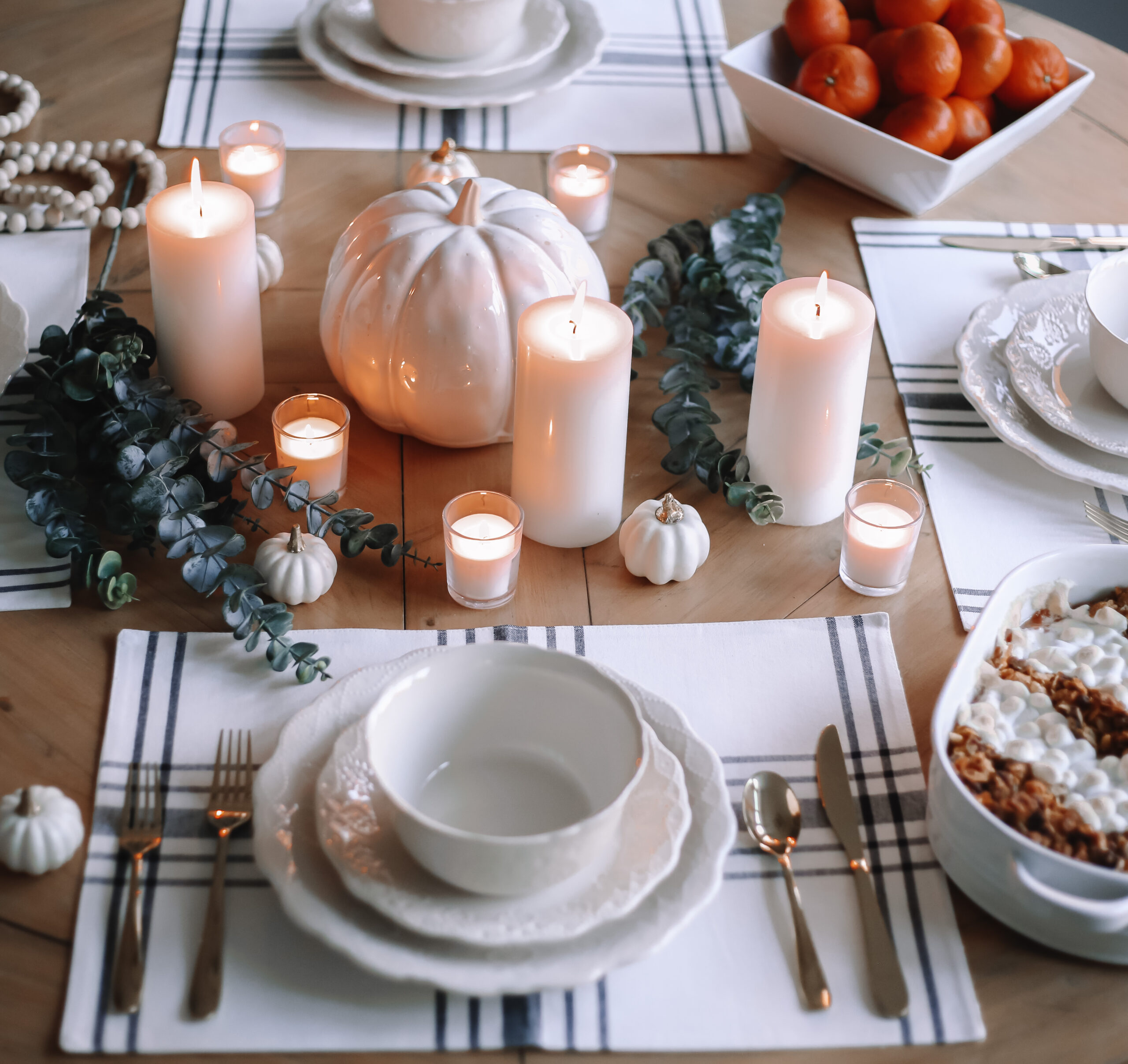 My Sweet Potato Casserole Recipe
Ingredients
5 large sweet potatoes
1 cup of sugar (
1/4 c. whole milk
1 stick butter (softened)
2 large eggs
1 tsp. vanilla extract
Topping (optional)
You can do the entire casserole in either marshmallow topping or pecan/ cornflake one. I do both. If you choose to go with only one topping option – double the ingredients.
2 cups of mini marshmallows (double if just doing marshmallows)
1 cup crushed cornflakes (optional)
1/4 c. chopped pecans
2-3 tbs melted butter
2 tbs brown sugar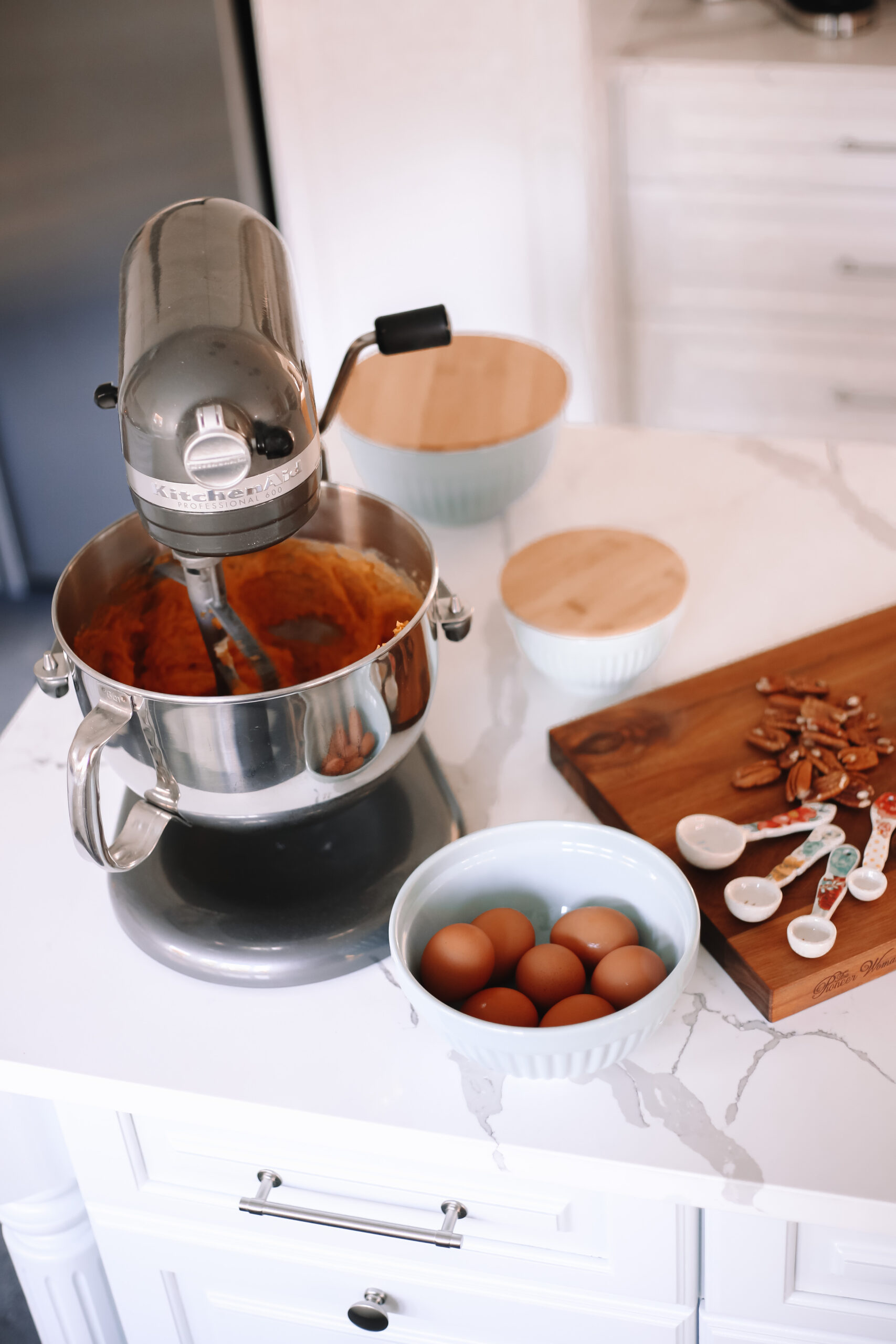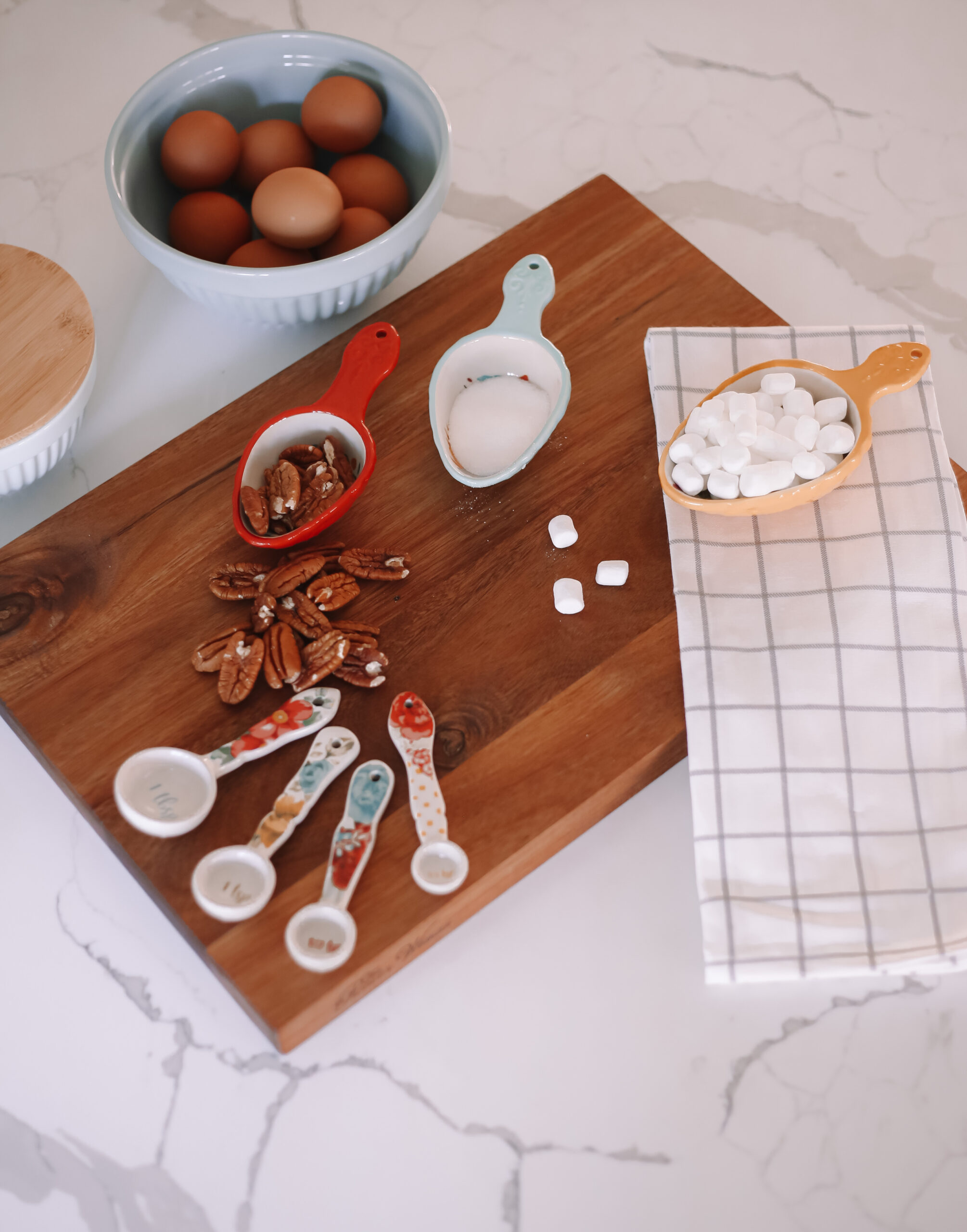 Directions
Bake sweet potatoes at 400° for an hour or until cooked through. Depending on your oven you may need to add an additional 10 to 15 minutes. 
After the potatoes are cool enough to handle, scoop out the inside into the bowl of a stand up mixer. Add sugar, milk, butter, large eggs and vanilla extract. Beat with electric or stand up mixer until smooth.
TIP: if the potatoes are super stringy, you may want to run them through the ricer. This step is totally optional. John doesn't like the strings so we always do, but I barely notice the difference.
Grease the baking dish and scoop mixture in.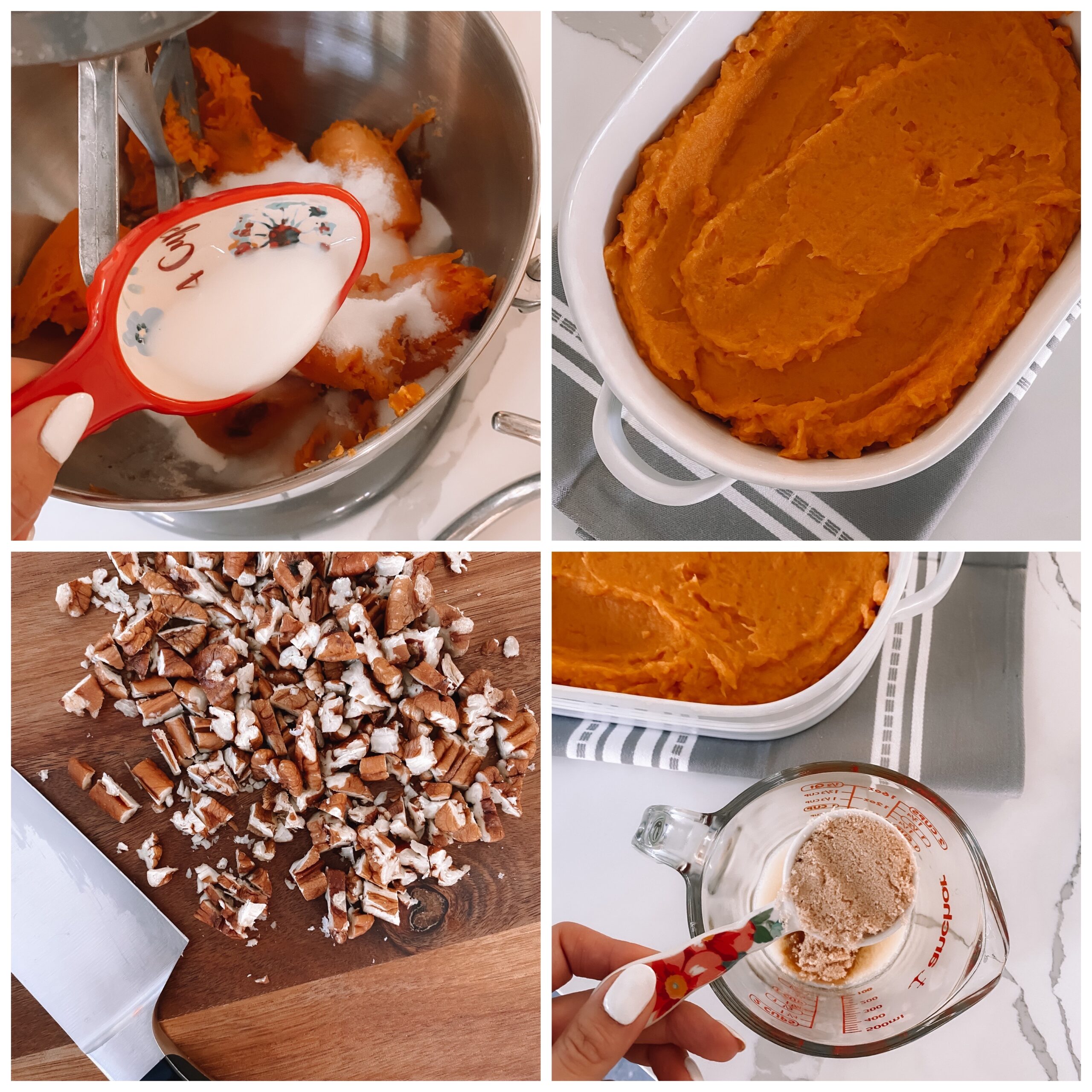 Optional toppings: I do both. Combine cornflakes, pecans, melted butter, brown sugar in a small bowl and stir to combine. Sprinkle over casserole in rows- 2 inches apart. Bake at 350° for 30 minutes.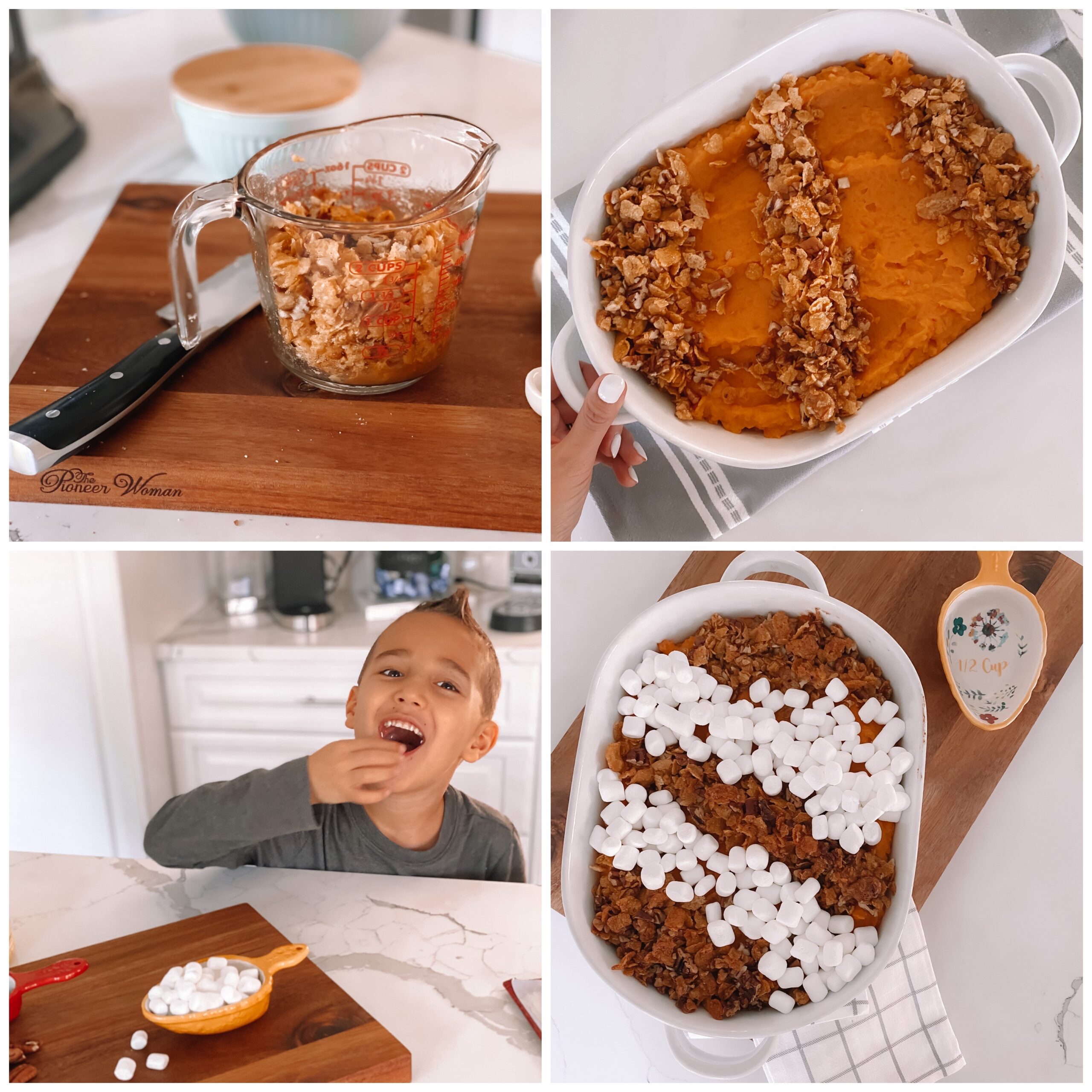 Remove from the oven. Sprinkle alternate rows with mini marshmallows you will need about a cup and a half. Bake for additional 10 minutes. I love this porcelain baking dish – from the oven to the table. It's functional and good looking, and only $16!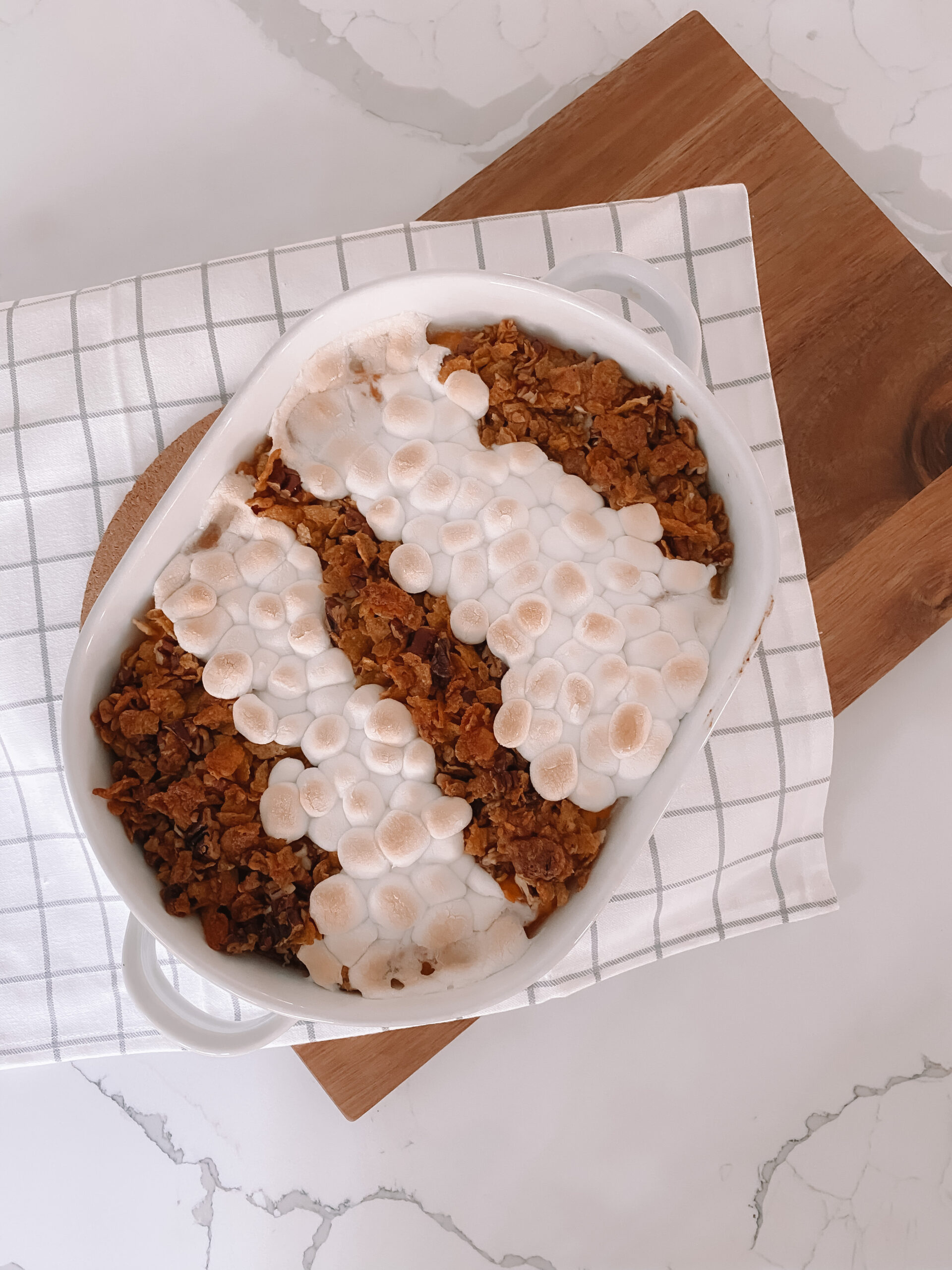 I love all the bakeware and kitchen tools from Walmart. The measuring spoons and cups are so darling. Would make a great gift for a gal who loves to bake! The acacia wood cutting board could also serve as a charcuterie board.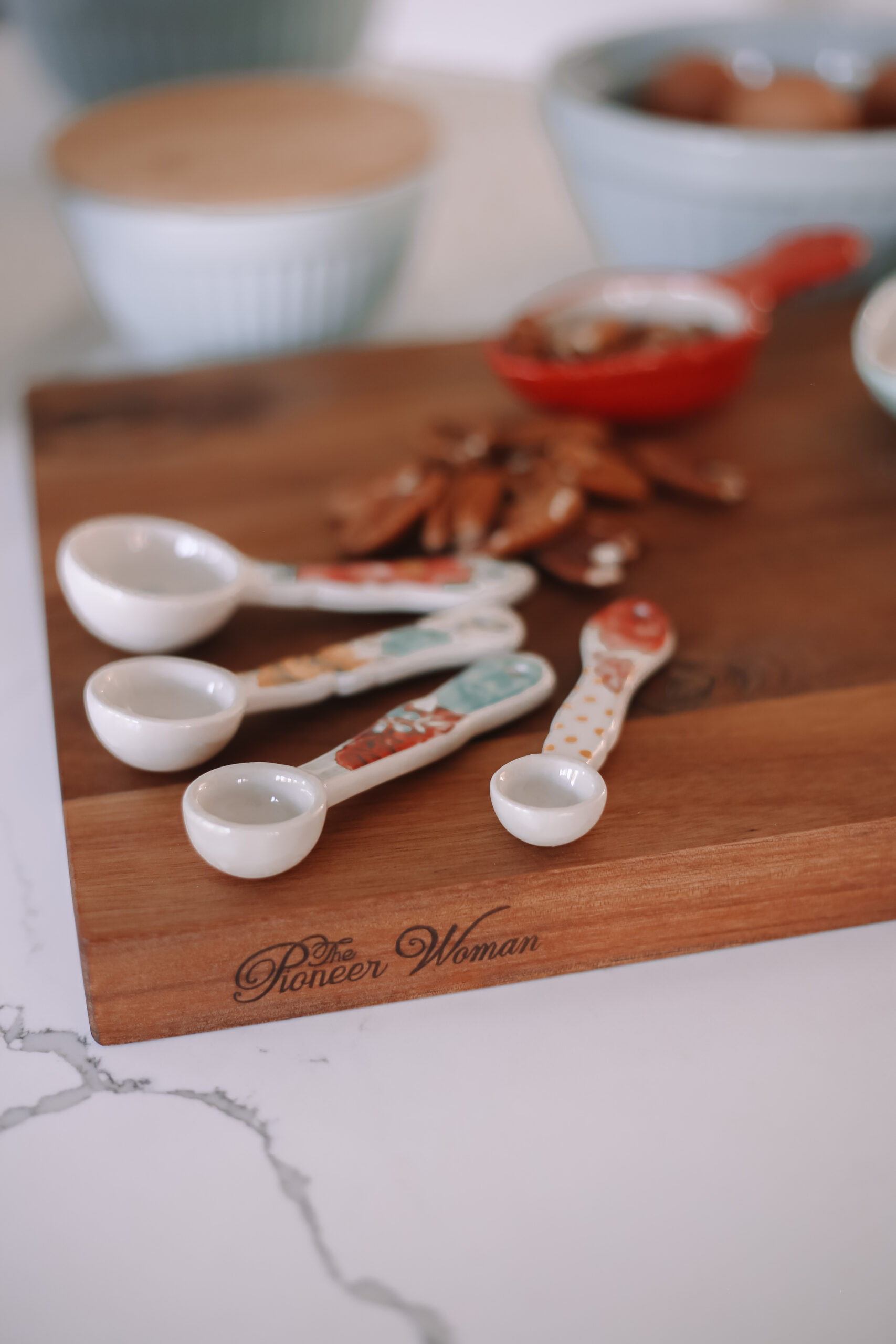 I hope you enjoyed this post! And if you try my recipe, make sure to tag me on your posts. Thanks so much for visiting Blushing Rose Style blog. And special thanks to Walmart for partnering with me on this post. As always, all views and opinions are mine.