To be honest with you I am the last person that should be writing tips on helping you workout early in the morning because I absolutely despise it haha. But I am really proud to say that I have been consistently working out (almost) every morning at 5:45 am for the past 4 weeks. It is not easy, but it's totally worth it. I figured a lot of you are probably in the same boat … never have enough time in a day to do all the things on your to do list, always playing catch up and when the day is over you are simply too tired for any fitness activity! Been there, done that…. but I realized I was not making my health both mental and physical a priority. So I decided to add that extra hour to my day by simply waking up an hour earlier.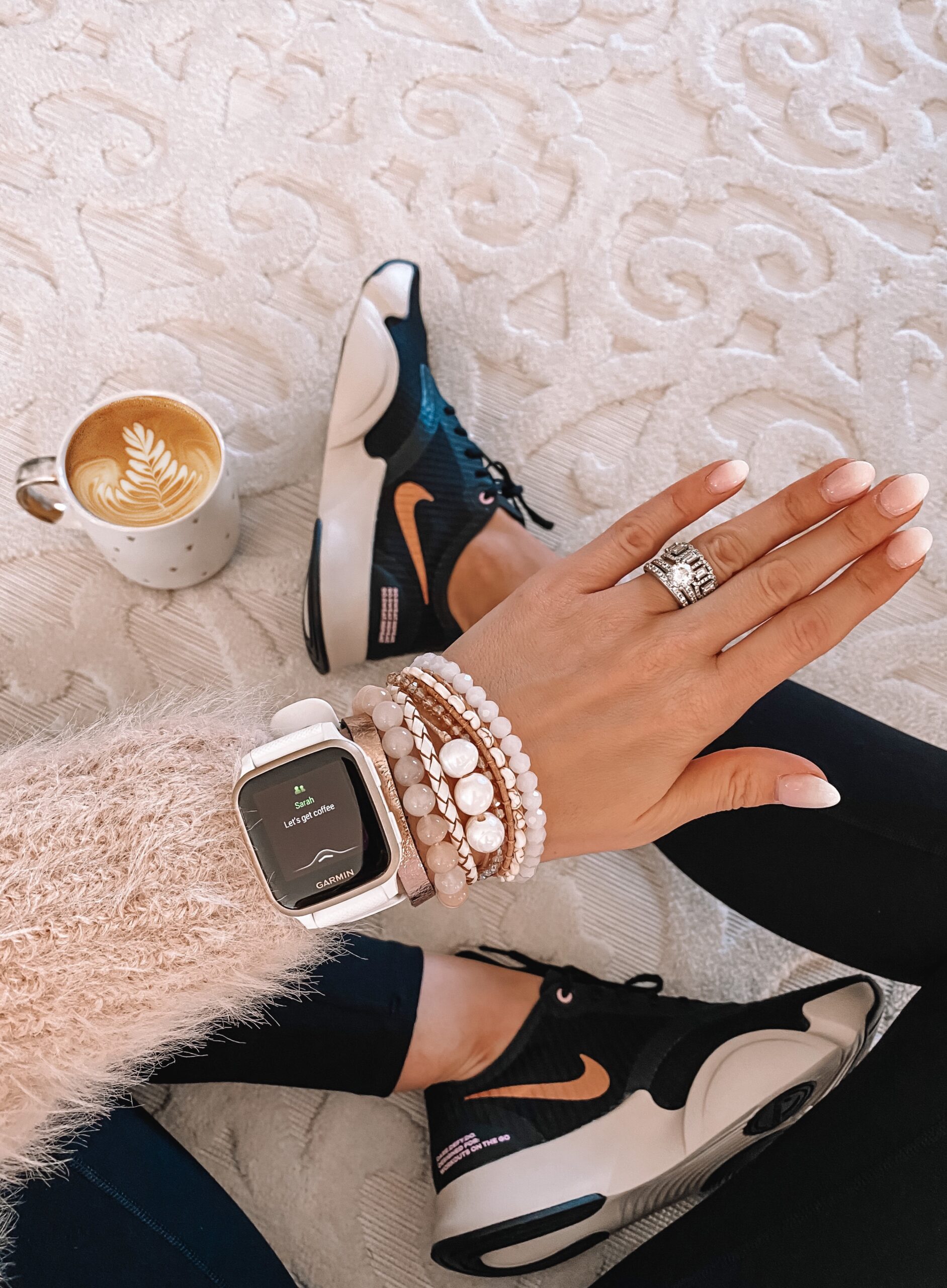 My Fitness and Smart Watches
2020 has been the year of staying at home, lounging, and let's be honest a year of inactivity (at least for me). I have tried different things over the last 9 months to help motivate me and stay active. One of the biggest boosters was the 10K challenge. Check it out HERE if you'd like to join (and you can download a fun template too). I never really tracked my steps until I got my Vivomove Luxe watch. You all already know how much I love it – from the way it looks to all the smart features I desperately needed it in my life – it tracks my period, hydration and steps. It truly became my accountability partner during 2020. The watch actually alerts me when it's time to get up and move for a bit. I can't recommend it enough. Put it on your holiday wish list!
But if you are looking for more of a fitness smart watch (vs fashion watch), I have to tell you the new Garmin Venu Sq is amazing. I've had it for several months, but really started wearing it this week, as I am getting into more serious workout classes. I cannot get over how light it is! It's unreal. It has some of the same features I love from the Vivomove Luxe – monitors your body battery, blood oxygen levels, sleep monitoring, HR and so much more. And I love that you can customize the watch face – check out my Santa graphic lol.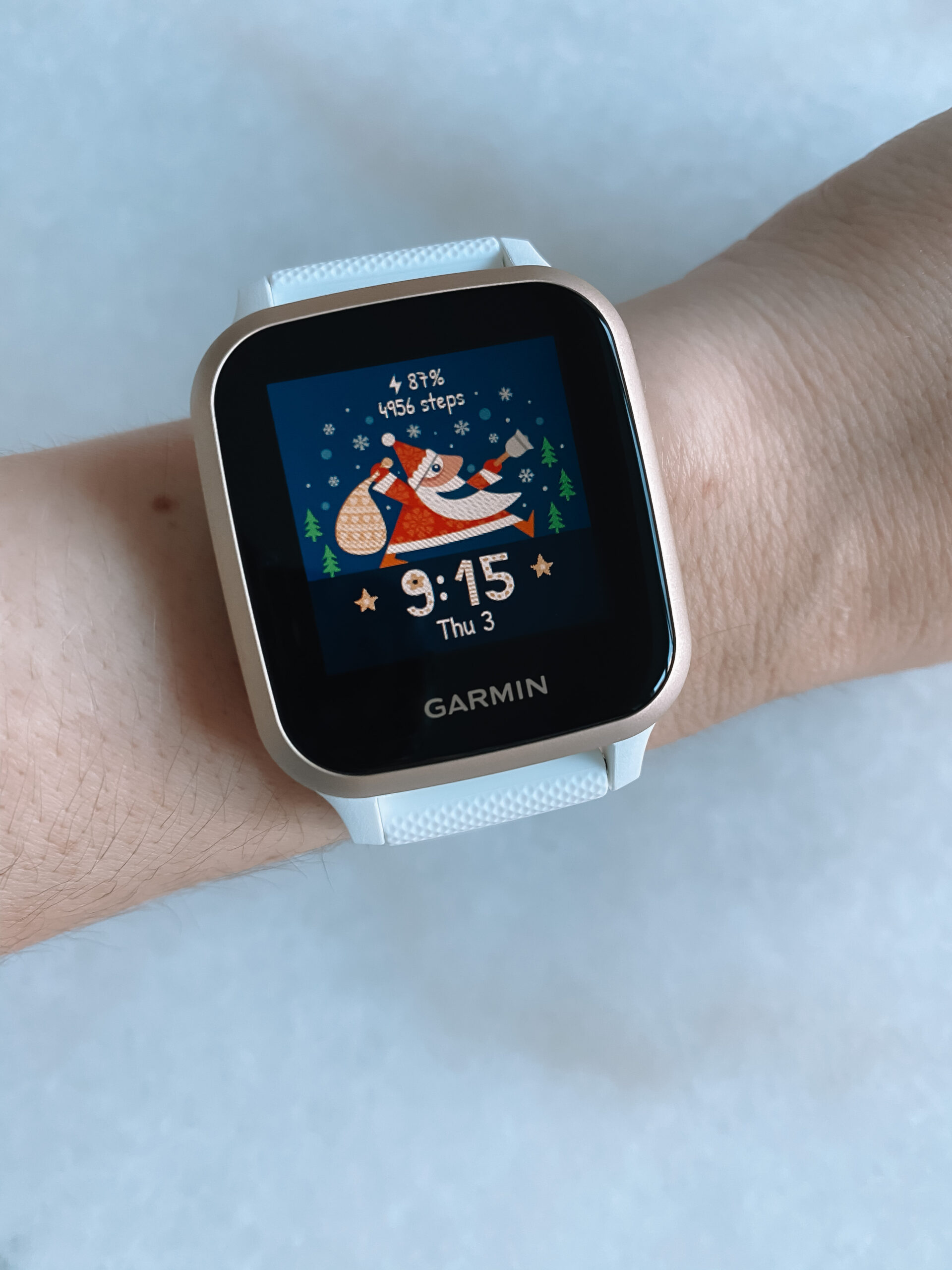 Vivomove Luxe Or Venu Sq
You may wondering which one is my favorite or which one is a better fit for you? I probably favor the Luxe a bit more because I've had it longer and because it's more fitting in my lifestyle. I love the way it looks and it has all the features I need and want. But to be honest I have been wearing them both. I just can't get over how light the Venu Sq is!
Both have very similar features when it comes to my favorites (hydration, menstrual cycle, steps, sleep monitoring, HR)
Vivomove Luxe is more of a fashion watch with smart watch features, Venu Sq is definitely more sporty fitness watch
Venu Sq has GPS , Vivomove Luxe uses your phones GPS
Venu Sq definitely offers more comprehensive fitness activity tracking
Price point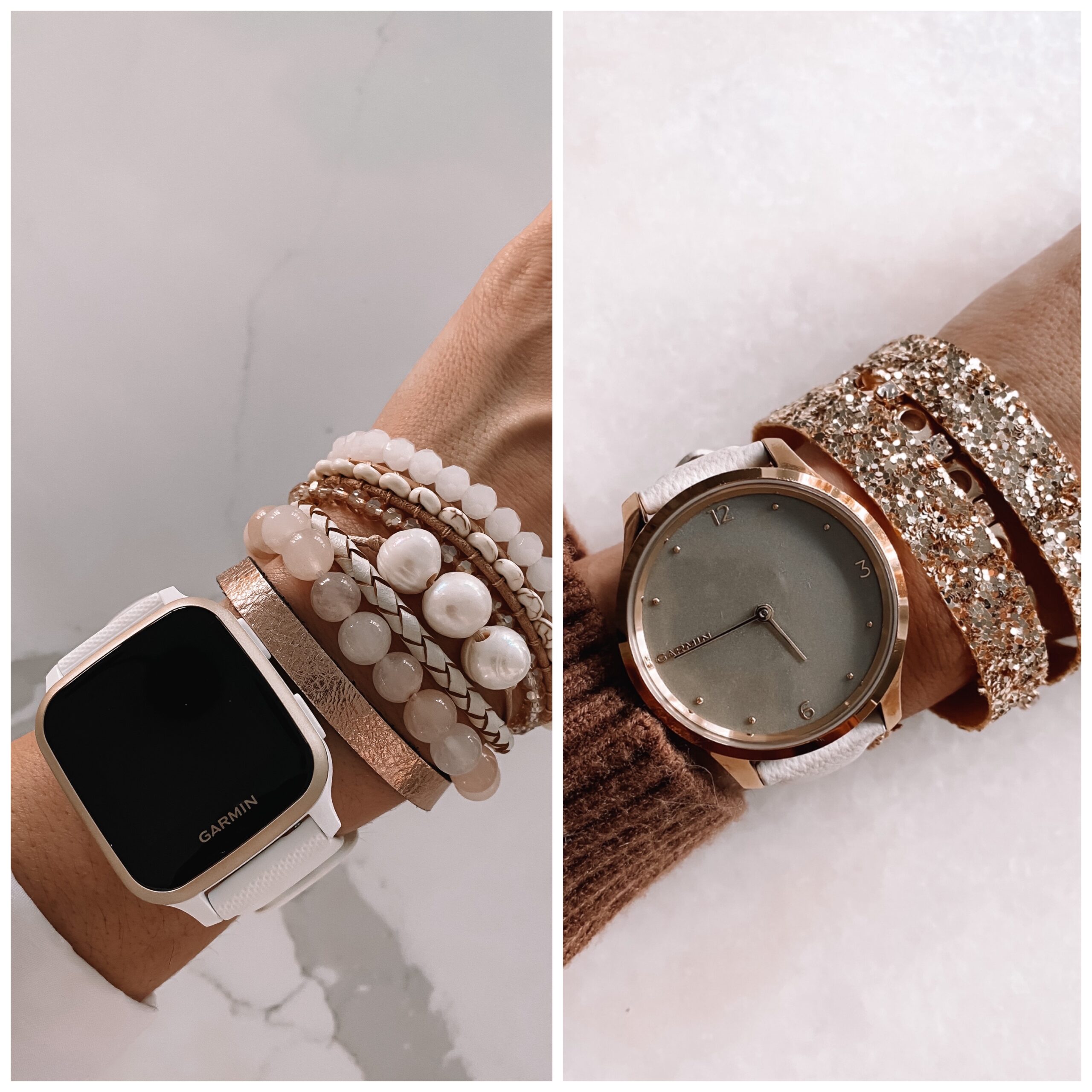 Gifts for Kids
If you are looking to treat yourself this holiday season or just need a new watch in general, Garmin definitely has something to fit into your lifestyle. Btw if you have little ones, they just launched a new generation of the vívofit jr. watch. I bought two for my kids. Grant is getting Iron Man and Reese the blue stars.
Tips To Make Waking Up For Early Workout Easier
This one is optional – find an accountability partner: maybe your spouse, partner, girlfriend – so you can keep each other accountable. I asked my friend Sarah at the beginning of November if she would be willing to workout with me at 5:45 am everyday (5x a week) for 3 weeks leading up to Thanksgiving. She said yes and trust me 90% of the time I wake up is because I know she is counting on me to be there. And she feels the same way. We work out together more in a virtual way – we take the same cycling or bootcamp classes streamed online. While we planned on only doing this for 3 weeks, it now became a part of our daily routines so we keep going.
Lay out your workout clothes the night before. This one is a must! I get my outfit, socks and undies ready to go. I even leave the deodorant and hair tie right on my vanity so I don't have to look for it in the dark room (I try to be quiet so the kids and John don't hear me).
Hydration – I even get my water bottle ready the night before. So it's just grab and go.
Set up – if you plan on working out at home make sure your setup is ready. When I do Peloton bike classes or bootcamps I make sure I have all that I need – shoes, towel, weights and mat. If I do the treadmill bootcamp – I use my iPad to stream classes – so I make sure it's charged and in the right place. I also leave my sneakers on the tread. I also make sure my Garmin watch is fully charged so I don't miss out on tracking any activity.
Plan your morning. I know exactly how much time I need to get dressed, go downstairs and start my workout – so I set my alarm accordingly. I also know right after, I will be making breakfast for the kids, getting lunchboxes ready and then getting them dressed and ready for school. My ideal time is 5:35 wake up call. If I do it any later I will have to cut my workout short.
You snooze, you lose. Trust me, when that alarm goes off DO NOT THINK, just get up. Once you start thinking, analyzing, trying to convince yourself you can totally workout later… just don't. Get up and go.
Find a workout that actually makes you want to do it. I absolutely love group classes that I can stream at home. The tread bootcamps are so hard but the time goes by so fast. The Peloton bike is also so much fun and I always have fun (the hardest part is showing up). I also change things up frequently – in the summer I like running outside and listening to podcasts. Sometimes I will do just strength training classes using another streaming system. Bottom line is this, there is something there for you, just find what you like!
If you start your early morning workouts, you may want to start going to bed a bit earlier. I am still working on that. The holiday season is so busy, I always have something remaining on my to do list by the end of the day. But that's the goal, I definitely want to start going to bed early.
Make a plan. As I mentioned I initially only planned on doing this for 3 weeks. But now I really love my daily routine and and can't imagine it any other way. I may scale back to only a few early morning workouts a week. But if you are just getting started, how about make a plan to only wake up 2- 3 times a week. See how you feel after.
Lastly, remember YOU WILL NEVER REGRET waking up early to workout. You will feel amazing after.

I hope you found this post helpful. Let me know if you have any other tips that work well for you. Thank you so much for visiting Blushing Rose Style blog. And very special thanks to Garmin for partnering with me on this post. As always, all views and opinions are mine.