Hi friends. I am back with a new Target Try-On. It's been a couple of weeks since I've shared my finds and today I'll be sharing some of my recent favorites that consist of ponchos, wraps and sweaters..pretty much all the cozy pieces!
Make sure to pin this post for future outfit inspo. Btw, if you missed my previous Target hauls, you can check them out here: Target Try-On 9-12 and 10 Workwear Outfits From Target
And if you really love Target, you should totally join my private FB group – Blushing Rose Style Target Finds where I share all my finds – from fashion, home goods, home decor to the most unique finds. And it has been an amazing community with everyone that has joined! You can also share your recent purchases, and see what others in the group are raving about.
You girls know how much I am loving sweater ponchos this season. In fact, in THIS post you can see my round up of ponchos and oversized sweaters. This poncho is versatile for styling both workwear and casual outfits. It is longer in the back so it would also work with leggings. The layering tee is actually an Old Navy find. It's very soft and I'm wearing size small. The jeans fit tts and if you're looking for a comfortable knee high boot, I highly recommend these. They fit tts and the color is gorgeous for Fall. My initial necklace can be found here and you can save 20% off with code ANNA20.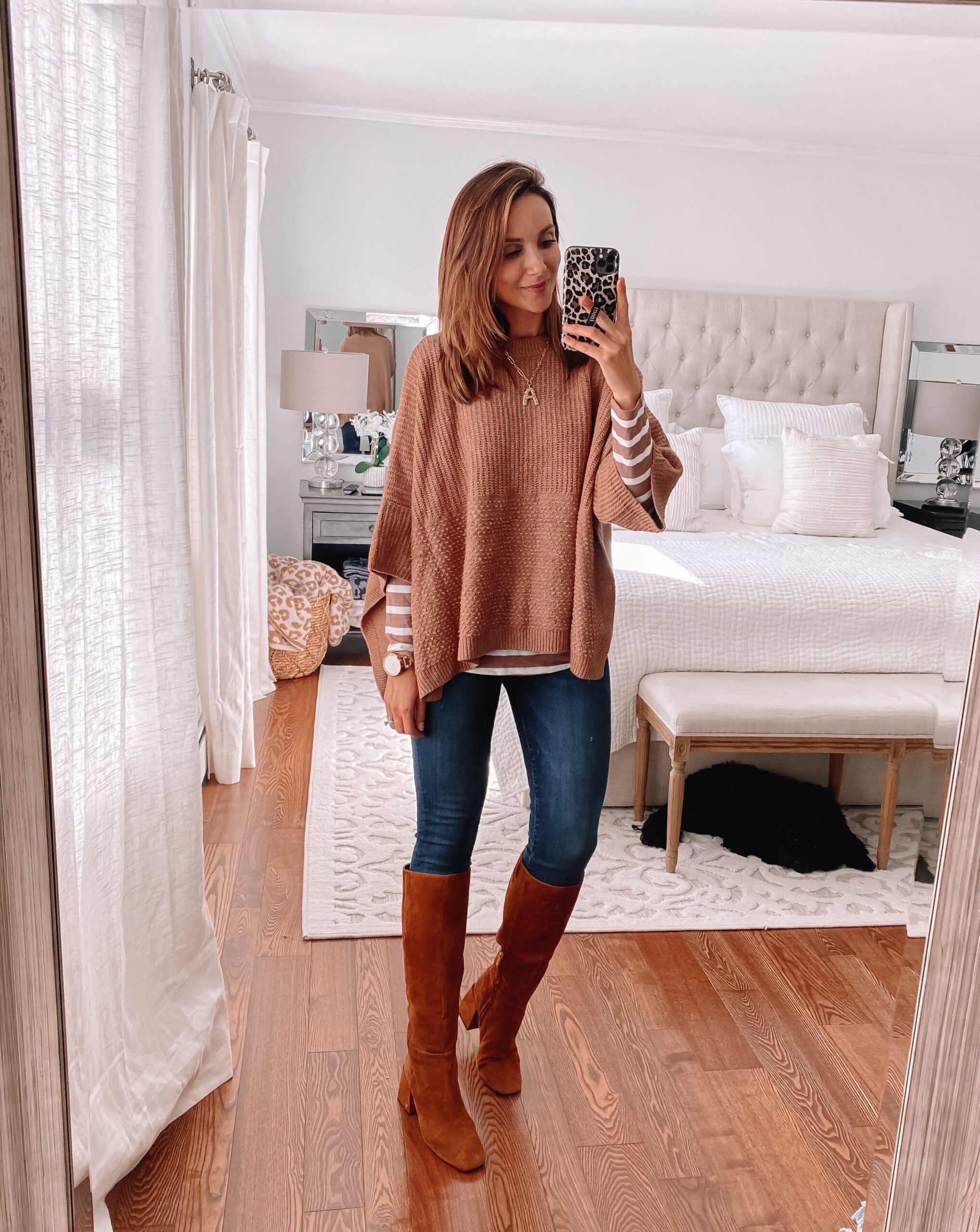 Same outfit, just swapped the jeans for joggers. Perfect outfit for a Fall casual evening. You can save on the joggers with code ANNA20.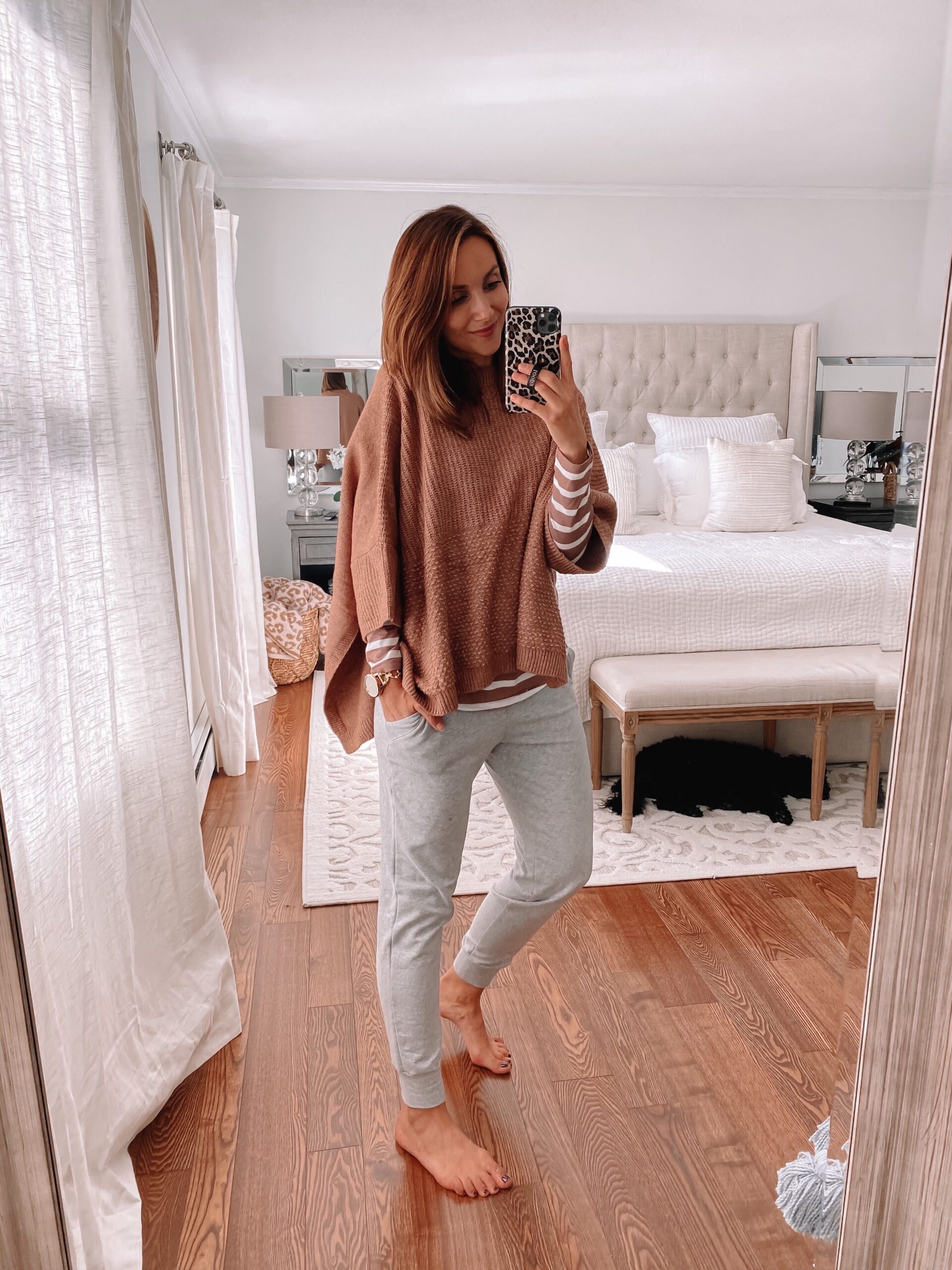 What I love the most about Fall fashion is how easy it is to change looks and take them from casual style and easily elevate to a chic' look. I purchased these two blazers and you girls have been asking me to review them. I am wearing xs in both. The blazer on the left is from H&M and has an oversized fit. The blazer on the right is from Target. While they are very similar in fit, the Target one has a bolder print and is little bit more affordable at $35. The jeans fit tts and I sized up by half size in mules.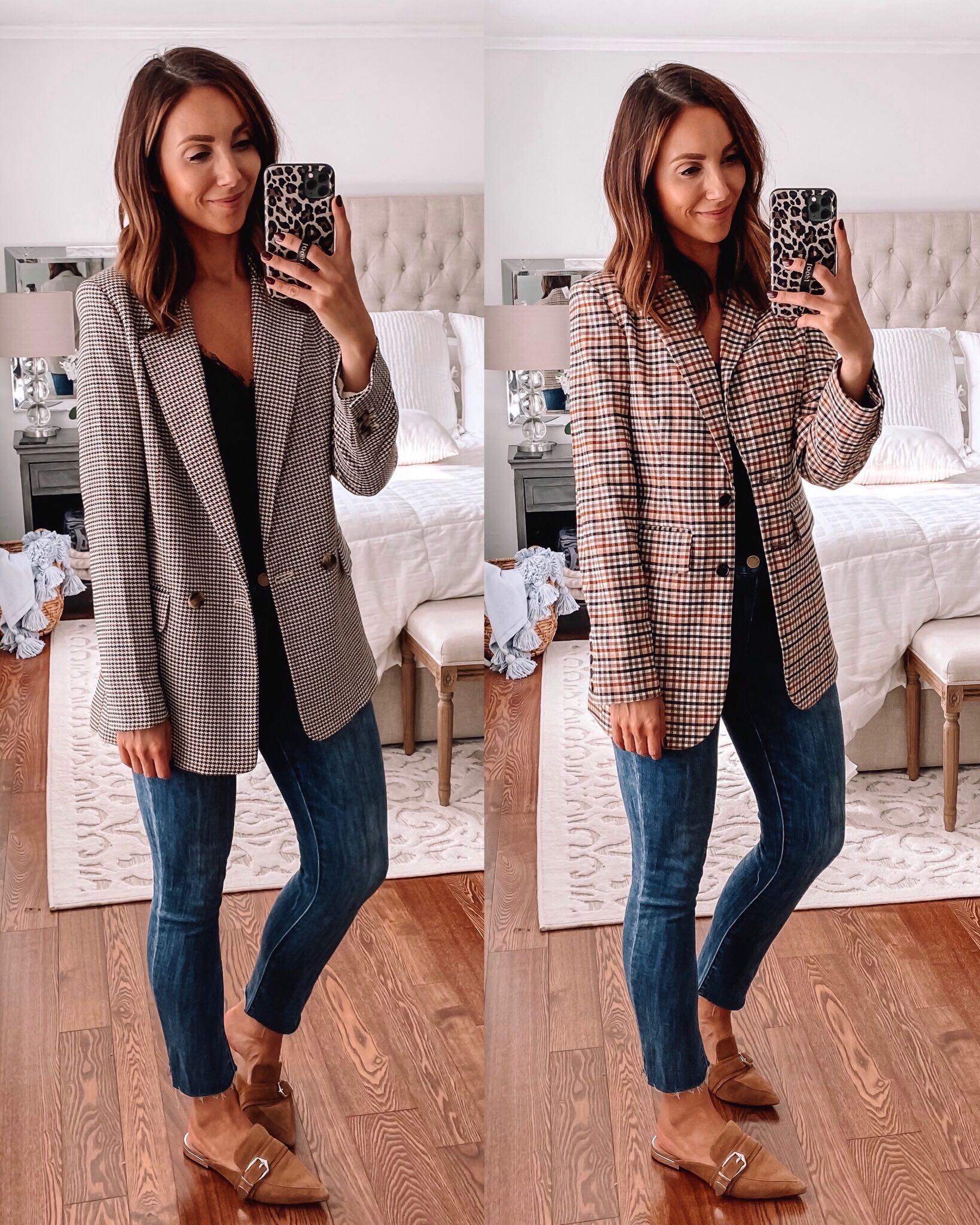 This cozy shawl rivals something that Barefoot Dreams would make. It is absolutely so soft and cozy and I've been wearing it casually in my home office. It's so pretty though and looks great dressed up. Since the length is long, I styled it with Spanx faux leather leggings, a cami and knee high boots. I sized up by half size in boots.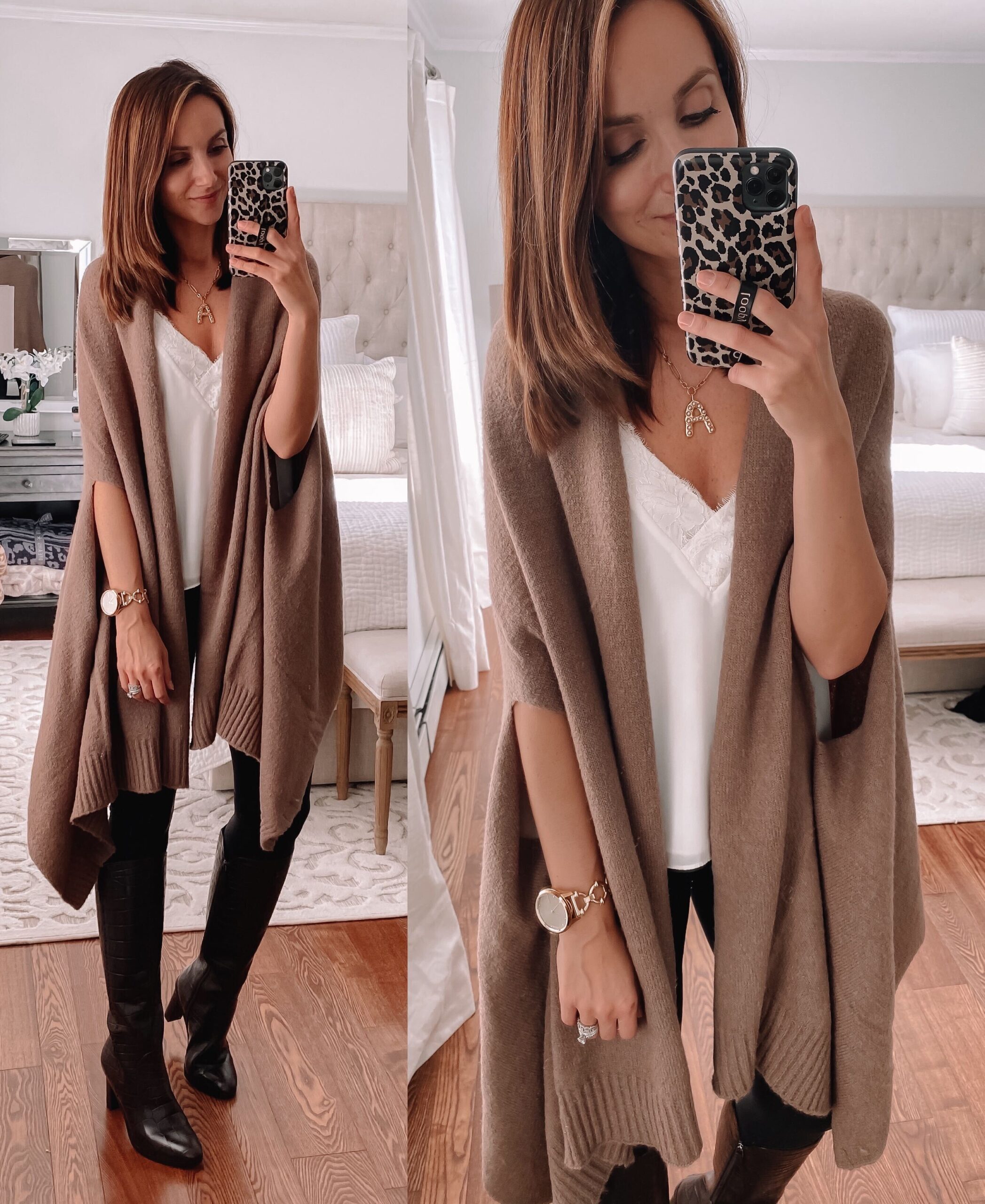 You girls will absolutely love this kimono! It will be so great this season to layer for workwear, or to stay cozy while working from home. It's soft, not itchy and one one size fits all. The tank is one of my favorite Target finds. At just $8 it's a great wardrobe staple and the length is great for this time of year. The sneakers fit tts and are currently on sale.
When I saw first saw this dress in the store, an outfit idea came to me and this is the result. It has an oversized fit in the waist but I sized up to a medium for length. I personally like to wear more of a fitted top when styling an oversized piece like this dress or baggy overalls. The tee is a great wardrobe staple for just $12, and the hat is also a Target find. Similar boots can be found here.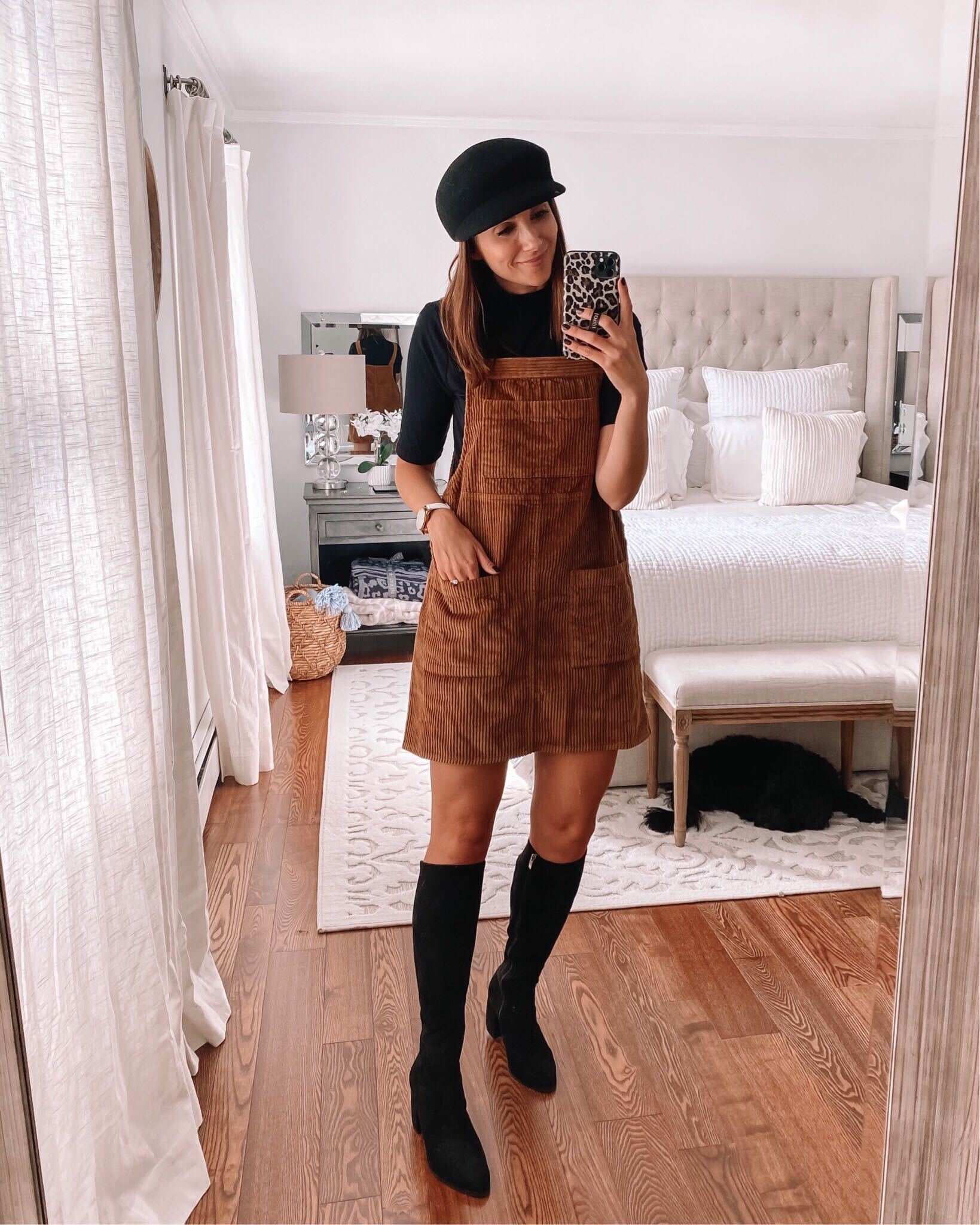 This is the same tee that is layered with the dress. It has ribbed texture, a higher neckline and has stretch it it. I am wearing size small. The jeans are one of my favorite pairs from Target. They're light wash, straight leg and have no distressing. I am wearing size 2. The gucci inspired mules are from Walmart but a similar version are in stock here.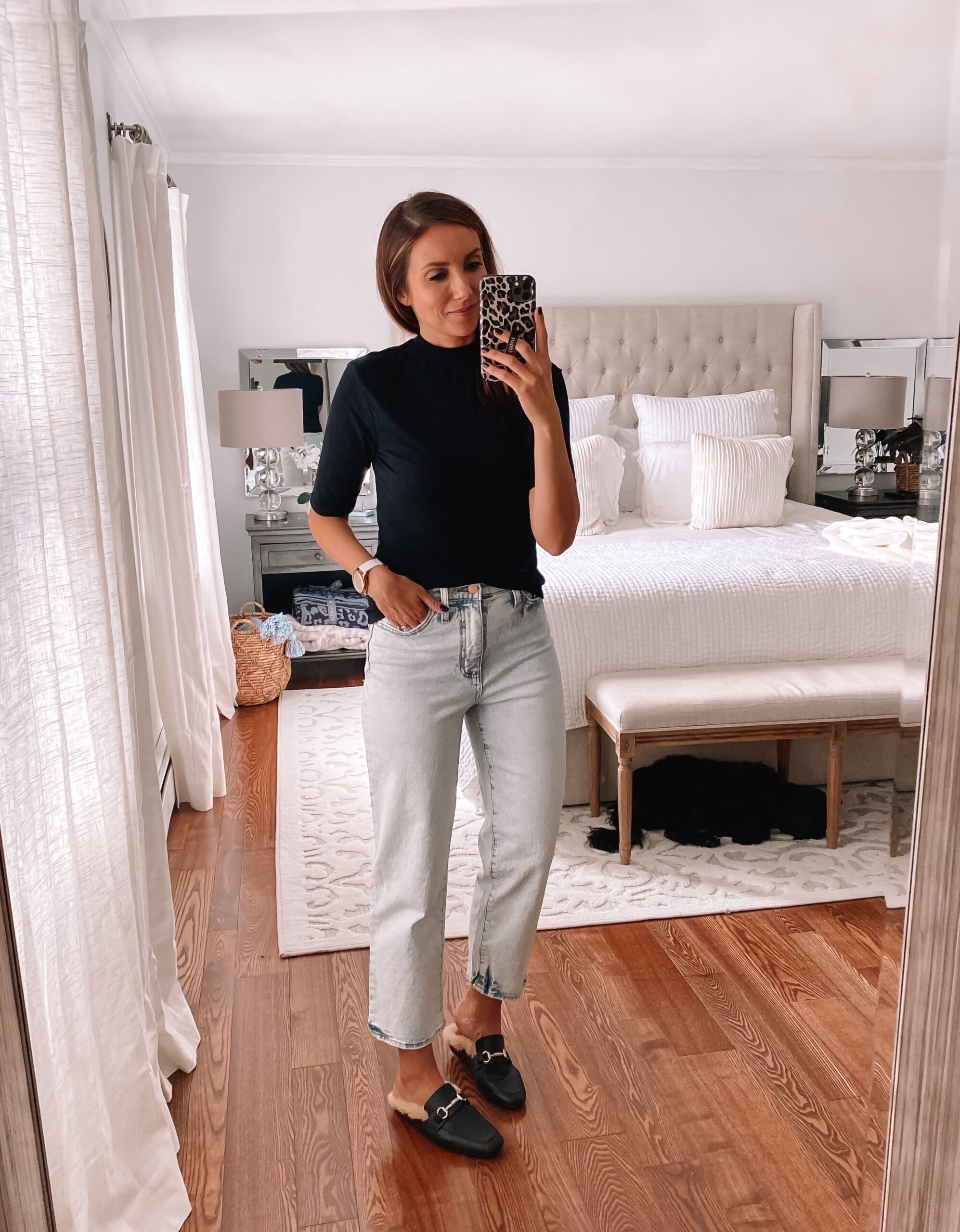 Another outfit idea when the weather gets a little bit cooler, I love the lighter colorway of this faux fur vest from Walmart. The length is great and longer in the back so you could definitely wear it with leggings. I'm wearing size small. Booties can be found here.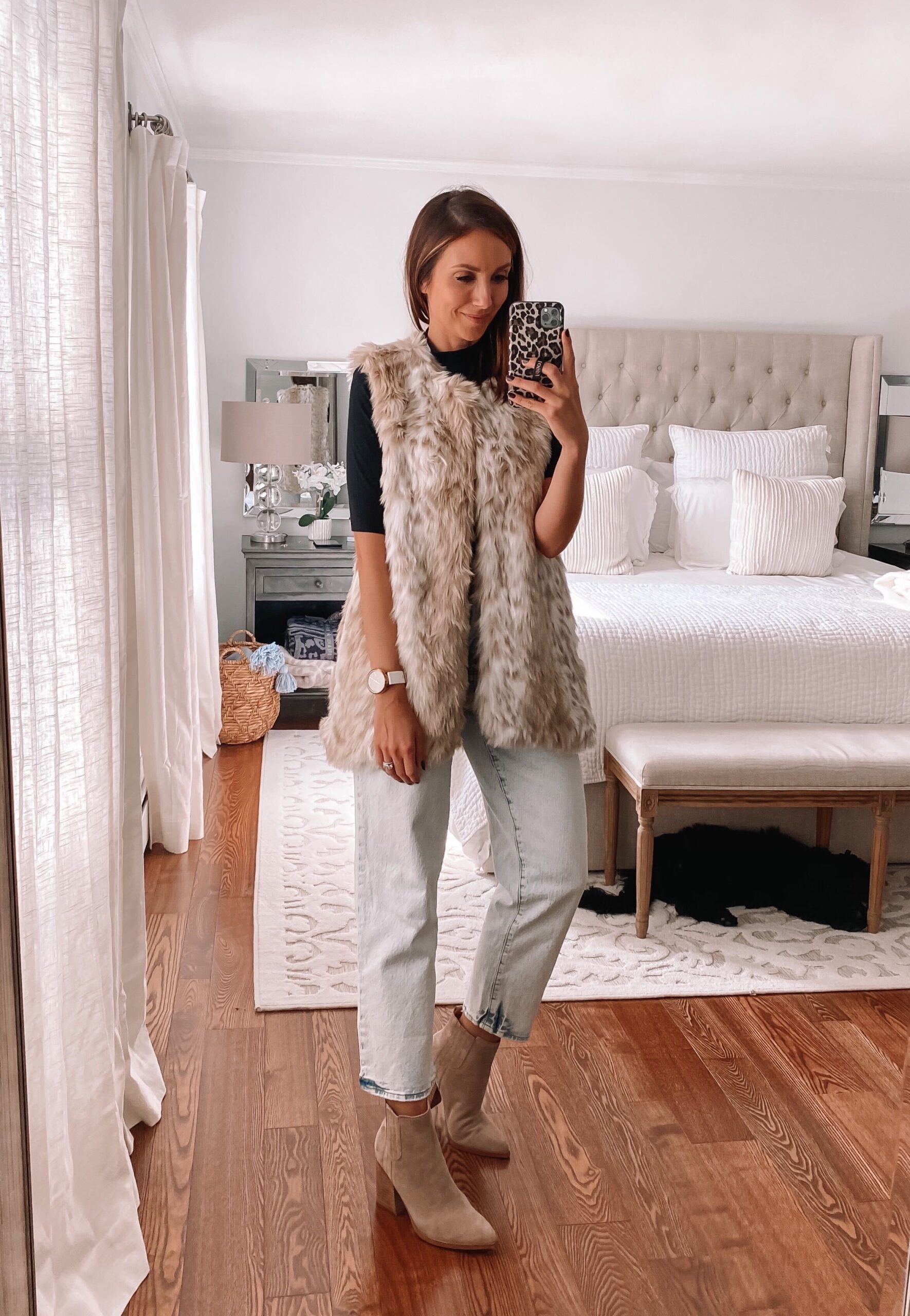 The sweater has such a pretty ombre' colorway and is so soft, fits tts. I'm wearing size small. I love this style of bootie. The pointed toe reminds me of a western look. The heel is not too high which makes them very comfortable and they are very easy to put on and take off! I sized up by half size.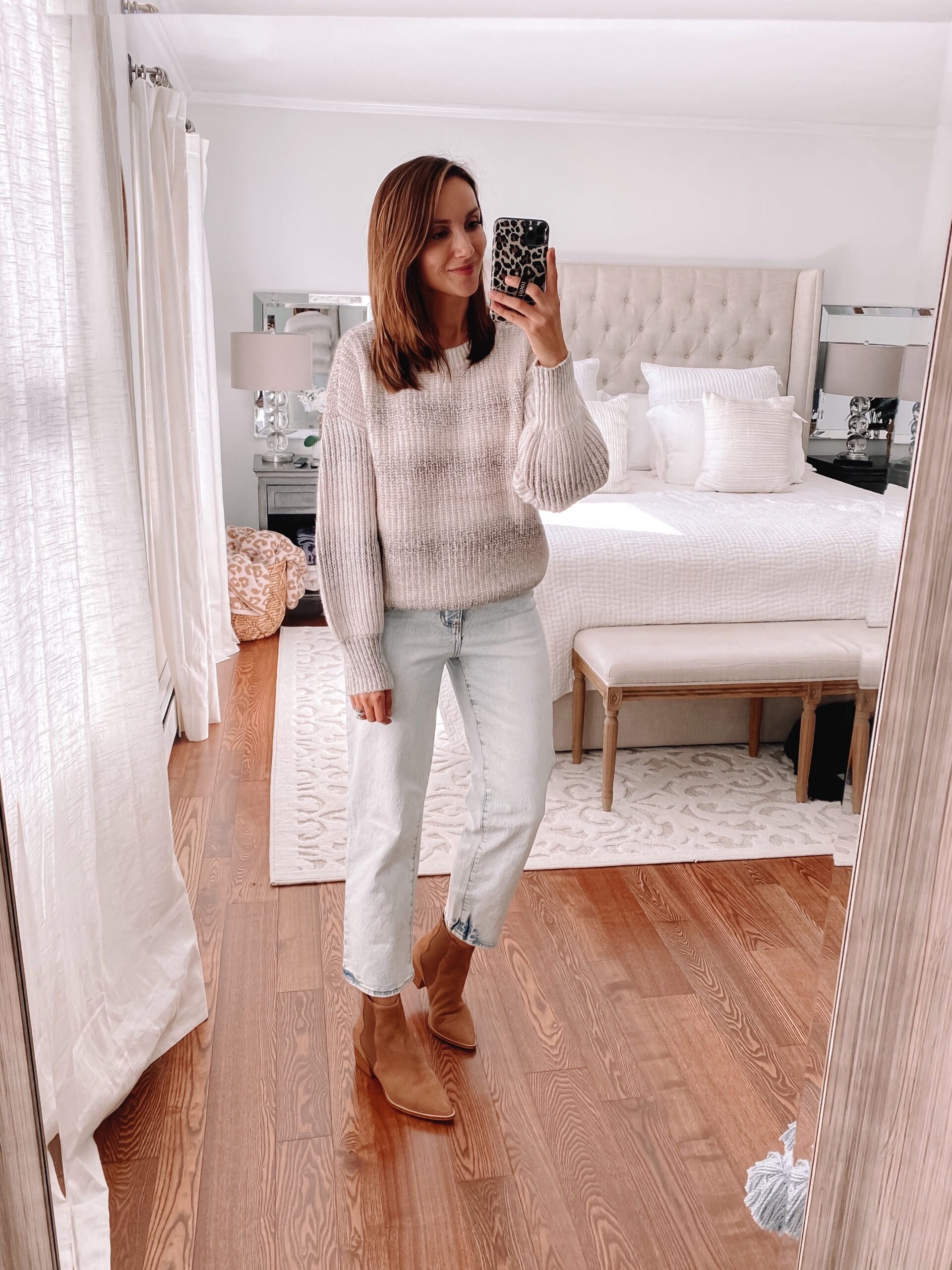 I always get excited for cardigans and sweaters in leopard print which I know many of you do as well. This cardigan is fully in stock! It fits tts, I'm wearing size small. It's soft and the print is textured. I am wearing size xs in cami which is from Nordstrom Rack and one of my go-t0 layering pieces.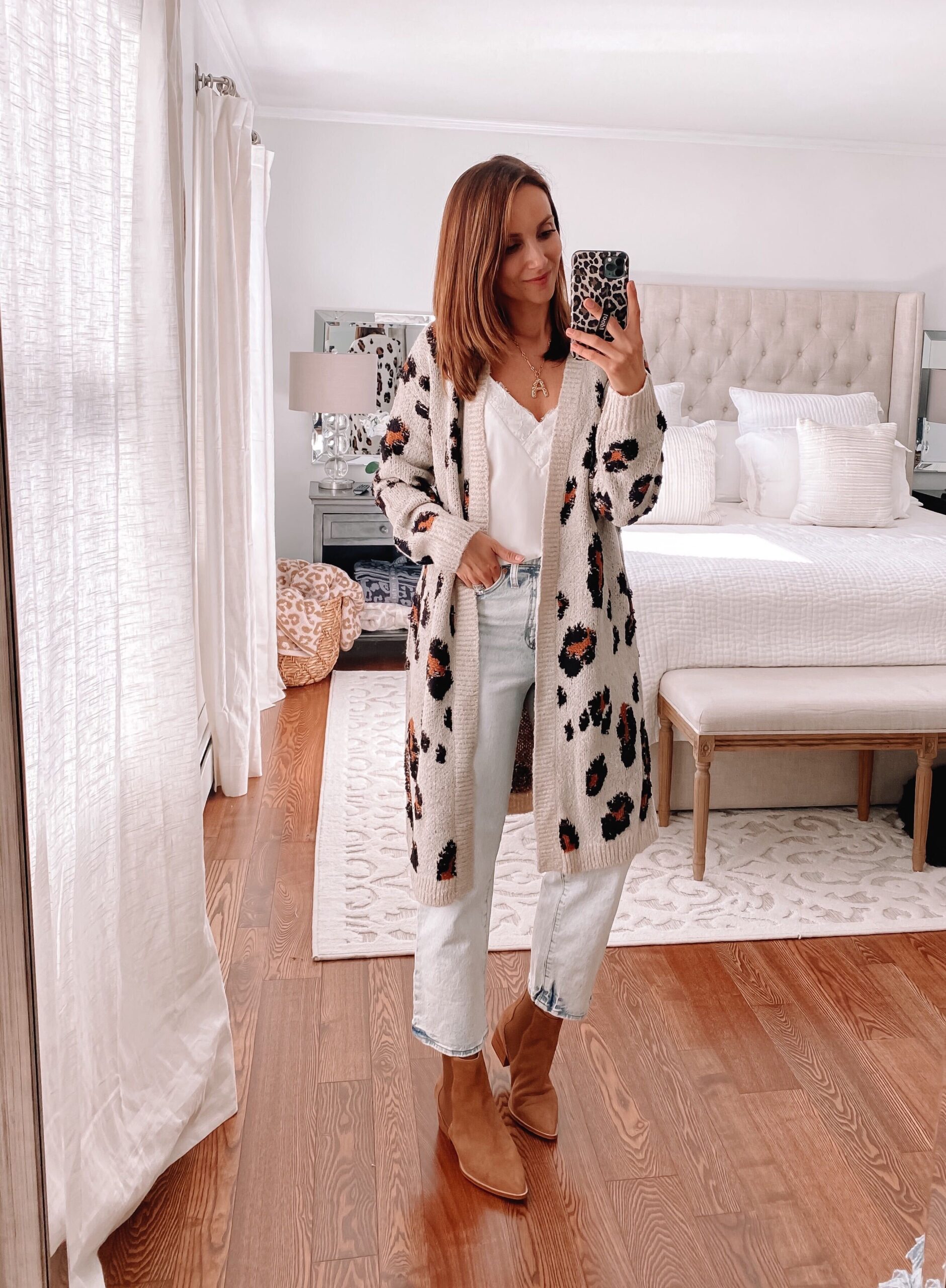 Another cardigan option but this one is a little bit thicker and warmer. If you love colorblock, this cardigan is for you. I am wearing size small.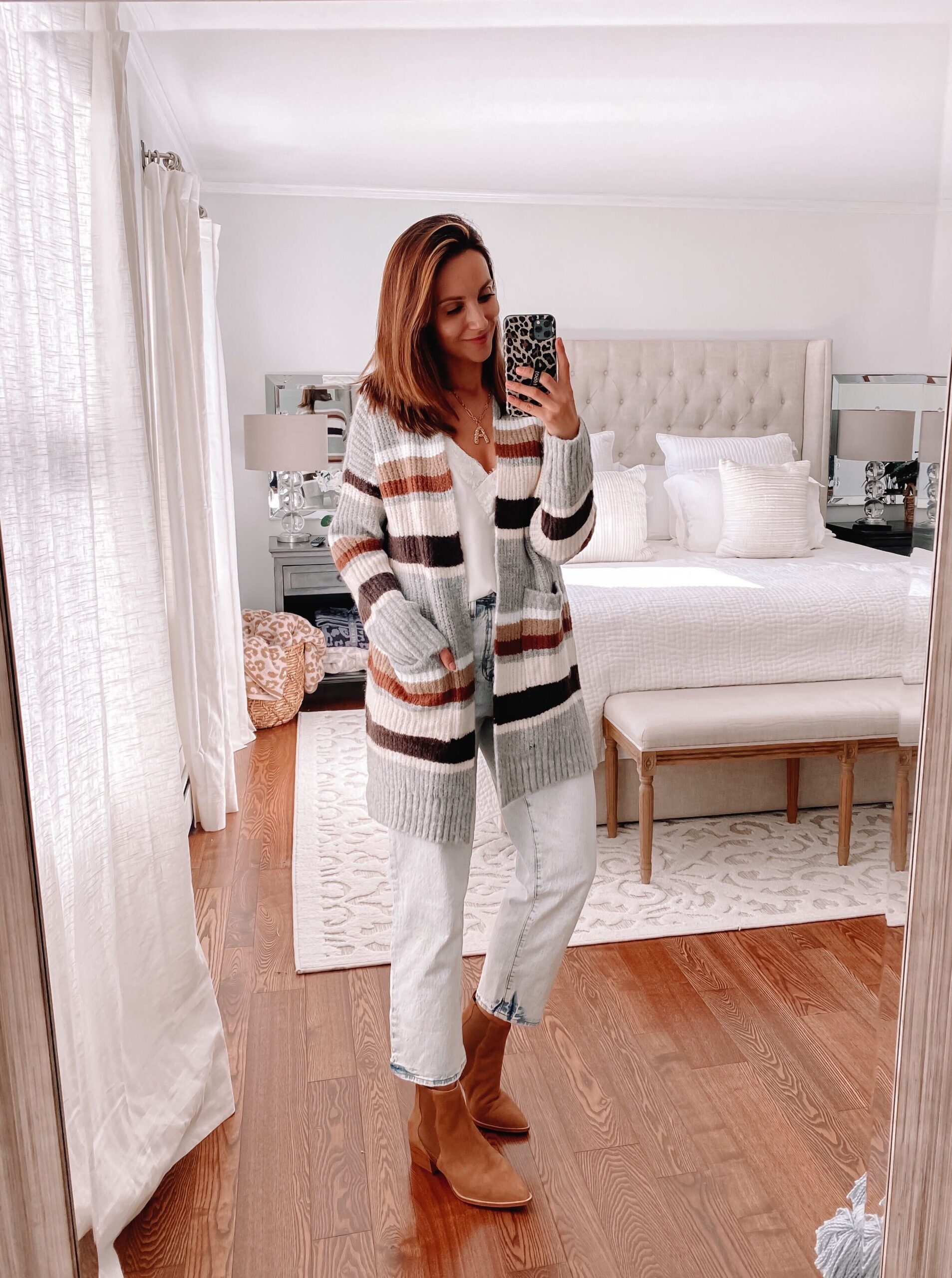 If you're looking for a coat, this one is actually from Old Navy but is on sale and under $60. I love the neutral colorway and I'm wearing size extra small. It's a great dupe for the J.Crew Cocoon coat and in THIS post I compare the two.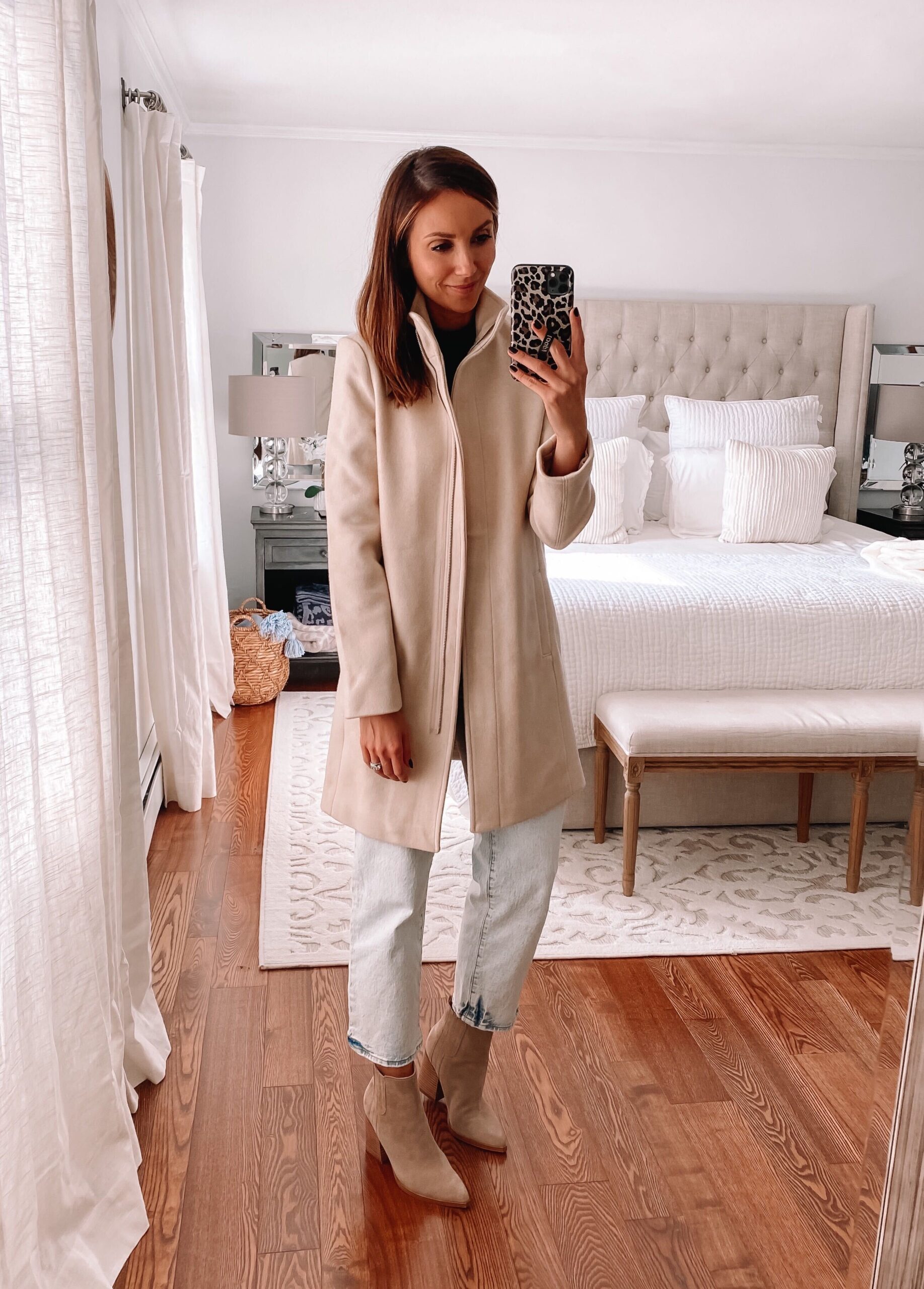 This is such a casual, on the go kind of look. The sweatshirt has a high neckline and a slight crop fit. It's buttery soft and I'm wearing size small. The hat can be found here.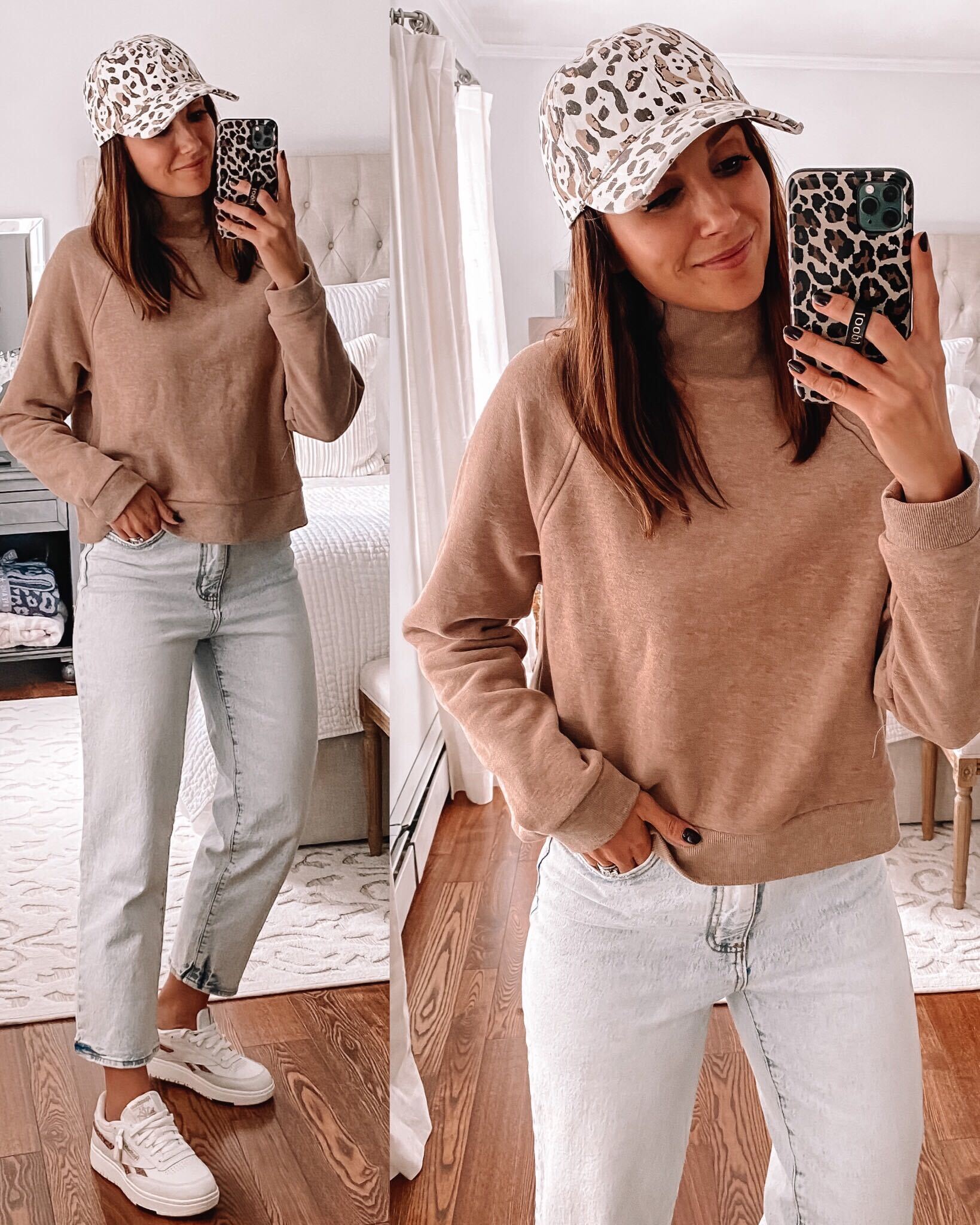 Super soft and cozy loungewear set. I love the pink stripes of the sweatshirt and the joggers are buttery soft. I am wearing size small in both pieces.
Thank you so much for visiting Blushing Rose Style Blog