Hi girls. If you follow me on Instagram you probably have seen me talk about my chicken noodle soup that I love to make. A bunch of you have asked for the full recipe and step-by-step directions which I do have saved on my high lights, but I am excited to share it on the blog today. Food is essential for every day life, but comfort food just makes things a little bit easier. I actually took out my crockpot last weekend so I could have our dinner going as I hung out with the kids. My favorite thing is just having the meal simmer and smelling the amazing aromas that fill the house. It's like receiving a warm, comforted hug. It might not seem like it, but especially during these times where we are all practicing social distancing, a yummy meal can go a long way and definitely be considered a self-care practice. I talk about my other favorite practices in this post.
I make this soup frequently because it is so simple to make and I hope that you do try it and get to enjoy it with your family. Please let me know if you do!

Ingredients
2 TBS olive oil
1 medium sized white onion, chopped
2 large carrots, peeled and chopped
4 stalks of celery, chopped
1 parsnip
chicken – 2 split chicken breasts with skin on, we prefer white meat. (you can use any cut of your preference)
2 32oz. chicken stock
2-3 bay leaves
1-2 springs of thyme
8-16 0z. extra wide egg noodles (depending on what you prefer)
salt & pepper to taste
fresh italian flat parsley, chopped
Recipe
Heat up 2 tablespoons of olive oil in your pot, reduce the heat to medium.Add chopped onion and a pinch of salt and pepper to your pot. Let it sauté.
Add your carrots, parsnip, and celery. Cook until the veggies are softened and onion is translucent in color. Because our stores are low on some items, I was only able to use one carrot and I also didn't have a parsnip. My my chicken, I was able to find boneless breasts, so that is what I used today. However, that is how easy this soup is! What you have on hand, will work!
Season your chicken breasts with salt and pepper and put them in the pot skin down. (I move the veggies around so the skin is touching the bottom).
Sauté the meat on each side for several minutes – until the skin is light brown. Note: the chicken will not be cooked through at this point!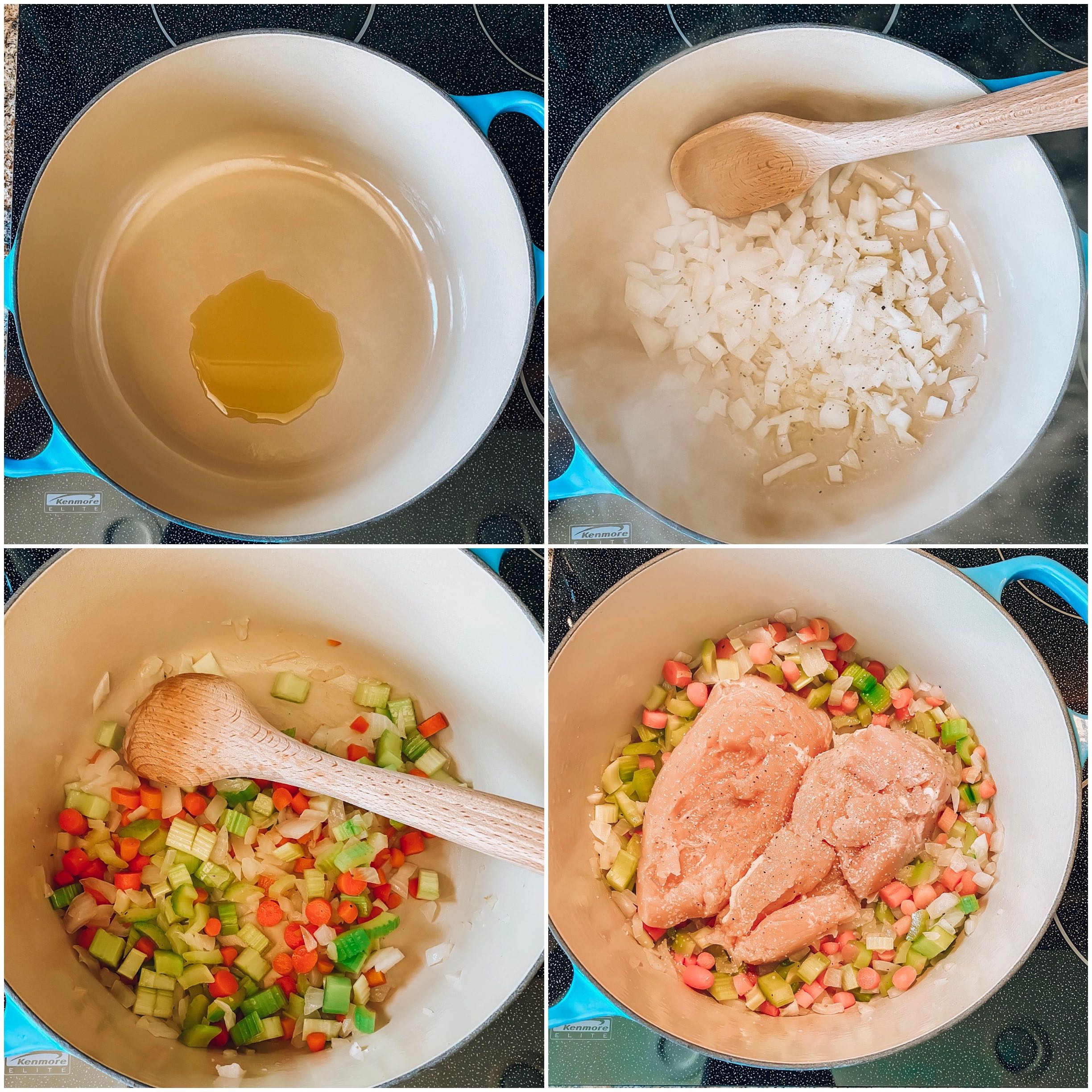 Add both containers of the chicken stock, 2-3 bay leaves (discard when soup is done) 1-2 sprigs of fresh thyme, salt & pepper to taste.
I will let the soup simmer until the chicken is cooked through. I usually wait 30-45 minutes but it varies. When the chicken is cooked through, remove it from the broth and shred the meat with a fork, then place the meat back into the pot.
Mom hack – Instead of cooking the noodles in a separate pot, I cook mine in the broth. Saves me time from washing another pot! I love extra wide egg noodles and I find these give the real homemade taste. Use as much as you want! I typically use half of the 16 oz. bag. Cook the noodles according to the packaging (typically 8 min.)
Once the noodles are cooked, remove the pot from heat and add fresh chopped parsley. I always wait to add fresh herbs until the very end for the best taste. You are now ready to serve and enjoy this delicious soup!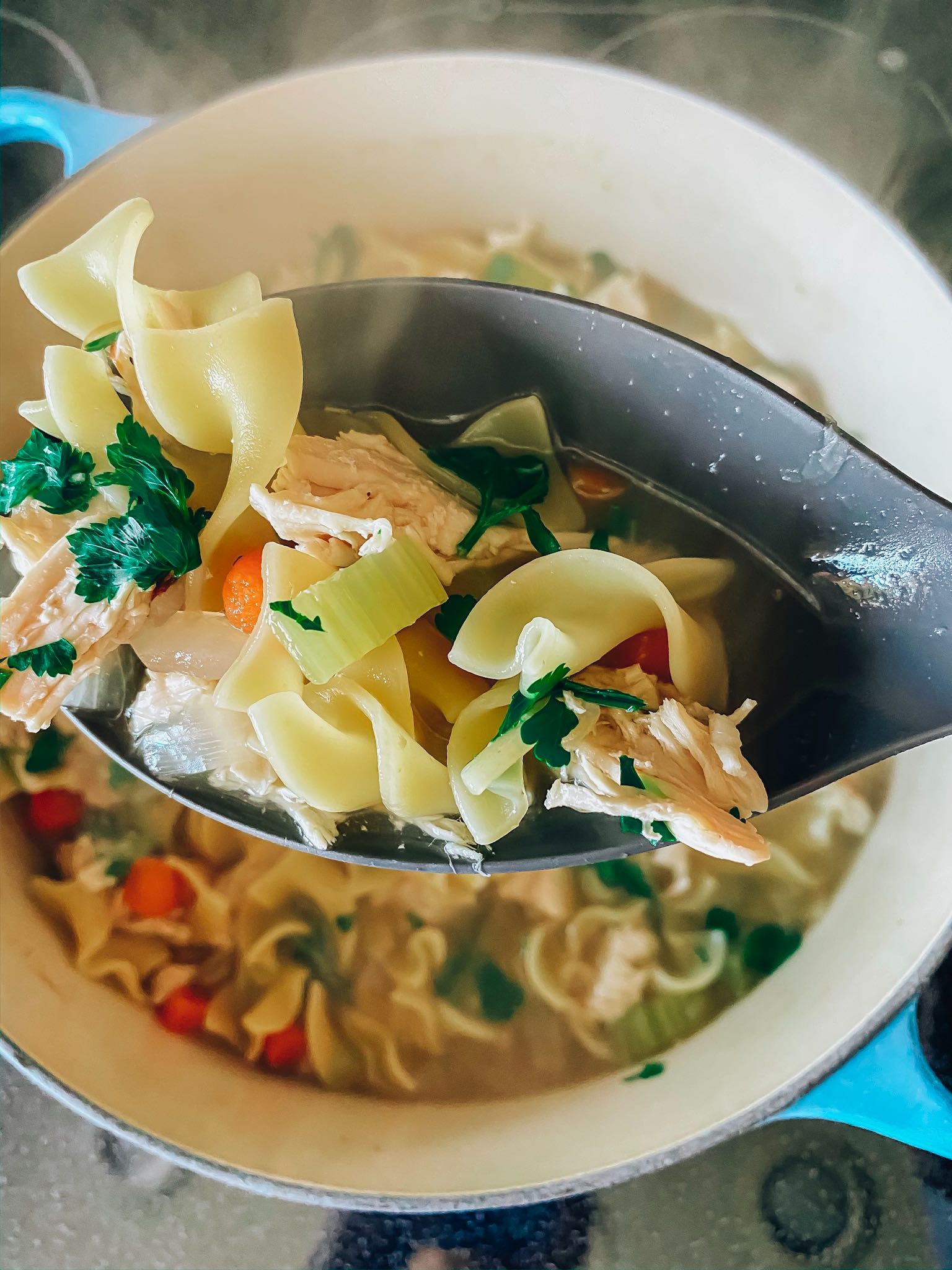 That's it! Wasn't that simple?
I hope you enjoy this soup brings you comfort as it does to me and my family.
PIN OR PRINT THIS RECIPE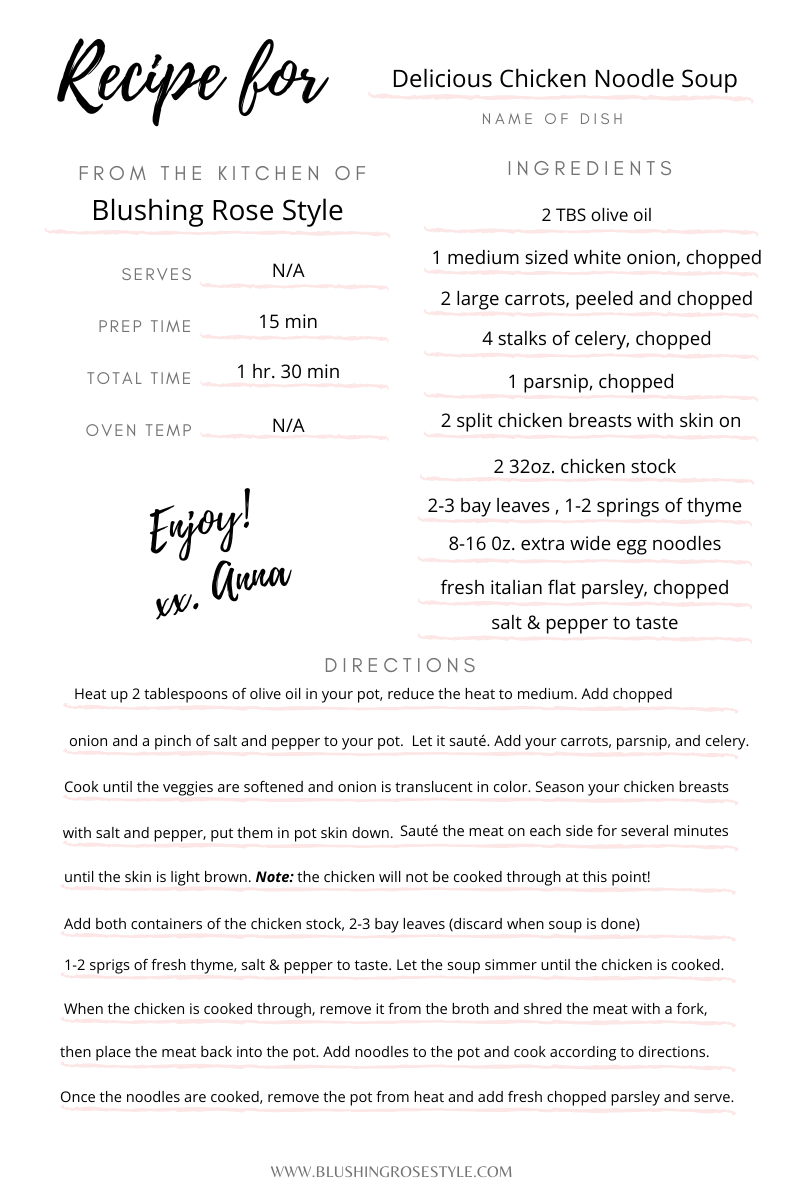 Thank you so much for visiting Blushing Rose Style Blog.