Hi friends, Happy Saturday.We survived the first week of school and I am so happy the weekend is here. I am back with a new Target Try-On. I am excited to share some workwear inspired outfits along with some new cozy sweaters to get you in the mood for Fall.
And if you really love Target, you should totally join my private FB group – Blushing Rose Style Target Finds where I share all my finds – from fashion, home goods, home decor to the most unique finds. And it has been an amazing community with everyone that has joined! And you can also share your recent purchases, and see what others in the group are raving about.
Make sure to pin this post for future outfit inspo. Btw, if you missed my previous Target hauls, you can check them out here: 5 Workwear Outfits From Target and Target Try-On 9-5
These paper bag pants are so amazing and if you need a good pair of black pants, I highly recommend these. The fabric is thick and super stretchy which makes them very comfortable to wear. They are very flattering and emphasize the smallest part of your waist. I am wearing size 2. The cami is also from Target, I am wearing xs. To finish off this workwear outfit, I layered this cardigan but a blazer would work just as well. The cardigan is so soft, cozy and I am wearing size xs. My shoes can be found here.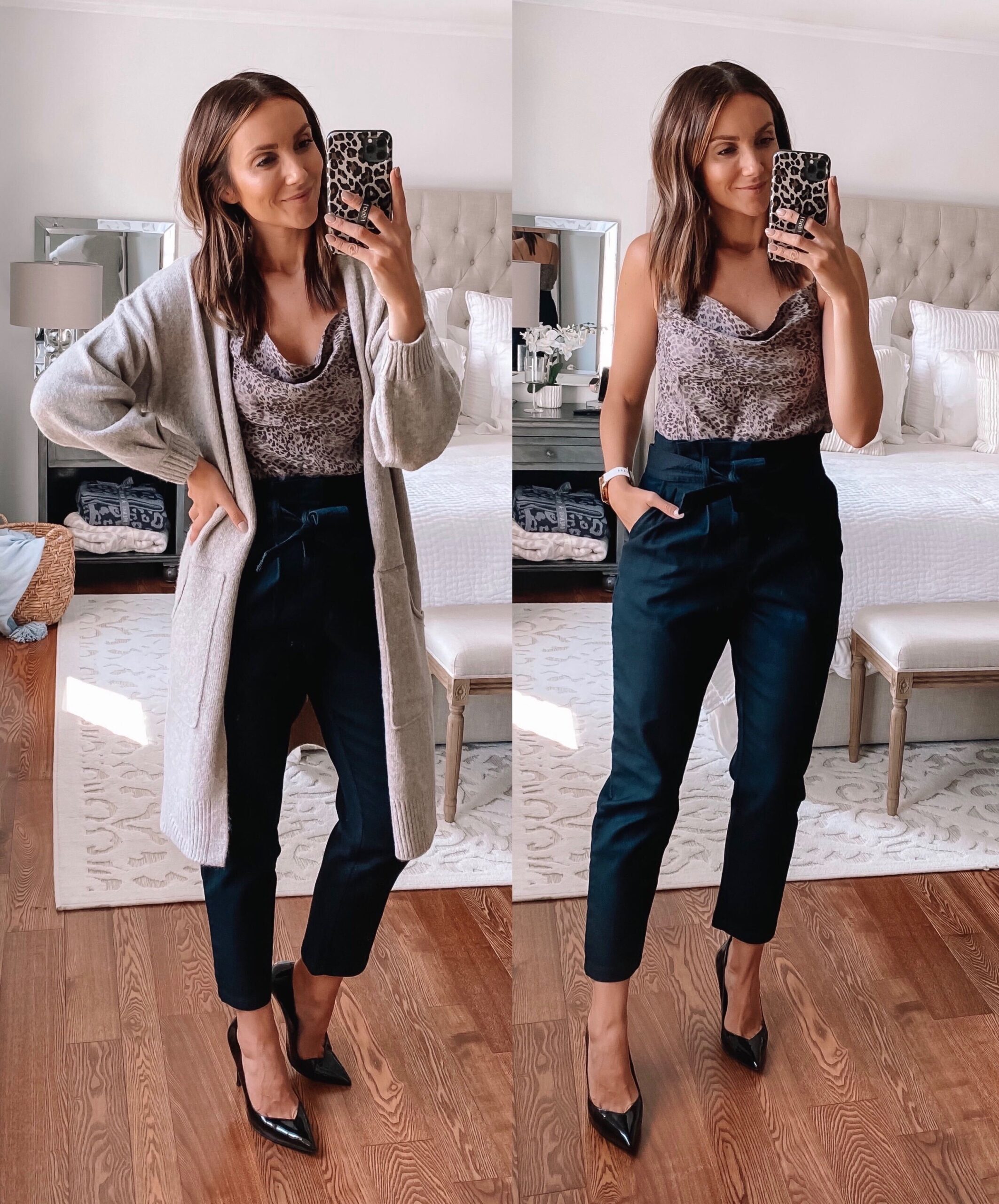 I love the higher neck line and taupe color of this blouse. It fits tts and I am wearing size xs. The best part about this top is that it does not wrinkle! It would be great for long hours of wear.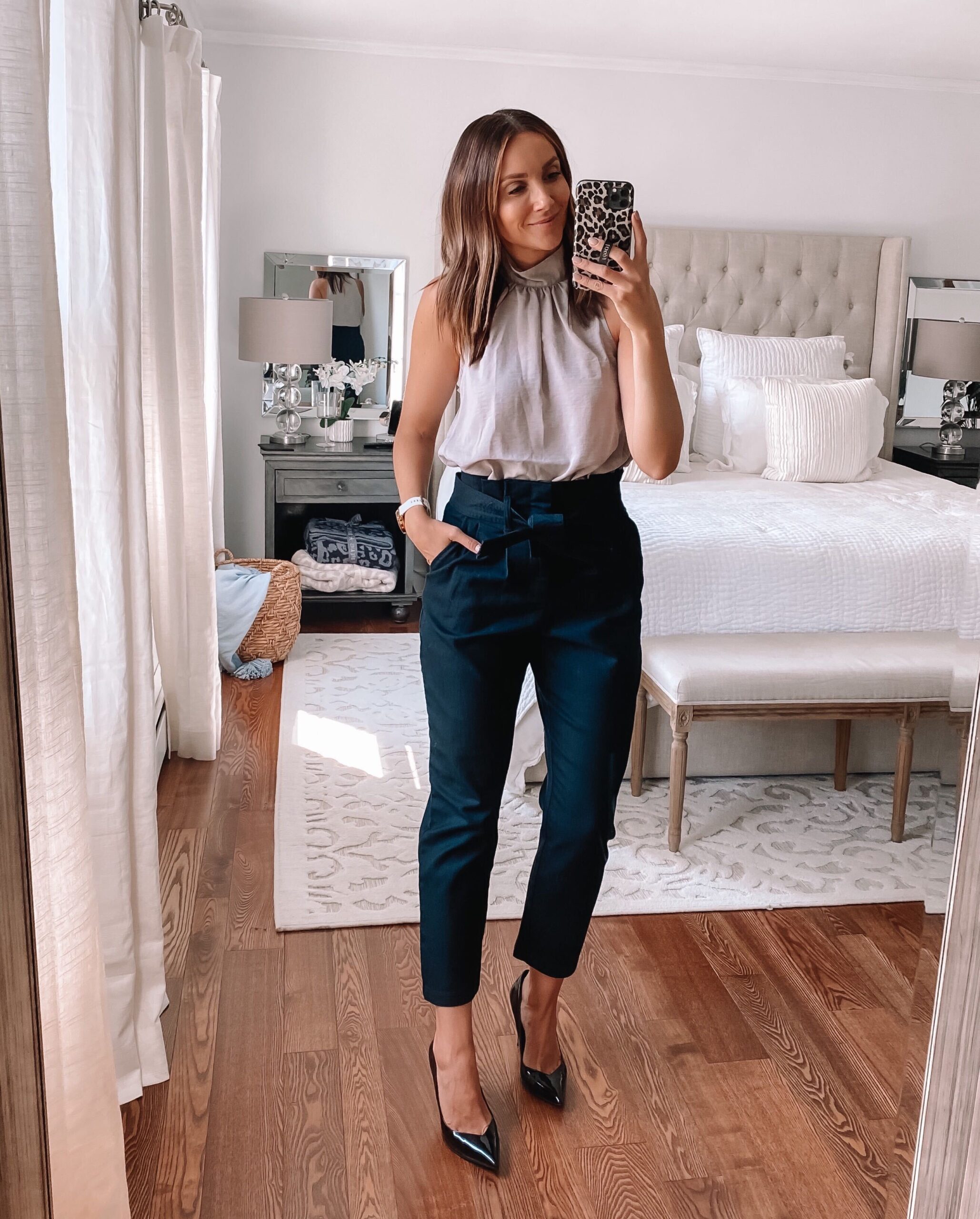 For another workwear inspired look with these pants, I swapped the blouse for my favorite lace trim cami. It has adjustable straps, fits tts and I am wearing size xs. It also ships free, free returns. The cardigan just might be one of the coziest I've purchased this year. It is so soft, not itchy and has a thick shawl collar. This will also look great with jeans and leggings. I am wearing size small.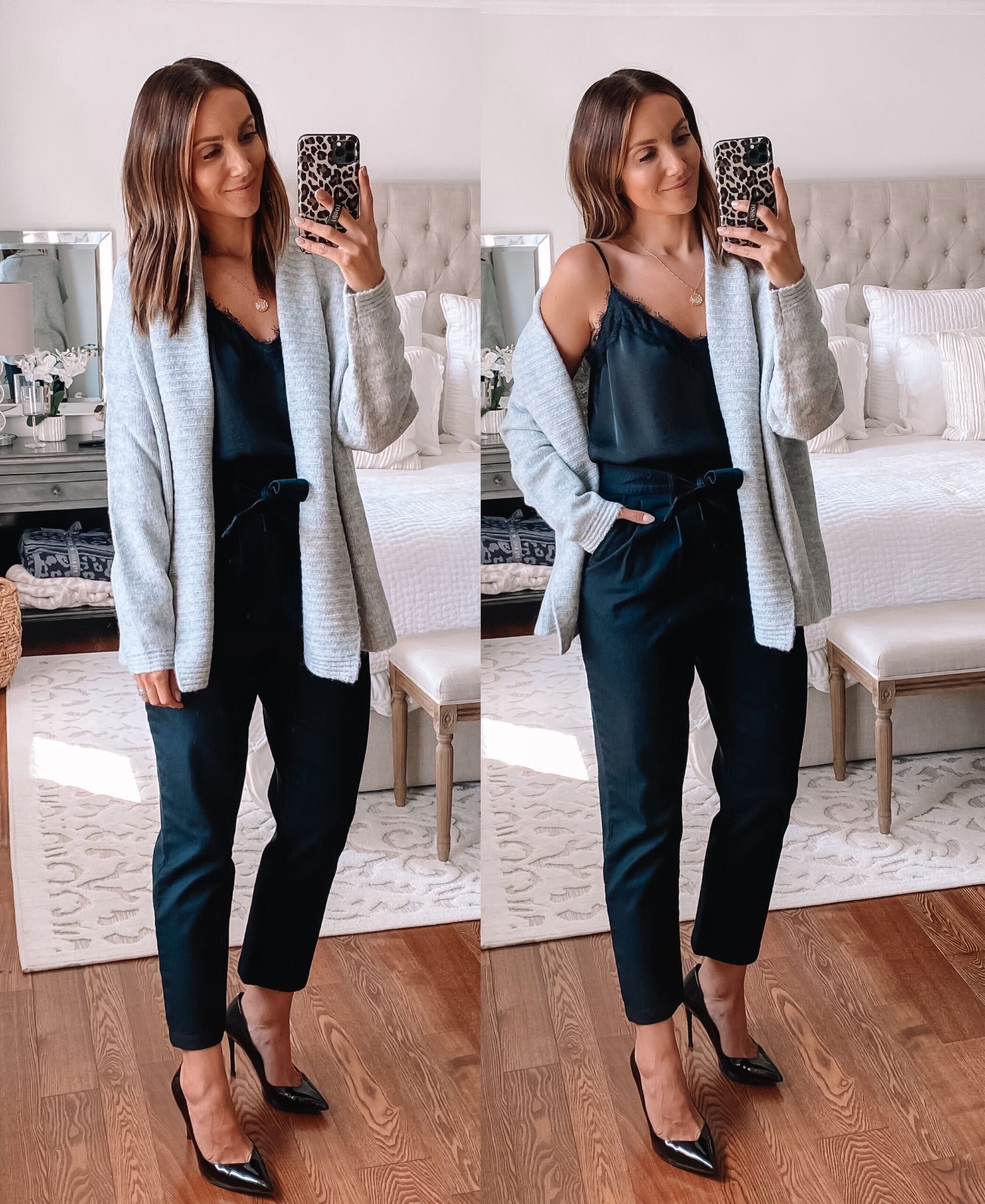 I wanted to show that the cami and cardigan can be transitioned into a casual outfit. I paired the two with these jeans that are from Target. They fit tts, are high waisted and do not have any distressing, I am wearing size 2. The mules so chic' and currently 40% off. I size up by half size.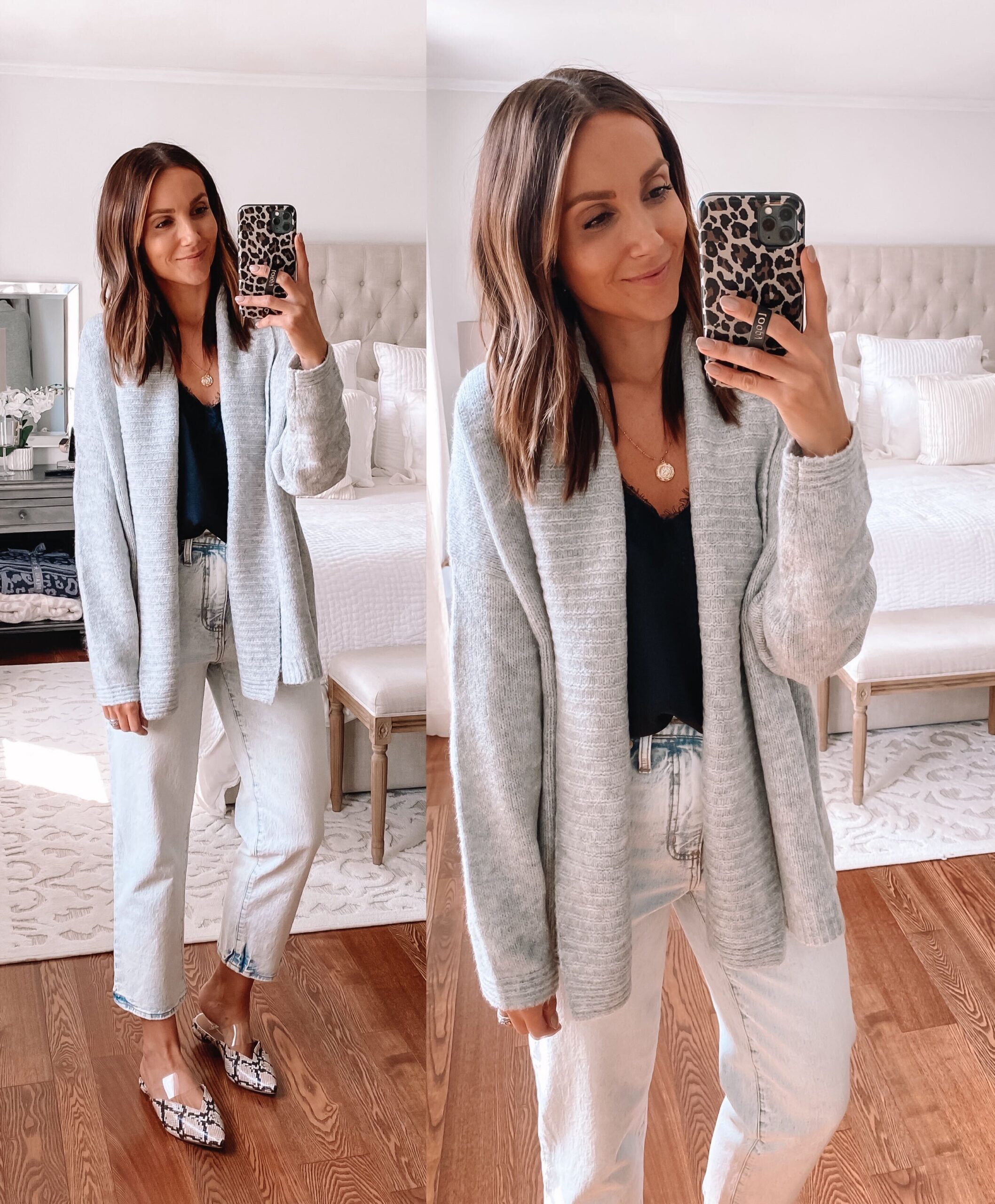 This is the other workwear style converted into a casual outfit idea. I absolutely love camis, cardigans and jean styled together. The mules were the best selling shoe on the blog last Fall and are now back in stock. They are currently 30% off and I sized up by half size.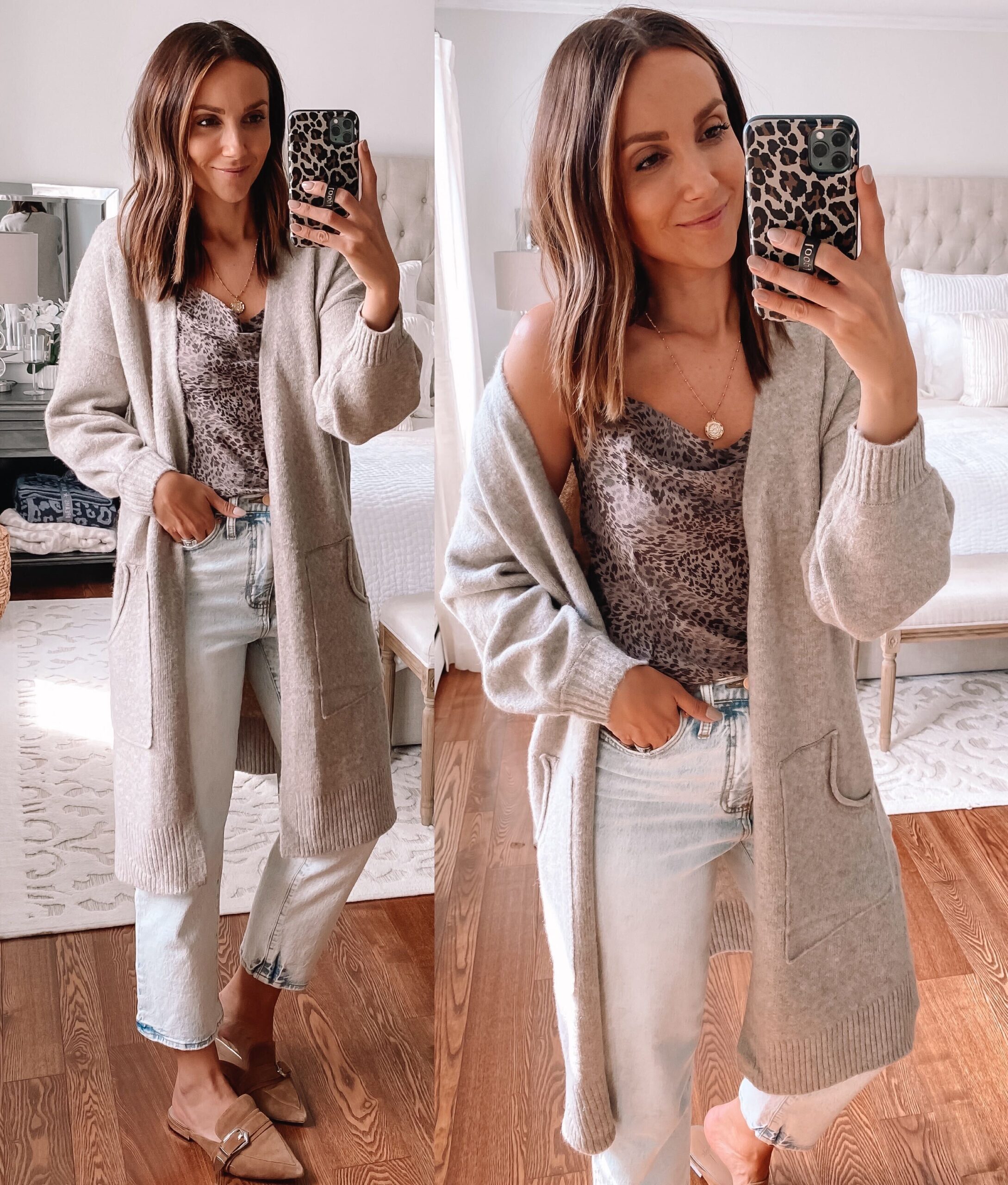 We're entering flannel season and I purchased a similar one a couple of weeks ago and you girls sold it out! This flannel is so soft and a great dupe for the Rails shirts that are over $100. This colorway is so pretty and I am wearing size small. The booties are really comfortable and fit tts.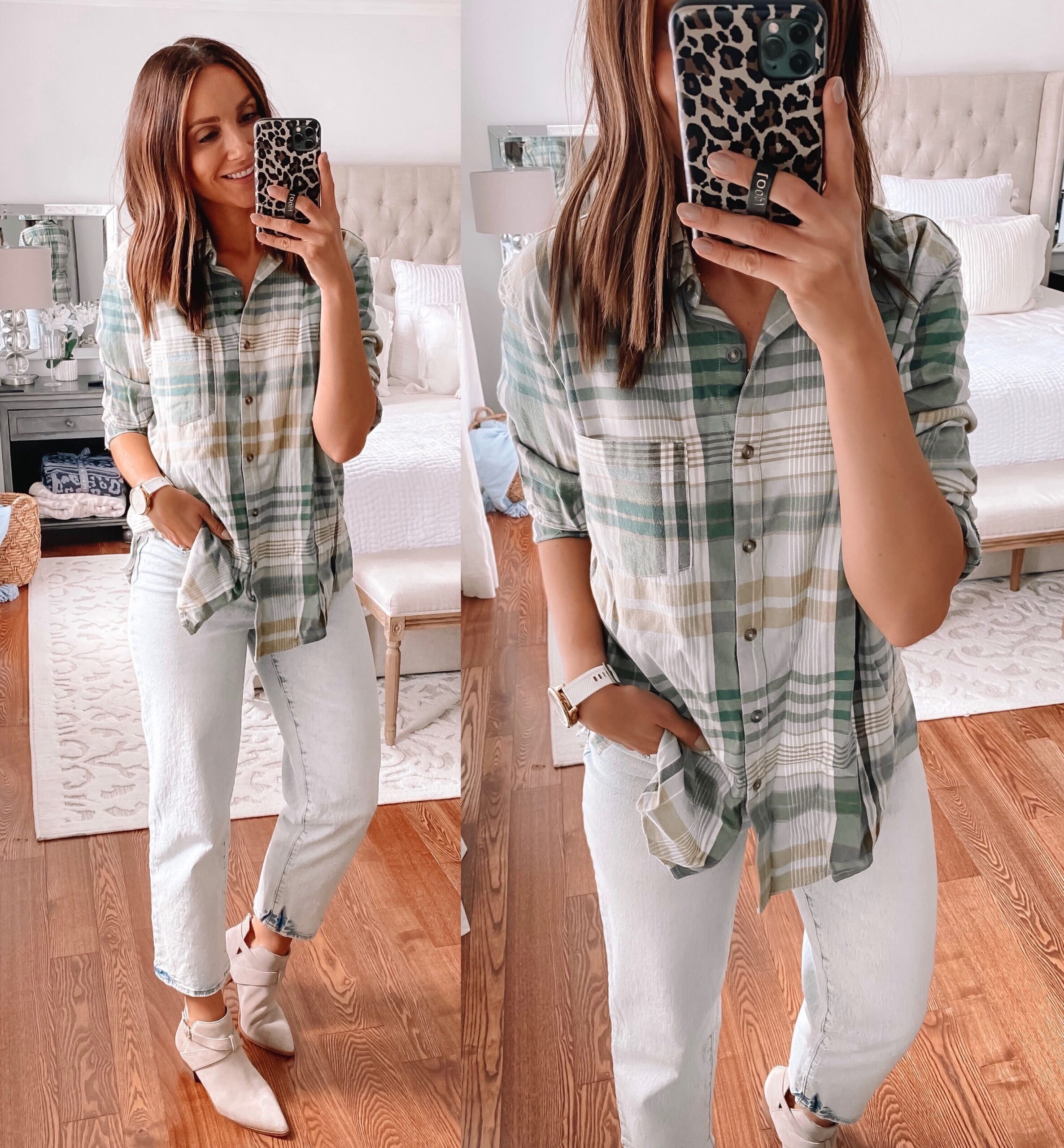 This cozy sweater is a great fall wardrobe staple. I fell in love with the texture and neutral color of this one. I am wearing size small.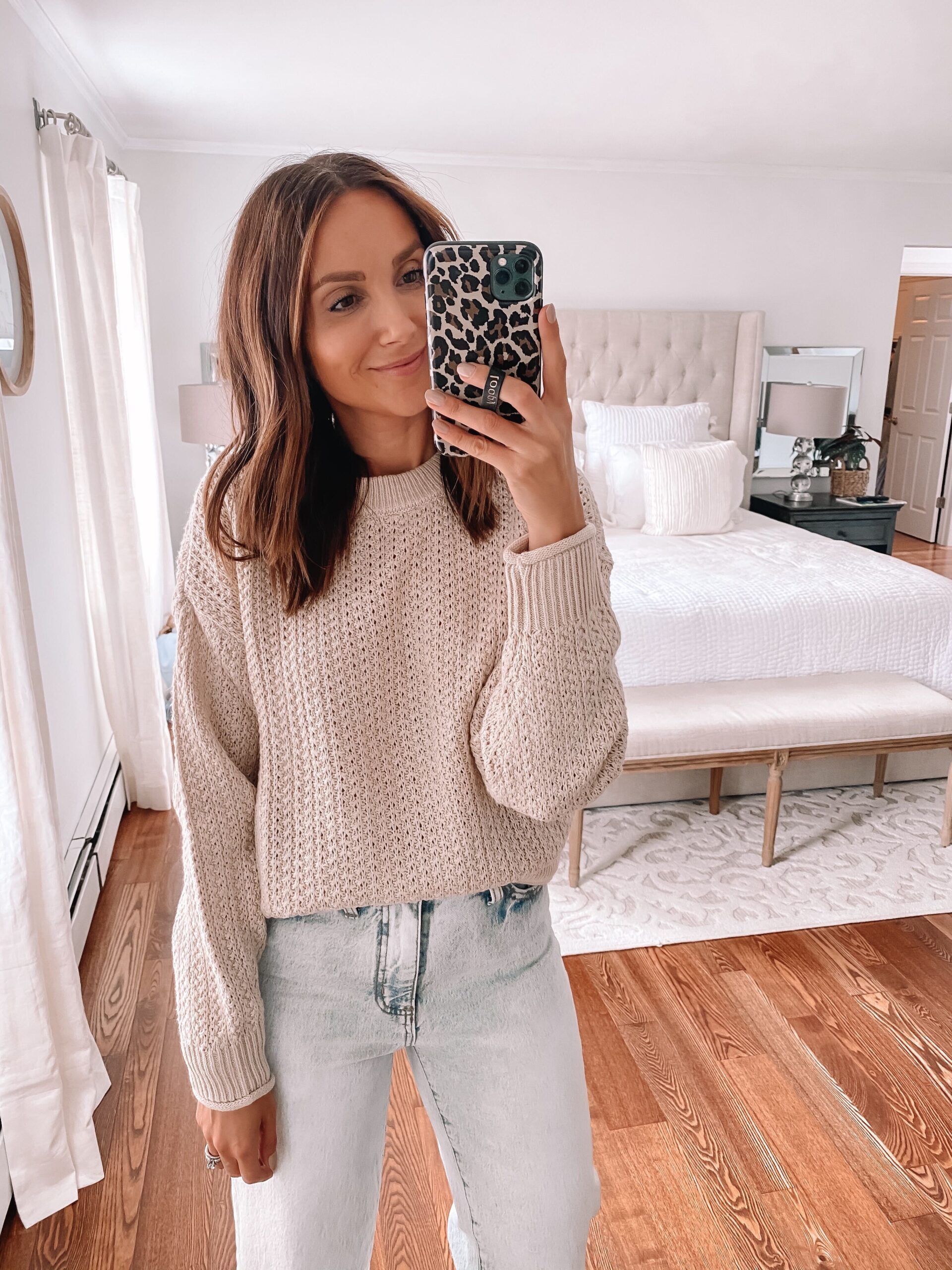 I have shared the blouse once before, but it's such a beautiful colorway for now and will transition nicely into Fall. It has an oversized fit and I'm wearing xs. The jeans are from Wit&Wisdom and have the built in ab-solution waistline. They are my favorite jeans because they're so comfortable and flattering. With the cooler temperatures coming, layering is a necessity. The jeans are one of the best sellers of the week. They have the built in ab-solution waistline which makes them so flattering.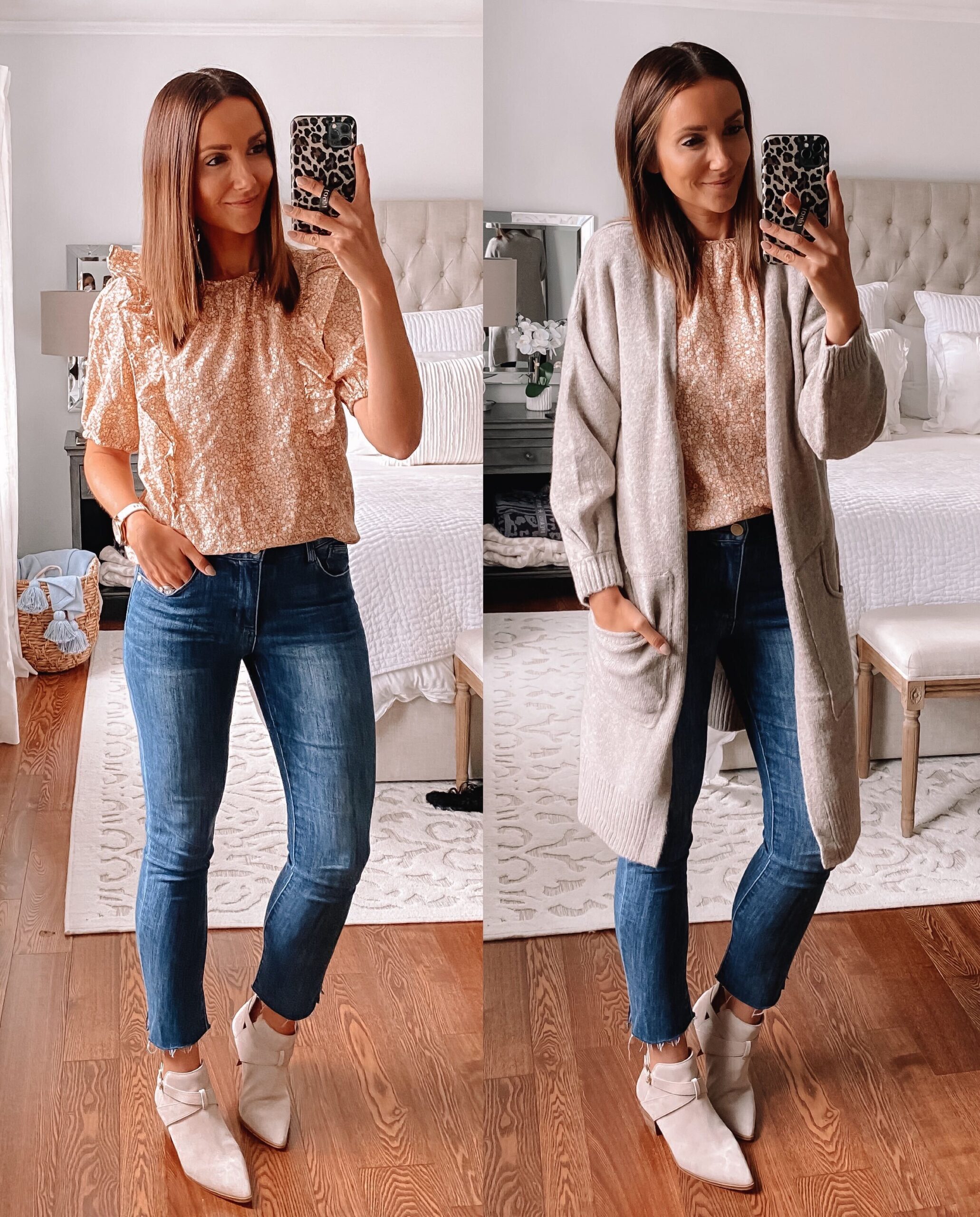 I love a good color block sweater and I own the sold out cardigan version. This sweater is still available in all sizes. It has an oversized, cozy fit and the fabric is not itchy. I am wearing size small. If you're not into the colorblock look, it is available in sold colors as well.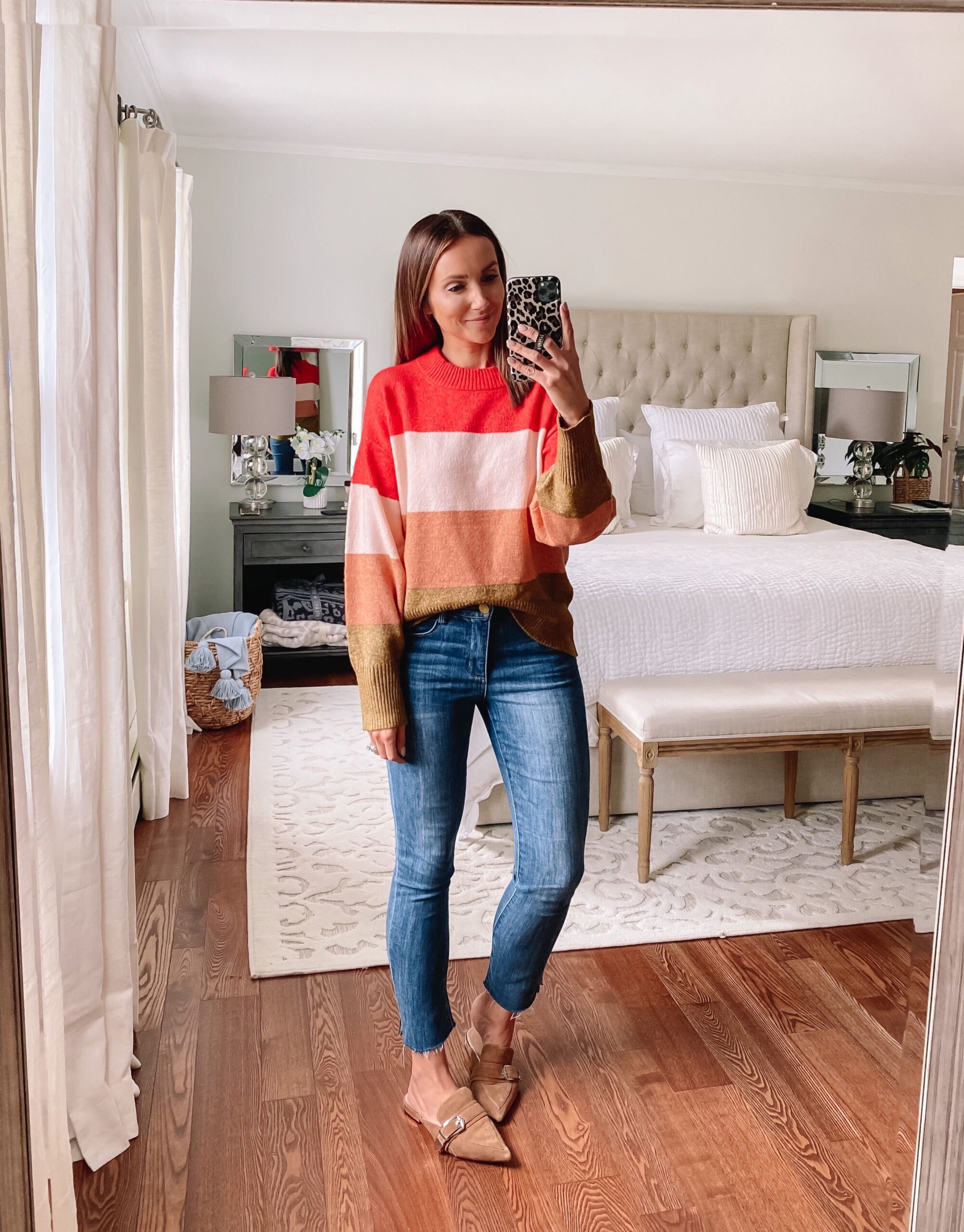 The same sweater as the above, just in a beautiful brown color. I am wearing size small but for an even more slouchier style, I would size up to a medium. The jeans are from Abercrombie and are currently on sale. They are highwasited and have a raw hemline. The booties are a new arrival from Marc Fisher. They are very comfortable to wear because of their low heel. Fit wise, they fit narrow so may not be best for a wider foot.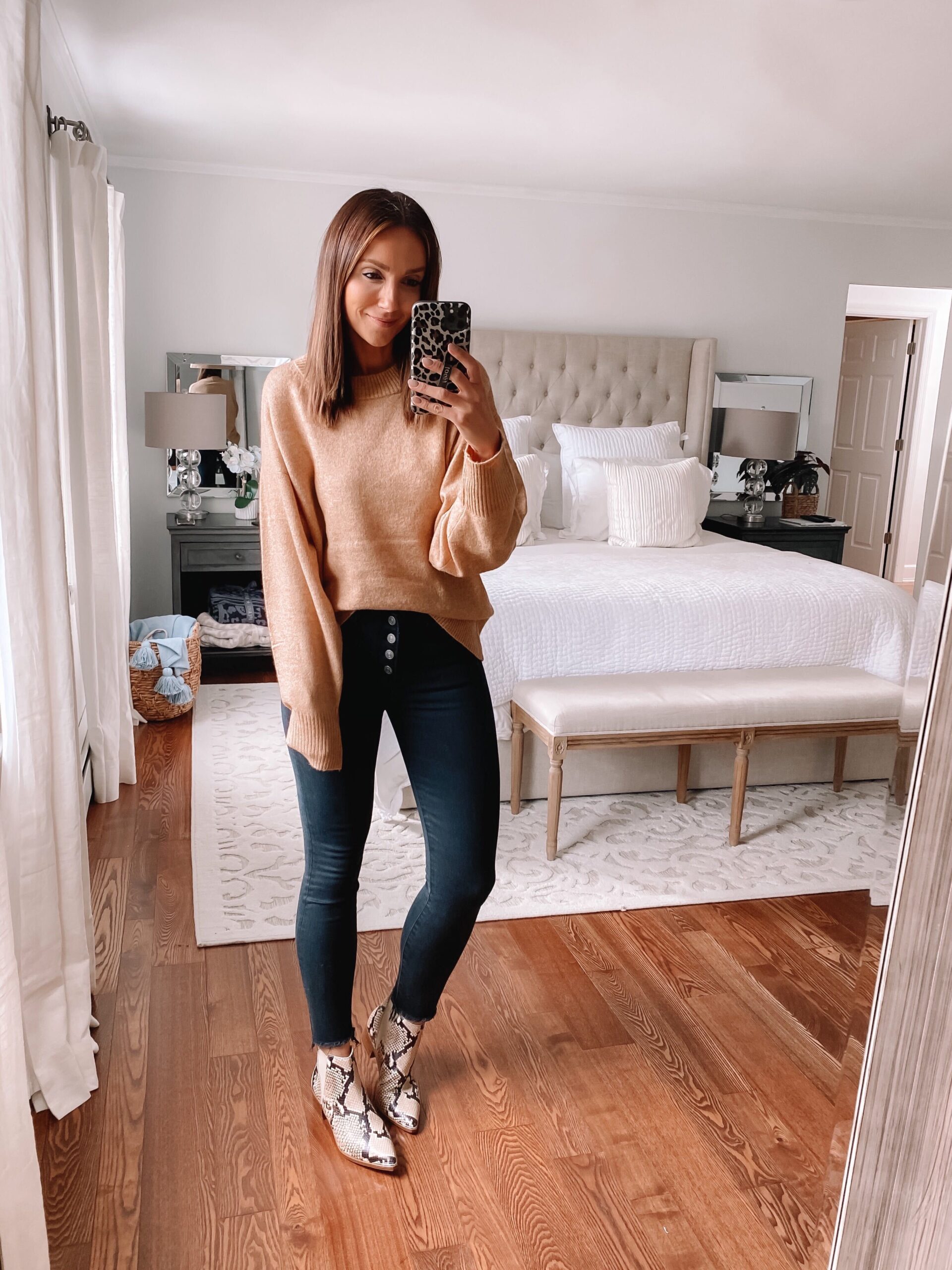 The sweater also looks great with a lighter denim option. The mules are a new arrival to Target and fit tts.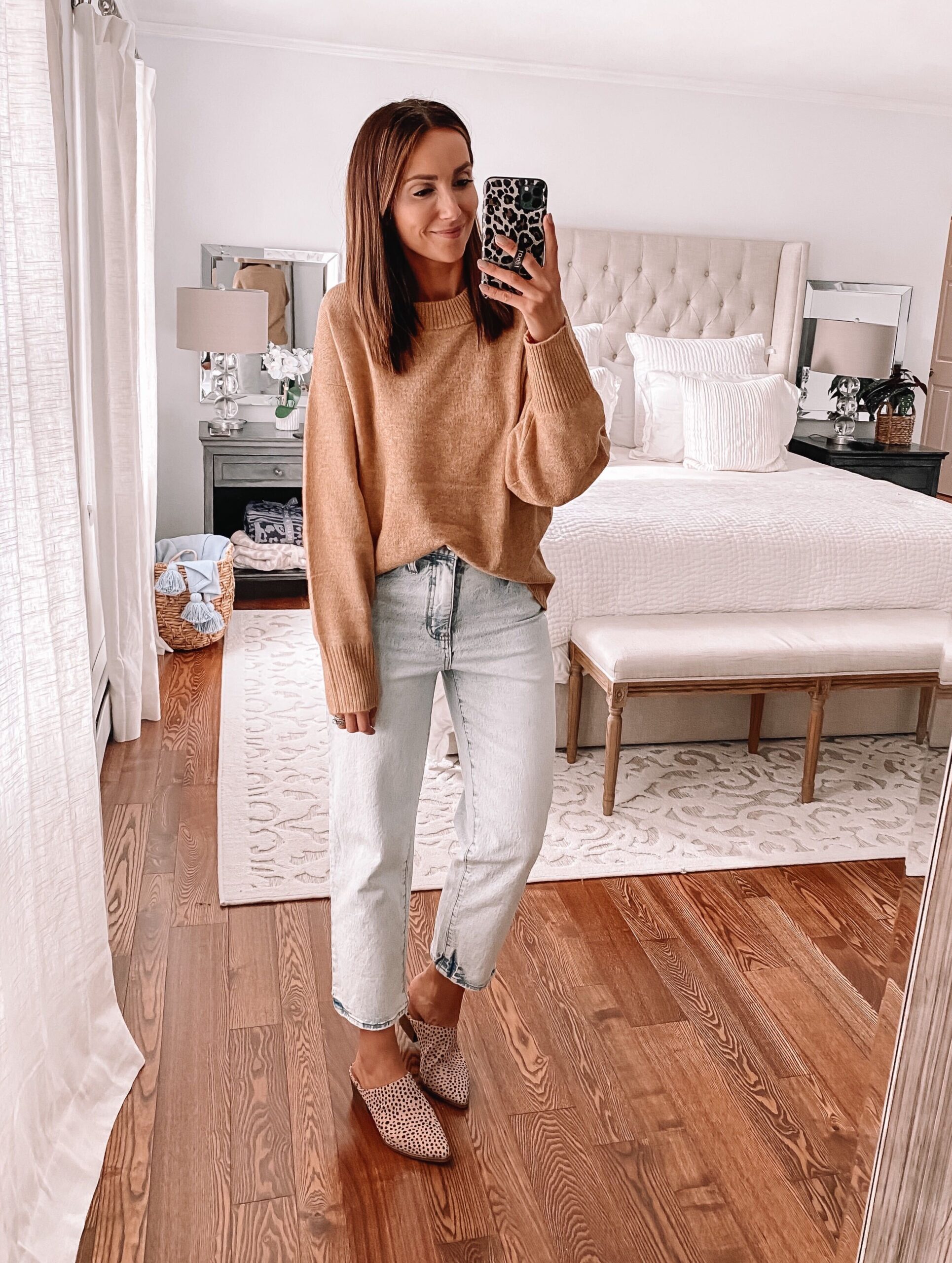 I am all about this combination of a cozy cardigan, cami and jeans. I love the color and texture of this cardigan. It's soft and not itchy, I am wearing size small. The cami is from Nordstrom Rack and has been a best seller on the blog. It's a great wardrobe staple, the straps are adjustable and I'm wearing xs. The jeans are also a Target find. They fit tts and I am wearing size 2.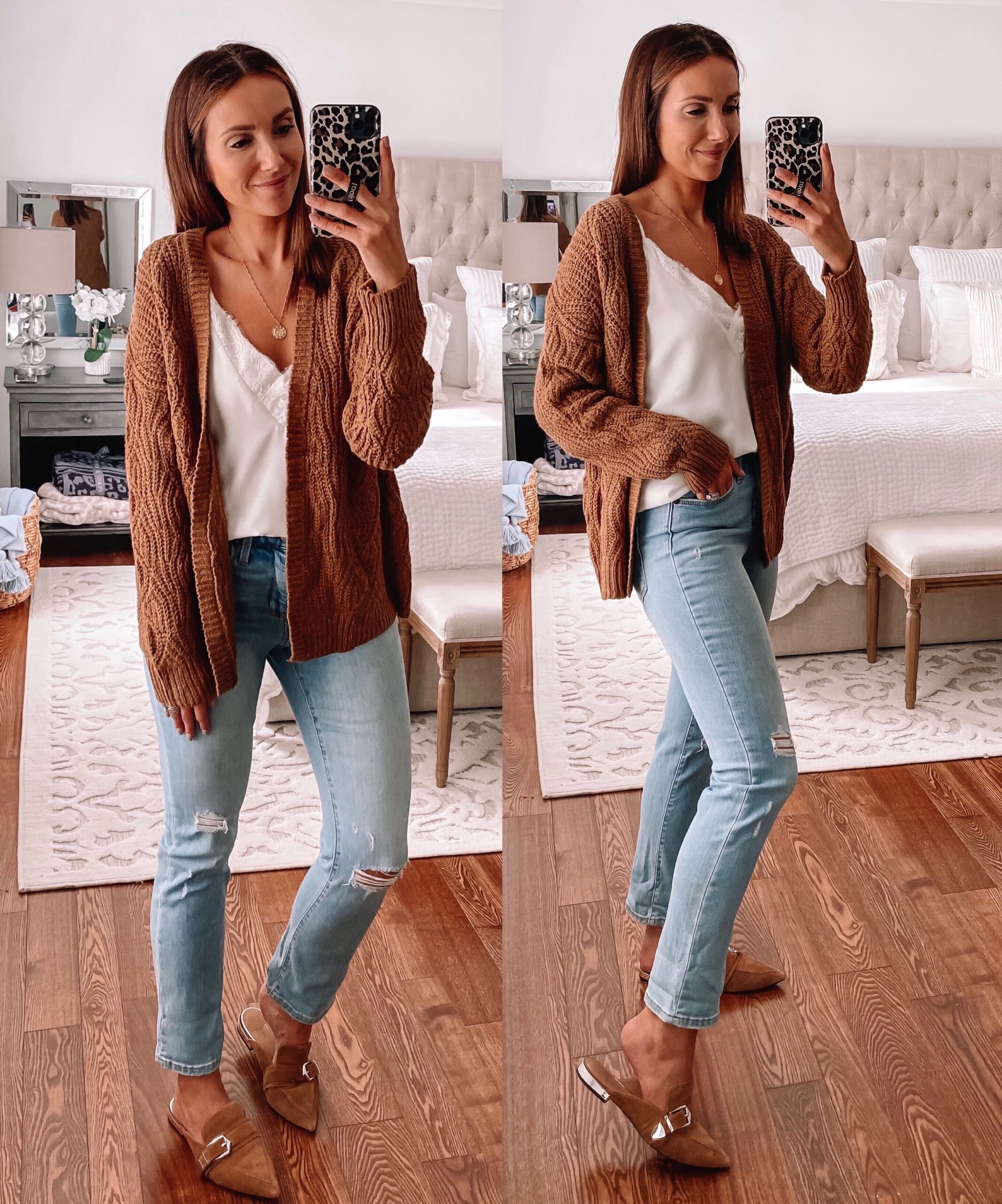 This dress is gorgeous and gives me Free People vibes. I am 5'7 so the length on this dress is really good, too. It looks so cute styled with boots but would definitely look great styled an athleisure way with sneakers, belt and a jean jacket. I am wearing xs.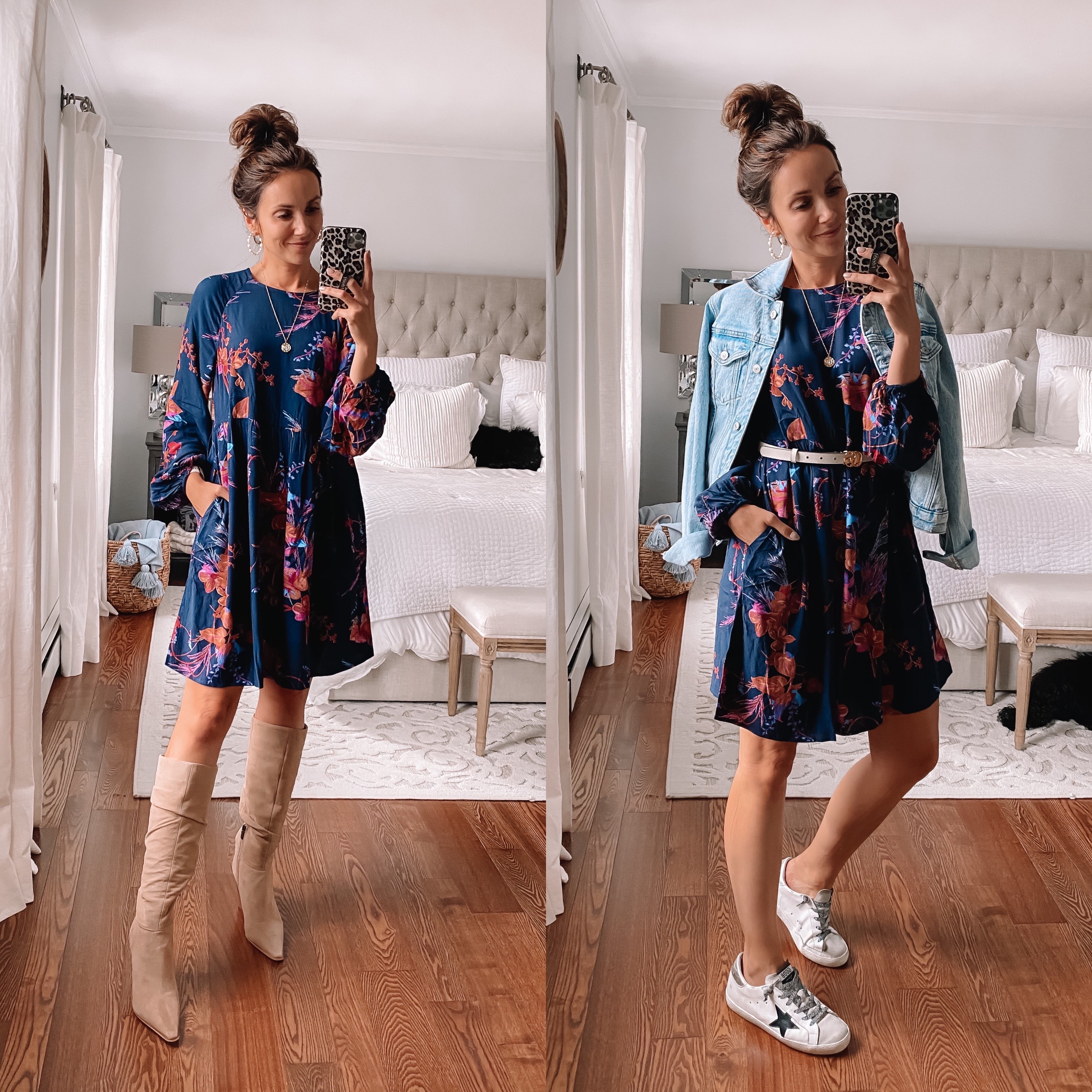 This dress definitely speaks for itself with it's gorgeous statement sleeves. It has pockets, great length and definitely appropriate for workwear styles. I am wearing xs and it fits tts. Similar nude pumps can be found here.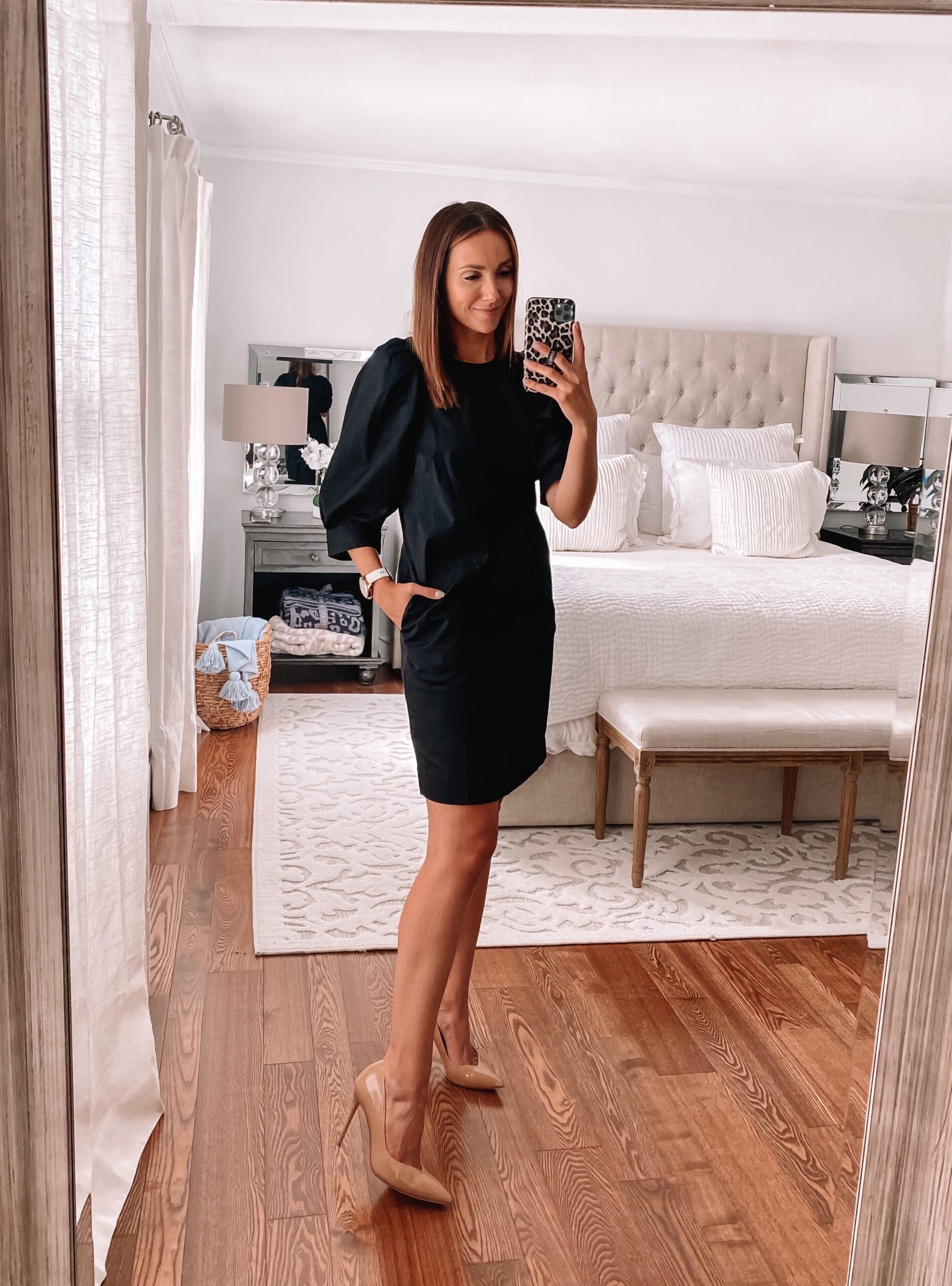 How gorgeous is the color of this dress? This dress would work so well for Fall date nights or as a workwear option. It has pockets, shawl detailing and I am wearing size xs. A small disclaimer, this fabric will wrinkle easily, so if you do a lot of sitting or driving just be cautious of that if you do purchase. Similar pumps can be found here.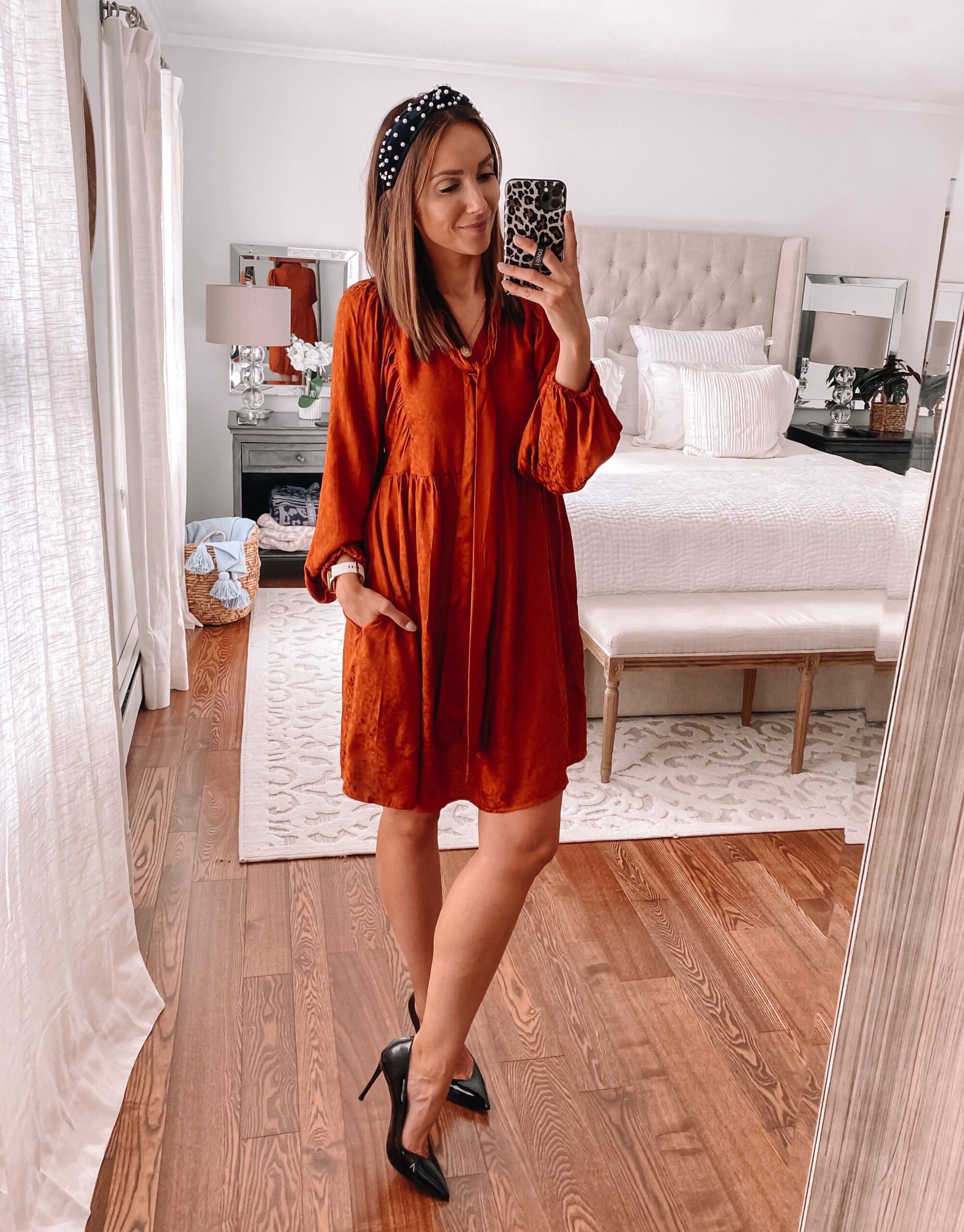 This gorgeous body-con dress has a higher neckline and a perfect length. The fabric is thick which will make it great to wear in cooler temperatures. Because of the body-con silhouette I personally would wear shape wear underneath. While it has a lot of stretch, it does cling to your shape. I am wearing xs.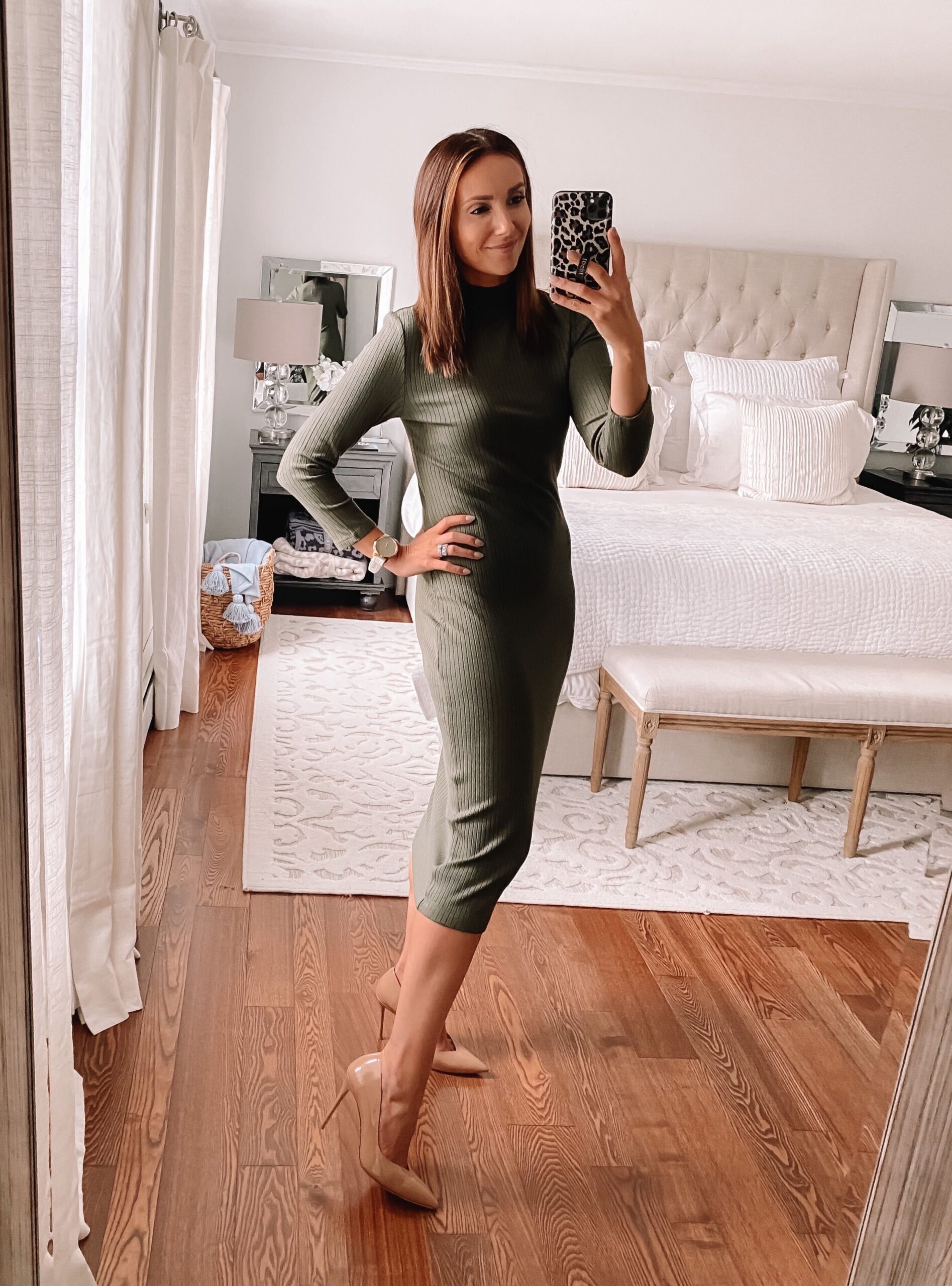 If you love cozy loungewear, I have two different joggers both from Colsie. My tie dye colorway isn't available online but here is a similar version. If tie dye isn't your thing, the subtle grey leopard print is really cute. I am wearing size small in the joggers and also in this really soft thermal.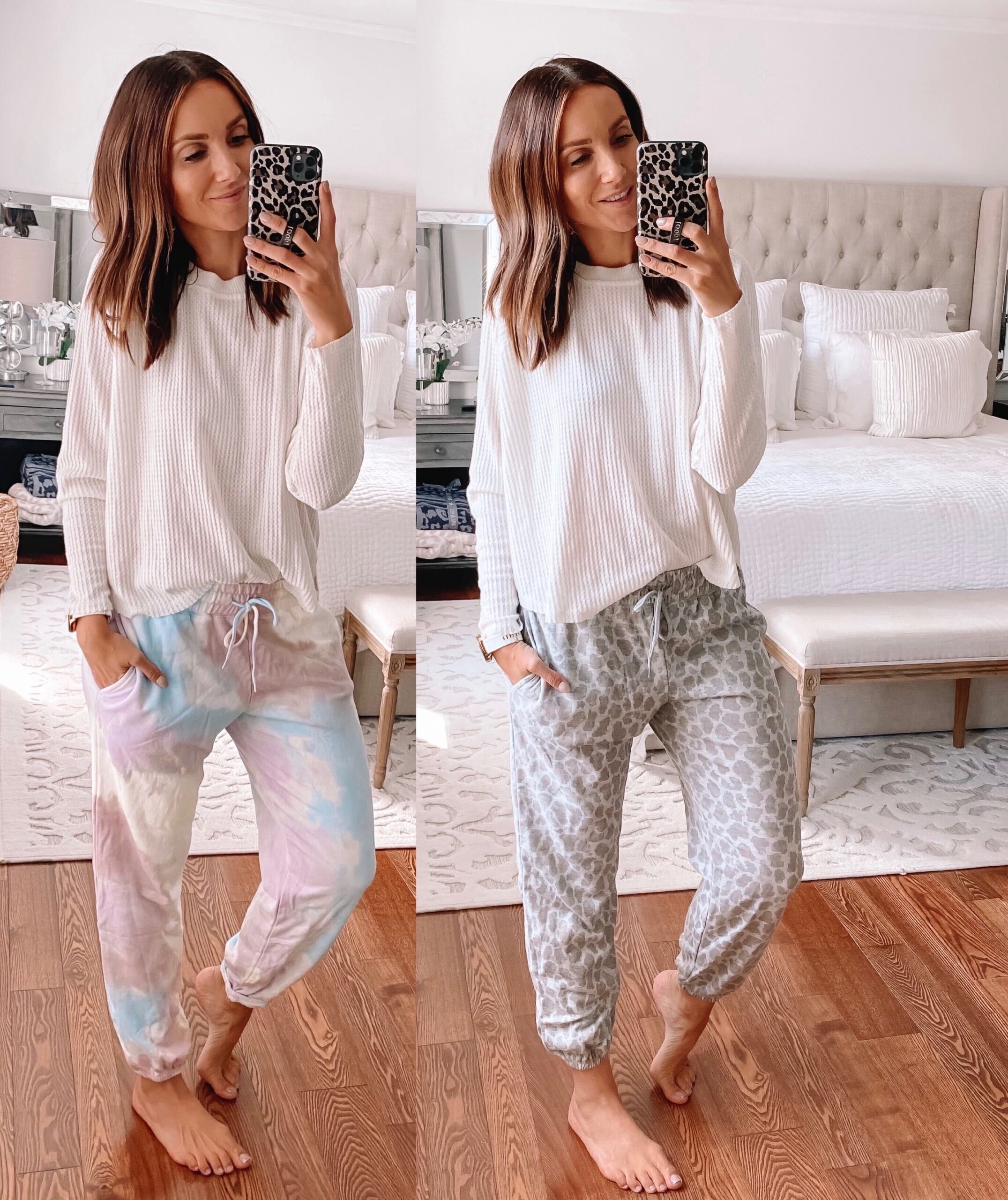 Thanks so much for visiting Blushing Rose Style Blog.