Happy Saturday, friends. I am back with a new Target haul and sharing 5 new pieces with a mixture of dressier and casual styles. I have actually been getting requests for more put-together looks, so I'm excited to share some ideas with these new faux leather joggers.
Love Target Finds? Join our private FB group! Where you can find even more or my recent finds and You can also share your recent purchases, and see what others in the group are raving about.
Btw, if you missed my previous Target hauls, you can check them out here: Target Try-On Oct. 17 and Target Try-On 10.5
Target Try-On – 5 New Fall Pieces
I have had my eyes on the Spanx faux leather joggers , but I was looking for a more affordable option, so excited I found these faux leather joggers at Target. And they're just $20. They are available in three different color options but because they're already an edgier style pant, I went with classic black. Compared to the Spanx pair, these have a bit more of a shine making them look more faux vs the Spanx that could pass for the real thing. Fit wise, they are high-waisted with a cinched waistline, fit tts and I'm wearing size small. I think these joggers could be styled so many ways. Style with sweaters, an oversized flannel or a bodysuit for date night.
I love the ruffle detailing on the sweater. It fits tts, and I'm wearing size small. Suede booties can be found here. If athleisure is more your vibe, an oversized flannel and sneakers make for a great look. I'm wearing size medium in the flannel. You can save 20% off on my necklace with code ANNA20 and the pearl hoop earrings are 50% off this weekend.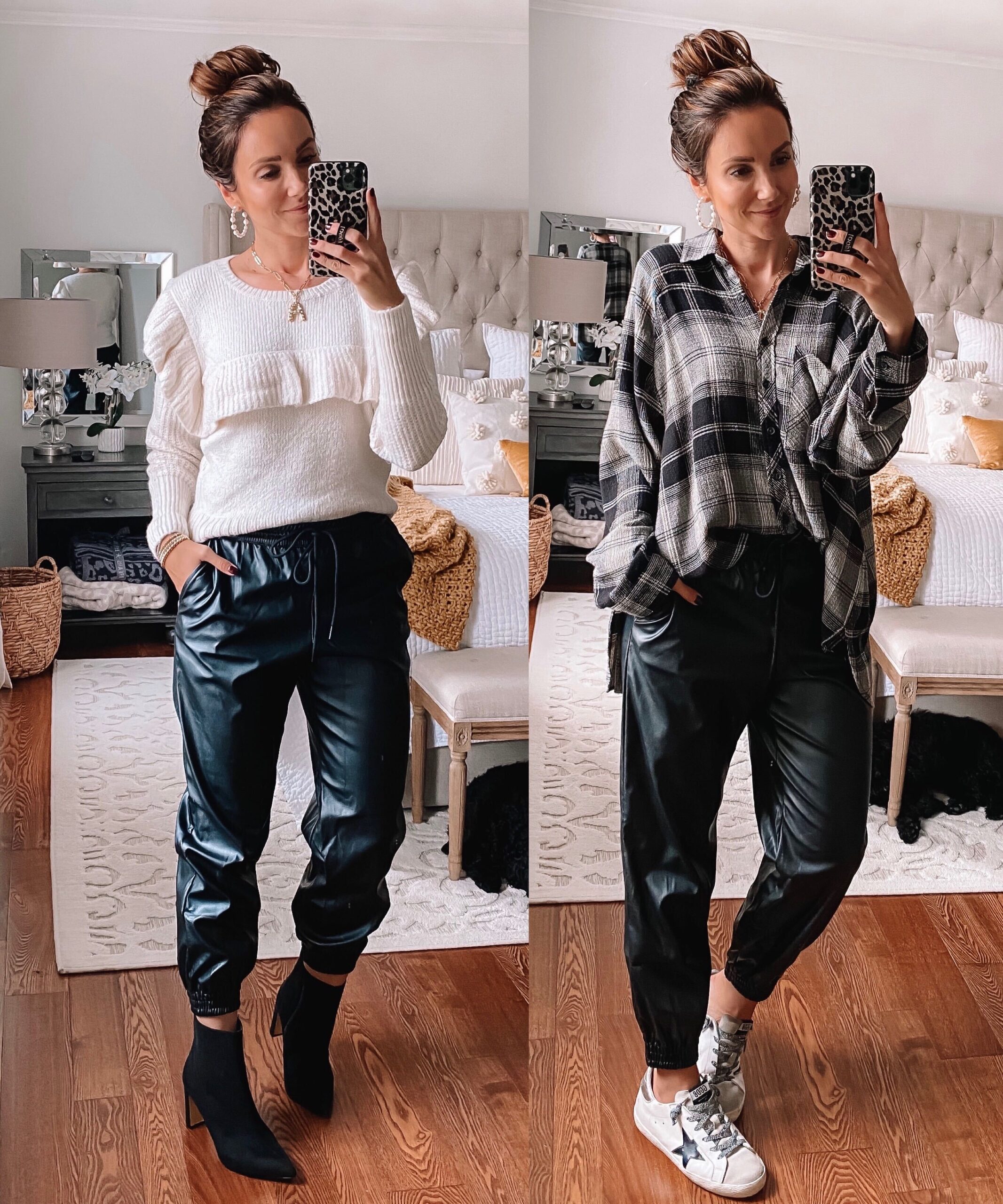 I absolutely love this oversized tunic sweater from Amazon. I own it in four colors and wearing size medium. It's a great alternative to the Free People sweater. It has great length for joggers, jeggings and leggings. The mules are so comfortable and you can save 15% with my code ANNAKP. For a dressier idea with the joggers, I styled them with this bodysuit from Spanx. I love the higher neckline and the fabric is so soft. You can save site wide on your Spanx order with code ANNAMXSPANX. I'm wearing size small. The Tory Burch bag is also on sale and 25% off. Similar pumps can be found here.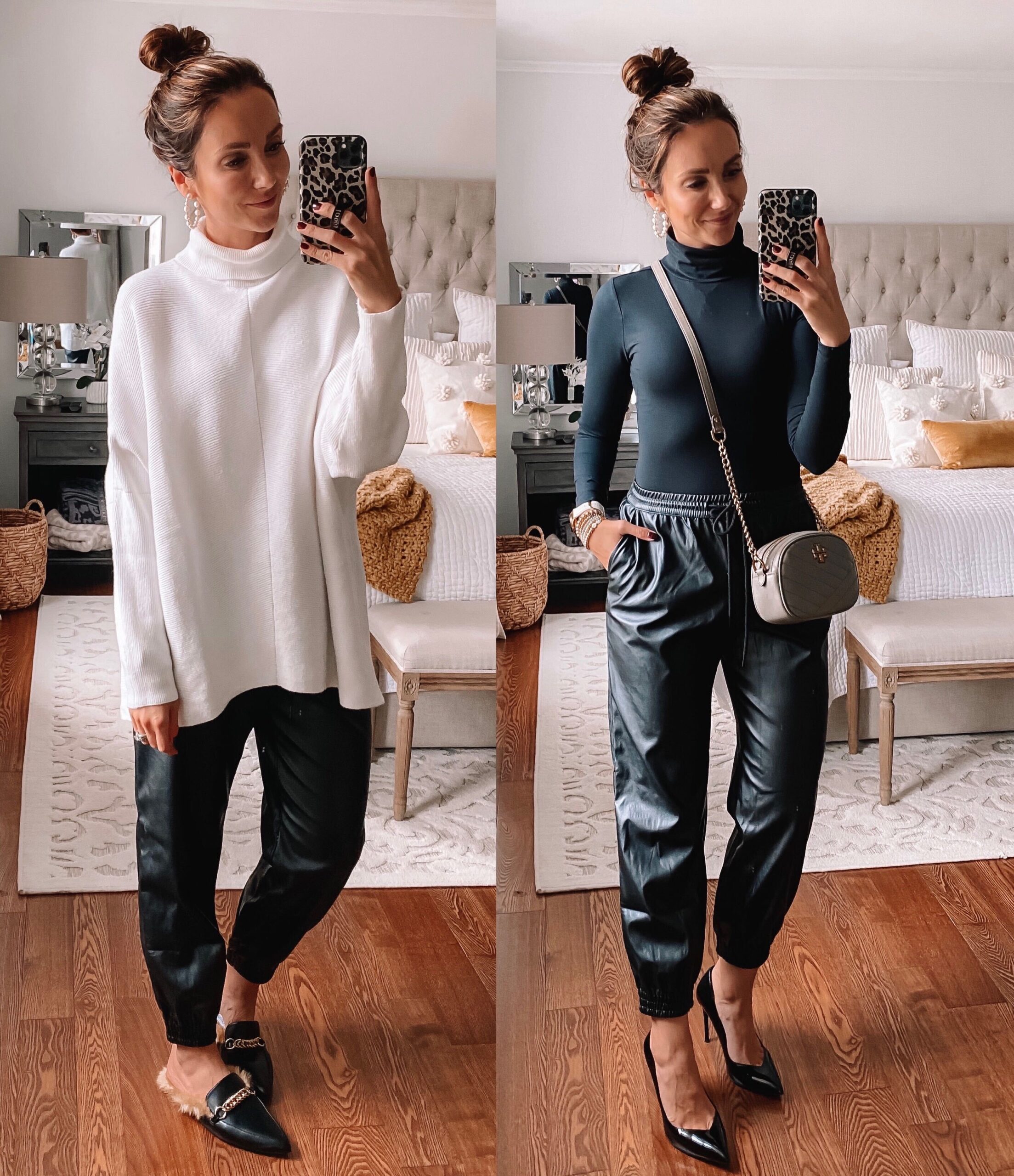 When I saw this top, I fell in love with the gorgeous floral color way and I thought it would look so great for a Thanksgiving day outfit. I love the feminine ruffle detailing. The waistline is elastic and has a bit of a crop fit so if you're in between sizes I recommend sizing up and styling with high waisted denim. I'm wearing size small. The jeans are from Wit & Wisdom which if you've followed me for a while you know how much I love them because of their ab-solution technology. They have elastic built in so they hug in all the right places and this makes them super flattering and comfortable to wear.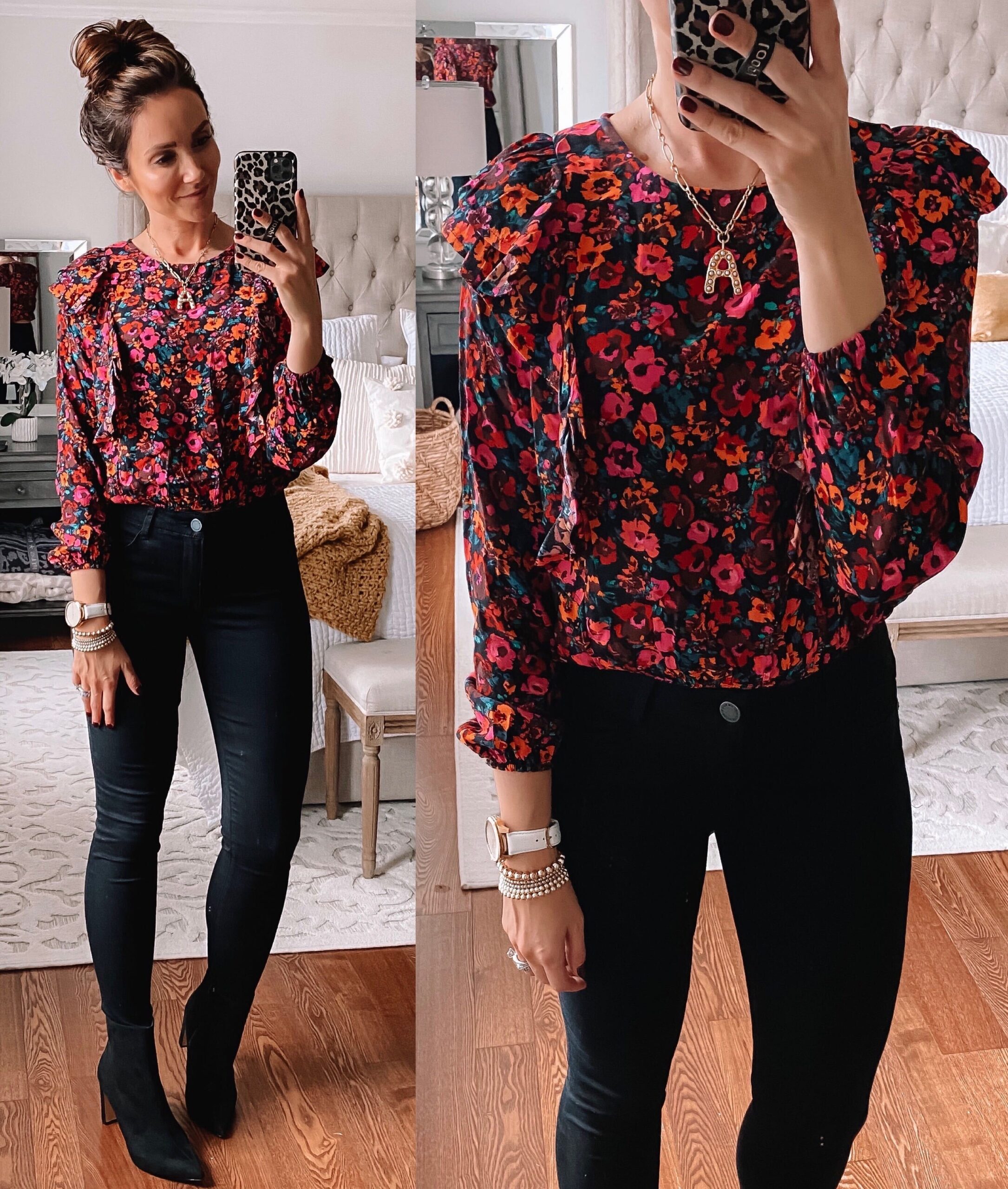 This top also caught my eye. It has a softer colorway but still has the beautiful ruffle detailing. It also has a cropped fit, so I would recommend styling it with higher denim as well. The jeans are also from Target and fit tts, I'm wearing size 2. I love that they don't have any distressing and look designer. These booties have been one of the top sellers on the blog and instagram over the past two weeks. The colorway is gorgeous for the season and even though they are pointy toe, they are not narrow. Their sides are elastic which makes them easy to put on and take off. I sized up by half size.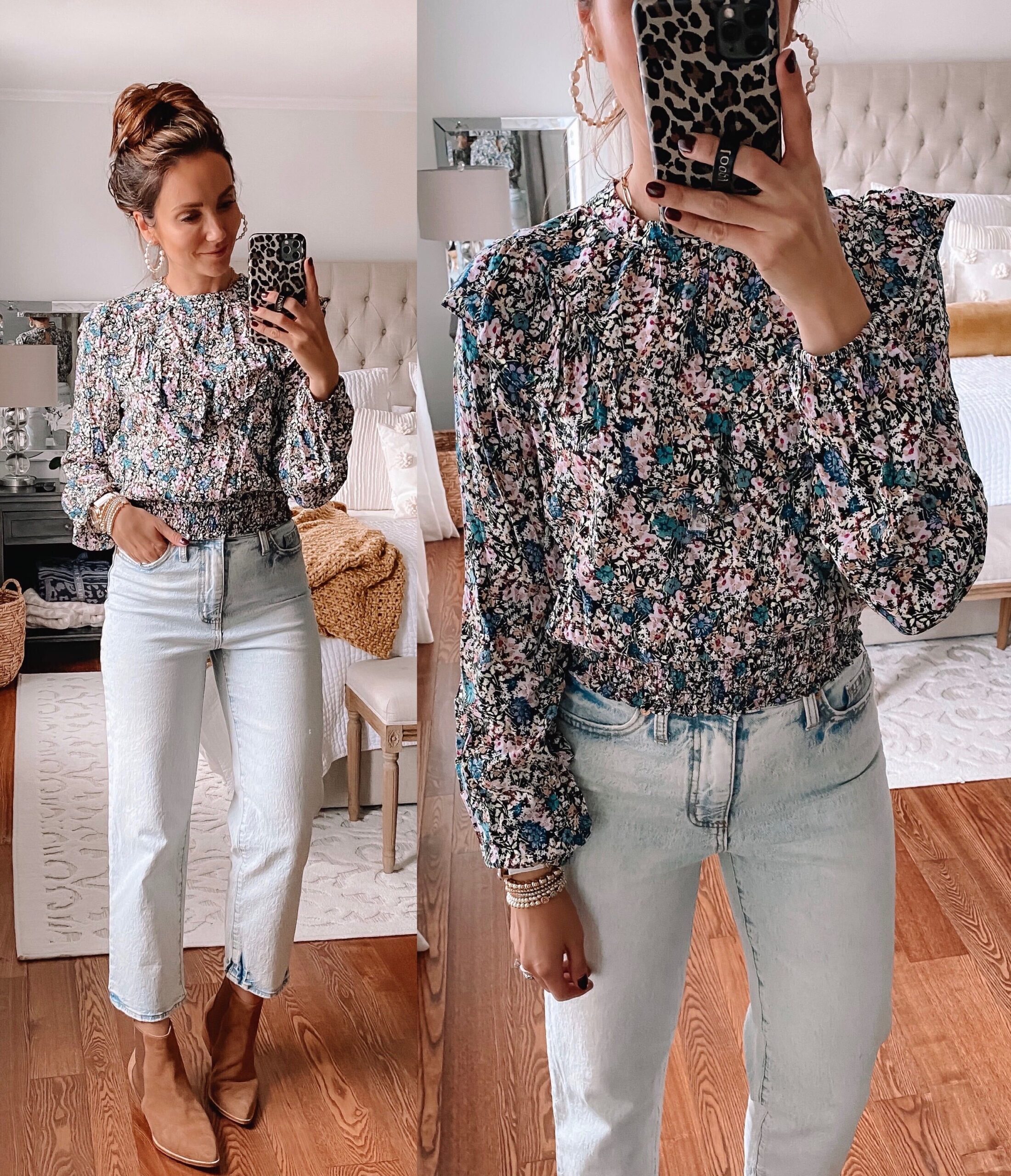 This cozy, oversized sweater poncho is so pretty. I love the chunky neckline, flowy fit and neutral color. It's great to wear over blouses or style with layering tees. This tee is from Amazon. I'm wearing size small but would recommend sizing up.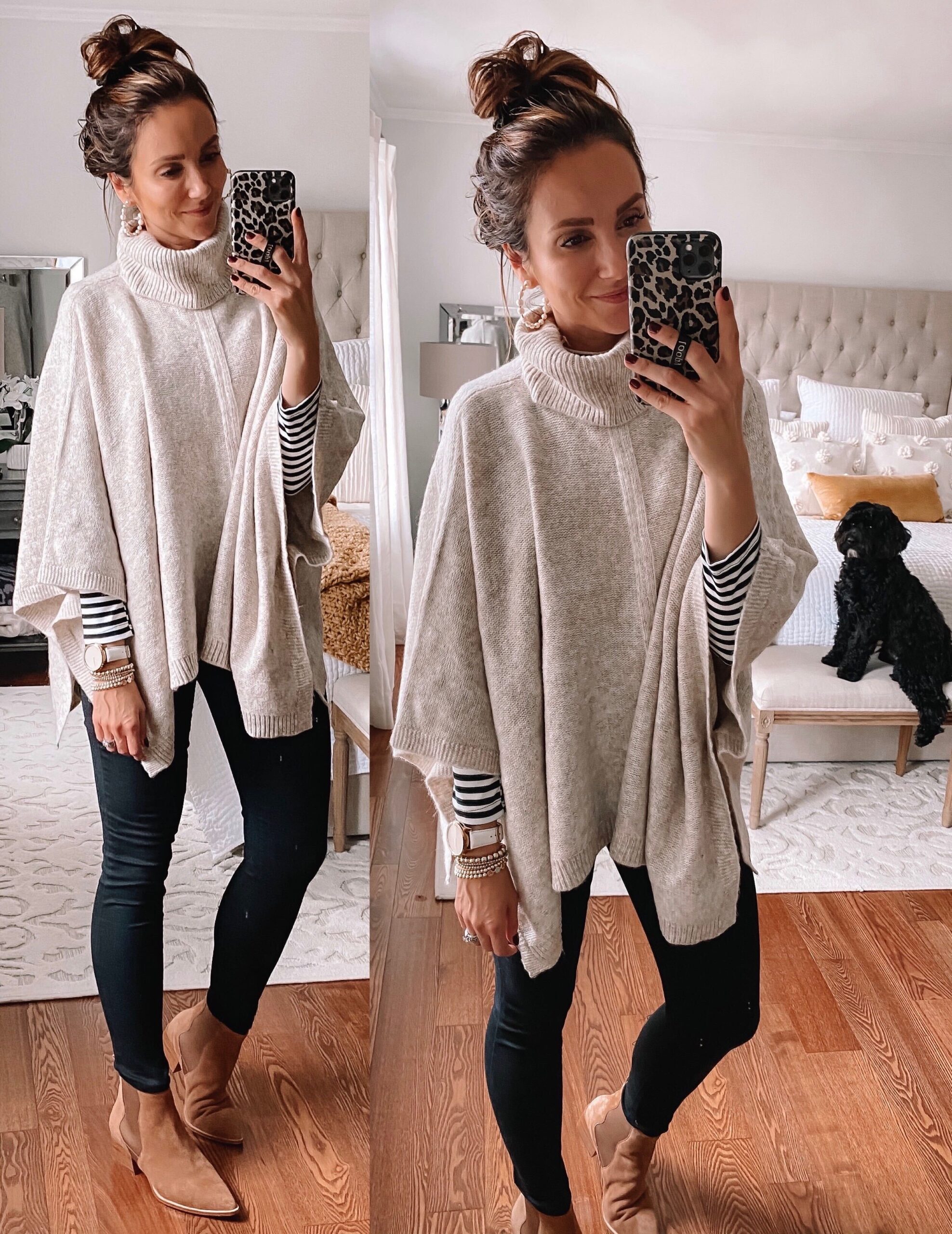 Found At Target!
You may want to stope reading right here if you are not ready for all things holidays haha. But I wanted to share the brand new thermal holiday pjs. I bough a pair last week and slept in these almost every day. FYI they look great after each wash too, so the quality is on par. I actually ended up buying 2 more sets. Fit TTS, I have them in S.

Thank you so much for visiting Blushing Rose Style Blog.