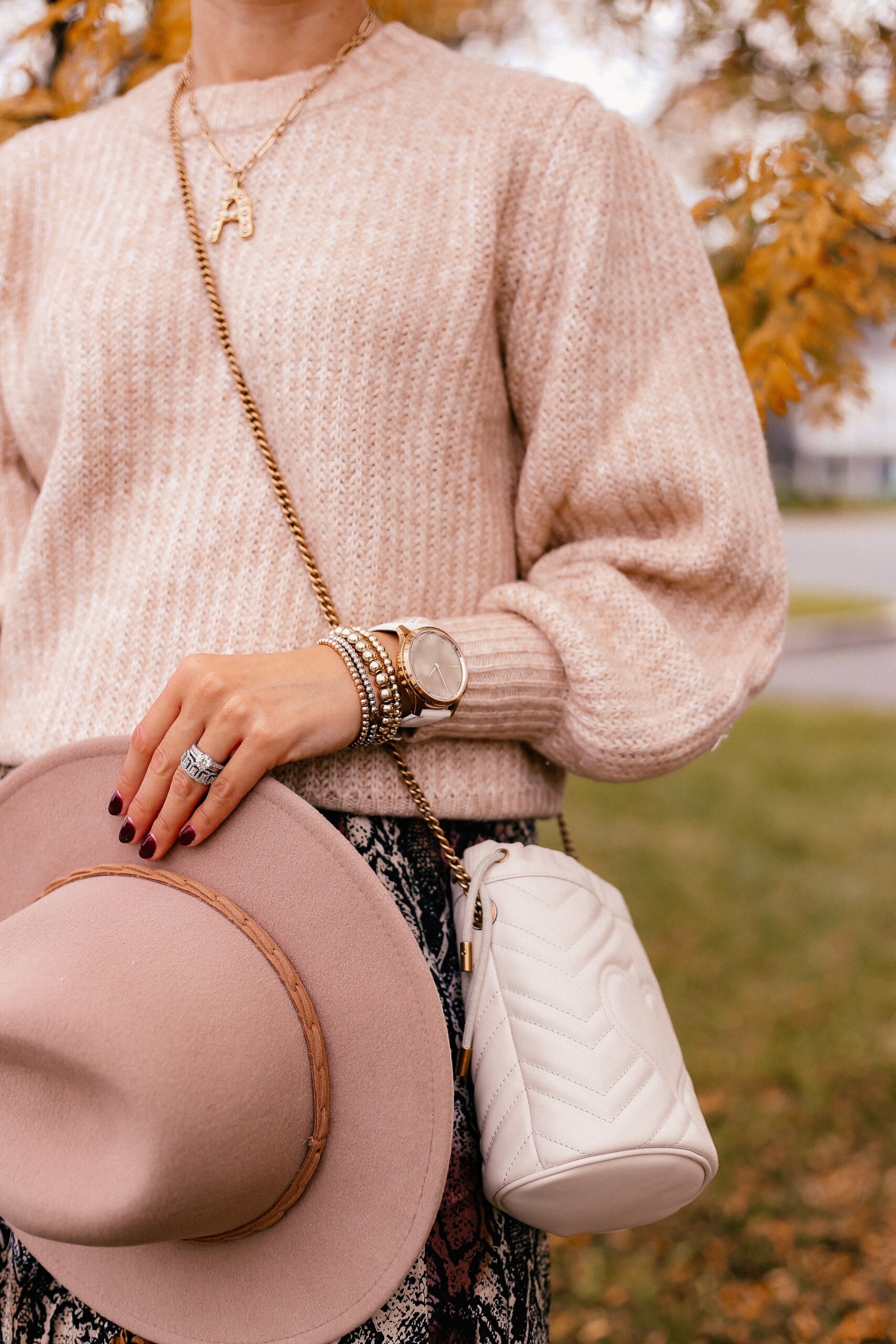 I can't believe it's been a year since I got my Garmin vivomove luxe. Prior to this, I wasn't really a watch person. I found it hard to find a watch that balanced as sports watch and a fashionable piece to wear. The vivomove luxe is a perfect balance of both. It's a fashionable watch with smartwatch features. . Everyone in our home (with the exception of Grant) has a Garmin watch. My first Garmin fashion watch was the Vivomove HR, which is still available at great price point. My go to running watch is the Forerunner and I am really excited for the Venu Sq. I am still learning all the new features it has to offer but I am looking forward to using it as I start running again next month. Reese wears the Vivomove JR, John loves his Fénix. Long story short, we are a Garmin family!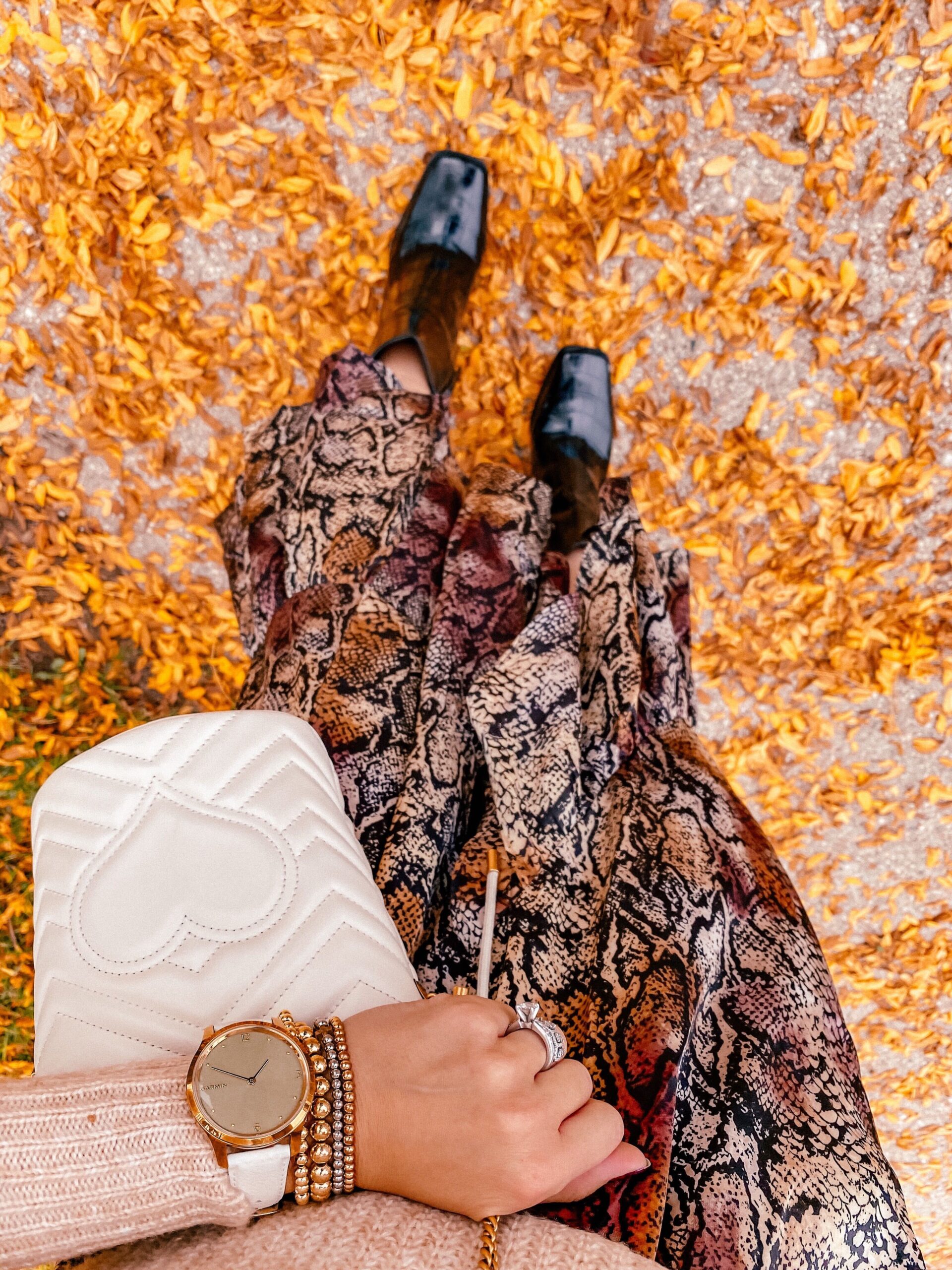 Garmin vivomove luxe – My Favorite Features
Fitness – track your steps and stairs climbed.
Hydration – One of my favorite features. Set daily hydration goals. This is huge for me, as I am one of these people who hates / forgets to drink water.
Period Tracking – when was the last time you had your period? This is the question, I can never answer. I am obsessed with this feature. I enter when my period starts, and when it ends. The widget offers educational info for every phase of the menstrual cycle (you can view these in the Connect app). You can can even log in your symptoms to better understand your cycle.
Battery Life – great battery life (especially if you compare to other smart watches). Battery life of 5 days! And even after the battery is dead, the watch will still work for additional 5 days (the old school analog way), 50 meter water rating.
HR – Constant HR tracking! This is huge for accuracy! Because you're wearing the watch consistently on your wrist, it can precisely and more accurately sample your heart-rate. It will alert you if it gets too high or goes too low. This is helpful to monitor how hard you're working when exercising.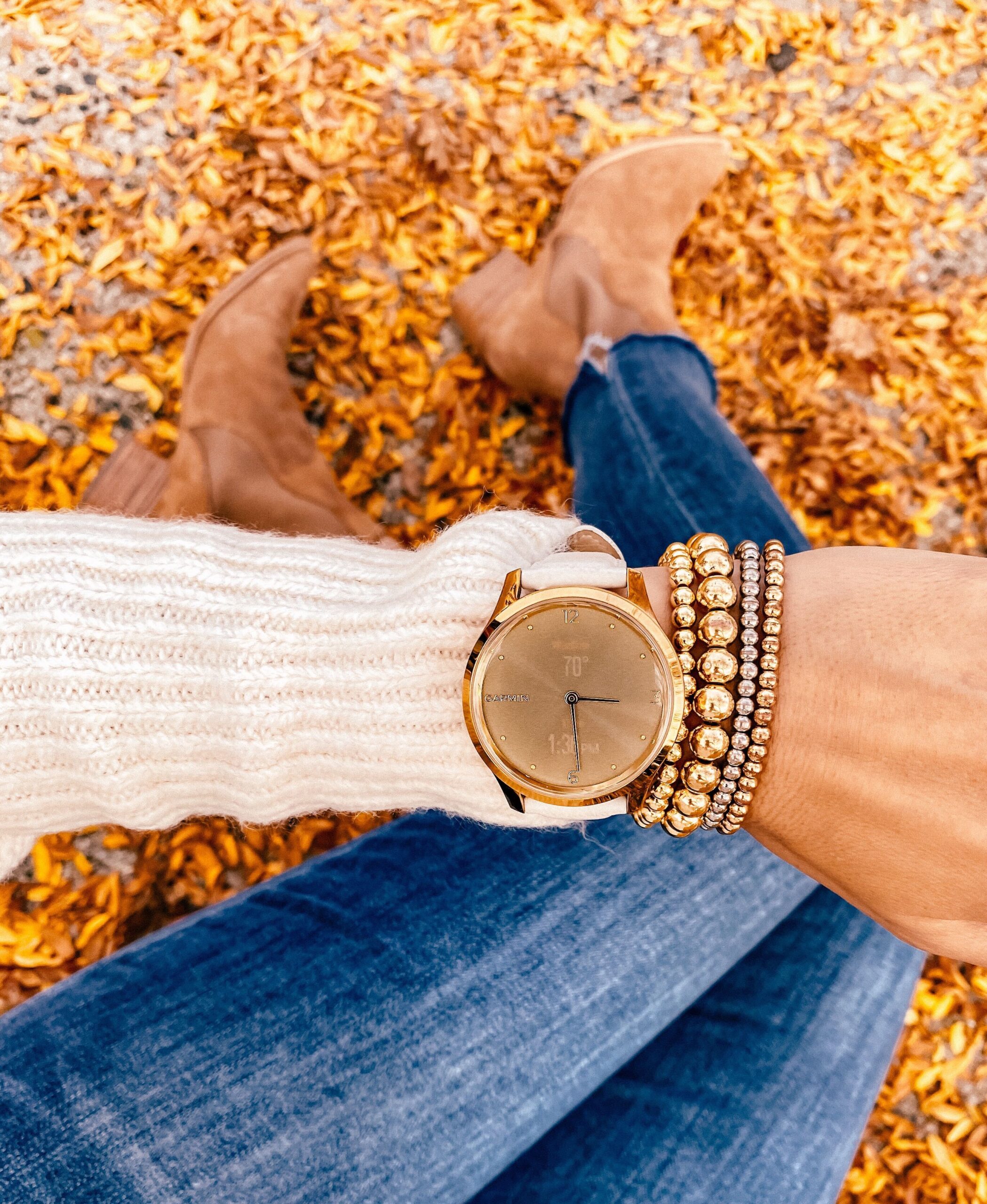 I have done several posts about my favorite features that I use, but there is so much that this watch offers. If you do get it, I highly encourage you to go through all of them to see which benefits you the most so you can fully customize it to your liking. If you are one of my newer readers or new to following me on social media, I have been getting some questions about this watch like: Do you still like it? Do you wear it everyday? Can you get texts / receive phone calls? How does it compare to other smart watches on the market? I wanted to answer all your questions right here in this post.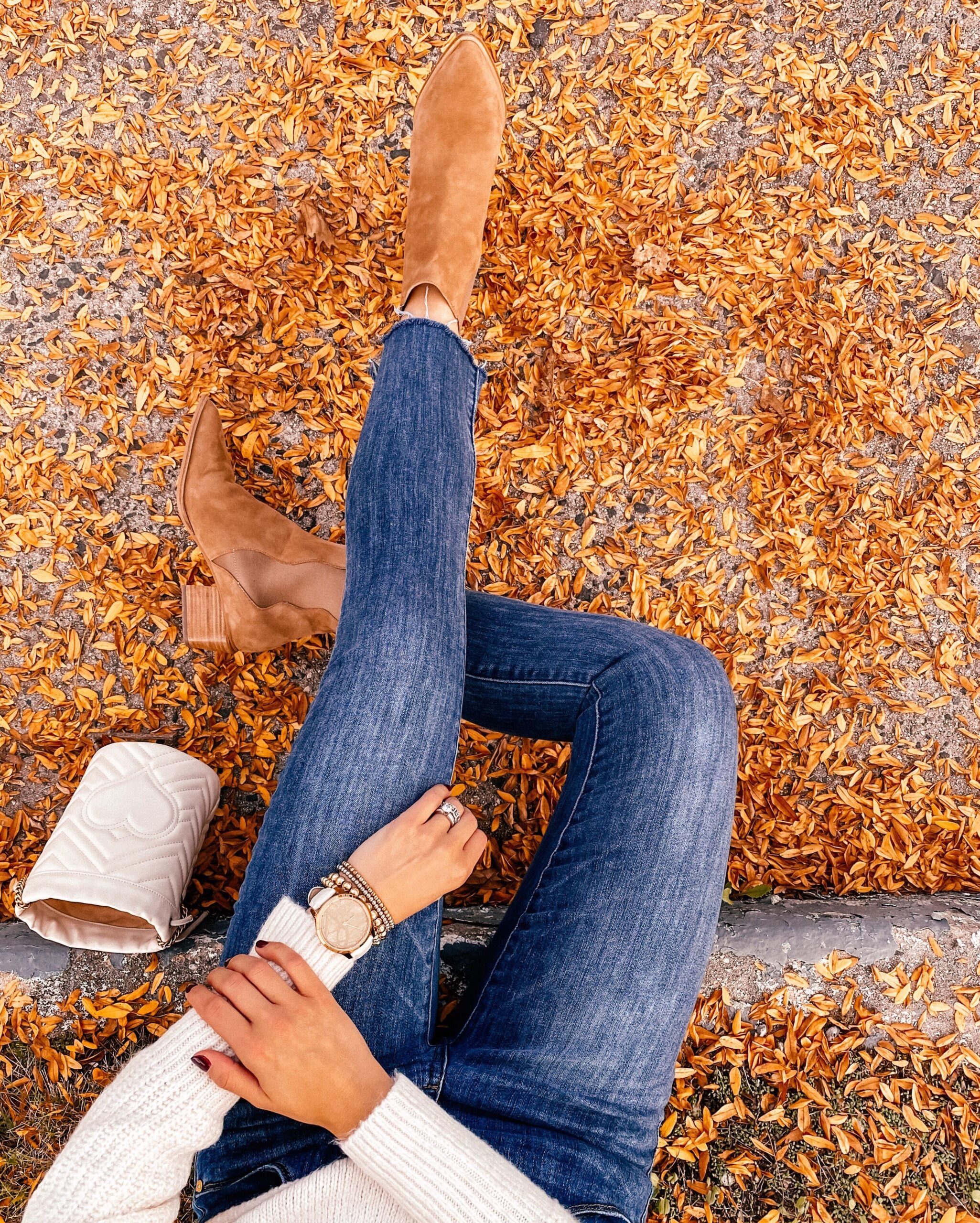 Garmin vivomove luxe – FAQ
What size do you have? – 42mm
Is it waterproof? – Yes! Up to 5 m. I shower with it and in the summer swim with it.
Can you change the color of the face? – While you can't change the color of the face itself, you can customize the colors of the widgets that display.
Does it work for running? – Yes, it does but when I train for races I use the foreunner for accurate tracing, but for every day runs I use this watch.
Does it measure blood pressure? – It does not. It is constantly tracking your HR.
Do you have any issues syncing with iPhone? – No, and it works with iOs and Android.
Can you answer calls on it? – Yes, you can answer calls but you will need your phone to talk.
Does it show your GPS route after a run? littlescholarsnyc.com – No, it doesn't. When using this watch, I like to use apps like Runtastic.
Does it track sleep? – Yes
Can you ping your iPhone with it? – Yes! there are find my phone/find my watch features.

Garmin For The Holidays
If you're thinking about getting a smart watch or gifting for someone special on your list, I highly recommend a Garmin watch. These watches are so fashionable and range from $199 to $449. Here's a comparison of the vivomove models at all price points. For the kids, there is a new version of the vivofit line and I plan on getting both my kids the vivofit jr 3.

VIVOMOVE HR // VIVOMOVE 3S // VIVOMOVE LUXE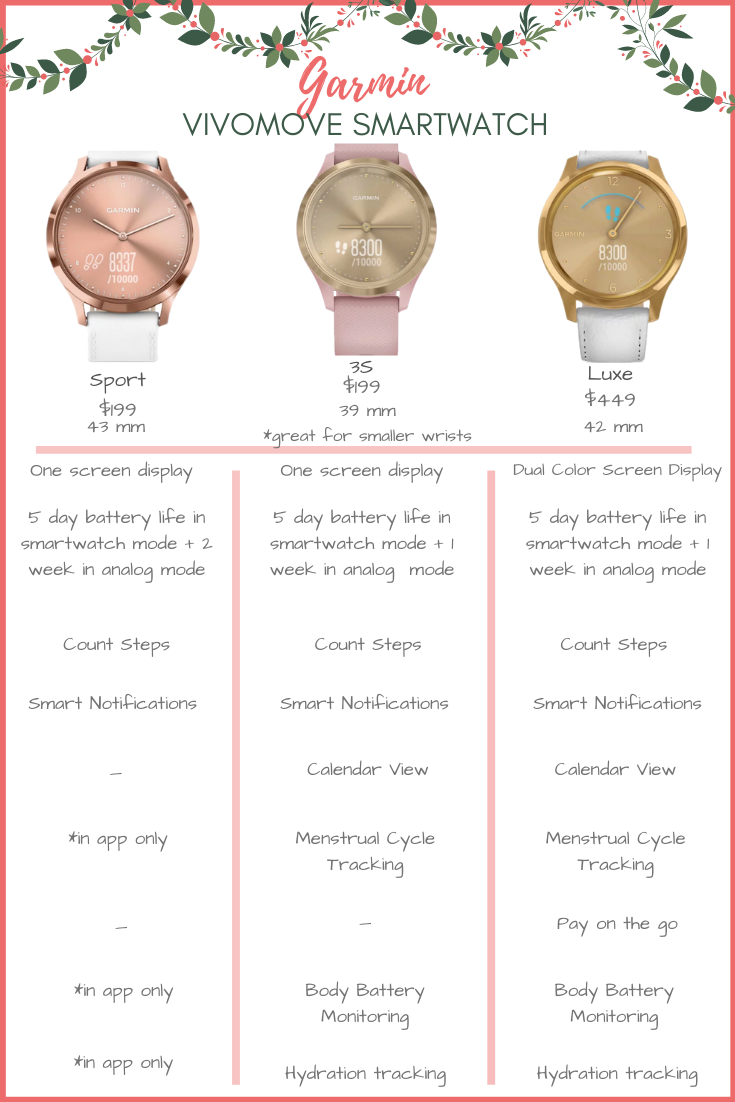 Thank you so much for visiting Blushing Rose Style. And very special thank you to Garmin for partnering with me on this post. As always, all views and opinions are mine.