Hi Friends. I'm here to share with you this week's Target try-on. If you are one of my newer readers, I try to share new Target finds every Saturday here on the blog as well my social media channels. I have not done as many shares lately, but only because there haven't been that many exciting new arrivals. I think by now we all have all the sweaters we need for the remainder of the season. But… this week Target has been showing a lot of spring prints and palettes. I'm loving these mint pants and I picked up a new jean jacket. Also great news the best selling ribbed crewneck tank is back and now available in even more color options.
More Target Try-Ons
January 18 Try-On //  January 3 Try- On
My Accessories
I am wearing some non-target accessories, you will see them featured in the dressing room images below. Here are the links for all the items. Please let me know if you have any questions.
EARRINGS // NECKLACE // WATCH // RINGS
LOAFER // SLINGBACK FLAT // SNEAKERS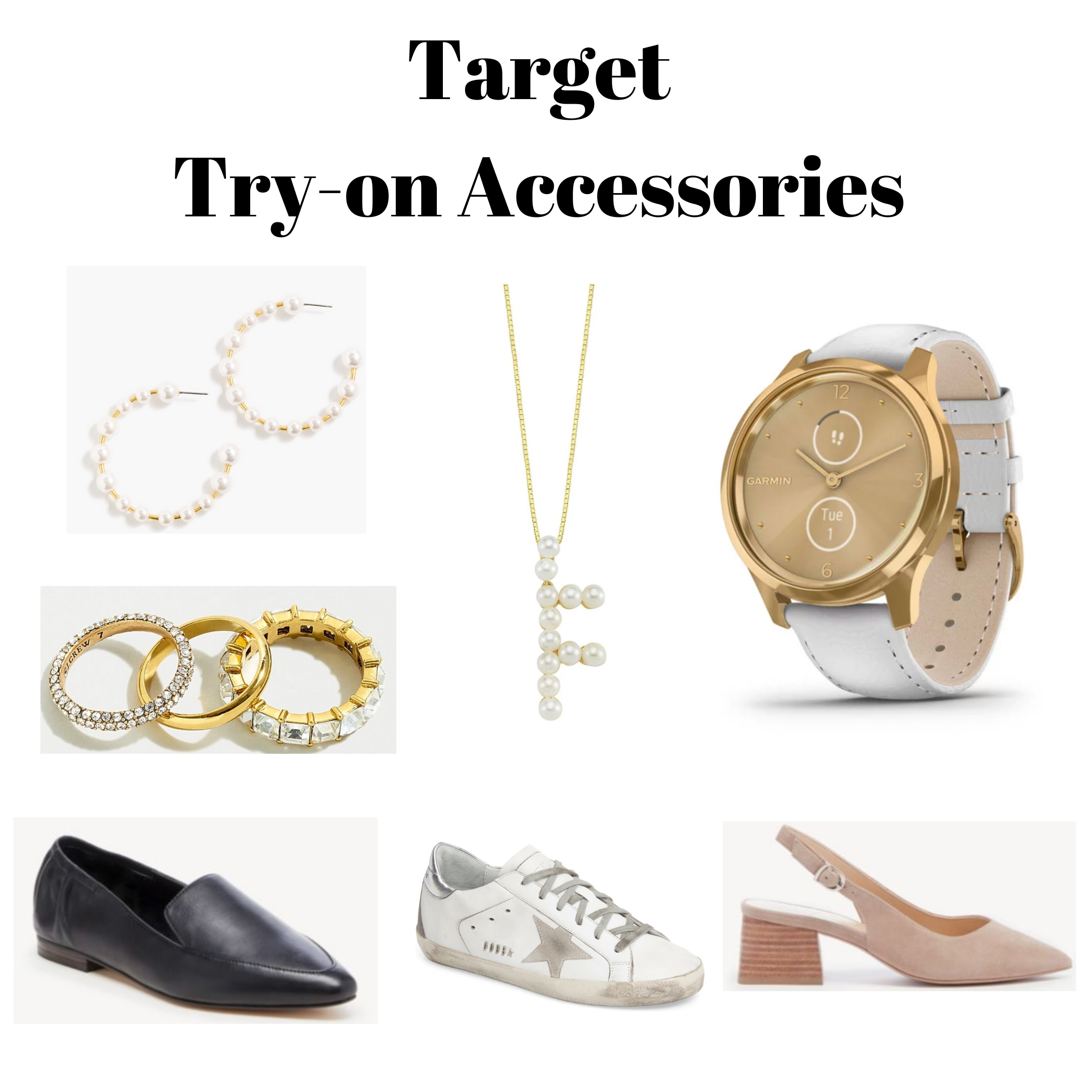 Target Finds
JEAN JACKET (Size XS) // WHITE TANK (Size S) // PANTS (Size 2)
Everyone's favorite white tank is back in stock! This was my best selling item from Target last year. It fits TTS , I am wearing size small. It is such a great wardrobe basic and it's only $8! I styled it casually with this jean jacket and olive button fly pants. I was just thinking how I needed a new jean jacket because mine from last year is an oversized fit and I wanted one that was more slim and I love this one.  I am wearing size XS. The pants fit great and are TTS. They are mid rise but come up pretty high so they are comfortable. I am wearing size 2.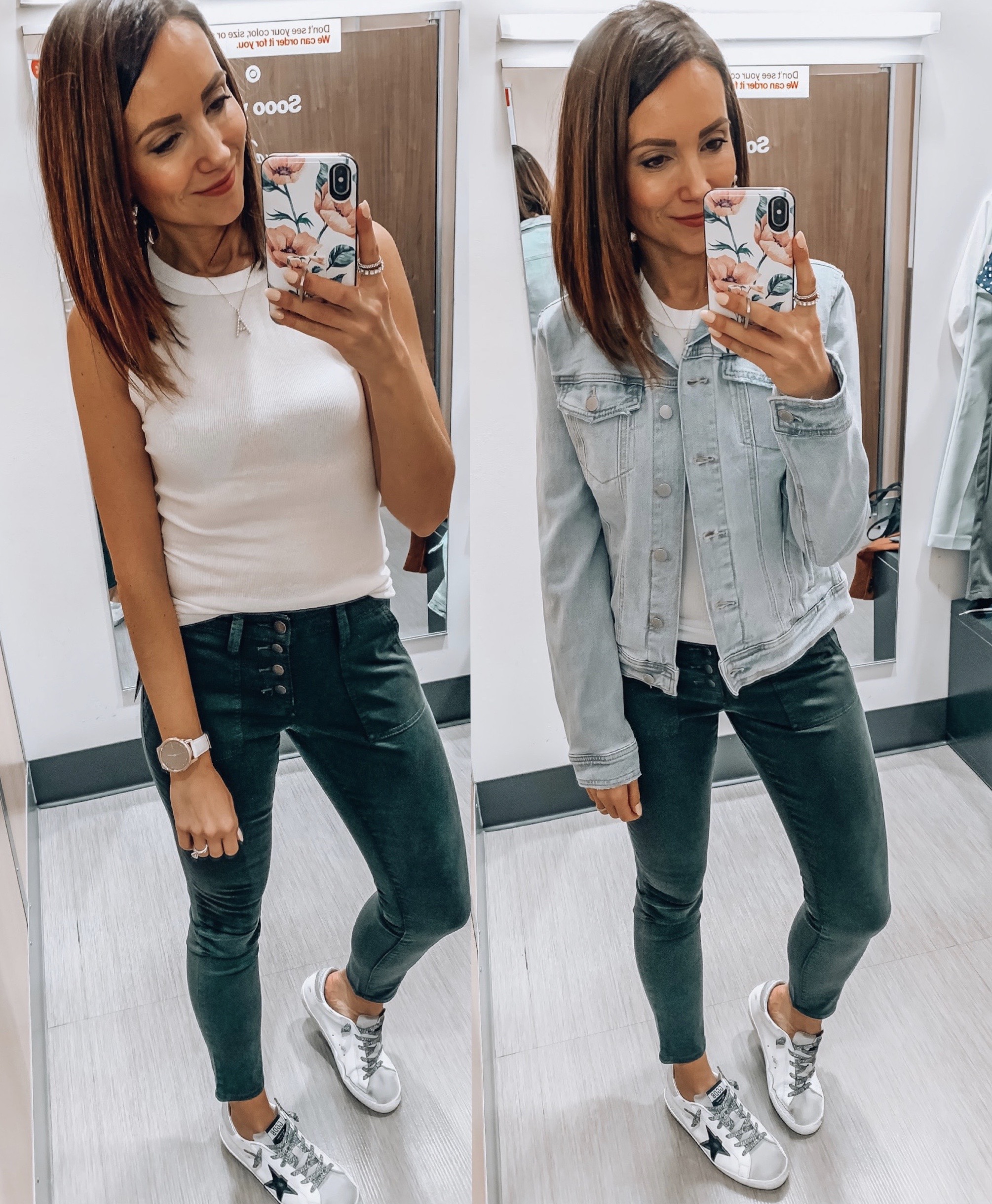 BLAZER (Size 2) // WHITE TANK (Size S) // PANTS (Size 2)
I swapped the jean jacket for this blazer that I styled last week, and changed out my sneakers for flats. This is a more put together look with these casual pieces.

JEAN JACKET (Size XS) // WHITE TANK (Size S) // SWEATPANTS (Size S)
Same jean jacket and white tank, just styled with these cropped wide leg sweatpants. I absolutely love this look! This is my kind of look for spring. So comfortable and cute.
I wanted to show this camo jacket as another casual jacket option for this look. The jacket isn't online yet, but a similar one is here.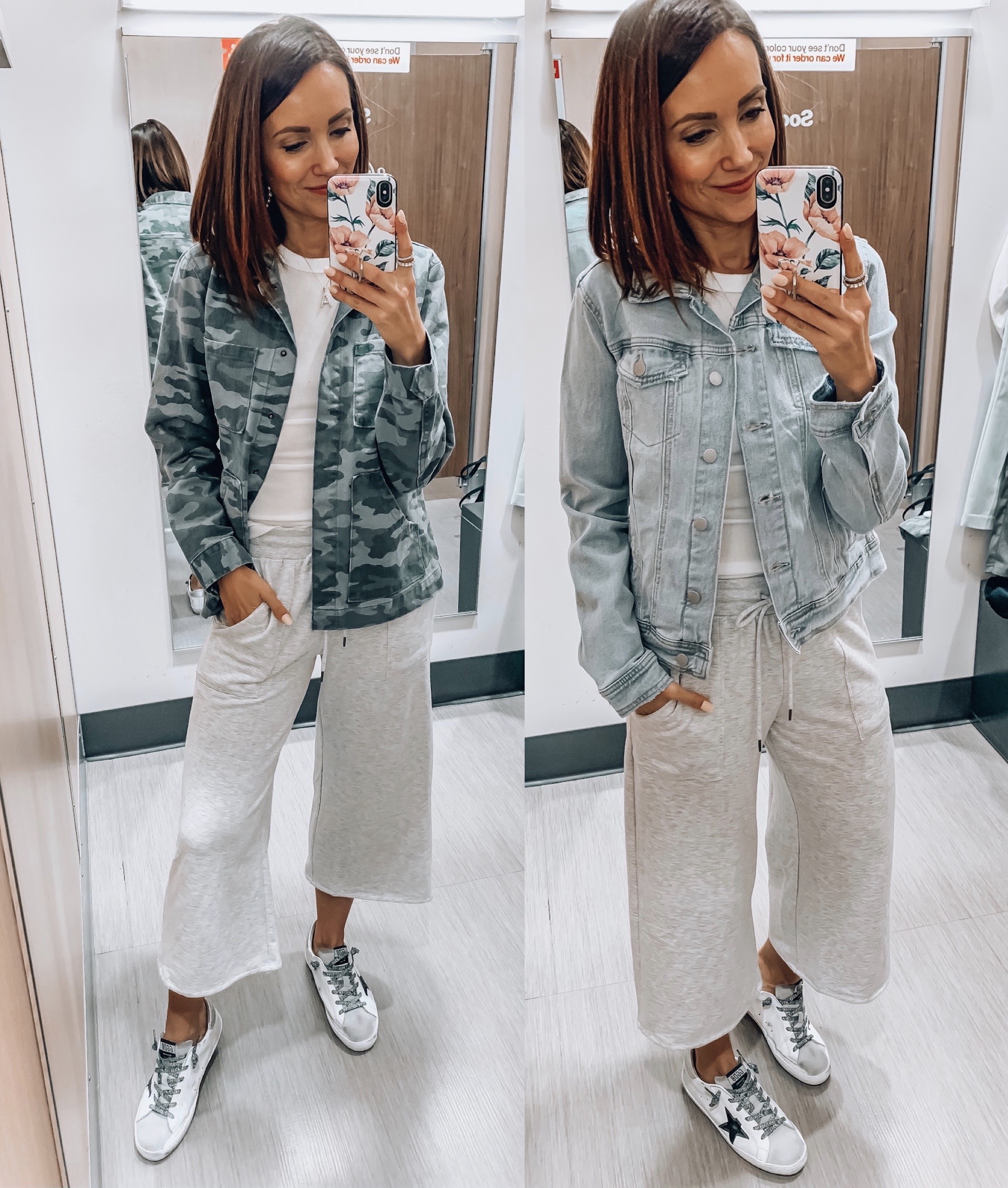 BLACK PANTS (Size S) // GREEN PANTS (Size S) // CAMI (Size XS) // BLAZER (Size 4)
I have been waiting for these pants to be available online and I am so happy they are. They fit TTS and I am wearing S. These have a faux zipper, so they just pull up and the belt is removable. I styled them with this satin cami which is great for layering and a black blazer.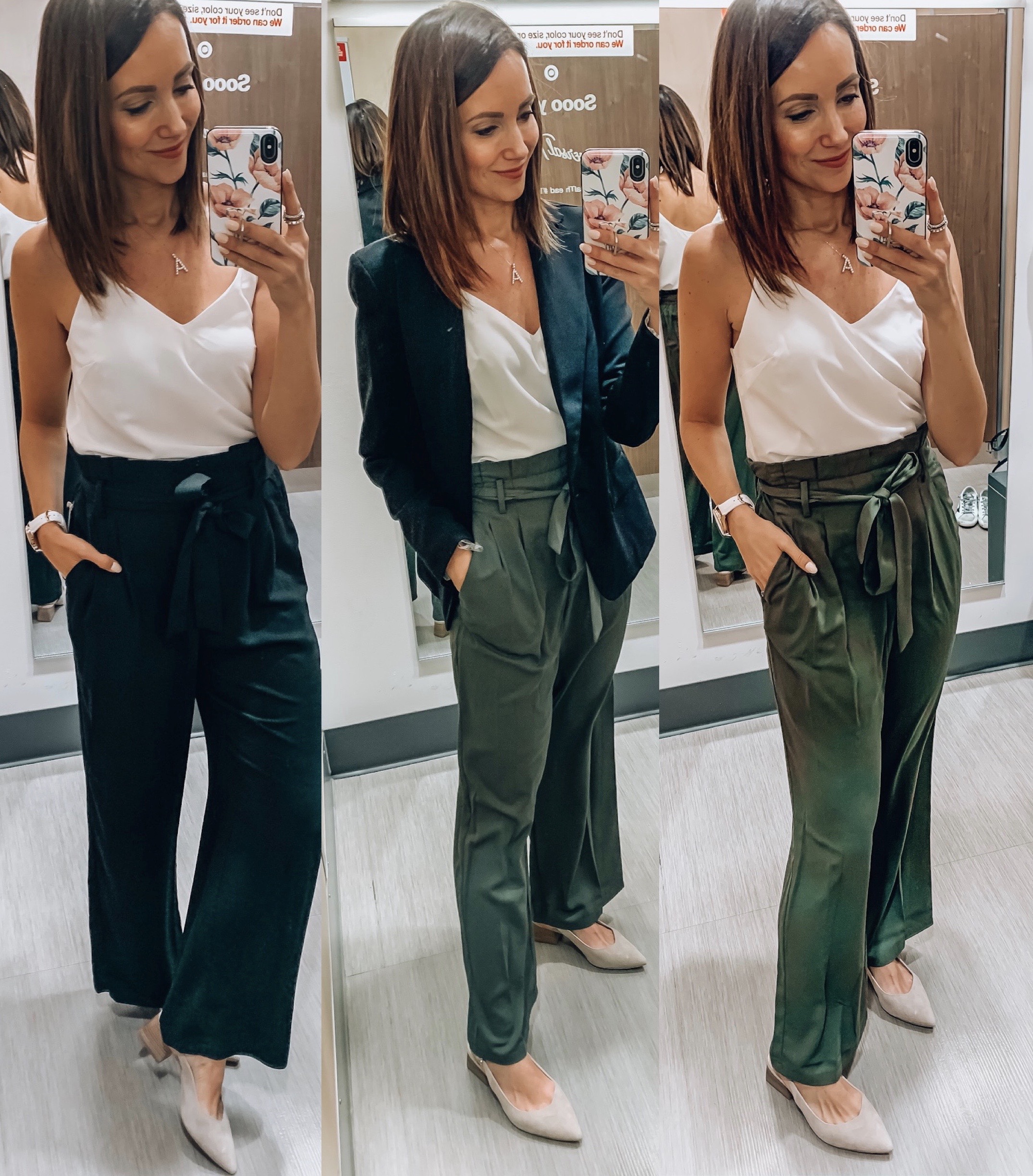 MINT PANTS (Size 2) // CAMI (Size XS) // BLAZER (Size 4)
If you need a break from black pants, these mint ones are a beautiful option. They have great length and fit TTS. I paired them with a satin a cami and a blazer to up this workwear style.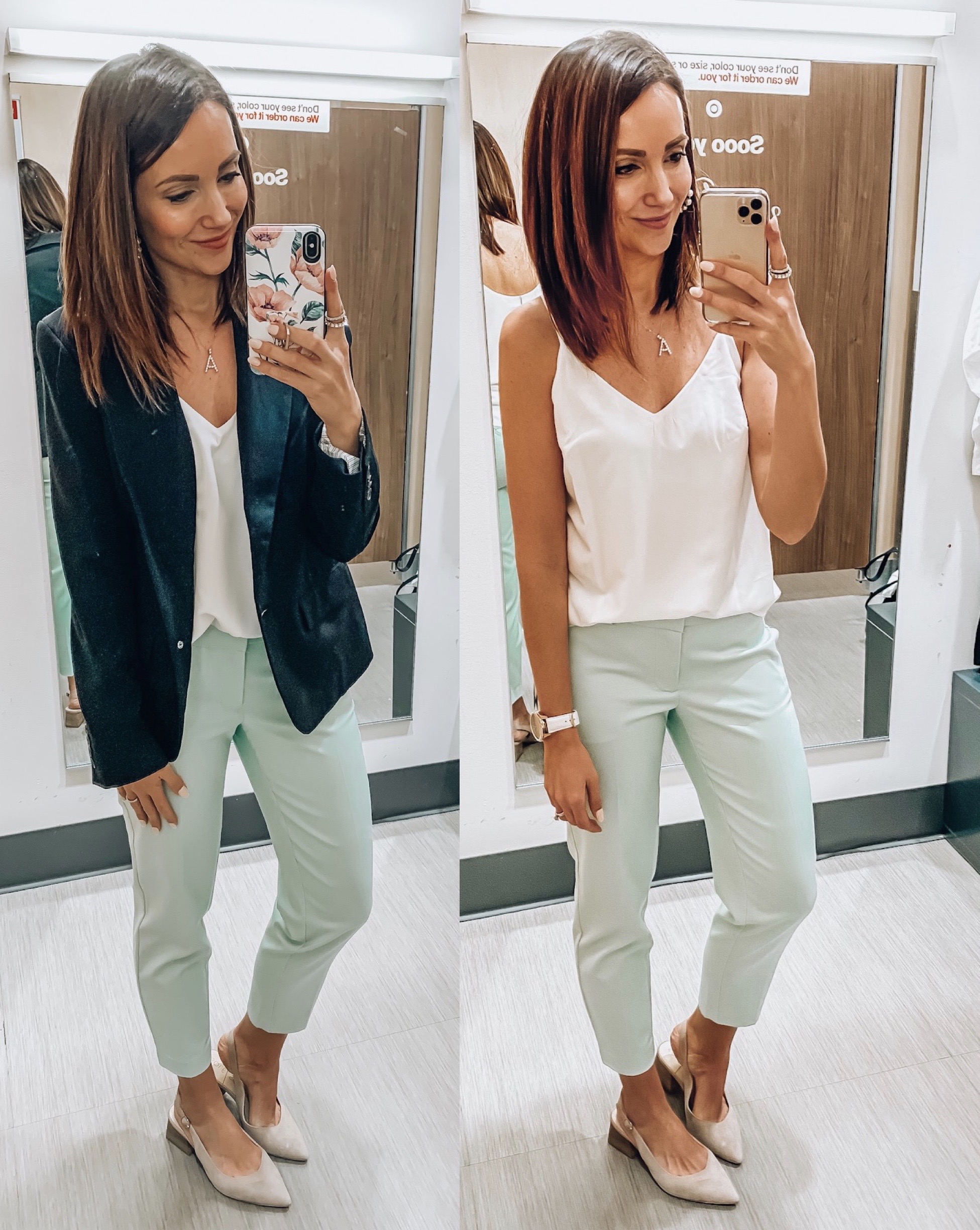 MINT PANTS (Size 2) // JEAN JACKET (Size XS) // WHITE & BLACK TANK (Size S)
I love these pants for a casual look too. I styled them with the black and white tanks and added the jean jacket.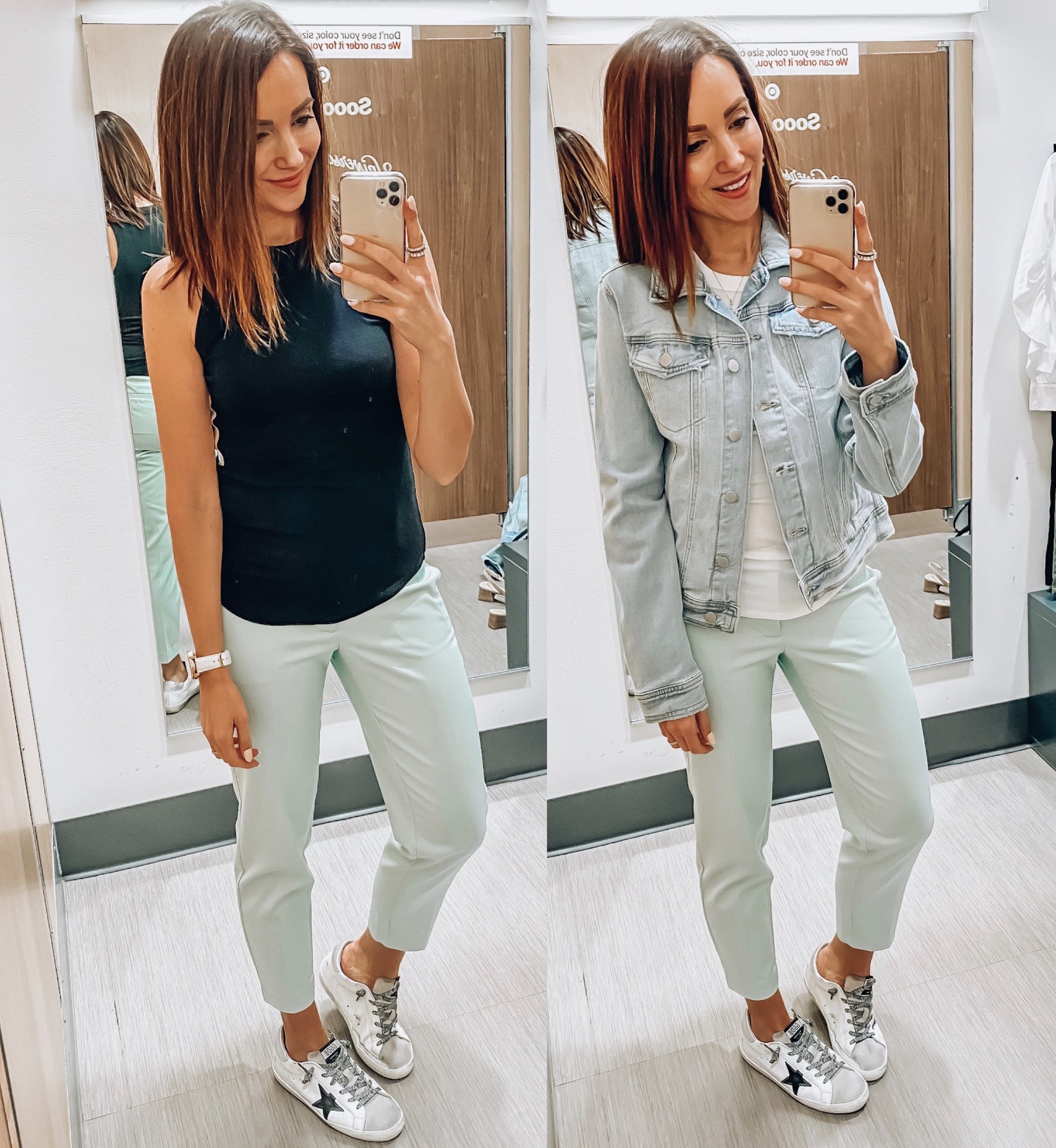 WHITE TOP (Size S) // PANTS (Size 2)
This shirt has really cute statement sleeves. It looks great worn casually, but would work as a piece for workwear styles.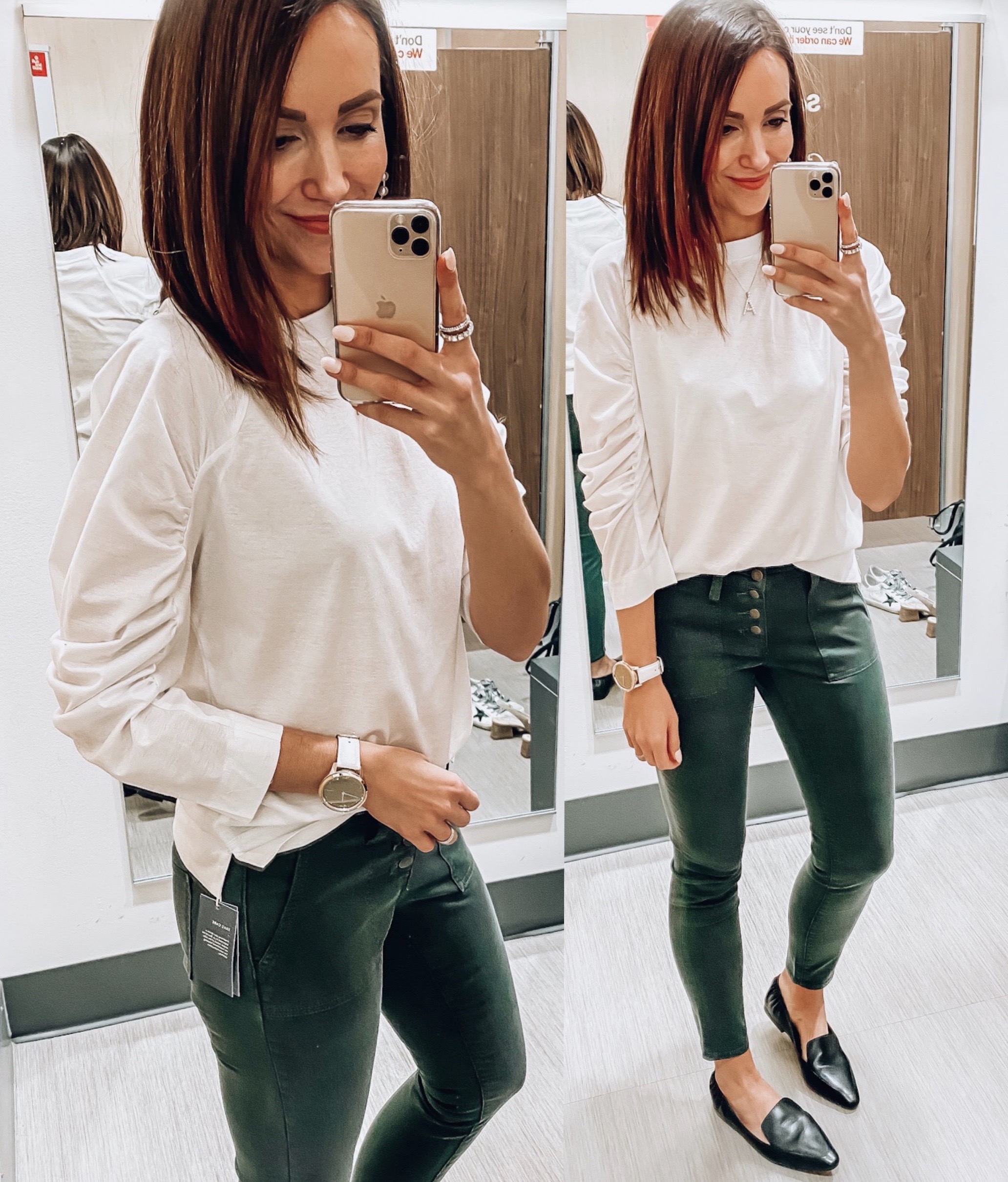 DRESS (Size S) // JEAN JACKET (Size XS) // BLAZER (Size 2)
A great basic black dress. I love the ribbed knit texture. It's stretchy and really comfortable. I would say this is great for work paired with a blazer, or throw a jean jacket on, grab your favorite sneakers and your weekend style is complete.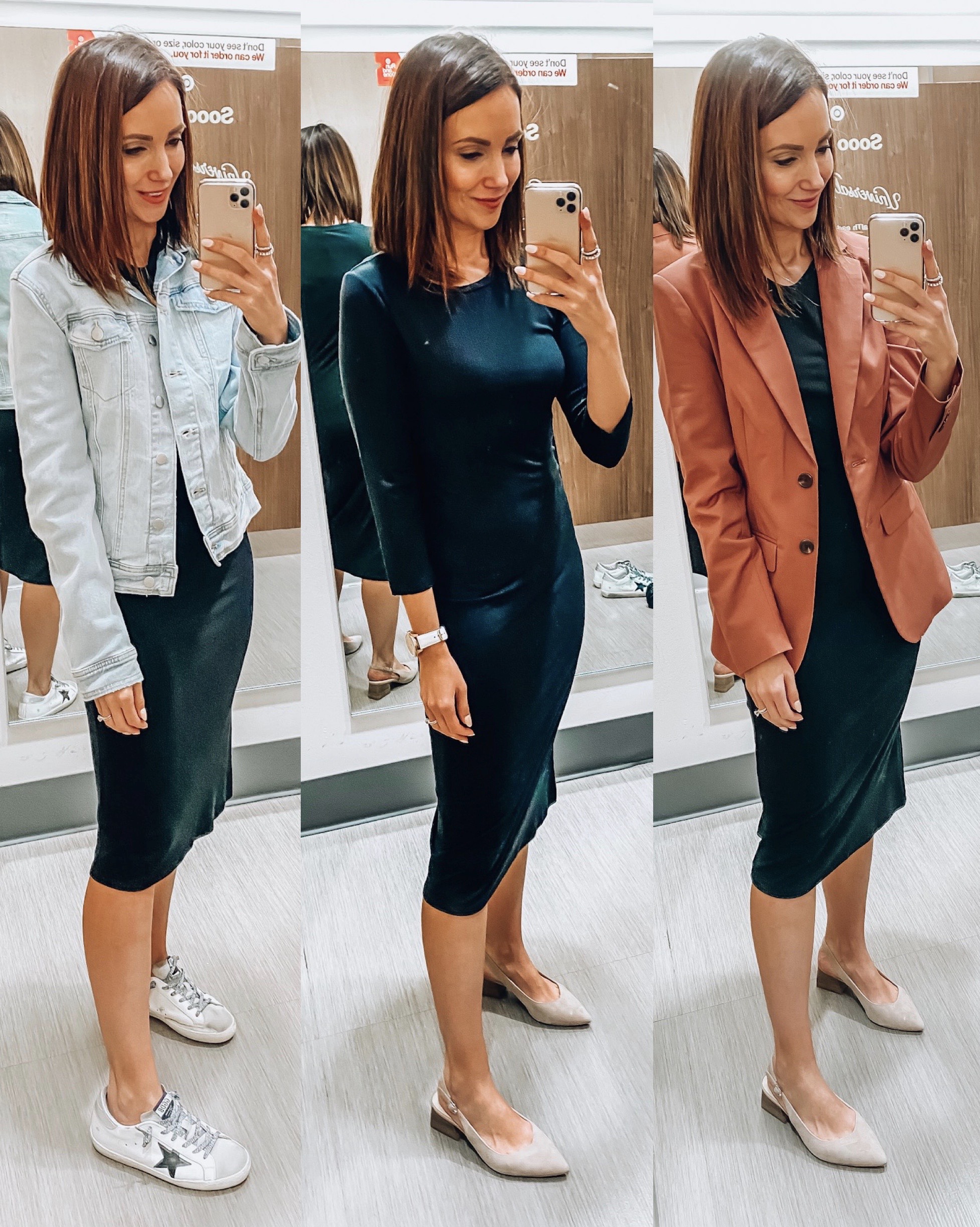 BLOUSE ( Size XS)
This is such a cute blouse and definitely feels Madewell inspired. It works now with jeans, but would look great in the warmer months with your white denim and jean shorts. The jeans I am wearing are from Abercrombie and are available here.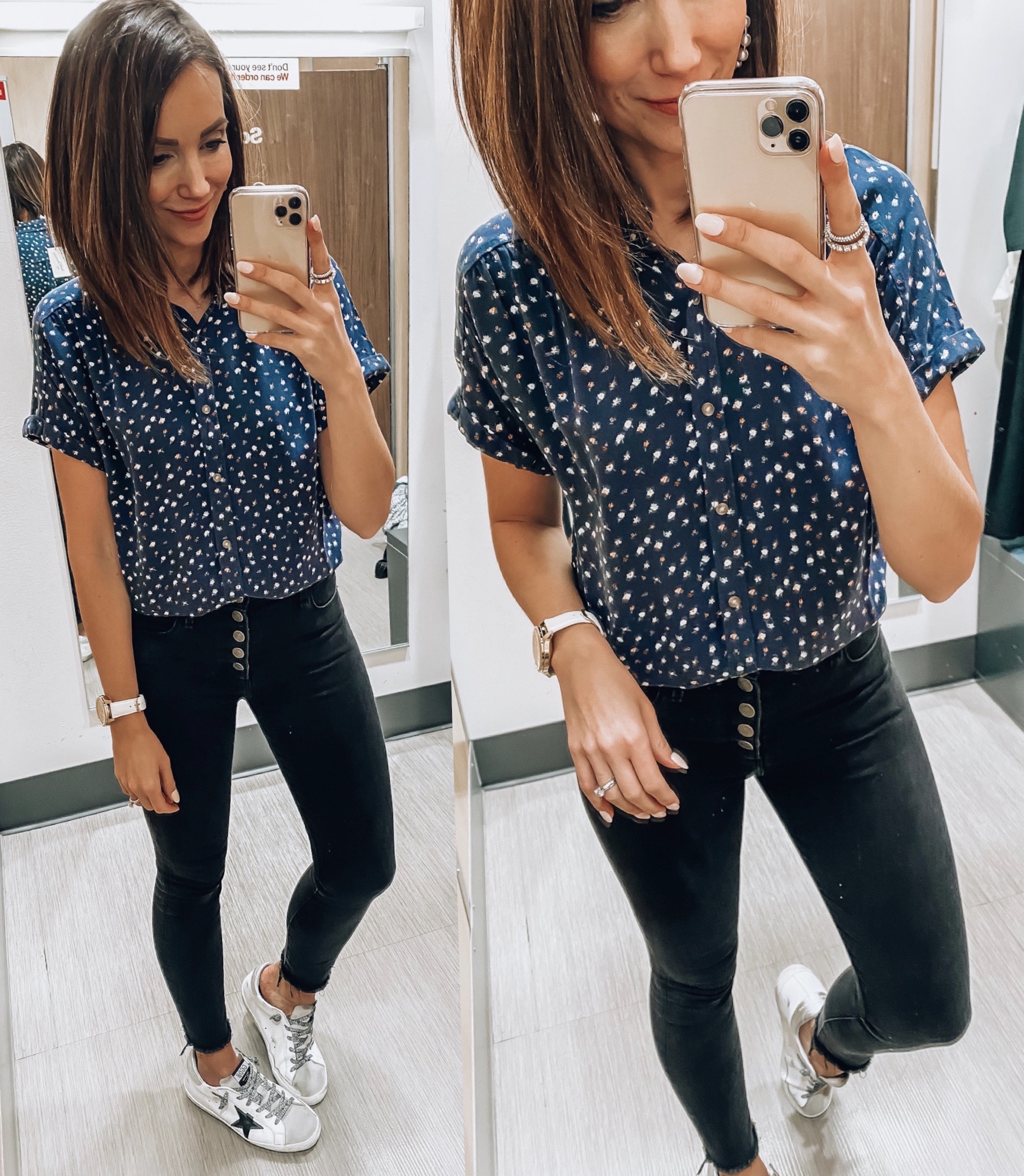 SWEATER (Size S)
I know, I know. Another sweater? But girls, this one is really cute. It grabbed my attention because of the sleeve detailing. It's just a really pretty and  If you're looking for a neutral sweater, I definitely recommend this one.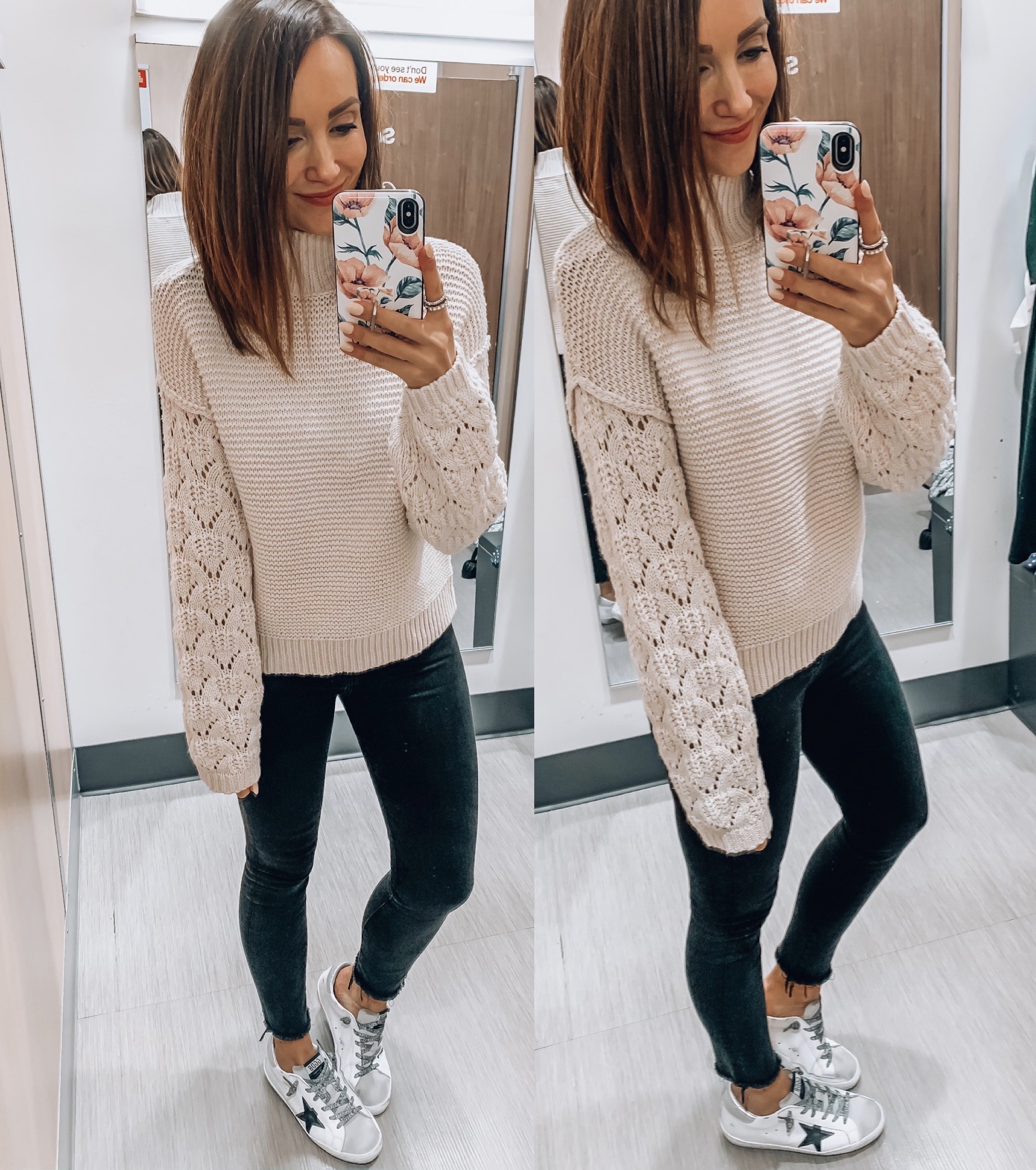 Thank you so much for visiting Blushing Rose Style Blog!