Hi girls! Happy Saturday. Another Target try-on coming your way. I find myself there at least twice a week whether it's picking up groceries, school stuff for the kids or you know… just browsing. January is a weird month… we're all sick of winter (even though it is just the beginning) and the retailers are putting out shorts and bathing suits. My assistant Michelle called January a giant Monday, isn't that so true?
This week while I was at Target, I fell in love with this blazer, and was inspired to style it three different ways to show how it can become a really great wardrobe basic.
More Target Try-Ons
  January 3 Try- On // December 21st Try-On
My Accessories
EARRINGS // NECKLACE // WATCH // RINGS
GOLDEN GOOSE // NUDE PUMPS // BOOTIES // MULES // TOTE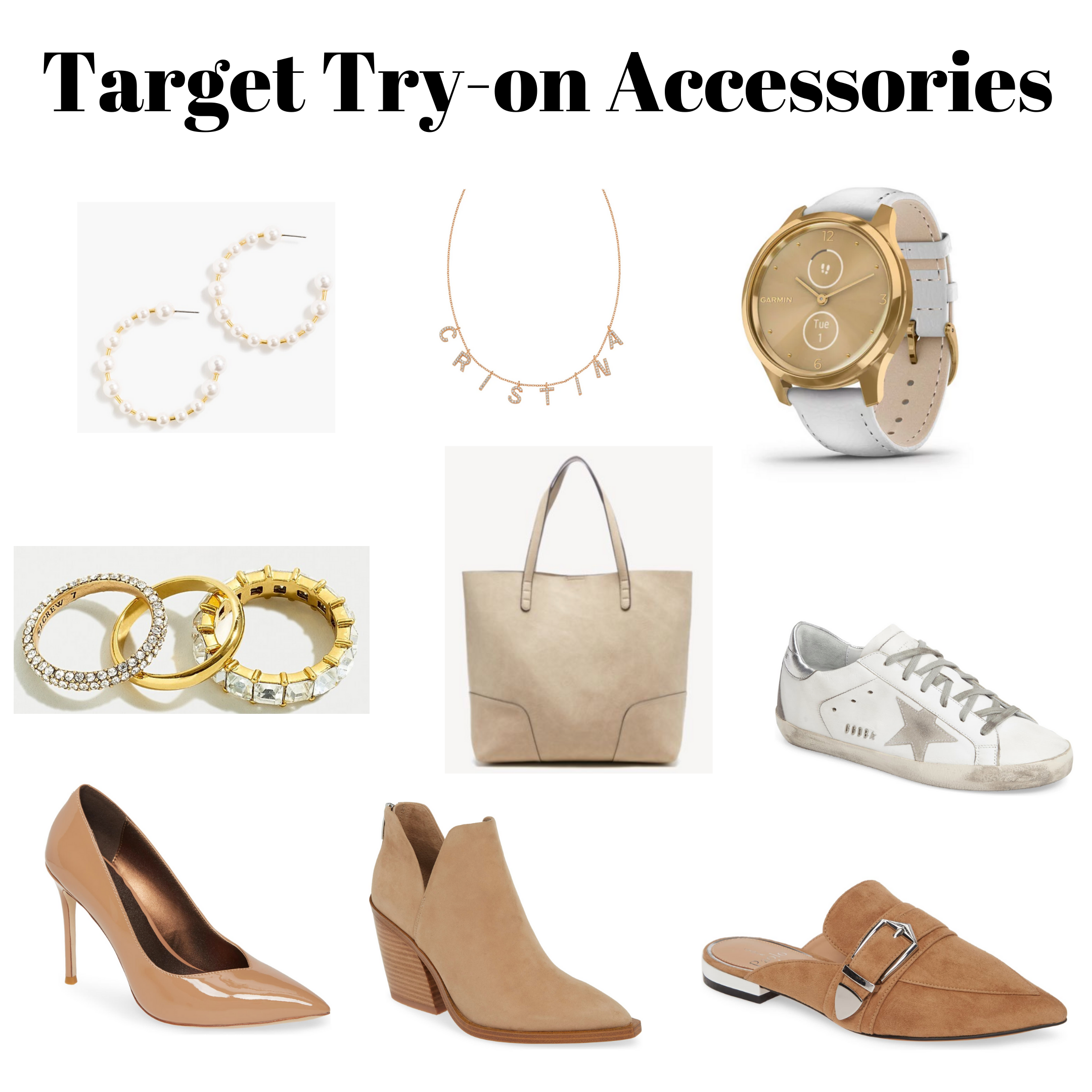 BLAZER (Size 2) // TEE (Size S) // JEANS (Size 0)
I'm starting off with this blazer and ideas on styling it three ways. I have always been obsessed with blazers, and I'm so glad this look is back! They are so fun to style from casual, date night, and work wear. This blazer fits TTS and is in a subtle mauve color. I layered it with a simple v neck tee and jeans. My jeans are Universal Thread and they fit so well, I just recommend sizing down by one size since they do have a lot of stretch to them.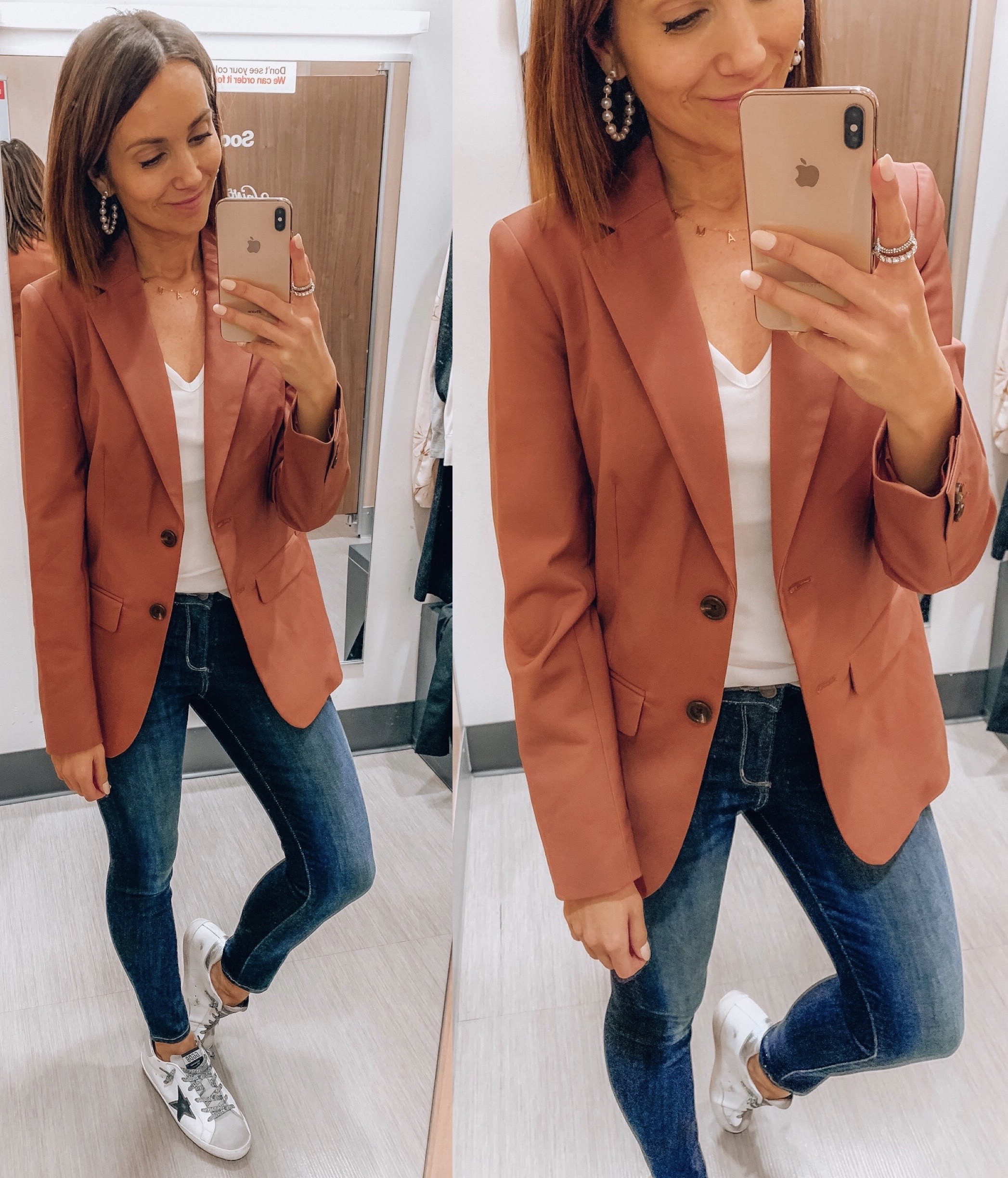 BLAZER (Size 2) // CAMI (Size XS) // SKIRT (Size S)
For a workwear look, I styled the blazer with this pleated skirt. I love these skirts Target has been producing. They fit well, and the material doesn't cling. For a dressier look, I swapped the white tee for a satin cami.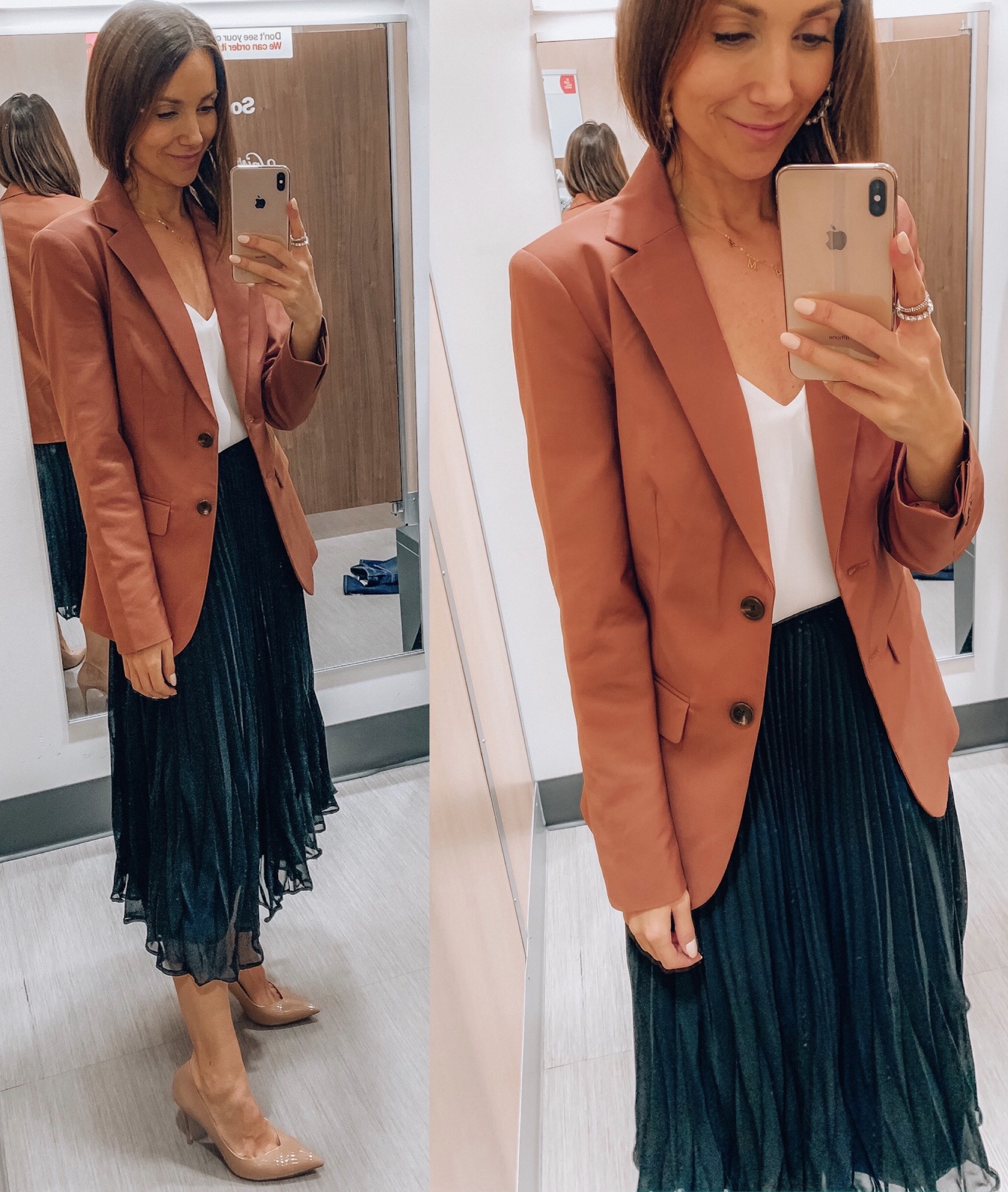 BLAZER (Size 2) // CAMI (Size XS) // PANTS (Size 4)
For my second office approved look, I swapped the skirt for these black pants. They are very comfortable and have an elastic waistband. I like the seam detailing on the legs. I tried a size 4 since that is the only size my store had, but I definitely would need to size down since they run just a bit big due to the stretch of these pants.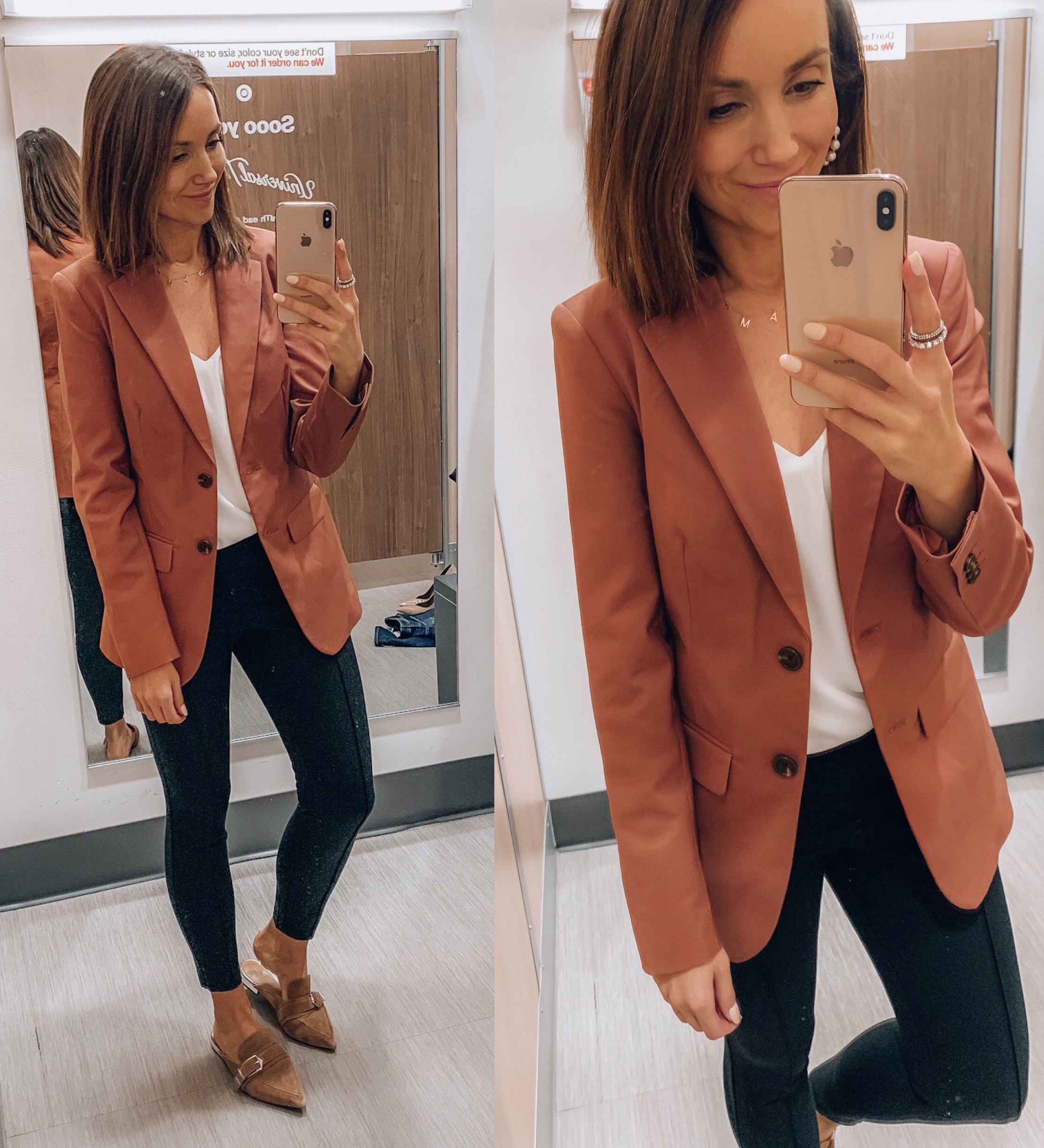 KIMONO (OS) // CAMI (Size XS) // PANTS (Size 2)
I love the soft blush coloring of this kimono and wanted to style it for work and casual wear. To note, this kimono comes in one size. For work, I paired it with the satin cami and these stretchy, plaid pants. They fit TTS.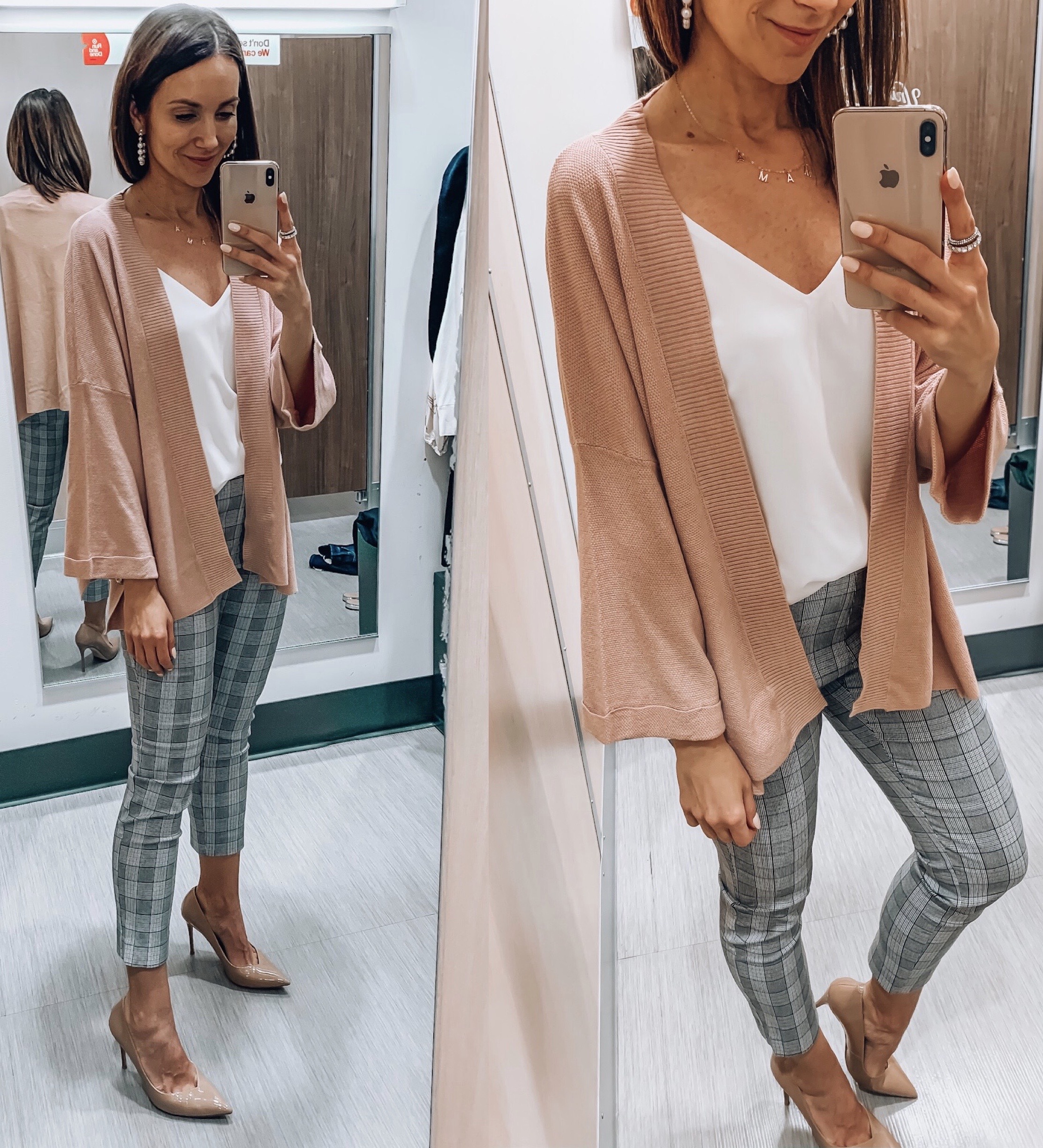 KIMONO (OS) // CAMI (Size XS) // JEANS (Size 0)
To take this look into date night, I swapped the pants for jeans and some booties.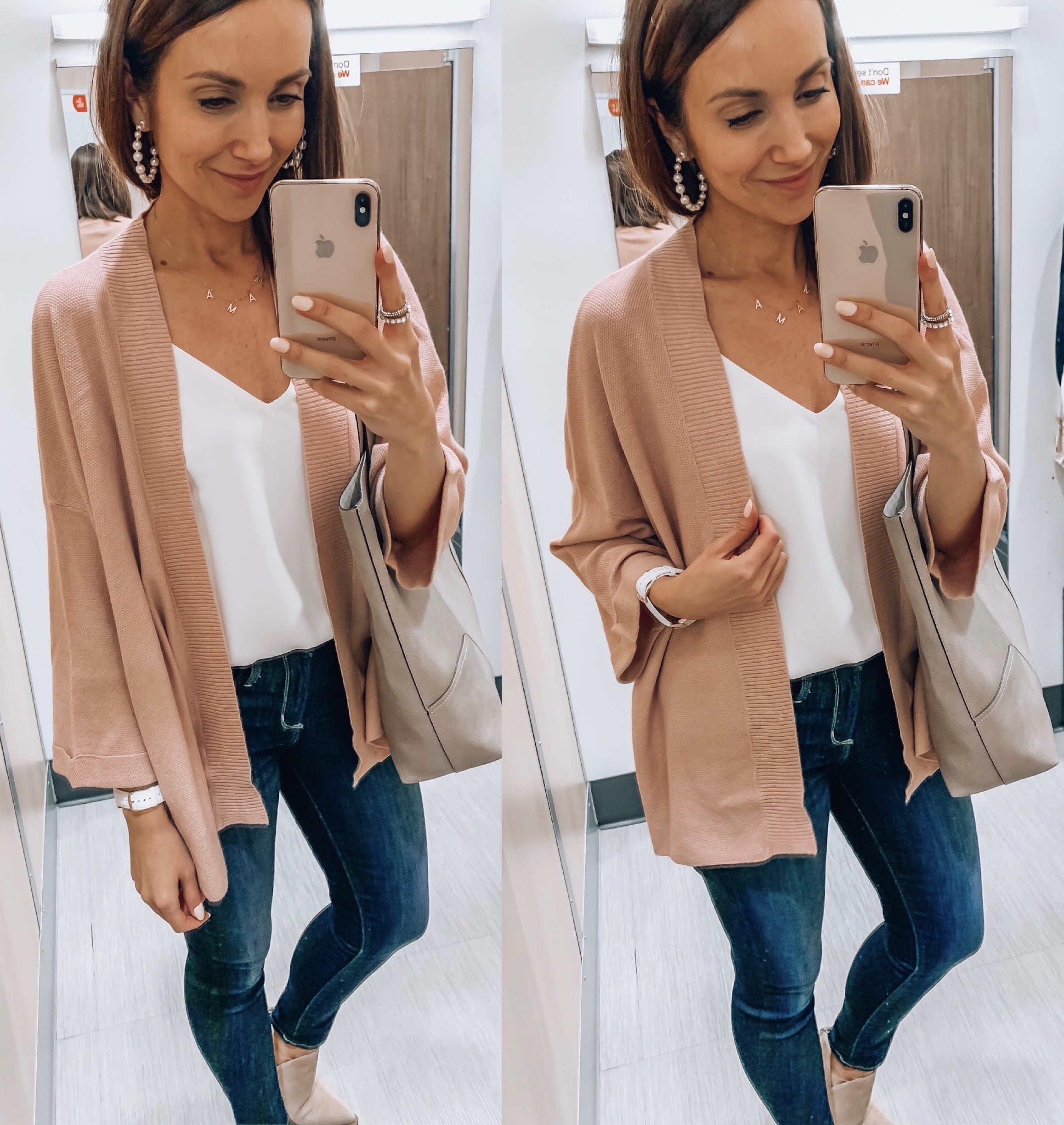 DRESS (Size XS)
Wow! This dress is stunning and it doesn't look like it came from Target. I love the statement sleeves and the length. The material is a sweater/knit and is perfect for this time of year. You can wear this dress out for a date night, to events, or even work. It fits TTS.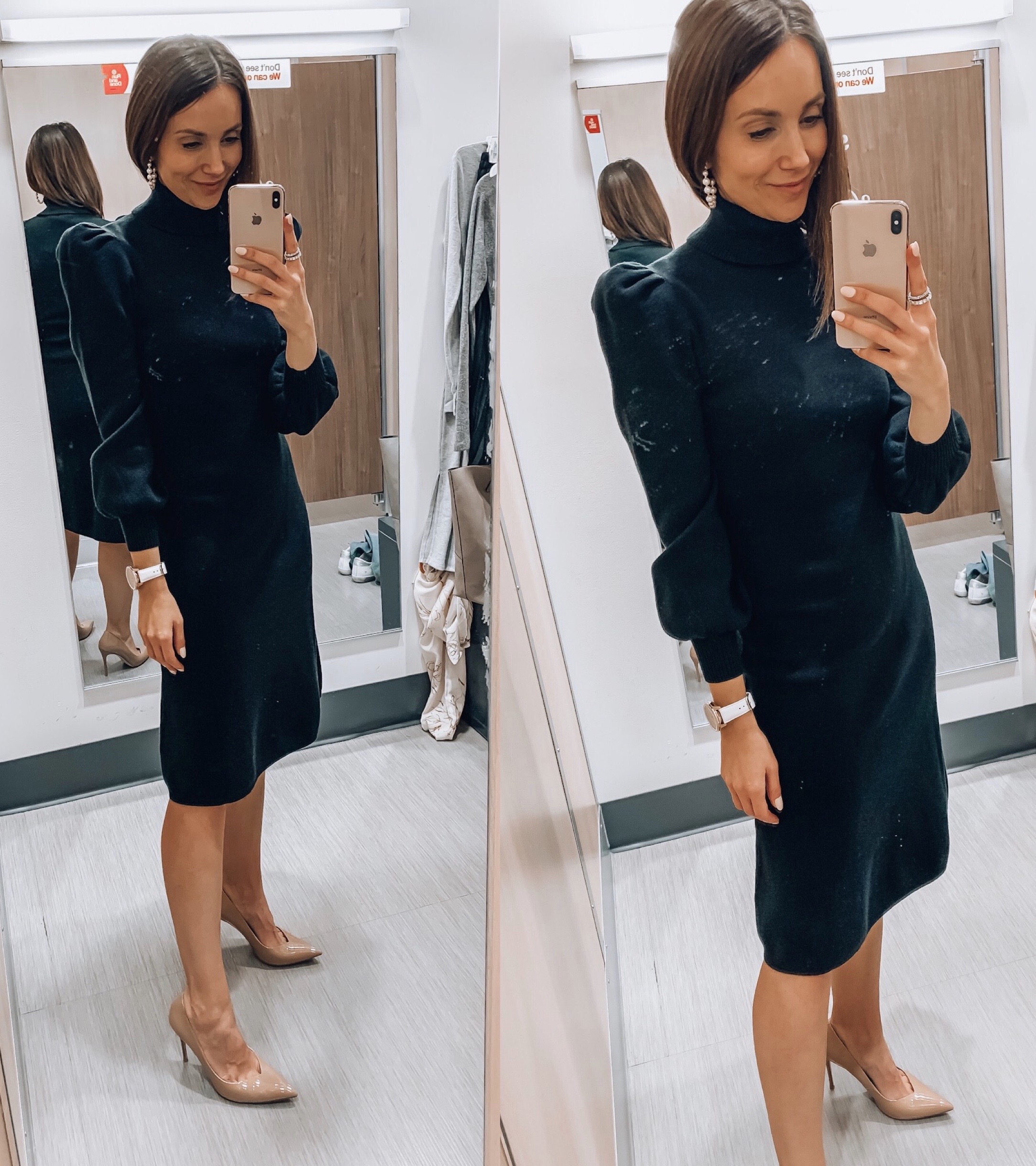 TEE (Size XS) // JEANS (Size 0)
Tie dye is everywhere and who would have thought this trend would be back? I was hesitant at first, but I am coming around. I love this new arrival and the colors used. Great find for $16.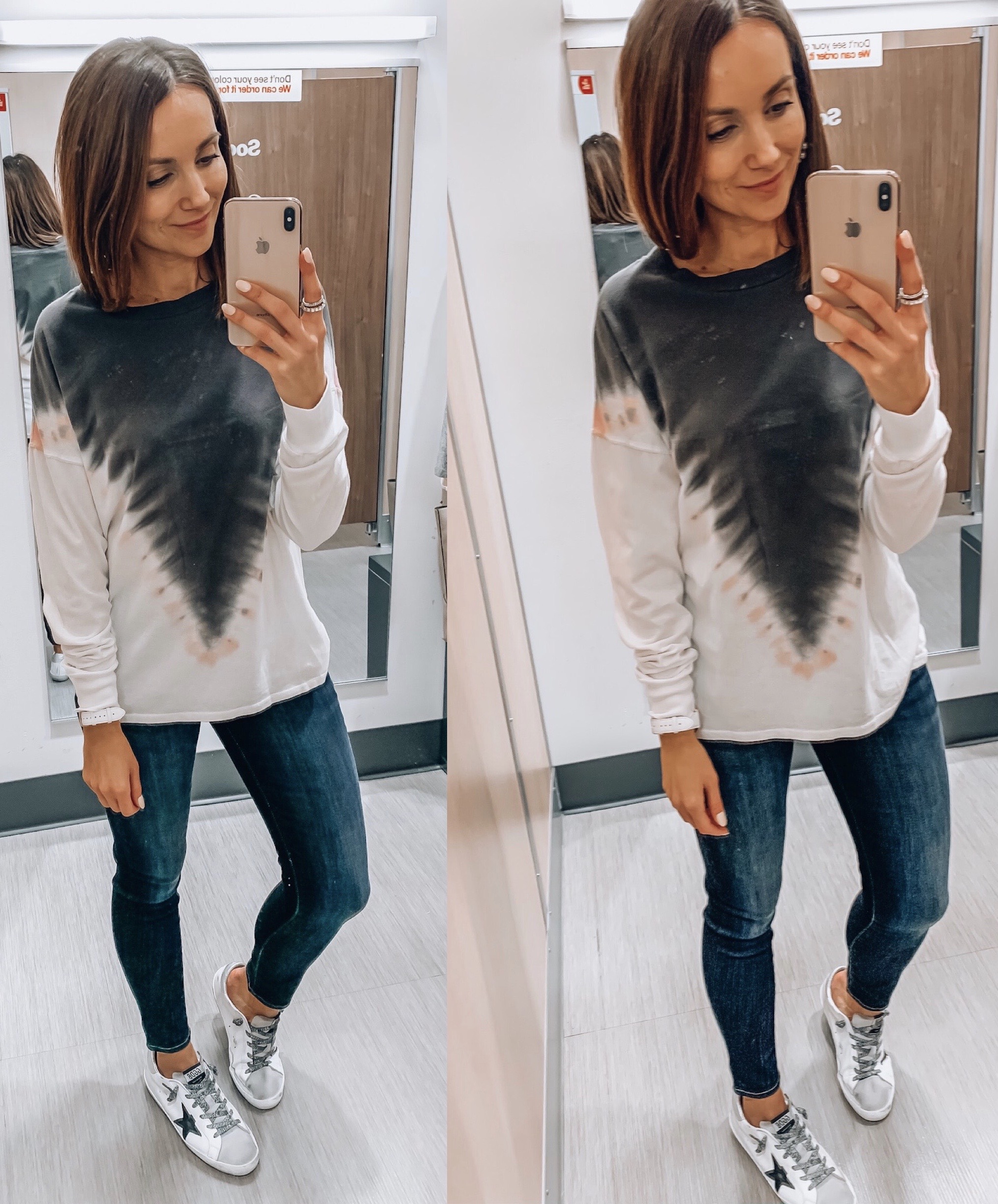 HENLEY (Size S) // JEANS (Size 0)
Super cute basic that is available in three additional colors. It looks great paired with jeans but would pair well with joggers.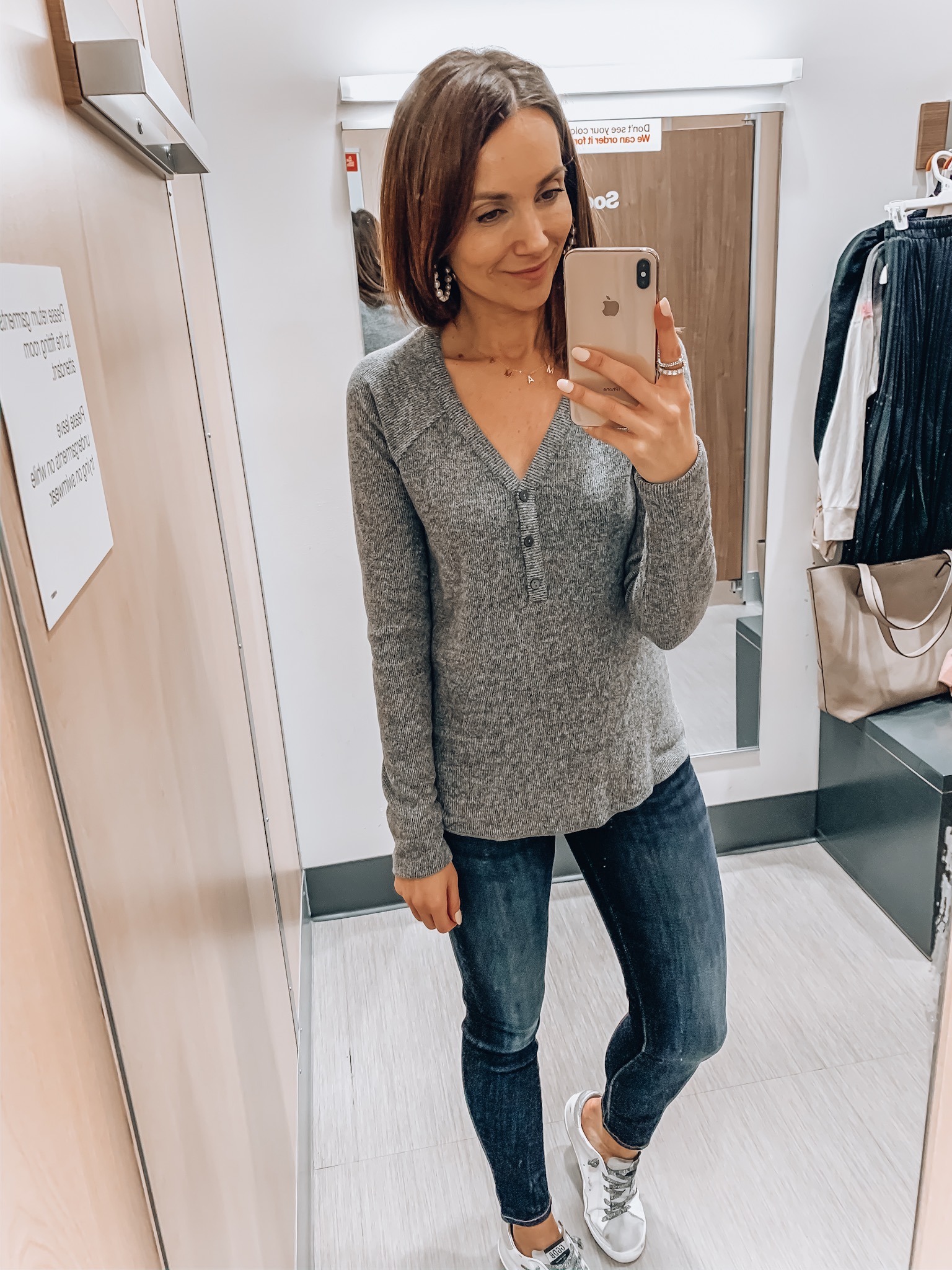 Last but not least, I had to share this  tumbler I found. This totally speaks to me!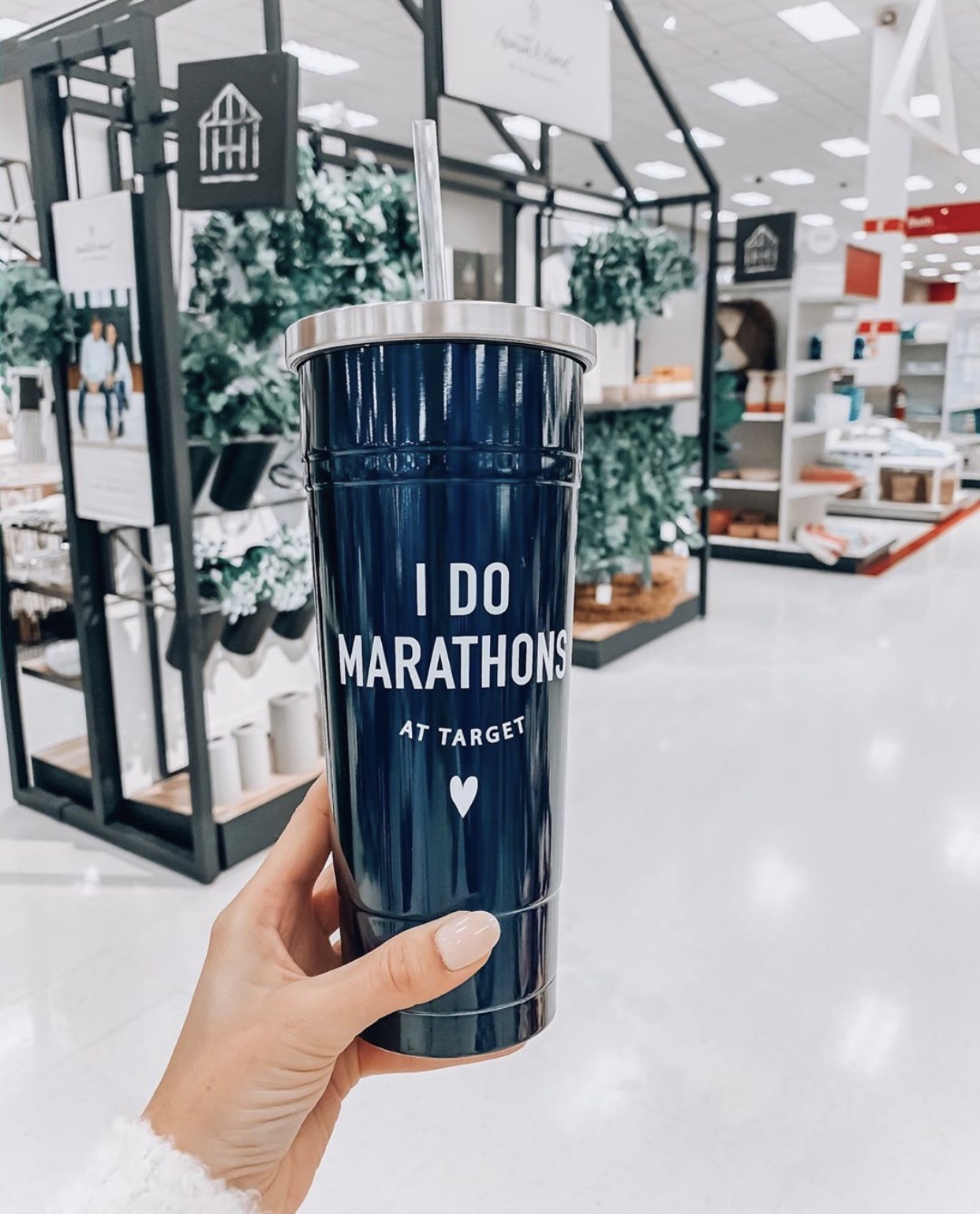 Thank you so much for visiting Blushing Rose Style Blog!