Sephora Spring Sale starts today! I don't know about you but I wait for this sale event to stock up on my go to products, but I also take this opportunity to try new stuff. The sale doesn't happen often, so when it comes around it's a big deal. I am rounding up my favorites by category: from skincare to makeup & hair products / tools.
To be honest with you, I don't use a ton of skincare products from Sephora with the exception of just a few. You can check out what I use for my skincare routine in THIS post.
How much can you save during Sephora Spring Sale? There are three tiers- you can save 20%, 15% or 10% based on your insider status. If you don't have Sephora insider status, it's free (not a credit card- more of a rewards system), you can sign up here and still save 10%.
Sephora Spring Sale – Makeup Favorites
Here are some of my favorite makeup products from Sephora. You'll see I have several foundations, cc creams and mascaras – I tend to rotate some of the products based on what my skin looks like (or feels like or what it needs).
Foundations & CC Creams:
Tarte Foundcealer in Medium Tan Natural, Giorgio Armani Luminous Silk in 5.75, Fenty Pro Filt'r in 280, Urban Decay Stay Naked in 51WY, It Cosmetics CC Cream Illumination in Medium Tan
Tarte, Fenty, Urban Decay colors are almost exact match to It Cosmetics Med. Tan

Bronzers:
Charlotte Tilbury Airbrush Matte Bronzer in Tan (just got this darker shade for spring and summer, I used Medium during winter months) , Tarte Sea Breezy Cream Bronzer in Seychelles and Fenty Cheeks Out in Hunnie Glaze

Blush
I have three favorites which I have used for years: Nars Orgasm (flattering on all skin tones), Charlotte Tilbury in Pillow Talk looks gorgeous with subtle highlight, and Lilah.b Glisten and Glow Illuminator in b.enchanting – technically not a blush but the color is stunning and the cream formula is perfection.

Mascaras
Lancôme Lash Idôle – fanned out look, curl and lift effect, It Cosmetic Superhero – falsie lash effect, dramatic lashes. And I must mention one product I can't live without, haha (I know totally exaggerating) – the Lancôme CILs Lash Primer – it's vitamin enhanced and makes your lashes look longer and fuller.

Eyebrows
I only use two products either Anastasia Brow Whiz or the Brow Powder Duo in Medium brown. If you use the Powder Duo you will need this brush as well.

Concealer
I use and love Shape Tape which is sadly not sold at Sephora, But I also love the Creaseless Concealer. It is more creamy and creates dewy look (vs matte you get with shape tape). I apply Shape Tape with beauty blender sponge and the creaseless concealer with the creaseless concealer brush which is not available at Sephora but you can get it here.
Eye Makeup
It is no secret I love the Armani Eye Tint (in Gold Copper). I have a highlight tutorial saved in my IG feed called "eye tint". It is the most perfect color (a lot lighter than it looks online). Its liquid formula dries quickly without creasing, stays on all day. You don't need a brush just apply with the applicator in the tube.
I also love the Bobbi Brown Shadow Sticks. Can you see a pattern here? I am all about fast and fuss free application. I use vanilla all over lid, stone in the crease and golden bronze in outer corner. I use my fingertips to blend. Just like the eye tint, these shadow sticks do not crease even after all day wear.
Highlighter
The blushes I use give me enough shimmer haha so I don't have one go to product. But… I just picked up the Hourglass Ambient Lighting Palette (in volume I) and it's gorgeous.
Lips
Are we still into lipsticks? I know it's prob the last thing on your mind these days. I still love a good lippie though. And there are so many favorites. But these days I am drawn to super moisturizing and semi sheer formulas. The Tarte Maracuja Juicy Lip in list colors and Tarte Sea Quench Lip Rescue are my go to these days. At night I love the Bite Beauty Agave Nighttime Therapy.
Sephora Spring Sale – Hair Products & Tools
I was just thinking I have been using the same hair products for as long as I have been covering the Sephora sale! First up the dry shampoo – it's a must have for me! I've been using the living proof dry shampoo for years but I tried the IGK First Class Charcoal Detox Dry Shampoo and it's hands down my all time favorite. While I still think living proof is great I will choose IGK over it! For Reese, I've been using IGK's Good Behavior line and it's been so good managing frizzy hair. The Olaplex system from shampoo, conditioner, treatment and hair oil does not disappoint and I always stock up during the sale. For styling products I love the Bumble & Bumble brand. The thickening spray is hands down the best texturizing spray I ever used. I also love their Great Body Blow Creme and for a heat protectant I use their glow thermal protection mist.
Hair Tools- Dyson Airwrap
I am a proud owner of Dyson Airwrap. I have been wondering about it for so long and finally decided to get it. I have zero regrets. While this tool is not for everyone, I am someone who is not that great with styling hair. And the Airwrap gives me that salon style blow out at home, without damaging my hair. Pros: it works fast and well, you can create multiple looks. The hairstyle is long lasting (it usually lasts me 3-4 days), it is quite easy to learn. Cons: the price (ugh I know), the size (not best if you have limited space) and last- you have to switch barrels (one for left side, one for right). None of these were a deal breaker for me, and I could not be happier with my purchase. Btw I just ordered the new barrel designed for longer hair (I will keep you posted) but I hear it's amazing. Sephora now has 2 options for Airwrap -the classic and limited edition with free travel case (so wish I had that).
Other Hair Tools
I love my GHD curling iron. Though I don't use it as often now. I like it more than T3 – its seems less damaging. I also use the hot brush (on Reese actually) she has wavy and frizzy hair. And it works wonders for her with lasting results.

Sephora Spring Sale – Self Tanners and Body Care
I have entire blog post dedicated to my favorite self tanners. You can check it out here. But here are the ones included in the sale.
Self Tanners
The St. Tropez X Ashley Graham – I think I like it more than the original formula . It has a pleasant fragrance and the mousse applies so well. For face I love the Clarins Express Gel and the Tan- Lux Illuminating Drops in Med/Dark.

Body Care
I always buy these on sale and literally can't get enough of this scent. Sol de Janeiro Bum Bum Cream, moisturizing shower gel and Brazilian kiss chapstick. I have also been recently introduced to the Necessaire brand and I love it. Highly recommend their body lotion (vitamin enhanced) it leaves your skin so soft. It actually feels like you're applying face cream all over your body. It is so good!

Sephora Spring Sale – Skincare
As I mentioned earlier, I don't buy a lot of skincare from Sephora. But you can checkout my skincare favorites in THIS post. But here's few of my favorites.
I know Drunk Elephant has a cult following, but I have not tried many of their products. I really love their D-Bronzi Anti-Pollution Bronzing Drops. I mix a few drops with my foundation or CC cream for a beautiful glow. Kiehl's Dark Spot Corrector – honestly it does take a while to see results but if you use it consistently twice a day, it does work. I see a huge improvement especially on my chest. I also just started using the Milk Peel Gentle Exfoliating Toner and love the results so far. Few other old school favorites Turmeric and Cranberry mask (been using it for years) – it instantly brightens your skin. It's a tad drying so I follow up with a good moisturizer and face oil. For acne and breakouts I use the Mario Badescu Drying Lotion and Buffering Lotion. And I always restock on Peter Tomas Roth 24k gold eye patches. They are pricey but work wonders!
My go to everyday fragrance Replica Under the Lemon Trees. It smells so good and is also available in a sample size.

Sephora Spring Sale Makeup Brushes
If you are looking to replace any of your older brushes, here are my favorites.
1 // 2 // 3 // 4 // 5 // 6 // 7 // 8 // 9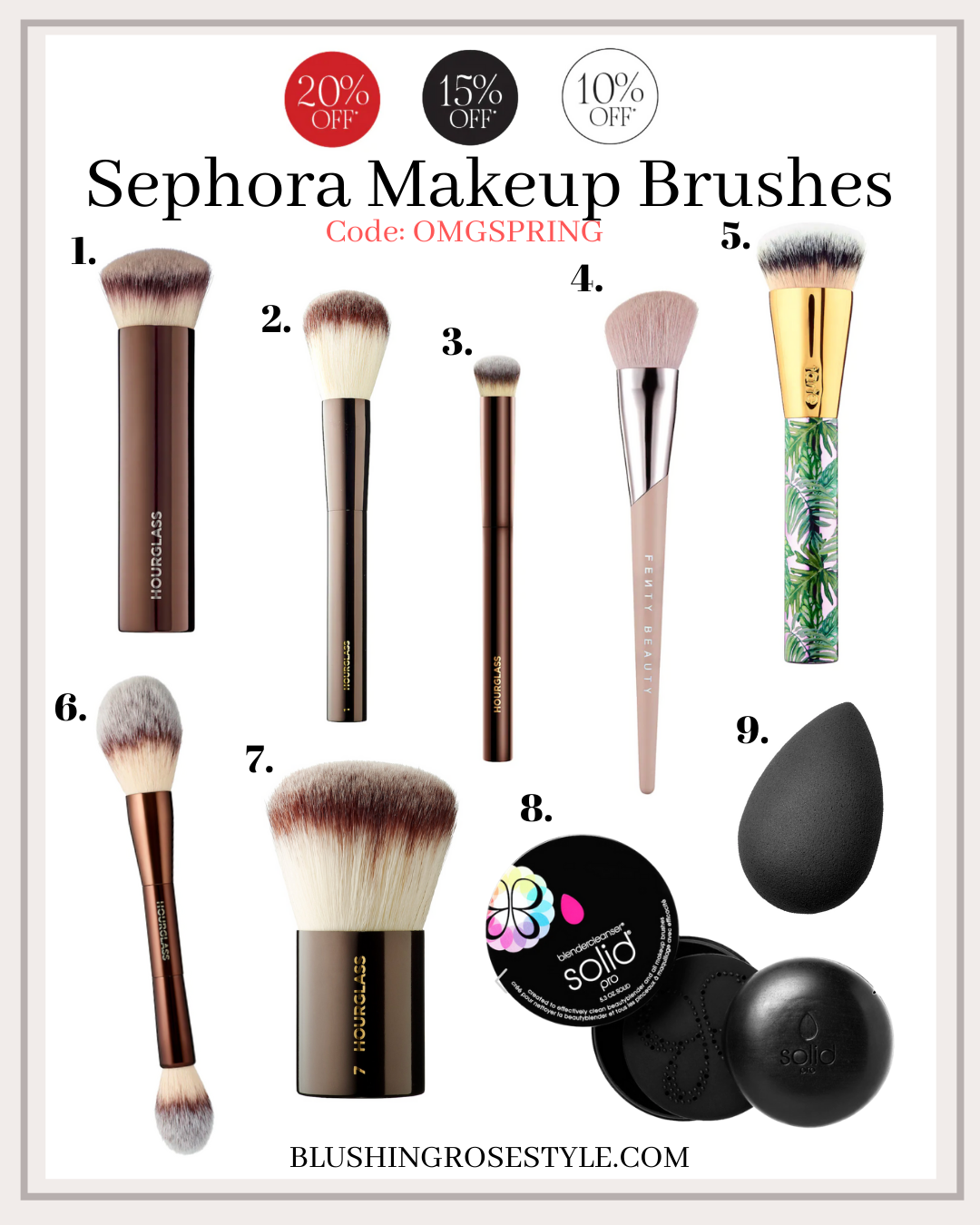 Thank you so much for visiting Blushing Rose Style blog. And if there are any other products I should try, let me know!