Good Morning Friends. How is everyone doing today? I love our daily check-ins here on the blog and on the social platforms. It feels less lonely that way. Social distancing has been tough on everyone, but I feel like I have spent so much more time with my kids and John. Don't get me wrong they can drive me bananas, but I think we will look back and appreciate it all. We have been eating dinners together every single night. And that's rare as John is never home in time for dinner or he's still working from the home office. Curious to hear how you've been doing? Do you have any tips for maintaining a positive attitude? I'd love to hear.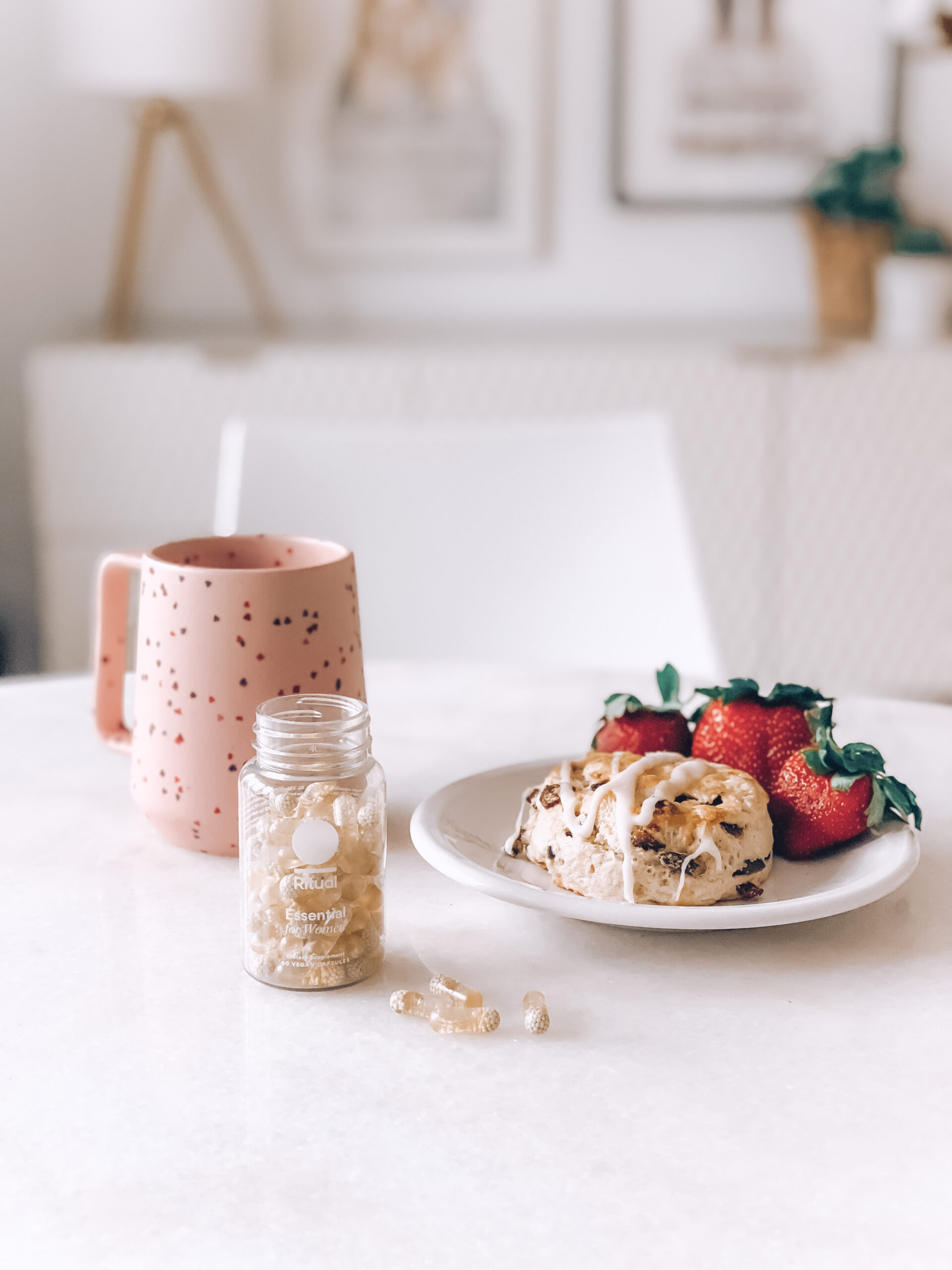 Last week I shared my self-care tips and practices.  This week, I also made a commitment to myself to continue daily workouts (yes even if it's just 5 minutes), eat healthy-ish and continue taking my multivitamins! For the longest time I have been sneaking my kid's gummy vitamins, haha probably not the best thing to do for a woman in her late 30s. In 2019, I made my health a priority, so I had to ditch the kids' gummies too.
Why I Chose Ritual?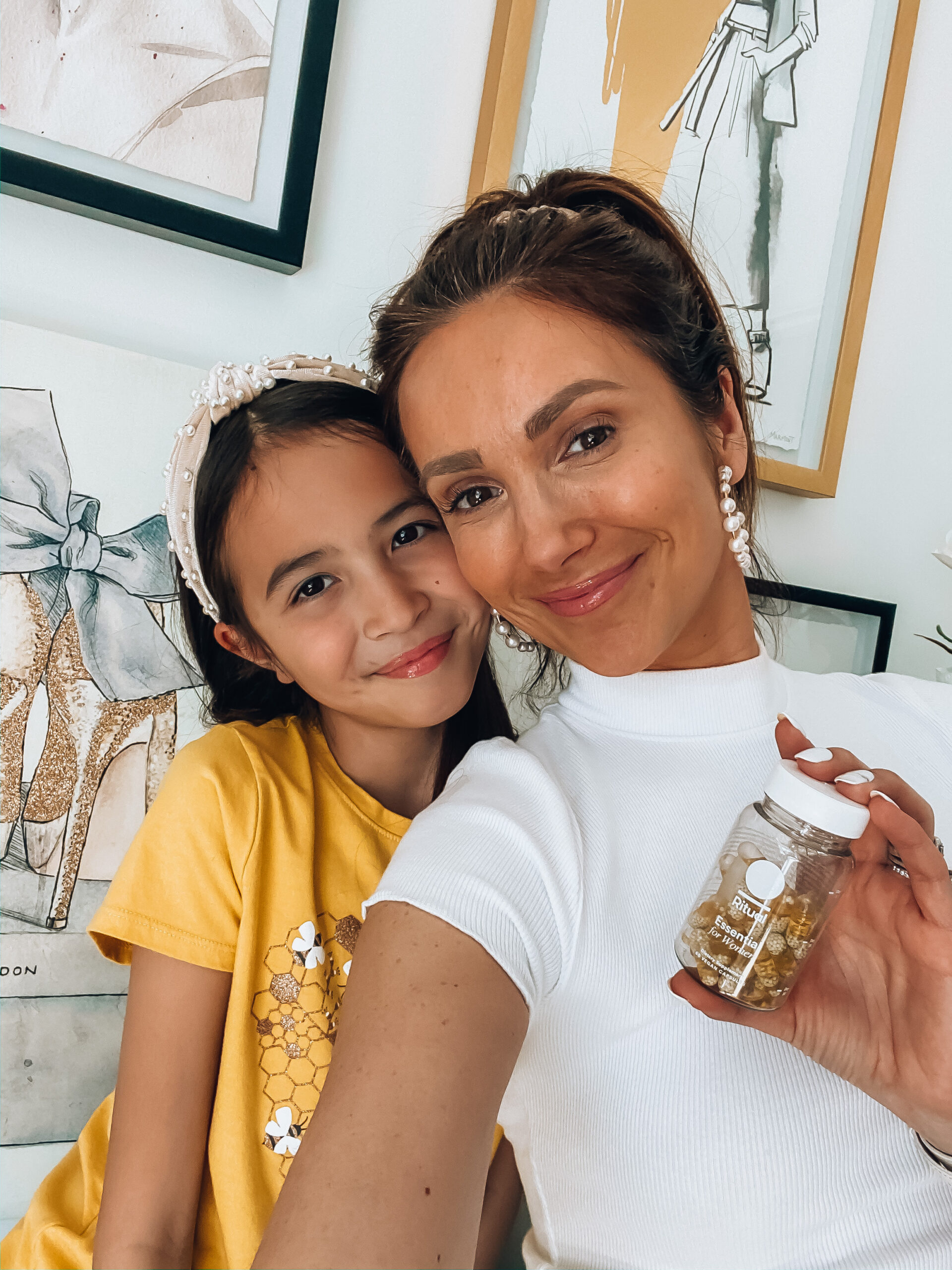 Do you take multivitamins on a regular basis? I always had a hard time sticking with that. Mostly because if I took anything on an empty stomach it would make me nauseous. I had this daunting awareness that I needed to step it up, and make a commitment of incorporating important nutrients into my daily regimen. So, this is how I found Ritual! Most of you know my assistant Michelle. She has been with me for a while, we work side-by-side (now remotely) every single day. I was telling her how much I struggled with finding the right multivitamins to fit my lifestyle. She had been taking Ritual for over a year now, and immediately suggested I give it a try! Here are some of the reasons why I decided to give Ritual a try.
Formulated with key nutrients and no shady fillers. We already get enough of many nutrients from food, so I love that Ritual is formulated with 9 key nutrients to help fill the nutrient gaps in your diet. Folate, B-12, D3, Iron and a plant based Omega 3 to name a few.
Ingredients you can trust! Ritual is very upfront about their nutrients – there is a list of the nutrients and where they are sourced so you can rest easy. No artificial colors, fillers or shady additives.
Delayed release, no nausea capsule design! This is HUGE! They're designed to be gentle on the stomach – no food is needed to take.
Their multivitamins are NonGMO, Gluten free, Vegan friendly, and contain no synthetic fillers.
I was sold, so I decided to give it a try. Ritual works as as subscription service and it's super easy to try.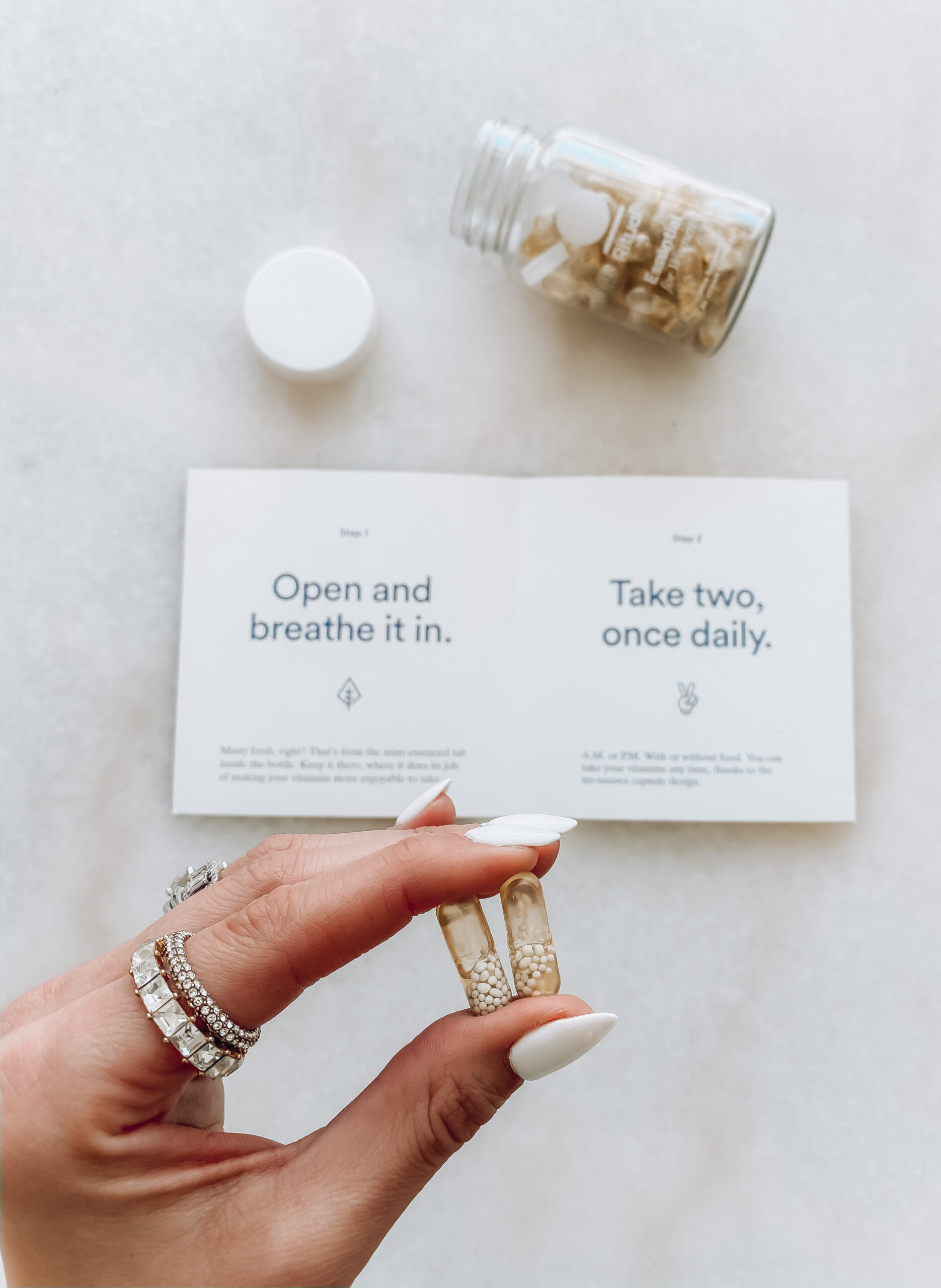 How it works
Choose your multivitamins. Multivitamin 18 +, Multivitamin 50+ , or Prenatal Vitamins.
You decide when you want it delivered, if you need to make any changes, it is super easy.
Worry free trial, if you don't love it the first month, it is free!
Also free shipping and free cancellation (anytime).
My Experience So Far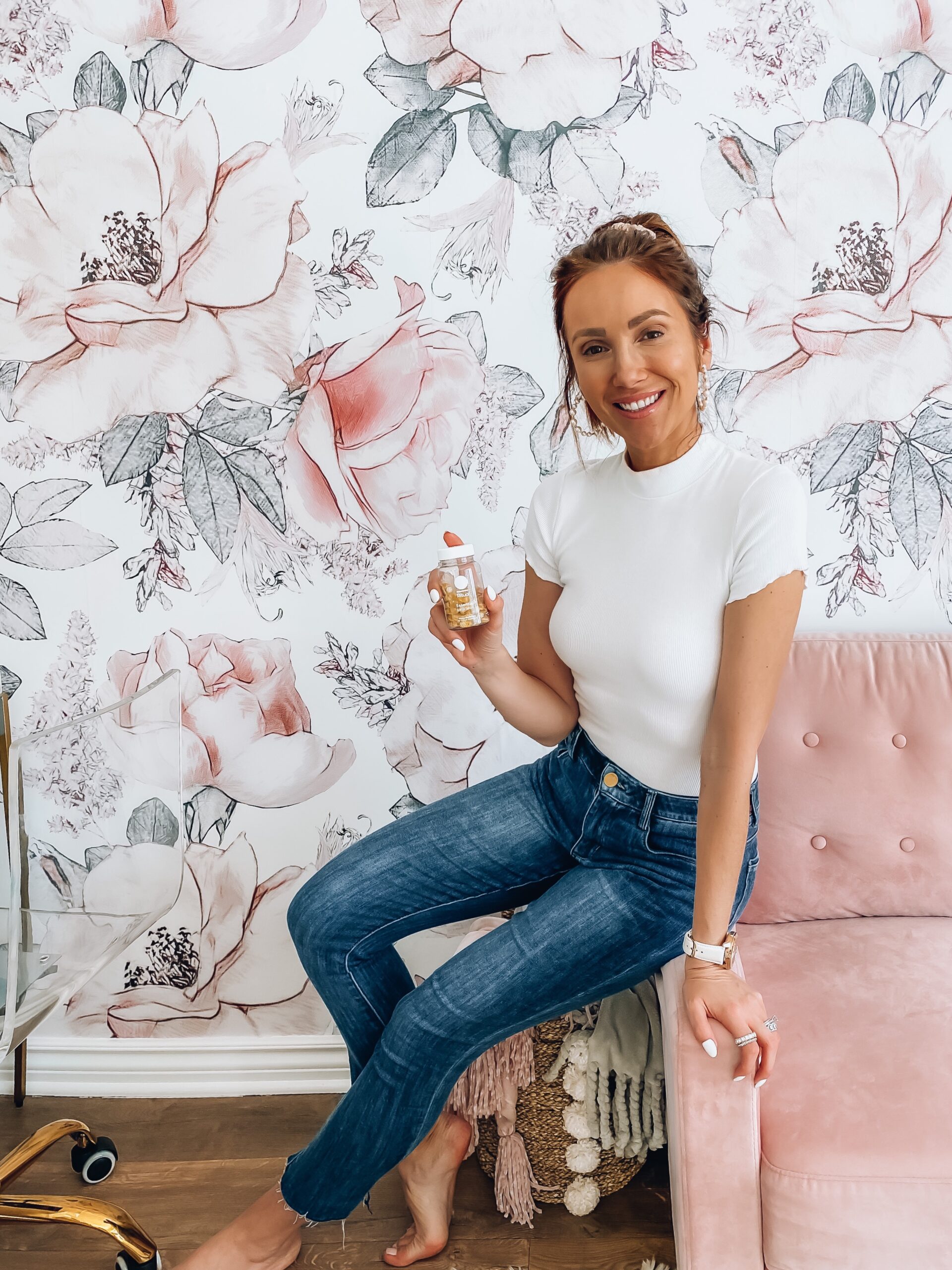 I have been taking my Ritual multivitamins for several weeks now. I am so happy I decided to give these a try. I am happy to report I have been able to stay consistent with this regimen. I love the fresh minty scent. And it's true!!! I haven't had vitamin-related nausea. I cannot wait to continue this as part of my daily routine. Now more than ever, it is so important to take care of yourself.
I asked Michelle to share her experience with you all, since she's been taking these for a while now. Here's what she had to say.
Michelle's Experience
"I first learned about Ritual through a fitness and lifestyle blogger on instagram. What caught my eye was the ease of these multivitamins. At the time, I was taking a lot of supplements to fulfill what I needed and I really wanted a simpler regimen. It can be hard to find multivitamins that are vegan and still supply essential nutrients. I am also someone who has a sensitive stomach when it comes to taking supplements and have experienced nausea with others. After doing research and realizing that Ritual was formulated with everything I wanted in one daily dosage and the claim was that they were easy on the stomach, I decided to order. I have been taking the Essential for Women Multi 18+ for over a year now and love it.
The dosage is just two capsules a day, which is very easy to remember for a busy person. I can 100% back up the claim that these are GREAT for sensitive stomachs, I haven't felt nauseous while taking them. You can take them on an empty stomach if you are someone who likes to take them first thing in the morning. I also love the fact that these are shipped right to my door every month so I will never miss a day. If you ever have to delay/ speed up a shipment it is very easy to do so with the click of a button in your account. An added bonus that continues to make me happy is the minty scent! Each bottle includes a mint tab and this provides such a refreshing scent and taste each time. It's a really nice touch! I have recommended Ritual to so many of my friends because I am so happy with them. With such a busy lifestyle, taking Ritual has helped support my nutrient needs and made my life simpler*
Click HERE to sign up for Ritual and join Michelle and I by adding a new ritual to your daily routine! 
Thank you so much for visiting Blushing Rose Style blog. And very special thanks to Ritual for partnering with me on this post. As always, all views and opinions are mine
* These statements have not been evaluated by the Food and Drug Administration. This product is not intended to diagnose, treat, cure or prevent any disease.