Good Morning Friends. I woke up in sheer panic this morning. I had a dream the holidays were here and I didn't have anything ready… no food, no gifts and my house was not decorated. Thankfully, it was just a dream! But the holidays are slowly sneaking up on us. I can't believe we will be celebrating in just 5 weeks! Are you ready?
This year will be a little bit different for our family. We decided to escape the NY cold and spend the holidays in the Florida sunshine. Eek! John and I have talked about doing this forever. I am not going to lie, I am worried it's not going to feel like Christmas, but trading snow for warm sand may not be so bad after all. Even though we will be away the last week of December, we have plans to attend several holiday parties to celebrate the season. And I am already planning our outfits.
I am so excited to partner with J.Crew to bring a little festive outfit inspiration. If you've been reading my blog for a while, you know I am originally from Poland. I came to the US on a foreign exchange program and I vividly remember walking past the J.Crew store for the very first time back in 2004. We didn't have J.Crew stores in Poland. It was love at first sight! I have always described my personal style as preppy with an edge, and that's exactly what I love about J.Crew. I tend to invest in classic and timeless pieces that will stay in my wardrobe for years to come . But I also love adding fun prints, unusual detailing and statement accessories. The quality of J.Crew pieces is amazing! I think one of my coats is over 10 years old and still looks amazing. During my corporate years all my workwear outfits were from J.Crew. Years later my entire family wears J.Crew. Especially John, at this point at least 90% of his wardrobe is J.Crew, even his work suits.
RELATED POSTS
THANKSGIVING DAY OUTFIT IDEAS // GIFTS FOR HOSTESS, STOCKING STUFFERS & WHITE ELEPHANT GIFT IDEAS
GIFTS FOR MOM, GIFTS UNDER $50 // GIFTS FOR CO-WORKERS & TEACHERS
Holiday Style with J. Crew – Tartan Crop Pant and Ruffle Neck Sweater
SWEATER (Size S) // PANTS (Size 2) // SHOES // EARRINGS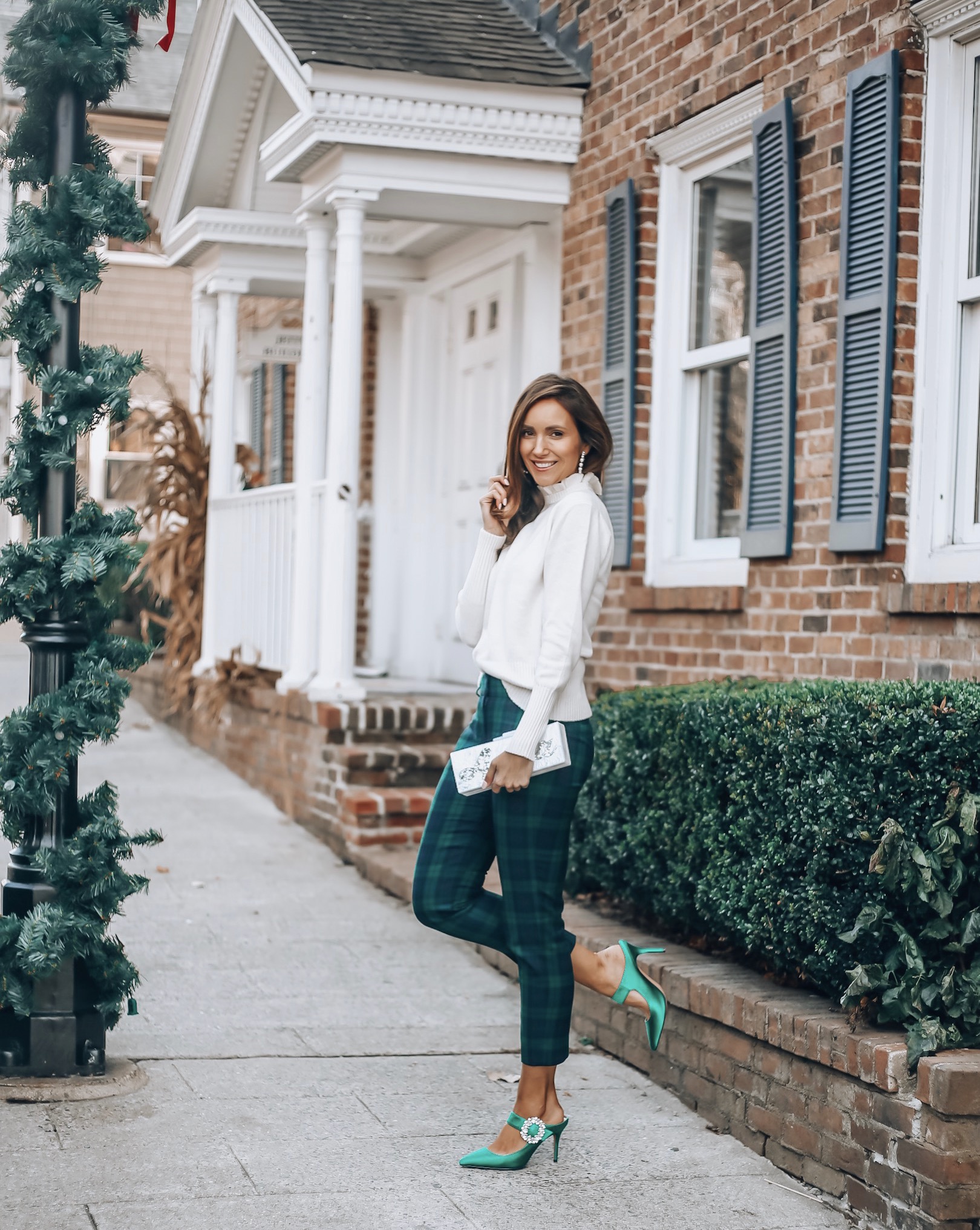 I am wearing size 2 in the Cameron Slim Crop Pant . Size wise – fit TTS , but if in between sizes, I would suggest sizing up. I love the black watch tartan print. It is so festive but still classic, so you can wear the pants beyond the holiday season. Great workwear option. The ruffle-neck sweater fits TTS (wearing size Small). Ruffle detail adds a feminine touch. For more festive look, pair it with a sequin skirt or joggers. Or style it casually with jeans. This will be a sweater you'll be reaching for over and over again.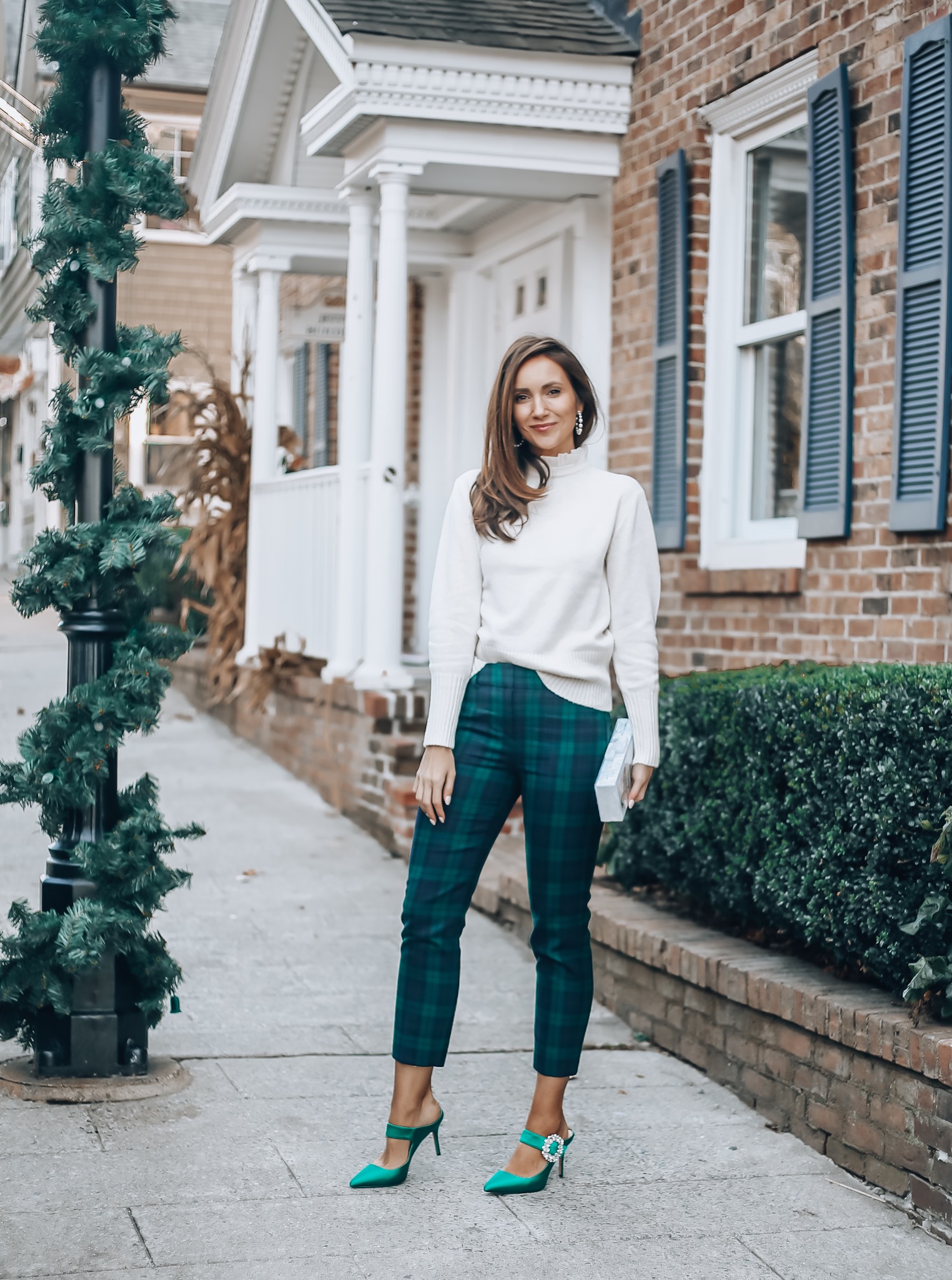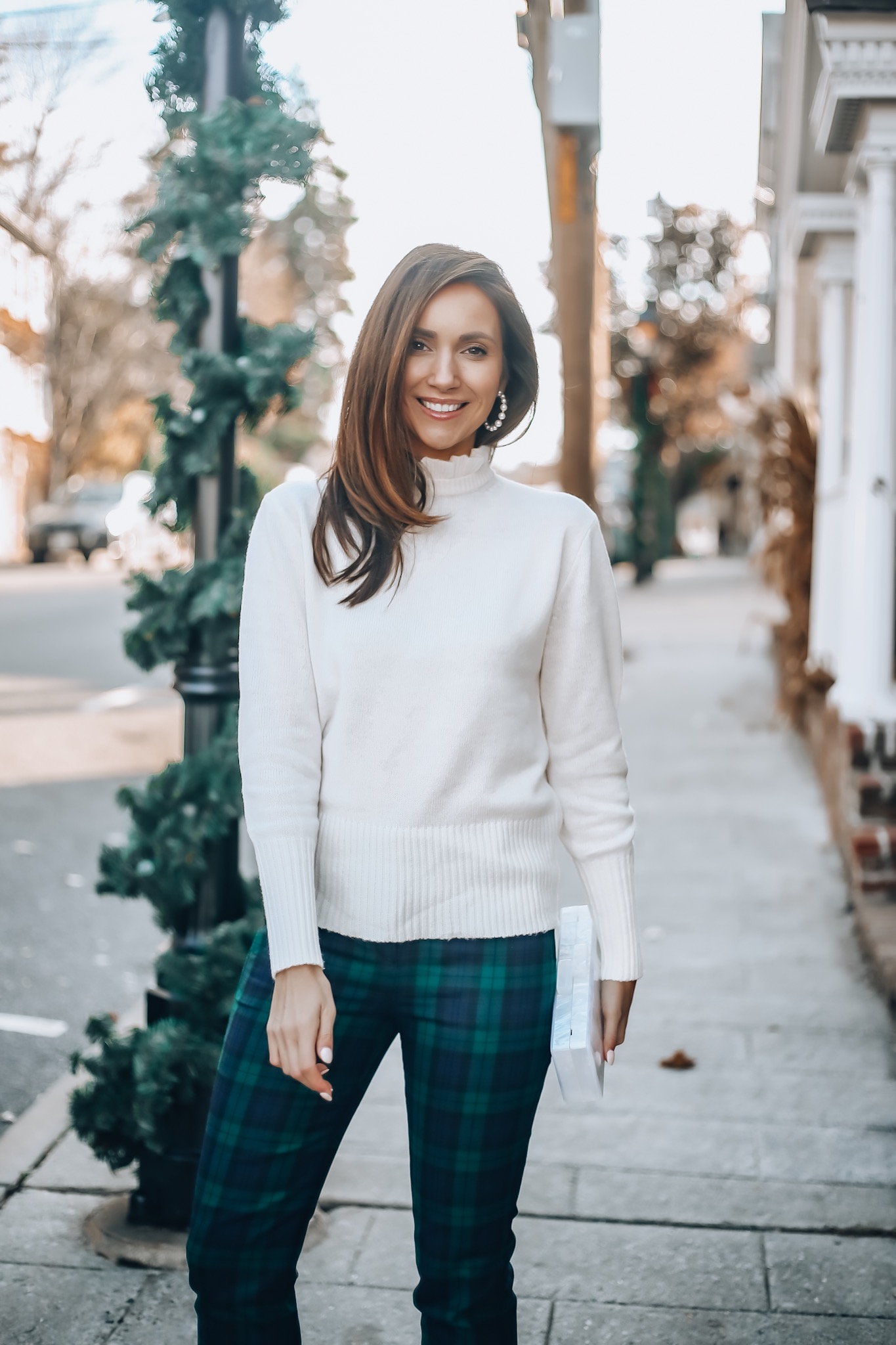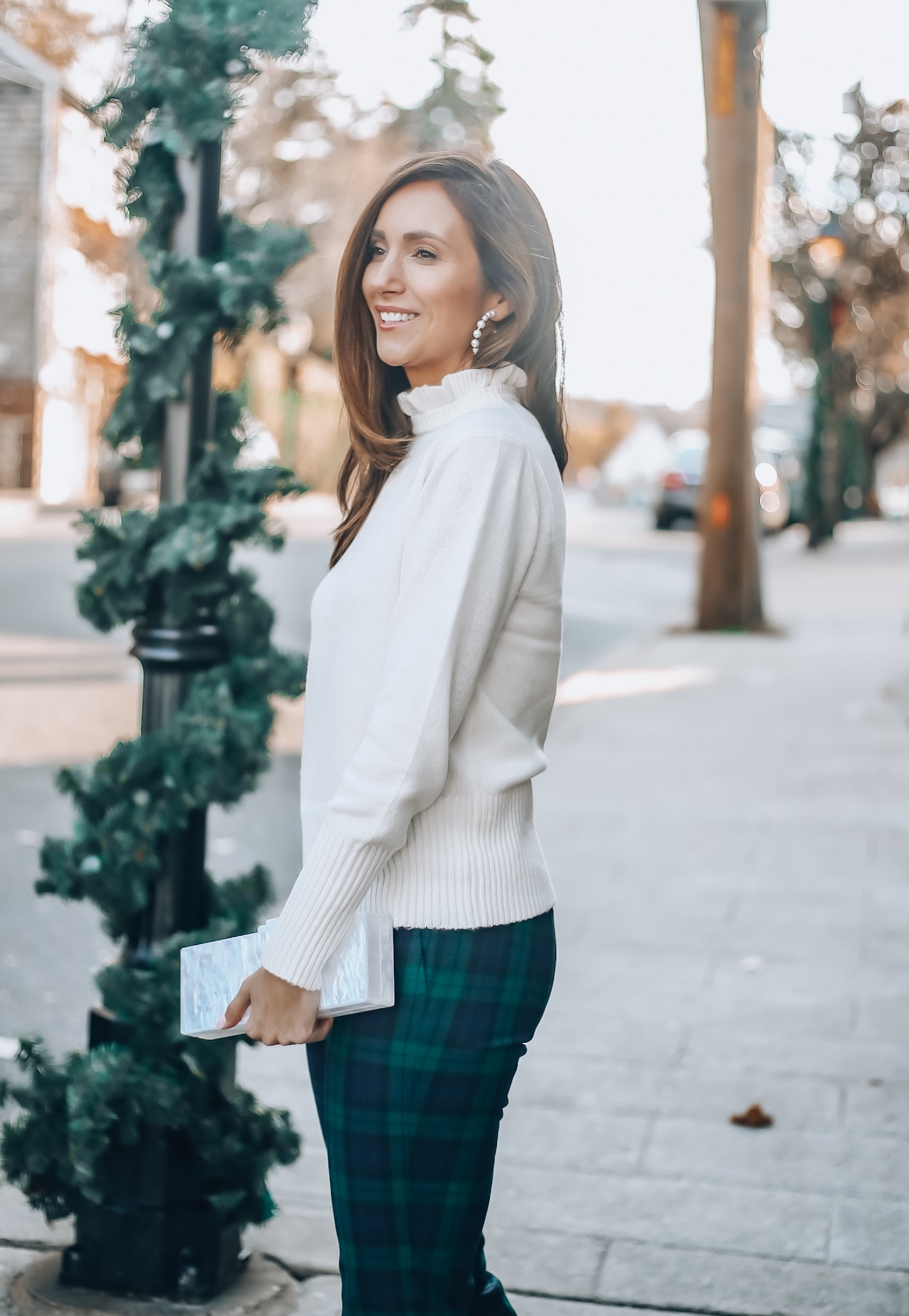 While these earrings are definitely a statement, they are lightweight and delicate.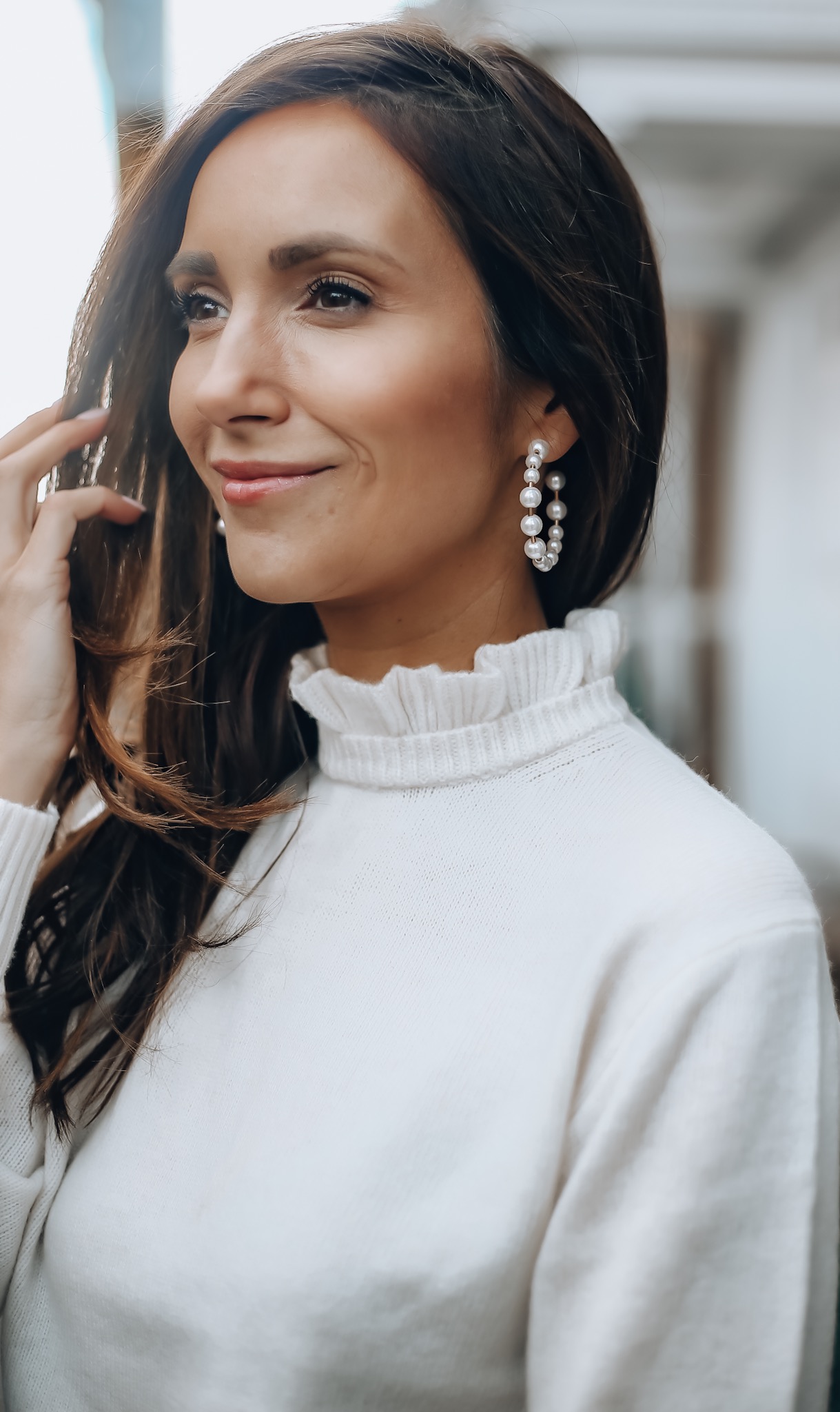 J.Crew is know for the amazing winter coats. The design is classic and timeless, and the quality makes it worth the investment. My favorites from the collections are the Cocoon Coat and the Chateau Parka. I have owned these for two for years! You can read my review of these in THIS post. I just got the Swing Coat  in Camel. I am wearing size Small. The fit is relaxed with swingy silhouette. It's warm but not bulky.
COAT (Size S)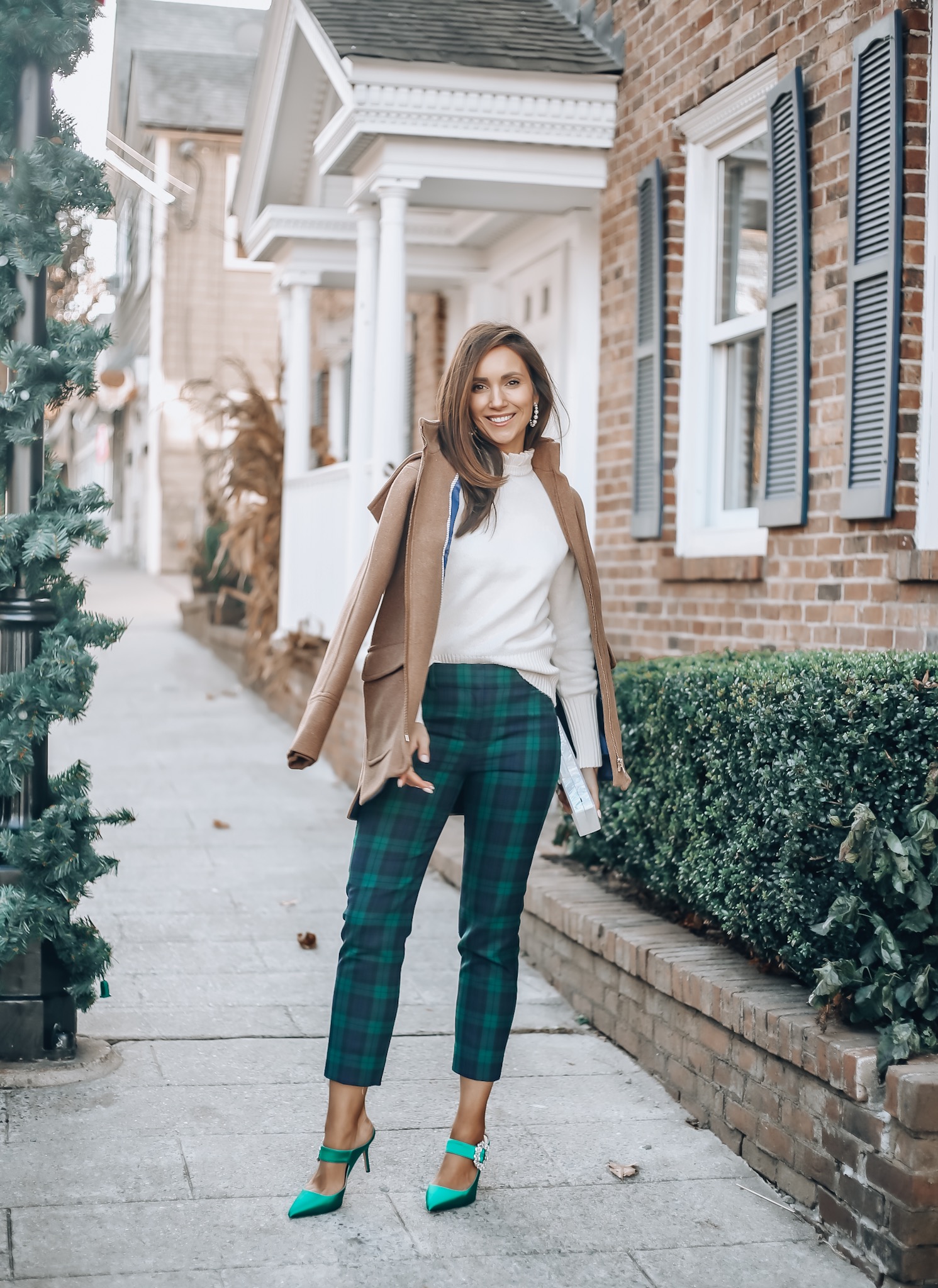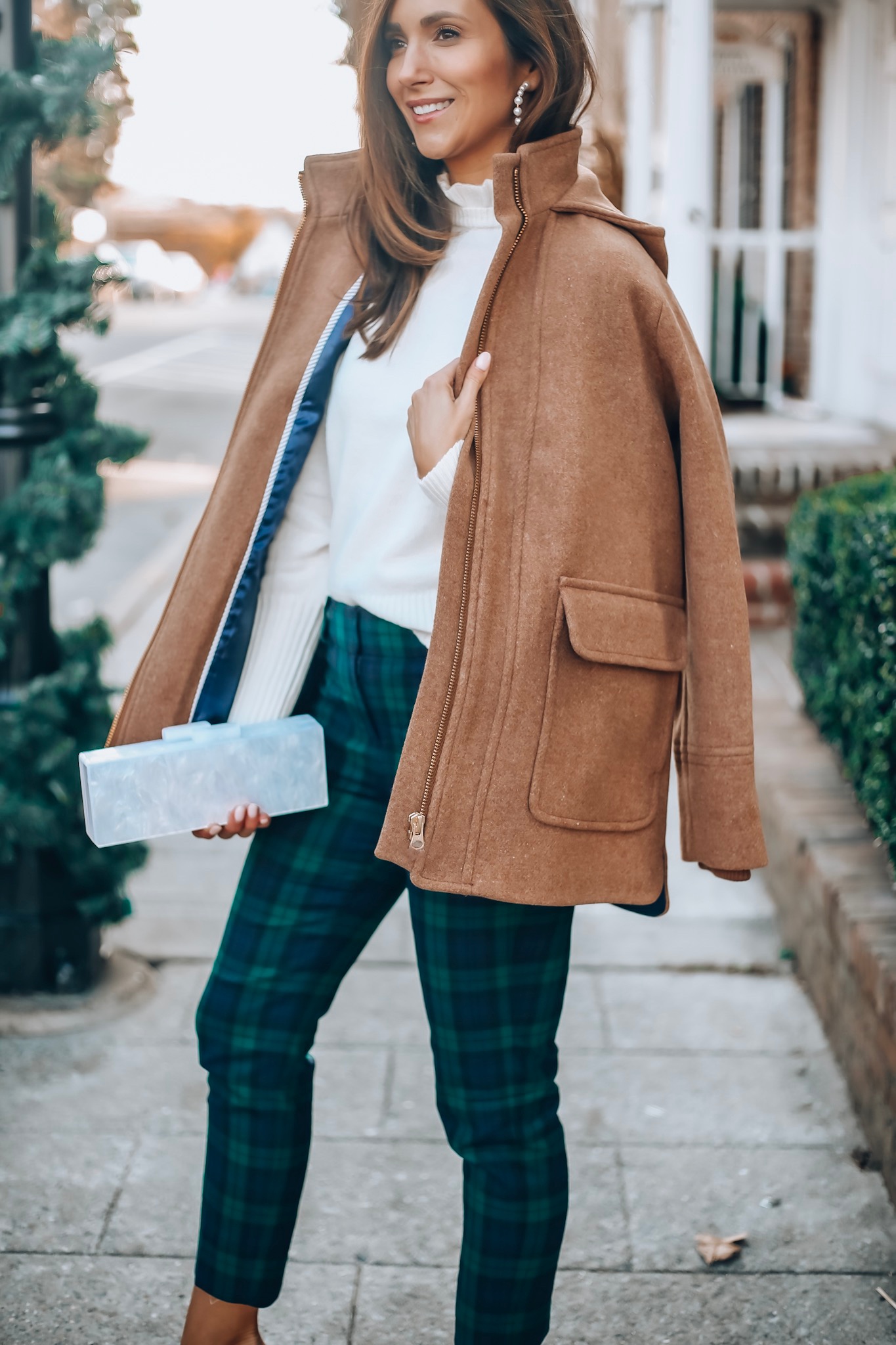 Aren't these shoes gorgeous?! They are absolutely stunning and I am in awe of them. They are  perfect for completing a holiday look and not to mention, comfortable while doing so. The heel is great height, easy to walk in and for good for extended wear. I would recommend going up half a size.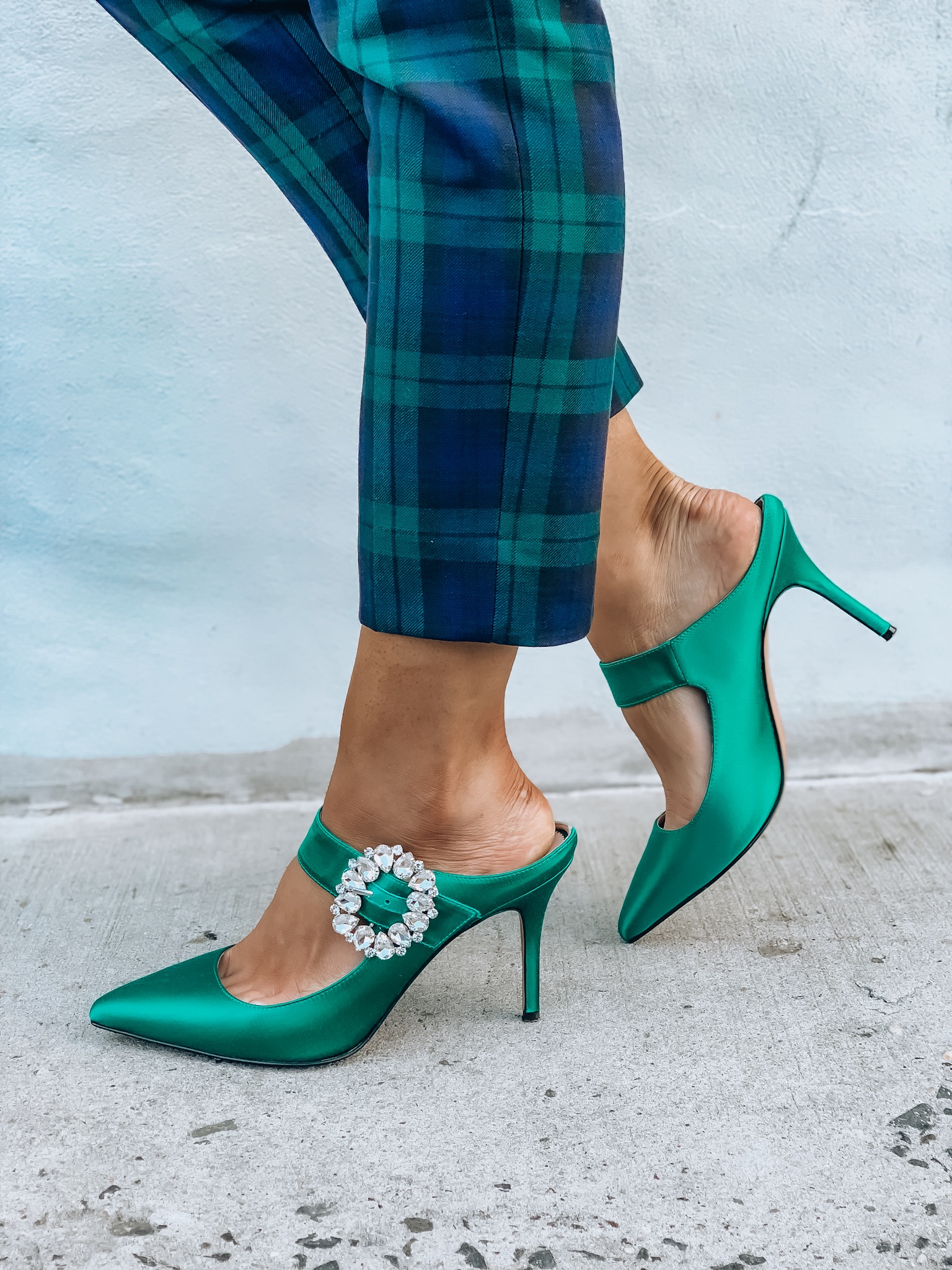 More Festive Shoes You May Love

J. Crew has amazing selection of kids clothing. And the quality is so good. Most of Grant's and Reese's clothes are from here. Since I loved my Chateau parka so much, I wanted Reese to have this coat too. I actually bought if for her a few years ago in lavender color. This year she wanted to match mommy so I got it in the Acorn color. Reese is tall but a tiny girl. I sized up on her (she's wearing size 10) this way she can wear it for several more seasons. Her adorable dress  fits TTS. It matches my look perfectly.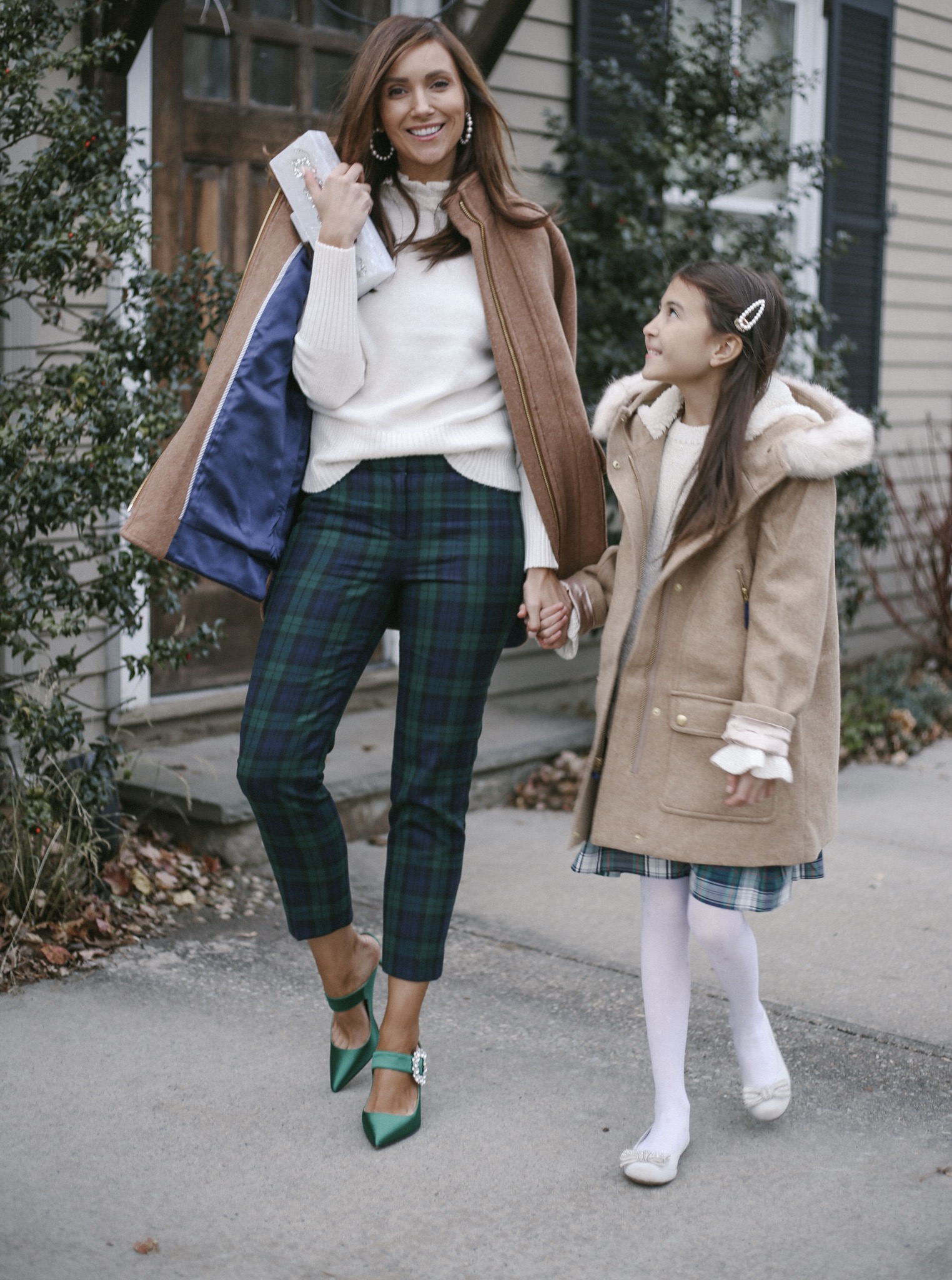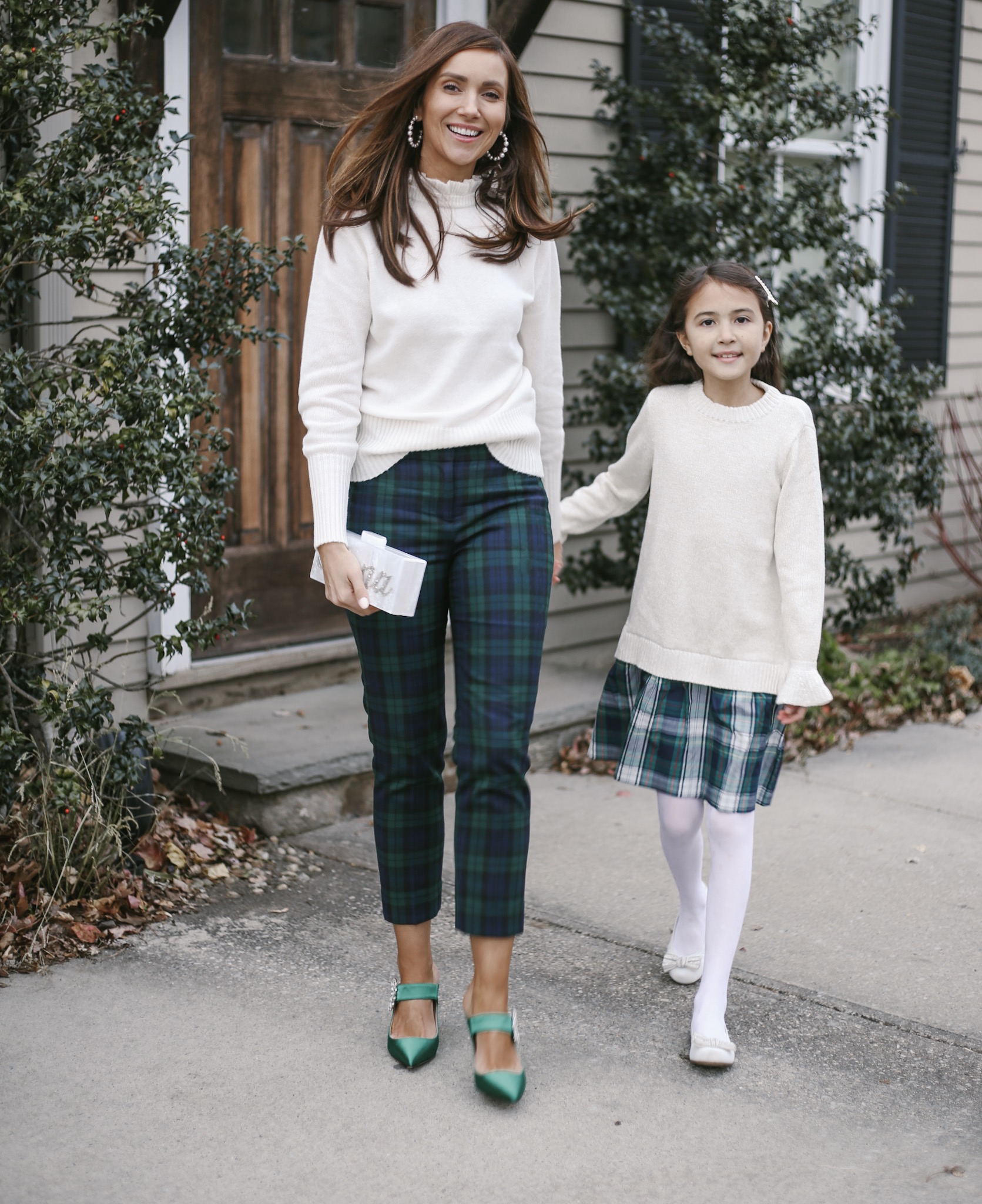 Holiday Style with J.Crew – Fair Isle Sweater and Wedge Boots
SWEATER (Size S) // BEANIE // BOOTS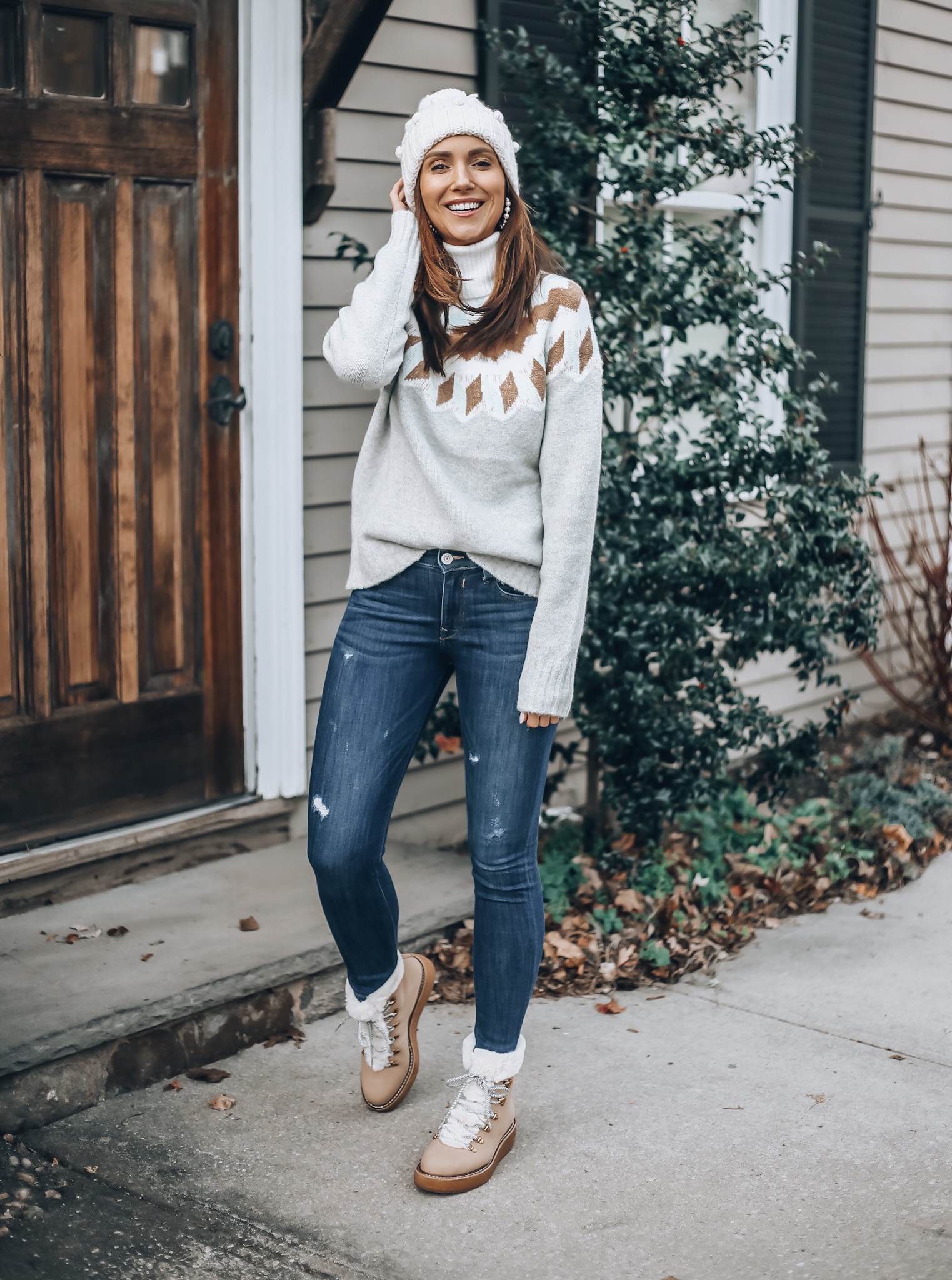 If your holiday style is more casual, you will find amazing selection of cozy sweaters and fun winter accessories at J. Crew. I am obsessed with Fair Isle print. This sweater is so cozy, soft and not itchy. Fits TTS, I am wearing Small. The beanie  is also available in blush, and you can snag a matching scarf here.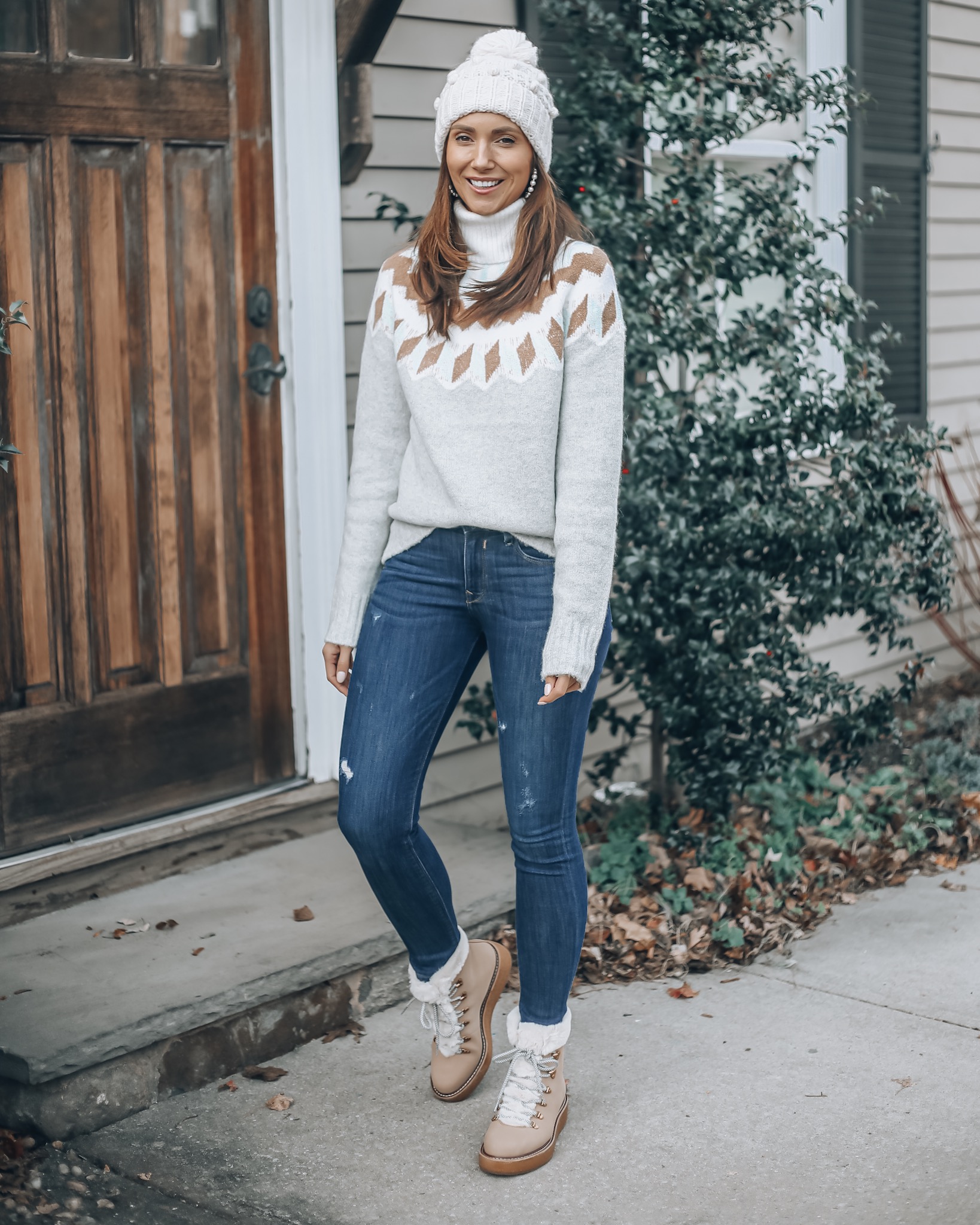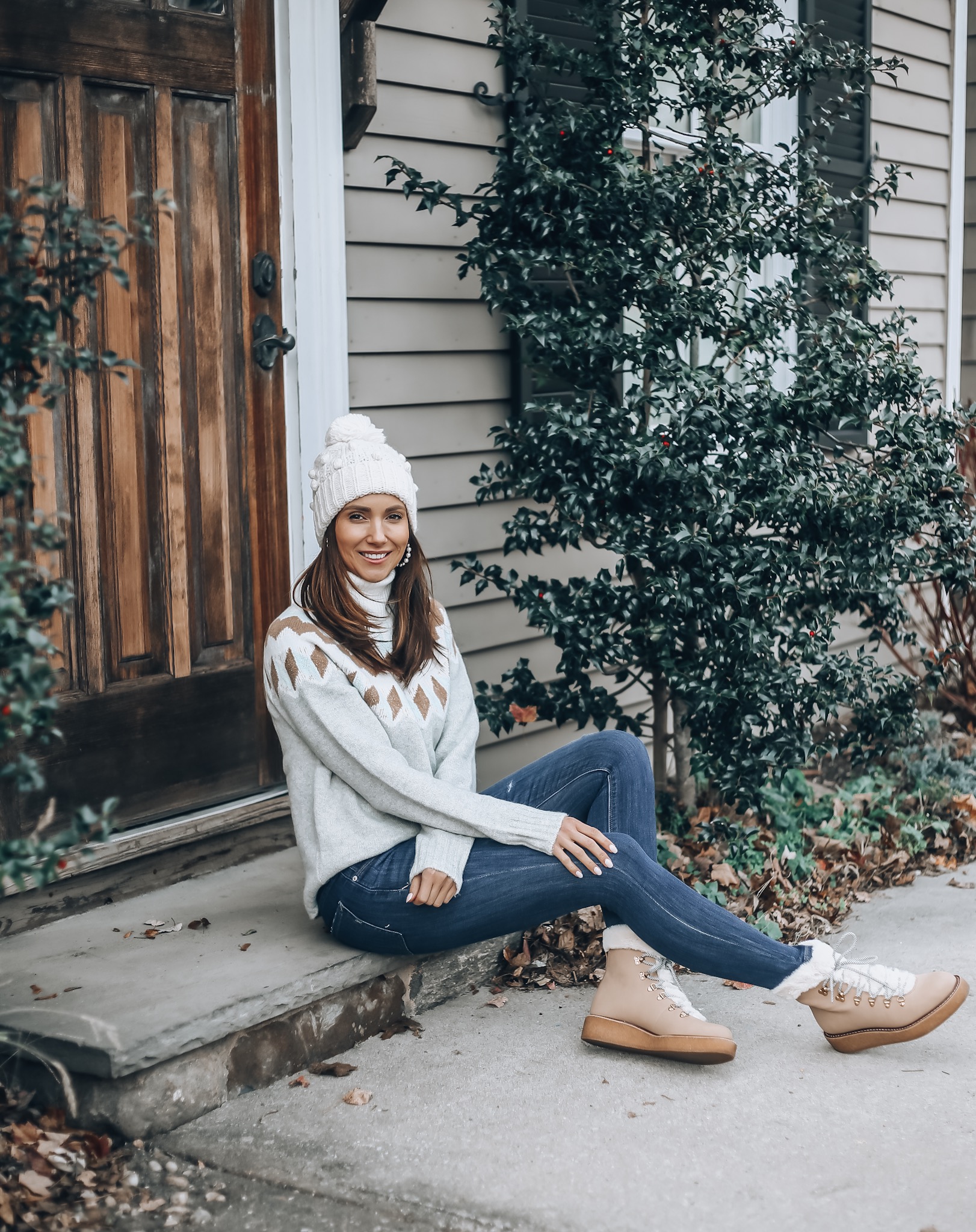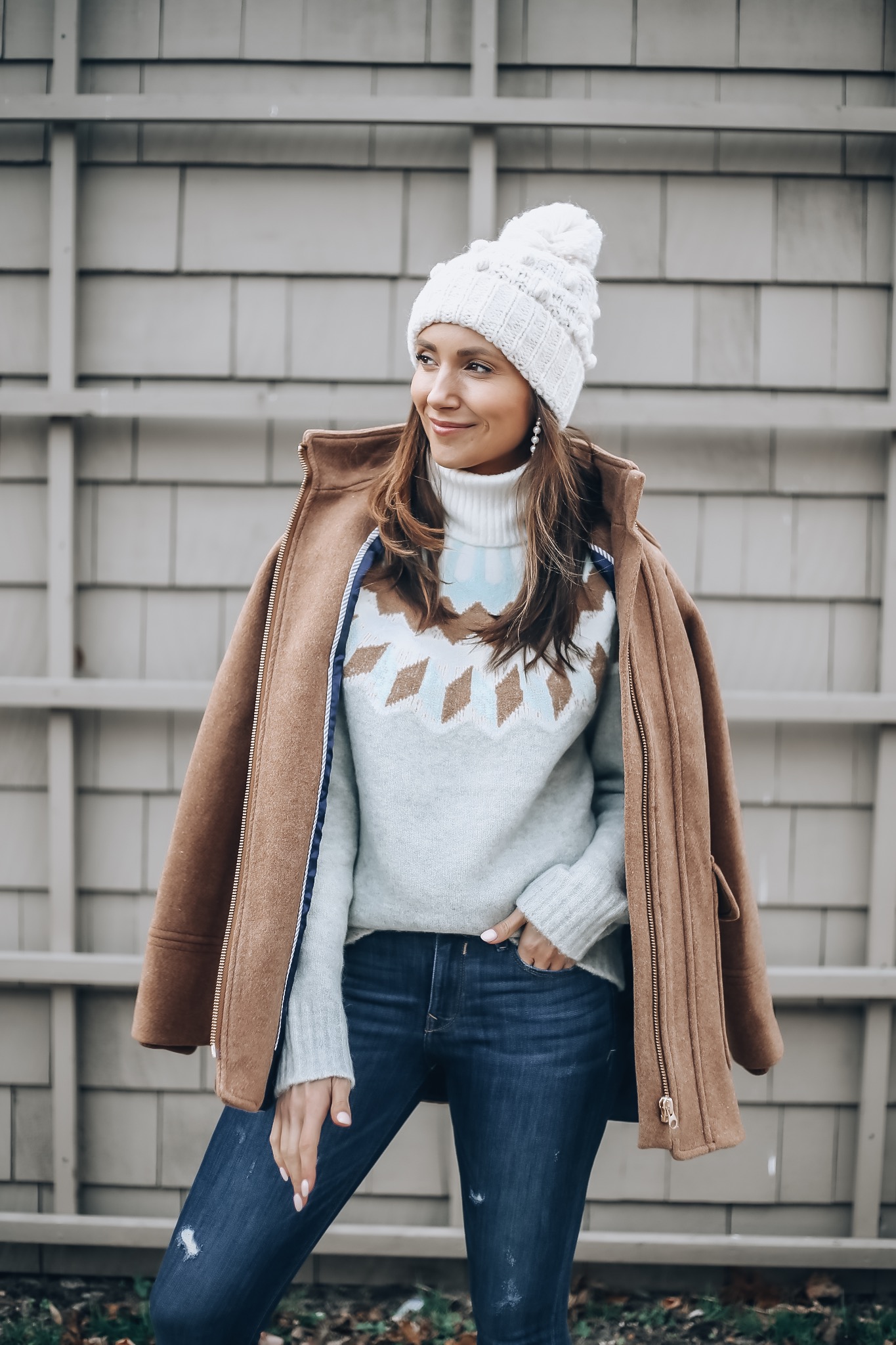 I loved the quality and fit of my Nordic boots from last year. When I saw the new wedge version  in Golden Khaki, I had to grab them before they sell out. Super warm and comfy. Size wise, they run big, I would recommend sizing down by half size).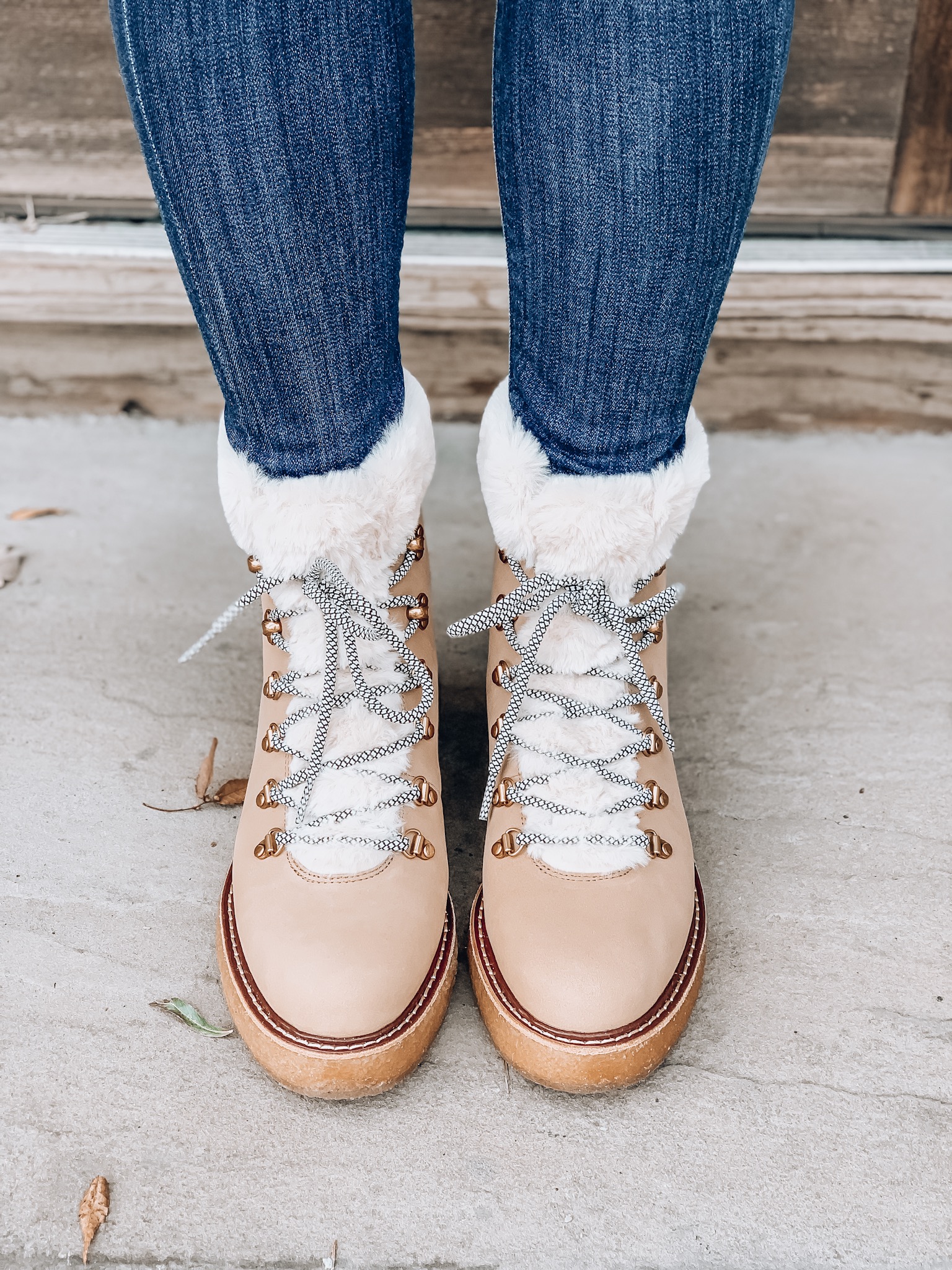 Thank you for visiting Blushing Rose Style. And thank you to J.Crew and RewardStyle for partnering with me on this post. As always, all views and opinions are mine.
XX, Anna