Good morning friends and happy Sunday. Usually my weekends are pretty laid back and relaxing but with the holidays coming up, things are getting pretty hectic around the house. From cleaning and organizing to decorating, there are just not enough hours in the day. Reese and I will be cleaning her room today. It sure seems like it's been taken over by Barbies, LOL dolls, Legos and all kinds of things. And we definitely need to straighten that out before the holidays.
And speaking of the holidays, Thanksgiving is less than two weeks away. Can you believe it?! I'm excited to share with you some affordable and cozy options from Walmart to wear on Thanksgiving.  If you haven't shopped fashion department at Walmart, you are missing out. I know we all love the store for our household goodies and electronics, but Walmart Fashion is sure to exceed your expectations. From trendy pieces like teddy coats, I found this one (you will not believe the price) to wardrobe staples like black block heel booties. I have been super impressed with all my recent purchases. See more of my favorites in these posts
COZY SWEATERS UNDER $30 and FALL WARDROBE ESSENTIALS .
Affordable Thanksgiving Day Outfits
Nothing better to wear for the Thanksgiving Day feast than a comfy sweater dress! This one is pretty close to perfection. It might just be my favorite thing I've ever ordered from Walmart. It reminds me of a designer version, which was really popular last year. The dress itself is soft, comfortable, and has great length. It doesn't cling to your body, so it's very flattering. Beautiful neutral color and I love the button details. Fits TTS.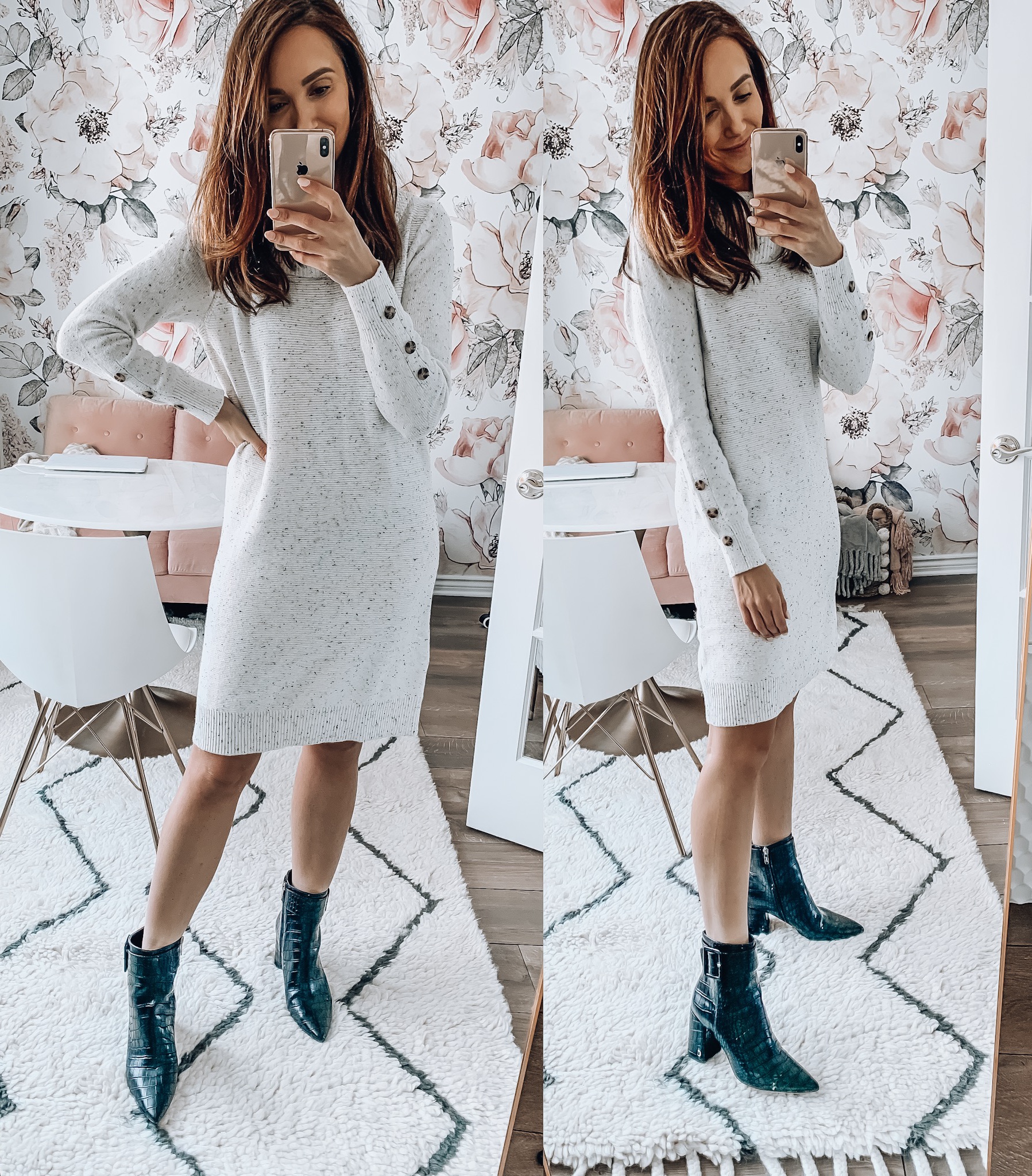 Walmart has so many great dress options at amazing prices. If you are getting a  bit more dressy for the holidays, but still want to be comfy this is a great black dress with a bohemian feel. It has great length but I would recommend wearing a slip underneath since it is a bit sheer.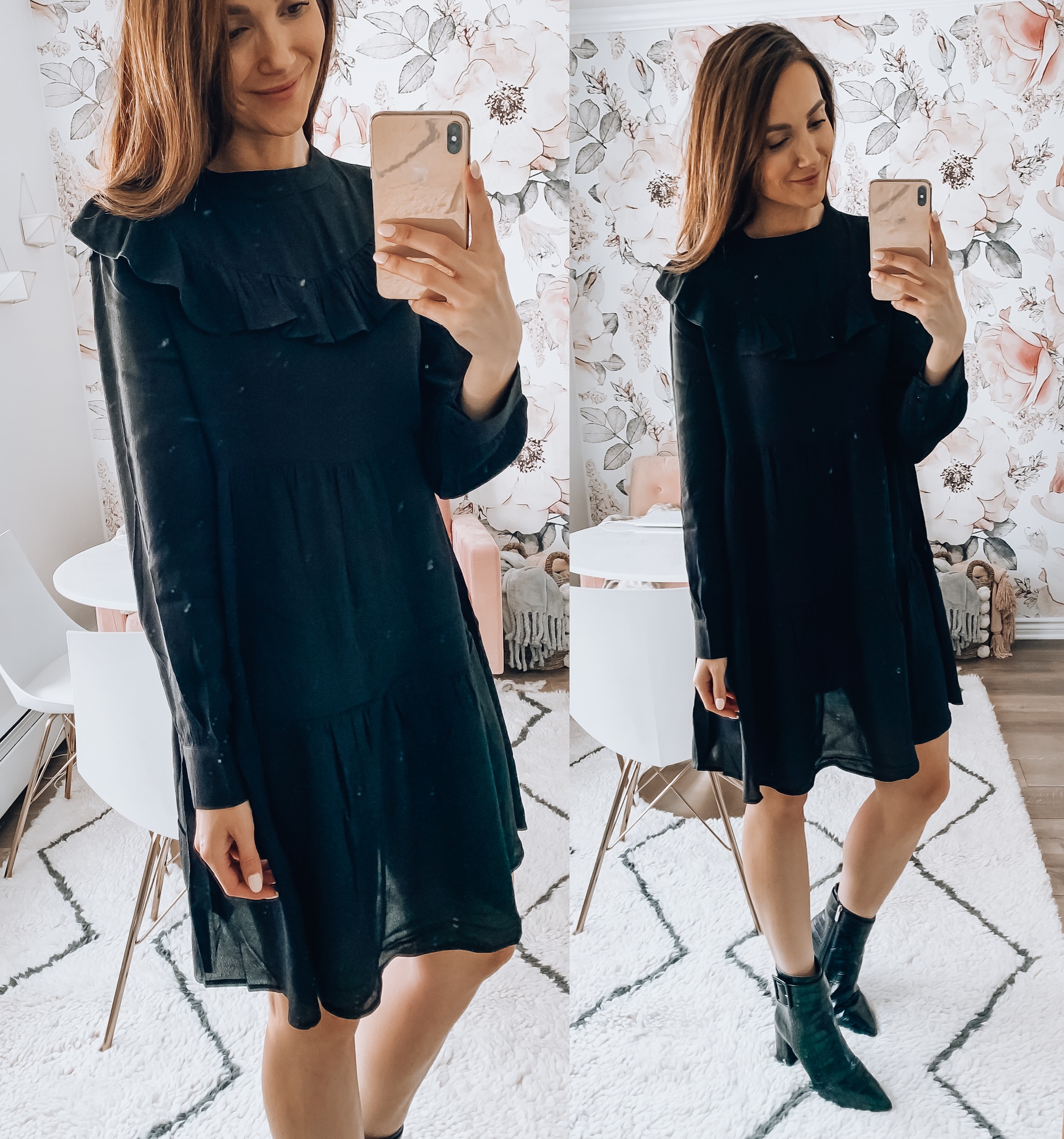 Same dress as above only in this fun, red print. It's so cute, right? I'm usually not a fan of bold red prints but I really like this one! It is much less sheer than the black dress, so no need to wear a slip underneath.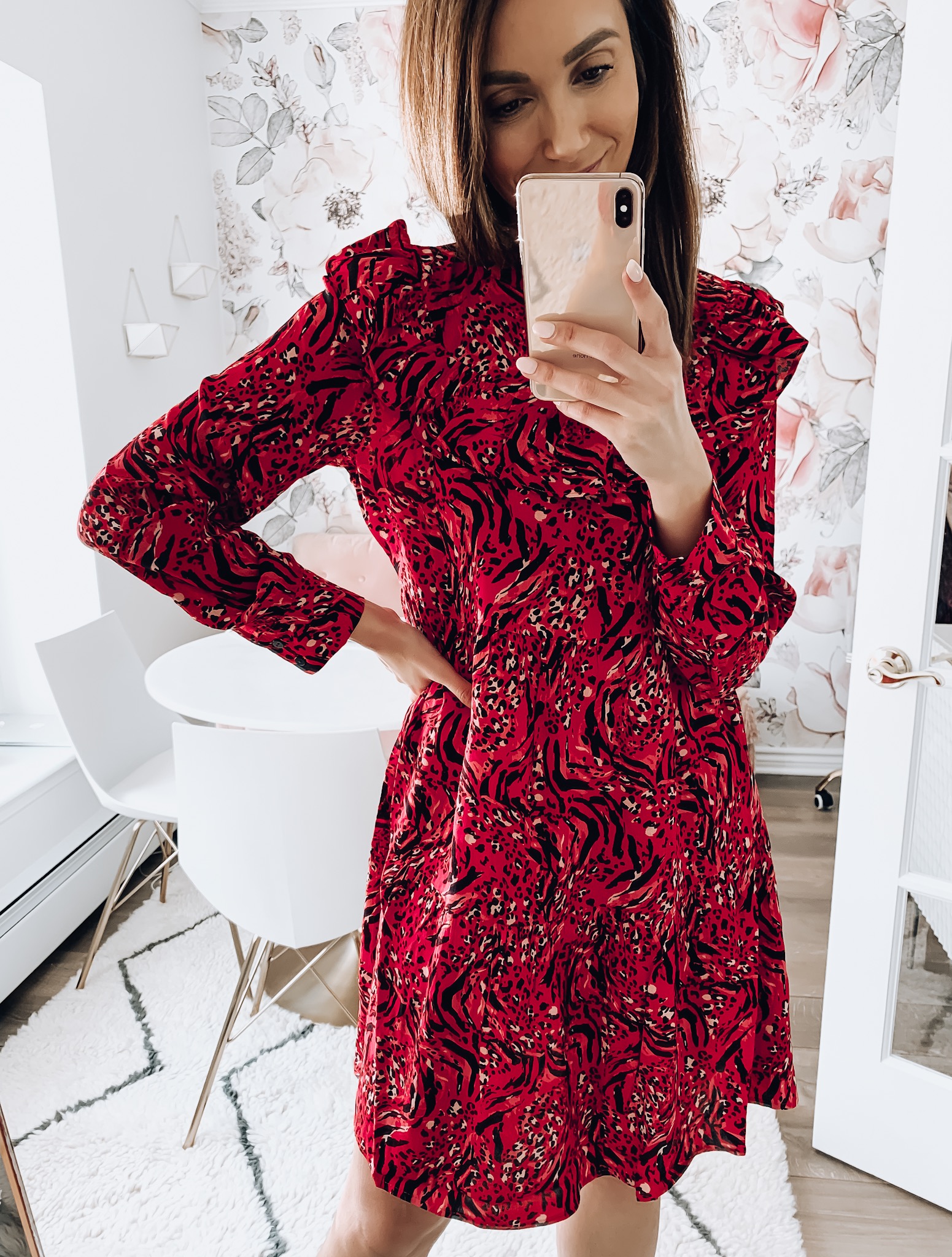 Affordable Thanksgiving Day Outfits – Cozy Sweaters
Can one have too many sweaters? Asking for a friend… This is such a cozy option! I love the mock neckline, the color palette and the fact that it is so soft. Great length for skinny jeans or leggings.
SWEATER (Size S) // JEANS (similar)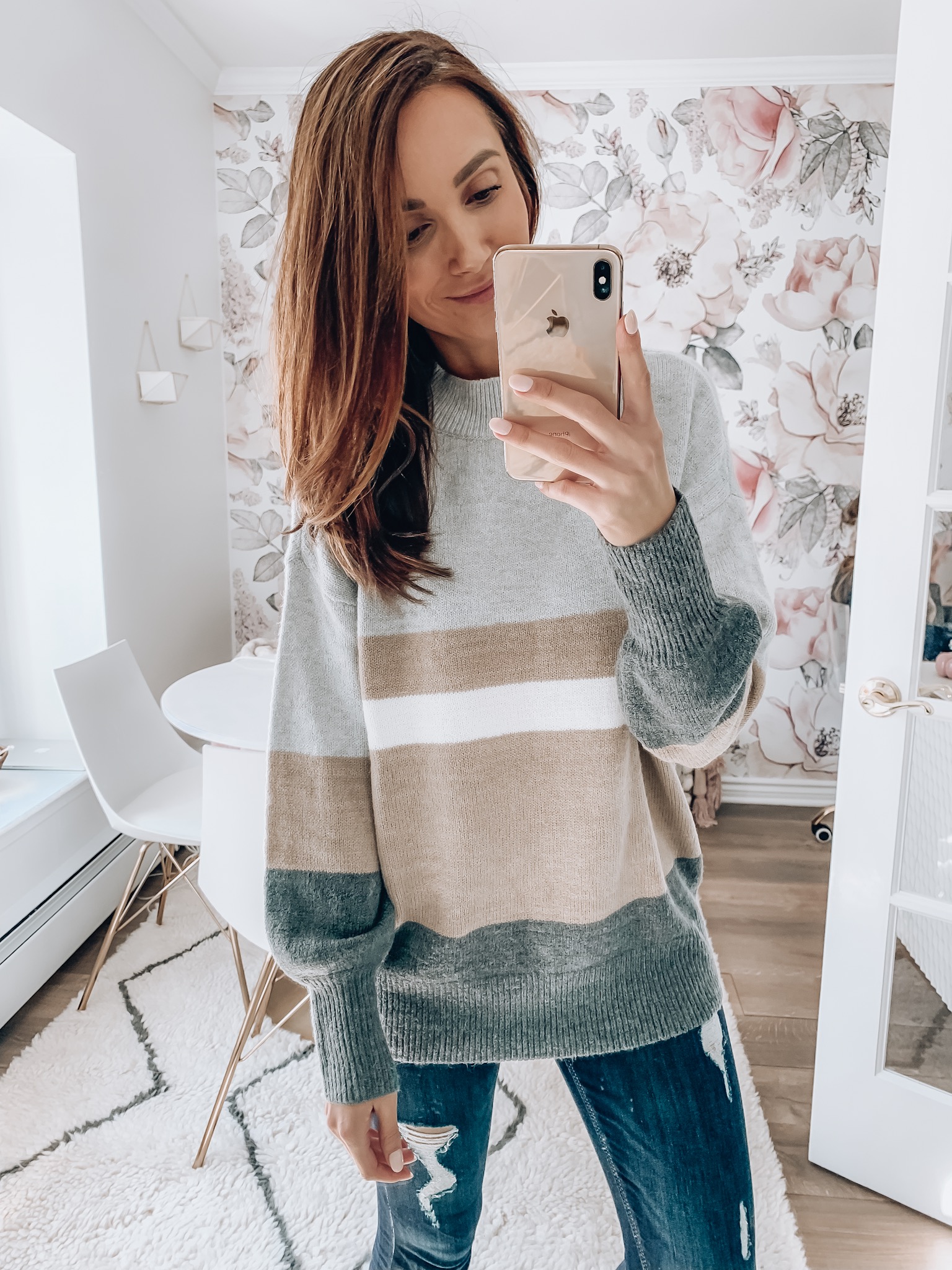 Chenille sweaters were so popular last season, and this year there are even more options. I hav a feeling this cozy fabric is here to stay. This sweater is available in 6 other colors. The fit is boxy but not cropped by any means. So snuggly and soft. For more dressy look, you can pair it with a sequin skirt.
SWEATER (Size S) // SEQUIN SKIRT // JEANS (smilar)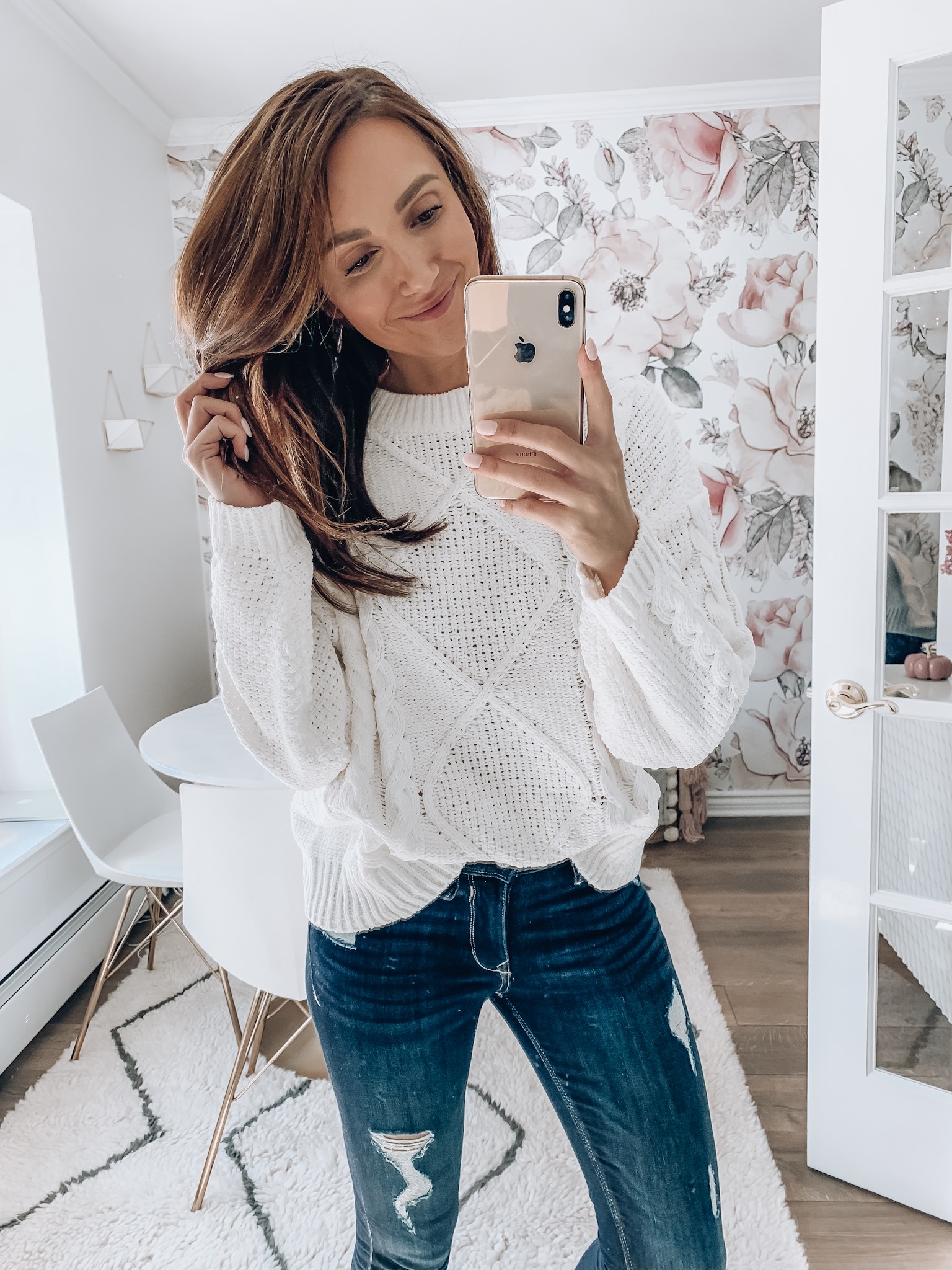 This is a great cardigan in the trendy aztec print. It's soft, and is pretty thick for a cardigan. Best part? It's $18!
CARDIGAN  (Size S)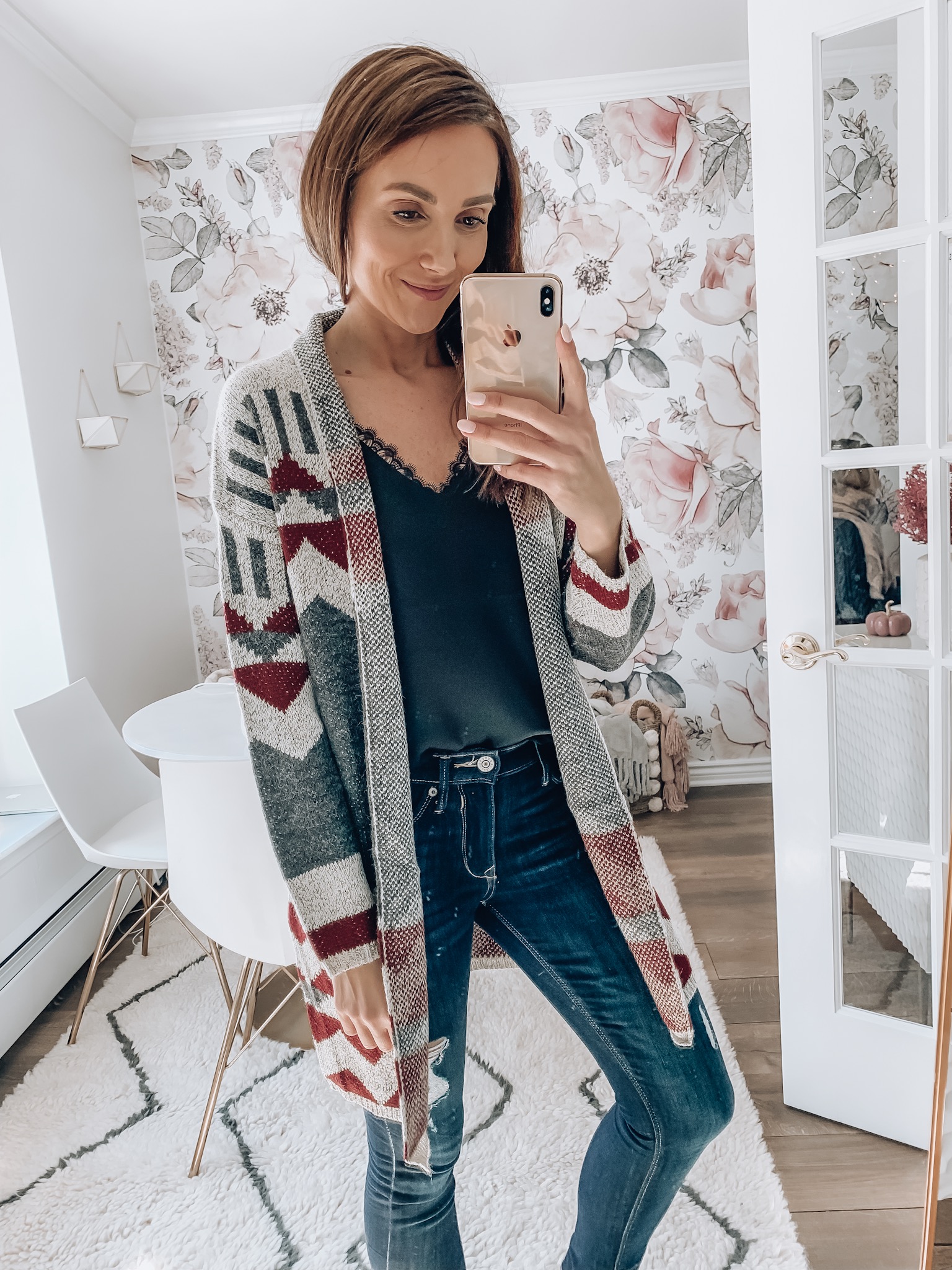 Affordable Thanksgiving Day Outfit Ideas –
After Party Attire aka Cozy Pjs
After enjoying a filling Thanksgiving meal, who doesn't love putting on PJs and watching a holiday movie? These PJs are SO soft that I can't get over it! The design is pretty and festive. It also available in 5 other designs and colors.
PJ SET (Size S)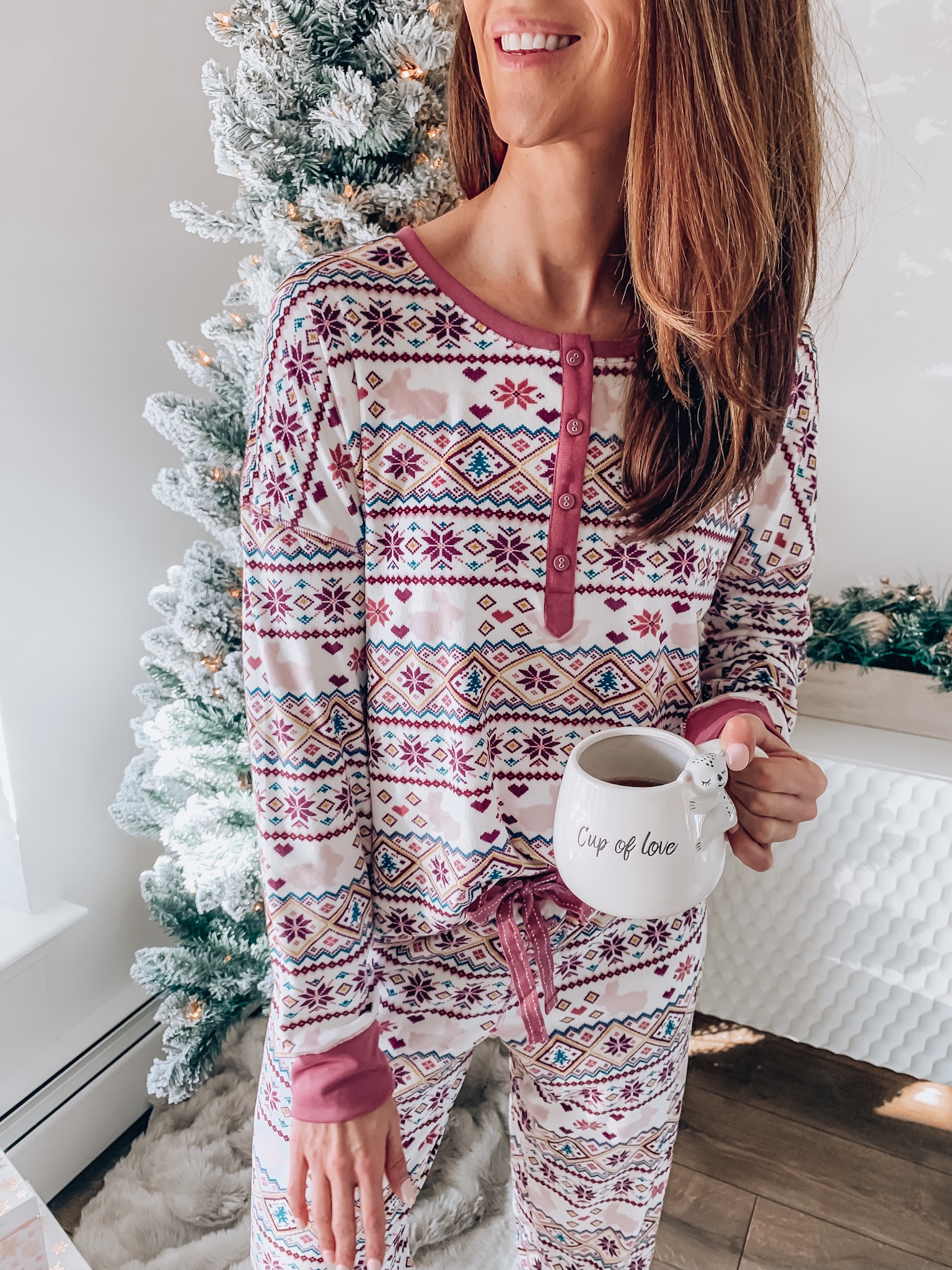 A great substitute for a robe, this cozy sherpa pairs well with PJS and loungewear. It also comes in 5 other colors.
SHERPA (Size S)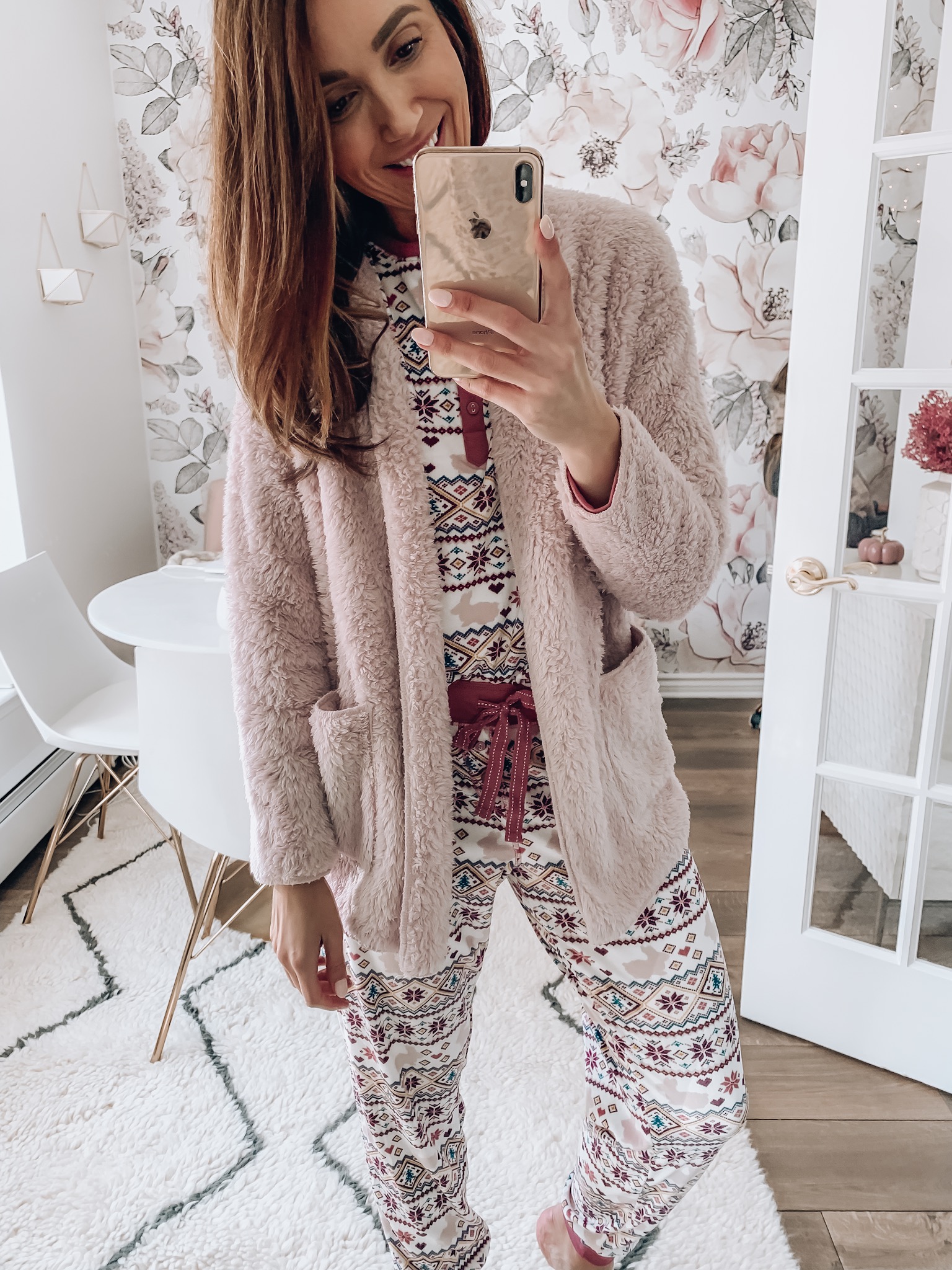 A great dupe designer slippers, these are $14 and machine washable. They also are available in grey.
SLIPPERS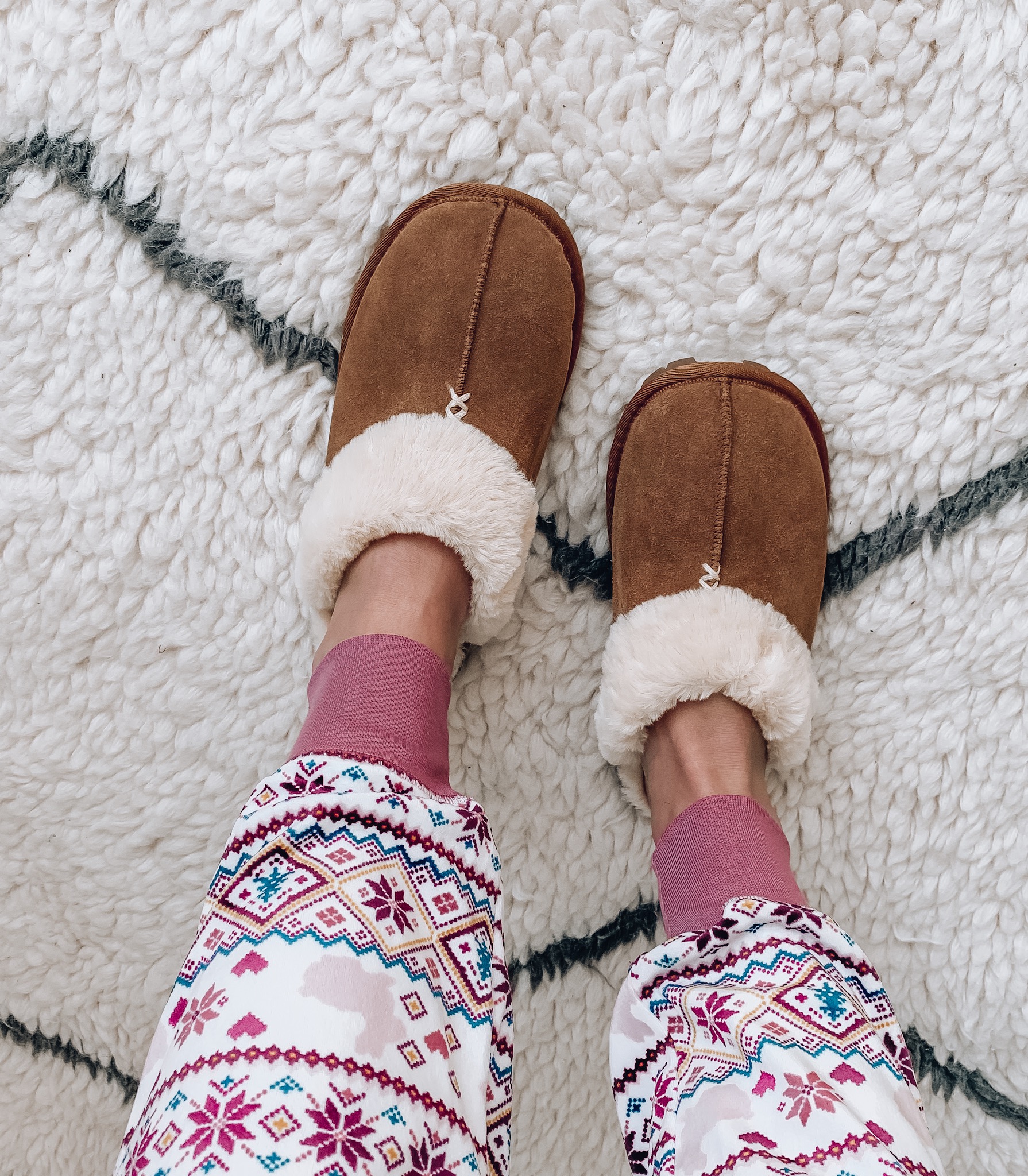 Other fun holiday PJ options

Saved the best for last! Where to start with this comfy outfit?! I was so surprised when I tried on this pullover and realized that it is pretty much the exact same as one that I own by another brand. This one is so soft, fits great and is under $20! A great dupe! Believe it or not, but these leggings come in a two pack, the other pair is black and they are fleece lined! I must mention that they are $11. I adore the sloth festive print.
PULLOVER (Size S) // LEGGINGS (Size S)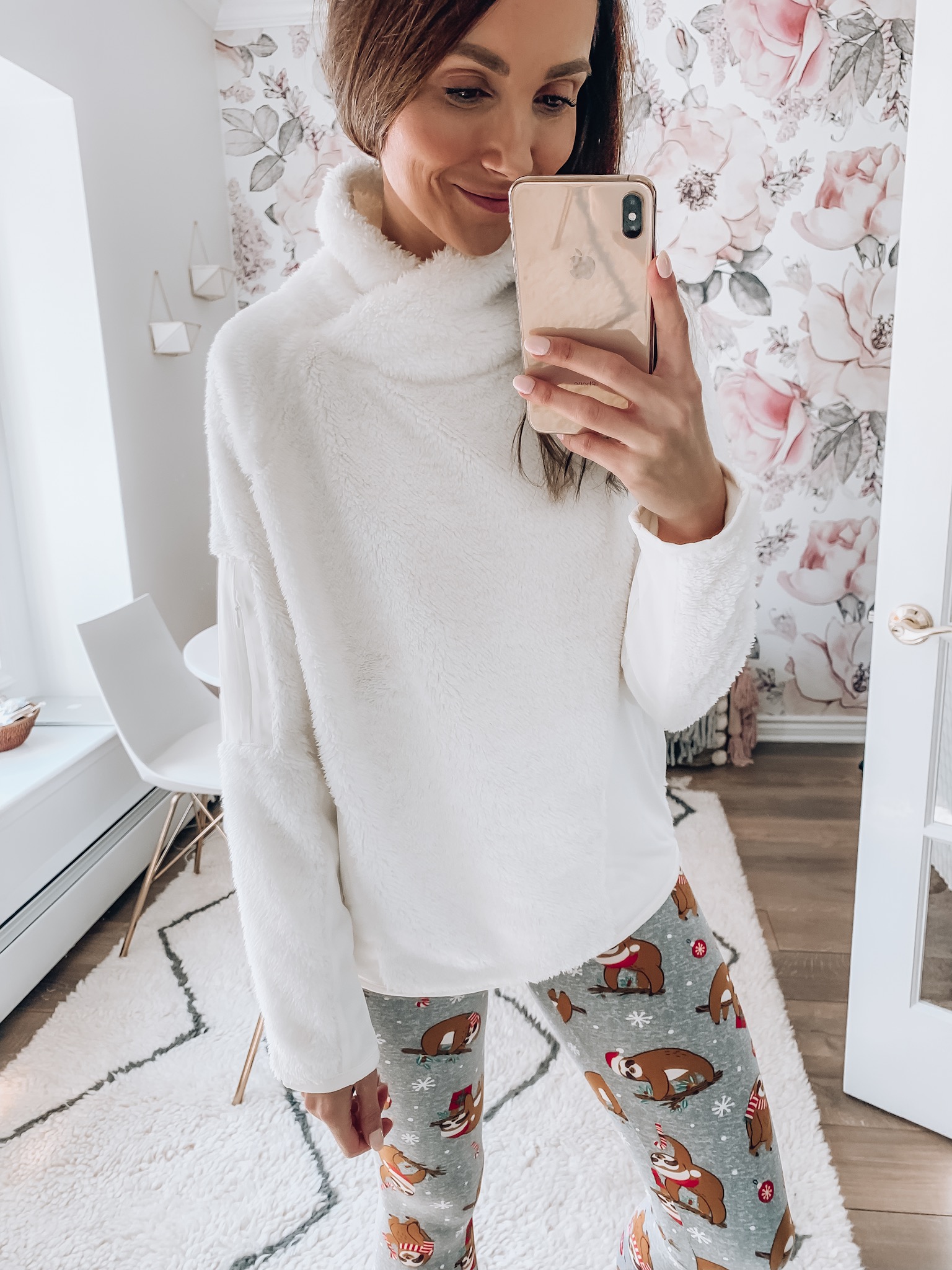 Thank you so much for visiting Blushing Rose Style blog. And very special thank you to Walmart and RewardStyle for partnering with me on this post. As always, all views and opinions are mine.
XX,
Anna