Hi girls. Happy Sunday! Another cold January weekend for us. Gosh, I know the winter has just began, but I am already craving spring. Anyone else feels the same way??? Speaking of January, it is the month of goal setting, planning for the entire year and of course the notorious New Year resolutions. This may just be one of my favorite times of the year, even though it is my least favorite weather wise. I love January because it is a fresh start after the holiday madness, overeating and being overstimulated by social events and family. This month offers slower pace and allows time for reflection. I am definitely behind when it comes to setting goals for 2020. I  have a vision of where I want to be personally and professionally, but still need more time to set up a plan on how to get there. One thing I know for sure, I want to create and cultivate better habits this year. Habits that will benefit me not only physically but also mentally.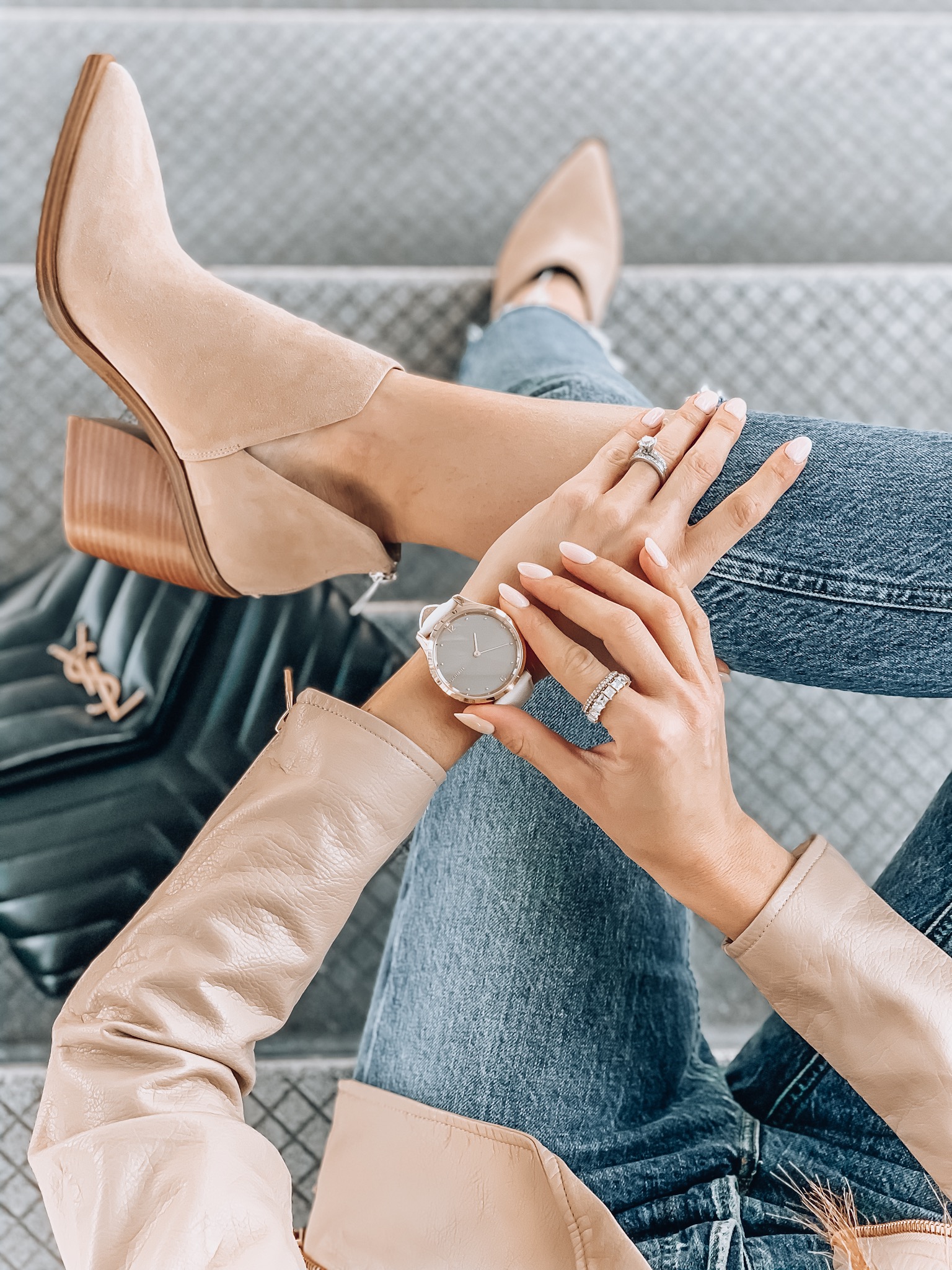 Cultivating Good Habits
I am in a totally different place compared to where I was last year health-wise. I worked out consistently in 2019, but there are still some things I need to work on. Honestly, these are small changes but I know they will make a huge difference in the way I feel.
Drink more water – so simple, yet I struggle with adequate hydration everyday
Stress management – I do not handle stress well. I feel embarrassed to admit but under stress I lash out at those closest to me. I get snippy, short and maybe not so pleasant.
Gratitude – practice it daily. I have so much to be grateful for, and I definitely take time to appreciate it. They say "some pray, for what you already have"- it is so true.
Get to bed early! I am a night owl, and still try to wake up before everyone else. It is just a matter of time before it takes a toll on my health.
Garmin Vivomove Luxe – My Favorite Features
I just got my new Garmin Vivomove Luxe watch few weeks ago and I love all the smart watch features and capabilities. I have a total confidence that I can create and cultivate good habits with the daily help and reminders from the watch.
We have been a Garmin – loyal family for years now. I ran all of my races, including the NYC Half Marathon and the NYC Marathon with my trusted Garmin Forerunner35. So accurate, I have total confidence in the pace/ distance tracking.  And before upgrading to Vivomove Luxe, I had the VivomoveHR (you can read all about its features in THIS post). John has been using the Garmin Vivoactiv HR for the past few years, but recently upgraded to Fēnix® 5. He loves his watch and all its features. It would make a great gift for the guy who has it all! Men are so hard to shop for.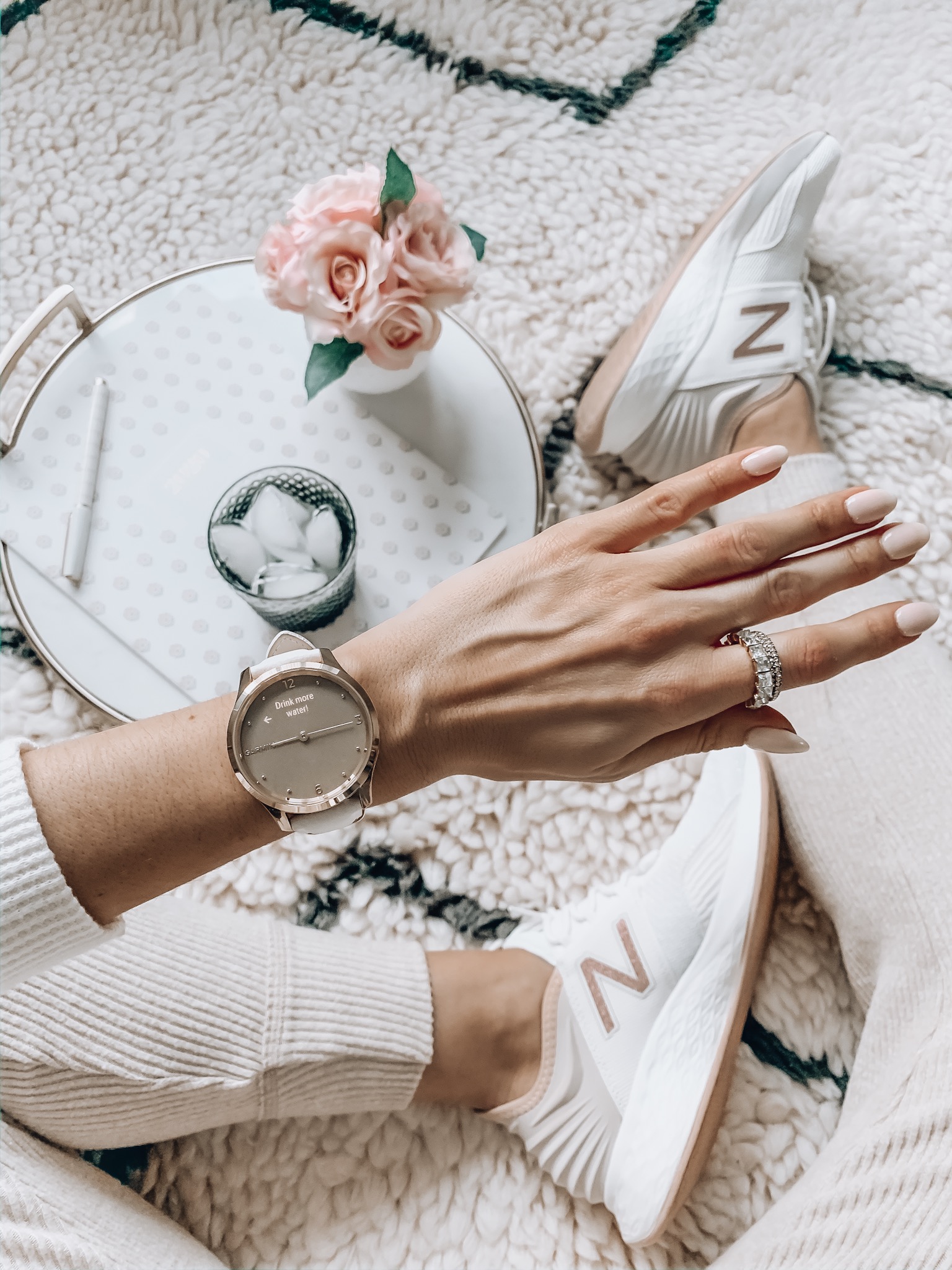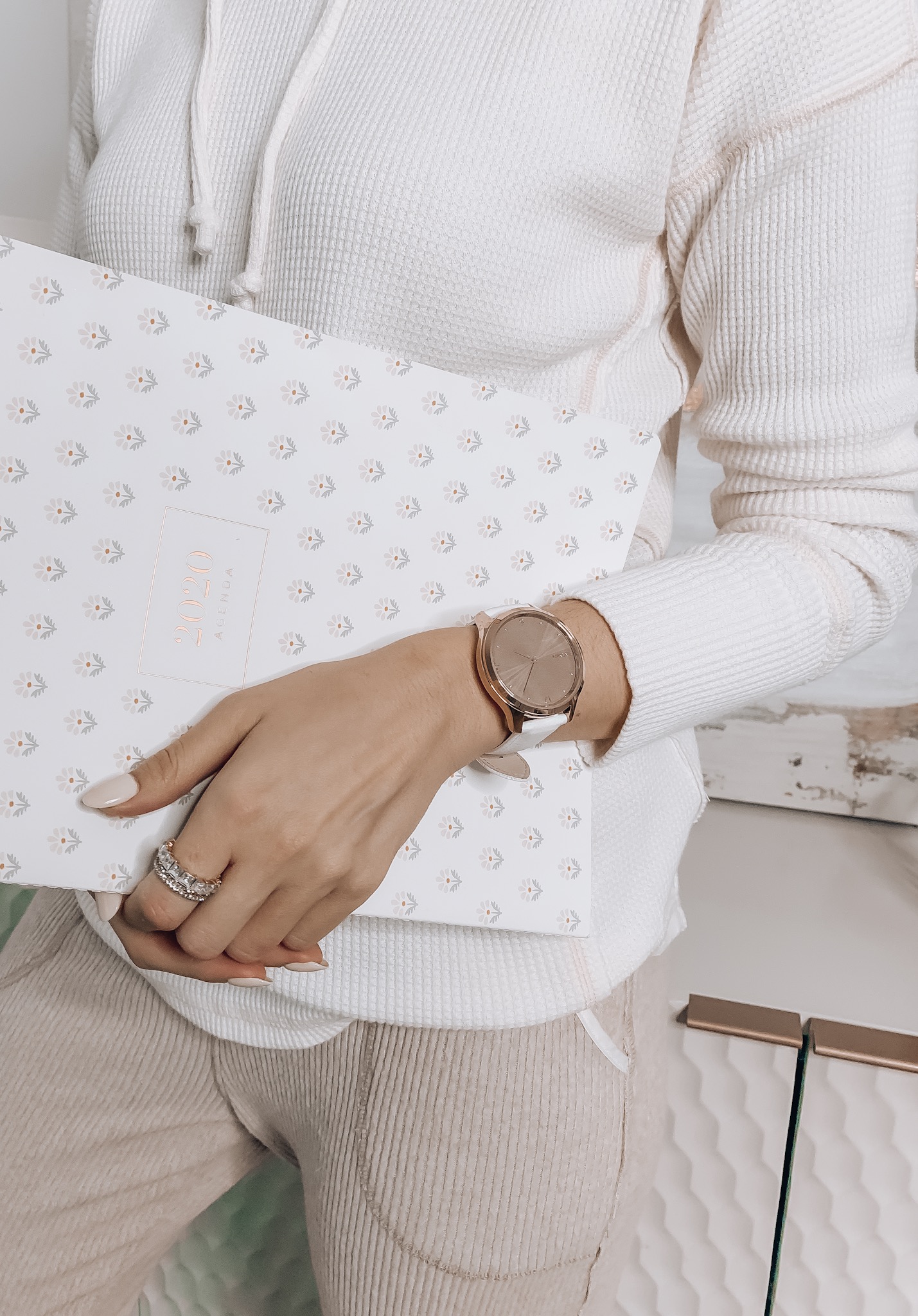 My Favorite Features:
Analog watch design with smart watch features – I love the way  it looks. Often smart watches look to sporty and size-wise are too bulky. I can wear this watch will all my outfits from casual to dressy. The color icons are a nice touch (yes you can customize your color)
Track your steps, floors climbed and body battery. Yes, you can track your energy level! Energy level aka body battery– current energy calculated based on stress, sleep and activity. Higher the number, higher the energy.
Monitor the stress level– measures heart rate variability while inactive to estimate stress level. Lower number, lower stress. This is a pretty cool feature because it definitely makes you become self aware of how you're feeling. Guided breathing feature –  through the stress level widget, you can swipe and select relax, set timer to follow instructions for guided breathing.
I love the water intake feature! I can easily add how many cups I've drank by just tapping the screen.
Battery Life–  up to 5 days on a single charge!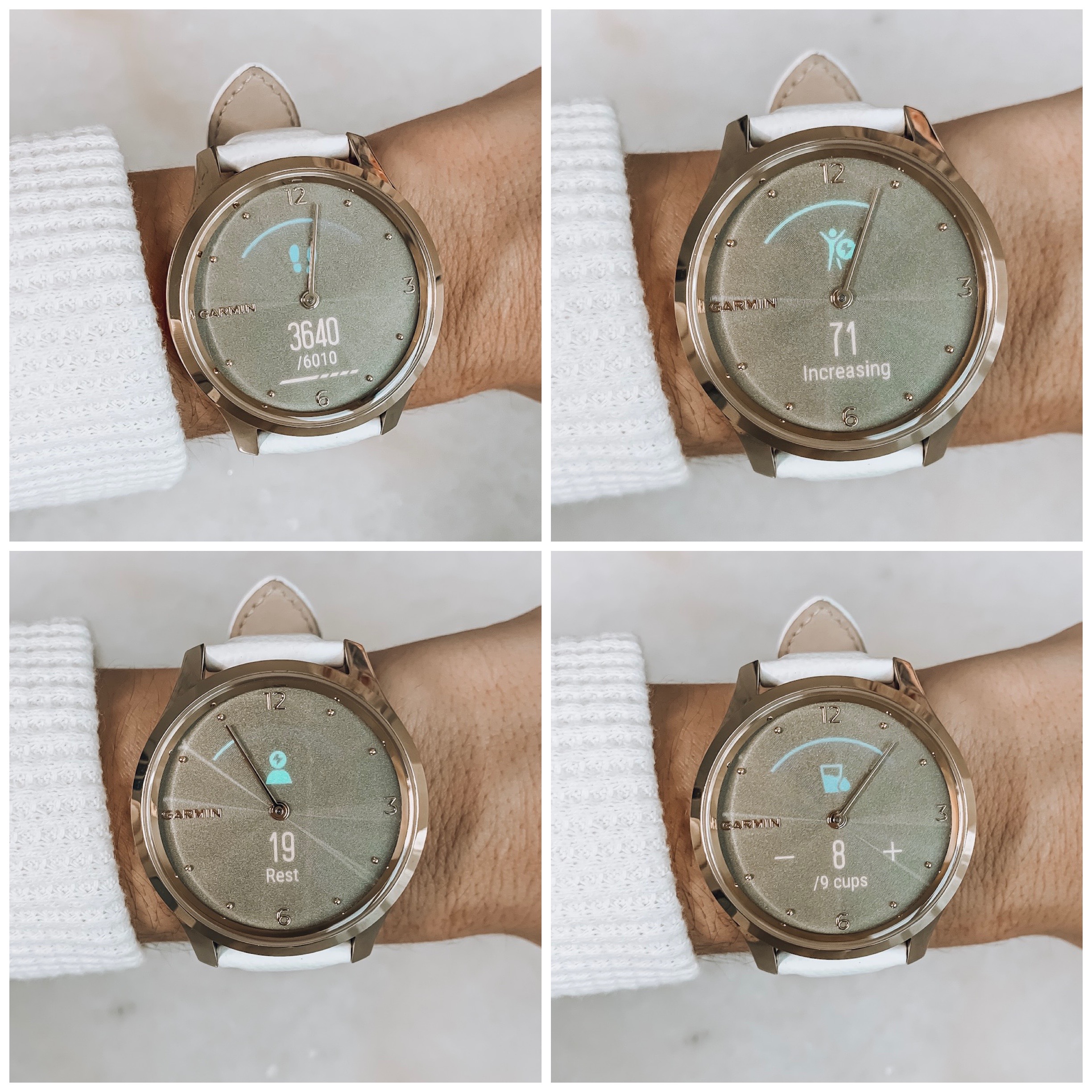 The watch also displays heart rate, the current weather, my menstrual cycle and messages. There is so much more that this watch can do for you. It really works for any lifestyle and best part you customize to choose the features / widgets to help you accomplish your daily goals.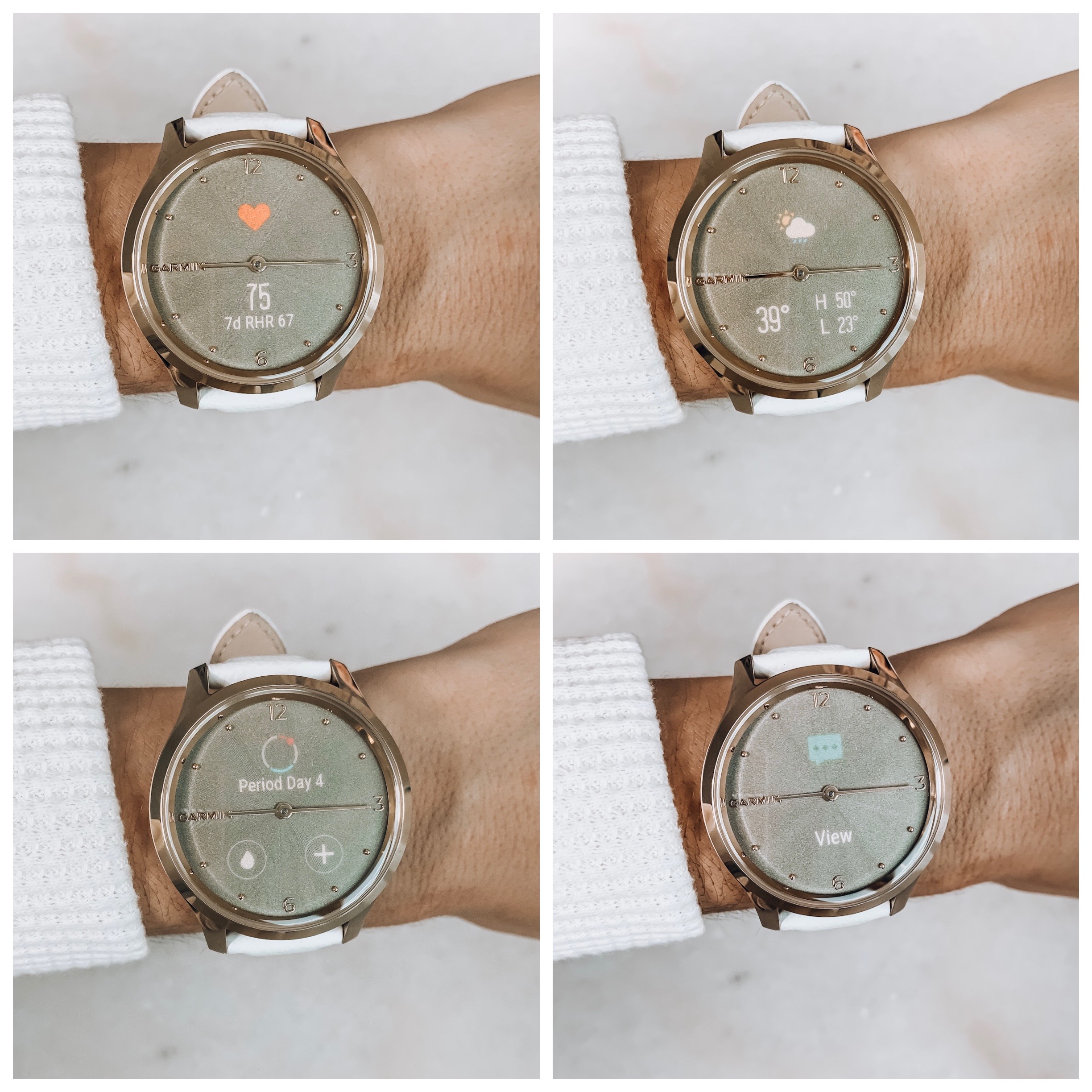 One of the things I like most about this watch is it's aesthetic! It's beautiful, easy to wear and goes with everything. You can shop the entire watch selection HERE.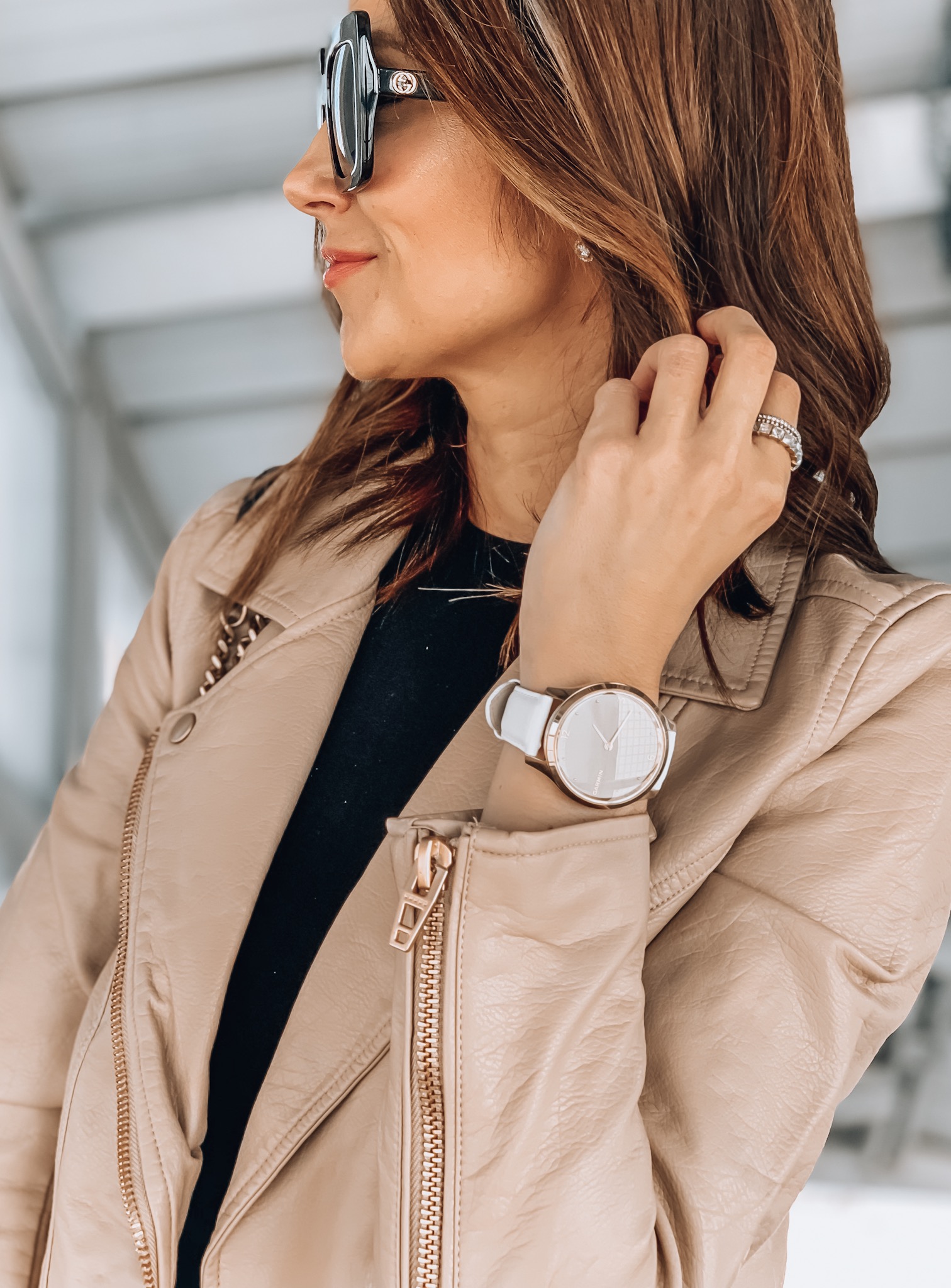 Thank you so much for visiting Blushing Rose Style blog. And very special thank you to Garmin for partnering with me on this post. As always, all views and opinions are mine.
XX,
Anna