Hi friends. Spring is officially here which truly means so much especially with everything that is currently going on and our lives have been slightly altered. Staying active and getting all my steps in for the day, is not as easy as it once was. My Garmin Vivomove Luxe watch is often a grim reminder of how inactive I have been. I made a promise to myself earlier this week, to workout 7 days in a row. Now, I know it may sound aggressive, but since I have been living a sedentary lifestyle far the past few weeks, even a 20 min cycling class will do me some good!
I feel like more than ever I am enjoying my Garmin Vivomove Luxe  because it is keeping me accountable and on somewhat on  track! My kids are home – Reese and I are still holding our daily step challenges! Spoiler alert-  not doing so great at meeting our goals. But we are actively trying to change that by incorporating walks (while socially distant to others of course). She has the vivofit jr. and loves it. One of my favorite features (among many) is that it reminds me to move! It literally will buzz and tell me to "Move!" which is a nice reminder that even working from home and being inside that I still need to get up for a short break.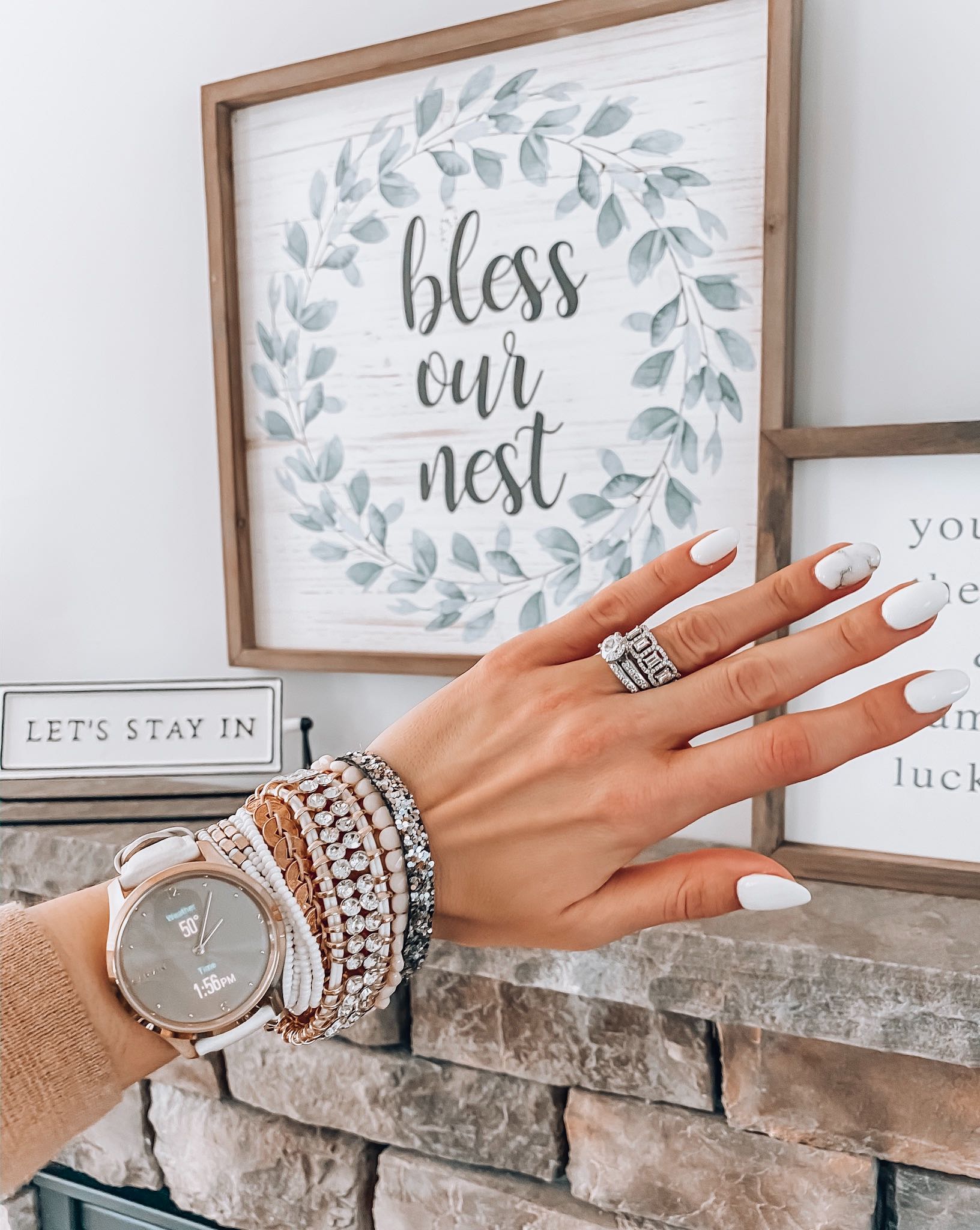 Eek I am really excited to announce that you can save 20% on the Vivomove Luxe watch with my code ANNA. This limited time offer starts today March 25 and is valid through March 29. This is a big deal to save on my favorite watch! This would make an amazing birthday gift, Mother's Day gift or a treat for yourself.  This watch has never been on sale or discounted before, so it is such a great opportunity to save!

Question – who remembers buying the portable car GPS devices? I think I still have mine! Chances are it was Garmin. While the brand was known for the car GPS systems, is is now the market leader when it comes to fitness and smart watches We are a Garmin family for sure! John has his fancy Fēnix watch, Reese has Vivo Jr, and I have both the Forerunner and Vivomove Luxe.
Why I Love This Watch
I have written about all the amazing features of this watch in this post, but here are my top five I have found that I cannot live without:
Stress tracking – This is a really cool feature because it measures and compares your heart rate when your inactive vs. when you're active. By doing this, it can indicate when certain moments in your day can elevate how you're feeling and determine when you might need to take a break. Funny, my watch often buzzes while I'm responding to emails or sitting in traffic haha
Body Battery– Such an amazing feature! Just like you want your phone battery always at 100%, you want your body battery high. Scale 1-100. Calculated based on stress / activity / HR variability, sleep. You should wear your watch consistently (even when you sleep) for accuracy, the watch needs to get to know you.
Hydration – One of my favorite features. Set daily hydration goals. This is huge for me, as I am one of these people who hates / forgets to drink water. How do I struggle with that? Not sure, but Garmin helps me stay on track with this as well!
Period Tracking – when was the last time you had your period? This is the question, I could never answer before. I am obsessed with this feature. I enter when my period starts, and when it ends. The widget offers educational info for every phase of the menstrual cycle (you can view these in the Connect app). You can can even log in your symptoms to better understand your cycle.
HR – Constant HR tracking! This is huge for accuracy! Because you're wearing the watch consistently on your wrist, it can precisely and more accurately sample your heart-rate. It will alert you if it gets too high or goes too low. This is helpful to monitor how hard you're working when exercising.
Bonus: Battery life of 5 days! And even after the battery is dead, the watch will still work for additional 5 days (the old school analog way), 50 meter water rating.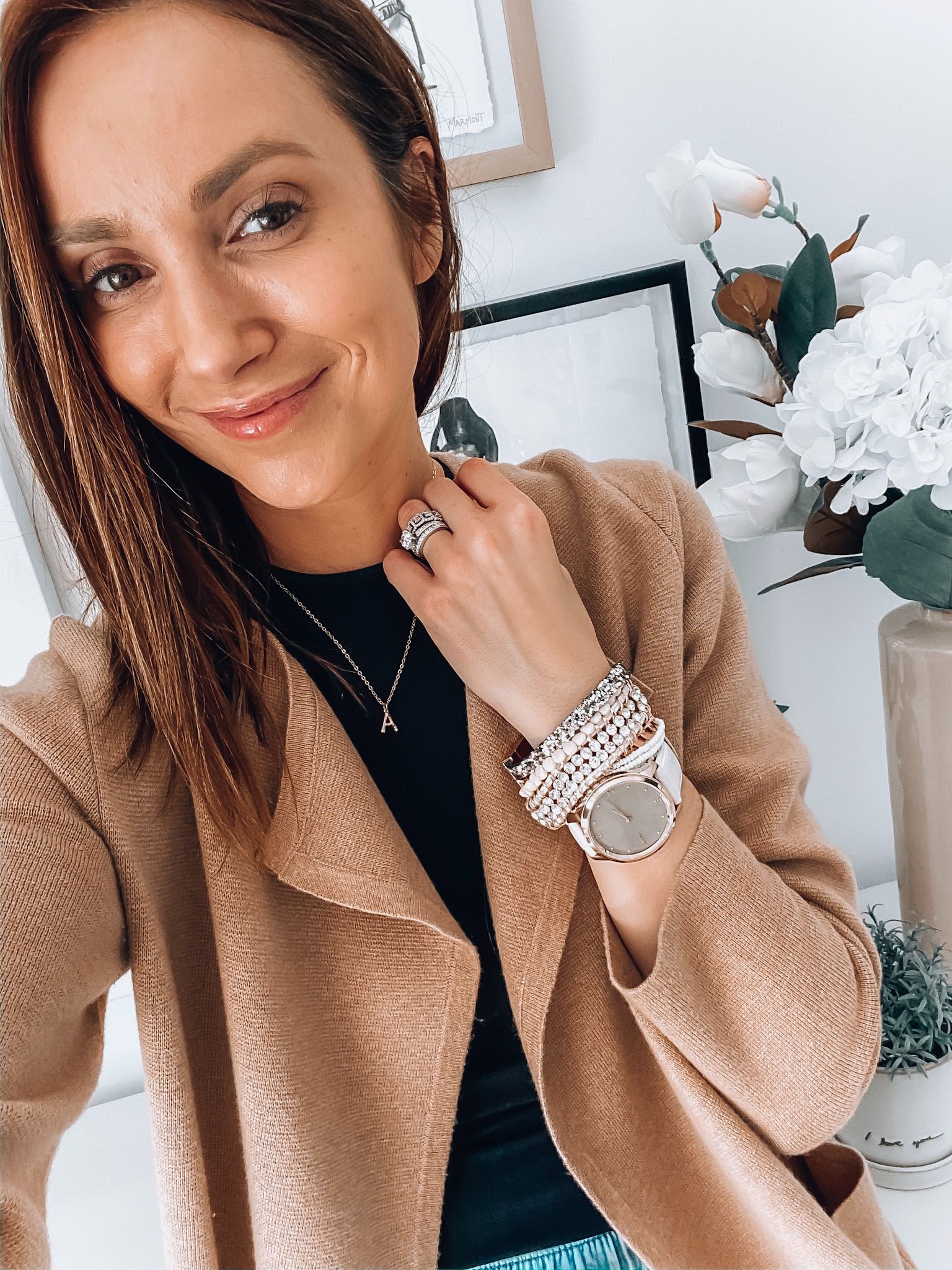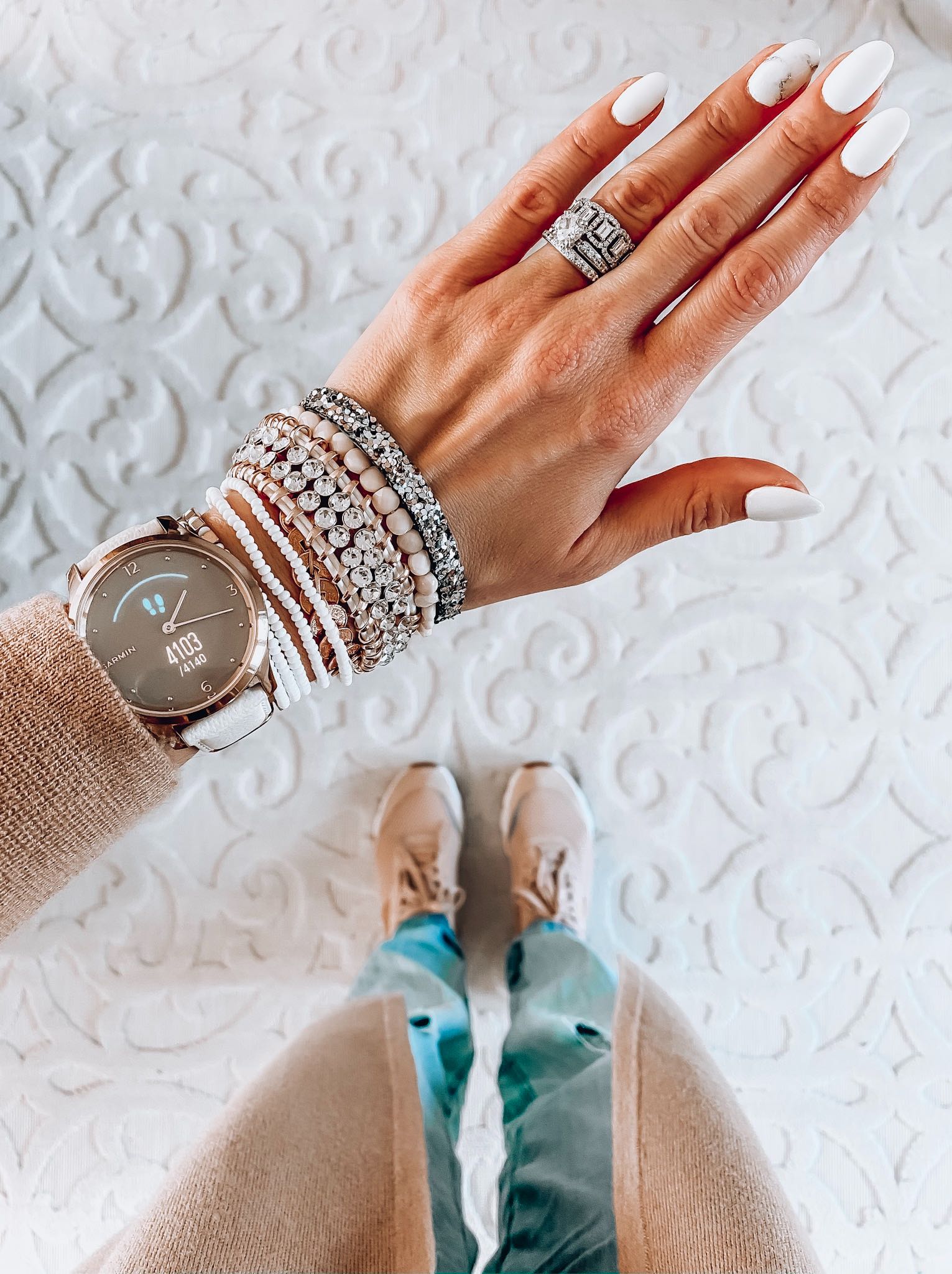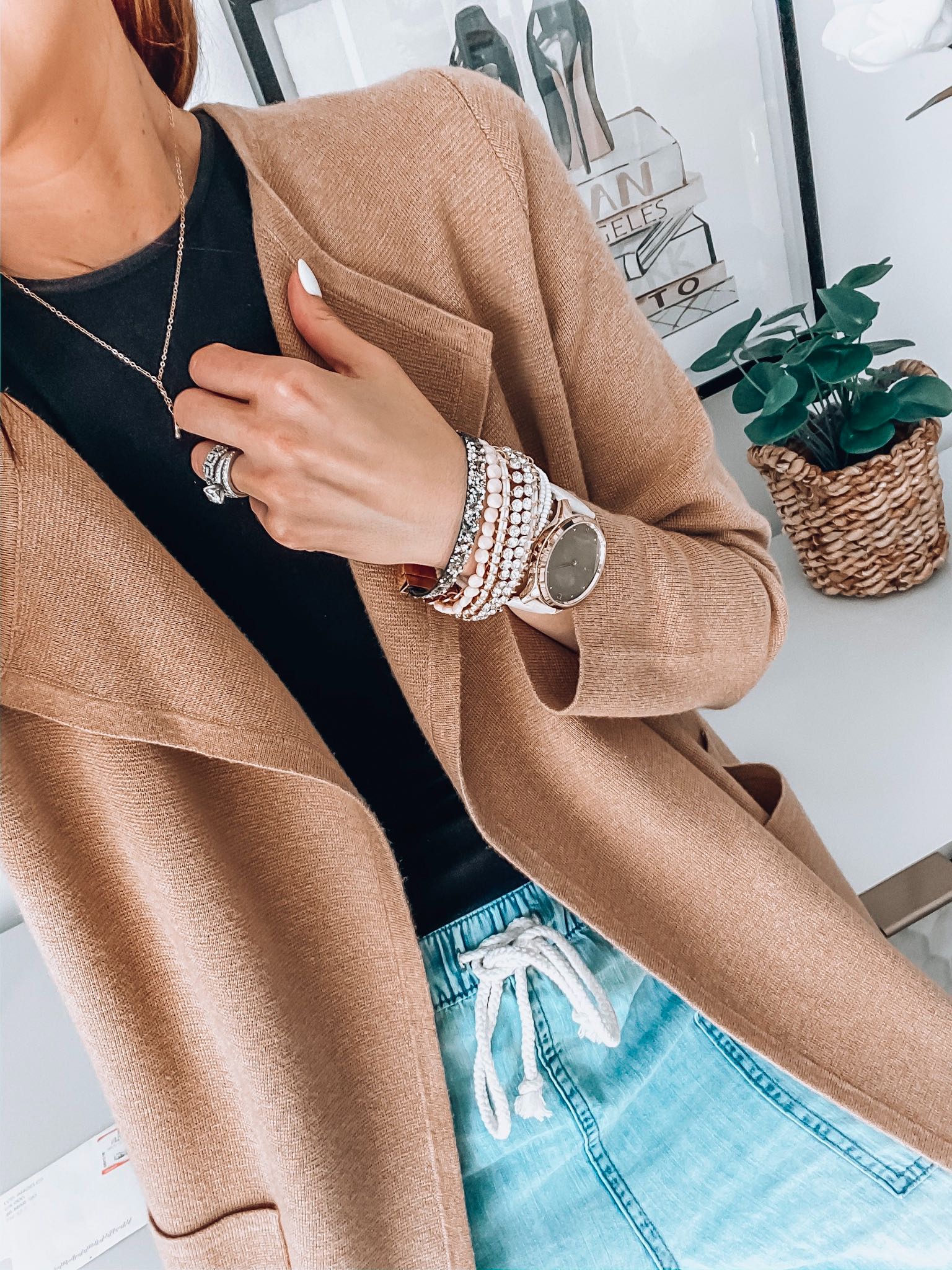 While only the Vivomove luxe is included in this promo, I still wanted to share other Garmin smart watch models that might interest you based on price point and features. Each watch will provide a great outcome depending on what fits your needs.
VIVOMOVE HR // VIVOMOVE 3S // VIVOMOVE LUXE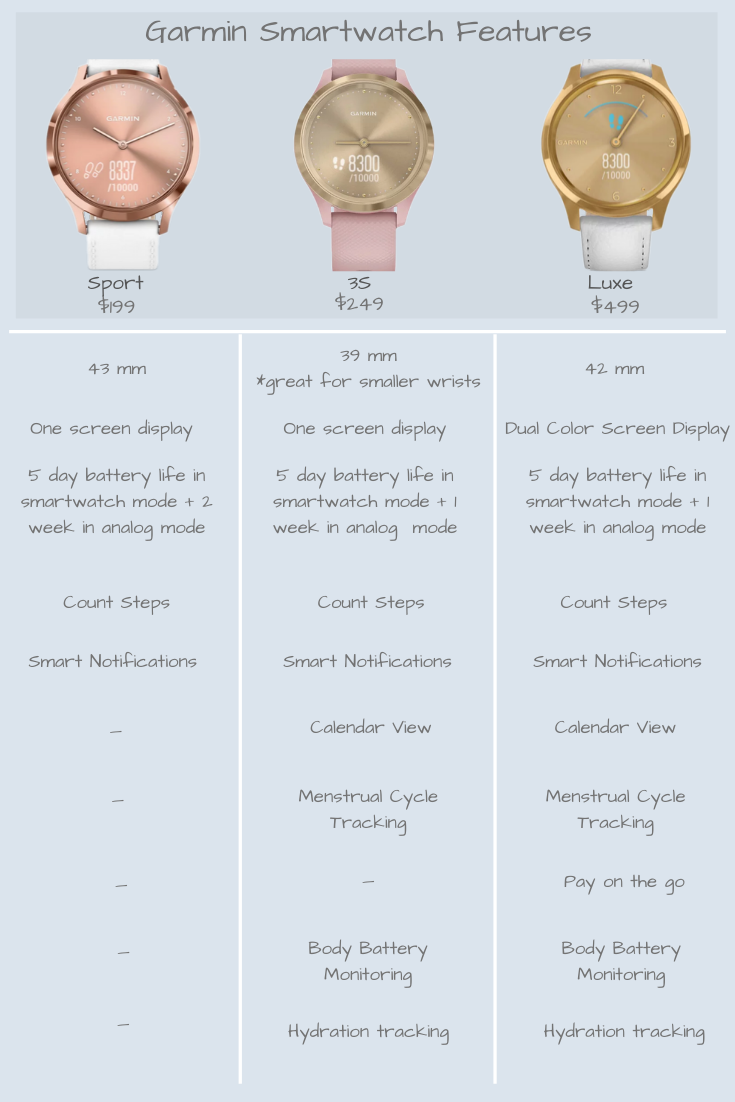 Thank you for visiting Blushing Rose Style. And very special thanks to the Garmin team for partnering with me on this post! As always, all views and opinions are mine.