Girls, I am finally reviewing THE PAN everyone is talking about! For the past few months I have been seeing this pan everywhere, from social media posts and ads, to even my friends raving all about the Our Place Always Pan. I don't know about you, but I love kitchen tools and gadgets especially when they are this good looking! I even asked Blushing Rose Style readers for feedback and the response volume was overwhelming – you either have it and LOVE IT, or just like me you want to know more! Is this pan really worth the hype?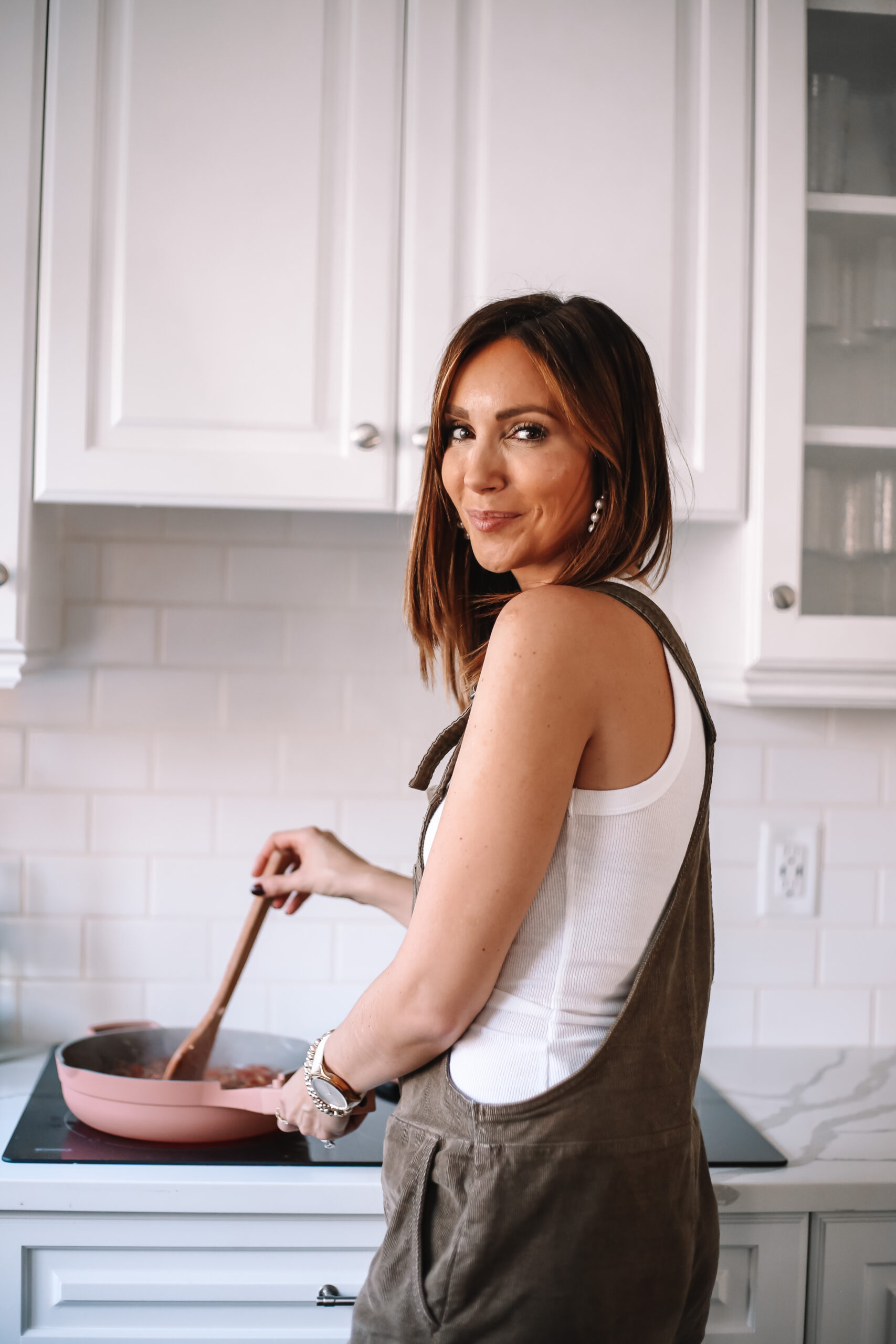 When I first saw the famous Our Place Always Pan, I was instantly drawn to it. I mean it is a looker that's for sure. And it's a multifunctional pan that could replace several other pots in your kitchen. Talk about space saving!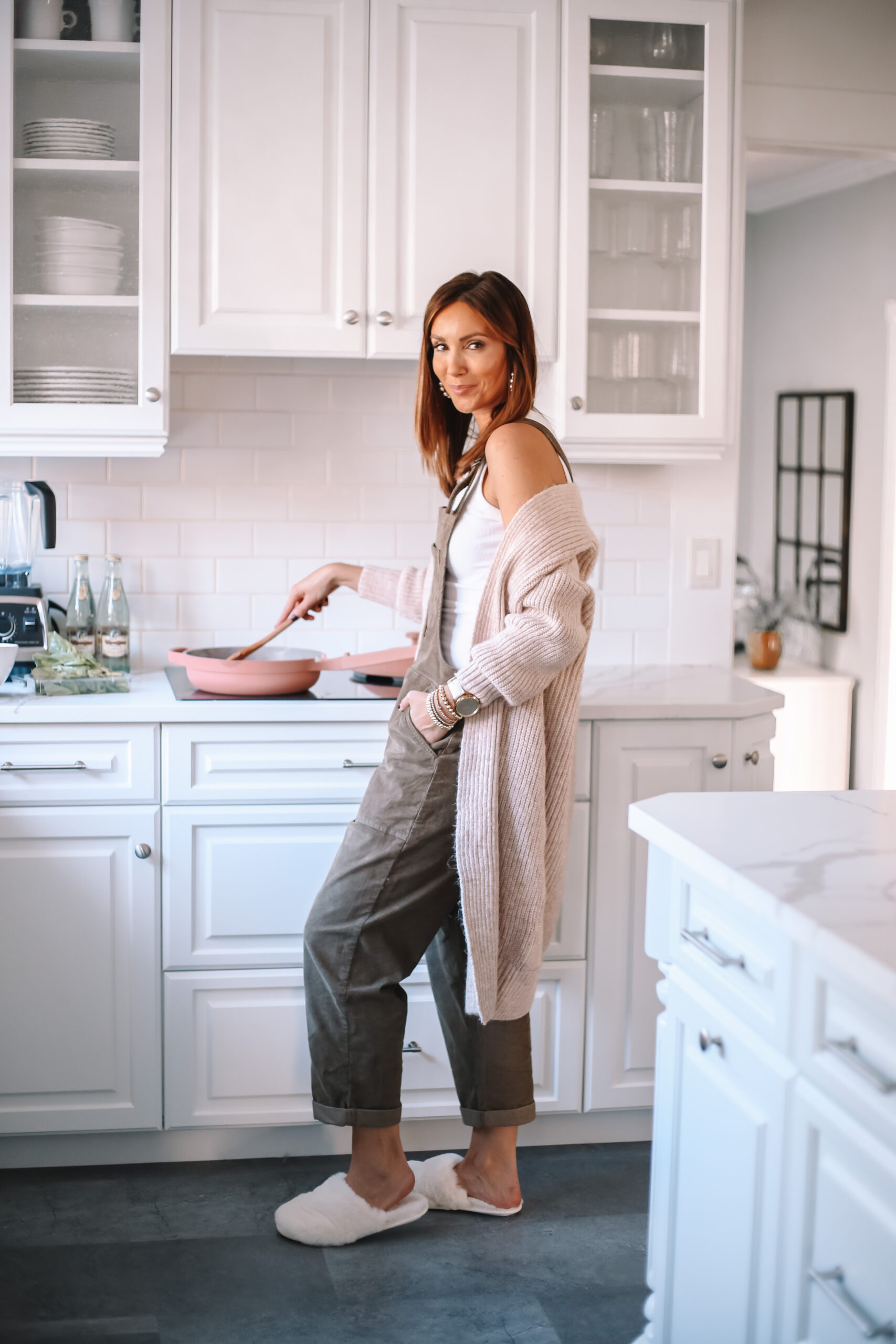 I've had the pan now for few weeks and I have to say – I approve. I mean I know I am not a professional chef, but this gal knows her place around the kitchen and over the years I have tried and tested out many many popular kitchen tools and cookware pieces. One of my favorite features is the functionality of the Always Pan.Preparing dinner on week nights can be so hectic. Between homework and after school activities having a one pot meal makes for a much easier dinner experience for us all. I have several quick (I'm talking under 20 min) recipes. And many of them are one pot meals!
Save $50 off with code FFFALWAYSPAN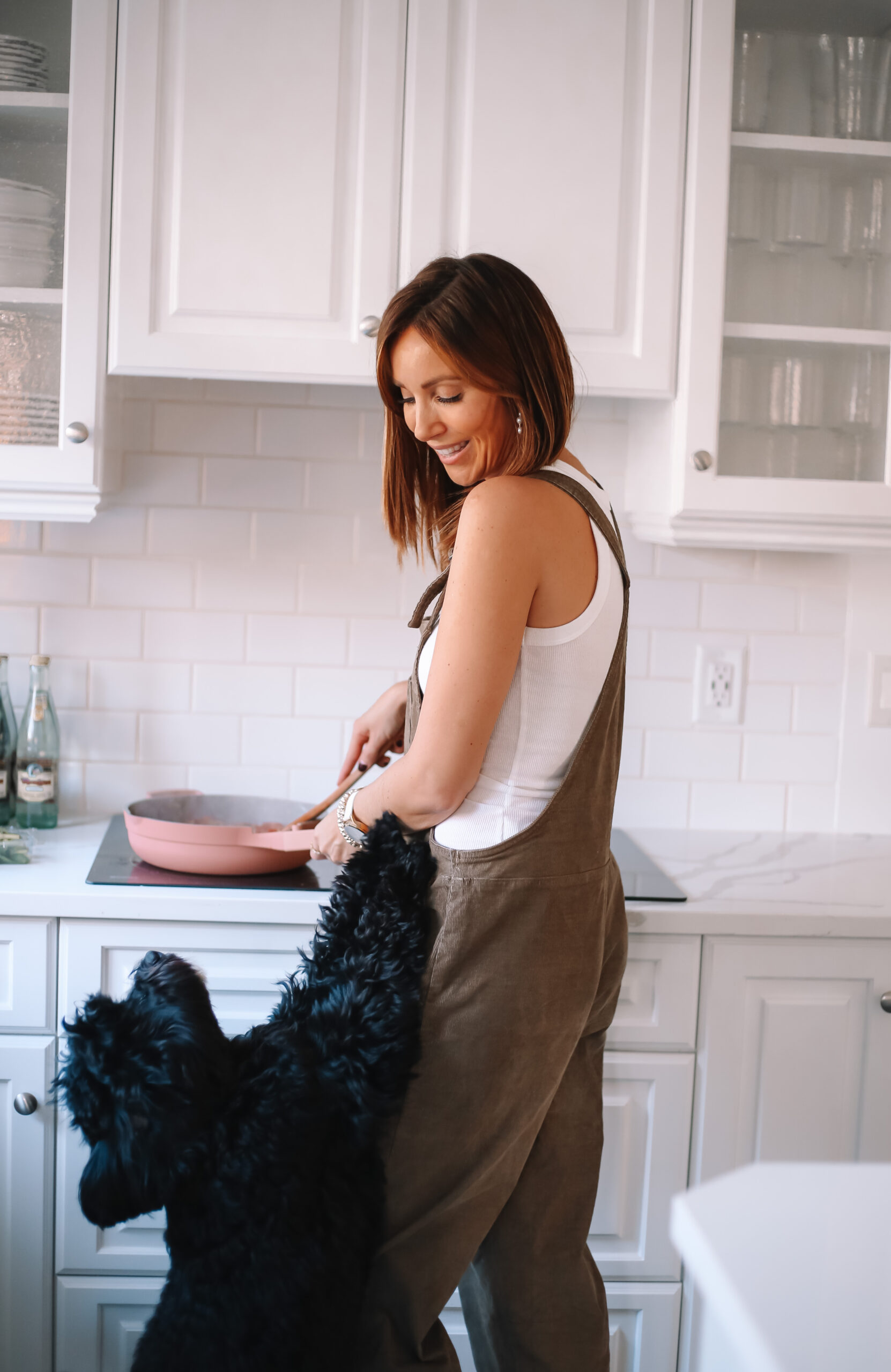 The Always Pan is an 8-in-1 piece of cookware. You can sauté, fry, boil, braise and steam! It also includes a spoon rest for your spatula and the handle does not get hot (but as always remain cautious). This pan is also non-stick and its coating is formulated without teflon and other toxic metals making it perfectly safe to use and worry free. Clean up is also a total breeze. The non-stick makes it easy to wipe and no soaking is needed. Just use soapy water and a soft cloth to clean. The pan is also pretty light! I am so used to the heaviness of my cast iron pans, that this was such a nice surprise. It's also weird to describe a piece of cookware as pretty or gorgeous, but truly this one is! You won't feel the need to hide this one when you're finished using it. There are six colors to choose from, mine is spice. Wonder which color is your favorite?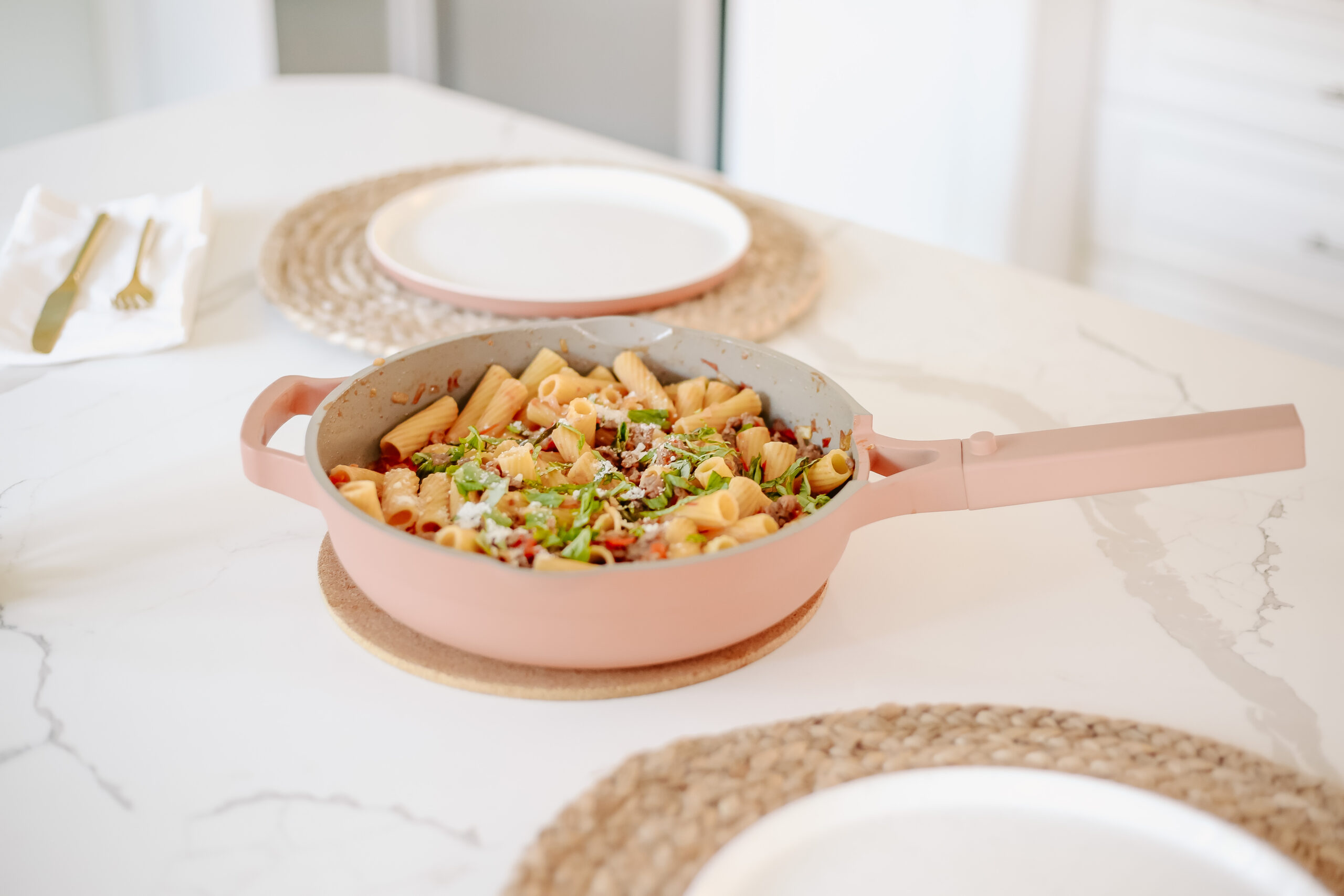 Italian Sausage Pasta
If you need some week night cooking inspiration, this quick pasta dish is a crowd pleaser. Pretty mild in taste (I have to keep my kids in mind). But it's so scrumptious. I have been making this recipe for over a decade now haha. I don't cook with garlic since John is not a fan, but feel free to add some to really take the flavors up a notch.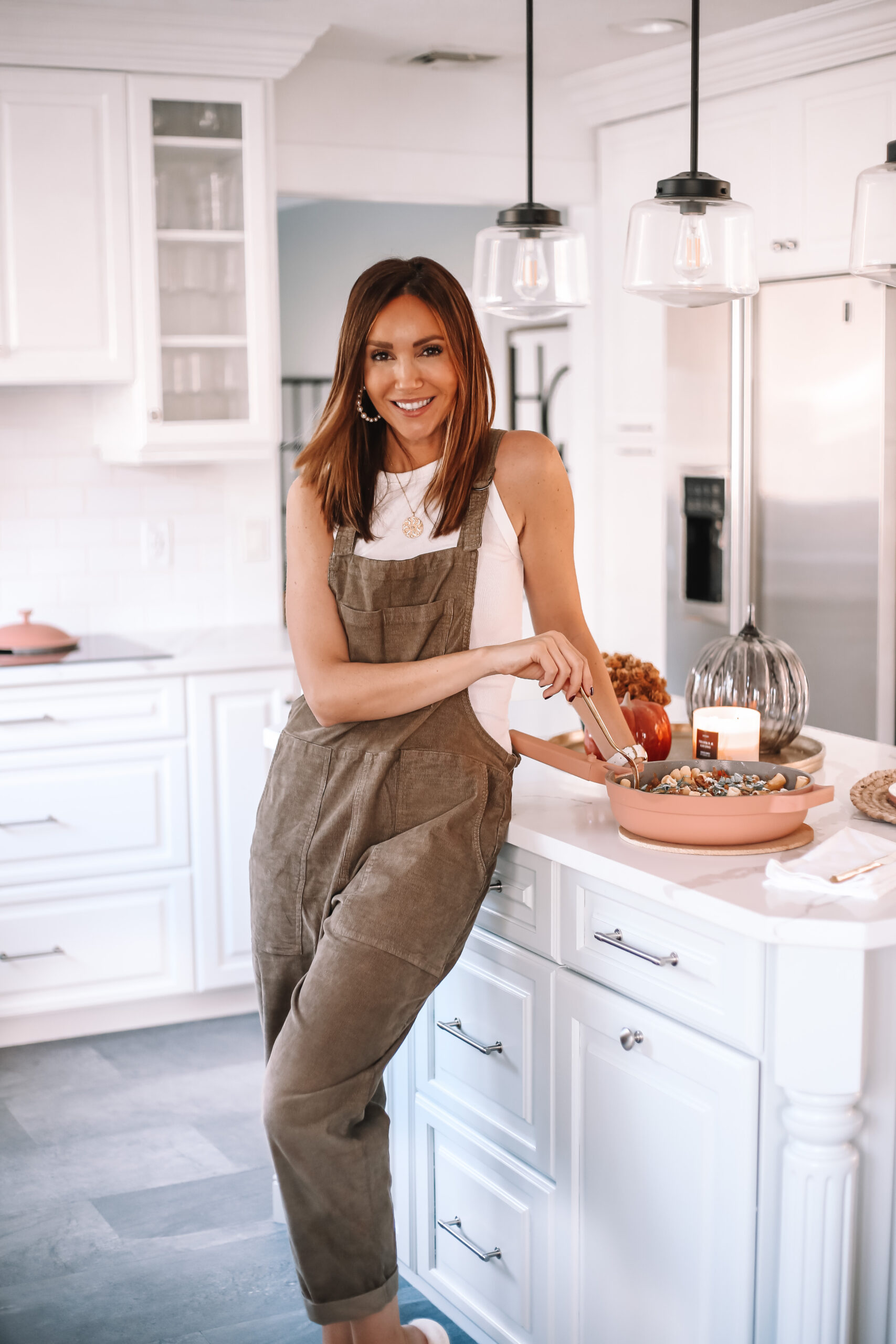 Ingredients
1 lb. Italian sweet sausage (casing removed)

1lb tomatoes (diced)

1 small yellow onion or half a big onion (diced)

fresh basil (to taste)

grated Pecorino Romano Cheese (to taste)

1/2 pound rigatoni (or any pasta of your choice)
Recipe
Cook pasta according to directions on box. I kept the steaming basket inside the pan when making the pasta which made it super easy when it was time to remove and drain. The pour spout is a nice feature for clean pouring. Pro Tip: Always save a little pasta water in case you need to thin out your sauce. Set aside the cooked pasta.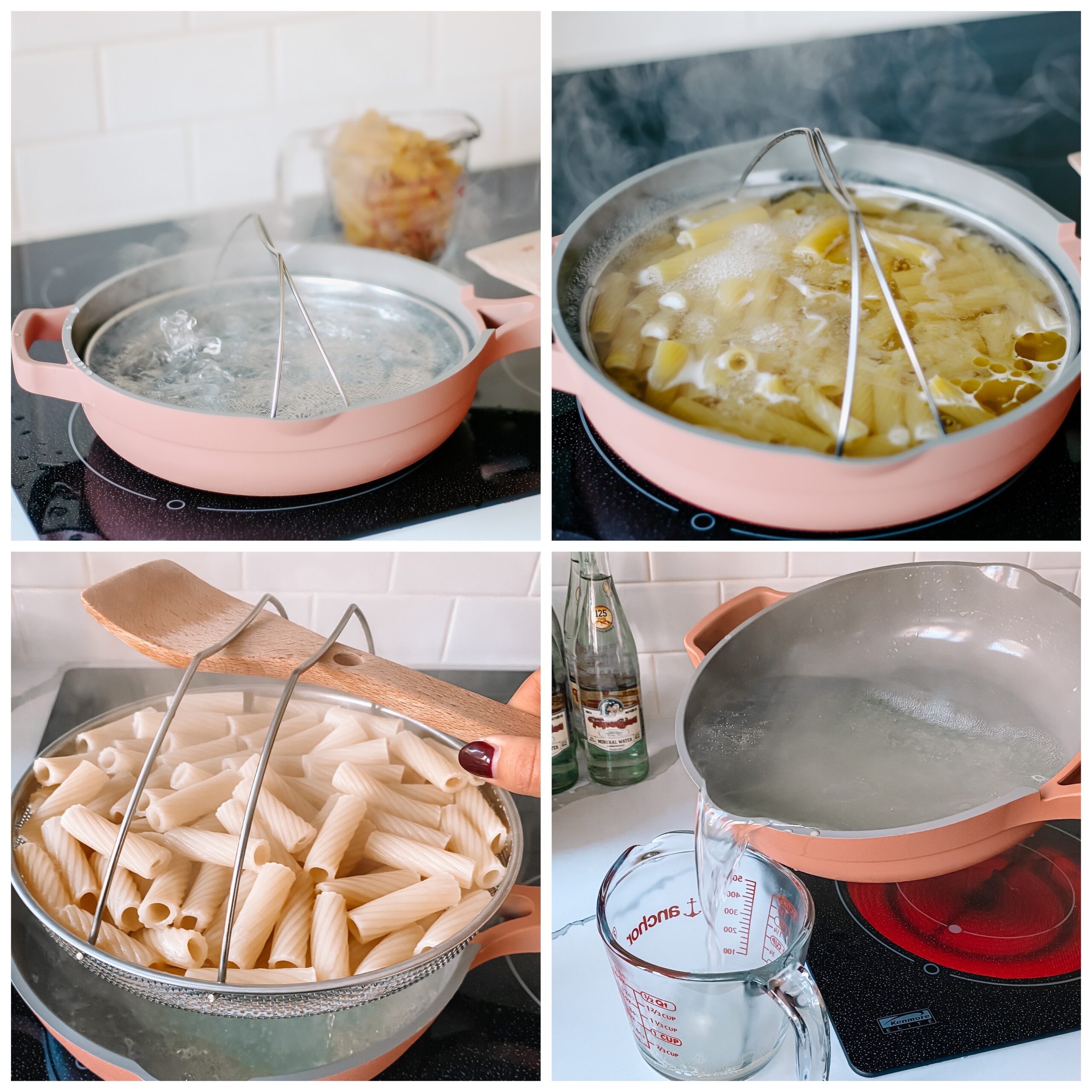 Dispose of the remaining pasta water, return pan to the stove. Drizzle olive oil in the hot pan. Add the sausage and cook until it is browned. I use the wooden spatula to break it up into smaller pieces. Add diced onions and once they're translucent, add the diced tomatoes. Cook for 5-10 minutes until the tomatoes cook down into a sauce.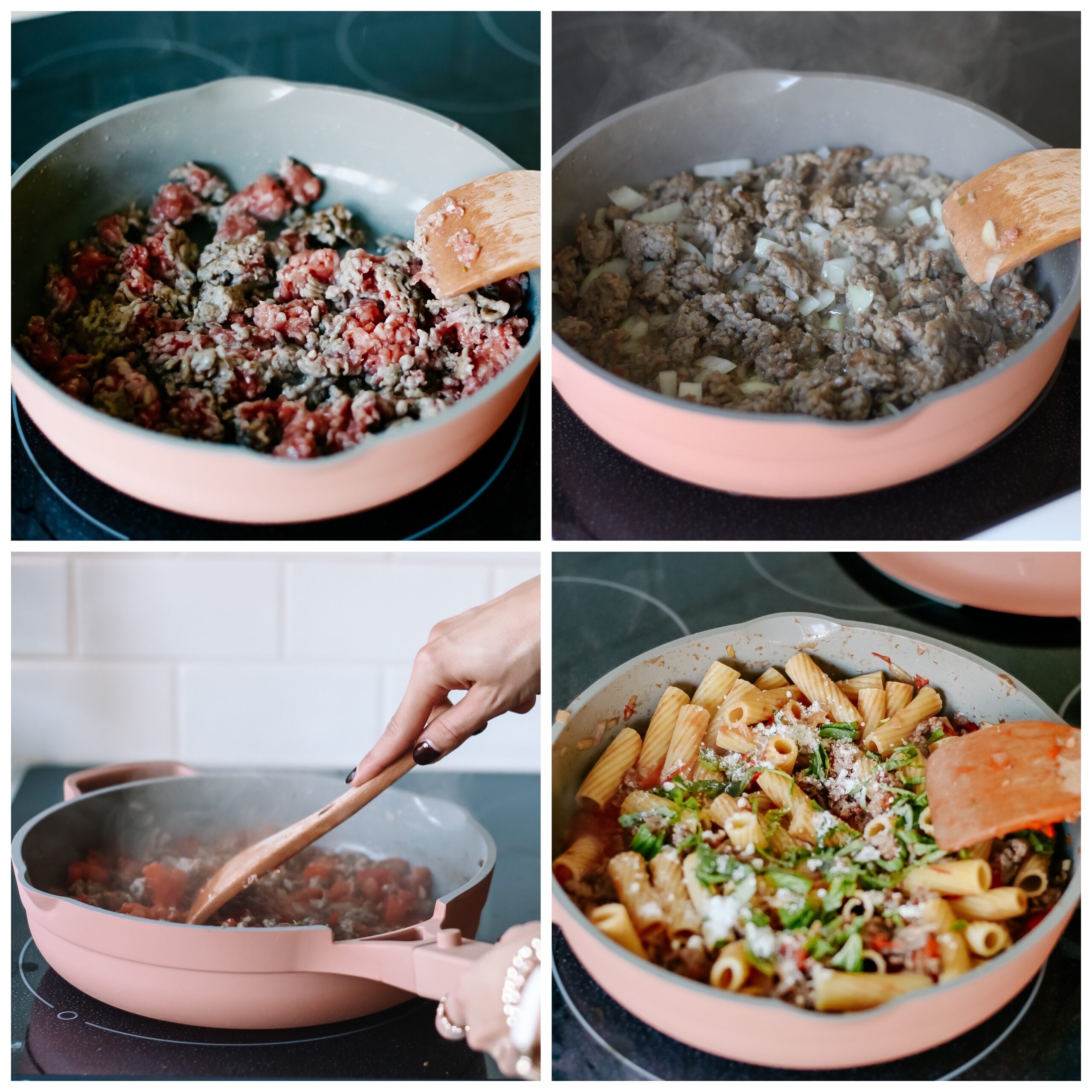 Once you have your sauce add the pasta and toss in in sauce. Add some of the reserved past water if needed. Top with fresh basil and pecorino cheese & enjoy! I mentioned earlier, the pasta is pretty mild in taste because I make it with picky eaters in mind, but if you like things on the spicier you could sprinkle red pepper flakes.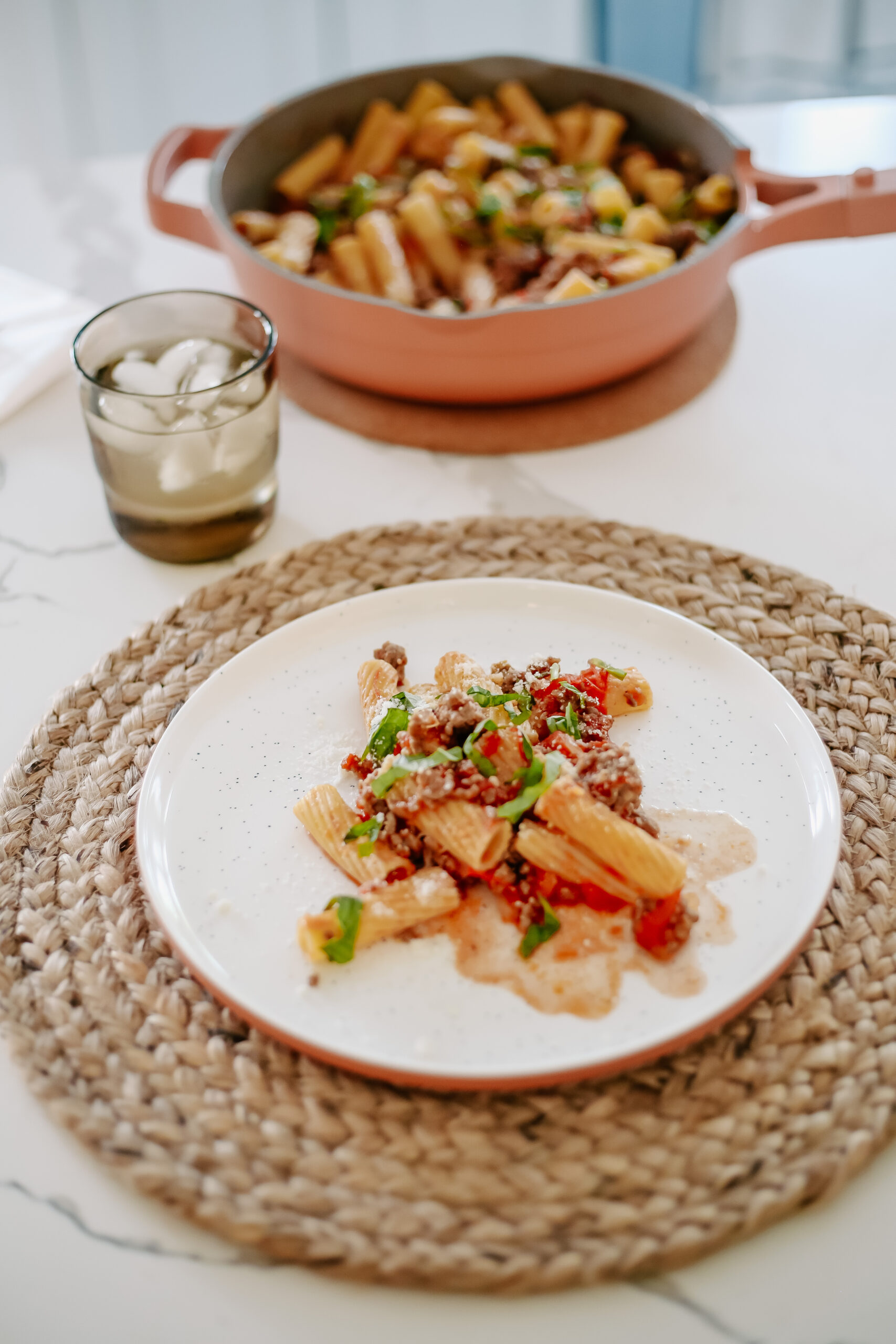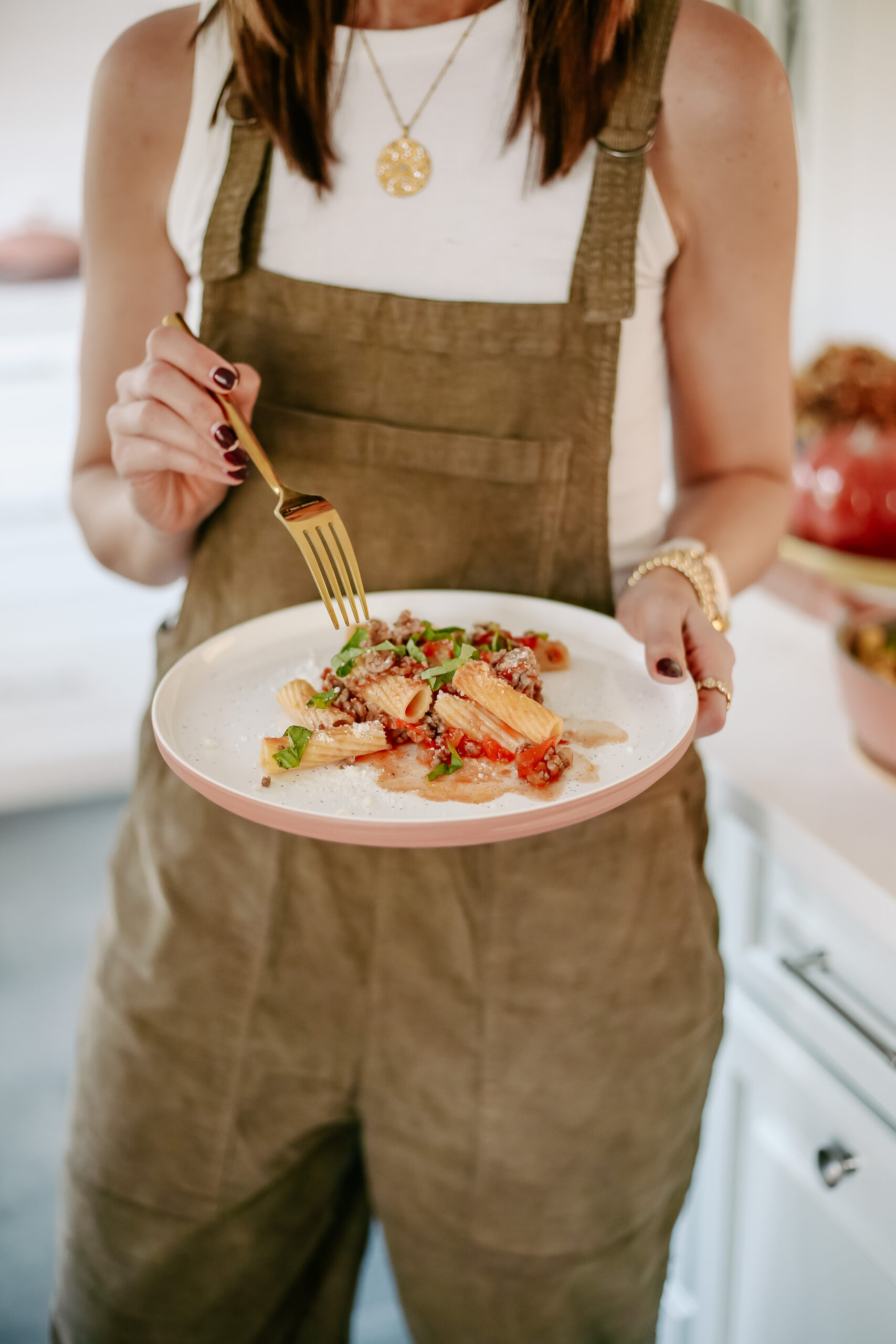 Thinking About Buying Our Place Always Pan?
Our Place offers value bundles which include the Always Pan, drinking glasses, plates and bowls. But of course you can buy just the pan. With the holiday season coming up, this would make a wonderful gift for someone in your life or yourself! I don't know abut you, but nothing makes me happier than kitchen goodies. The Always Pan is also a great option for someone who lives in a smaller space, moving into a new place or looking to replace or upgrade their current cookware.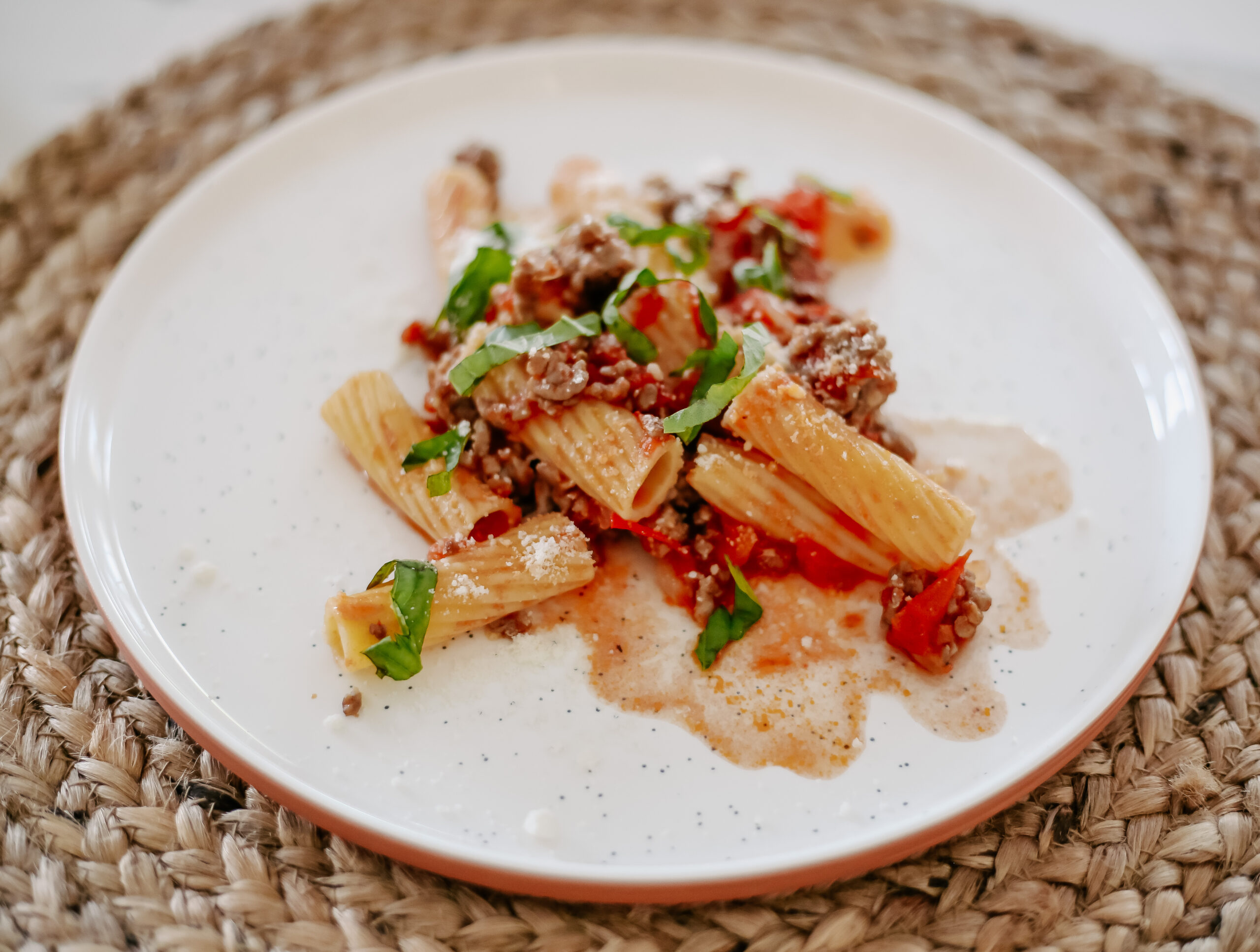 So what do you all think? Personally, I think it is TOTALLY worth the hype! Btw, if you try this recipe, make sure to tag me on your posts. Bon Appetit!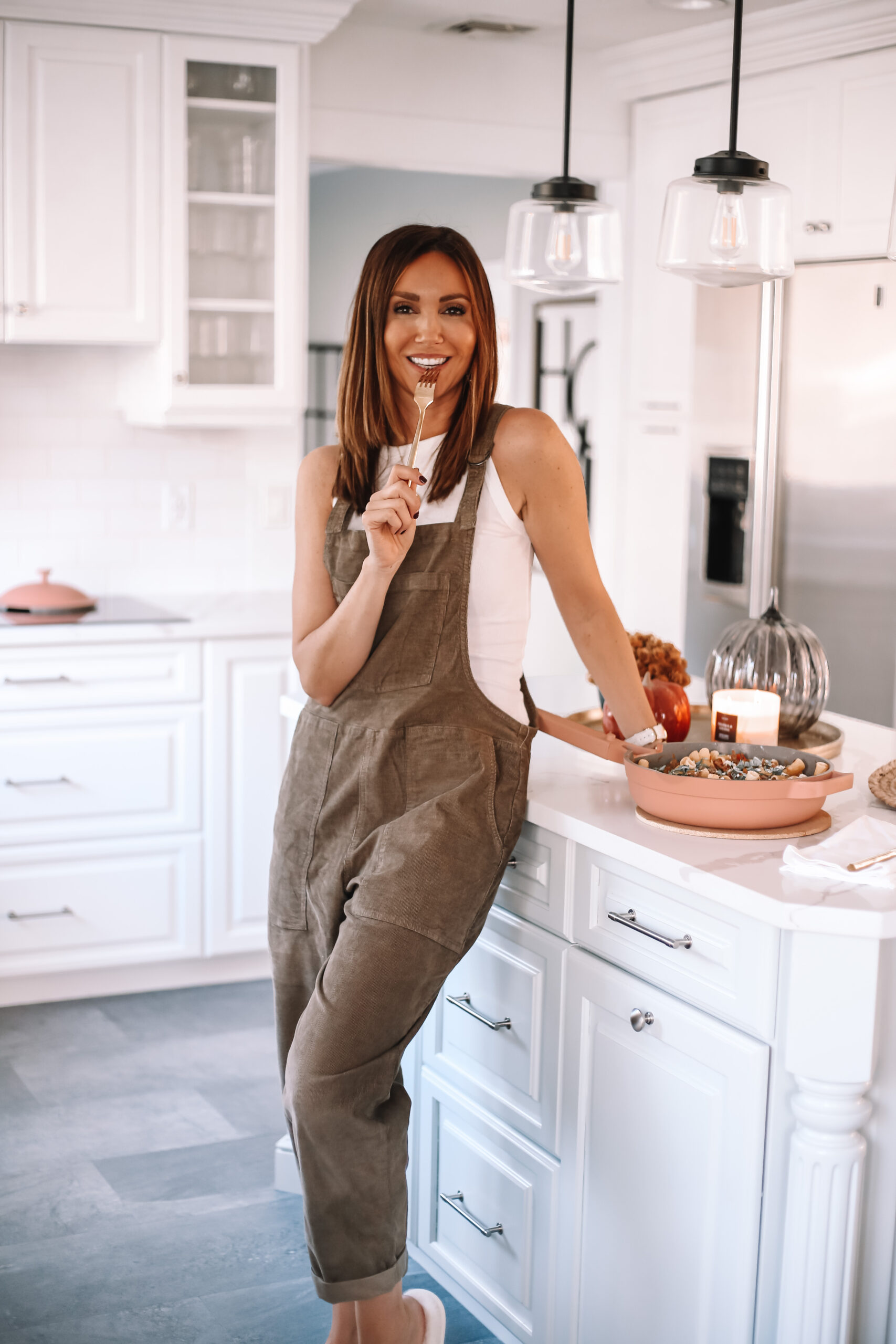 Hope you enjoyed this post. Thank you so much for reading Blushing Rose Style blog and very spacial thanks to Our Place for partnering with me on this post. As always, all views and opinions are mine.