I have been enjoying running outside… again. Some of you remember, around this time last year, I started training for the NYC Marathon. Side note – one of the most amazing experiences of my life. You can read more about my personal experience running the NYC Marathon and running tips in THIS post. I said, I enjoy running again, because frankly the training part was brutal. Now I can go running outside without worrying about pace, distance and terrain. I have discovered some beautiful trails and truly enjoyed every step!
I wanted to put this post together because so many of you asked for gear recommendations. I will also share some simple safety tips, which I think everyone should know!
My Running Gear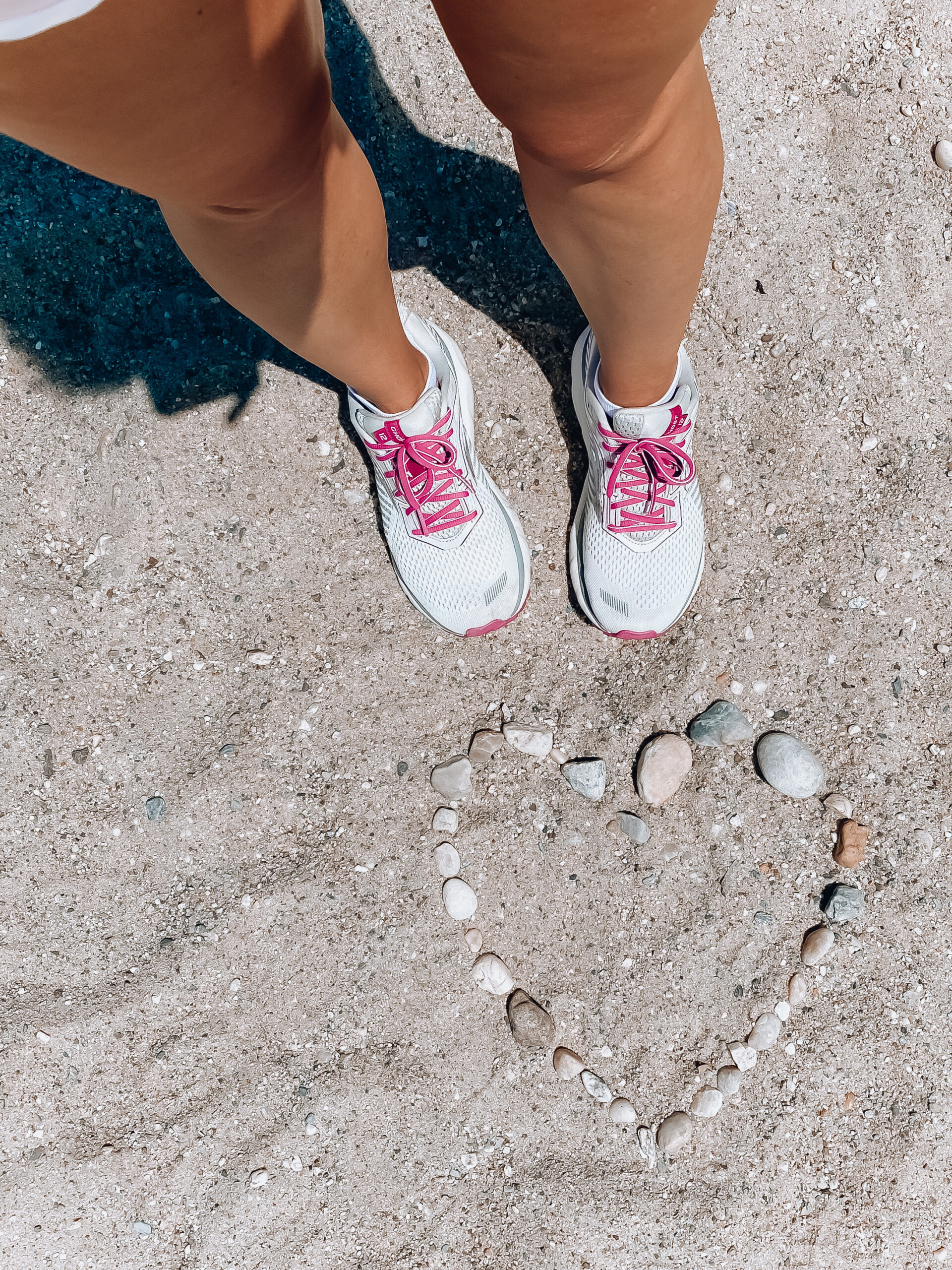 My Running Gear – Sneakers
This is the most asked question. I will start by saying, I highly recommend to everyone – stop by your local running store. They will be able to evaluate your feet, the way you run and recommend the best shoe for you. They will also help with sizing, because running shoes sizing is so much different than regular shoes. For example I wear size 8 or 8.5 in most shoes, however in running shoes I am size 10.
I have been running in Brooks Ghost 12 this entire year, and I have to say I love them. I initially bought them for the marathon, but I ended up running the race in ASICS Gel Nimbus 21, you can read why in THIS post. As much as I love my ASICS, I think the Brooks are now my favorite.
I also have a pair of waterproof ON Running Cloud sneakers , which are very comfortable. I only wear these when the ground is wet or I'm running in light rain .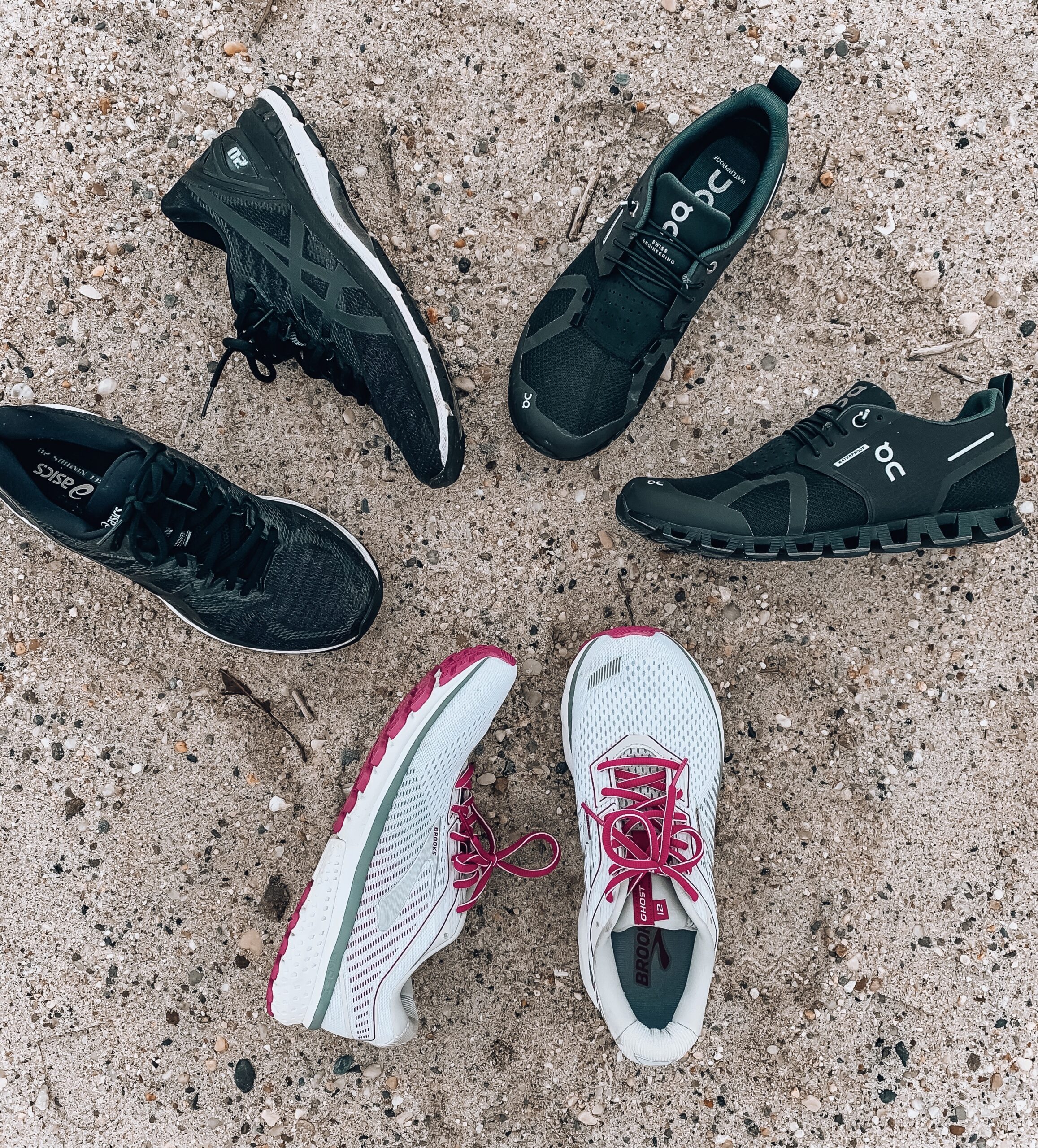 My Running Gear- Belt

I have 2 running belts I use. One with hydration belt with bottles, to be honest I have not used it since marathon training days. I am able to run 6-7 miles without water. So for most of my runs, I use Nathan's Zipster belt. TIP: I have iPhone 11 Pro Max, and it doesn't fit in the zipped pocket of the belt. I turn the belt (the fold-over pocket in the front) and I am able to fit my phone (with phone case). The belt has 2 zippered pockets and 2 fold-over ones. I find it to be comfortable and it stays in place.
My Running Gear – Watch & APPs
I have been running with the Garmin Forerunner for years. Mine is actually pretty old, so I may invest in a newer model if (when) I sign up for another race. But as I mentioned, I am not training for anything now, I am just enjoying my runs without tracking speed or stats. So most of the time, I keep my Garmin Vivomove watch on. It uses your phone's GPS to track. I do want to emphasize, Vivomove is a fashion smartwatch NOT a fitness watch. And you can read more about its features HERE.
Also, I have been using the RUNTASTIC app to keep track of my runs, speed. It's pretty cool because you can view your stats by weeks, months, see visuals of your run (and share it on social media). In fact, unless you're training for a race, you don't even need a gps watch, you can just use this app if you run with your phone.
My Running Gear – MISC

SAFETY TIPS
There are so many safety tips to share, but I wanted to highlight just a few.
Pay attention to your surroundings. I am talking about cars, traffic, area you run in. Trust your fear… if you think something may be off, turn around!
If you prefer to run with headphones, keep the volume down. This way you can still hear your surroundings.
Run facing traffic.
Share your locations with family or friends. Tell them how long you're planning on being gone and the exact area you're planning on running.
Stop for cars even if you have the right of way. I shared this on my IG stories. If a car is attempting a right hand turn, most of the time the driver will only look to the left. If you happen to be on the right side of that car, they will not see you.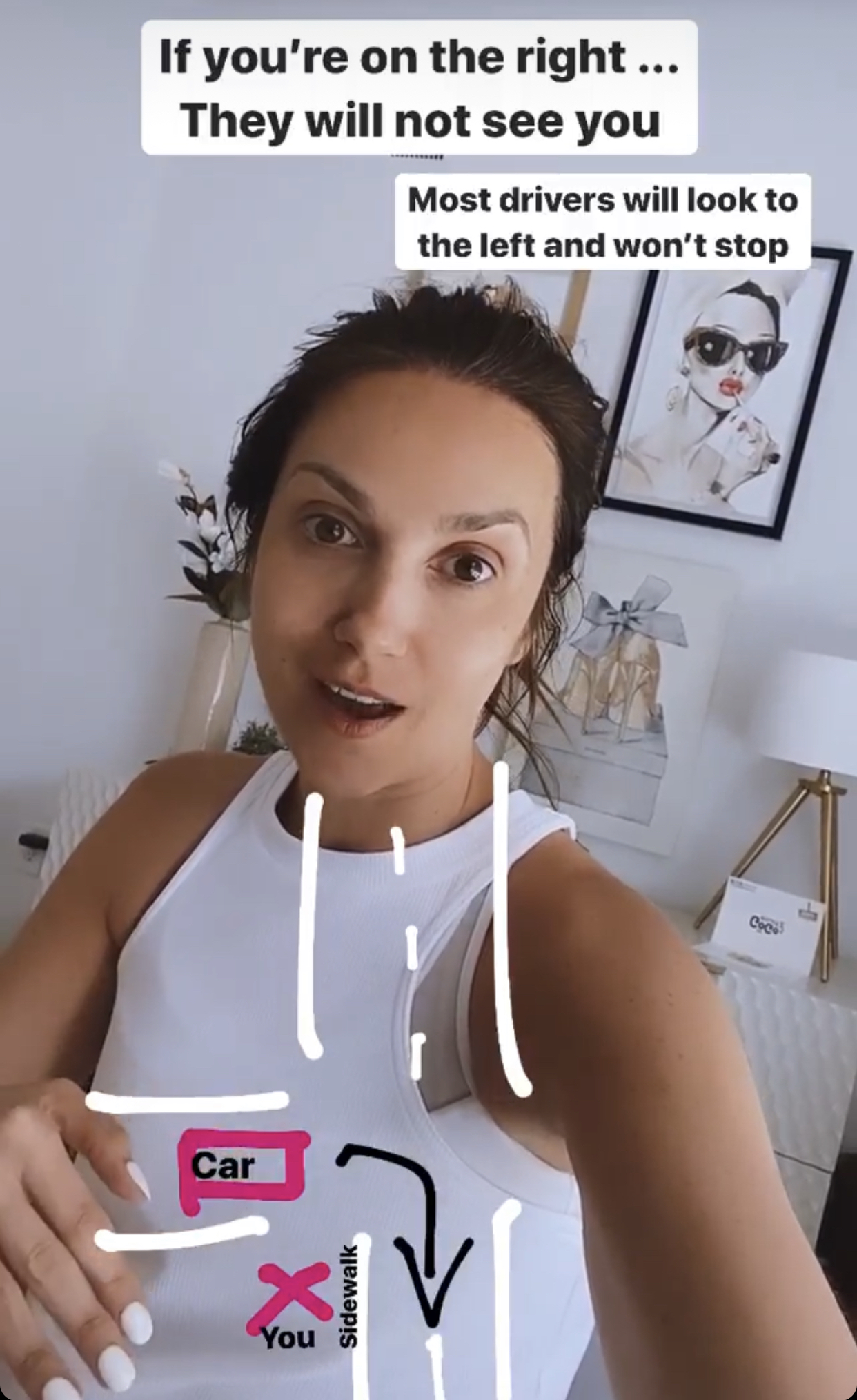 Are you a runner? If so I would love to hear from you. Are there any upcoming races you're excited about? I dream of running NYC marathon one more time!