We are just a few weeks away from the holidays and I'm definitely in the lounge mode even though there is still so much to prep for. I have been looking for new loungewear to stay cozy while watching my favorite holiday movies and sipping on hot cocoa (or wine). Does anyone else feel this way? I feel like with the time change it gets so dark outside, around here it's 4pm and all I want to do is get cozy and snuggle with my kiddos. I grabbed this new lounge set from Nordstorm , which btw offers free shipping and free returns (worry free shopping) and most of the items will still arrive in time for Christmas, you can't beat that!
So if you're still shopping for holiday gifts make sure to scroll down as I have rounded up my favorites for the gal who loves athleisure, gifts under $100 and some luxury gift, dear Santa can you hear me? lol.


This new loungewear set in tie dye is from Good American. It's amazing quality, super thick, cozy and soft. I am wearing size small in the sweatshirt and joggers. Just a heads up, you'll see me wearing it over and over, haha. The sweatshirt is also available in a cropped version.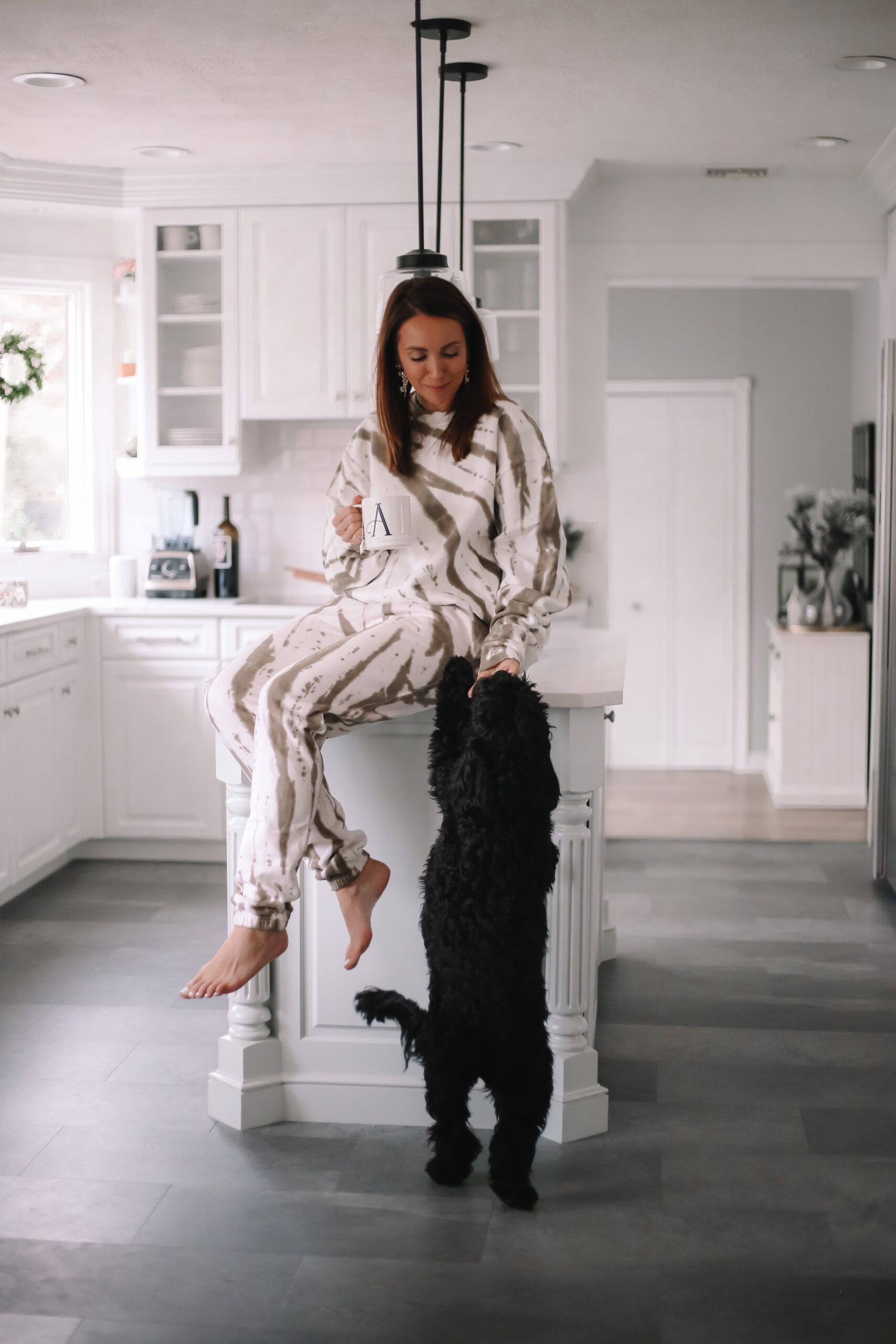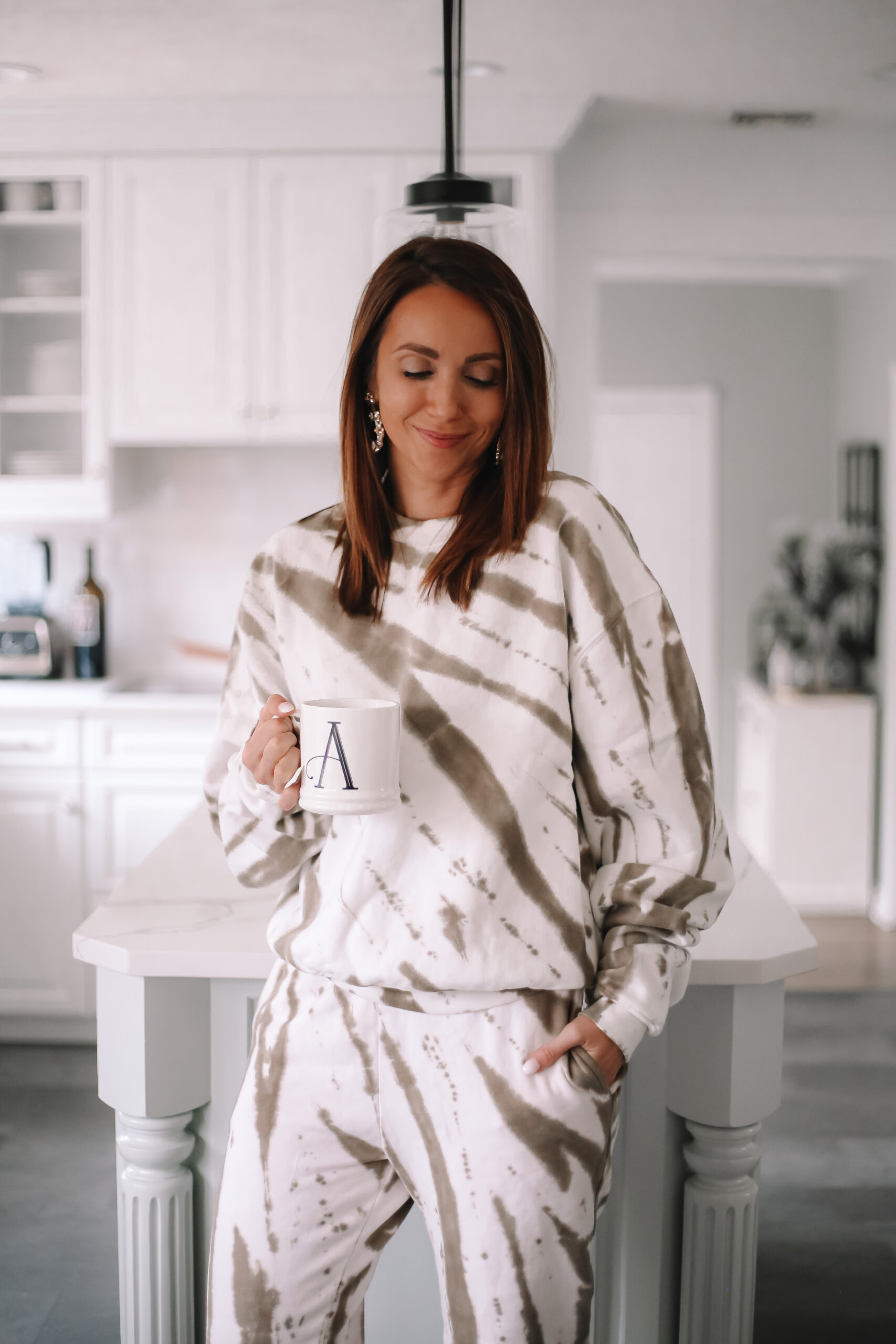 More Loungewear & Athleisure Favorites
Some of my other favorites are definitely include the Zella High Waist Leggings which I've been raving about for years. The quality is so good, and they fit tts. The high waist gives you that hugged feeling and they look great wash after wash. They will last you many seasons. I call these "the best outfit leggings".
I have been keeping up with my workouts for the past month – I actually just finished week 5! I have been getting up really early in the morning to get that workout in before my kids wake up. Anyways, I needed new cross training shoes so I got a pair of Nikes. They are so comfortable and I love the way they look, I sized up by half size. They are also available HERE. Btw, if you're contemplating on starting a new morning workout routine I have a blog post which you can read HERE with all the tips to make that morning wake up call just a tad bit easier.

Gifts Ideas For Her
Gift ideas for her… or my personal shopping wish list? Few things I own from this guide – the MZ Wallace tote. This is such a great bag! I have used it for travel, gym bag and my everyday bag. The Donna Karen Deodorant & Antiperspirant I have been using it for years now. It is totally worth the hype (it works) and smells divine. The silk scrunchies are also a must! I used these even for my workouts – love that not only they are gentle on your hair but also no creasing.
1 // 2 // 3 //4 // 5 // 6 // 7 // 8 // 9 // 10 // 11 // 12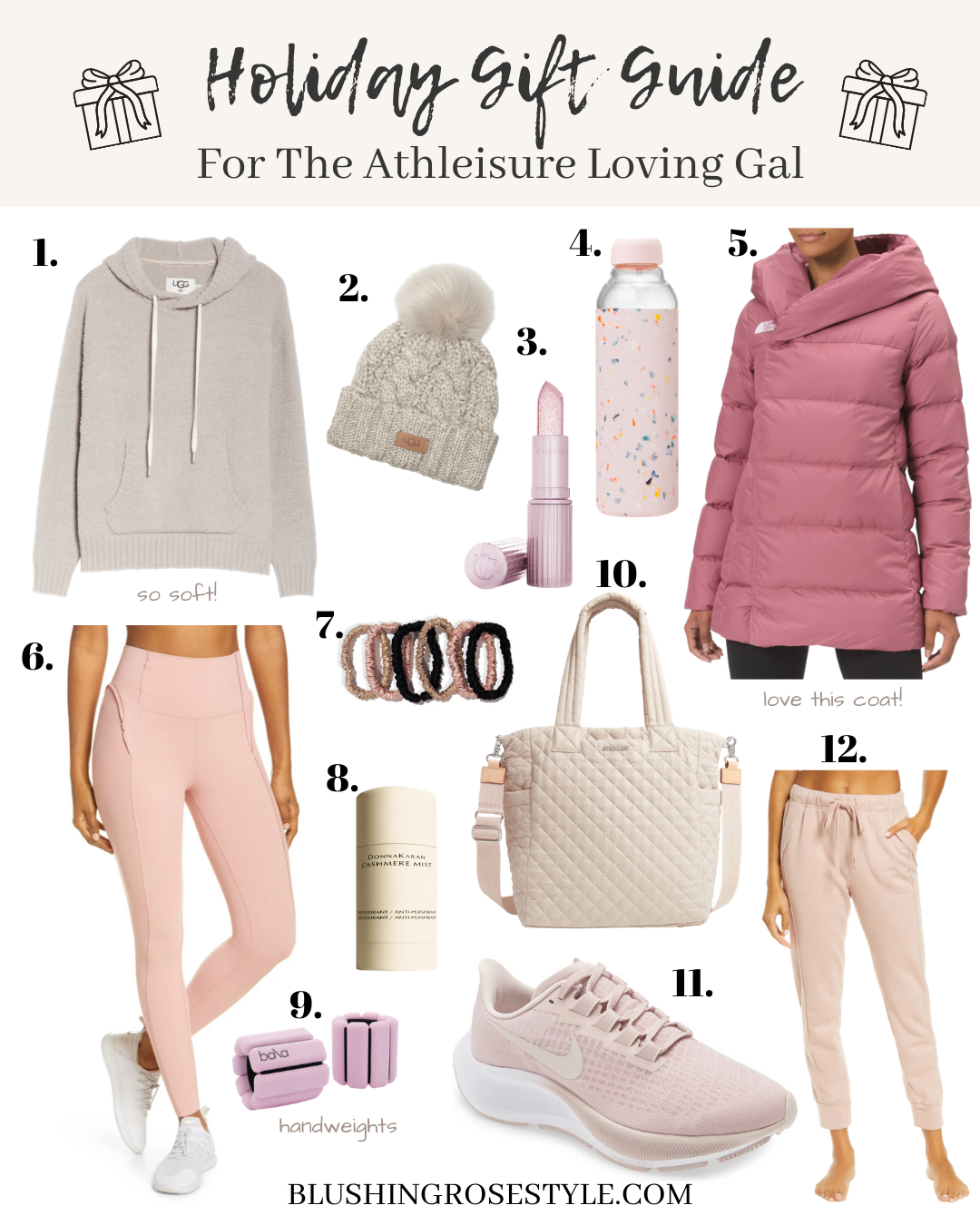 Gift Idea for The Luxury Lover
Now we're talking haha It should be called "Dear Santa". A gal can dream, right? My personal favorites are the Golden Goose sneakers. Listen, I know the distressed style is not for everyone. I've had mine for almost two years. I only own one pair. But they are hands down my most worn shoes, so I think they were totally worth it. And guess what? They still look the same, great quality. For the cozy gifts – you cannot go wrong with Barefoot Dreams blanket (I own 3) or the robe.
1 // 2 // 3 // 4 // 5 // 6 // 7 // 8 // 9 // 10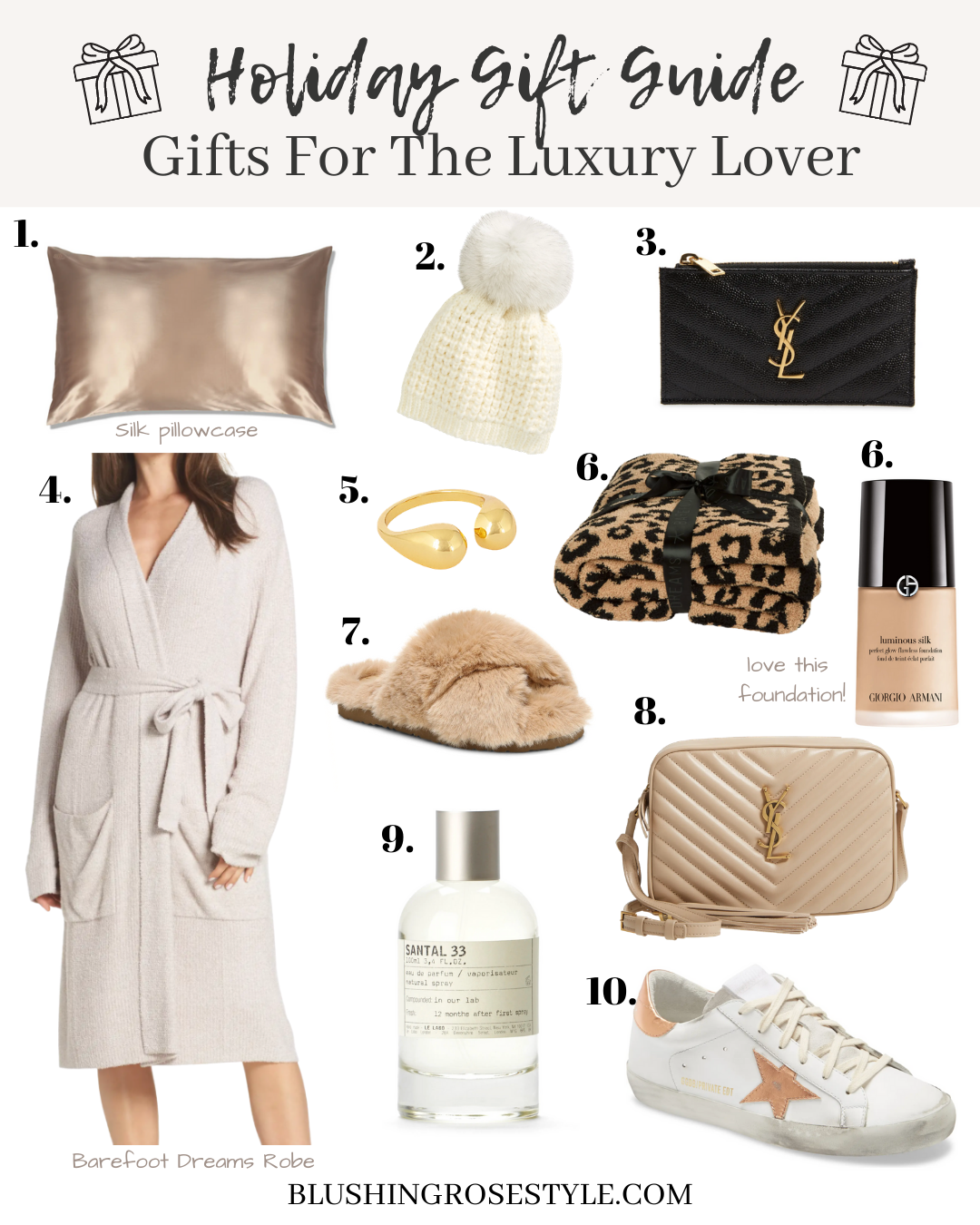 Gifts Under $100
I have my eyes on the Mug & Warmer Set. I am an avid tea drinker and I like my tea piping hot. But I often set the mug down and totally forget about it. I fee like I would use it quite a bit! I also love the Kendra Scott Necklace. So cute!
1 // 2 // 3 //4 // 5 // 6 // 7 // 8 // 9 // 10 // 11 // 12 //13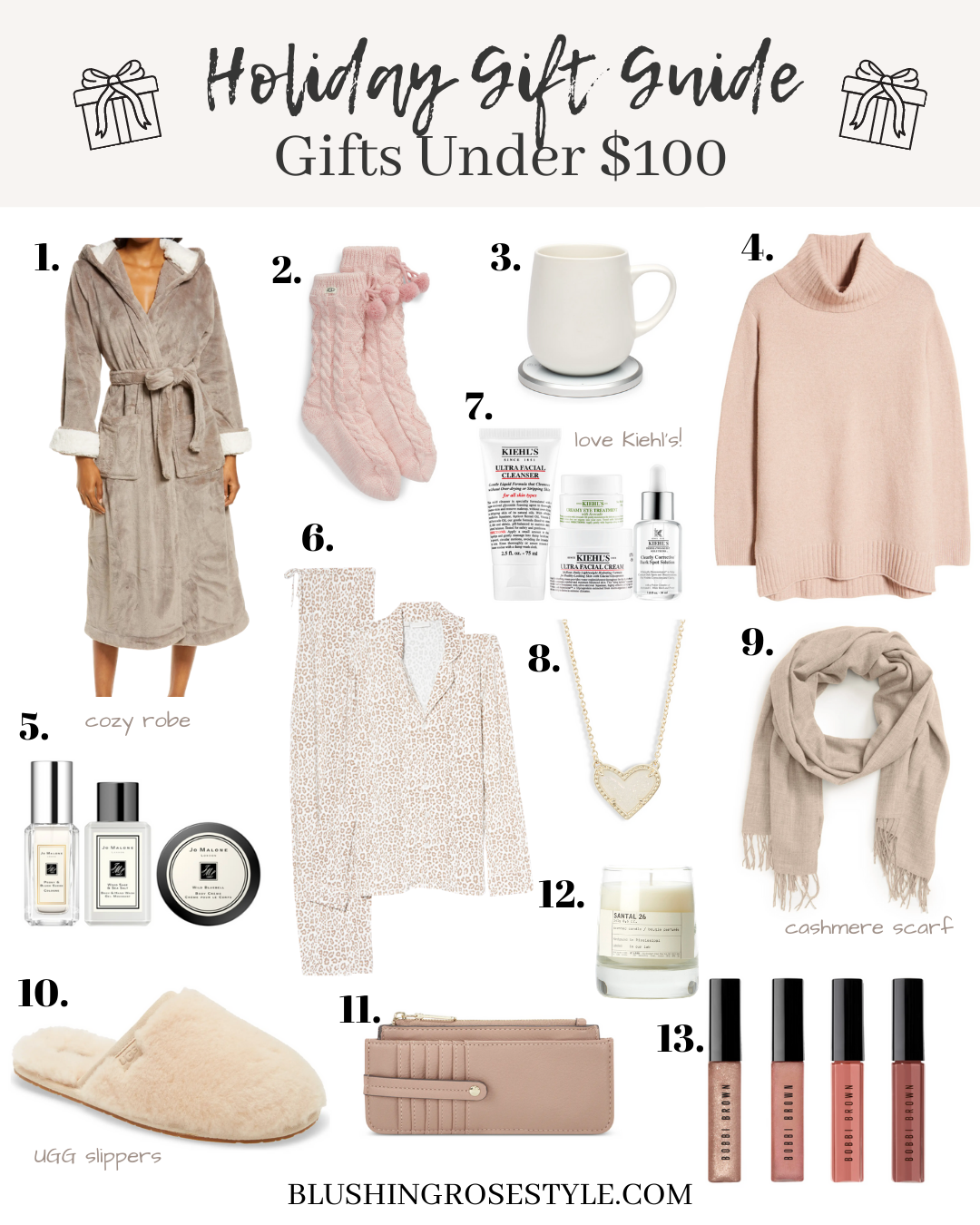 I hope you enjoyed this post. Thank you so much for visiting Blushing Rose Style blog. And very special thanks to Nordstrom for partnering with me on this post. As always, all views and opinions are mine.