Educational Toys for Busy Toddlers.
If you are new to my blog… first of all WELCOME! So happy you're here. If you're one of my OG readers, you already know I have two kiddos: Reese is 8 and Grant is 3.  While Reese continues to use her creativity to make her own toys… seriously give this girl some tape, cardboard box, and crayons and you may get yourself a robot. Reese is a special kid, like any other girl her age she loves Barbies, American Girl dolls, but she mostly plays with her own creations. You can read more about what's going on with Reese in THIS post. Grant, on the other hand, is a typical toddler: crazy, curious and literally never tired. He enjoys all the toys he can get his hands on: from toy cars and trucks, to legos and ride on toys. But lately he has been very interested in learning letters, sounds and even working on his writing! BTW we are pretty certain he is going to be left handed.

I wanted to share some of his current favorite toys. If you follow me on instagram you may have already seen these on my stories.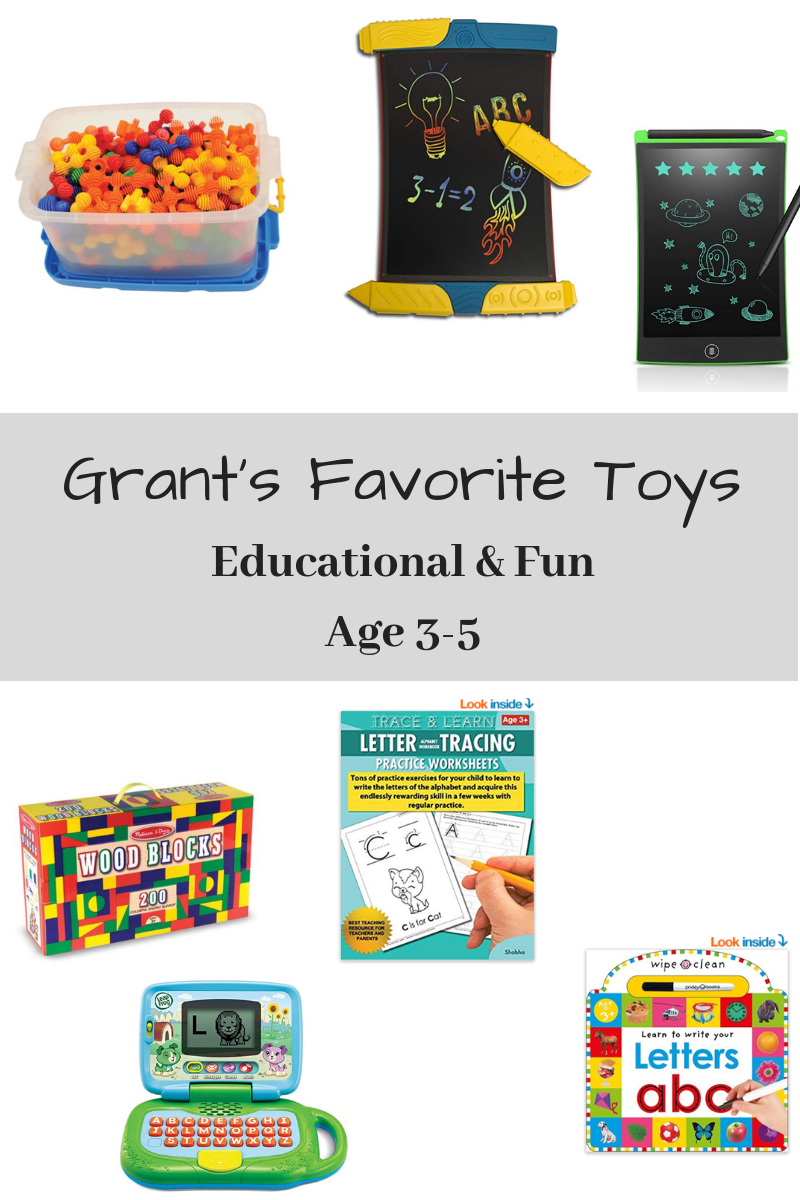 These connecting balls are so fun to play with. I am speaking from experience since he did let me play with these too haha The colors are bright, and pieces are easy to connect. We have been building all kinds of "cars" and trucks with these. So fun!

Grant has THIS boogie board writing tablet, and Reese has THIS one. These are so great, we've had them for a while. They come in handy on road trips, or really anytime in the car, keeps them busy on airplanes, restaurants, etc.

Grant has been very enthusiastic about tracing letters. I found these on Amazon HERE, and bought several. He has been really enjoying "writing". I also bought THIS dry erase board book, and I keep it in my bag for when we're out of the house.

Grant actually inherited the LeapFrog laptop from his older sister. Since he's been learning the alphabet and sounds, this has been super helpful. He pushes the letters on the keyboard and repeats the sounds along with the laptop. It keeps him entertained with the animal graphics and sounds.

There is something special about the good old fashioned wooden blocks. I really didn't think Grant would be interested in these. But to my surprise he does truly enjoy these. We build towers, fire houses, bridges and more… and then I let him knock it down (that is most likely his favorite part).
And that's his top 5! What are some of your kid's favorite toys? Please share!
Thank you for reading.
XX,
Anna