Hi friends. I'm back sharing 5 Amazon Beauty Products I think you should try. All of these items ship free with prime and are accessible through their company's direct storefront on Amazon. If you have a product you absolutely love (and think I should try) leave a comment below. To stay in the know with more of my Amazon finds, follow my storefront here.
June's Amazon Beauty Edit // May's Amazon Beauty Edit // April's Amazon Beauty Edit
5 Amazon Beauty Products You Should Try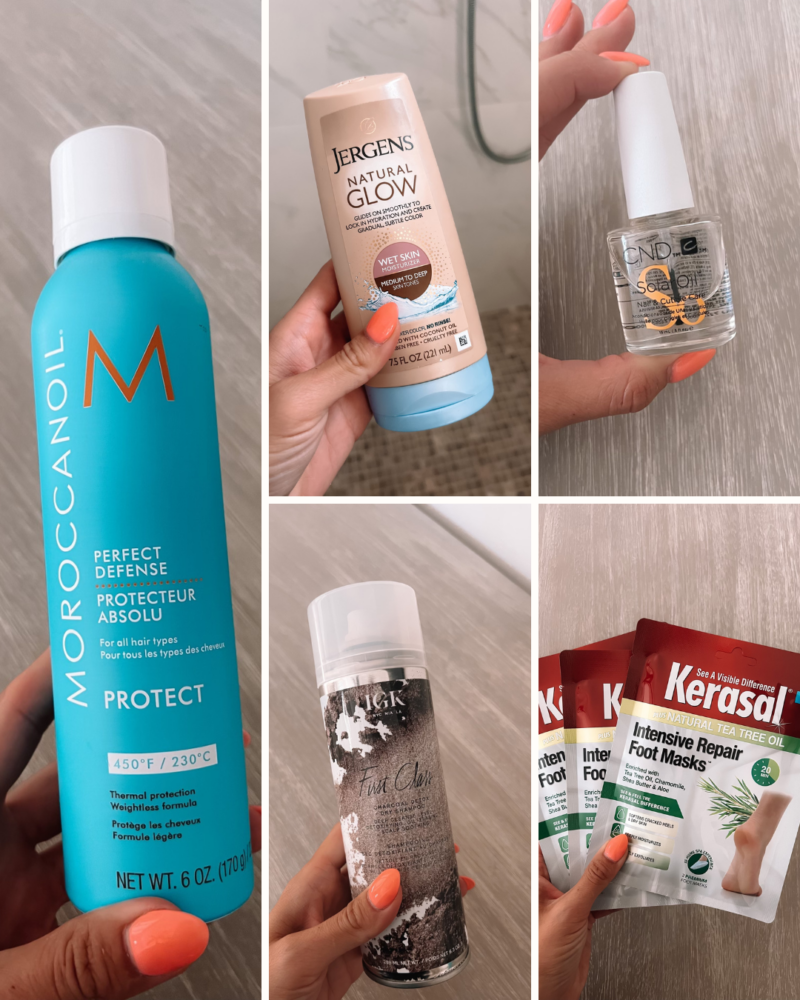 Kerasal Foot Mask

I've used the Kerasal foot cream for a while now and its great so I was definitely interested in trying their intensive repair foot masks. So many of you have asked if it works and I saw a huge result after two rounds. You might have to use it a few times to really see a difference. I would also encourage you to not use your hands when using the product because you will see on the directions that it gently exfoliates so while this is gentle on your feet, it's not so much on your hands. Haha, lesson learned! If you touch the cream, wash your hands. Otherwise, I highly recommend this mask!
IGK First Class Charcoal Detox Dry Shampoo

It's no secret that I love the IGK First Class Charcoal Detox Dry Shampoo, I've used it for a couple of years now and I consider myself a dry shampoo connoisseur because I only wash my hair once or twice a week. I've tried many and this one is by far my favorite. It leaves your scalp and hair feeling clean without the gritty residue.
CND SolarOil Nail & Cuticle Care

The CND SolarOil for nail and cuticle care is amazon and super affordable. You used to only be able to get it at nail salons. I'm so glad that it's now available on Amazon. I use it every night before applying my hand cream.
Jergens Natural Glow Wet Skin Moisturizer

I was pleasantly surprised by Jergens Wet Skin Moisturizer when I first tried it and now I'm obsessed. You apply it in the shower on wet skin then dry the excess off with a towel. I love the fact that it doesn't leave any color residue behind, so you can get ready immediately. It's your multi-functional product because it moisturizes while also giving you a gorgeous glow. I use medium – deep.
Moroccanoil Perfect Defense Heat Protectant

If you aren't using any heat protectant, I love the Perfect Defense Heat Protectant from Moroccanoil. It works up to 450 degrees. I style my hair with hot tools a couple of times a week so this is a must have for me.
Thank you so much for visiting Blushing Rose Style blog.