Hi friends. I am back with favorite beauty finds from Amazon. I just got back from Spring break in Cabo, you can see all my vacation looks in THIS post, and I wanted to share the beauty products I used and brought with me. All of these items ship free with prime and are accessible through the company's direct storefront on Amazon. If you have a product you absolutely love (and think I should try) leave a comment below!
March's Amazon Beauty Edit // February's Amazon Beauty Edit // January's Amazon Beauty Edit
5 Amazon Beauty Products You Should Try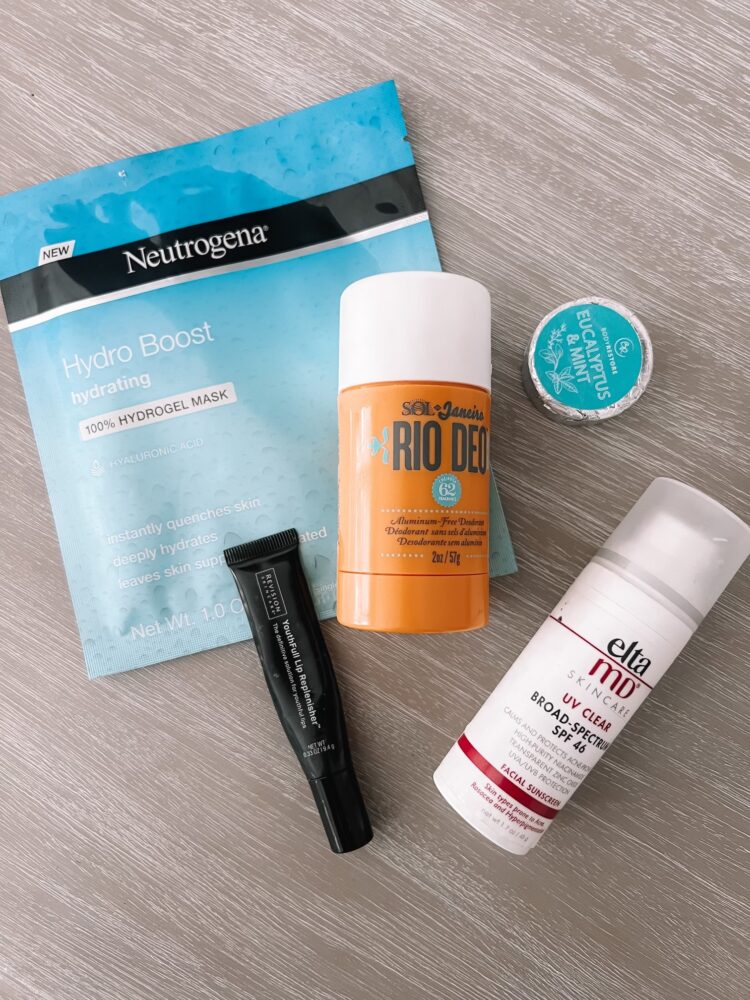 Elta Md UV Clear Sunscreen

I shared this product last month but, SPF is so important for daily use and especially for playing in the sun on vacation. Elta Md Sunscreen is my all time favorite sunscreen. I have acne – prone sensitive skin and this has never caused any breakouts. It also applies clearly and doesn't leave any white residue. If you're looking for a new spf, I highly recommend this one.
Revision Skincare Youthful Lip Replenisher

Being out in the sun all day dries up my skin and lips. I also still have my Invisalign treatment which also causes dry lip. I started using Revision Skincare a couple of months ago and I really like their brightening face wash. I ordered this lip treatment and I'm really enjoying it. It has hyaluronic acid along with anti aging properties and gives you an immediate moisture boost.
Neutrogena Hydroboost Masks

This is definitely a face mask I have with me every time I travel, especially after being on a plane for an extended period of time. These masks are super affordable – get 12 for $25. These moisturize so well you can literally feel your skin absorbing the hydration.
Rio Deo Deodorant

I've been using Donna Karan Cashmere deodorant for years now and it's definitely my favorite but I'm a huge fan of all the products from Sol de Janeiro. I love their bum bum cream and chapstick so I was curious about the Rio Deo deodorant. It's aluminum free and it does not disappoint! Works so well and smells just as amazing as all the other products
Restore Shower Steamers

These shower steamers truly give you the full steam room experience within your own home. I loved having them on my trip and of course using at home. You just out the steamer on the floor of the shower and the steam activates the scent. I love the eucalyptus but other scents are available.

I also want to give an honorable mention to this makeup brush set. 12 pieces are included for under $10! Has over 25k reviews.
Thanks so much for visiting Blushing Rose Style blog.