Hi girls. I decided to finally take the plunge to clean and organize my closet. It has been a long time coming. With that I got inspired and wanted to show some pieces of mine that would be great styles for working from home. Many of us are now doing so and while it's easy to just roll out of bed and work in your pjs (I know, I am guilty of this) but changing into a comfortable and easy outfit can make all the difference with productivity. Some of these items I have had for years and love to wear them as casual weekend outfits as well. If you're taking advantage of sales, many of these items are currently included.
EARRINGS // WATCH // GOLD PLATE NECKLACE
STONE NECKLACE // CLOVER NECKLACE // BRACELET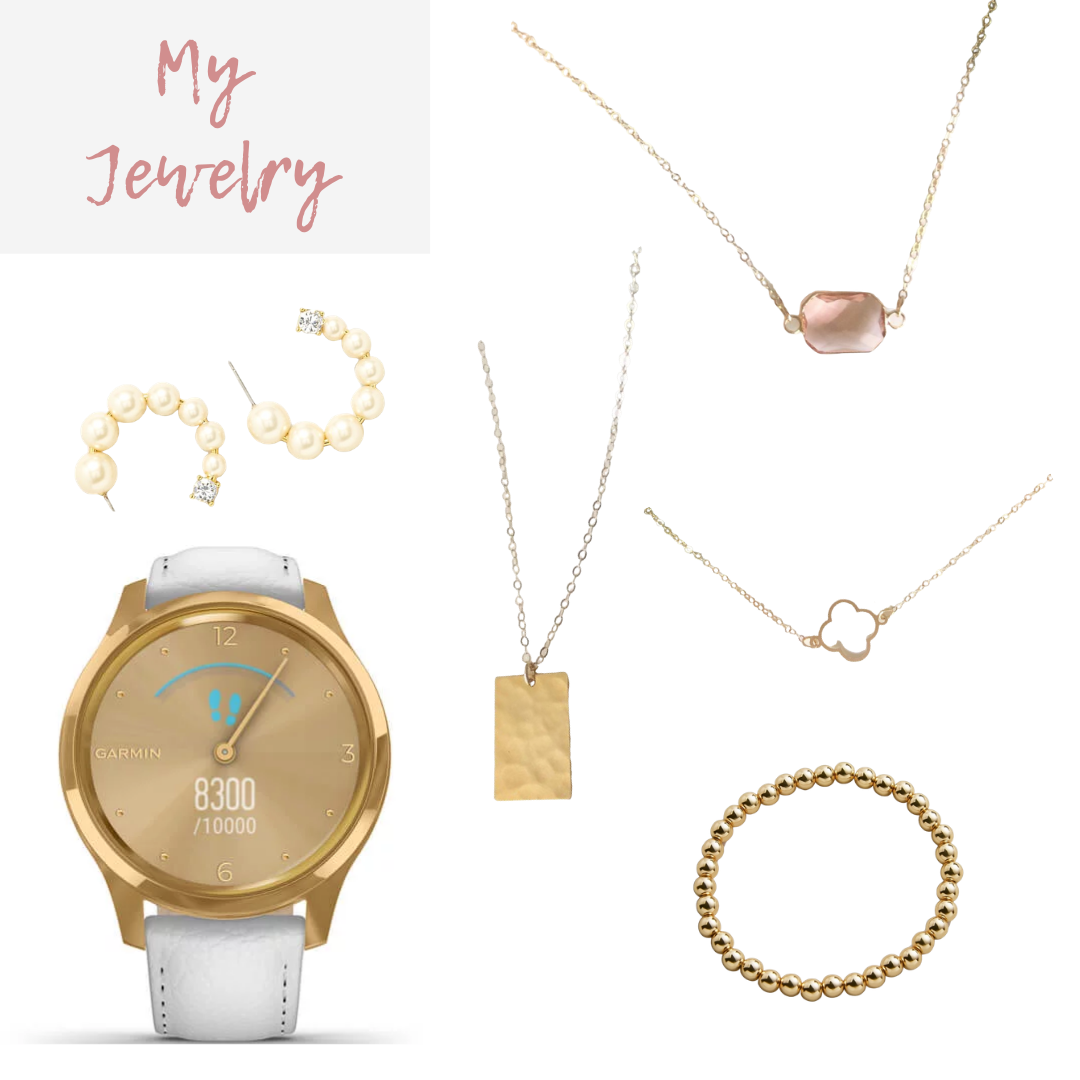 HENLEY // JOGGERS // MULES
I've had this top since last Summer and it's so lightweight and comes in 4 colors. I am wearing size XS. The joggers are so popular! They have been on my top sellers list week after week and I am wearing size S. Both are currently on sale.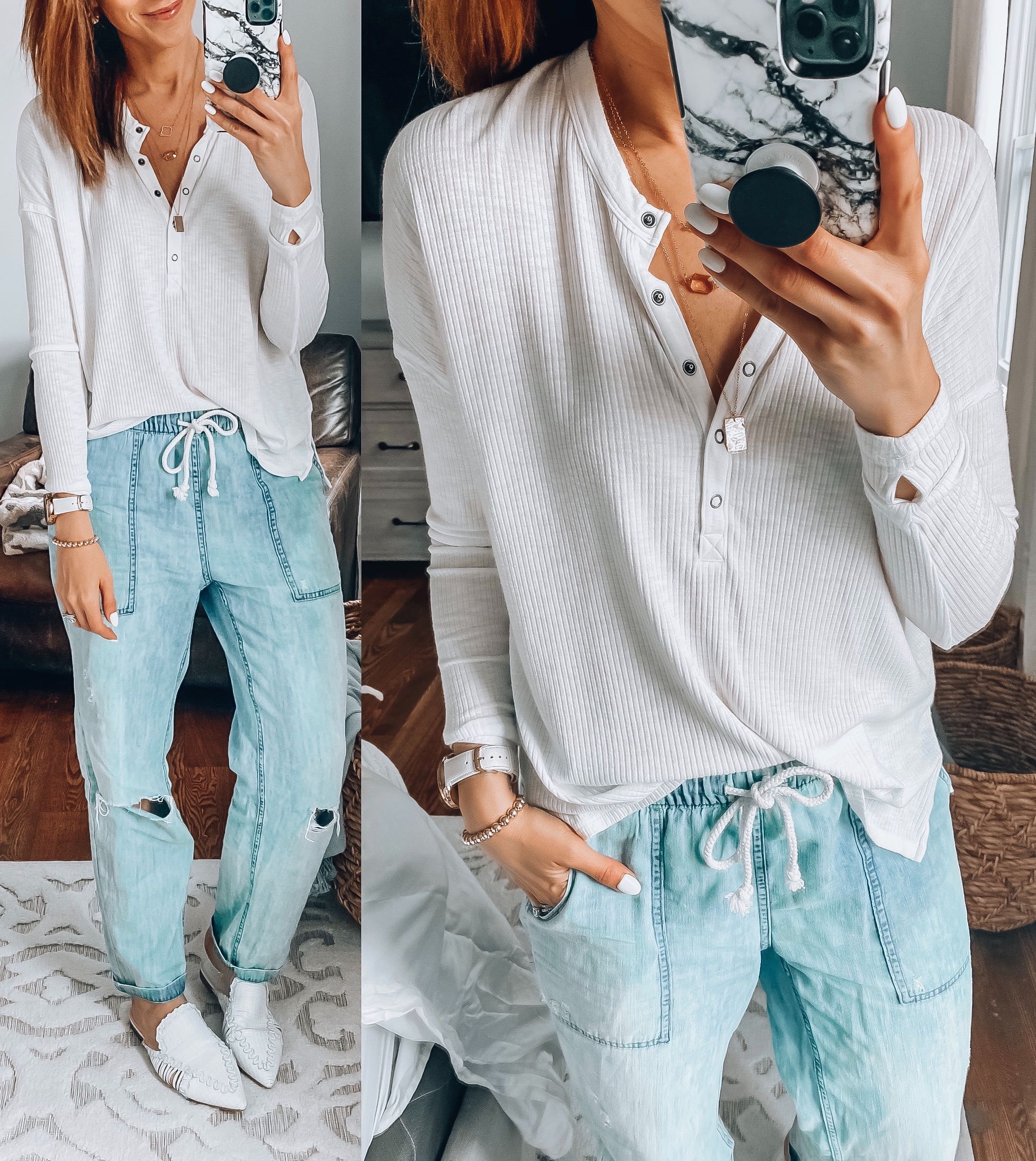 TEE // JEANS // SNEAKERS
This is my take on: work from home feeling ambitious kind of look. I'm not sure how many of you wear jeans around the house, I usually do not but! sometimes it feels really good to put real pants on, you know? My jeans are high waisted, skinny and I love the wash. My peplum tee is from LOFT which is on major sale and I am wearing size XS. My sneakers are great golden goose dupes and they fit TTS.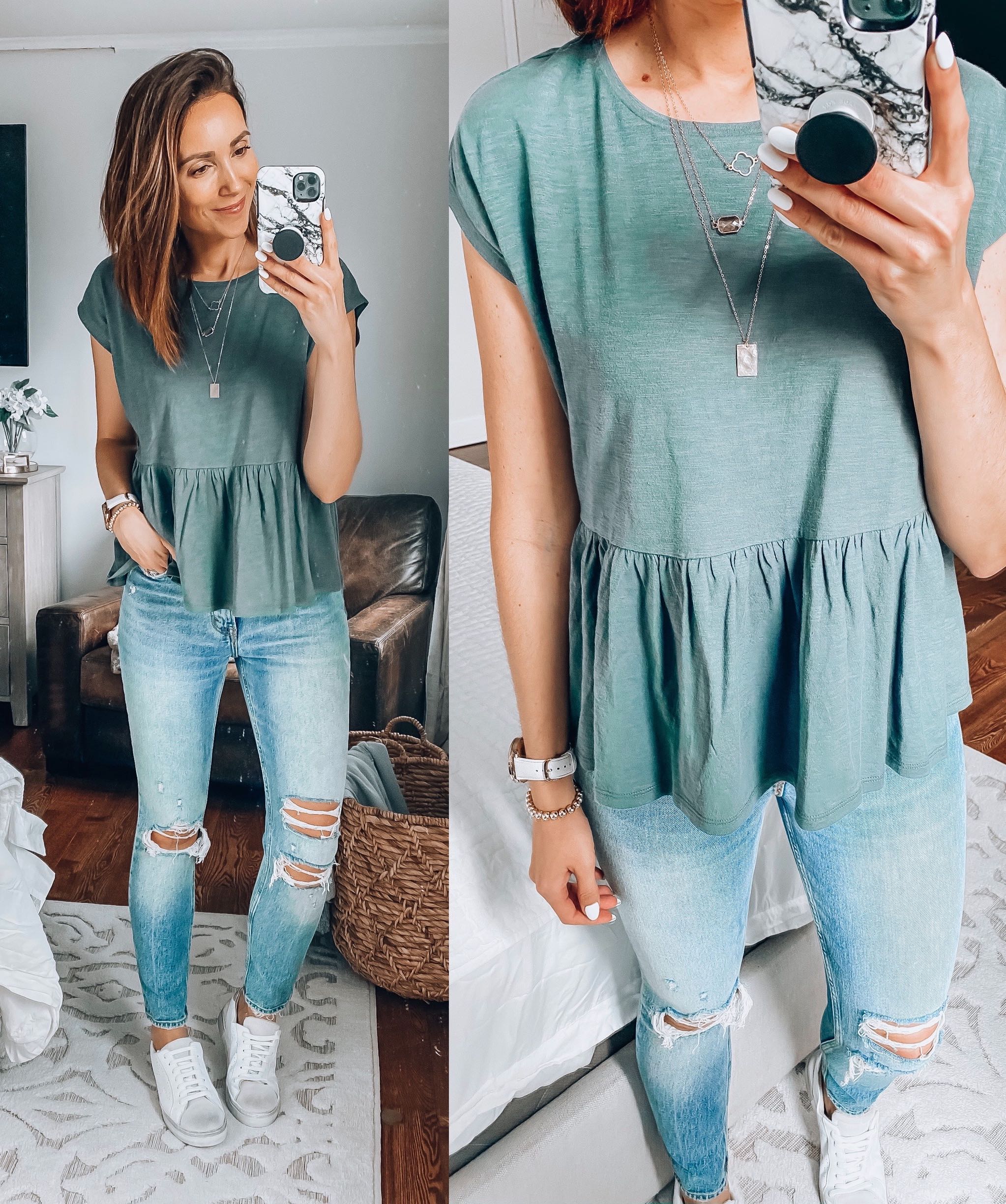 LEGGINGS // CARDIGAN // TEE
Zella leggings on sale! This is pretty surprising because they usually only go on sale during Nordstrom's Anniversary sale. I bought my first pair 4 years ago, and just bought another one last summer to have a fresher pair. In my opinion these are the best outfit leggings. They're pretty thick meaning they are no see through. They're high waisted and give you a hug feeling. They look great wash after wash so you will have them for seasons to come. My cocoon sweater is from Aerie and it's so cozy.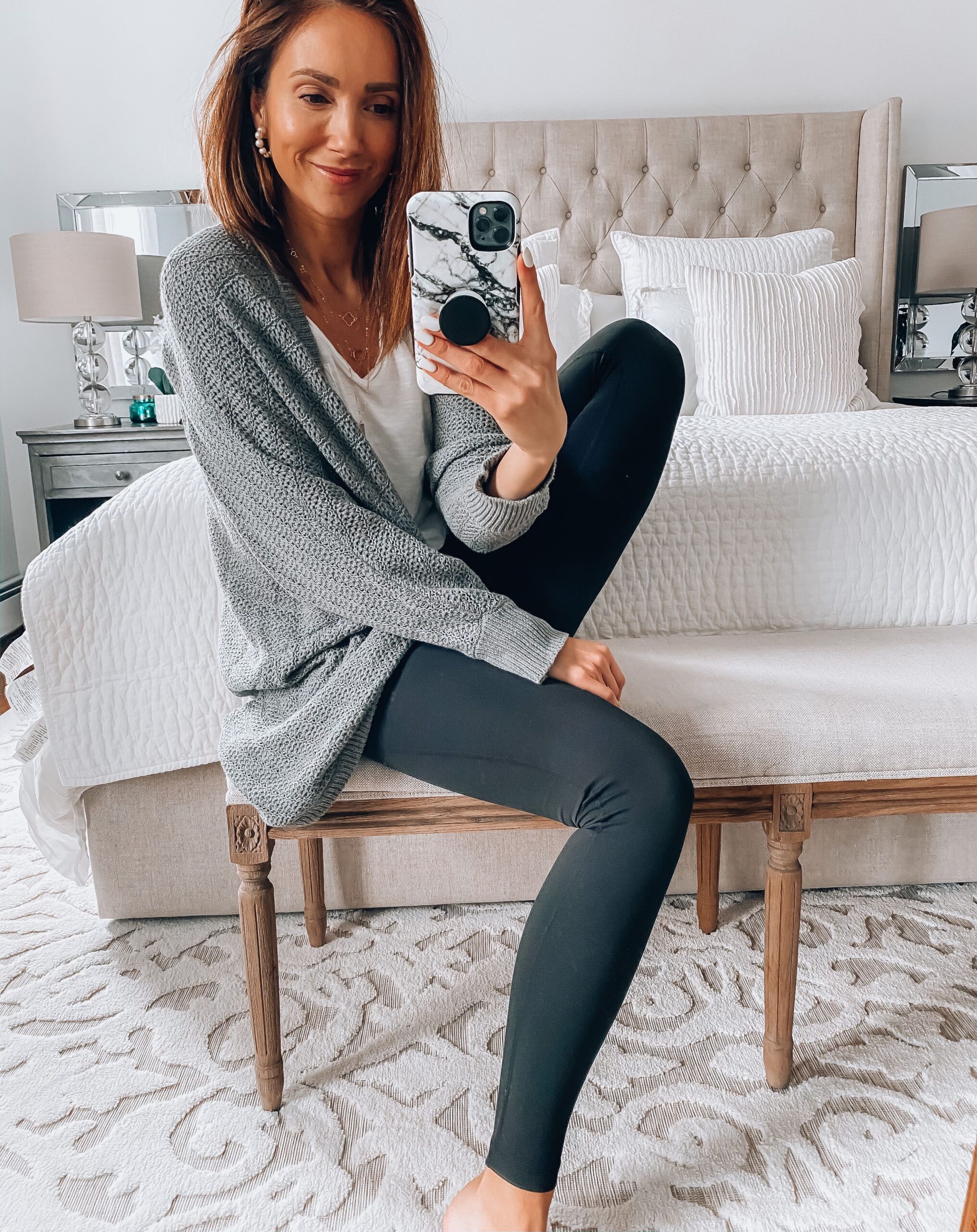 A comfy alternative to sweatpants or leggings, are these linen blend joggers from Target. They're so comfy and I am wearing size S. I am also wearing a small in this graphic tee.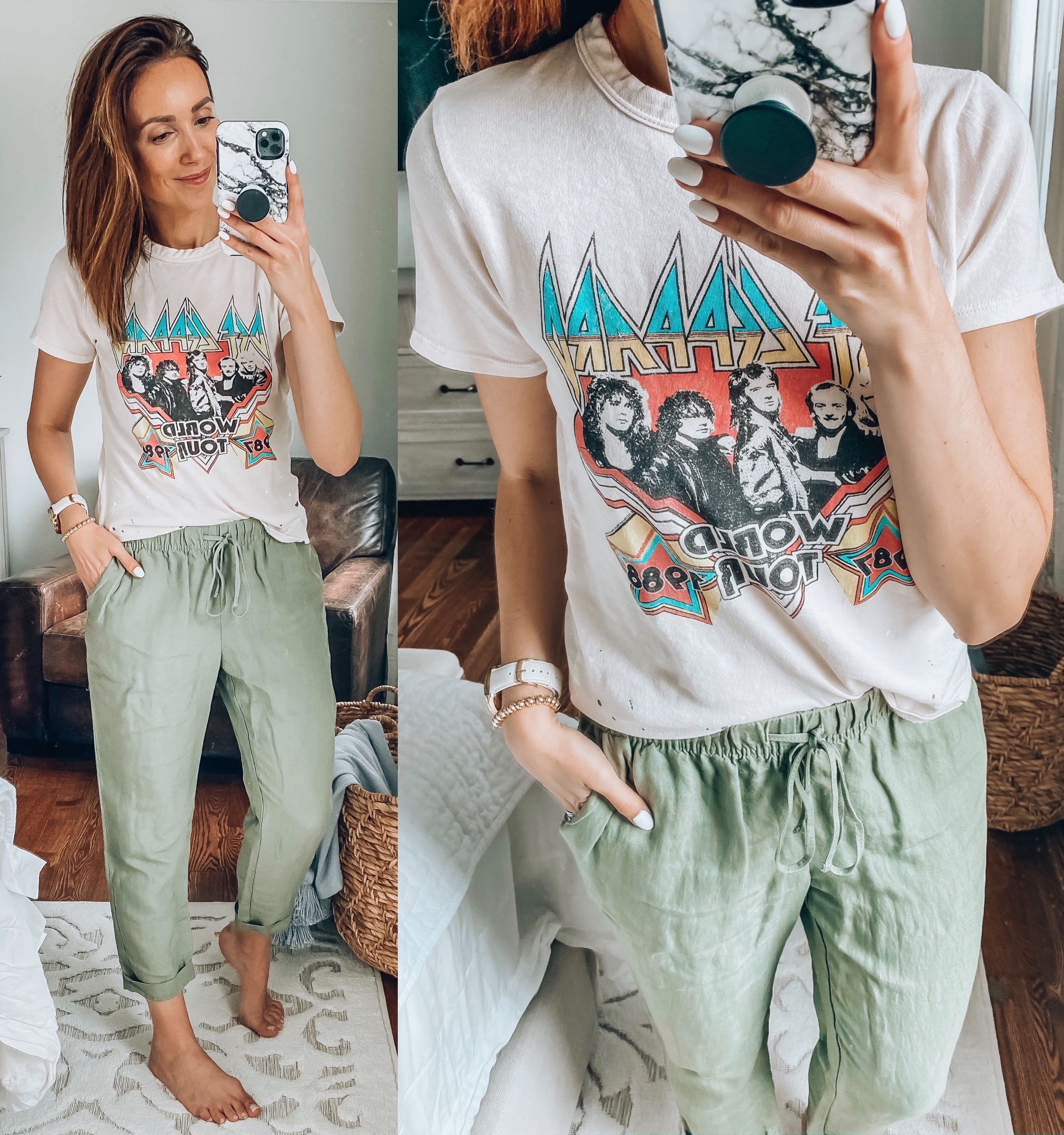 You can never go wrong with leggings for hanging out or working from home. These leggings are the lounge leggings from ALO. They have ribbed texture on the waistline and cuff. They are so incredible soft! They have a really flattering fit and are great for low impact workouts. Mine are from Backcountry, but you can also find them here. My tank is from Target and my lightweight cardigan is from Abercrombie.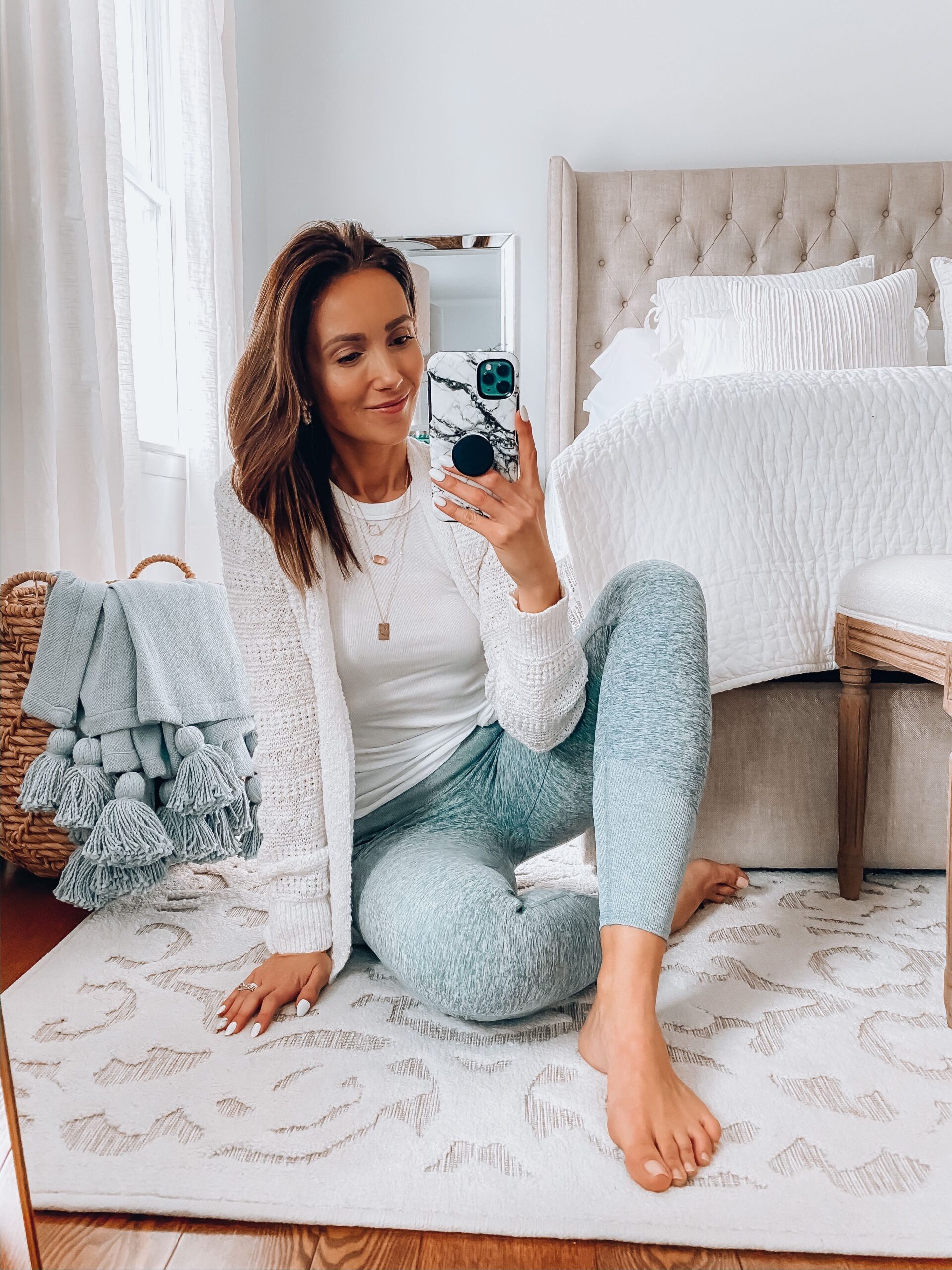 TANK // SWEATPANTS // CHAMBRAY SHIRT
Same tank top from my outfit above, I just tied a knot for a different look. I am wearing size S in my sweatpants that are also from Target. They are so buttery soft. My chambray shirt is from Abercrombie.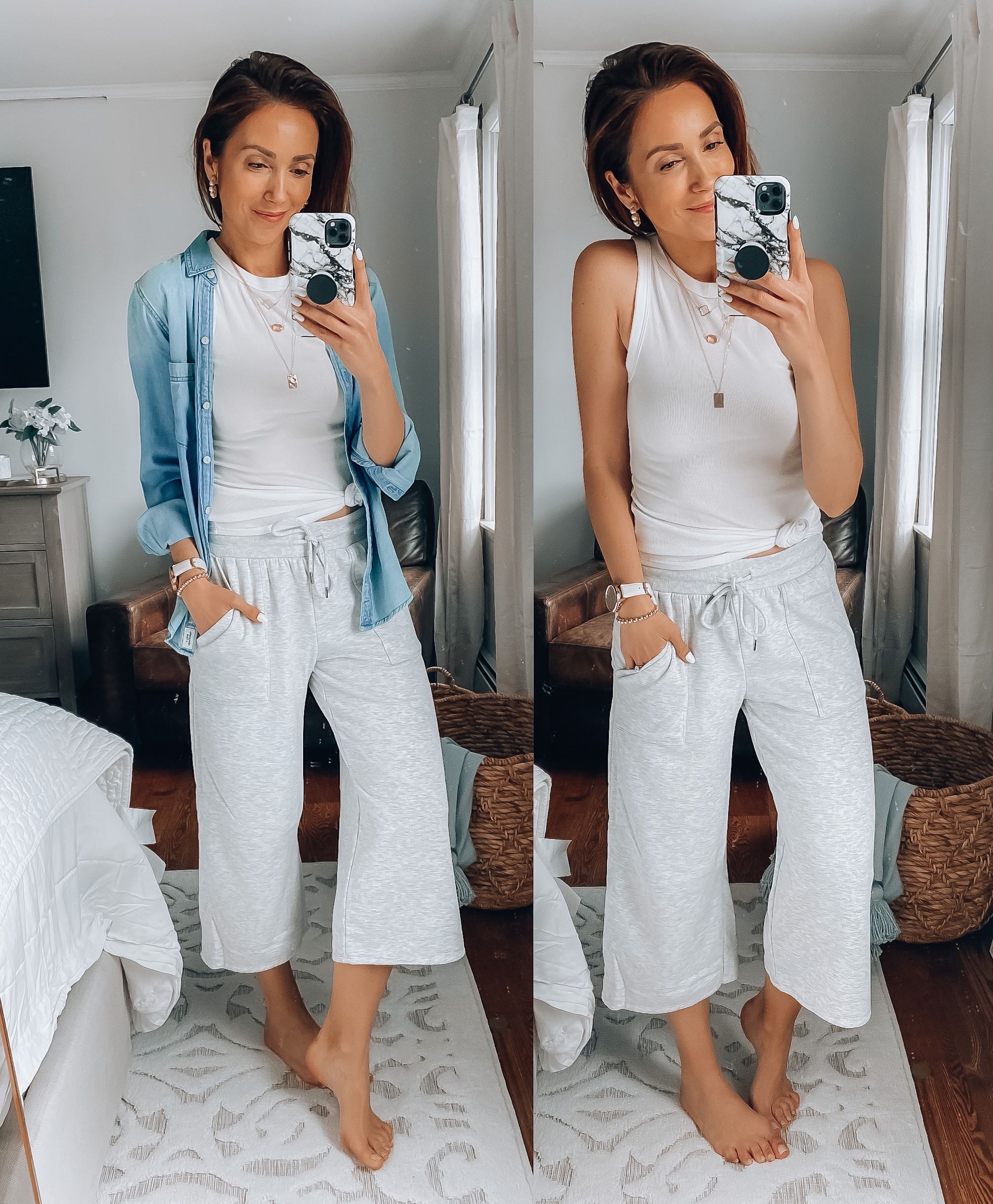 OVERALLS // TANK
Who remembers the sold out Aerie overalls? These are almost identical and from Target! One of my readers recommended them in my Target Insiders FB Group, which by the way if you love Target you should totally join us! I am wearing size S and they are available in 4 different color options. I chose charcoal/grey because they reminded me of the Aerie ones. These are great for spring, summer and are so comfortable. They do come with a belt for a more fitted look, but it is removable if you chose to do with out it.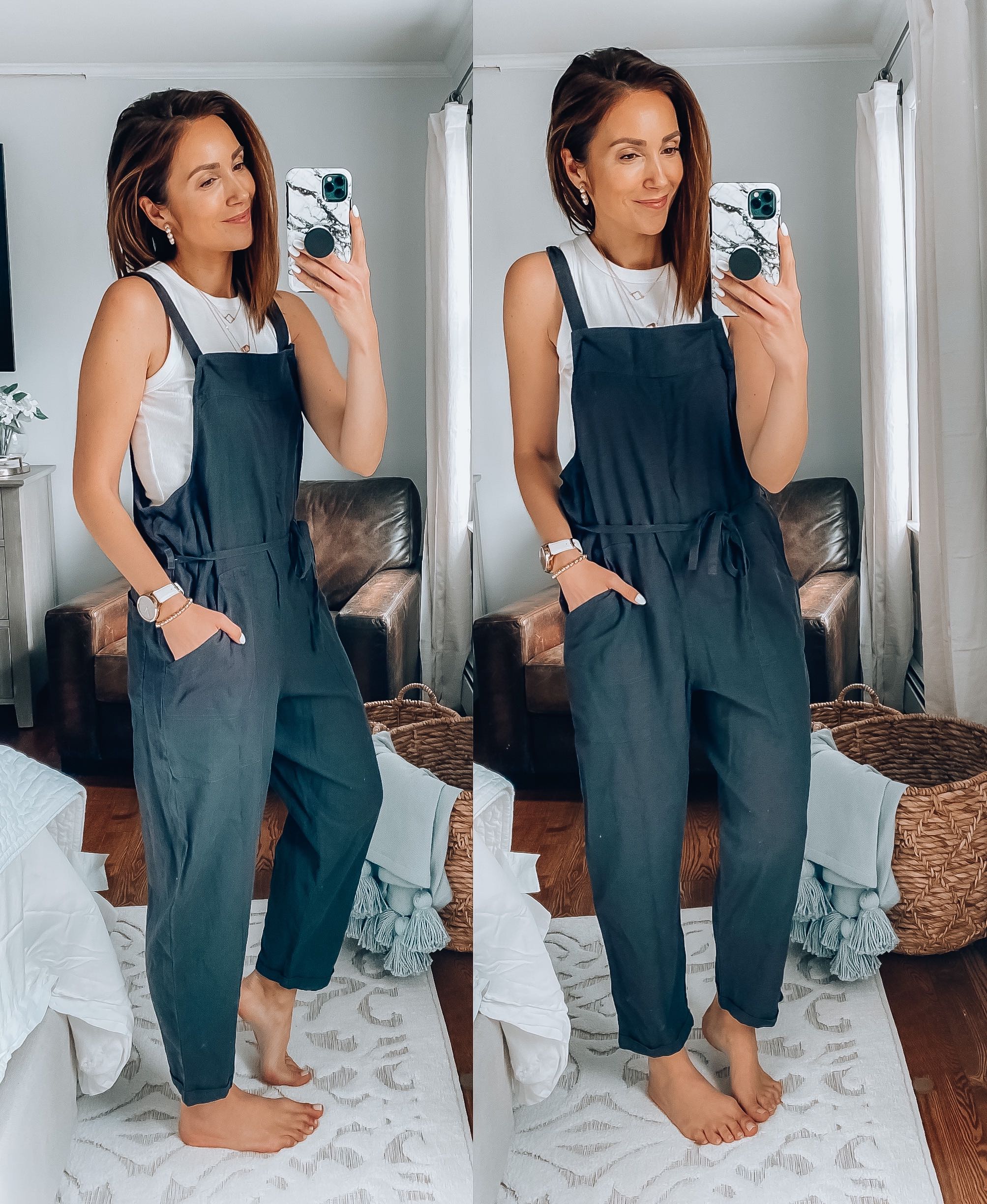 SWEATSHIRT // LEGGINGS
I have had this sweatshirt for months and I love the fun dye print and oversized fit. It comes in one size. My leggings are my old school favs and on sale.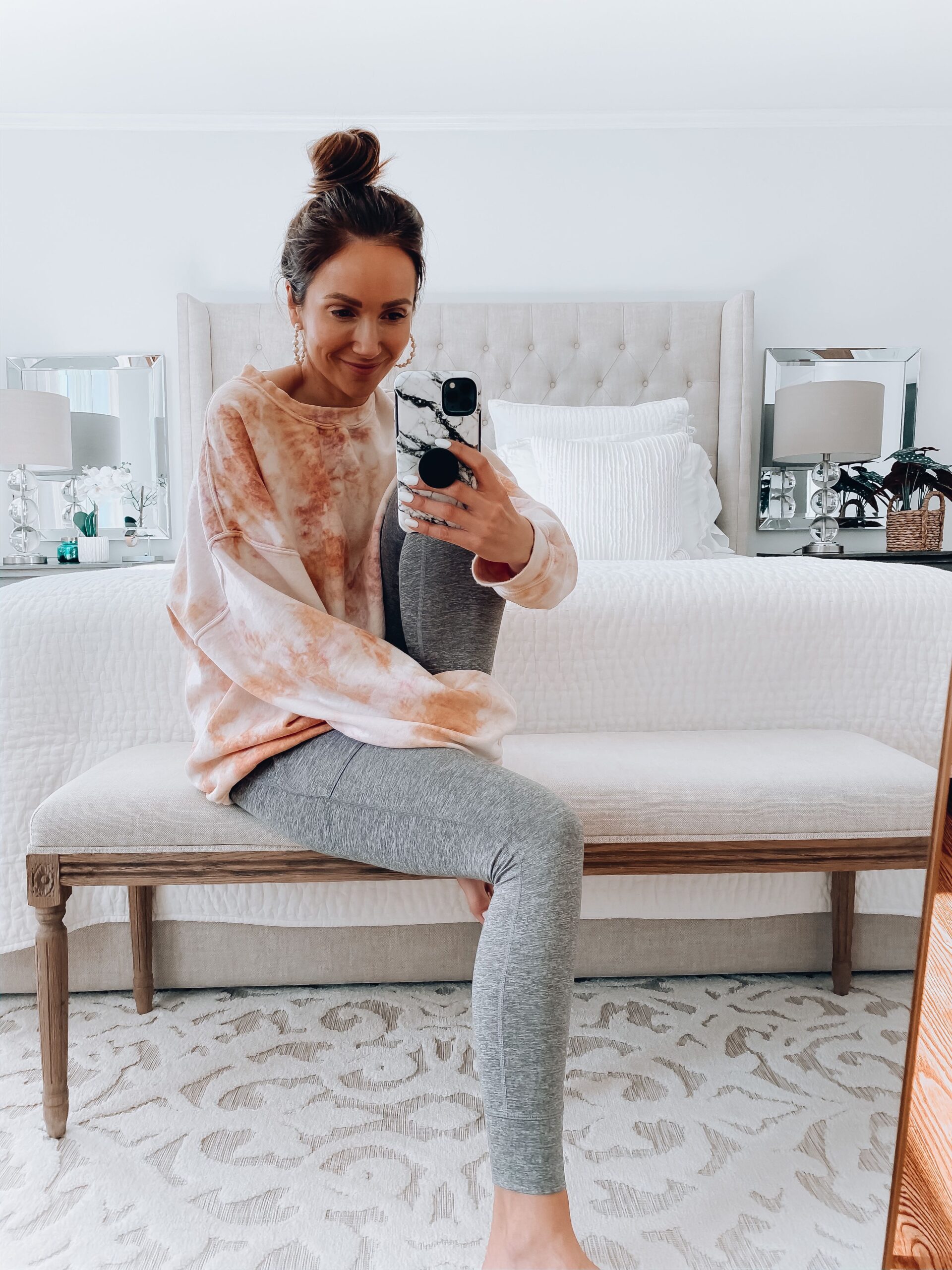 SWEATSHIRT // SWEATPANTS
This sweatshirt is so soft! It's definitely a piece that will transition well into the upcoming warmer months. I am wearing XS and it looks great with sweats or your favorite pair of white skinnies.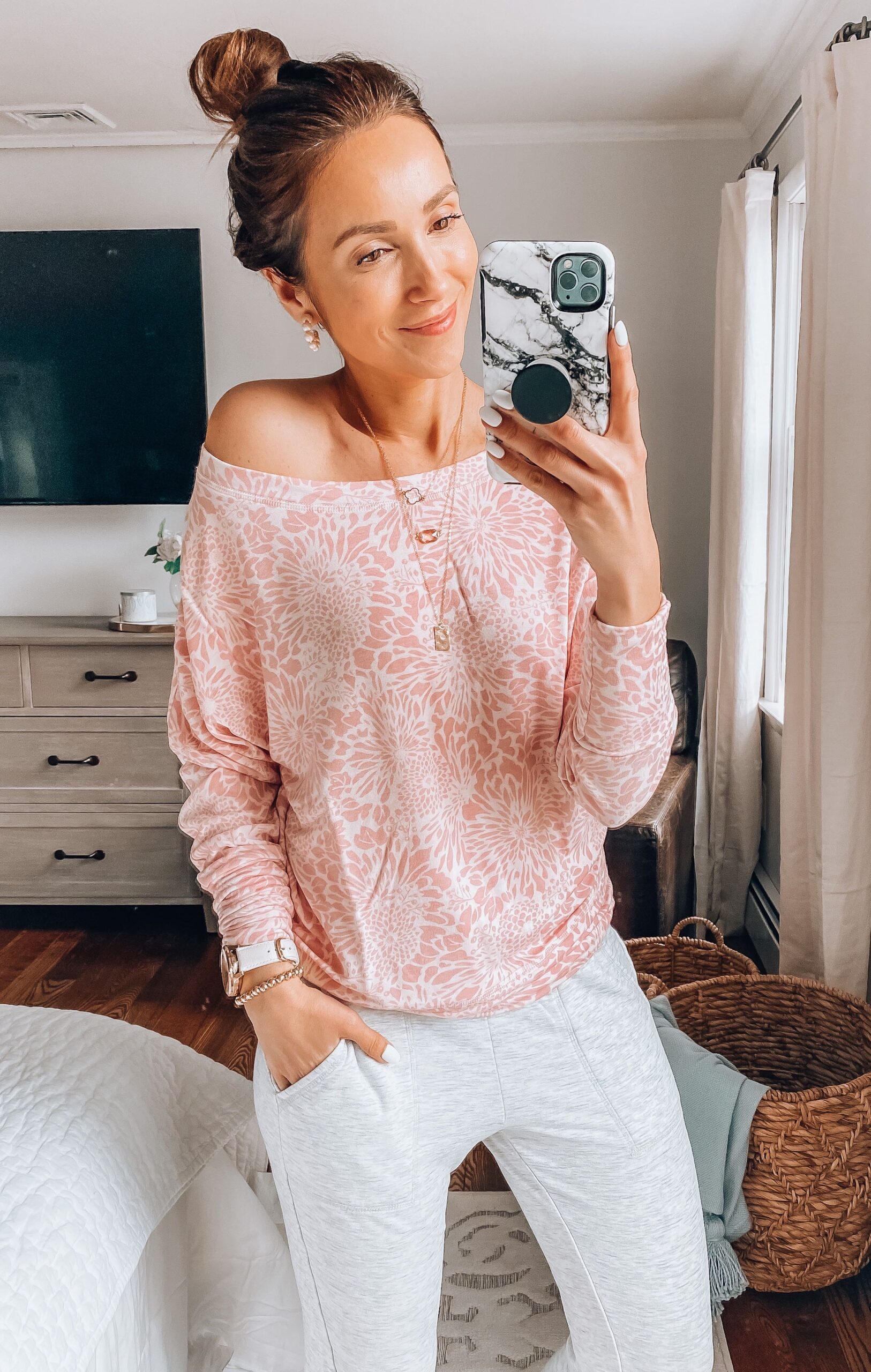 JOGGERS // TEE
Last but not least, the comfiest outfit of them all. My joggers are from Walmart and are on major sale! They look great wash after wash, so soft and I am wearing size S. My tee is from Abercrombie but from last year. They are back in stock and have a ton of color options. I am wearing size S.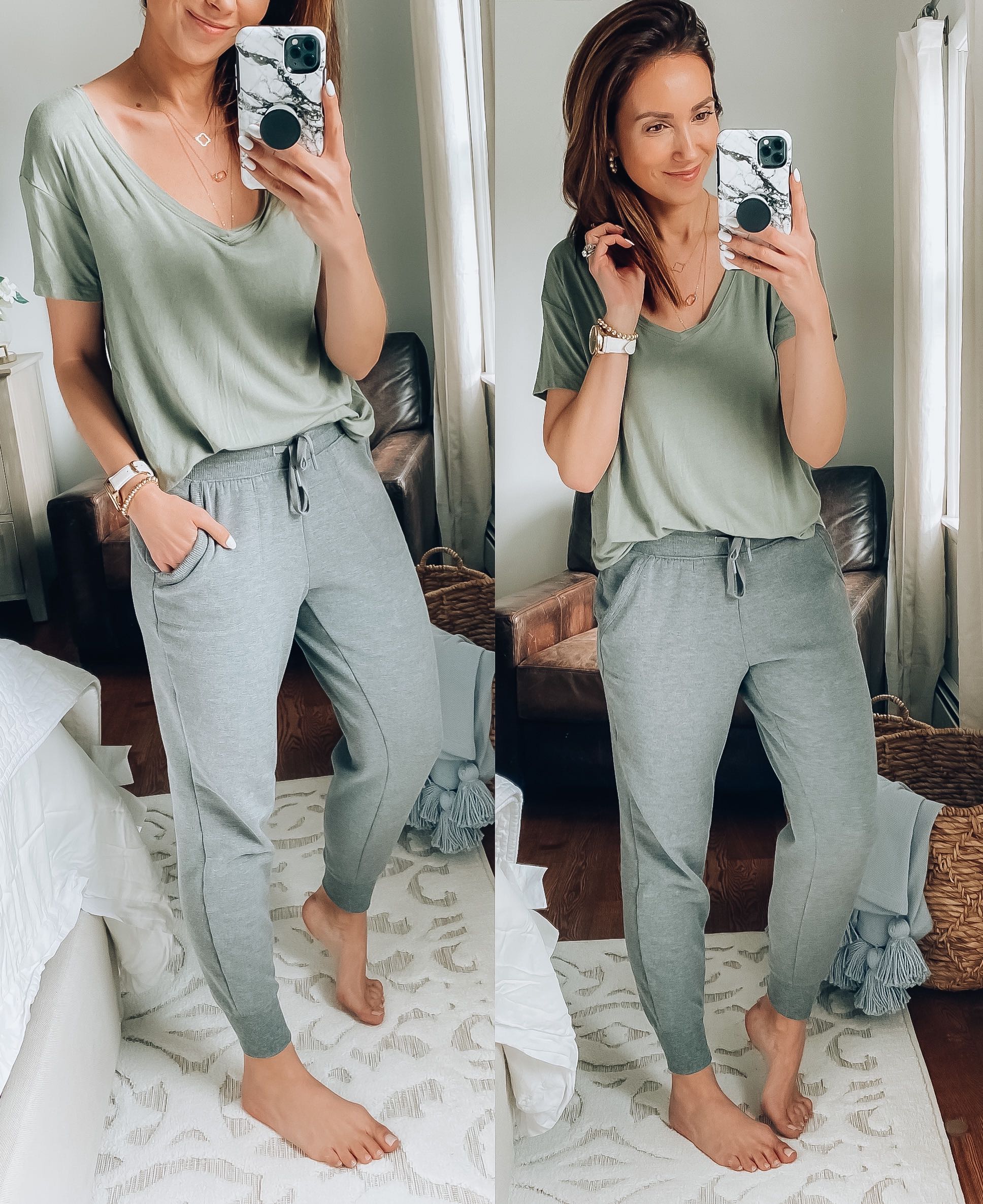 Other Outfit Ideas You Might Like
CARDIGAN // TANK // JOGGERS
TUMBLER // GLASSES // SLIPPERS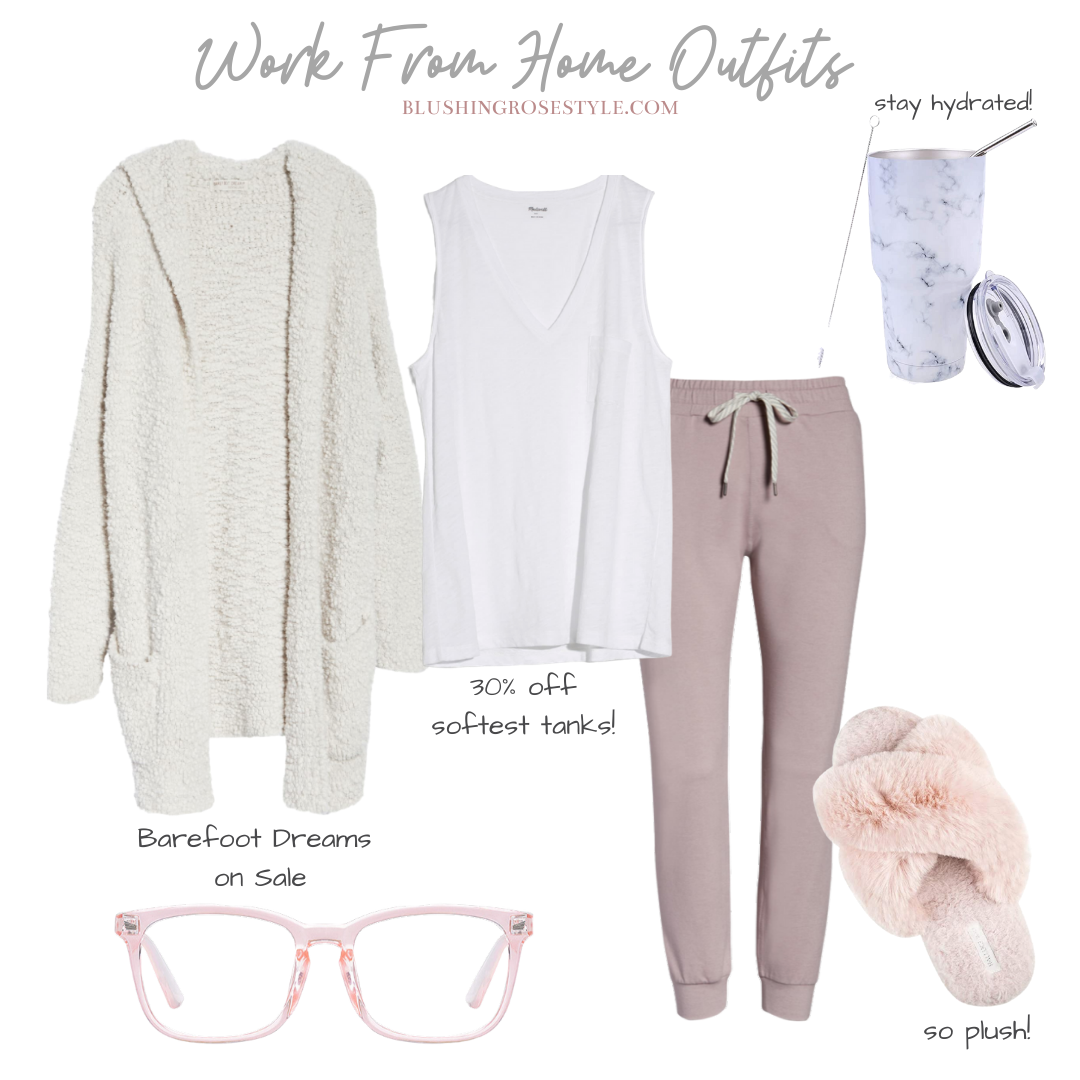 HOODIE // LEGGINGS // WATER BOTTLE
CAMO THROW // TAN THROW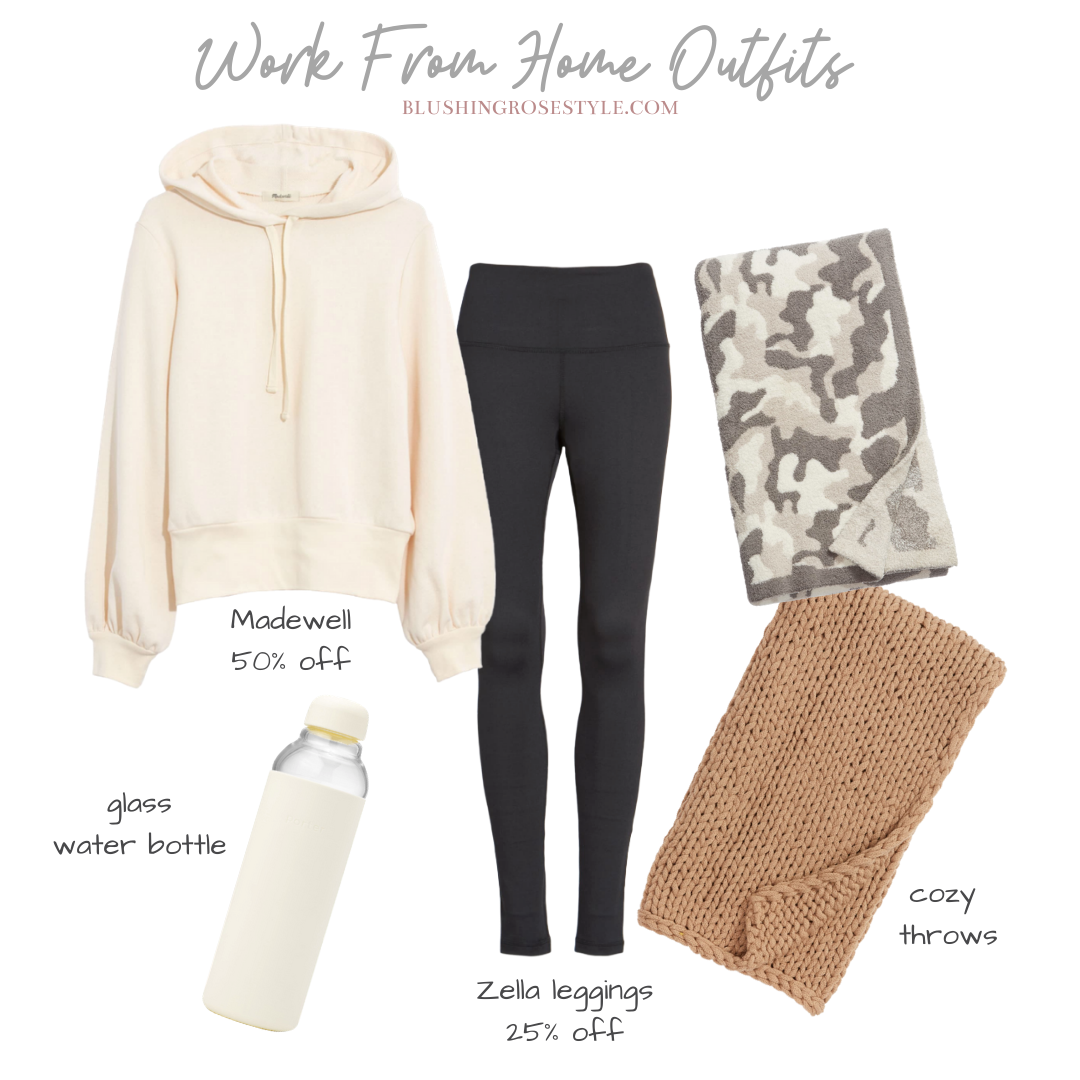 SWEATER // JOGGERS //HAIR TIES
TUMBLER // SLIPPERS // HAND CREAM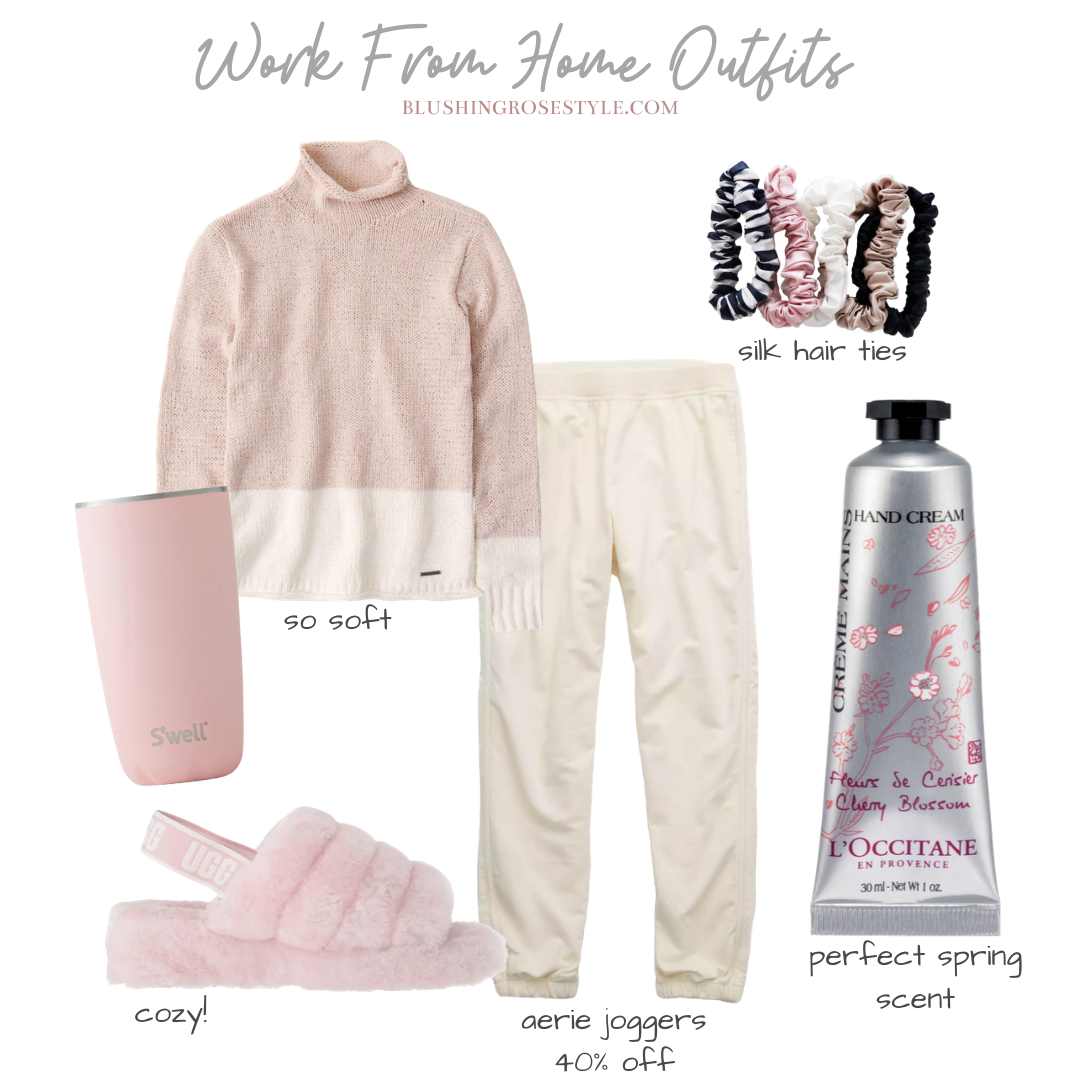 Thank you so much for visiting Blushing Rose Style! I hope these provide some inspiration for your outfits!