Hi friends. Happy April! We made it! I know, it sounds strange to say especially with our new normal of staying home, but it also means that we're moving into warmer weather and spending time outside (while staying safe that is). Many of you have mentioned that you're working on your own backyard and patio spaces to create a serene, outdoor paradise. Whether you have big backyard or a tiny patio, there are possibilities to create the perfect setting.
I absolutely love my backyard but there are items I would like to add this year to spruce it up. While it's still pretty chilly in NY, my backyard remains untouched by any projects. We will be adding more outdoor furniture this year , dining area and I am hoping for some landscaping updates to the pool area as well. John and I just celebrated our 10 year wedding anniversary yesterday… we have moved 7 or 8 times since getting married. And this is the first time we have a house with a backyard for the kids! If the weather cooperated, I'd spend all my time here.
While our outdoor space is still a work in progress, I am  browsing online for furniture, rugs and accessories. I definitely have a fire pit and egg chair on my wish list. Here are some other items I found online and loved.
SECTIONAL // UMBRELLA // LIGHTS // RUG
SIT WITH ME PILLOW // TEAL PILLOW // RELAX PILLOW
RATTAN CHAIR // ACCENT TABLE // TEAL PLANTER // FAUX AGAVE PLANT
STAND PLANTER // LANTERN

DINING SET // UMBRELLA // RUG // BAR // PITCHER // FAUX PEONY
TRAY // GLASSES // CANDLE // BLUE VASE // WHITE VASE // LANTERN // TIKI TORCHES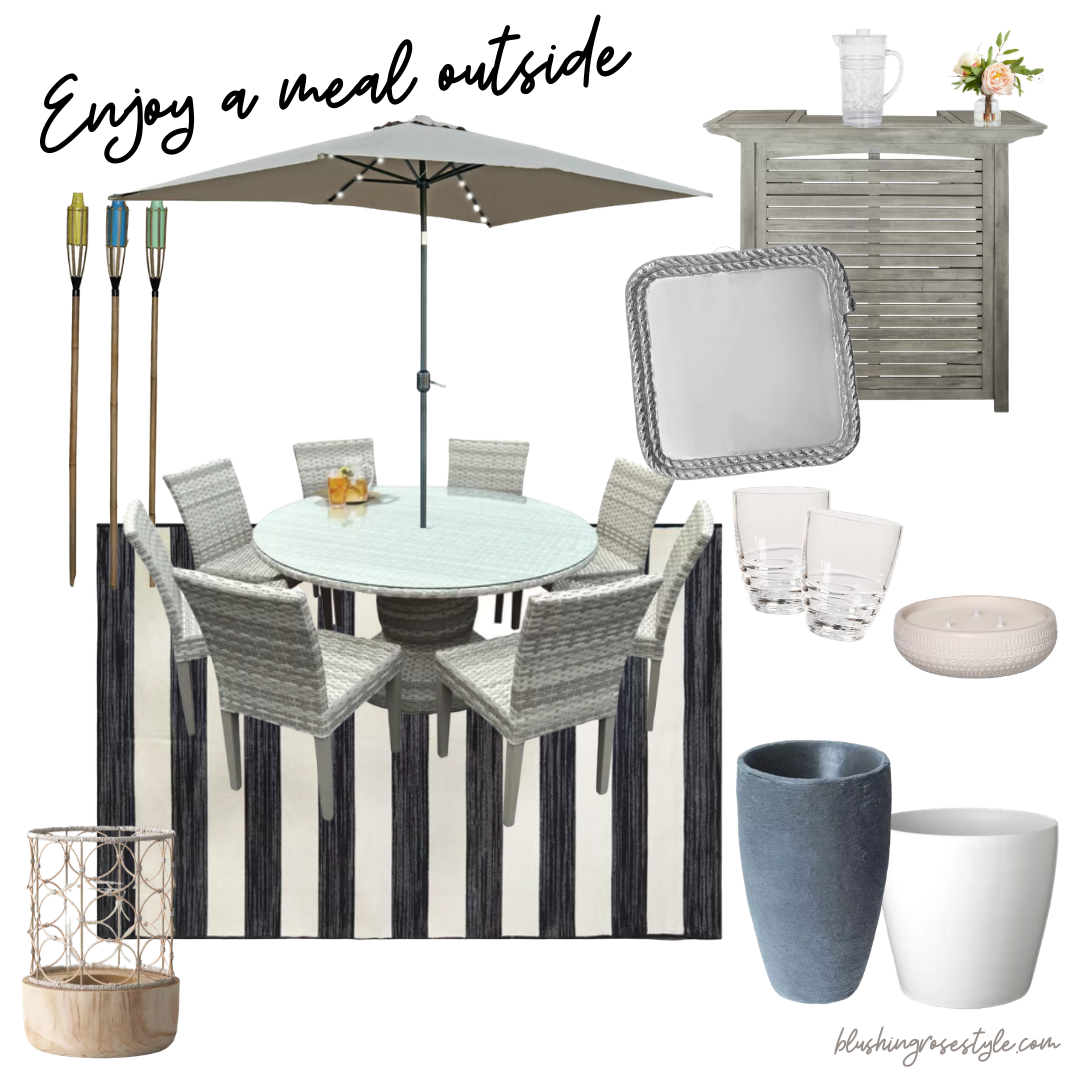 CHAIR & OTTOMAN // RUG // TEA LIGHT // STRIPE PILLOW // TIGER PILLOW 
THROW BLANKET // CACTUS // LANTERN // CACTUS // PLANTER // TERRARIUM

Other Outdoor Trends I'm Loving

Thank you for visiting Blushing Rose Style! Are you excited for your outdoor space?