Good Morning Friends. I am super sleepy this morning and need all the coffee I can get. Yesterday was such a great day but long day.  I spent the day at the pool with my kids, the weather was just perfect. And last night John and I went on a date, it was a first since January! It was so wonderful – we had a delicious meal at one of my favorite restaurants (open for outdoor eating only) and we got to see dear friends. NY is still in the very early stages of re-opening, but how are things where you live? Have you been able to eat out? Or get your hair / nails done yet?
It's Saturday and I am back with another Target– Try On. Last week, I was all about sharing bright, colorful pieces but this week I am back to my neutral color palette. I cannot wait to share these new finds with you.
Btw if you really love Target, you should totally join my private FB group –  Blushing Rose Style Target Finds where I share all my finds – from fashion, home goods, home decor to the most unique finds. And it has been an amazing community with everyone that has joined! And you can also share your recent purchases, and see what others in the group are raving about.
MY ACCESSORIES
PHONE CASE // INITIAL NECKLACE // FAITH BRACELET // EARRINGS // HORN NECKLACE // WATCH // STRAPLESS BRA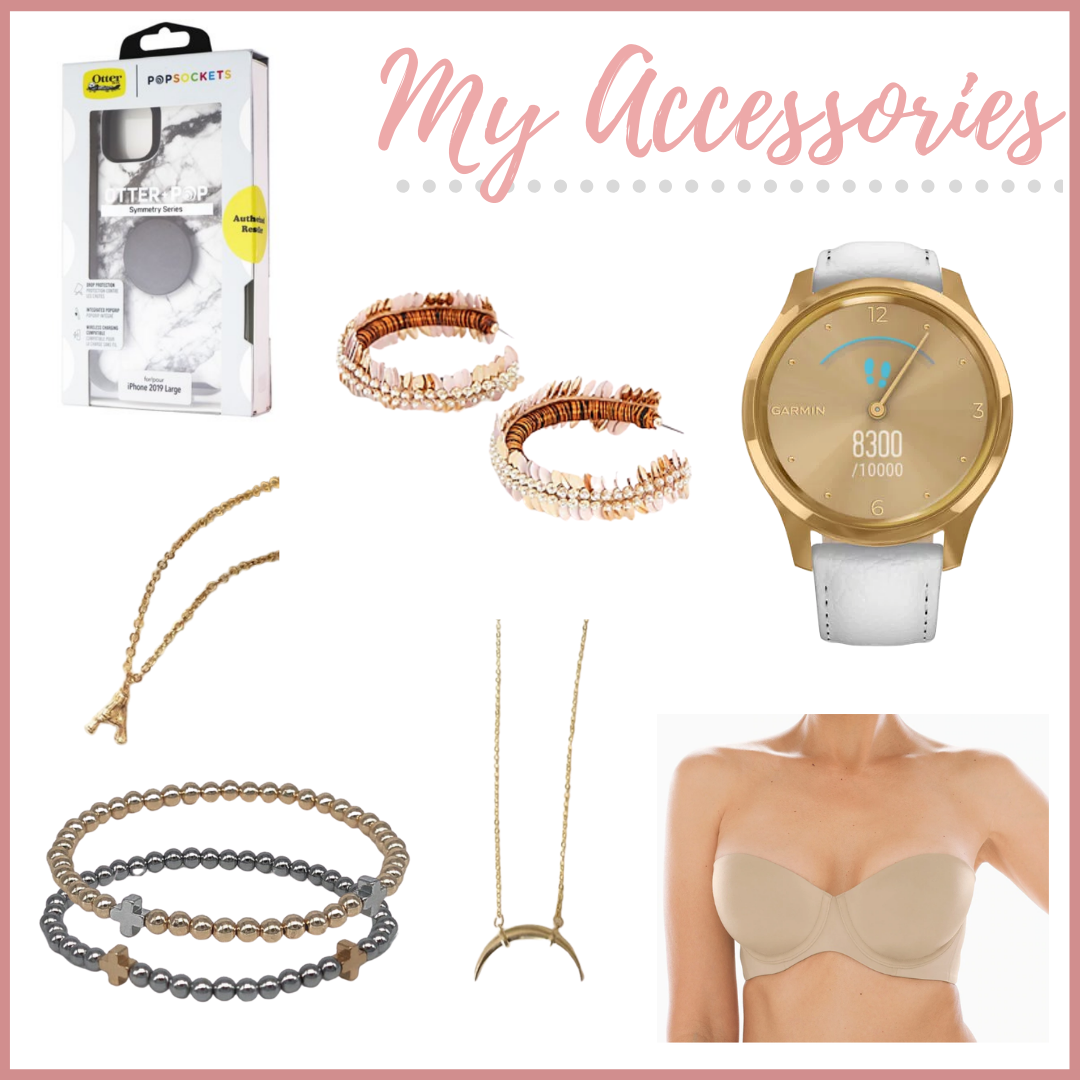 First up is this gorgeous dress and doesn't it look like it's from Anthropologie? It has pockets and if you've followed me for a while, you know how much I love that aspect in a dress! I really love the eyelet detailing on the sleeves. Now, the fit is very relaxed and oversized. I purchased a size medium because I wasn't sure about the size or length. I probably could purchased a small, but now I can accessorize with a belt because I have the length. For another look, I would style it with a denim jacket and sneakers. My sandals are also from Target.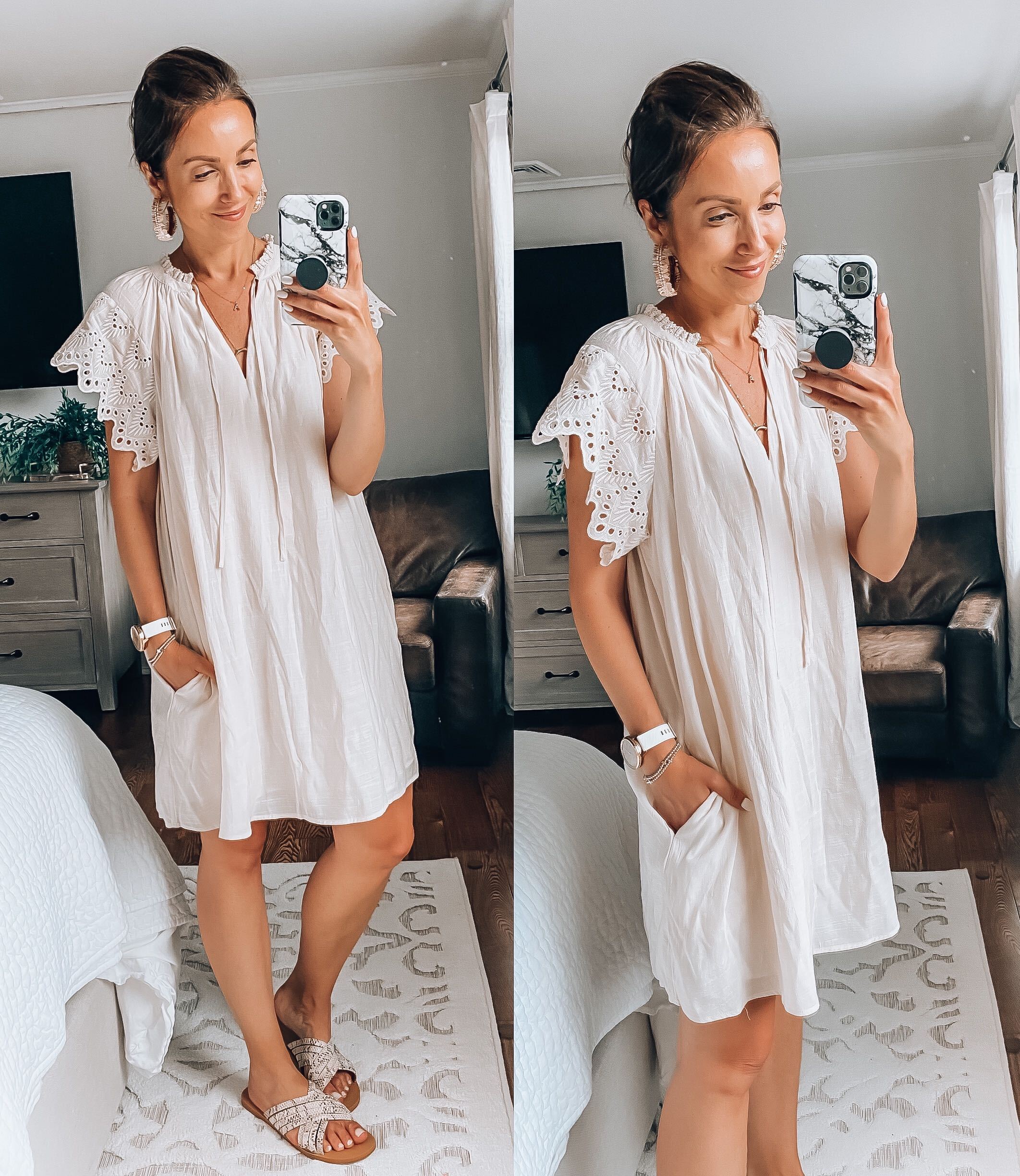 This might just be one of my favorite outfit combos from Target, I have affinity for neutrals. The jeans are wide leg, super stretchy, ankle length and the belt is removable. I did size up by one size. I typically wear size 26 or  2 in most denim brands, but I felt a 4 fits me just right. I am wearing size small in this sweater. It's also available in mint and brown. Because of the large loop stitching I would style it differently depending on where you are wearing it. For the office or a more corporate environment, I would layer a cami underneath. For more of a relaxed style a lace bralette would look great. My favorite bralette is by Free People and Aerie also has beautiful options as well.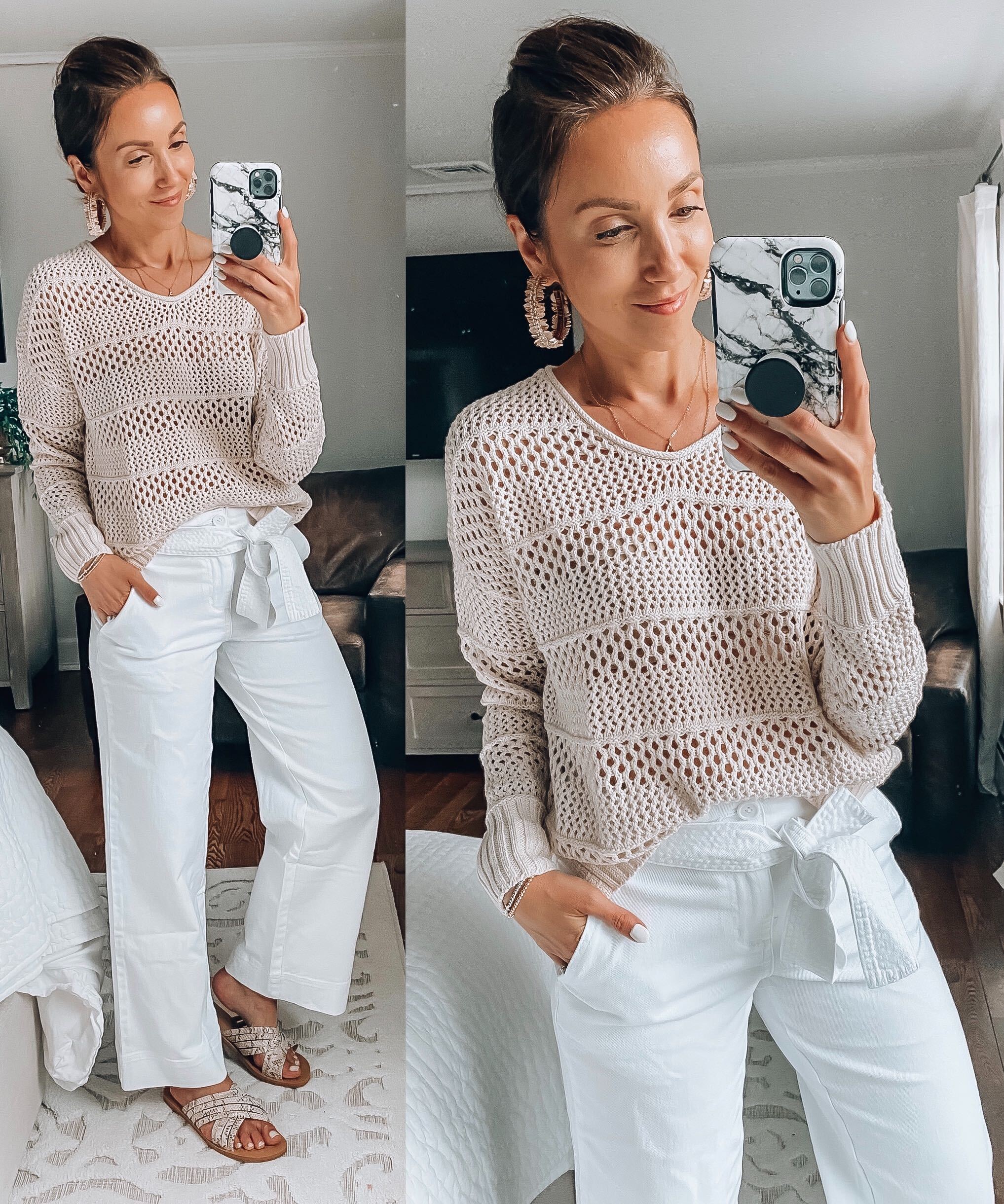 Comfy and cozy essentials coming your way. I can't stop raving about this tee, in case you haven't noticed hehe. It's been on the most loved list for the past couple of weeks. It's such a great FP dupe, I am wearing size xs. I am wearing size medium in the joggers,  (I size up for a more oversized fit). They are  buttery soft, prettiest pink color and you will not want to take them off.  My sandals are sold out, but similar ones are here.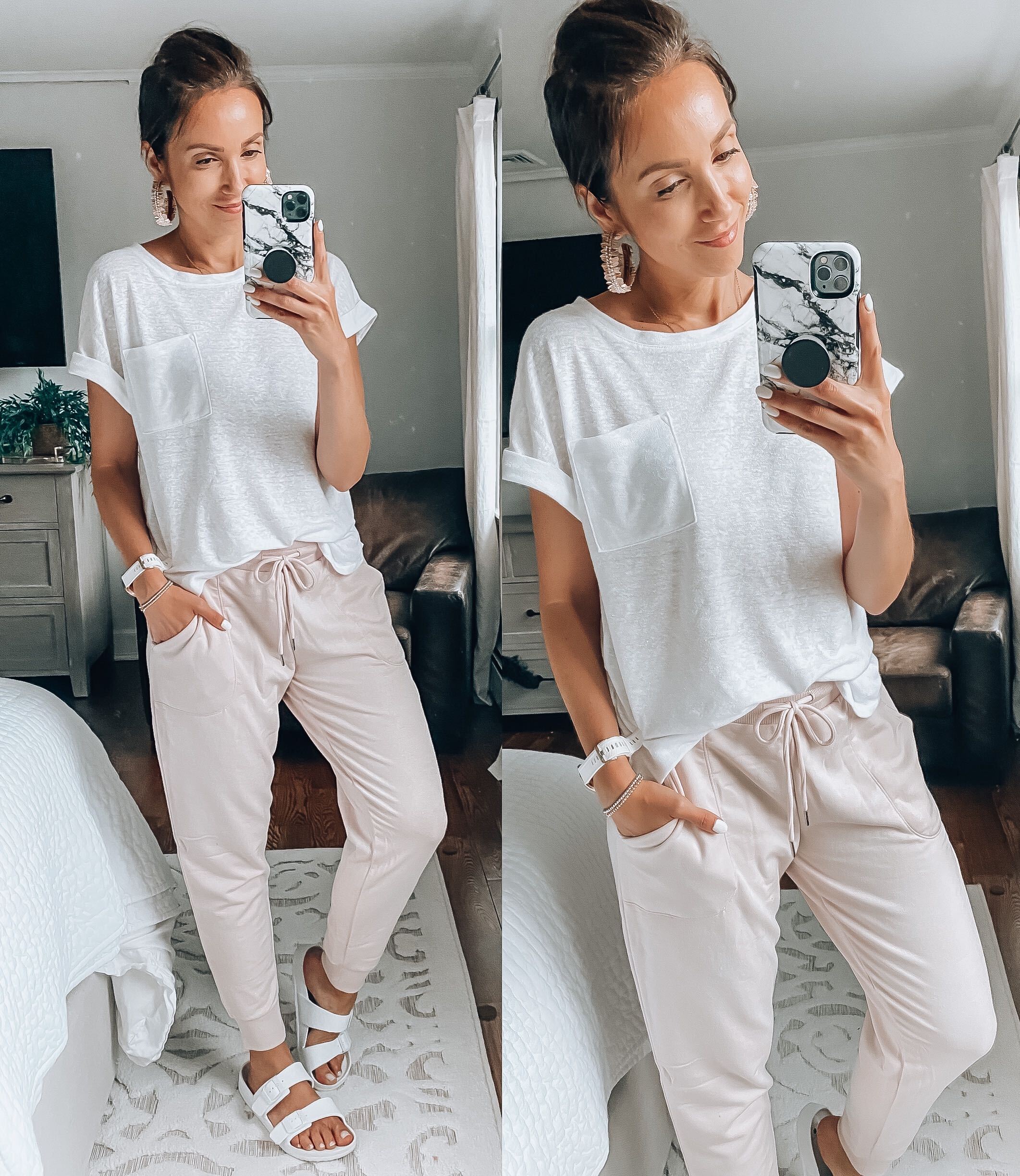 There are a couple of items that qualify as great seasonal wardrobe staples. This black short sleeve dress is one of them. Although it looks so simple there are a couple of things to point out that make it different. For one, the oversized v-neckline, and the silhouette is different than a traditional straight cut tee dress. It's more oversized on top, and gets narrow towards your waist and hips which I really like. For an athleisure style pair with sneakers and a denim jacket. If you wanted to dress it up a bit, add sandals and a cardigan. It is also 100% cotton which makes it very soft. I am wearing size small.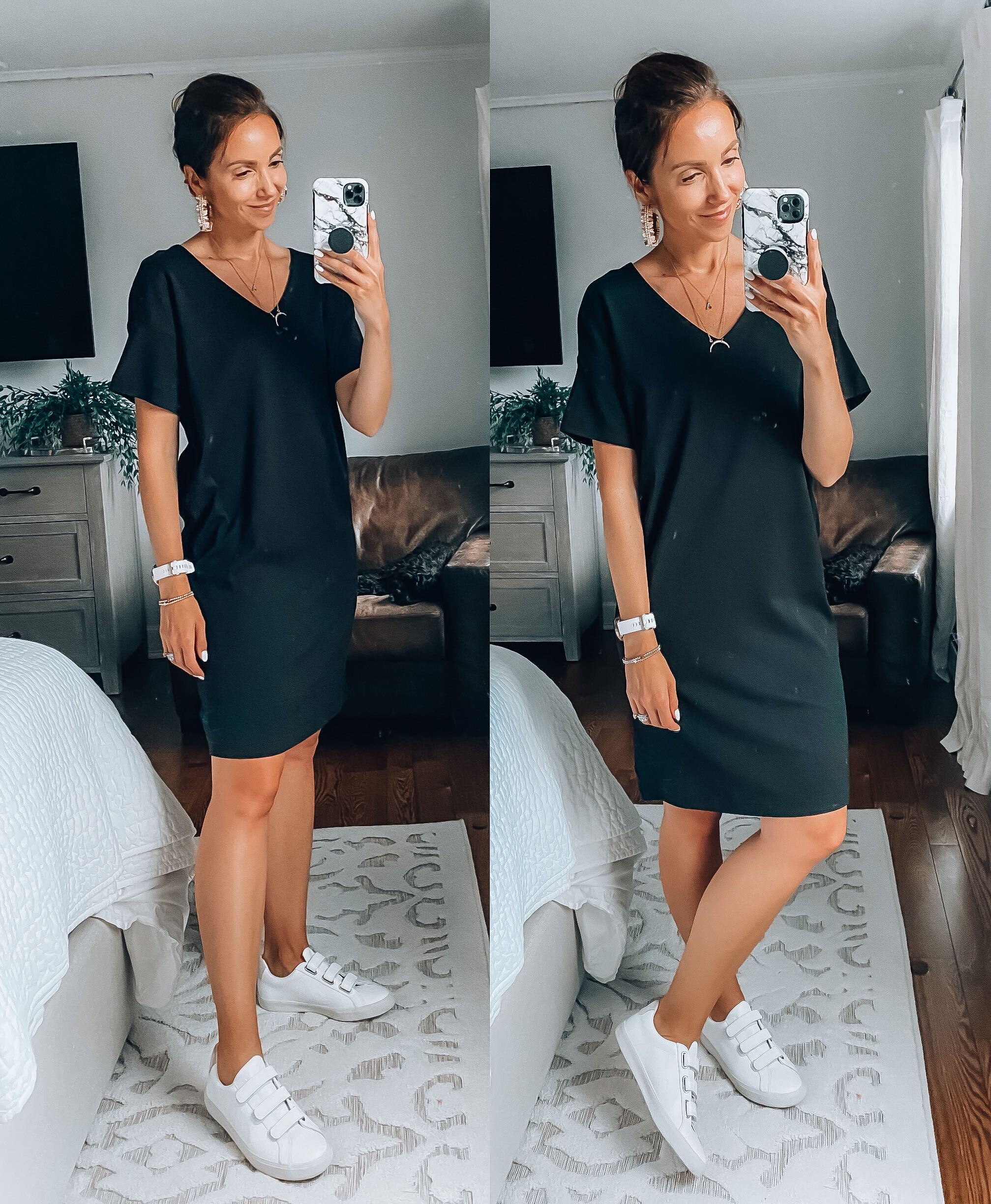 I've shared these shorts before, they're high waisted, super comfortable. I am wearing size small and they fit tts. This high neck top is so pretty! It's definitely more of a casual piece, but because of the detailing it adds dressier element to it. It has a loose fit and I am wearing size xs. My sandals are so comfortable and I recommend sizing up by half size. They are available in black, leopard and spotted.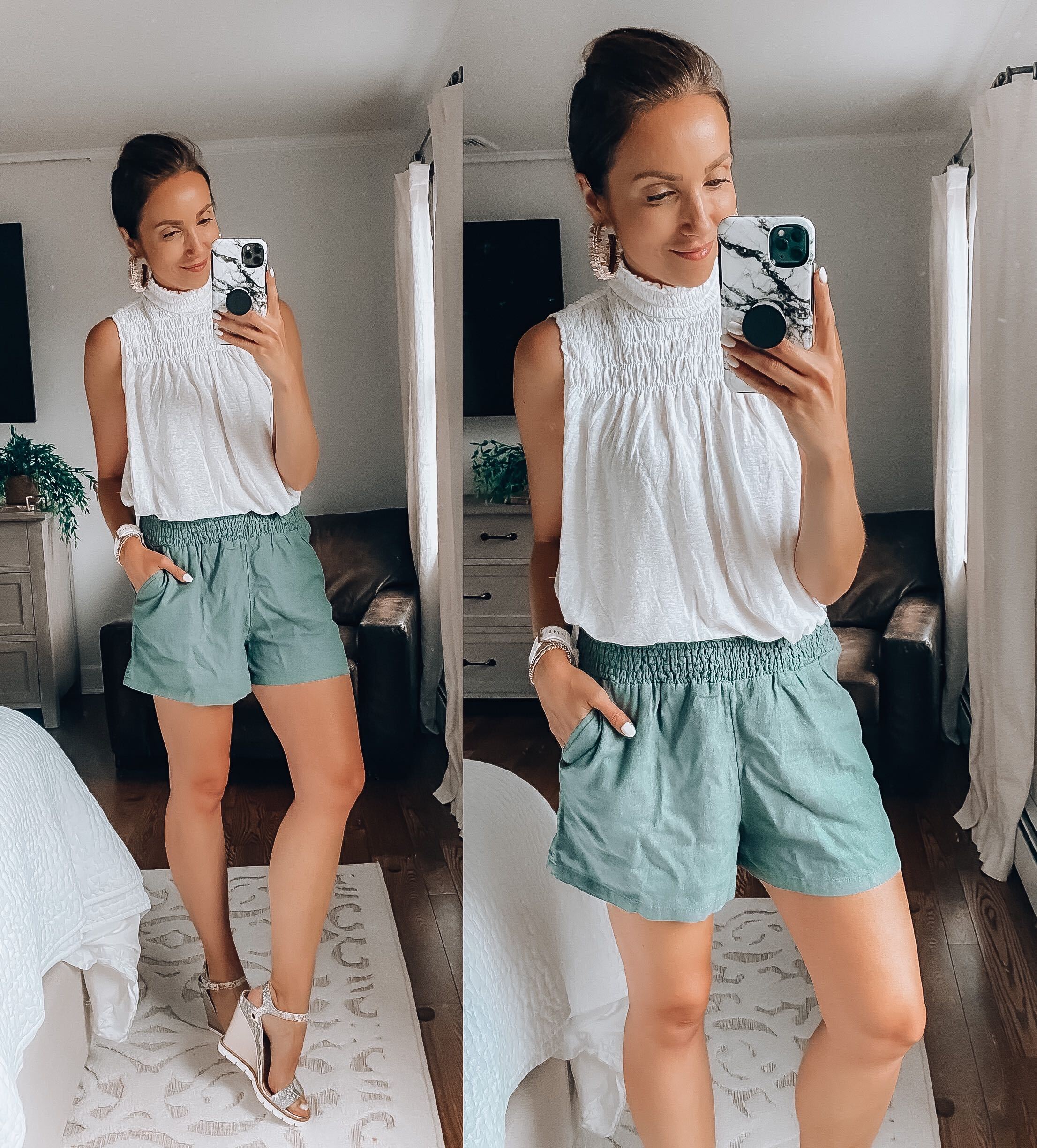 If you haven't snagged these overalls yet, they are still available. I bought a medium and while they are a bit big on me, the length is really good and I love that they are longer in the back. Because they are a big baggy, I'll probably continue to wear them with a fitted tank or bodysuit. This lightweight cardigan has become so popular and is a great layering piece for summer.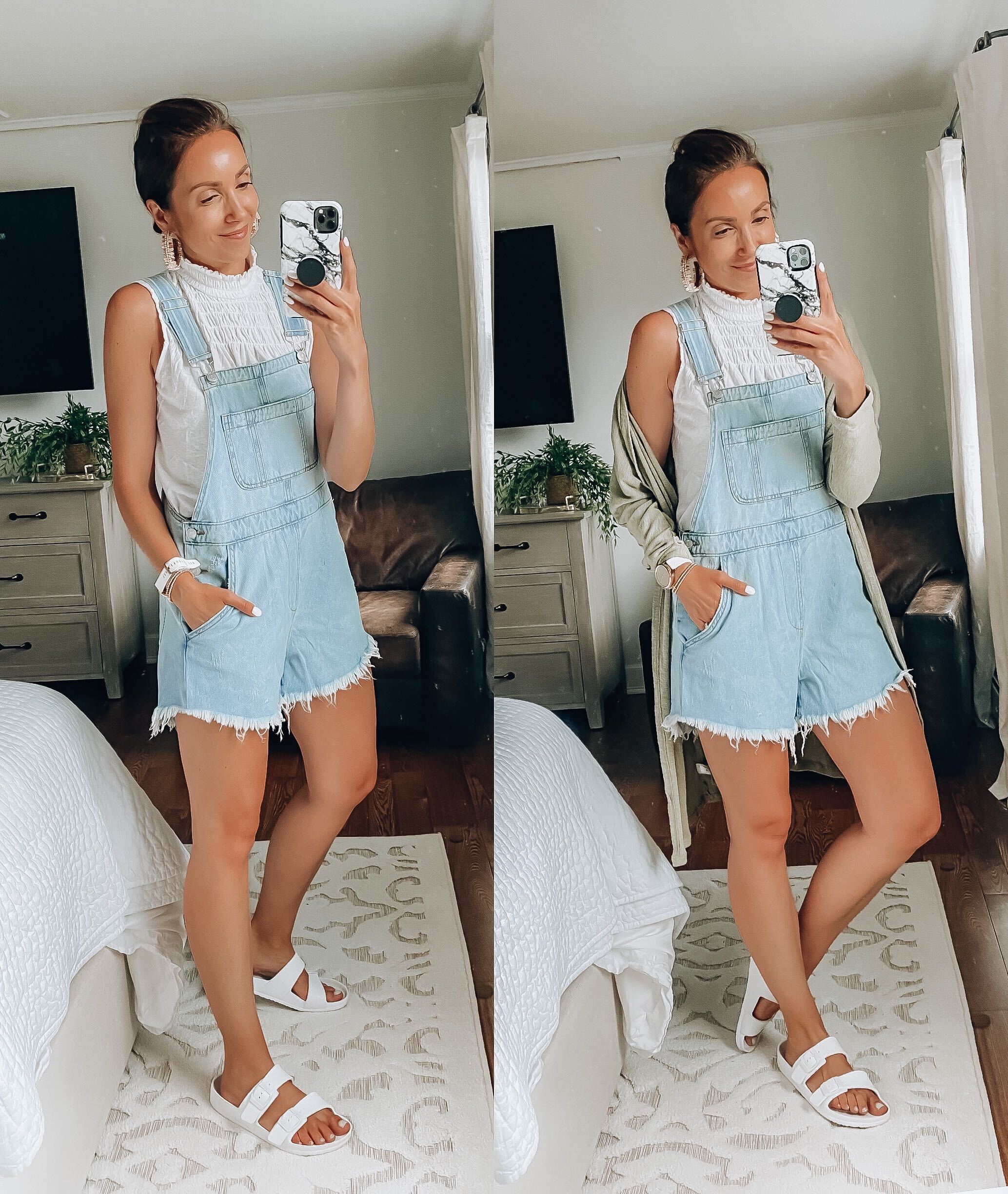 Thank you so much for visiting Blushing Rose Style Blog!