Happy Saturday, girls! It's been a while since I've done a Target try-on and the last one was also done at home right before we were quarantined. I went shopping that day and brought items home to share with you. I've since ordered new items and some of my favorites are back in stock so I wanted to do a little try-on at home. While, I miss going to Target so much (can't wait to visit again) it's still fun to do one in my bedroom. Since my bedroom has become my new try-on spot, I've been getting so many messages asking about my decor. You can see all my bedroom furniture and items in THIS post.
MORE TARGET TRY-ONS
March 14 Try-On // March 7 Try-On
My Accessories
PHONE CASE // NECKLACE // EARRINGS // PEARL BRACELETS // GOLD BRACELET // WATCH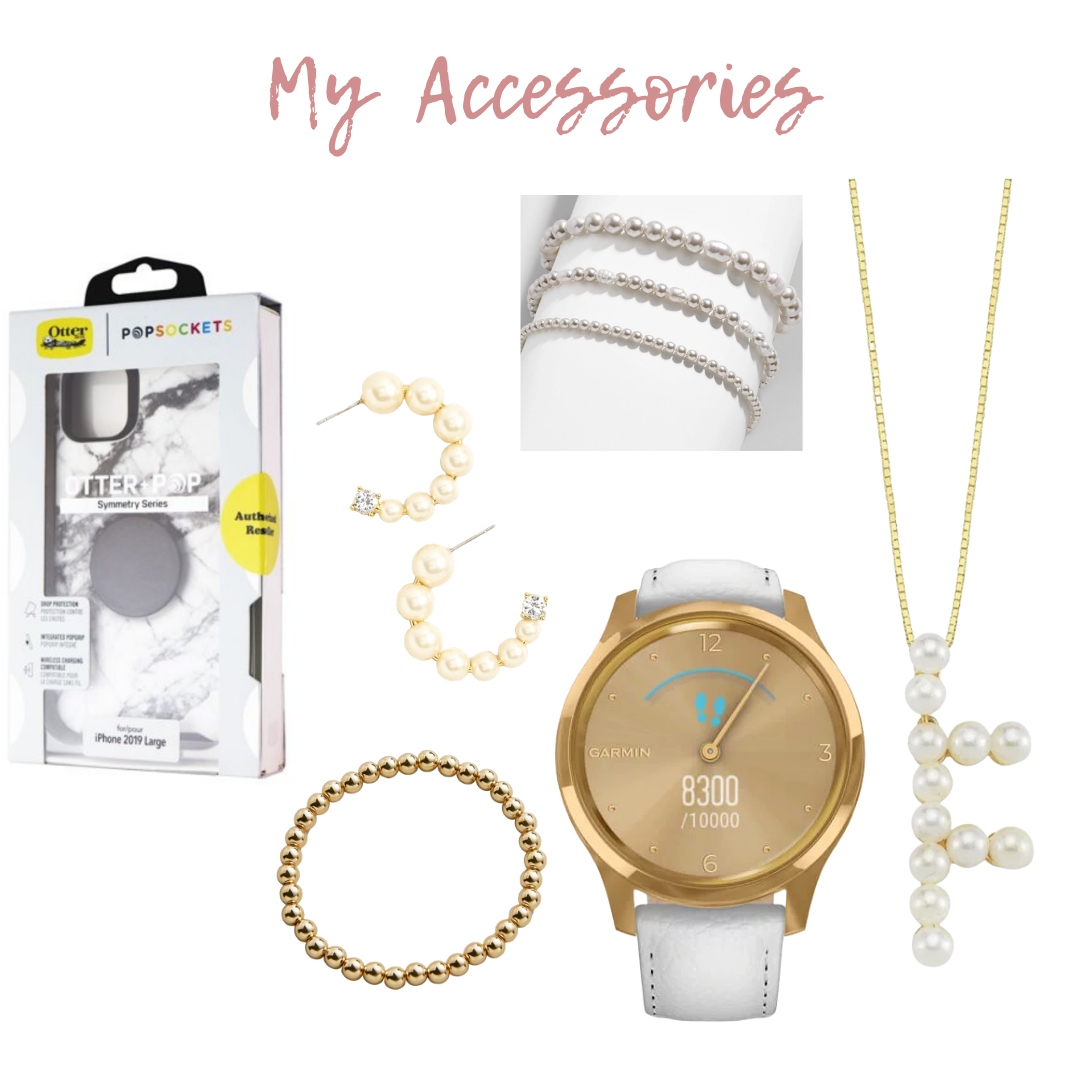 SWEATSHIRT (S) // SHORTS (S)
Going to start this try-on off with this buttery soft loungewear. The sweatshirt and shorts are by my favorite cozy brand, Stars Above. I am wearing size small in both and they're great for lounging and sleep as well. I chose the light grey colorway, but it's also available in charcoal.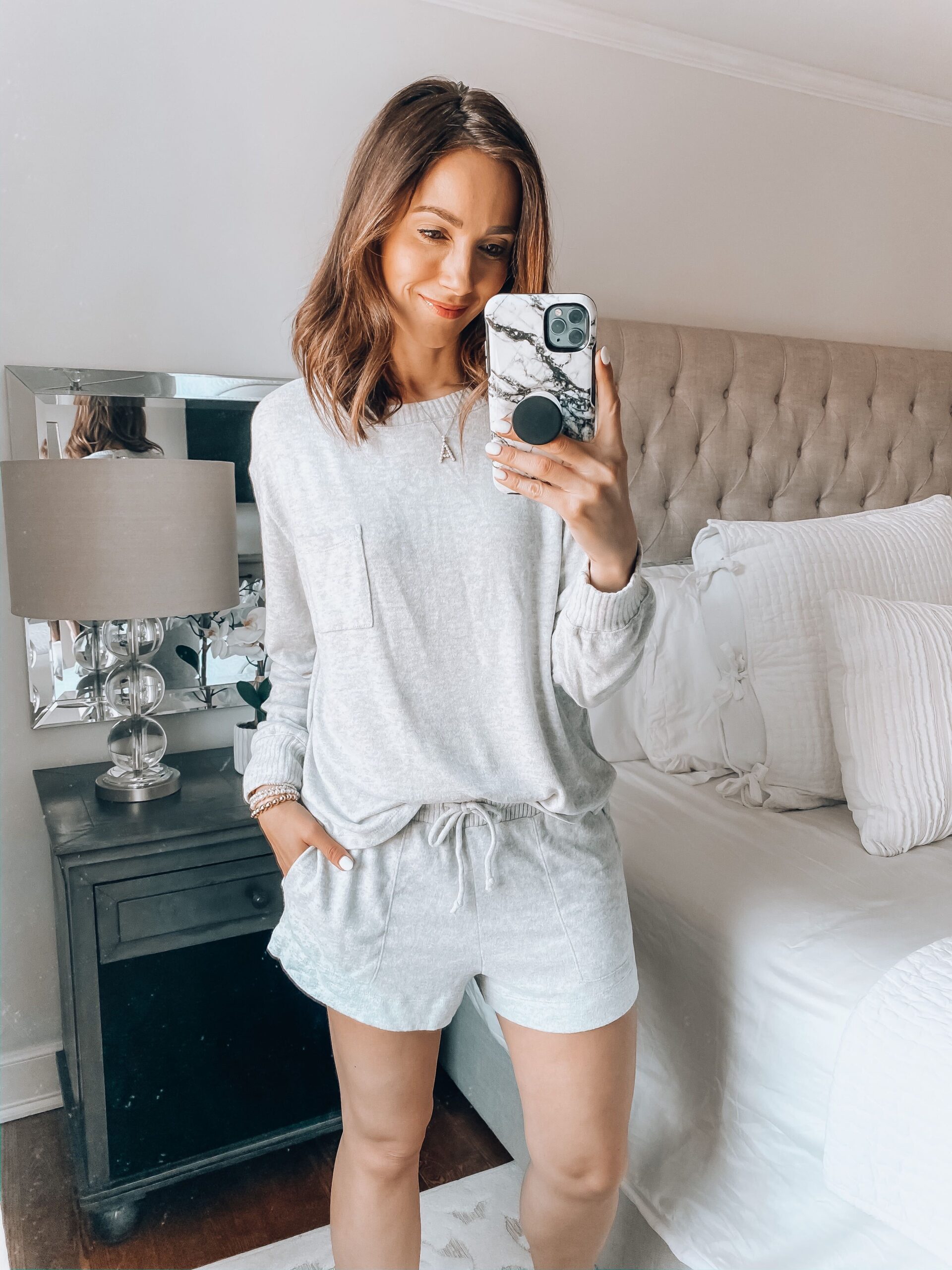 SWEATSHIRT (S) // SWEATPANTS (S) // SLIPPERS
I shared this outfit last Saturday, and it sold out so quickly! I'm happy to report that both are back in stock. I am wearing size small in both pieces and the sage green color is really beautiful.  It's very similar to my favorite lounge set from Aerie, except for this one is not as relaxed or have a baggy fit.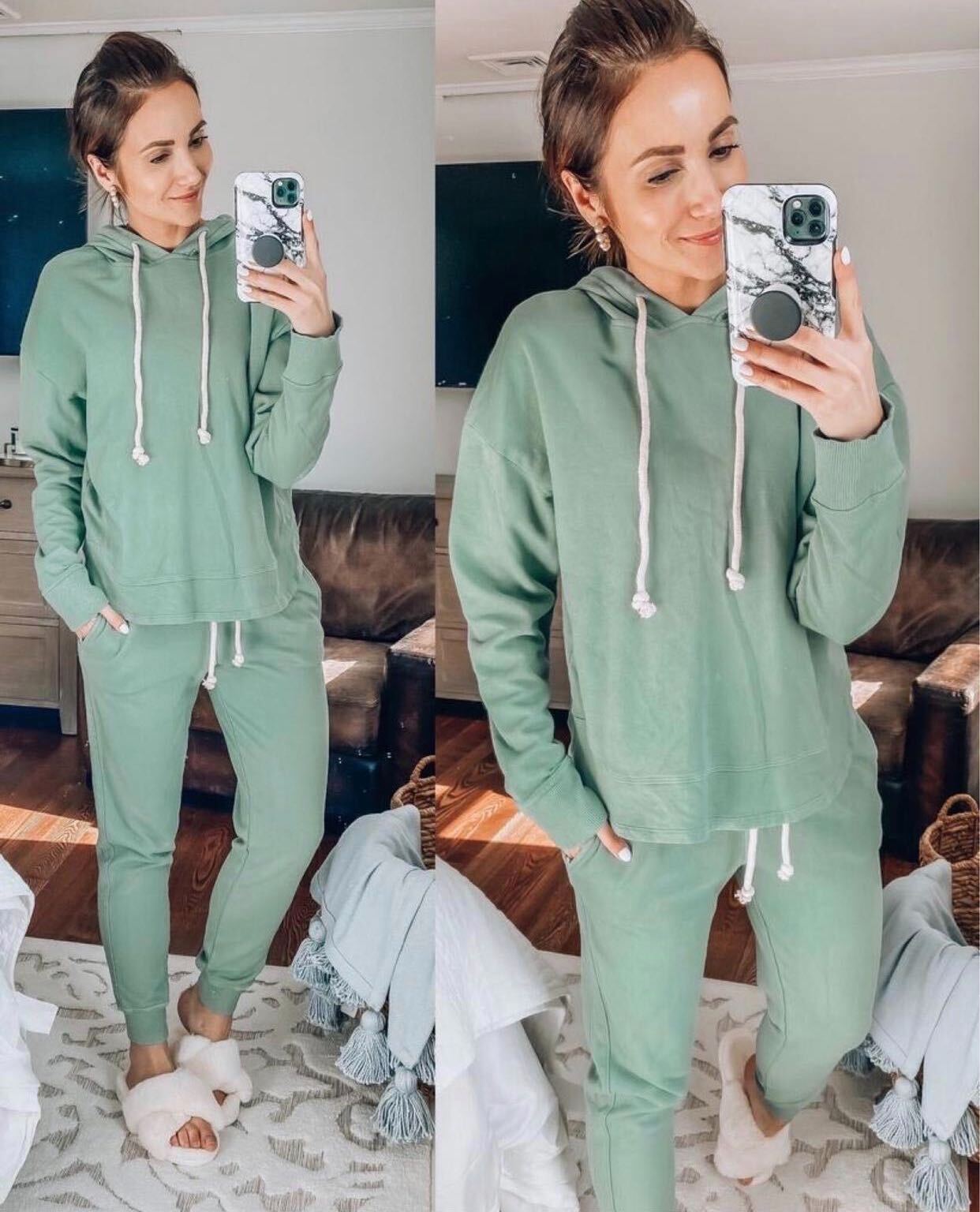 PAJAMA SET (S)
This pajama set also sold out quickly, but it's back in stock in all sizes! It's super comfortable and available in navy stripe as well. I am wearing size small.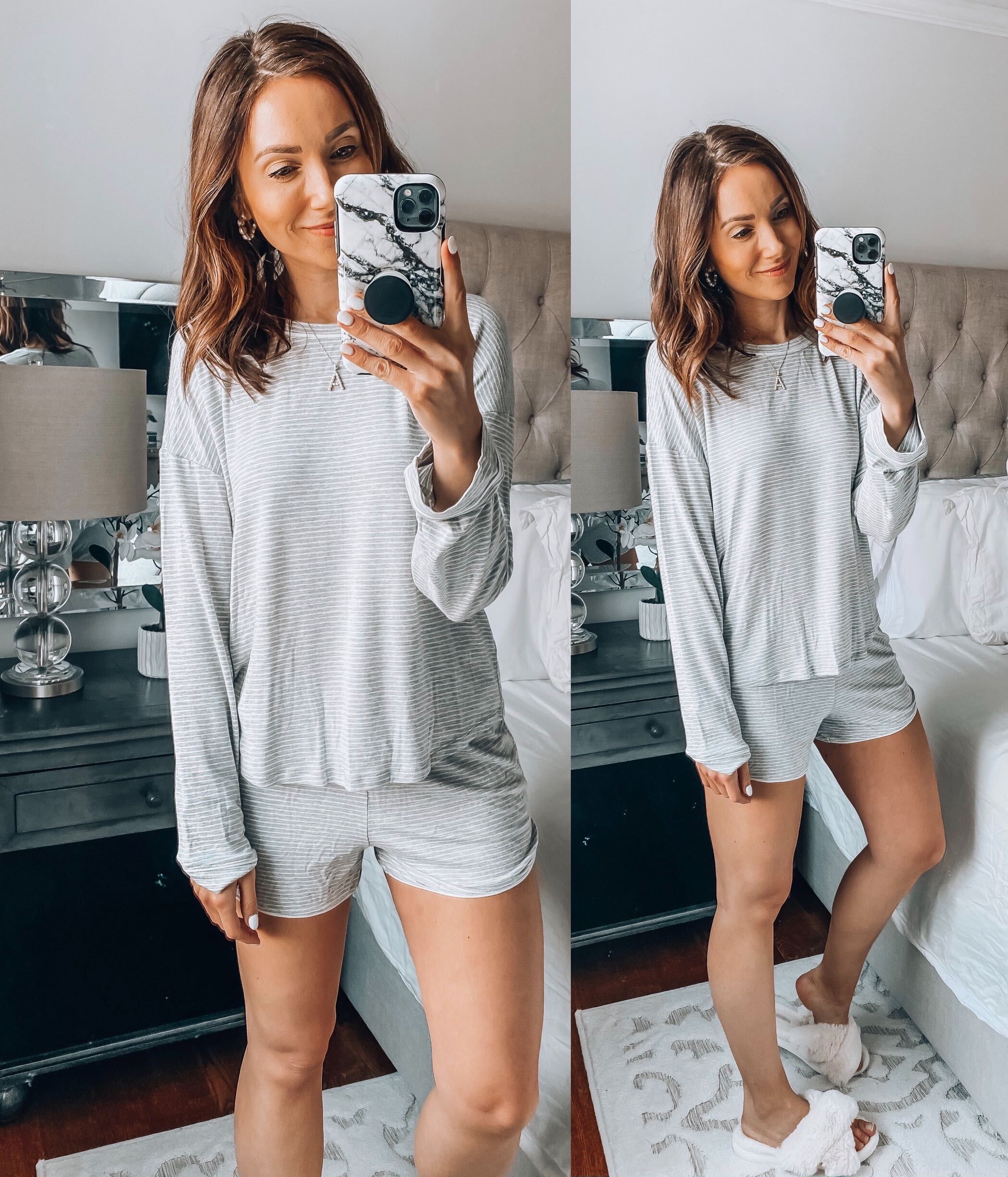 DRESS (S)// DENIM JACKET (XS) // BELT // CHAMBRAY SHIRT // WEDGES // SNEAKERS // STUDDED SANDALS // SLIDES // HAT // BAG
This dress is an oldie but a goodie and still available in different color options. I am wearing size small, but could do an XS for a tighter fit. I do like the shapeless silhouette for this particular style of dress. It's so versatile and fun to pair with accessories like a denim jacket for a casual look, or a belt to show off your waistline. Shoes make all the difference as well! My Sam Edelman slides are currently 40% off.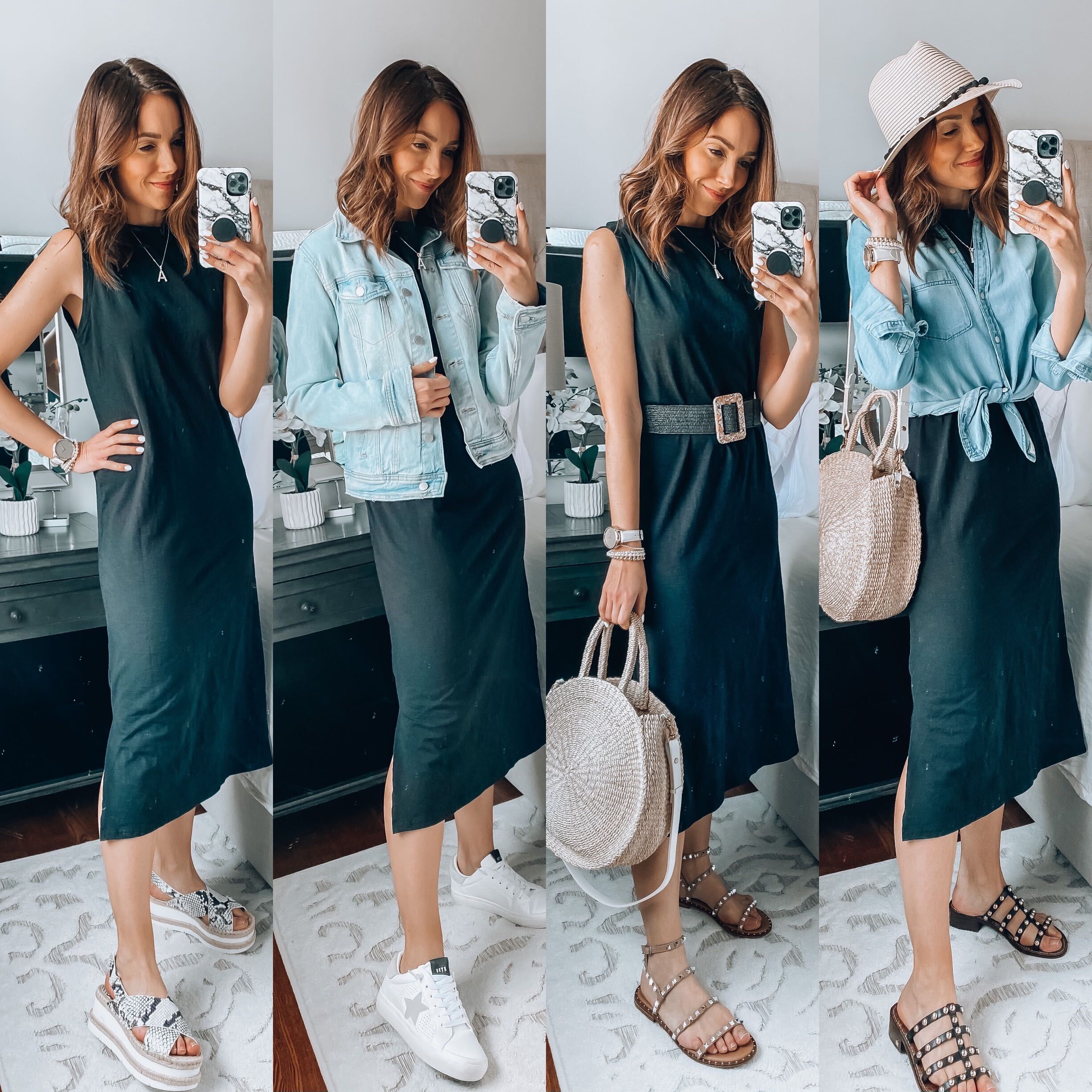 PANTS (S) // TANK (S) //  DENIM JACKET (XS) // SANDALS
I'm so excited because these linen pants have been restocked! They have been on my top sellers lists for about 6 weeks now. I am wearing size small and I just love their light green coloring. While linen pants are known to wrinkle, these do not wrinkle as bad as some of my other pants I own. My tank is just the best basic there is and comes in many colors. It has great length which makes it nice for the colder months if you want to layer it. I am wearing size small.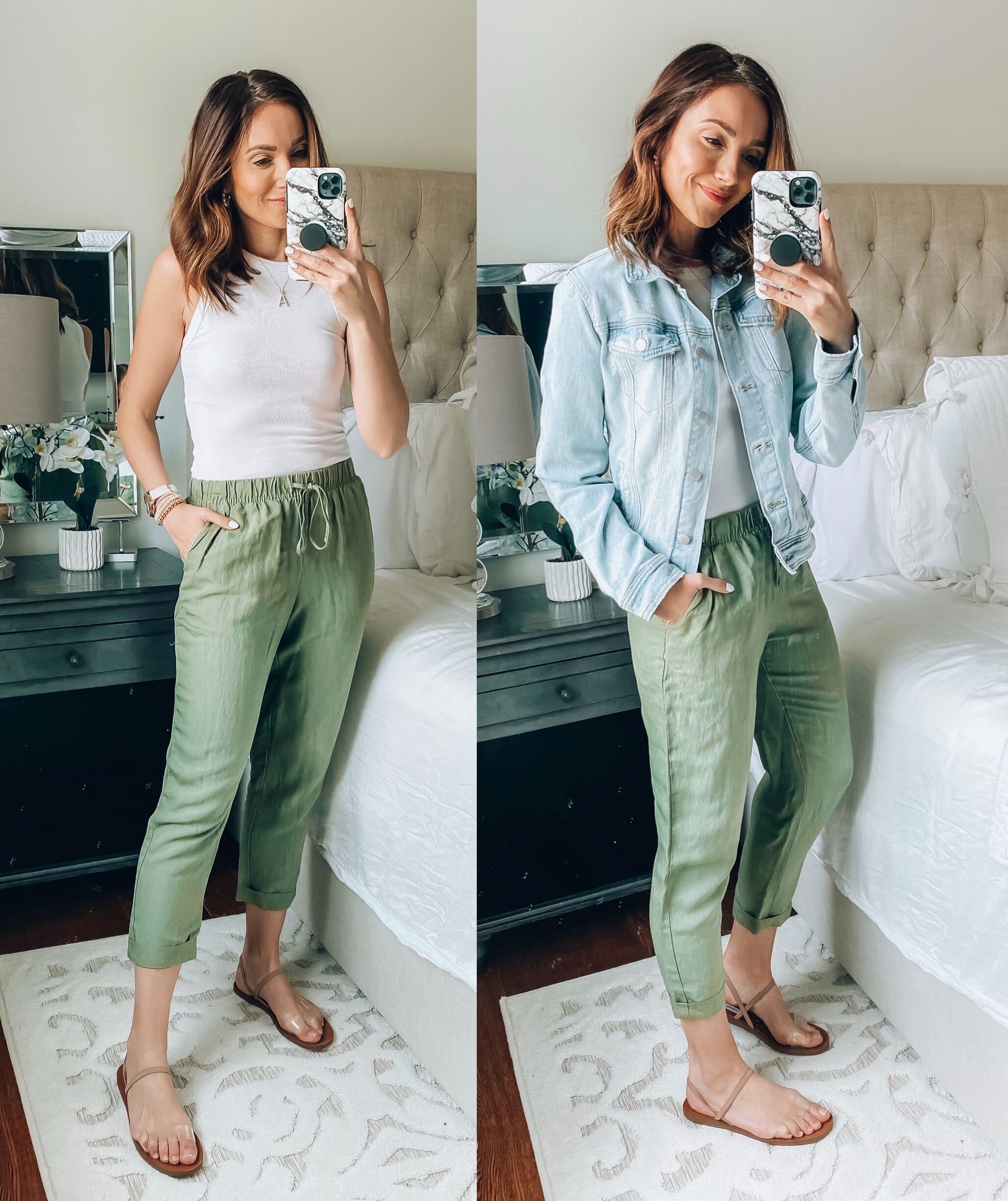 OVERALLS (S)// TANK (S) // SNEAKERS
One of my readers recommended these in my Target Insiders FB Group, which by the way if you love Target you should totally join us! I am wearing size S and they are available in 2 other color options. It comes with a belt so you can style it as fitted as you would like. There are so many different looks to create with these overalls. I styled it with sneakers and a tank, but it would totally look great with sandals and a sweater blazer as well.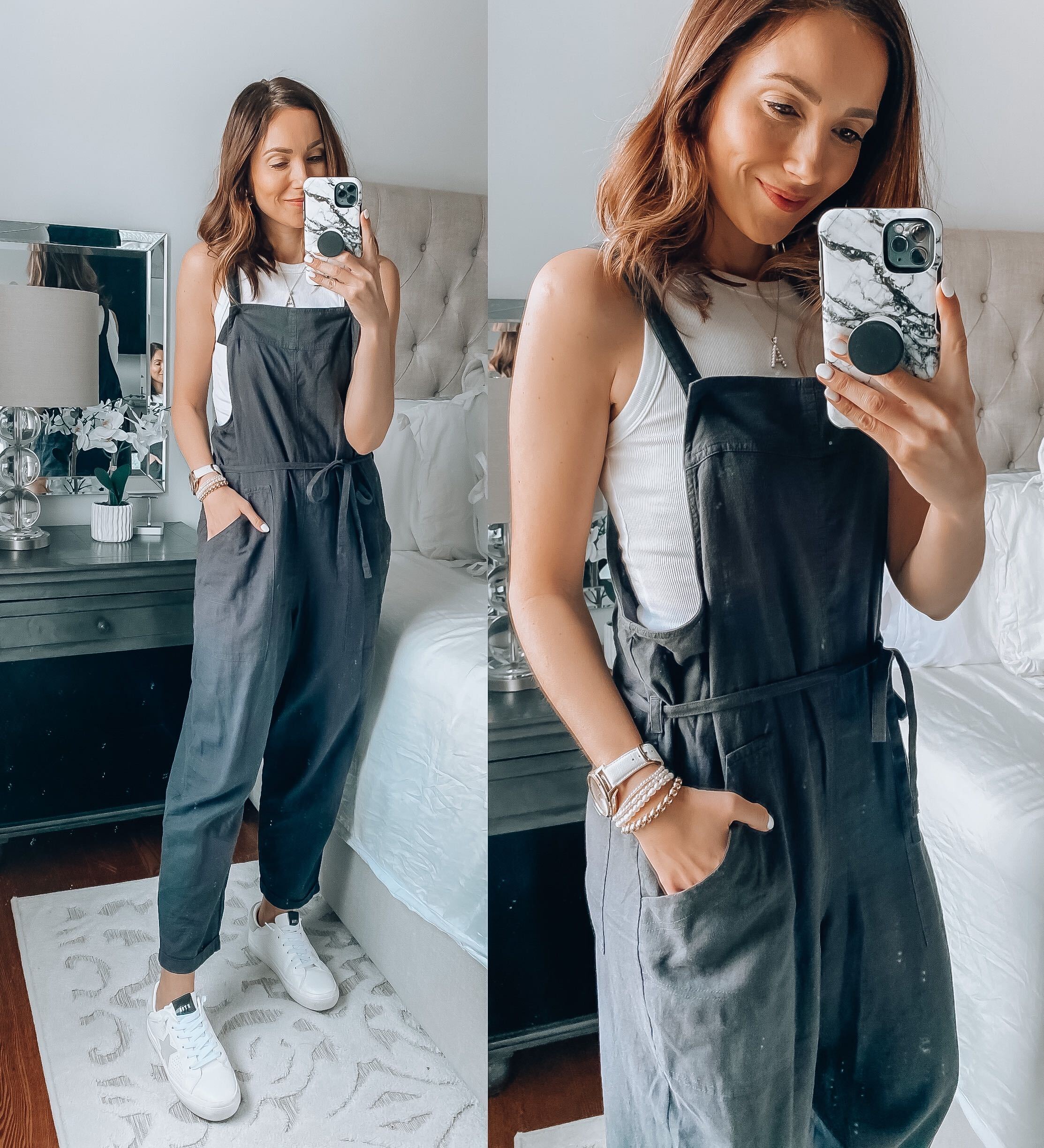 EYELET TEE (S) // SHORTS (4)
I ordered this top a while back and it finally arrived. I am wearing size small and I love the eyelet detailing on the sleeves! It's definitely a piece you can wear casually or dress up for work. I am wearing size 4 in the shorts, and I do tend to always size up in Target's shorts.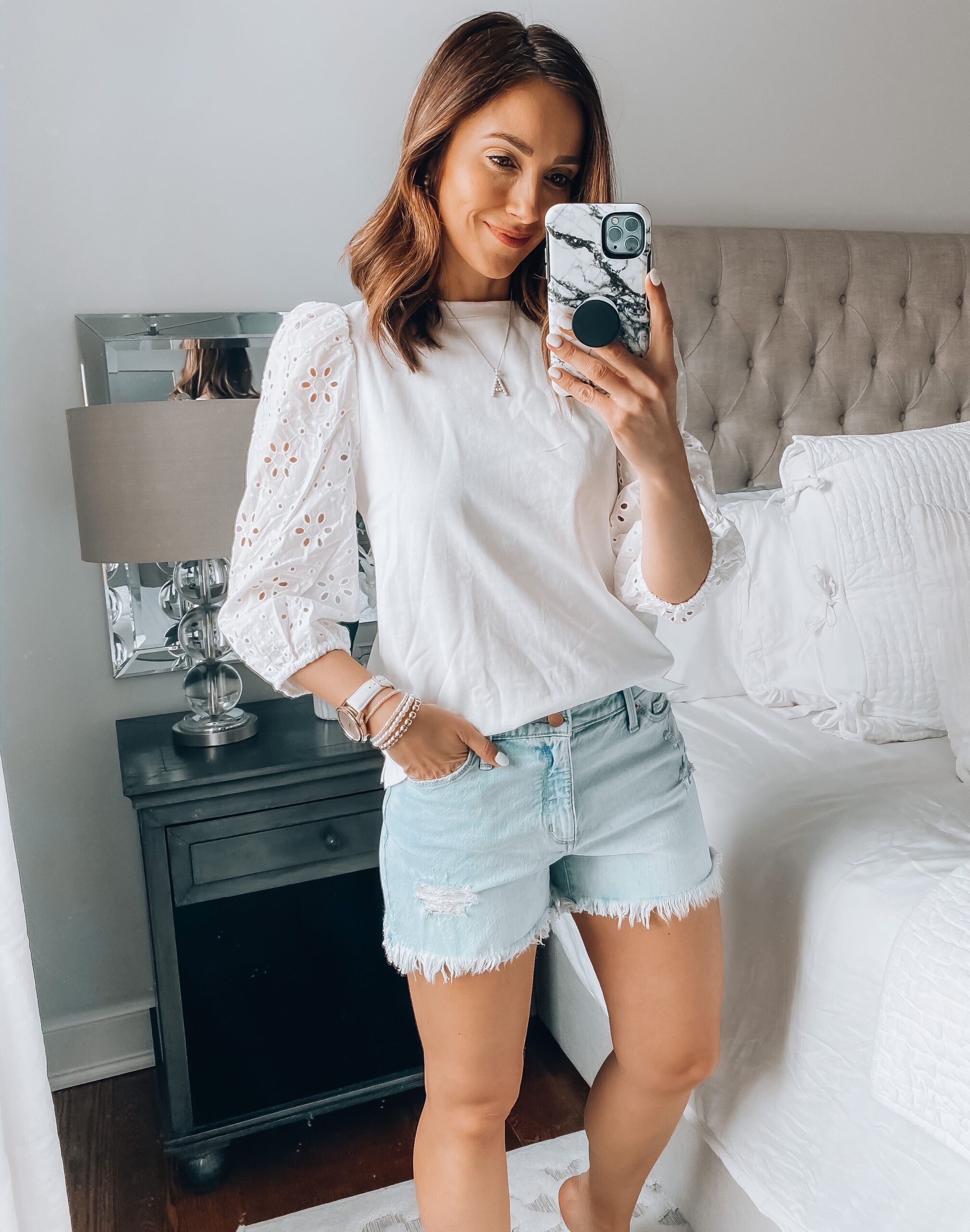 SWEATSHIRT // SHORTS (4)
This fun little sweatshirt is also back in stock. Size wise, definitely fits TTS, it's not oversized but has a relaxed fit and the balloon sleeves are a nice touch.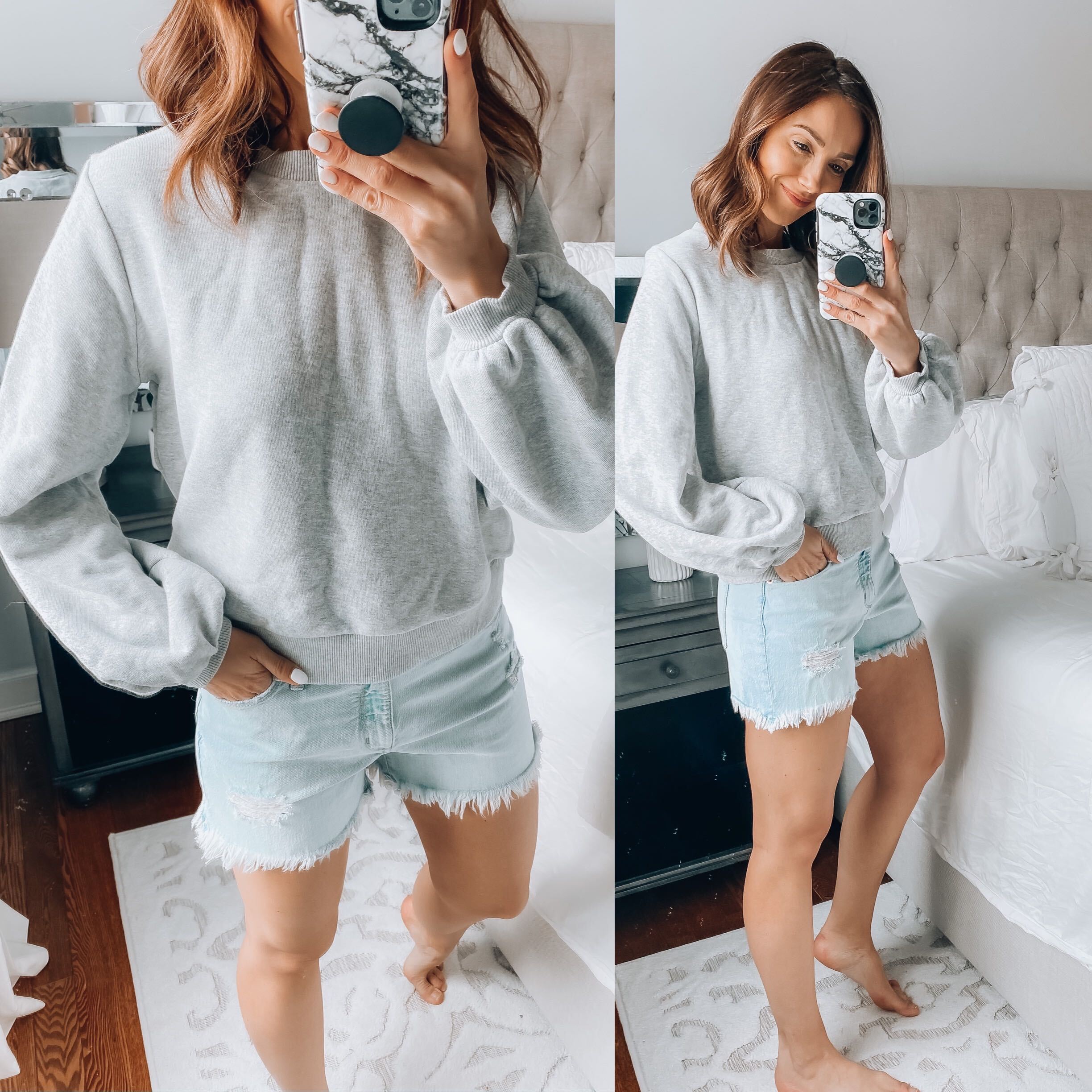 DRESS (XS) //  DENIM JACKET (XS) // SANDALS // SNEAKERS //BLOCK HEELS // BAG // BELT
Such a pretty relaxed dress with an oversized fit. I am wearing size XS and if white is not your color it is available in three over colorways including a very pretty blush pink.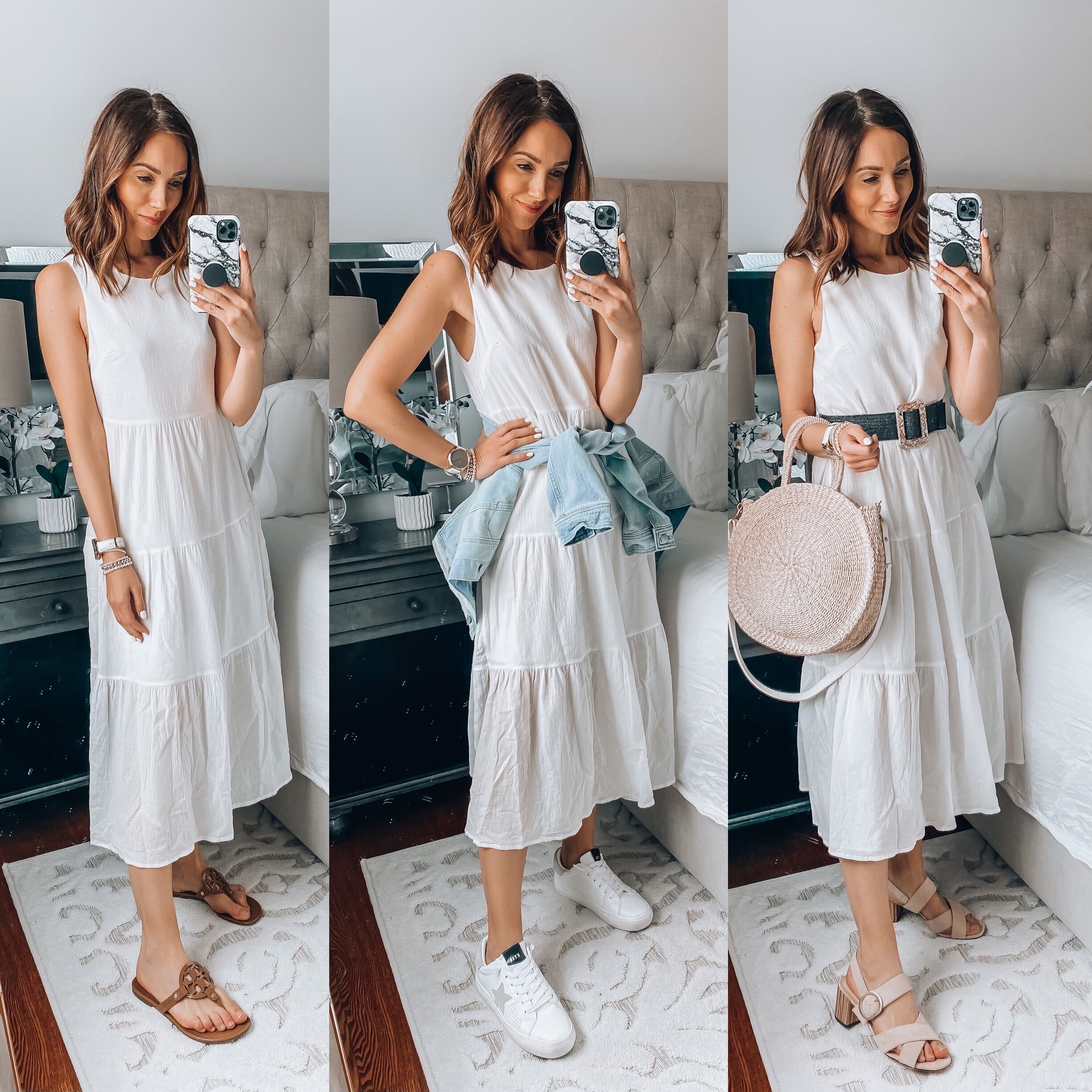 DRESS (XS) // BELT // BAG // SHOES
As mentioned above, this is the same dress in the pretty blush pink color.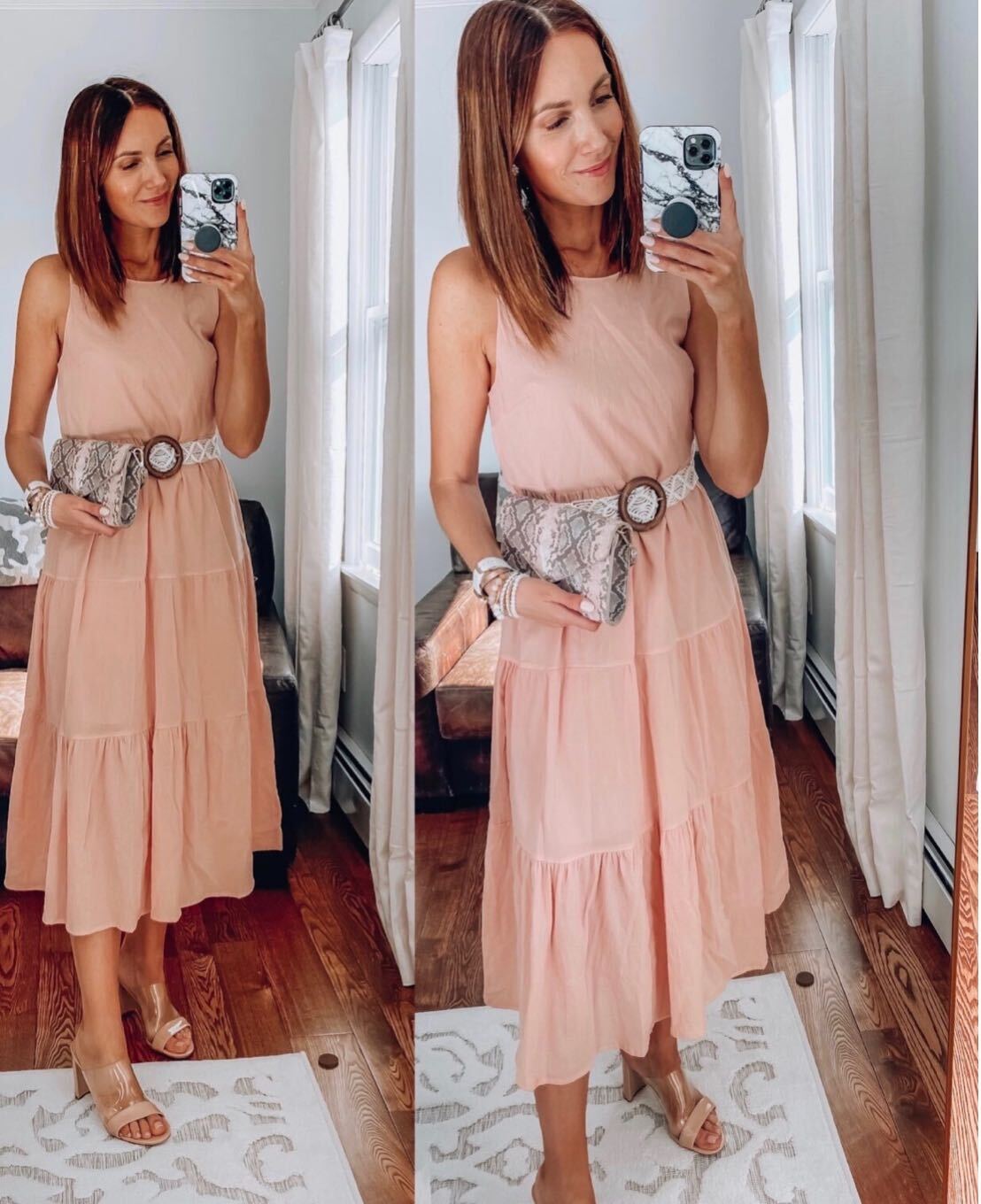 Thank you so much for visiting Blushing Rose Style! Have a great weekend.