Good morning friends! I woke up this morning in much better mood. Even though days have been blending in, today it definitely feels like the weekend. The sun is out, I made a huge pot of coffee. On today's agenda – we will be making banana bread, I have crock-pot up and running, and later this afternoon we are heading out for a walk on a very secluded trail.
While many of us are indoors (or most), you maybe spending time cleaning, organizing or online shopping! If that's the case, you definitely do not want to miss out on the Nordstrom sale! I have never seen this before, so it's a great opportunity to address any needs / items missing in your wardrobe. Heads up – almost everything is 25% off.  Nordstrom is doing the right thing, by closing down the physical stores, but remains open online while providing best customer experience. And remember free shipping and free returns!

Today, I am sharing few wardrobe staples I recently purchased, as well as few other things I've had for a while now, that still remain my favorites. Later in this post, I am also spring capsule wardrobe. 16 pieces, 20 outfit ideas – all on sale. Make sure to scroll down and pin it for future reference.
CARDIGAN  // CAMI // JEANS //  MULES // BAG // SUNNIES // NECKLACE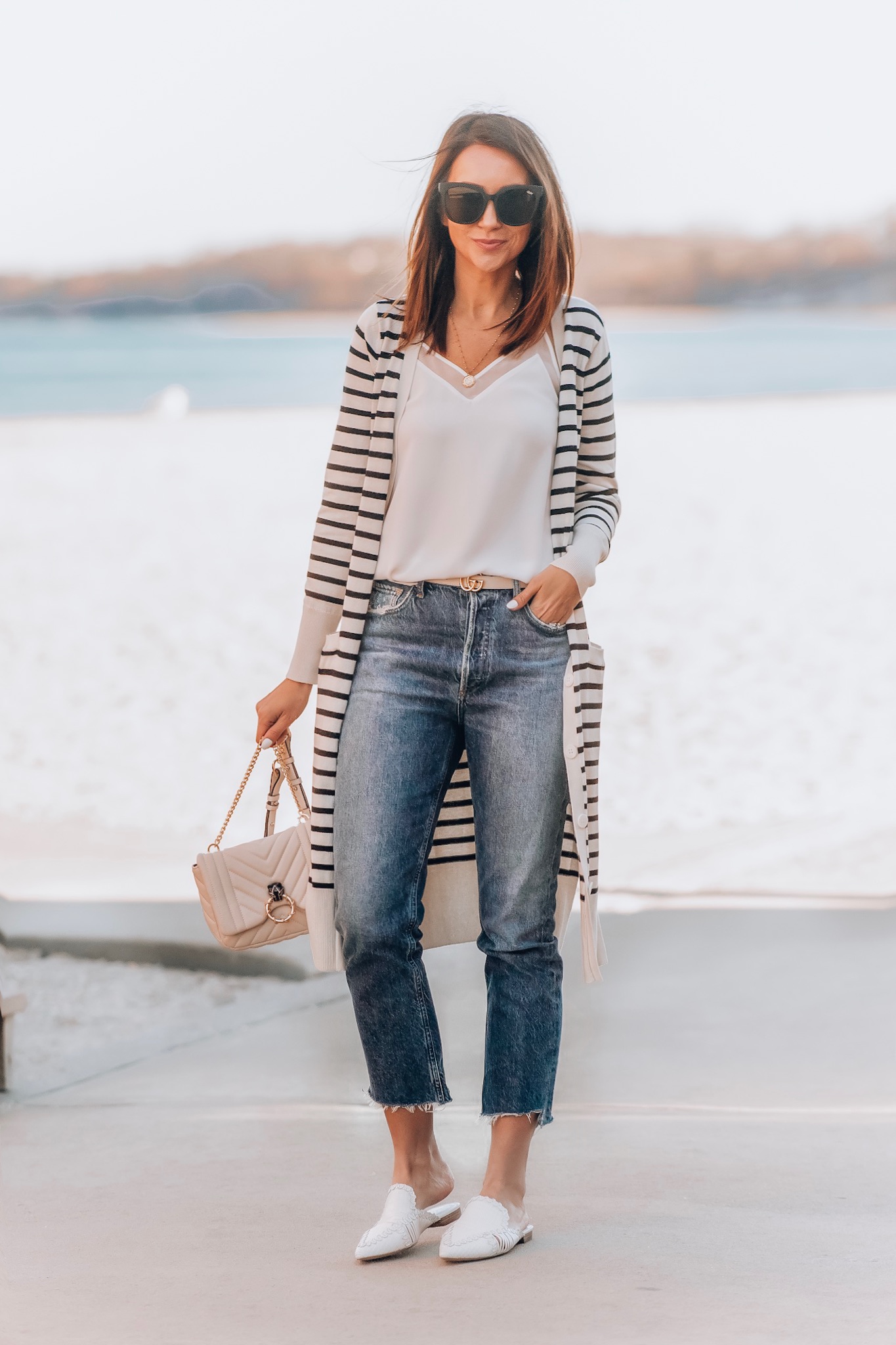 I have had this cami for several years now! Yes – years. It is amazing quality, looks great wash after wash and will not wrinkle easily. It fits TTS with relaxed fit. I love the chiffon insert. Looks great with all may casual outfits ( I am a cardi & cami girl at heart), but will work with your workwear options as well. Just add a blazer.  And let's chat about the necklace, I have had it since April last year. Initially I was hesitant to purchase based on mixed reviews online, but then I saw it in person and bought immediately. I really don't understand the reviews. It looks exactly like the image online, and the quality is great! I have been wearing it at least 2-3 times per week (sometimes I sleep in it too) and it still looks great. If you were on the fence, do not wait, grab it on sale!
The cardigan has such a great length. Great multi-season wardrobe staple. Wear it now and in the fall with jeans, or in the summer with shorts. It fits TTS, I am wearing XS.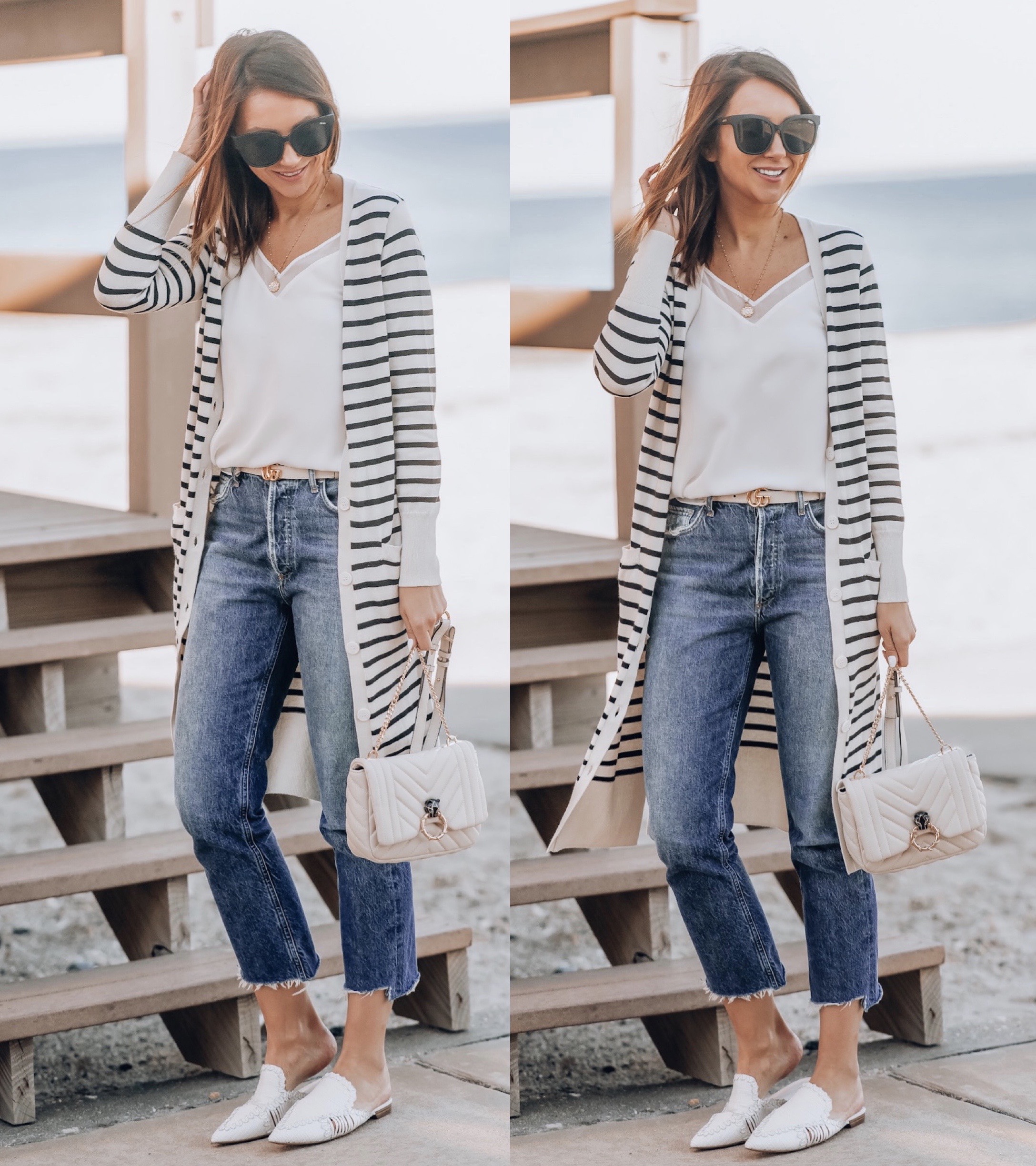 Ok… shoes! All the heart eyes for these mules. Bought them as soon as I saw them online. Available in 3  color options, comfy and fit TTS. Snag them before the sale ends.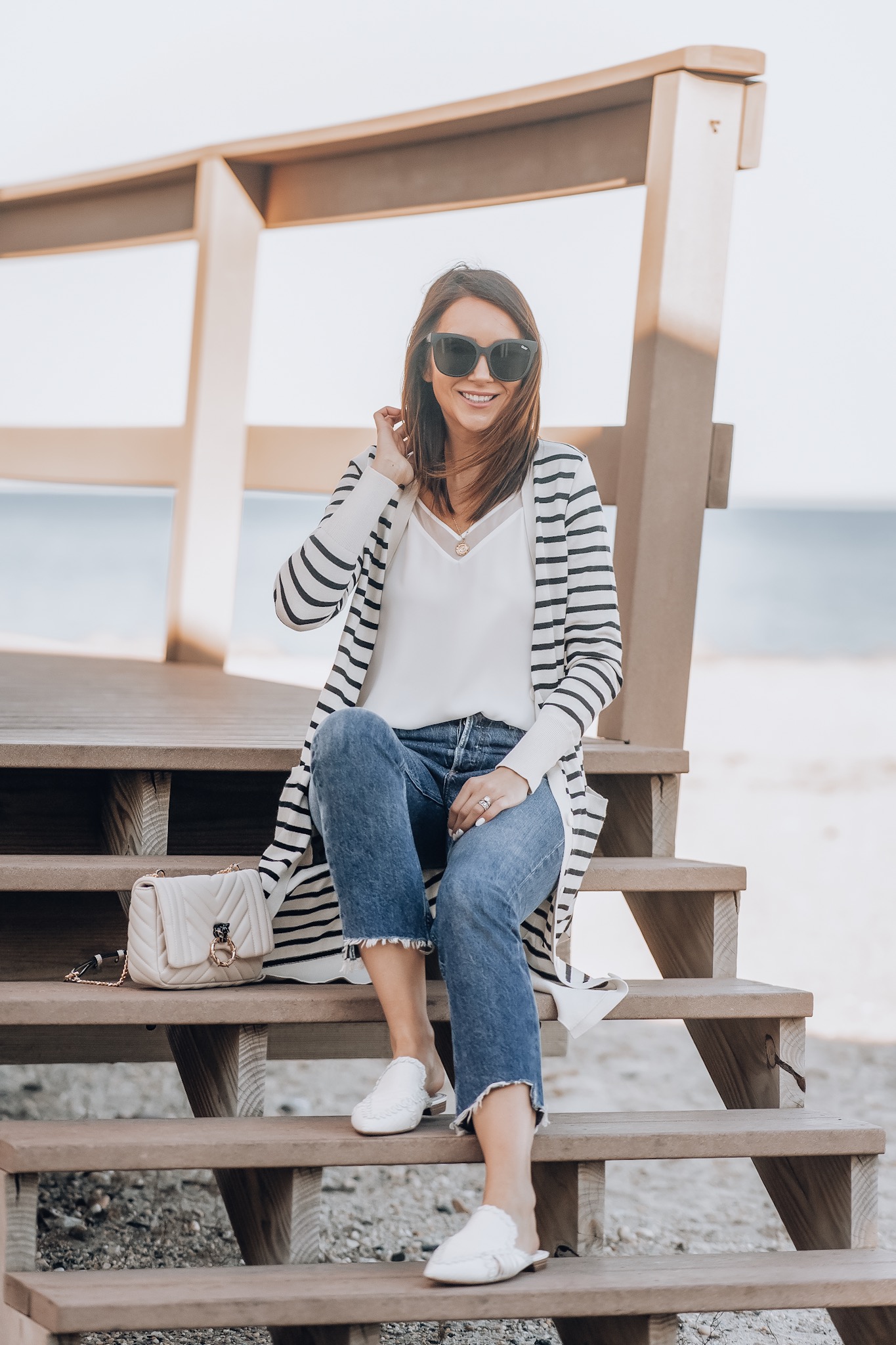 Other Wardrobe Staples ON SALE
Mules


Jeans


Cardigans


Accessories


Spring Capsule Wardrobe – on sale
So many of you requested more capsule wardrobe posts. Here is the one you have been waiting on. And best part, everything is on sale (limited time).  16 pieces, 20 outfit ideas – make sure to pin this post for future reference. Chances are you may already own some of these pieces, just grab what you're missing, and your spring wardrobe is complete!
BLAZER // DENIM JACKET // WHITE BLOUSE // TANK
SHORTS // TOTE // DRESS // BAG //  MULES // HAT
JEANS // JOGGERS // WEDGES // JUMPSUIT // SANDAL // SNEAKER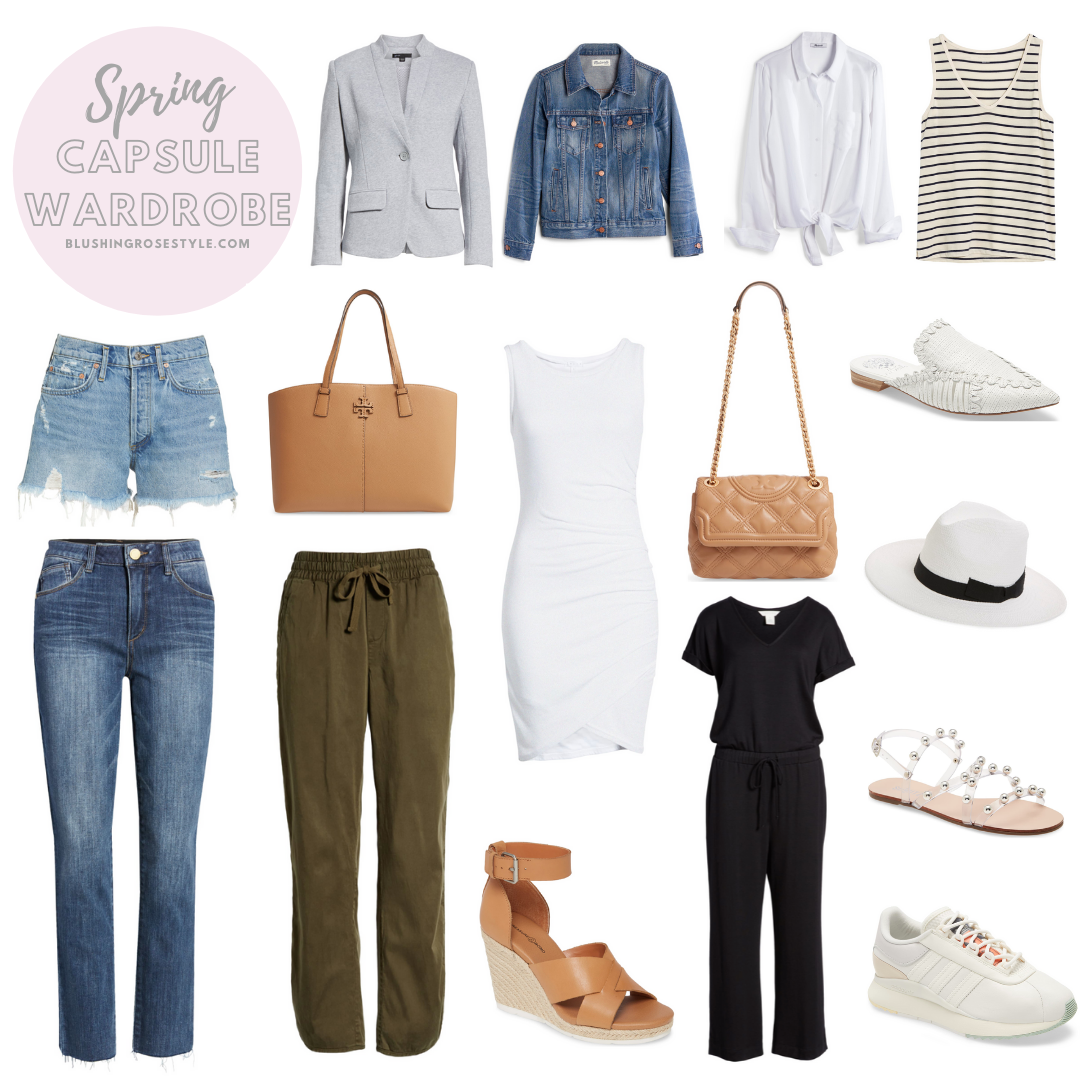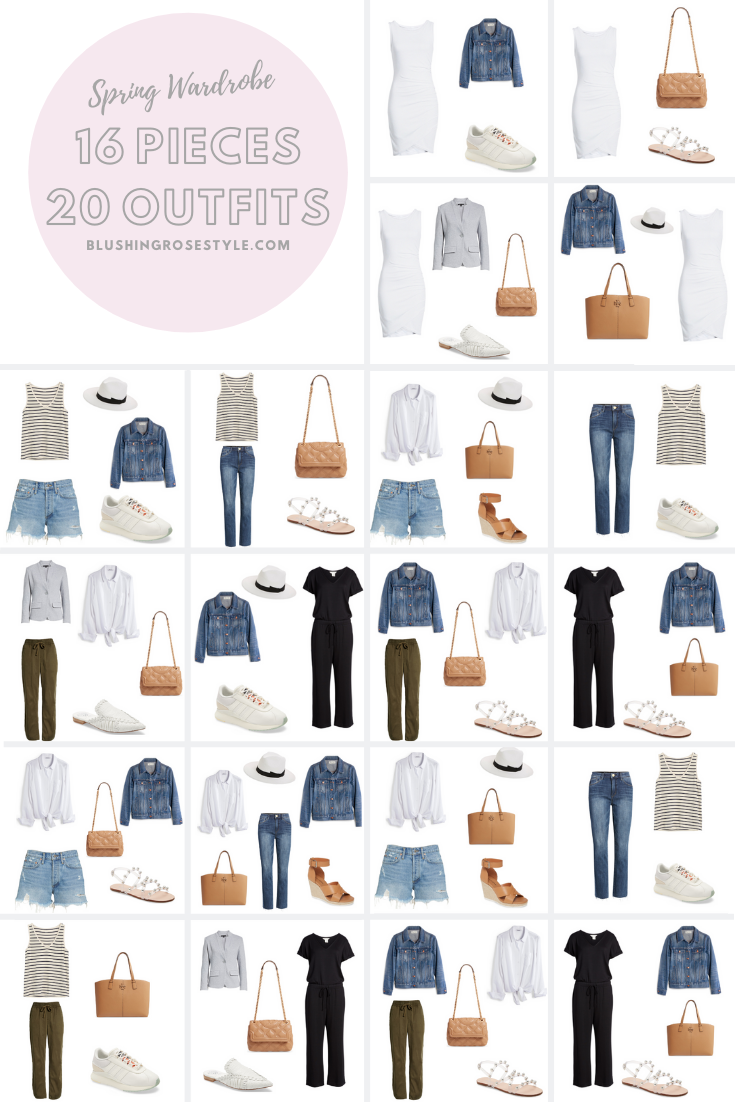 Thank you so much for visiting Blushing Rose Style blog. And very special thanks to Nordstrom for partnering with me on this post! As always all views and opinions are mine.