Happy Friday, friends! Are you ready for the weekend? The Sephora sale begins today which exciting because Sephora only has two sales a year, so when it comes around it's a big deal. I'll be sharing my favorites by category. From skin care to makeup and hair products. To be honest with you, I don't use a ton of skincare products from Sephora. You can check out what I use for my skincare routine in THIS post. This sale works in tiers so depending on what level member you are is when you can start shopping the sale.

I absolutely love the Kiehl's face masks. The Turmeric & Cranberry Seed Mask makes all the difference especially during the cold winter months. I follow with the Avocado Nourishing Hydration Mask since the cranberry one can be drying. This is a dreamy combination to maintain glowy skin during the winter. If you're experiencing any breakouts especially from wearing a mask, I recommend the Mario Badescu Drying Lotion and Buffering Lotion. I have been using both for years now and definitely help with breakouts. I don't typically spend a lot on body care products, but I have to tell you that I love the Sol de Janeiro products. The products smell so amazing and every time Sephora has a sale, I stock up on the body butter and shower gel. The chapstick is also super hydrating and smells just as good. I have been searching for a new fragrance to try, but my go to for the last year has been Replica Under the Lemon Trees. It smells so good and is also available in a sample size. I know Drunk Elephant has a cult following, but I have not tried many of their products. I really love their D-Bronzi Anti-Pollution Bronzing Drops. I mix a few drops with my foundation or CC cream for a beautiful glow.
Skin & Body Care Picks
1 // 2 // 3 // 4 // 5 // 6 // 7 // 8 // 9 // 10 // 11 // 12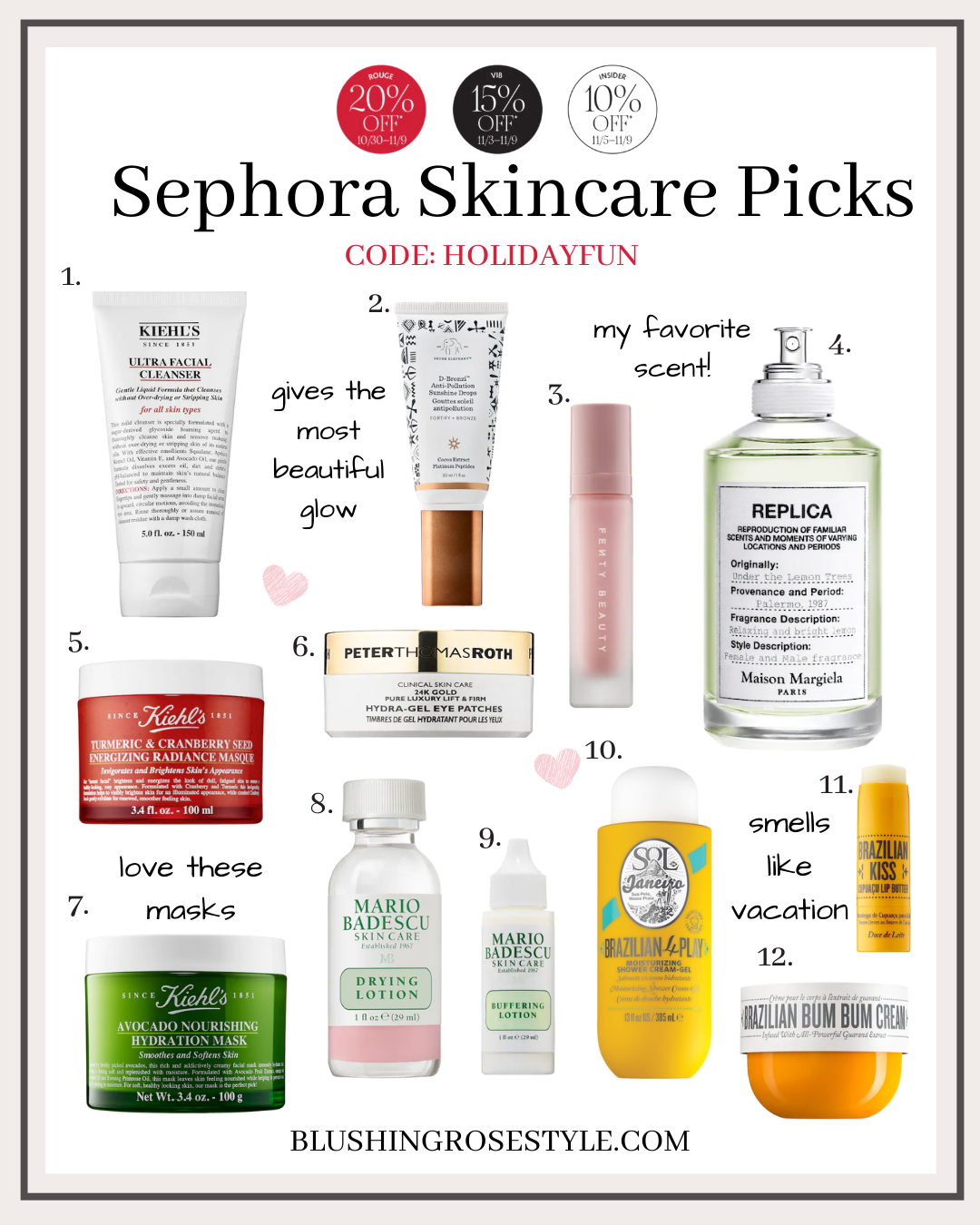 My makeup routine is very simple and takes about five minutes to do but I will share a few of my tried and true favorites. I have been using the Bobbi Brown Cream Shadow Sticks for years now. They are so easy to apply especially if you're in a rush. You don't even need a brush, just use your finger tips. I use vanilla all over my lid, stone in the crease and golden bronze in the outer corner. If you feel it needs more blending just use a fluffy shadow brush to even out. My go to concealer is shape tape but if you find it to be a little too drying, I highly recommend Tarte's creaseless concealer. It applies so nicely and is more hydrating. My color is light sand. If you're suffering from dark circles I find that the when using the creaseless concealer along with the Becca Under Eye Brightening Corrector definitely helps eliminate them. My holy grail CC cream is definitely the CC+ Cream Illumination from IT Cosmetics. My color is medium tan. I have been slowly transitioning to cream based products during the colder months. I absolutely love the cream bronzer by Fenty Beauty's Cheeks Out in Hunnie Glaze. I typically apply with my finger tips and blend with a beauty blender or kobuki brush. The Glisten and Glow by lilah b is one of the newer products I'm using. It's the perfect combination of blush and highlighter. My color is called captivating. Every Sephora sale, I also stock up on Lancome's Cils mascara primer. I've been using it for years and it's one makeup product I can't live without. I also have been using their Hypnose instant full body mascara. I love the brush. It makes it so easy to apply even to the inner corners of your eyes.
My Makeup Picks
1 // 2 // 3 // 4 // 5 // 6 // 7 // 8 // 9 // 10 // 11 // 12 // 13 // 14 // 15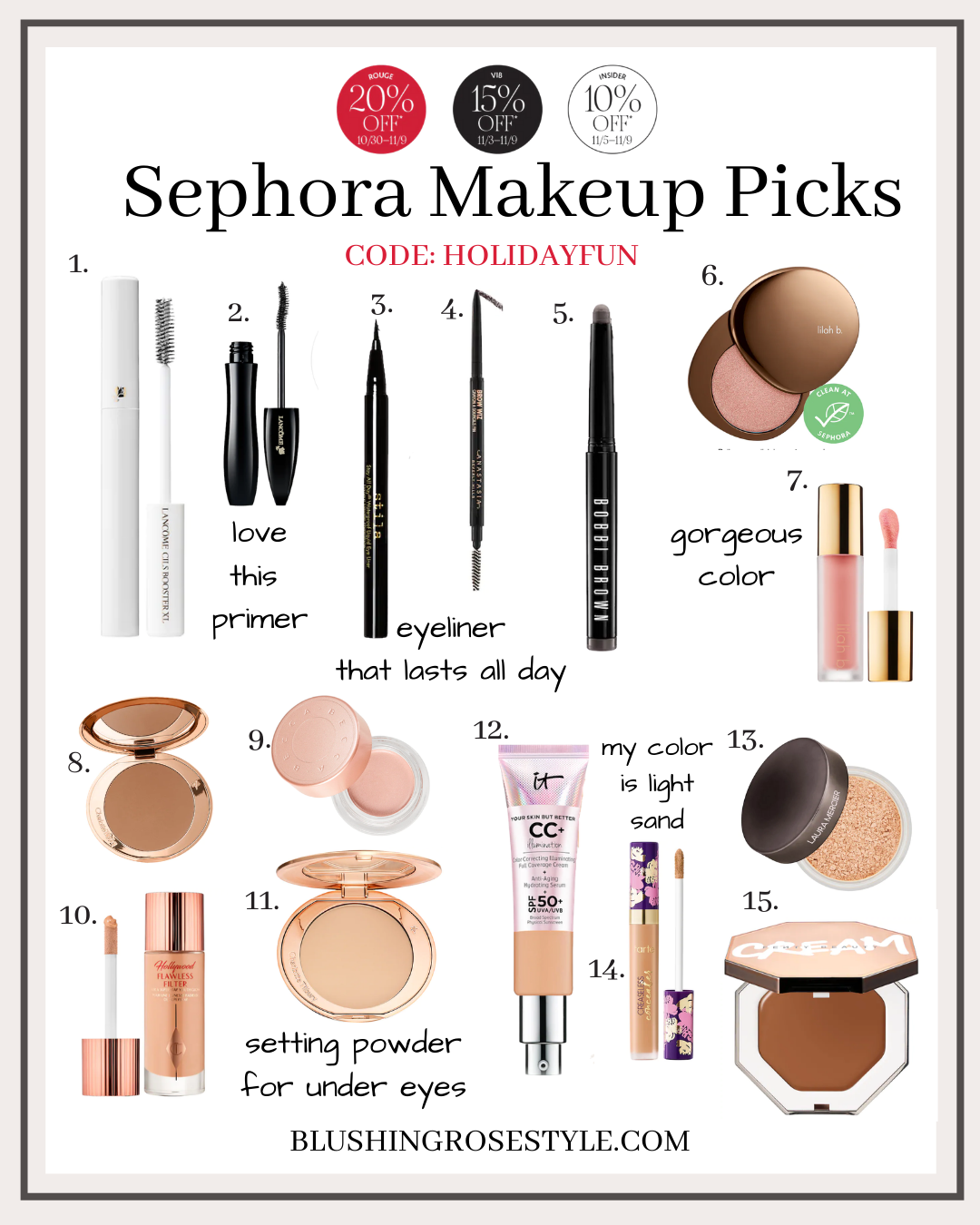 Makeup Brush Picks
If you find yourself getting tiny little bumps after applying your makeup, I highly recommend switching your brush cleansing product. When I switched to the beauty blender solid cleanser those pesky breakouts went away. It's on the pricer side but it will last you! If you are looking to replace your makeup brushes, I recently switched to Hour glass brushes and they are amazing.
1 // 2 // 3 // 4 // 5 // 6 // 7 // 8 // 9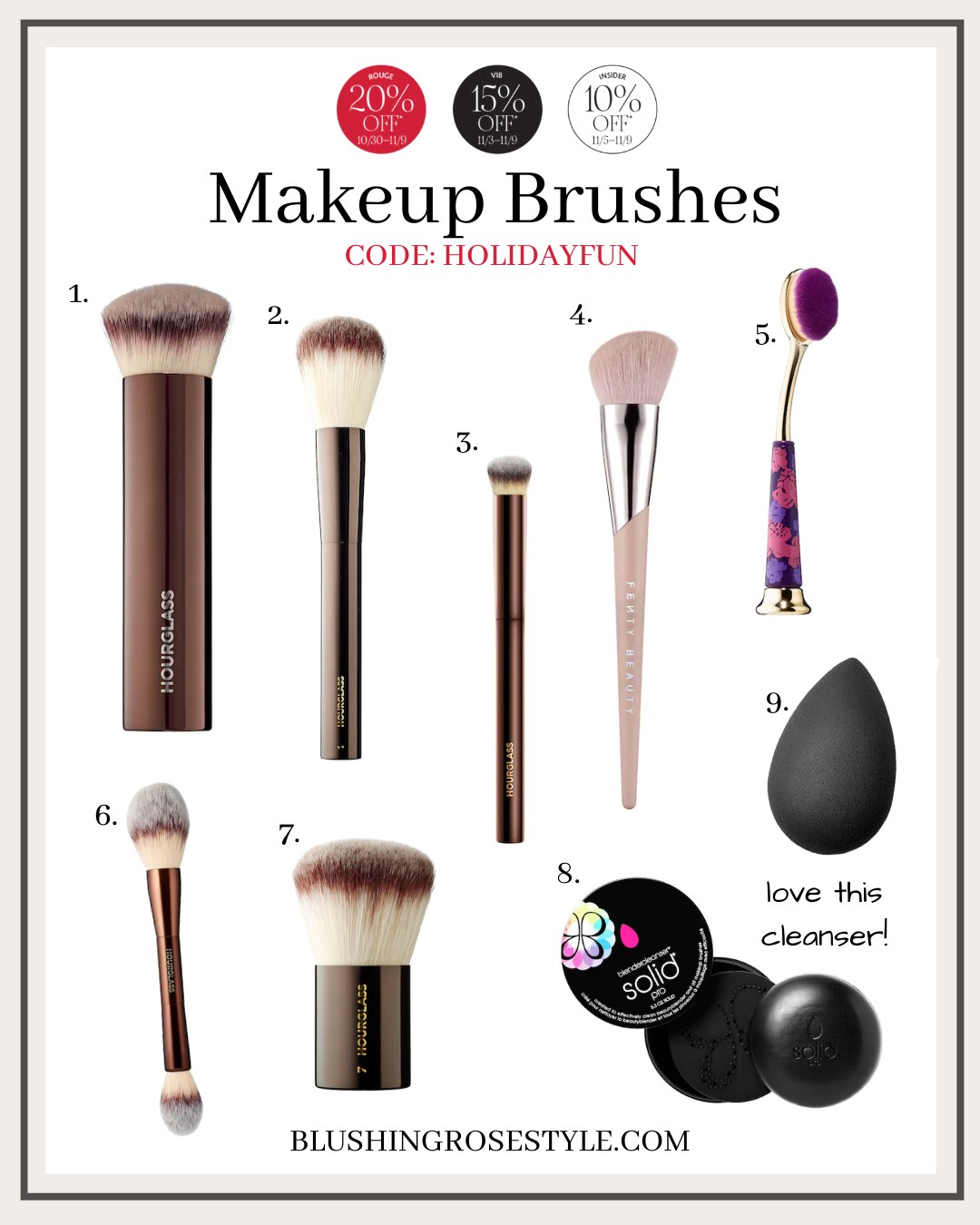 My Hair Picks
I am that girl who can't live without dry shampoo. I've been using the living proof dry shampoo for years but I recently tried the IGK First Class Charcoal Detox Dry Shampoo and it's hands down my all time favorite. For Reese, I've been using IGK's Good Behavior line and it's been so good managing frizzy hair. The Olaplex system from shampoo, conditioner, treatment and hair oil does not disappoint and I always stock up during the sale. For styling products I love the Bumble & Bumble brand. The thickening spray is hands down the best texturizing spray I ever used. For a heat protectant I use their glow thermal protection mist.
1 // 2 // 3 // 4 // 5 // 6 // 7 // 8 // 9 // 10 // 11 // 12 // 13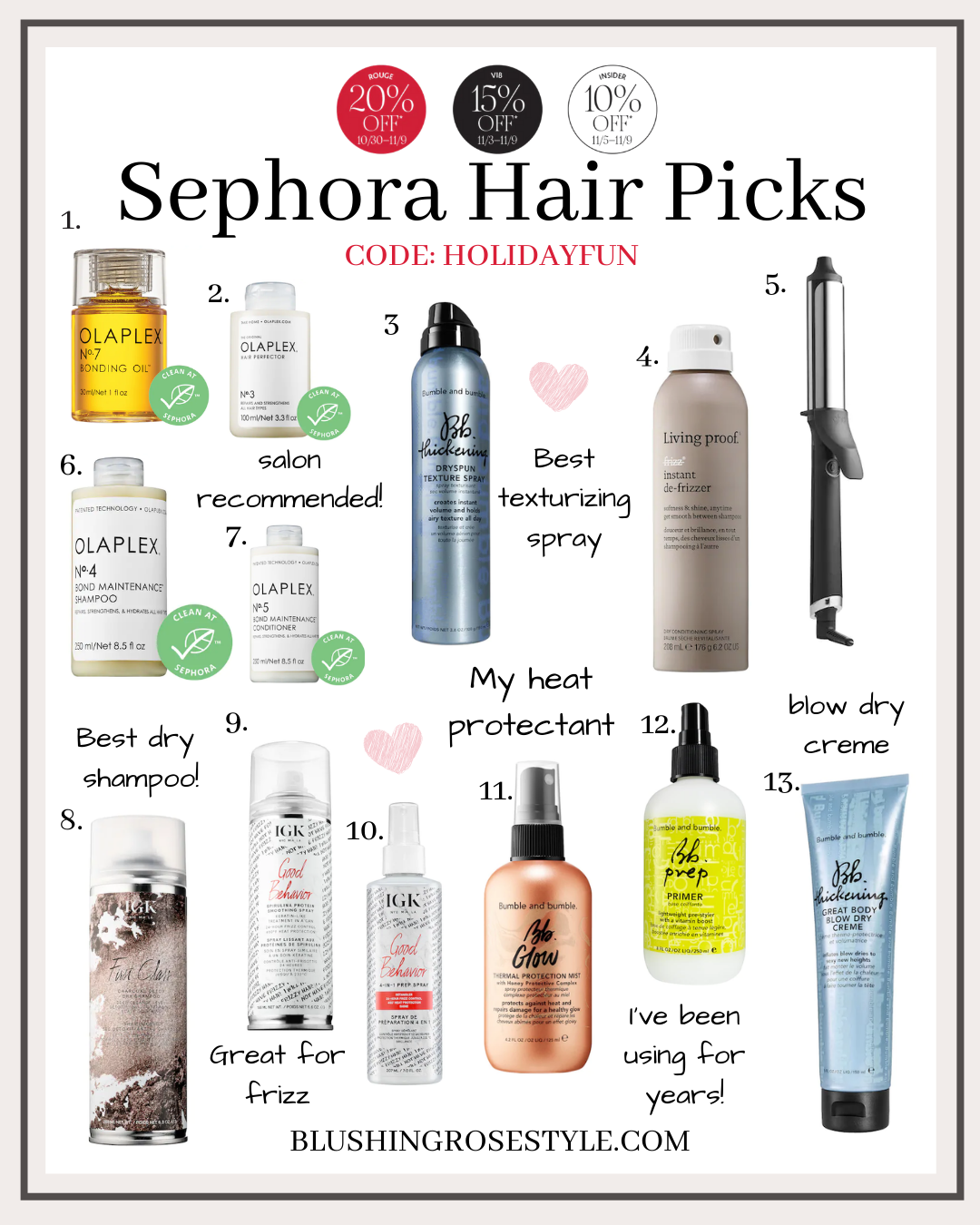 Thank you so much for visiting Blushing Rose Style Blog. If you're shopping the sale, let me know what you're excited for!