Hi girls. The Nordstrom Anniversary Sale is in full swing and many of you are shopping today. I shared my dressing room try-on last week, but I wanted to share a few outfit ideas with the wardrobe basics I purchased.
RELATED POSTS
NSALE Try-On 8.4 // NSALE – 10 Wardrobe Staples You Need
This outfit has me so excited for Fall. It's very simple – just a chunky cardigan, layering tee, jeans and boots. This is actually one of the few cardigans I decided to purchase during the sale. I love how thick and oversized it is. I would recommend sizing down and I am wearing size xs. This layering tee is buttery soft, has great length and would be great for leggings, I am wearing size small. My jeans are from Kut from the Kloth and are so affordable. They do not have any distressing and are ankle length. I am wearing size 2 which is what I normally wear, but I feel that these do have a little stretch to them so you could size down. I didn't get to share these Vince Camuto boots during my in store try-0n because my store didn't have them but they are fully in stock online. While I feel that they do fit tts, they are narrow, so just keep them in mind if you do order. My necklace is also a part of NSALE and can be found here.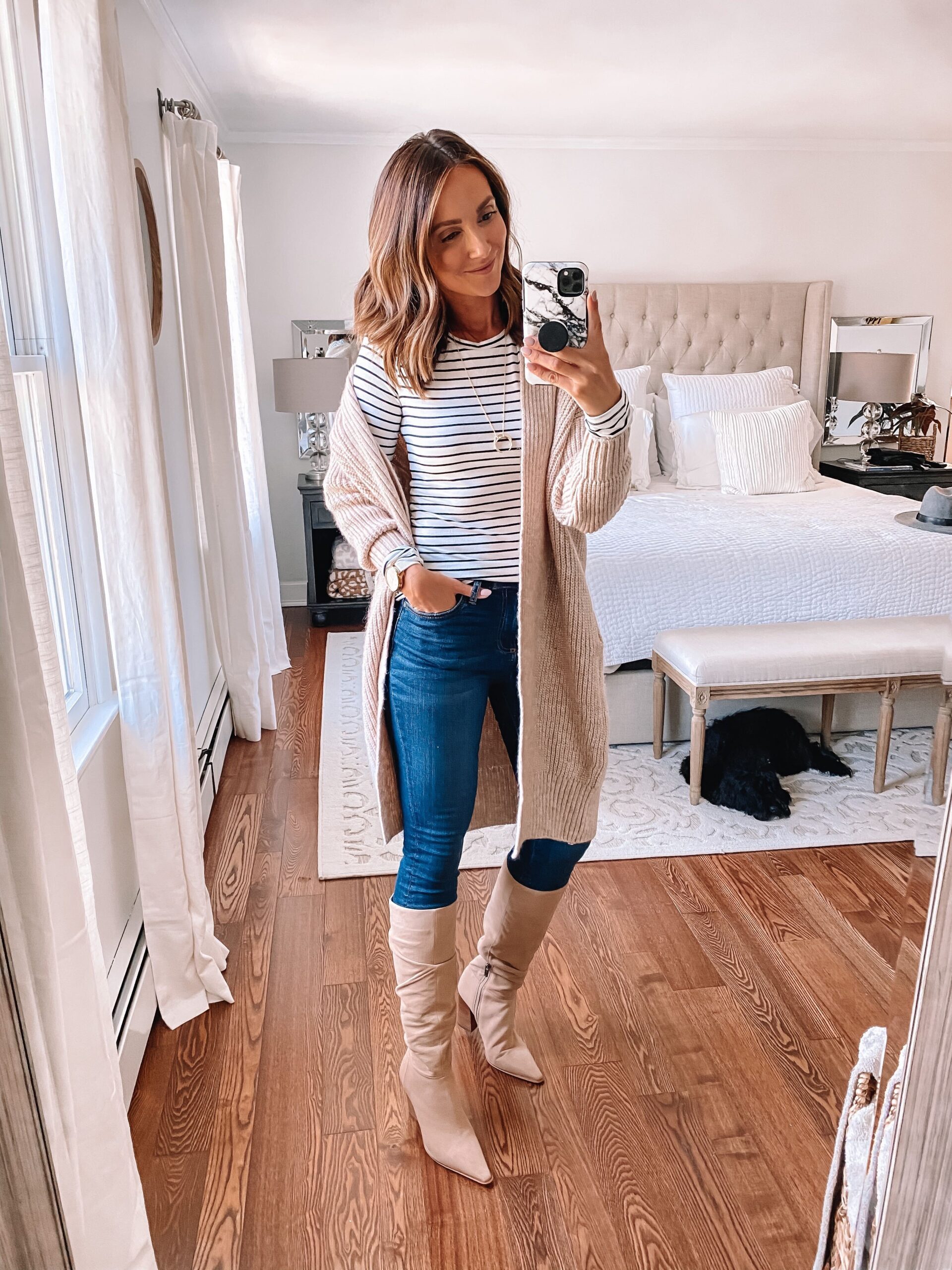 I styled this outfit and instantly could envision a yummy pumpkin spice latte. This sweater might look familiar, I first styled it in THIS post where I reviewed and compared the top 5 most popular faux leather leggings. It is such a great layering piece and the color is absolutely gorgeous. My boots are from Sam Edelman and fit tts. The chunky heel makes them so comfortable and I couldn't recommend these enough! My hat is also a part of the sale and can be found here.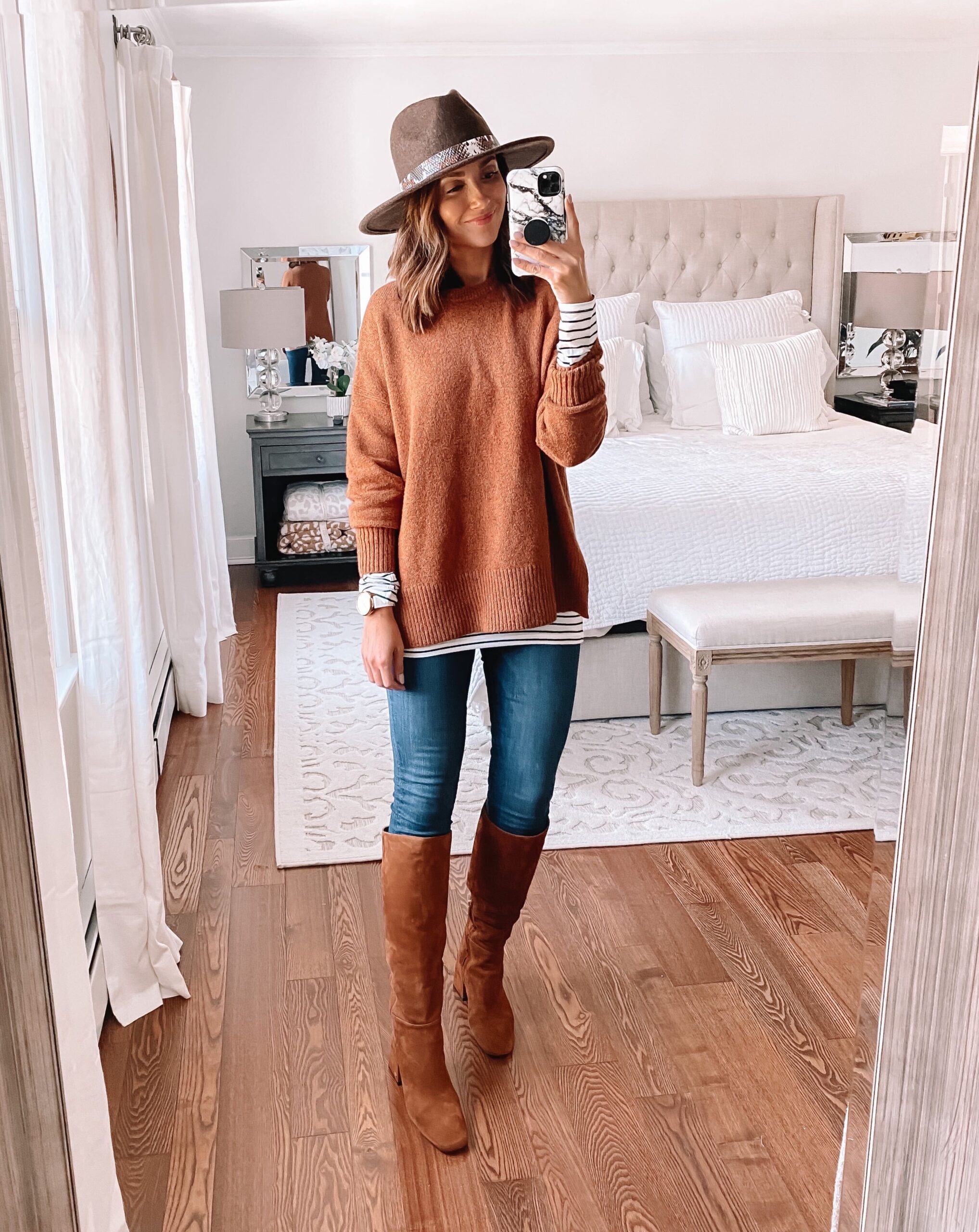 I had no intentions of purchasing this faux leather jacket because I already own one, but the one I own is more moto and casual in style. I wore this one with a dress and I immediately fell in love with the drape style. It's definitely a piece you can dress up and style for workwear as a blazer. The faux leather quality is also so good. If you need a piece like this in your wardrobe, I highly recommend this one and I am wearing size xs. My snakeskin flats are so comfortable and fit tts.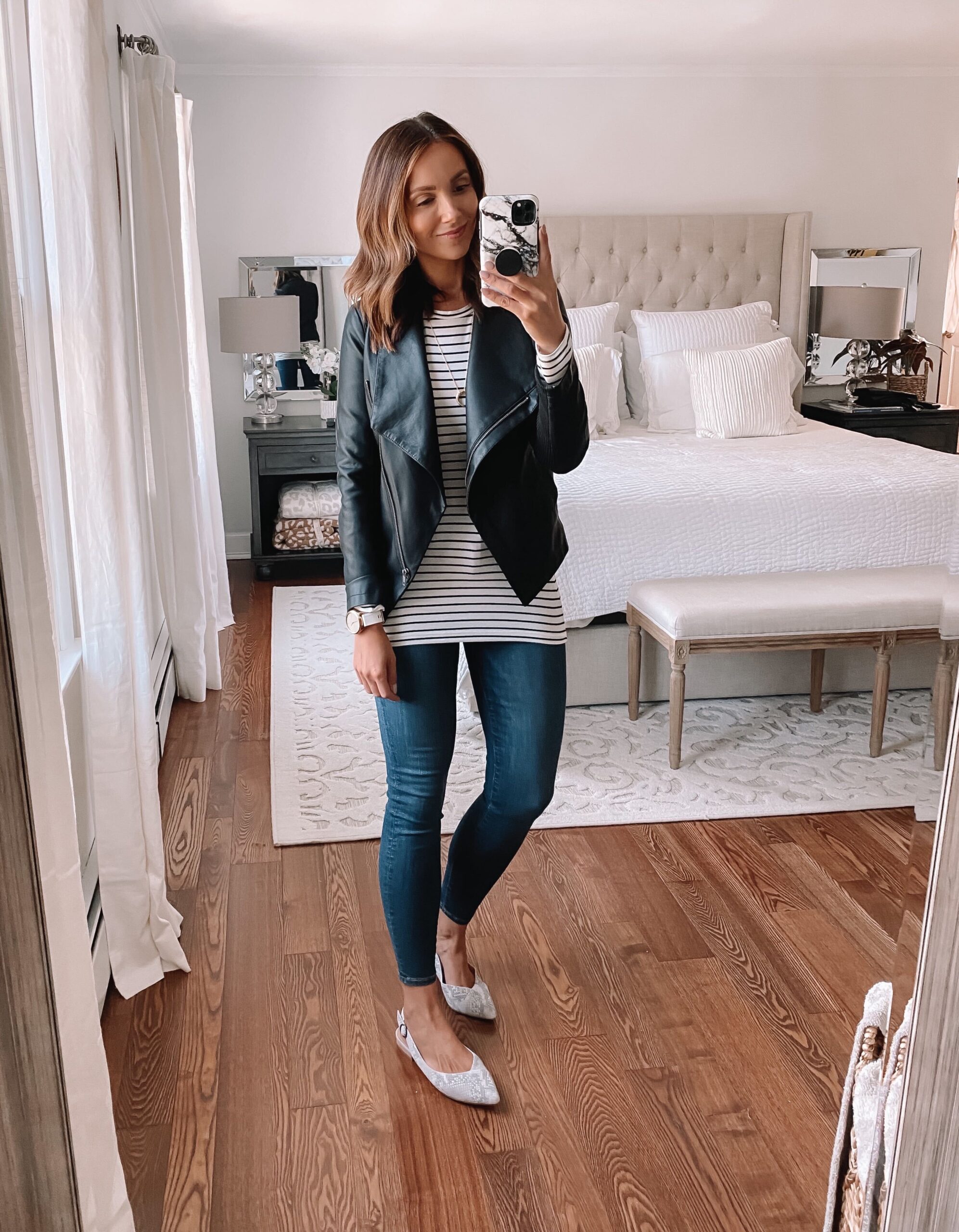 I actually purchased this jacket last year during the sale and it sold out so quickly but it's back and fully in stock this year. I love the green color, drape fit and I am wearing an xs. These Vince Camuto booties fit tts but do run narrow so keep that in mind if you are purchasing.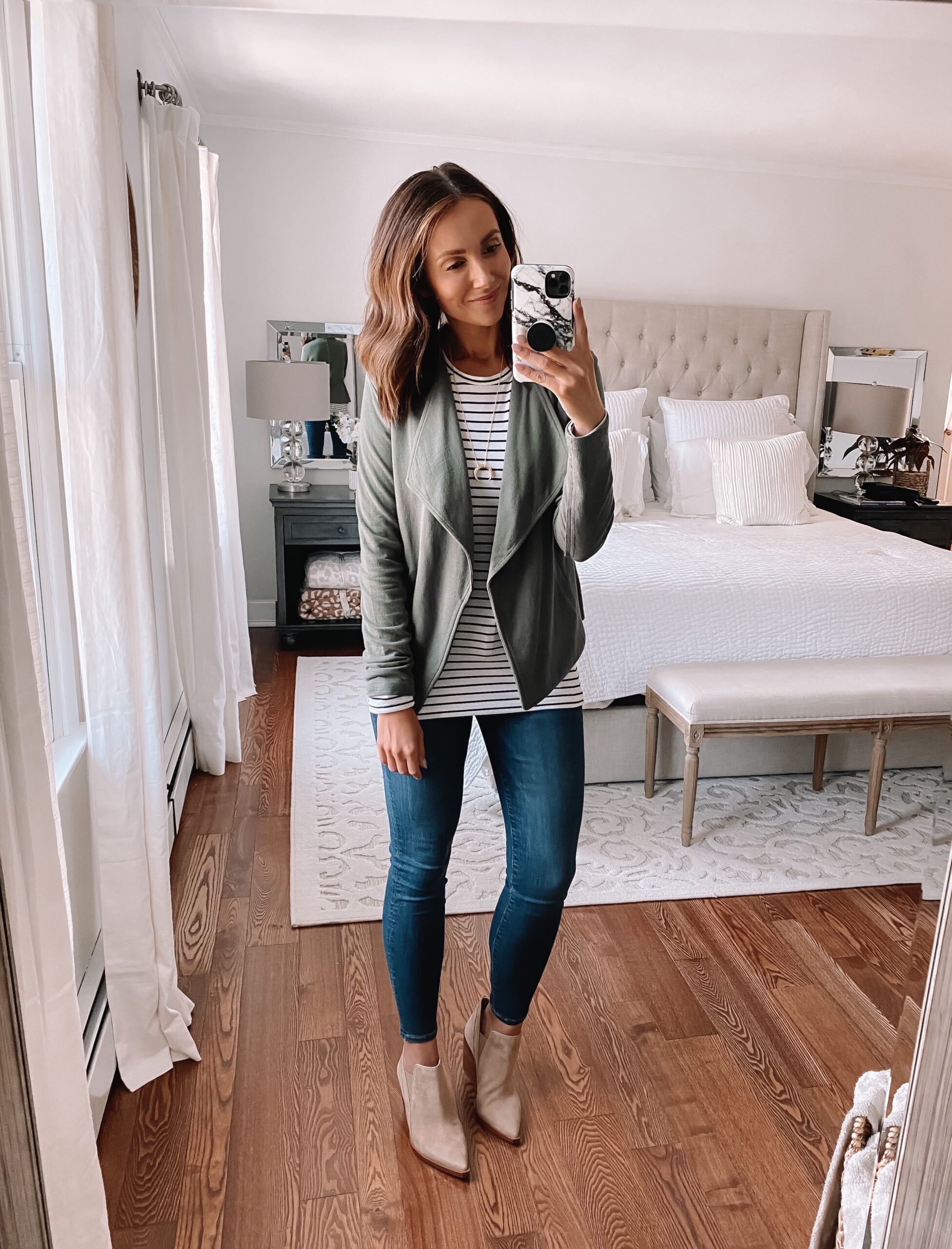 Similar colorway as above just swapped the jacket for this long line cardigan and mules. This cardigan comes back every year for NSALE but this gorgeous color is new. I am wearing size xs. My mules are by Steve Madden and size wise I recommend sizing up by half size.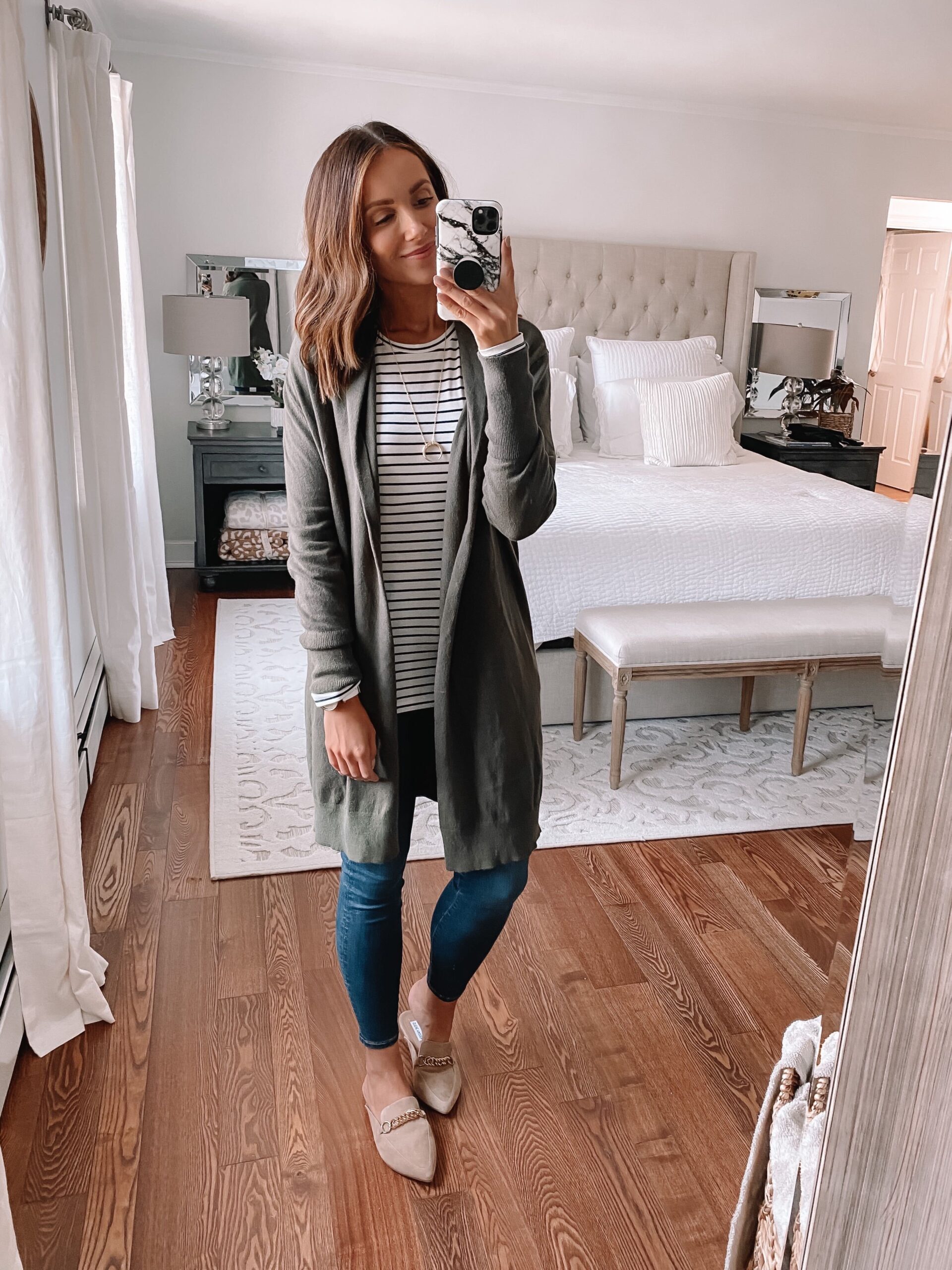 I have had my Barefoot Dreams cardigan for three years now, so this exact color way is not available but there are 4 to choose from. It is such a cozy piece that will last you for years. Speaking of lasting you for years, my zella leggings definitely fall into that category. They are high-waisted and hug in all the right places. While they can be used for workouts, I use them as my outfit leggings because they are thick, not see through and look great wash after wash. My Dolce Vita sneakers fit tts.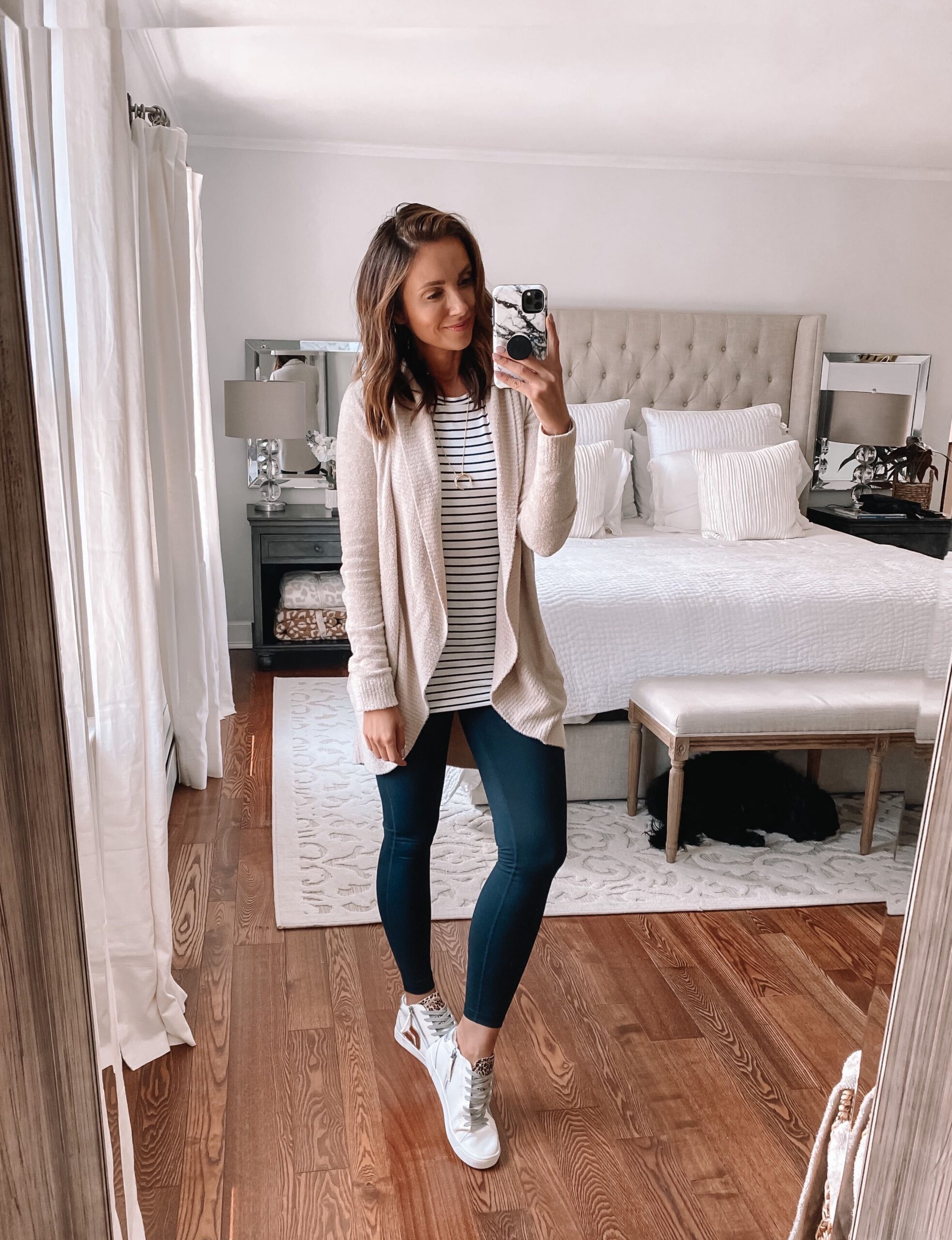 This blazer is fully in stock and I love how versatile it is! While it's dressy in style, it's made from a comfortable jersey material so you feel like you're wearing a fancy sweatshirt. It fits tts. My white cami is such a great wardrobe staple. I've owned mine for years now and it will last you. The straps are adjustable and I'm wearing size xs. My belt is a fun accessory that is also apart of the sale.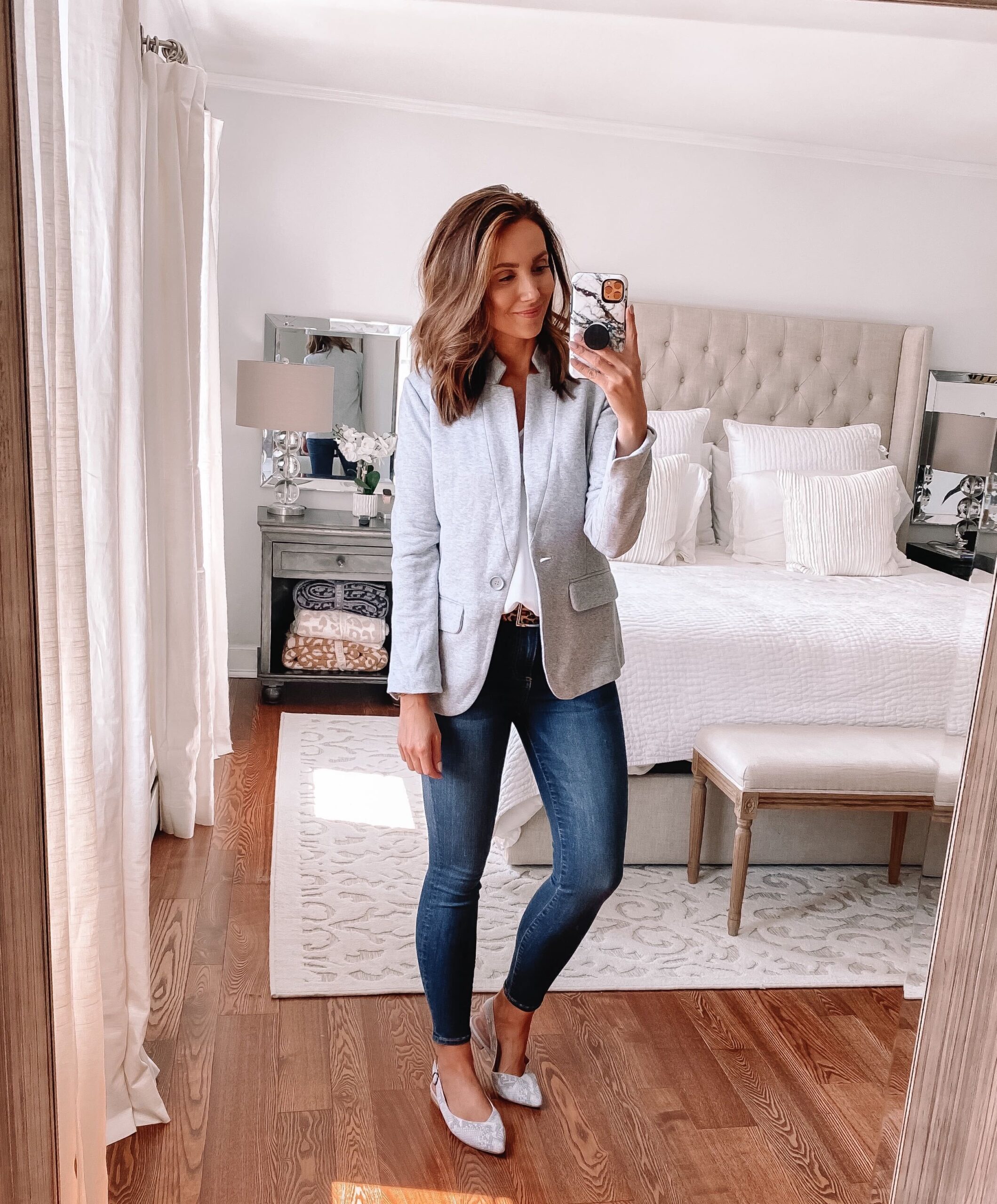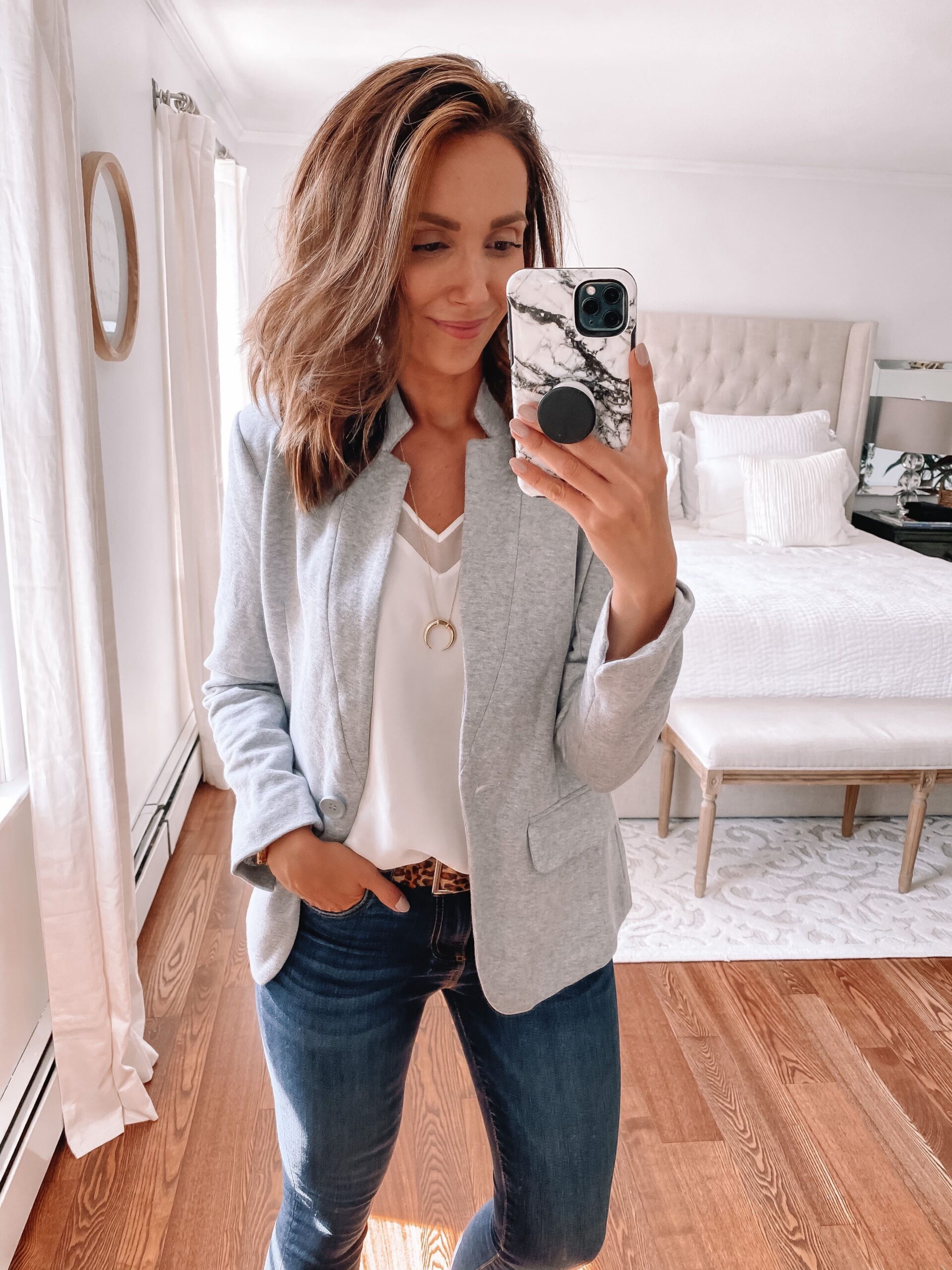 My only fancy piece that I got from the sale was this skirt. It's from the Rachel Parcell line. It looks so good with a faux leather or moto jacket. For a casual look it would be cute with sneakers and a cropped sweatshirt as well. Fit wise, I have naturally have wider hips so I feel that the ruffles give me a wider silhouette, so keep that in mind it if you decide to purchase. Other wise, it's really beautiful and the leopard print is great. I am wearing size xs.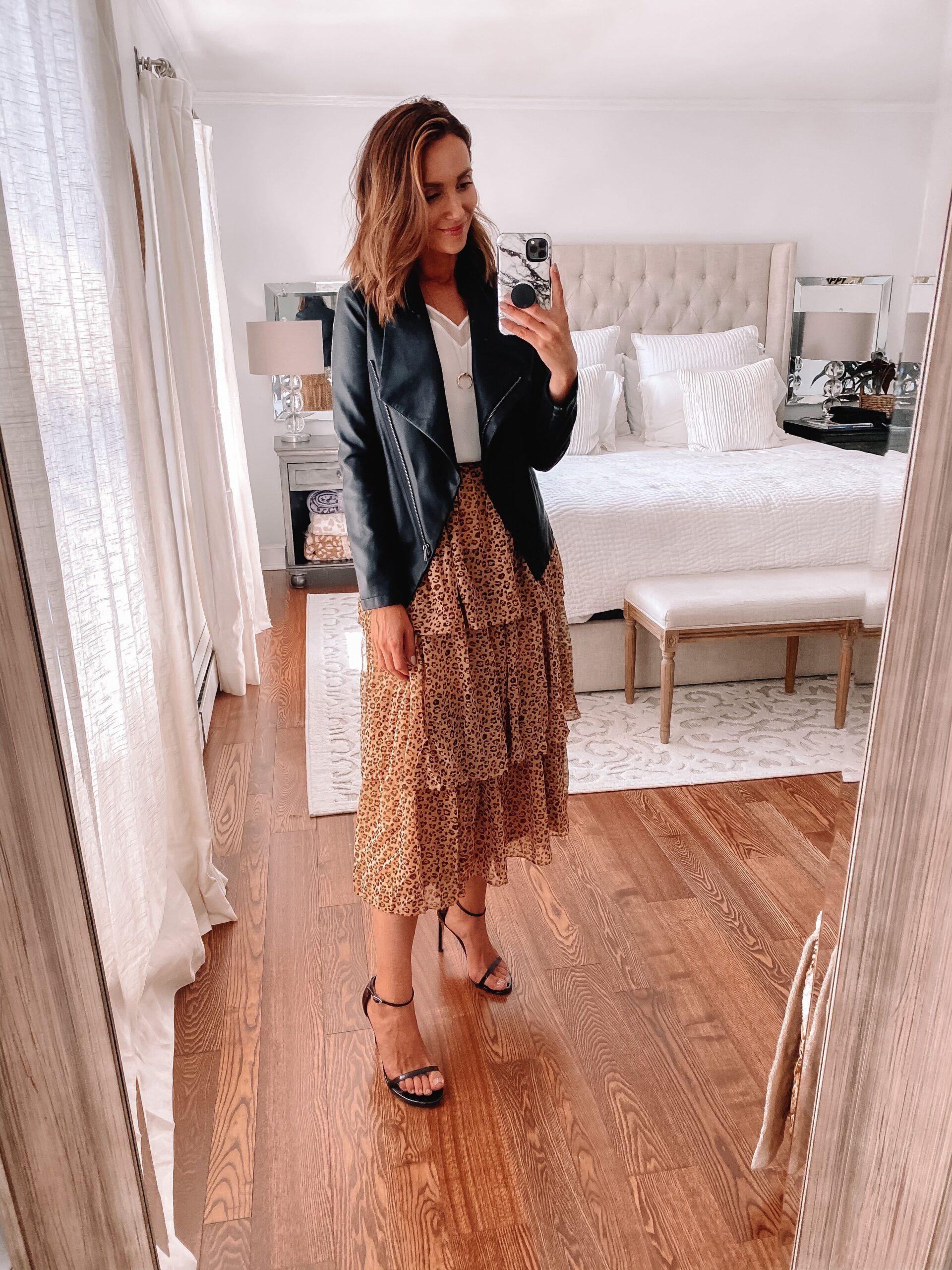 These are one of the few leggings that are still in stock. They are very thick and warm. So soft and feel great on. They fit tts, high waisted and I am wearing size small.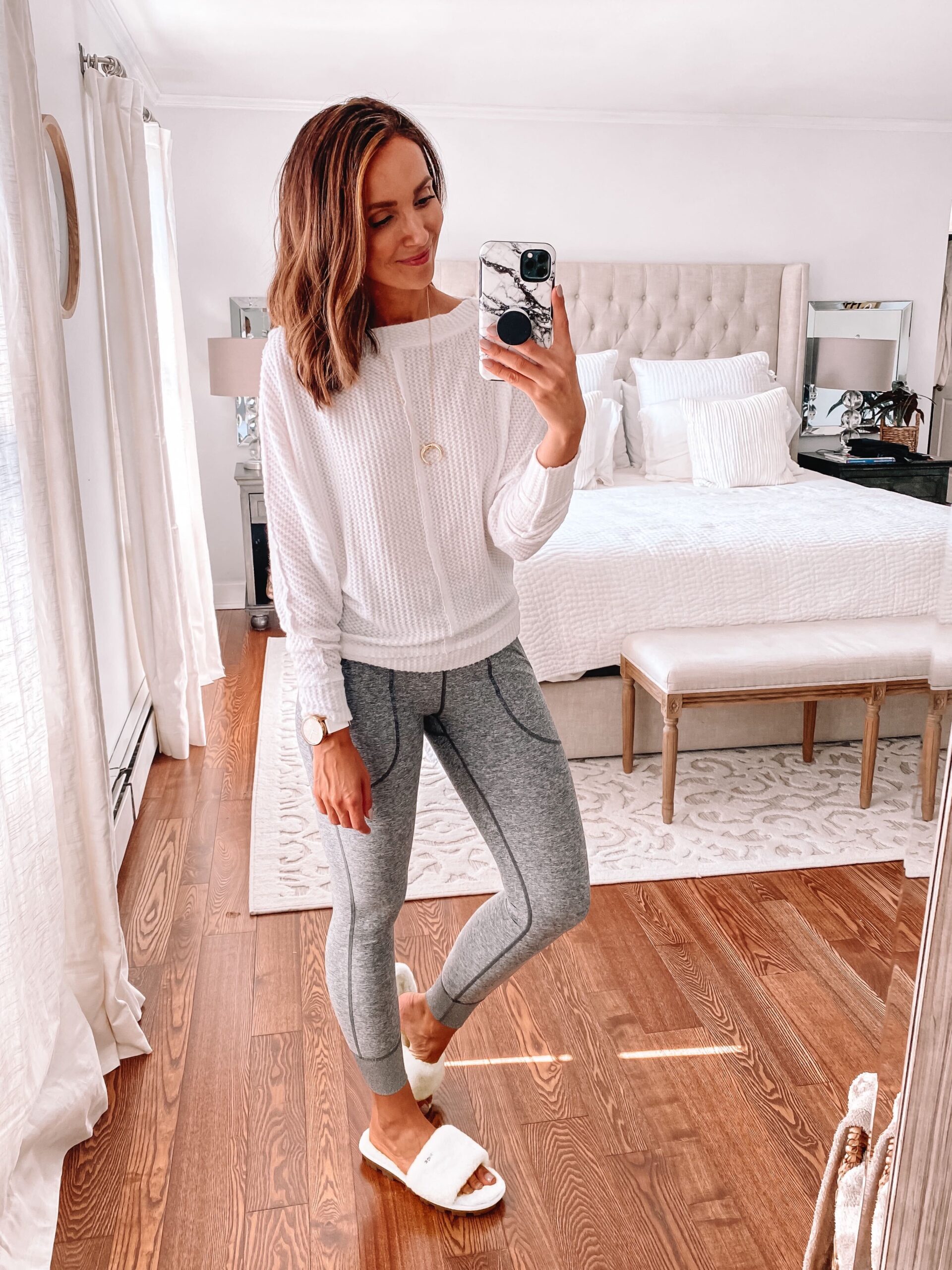 I am so sad that all the Gibson pieces are selling out! This blush pink tunic is still in stock and if you're not familiar with the Gibson brand, they make the coziest fleece pieces. This tunic is perfect length and also looks great with leggings. My joggers are from zella. They fit tts and I am wearing size small.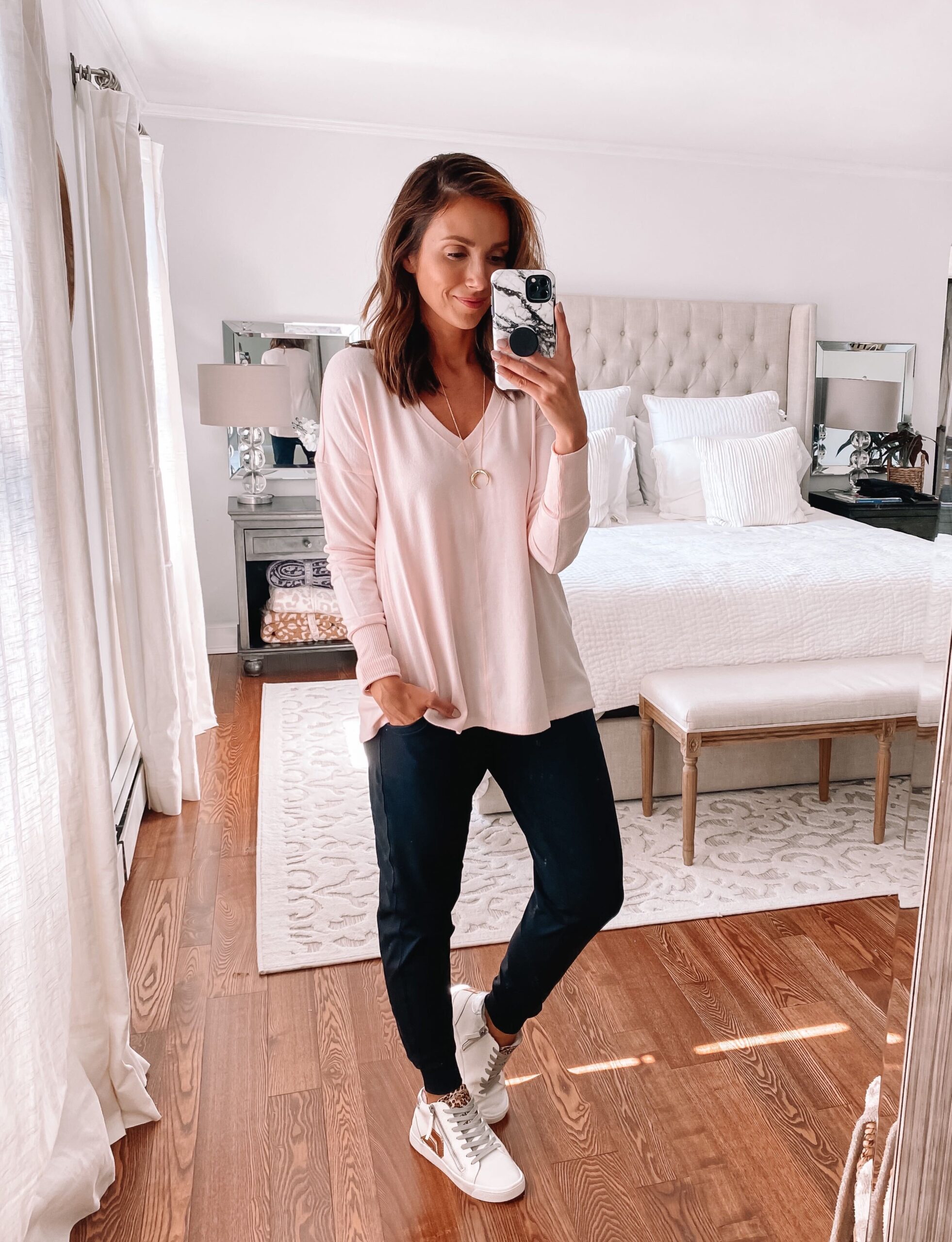 Thank you for visiting Blushing Rose Style Blog!