Hi girls. I am excited for this fun workout try-on that has been highly requested. I love new workout gear and I have been consistent with working out and running. My friend Sarah and I are collaborating again to show you some new workout arrivals from Nordstrom – 5 outfits, styled on two different body types. And scroll down for my Sweaty Betty workout gear. And I have exclusive coupon code for 20% off (just for BRS readers yay).
RELATED POSTS
Target Try-On with Sarah // Summer Try-On With Sandy
I am going to start off with this Nike look – a classic favorite. I am wearing small in both pieces, Sarah is wearing large in tank, XL in shorts. The tank is not very fitted which will make it work nicely with leggings. My sneakers are running shoes, but I bought them for more my home workouts instead. I sized up by half size.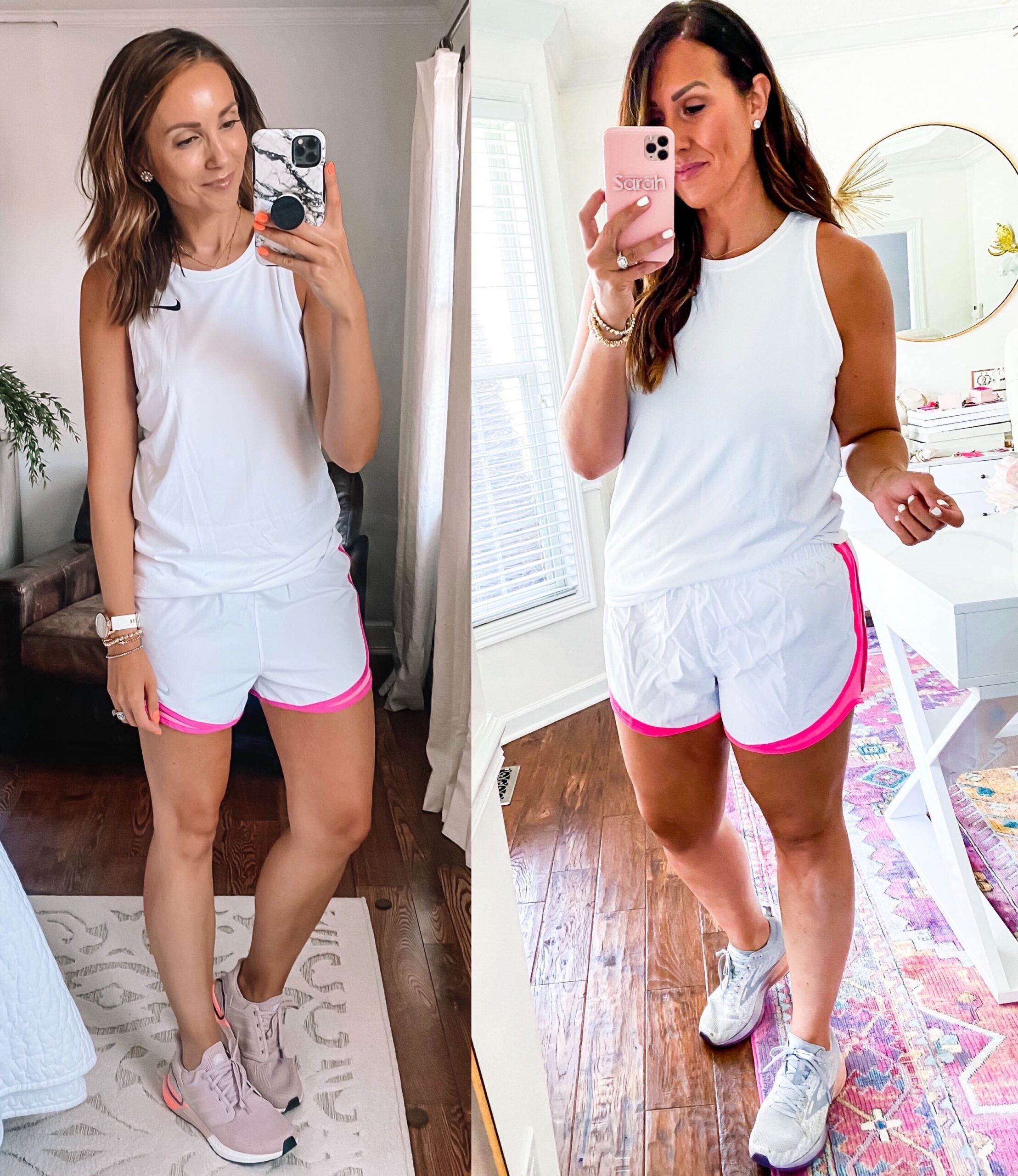 I have to give Sarah the credit for finding this Zella tank. This tank is not only great for working out, but styled with joggers makes a cute athleisure look. I am wearing size xs in tank, small in joggers. Sarah is wearing a large in both. My birkenstocks can be found here.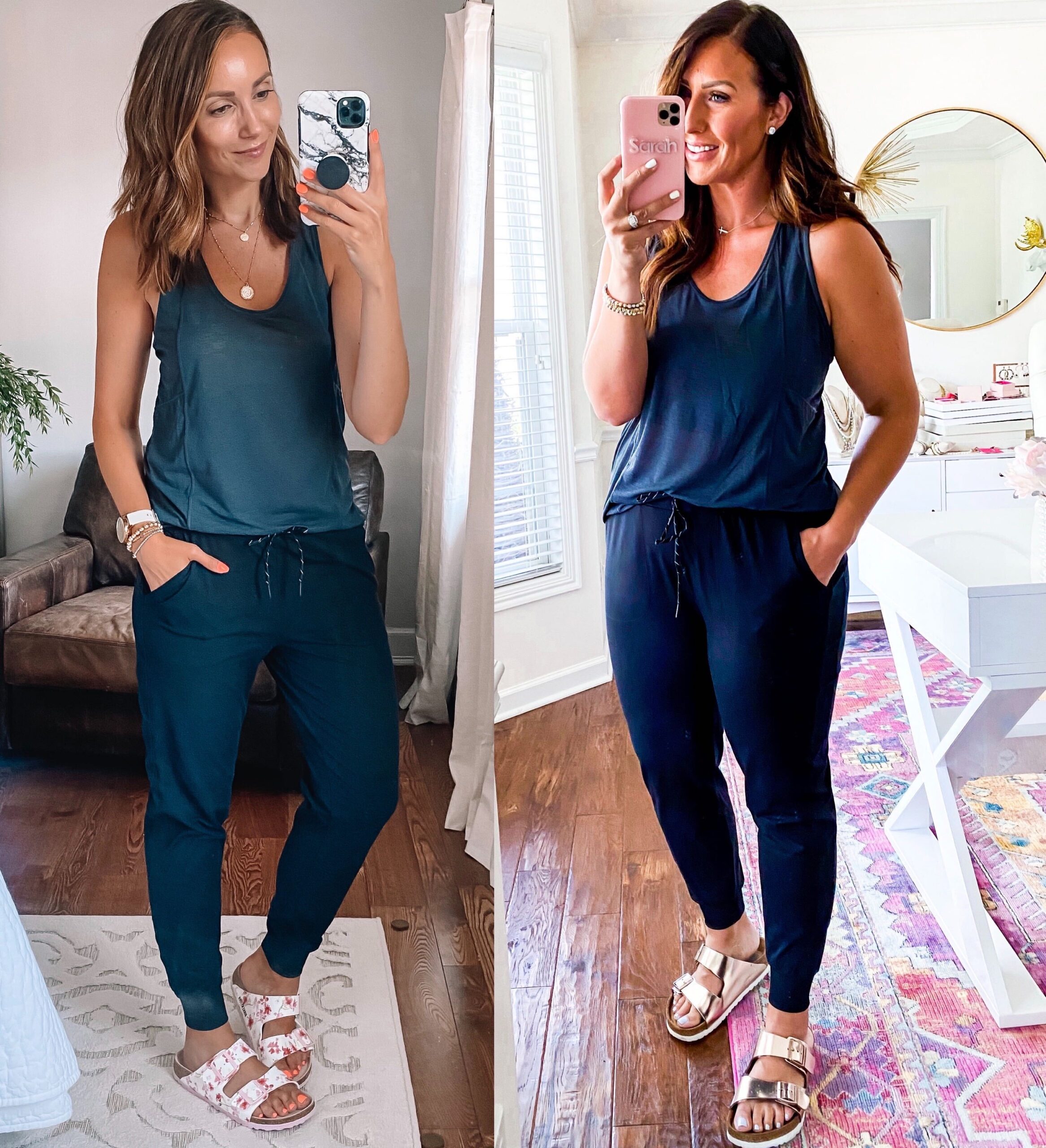 How cute is the color of this tank? The length is also so good and can be worn with leggings. In my opinion, the live in leggings by Zella are the best leggings! They are considered workout leggings, but I wear them more for casual looks especially in the Fall and Winter. These leggings are high waisted, are thick fabric and are so flattering. They look great wash after wash and will last you season after season. I am wearing xs in tank, small in leggings. Sarah is wearing a large in both.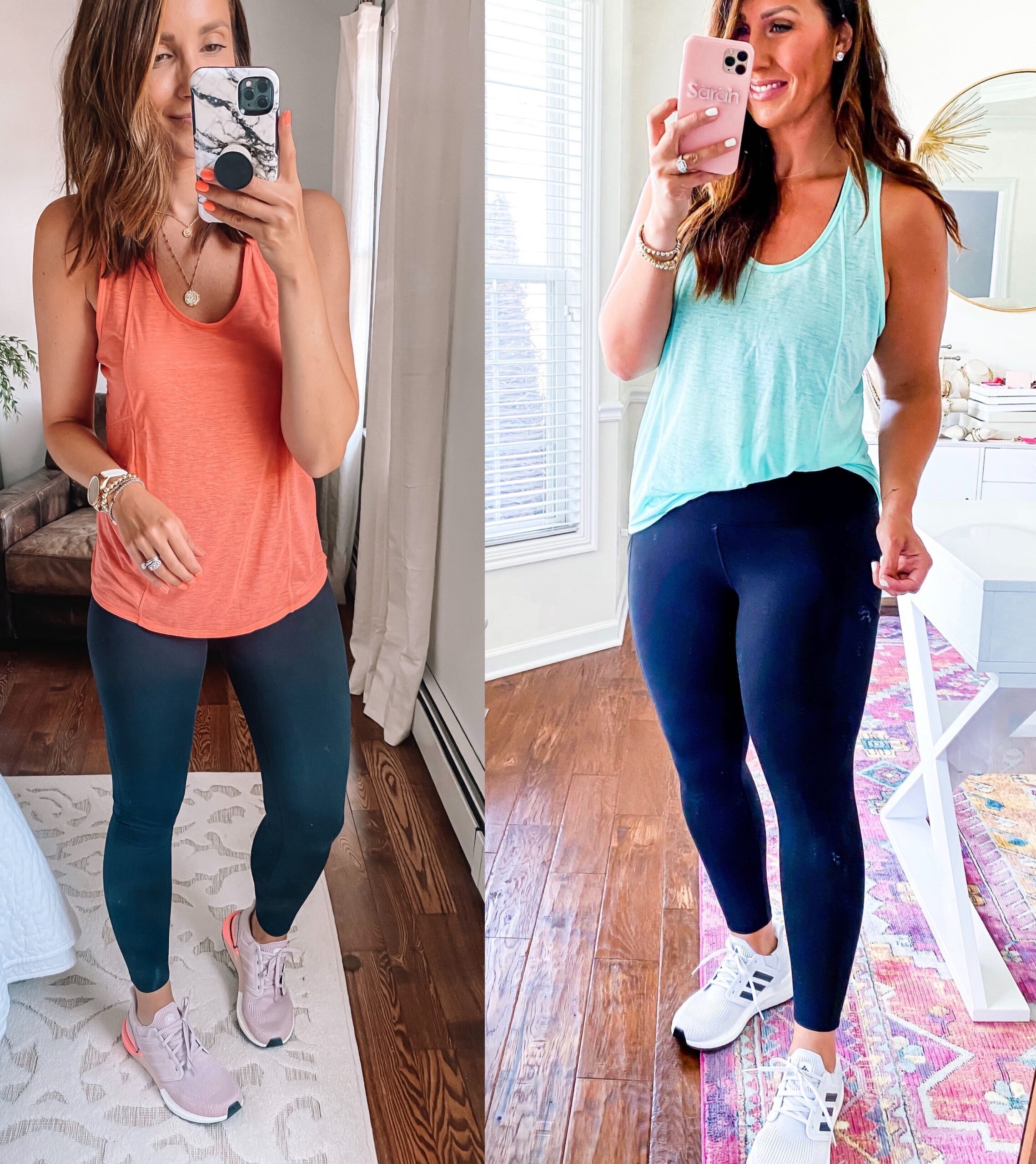 Same leggings just swapped for this crop running tank. These crop tanks are so trendy right now for workout gear and are impossible to find in stock. If you are looking for one, I highly recommend this one! The texture is ribbed and the cutouts are pretty deep, so it is meant to layer a sports bra underneath. I am wearing size small, Sarah is wearing a large.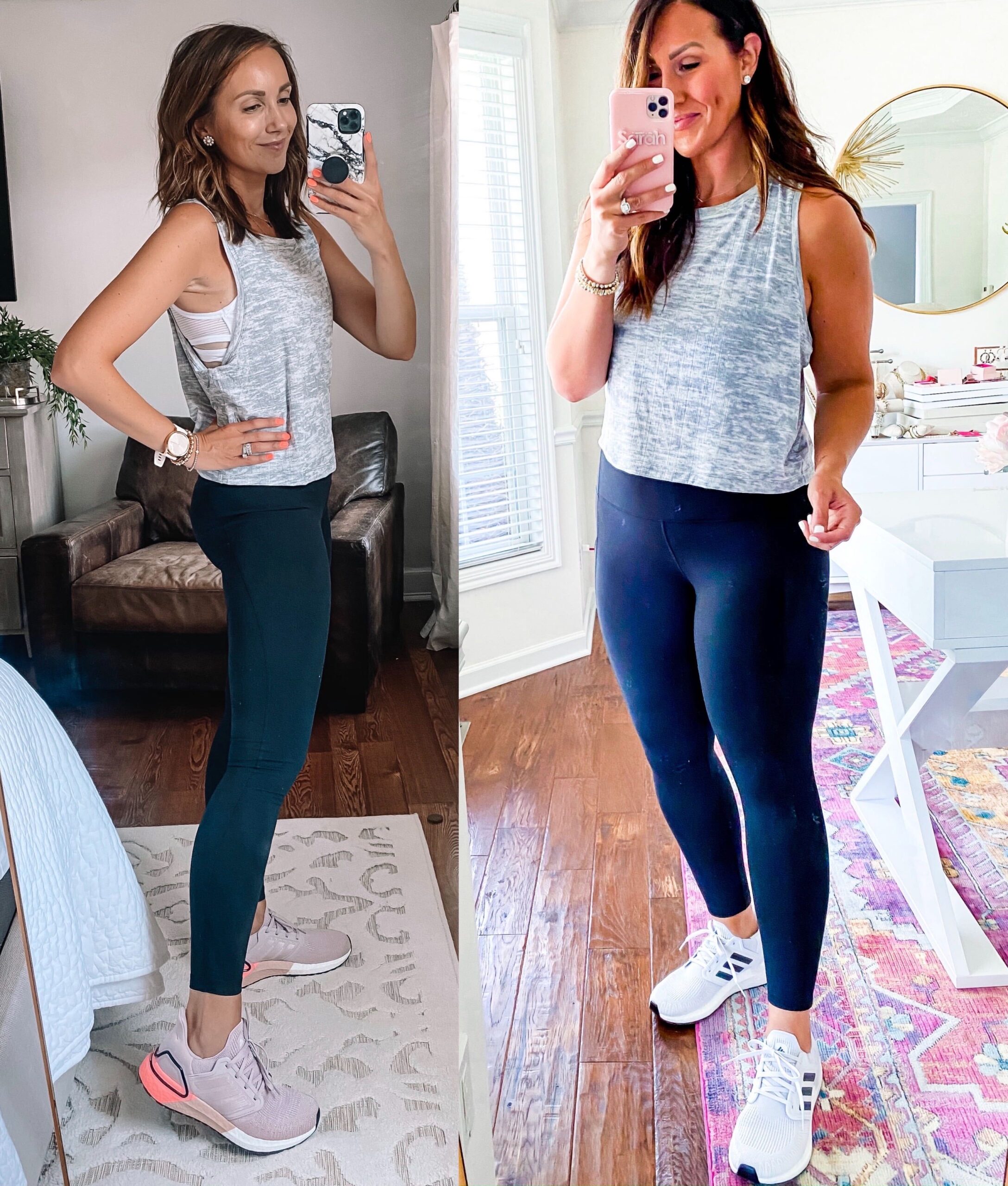 Our last style together is this athleisure look. Wide leg pants are so chic' and the fabric on these are light which makes them easy to wear in the summer months. The waistband is also elastic. I am wearing size small, Sarah is wearing size large. These cute boxy tee is from Free People and is semi sheer. I like to layer a lace bralette underneath. I am wearing size xs, Sarah is wearing a medium.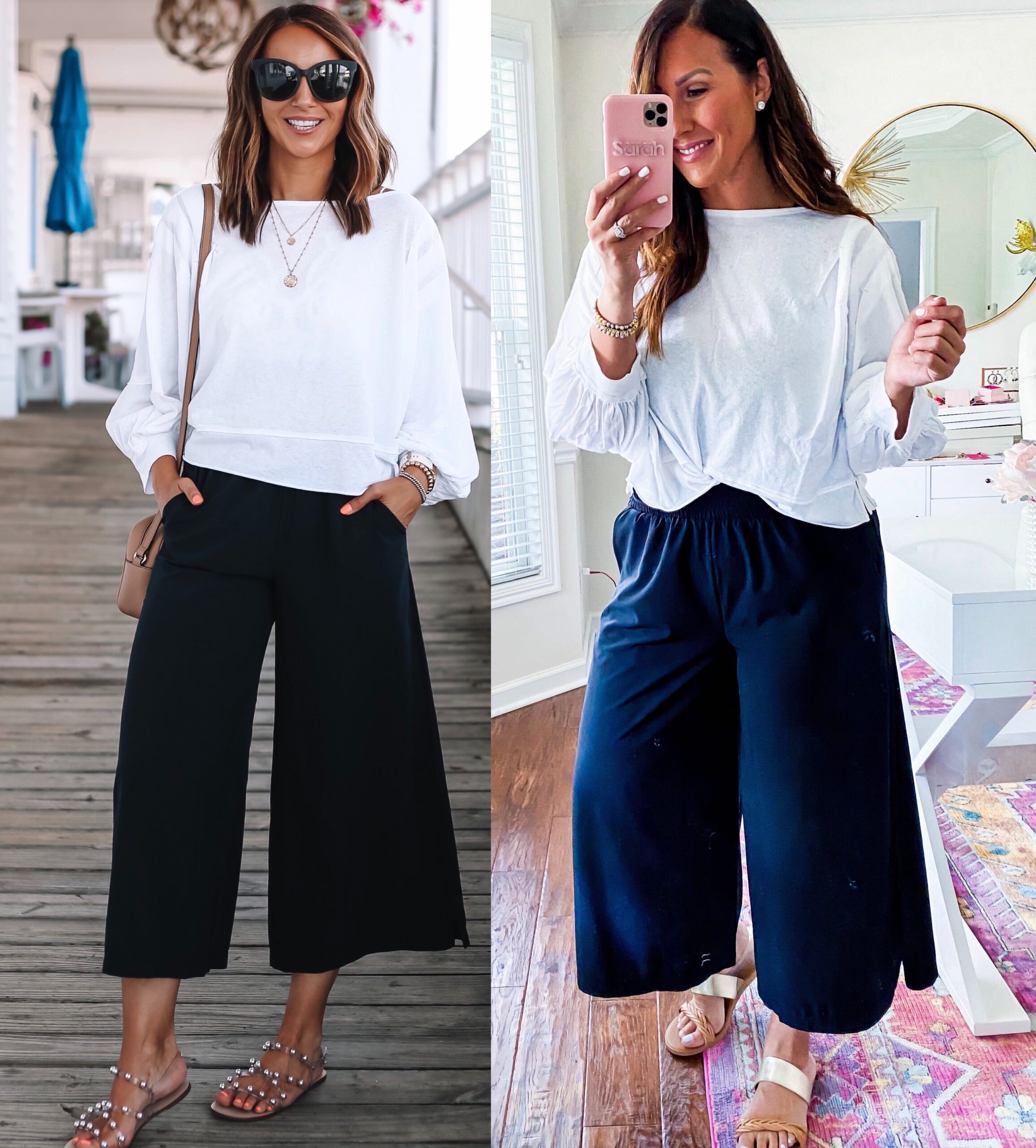 Sweaty Betty
For my BRS readers I have a special promo code for you! Save 20% on your Sweaty Betty purchase with code SBBLUSHING20
This is probably my all time favorite running tank! I am wearing size small and the crop fit is perfect. It's very light and breezy which is great for this time of year. I also wanted to try a couple of their sports bras and the best thing about this bra is that the pads are sewn into the bra – meaning no annoying cups falling out! The fabric of these leggings are so thick and not see through – they are definitely squat proof.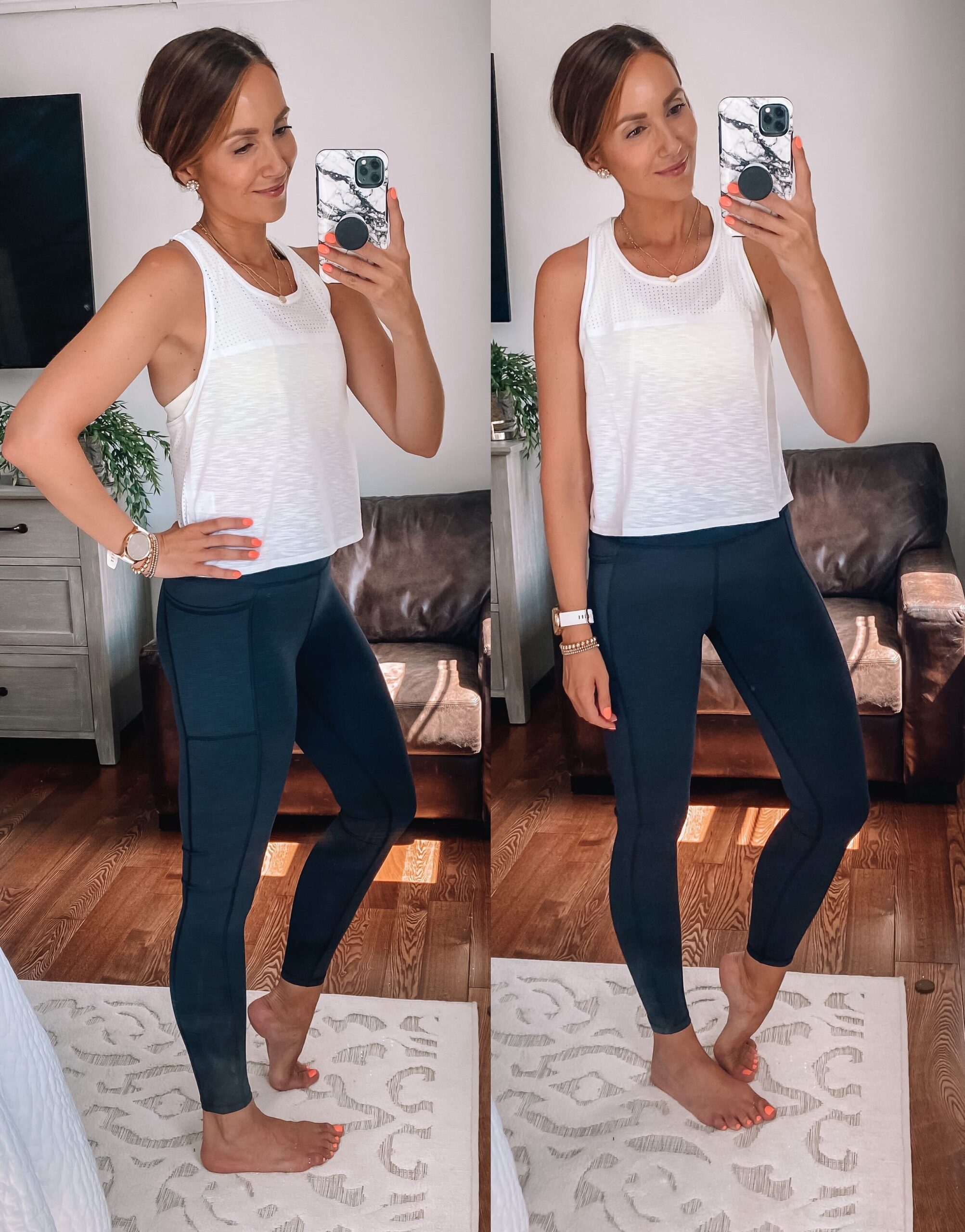 To have a little bit more fun with your leggings, these are for you! They fit tts and for length comparison, these are 7/8 length compared to the full length above. I am wearing small in the tank. It's meant for working out in the summer and it's very lightweight and airy. The sports bra is so light and very soft.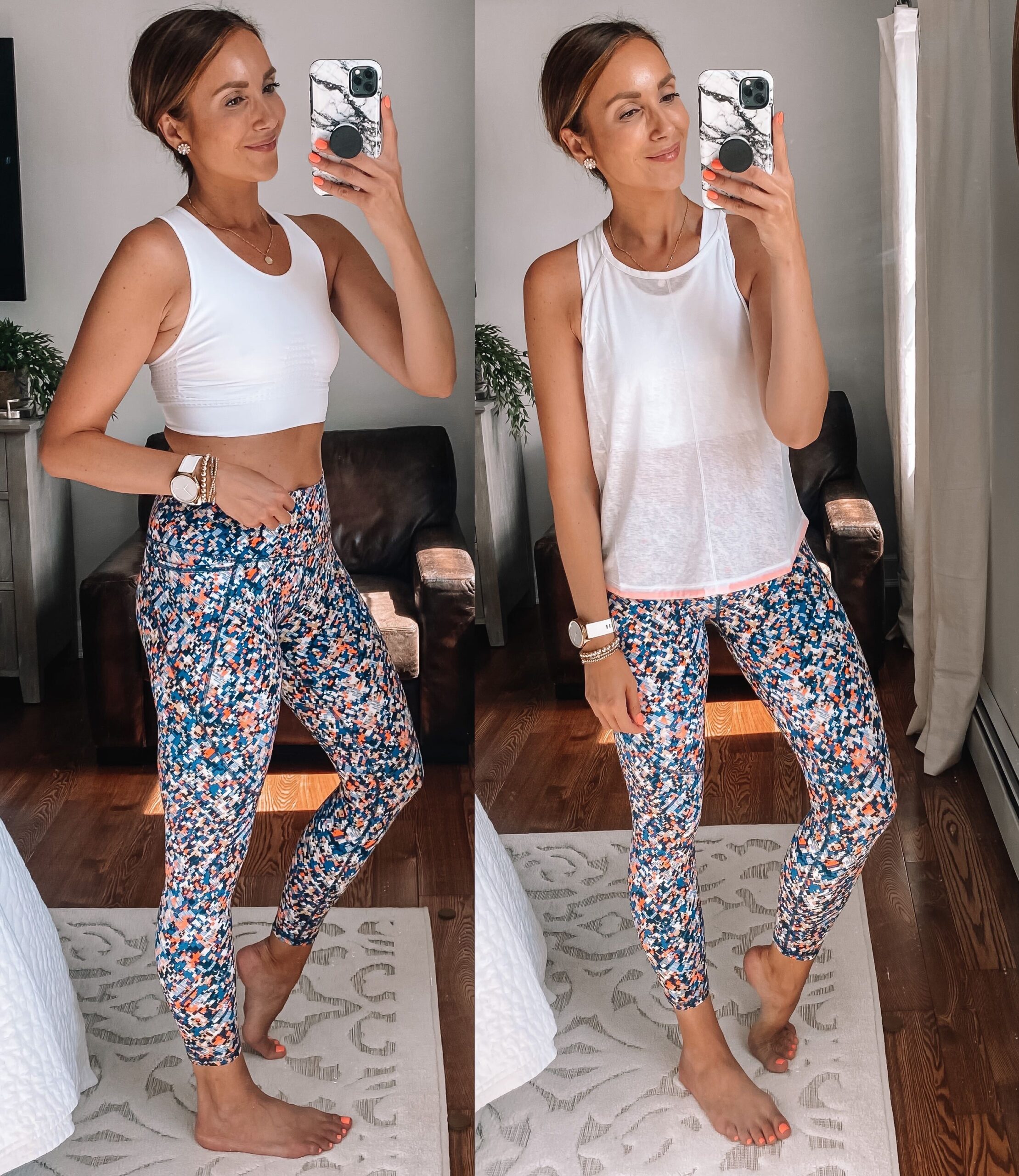 You girls know I love joggers, and I'm always on the hunt for a great pair! I had no idea that Sweaty Betty had joggers. These are so comfortable and because of the fabric, they are great for working out but also will work nicely for athleisure styles. The tank fits tts and I really love the length. My tee is super soft and has an opening in the back.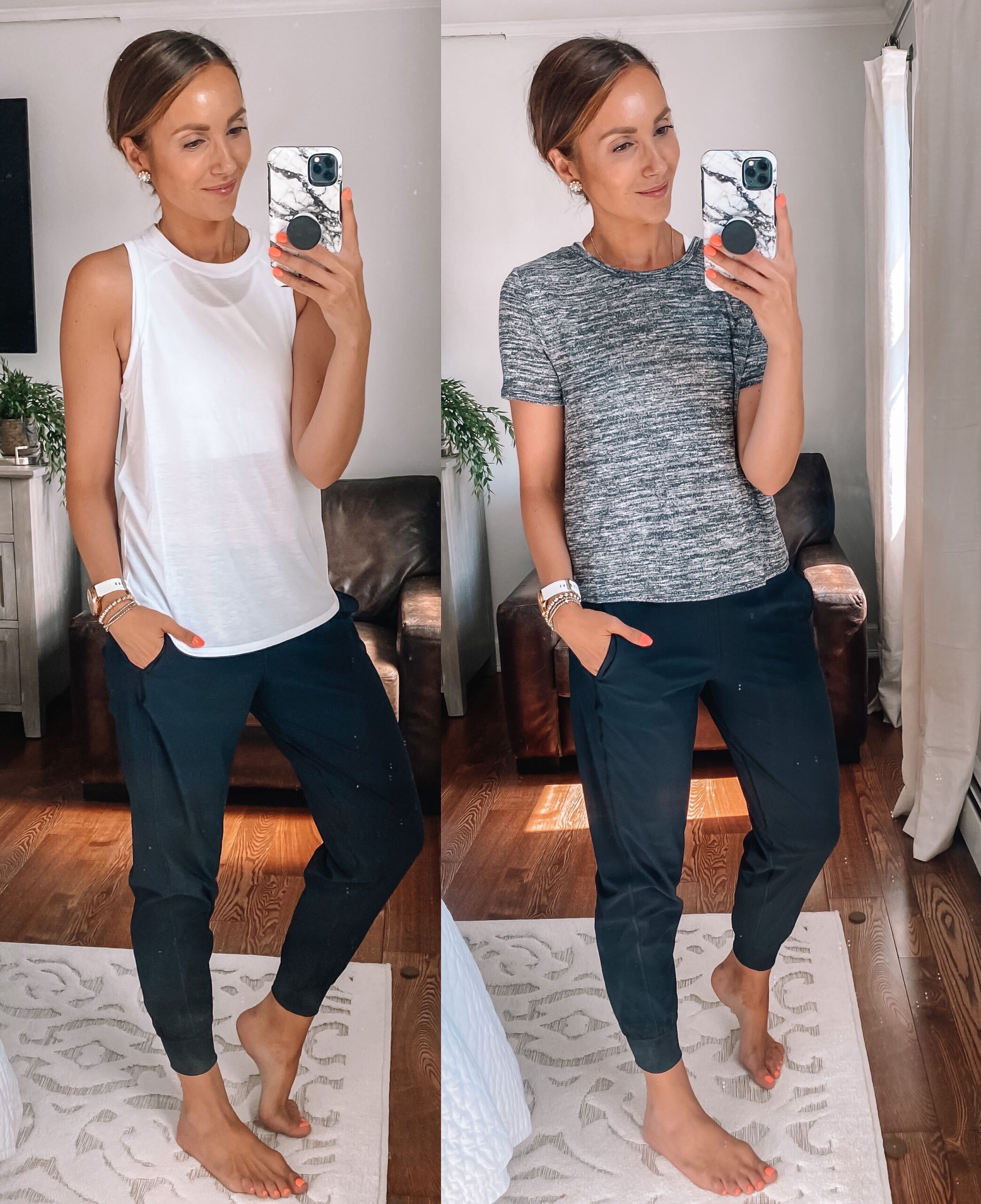 Thank you so much for visiting Blushing Rose Style Blog.