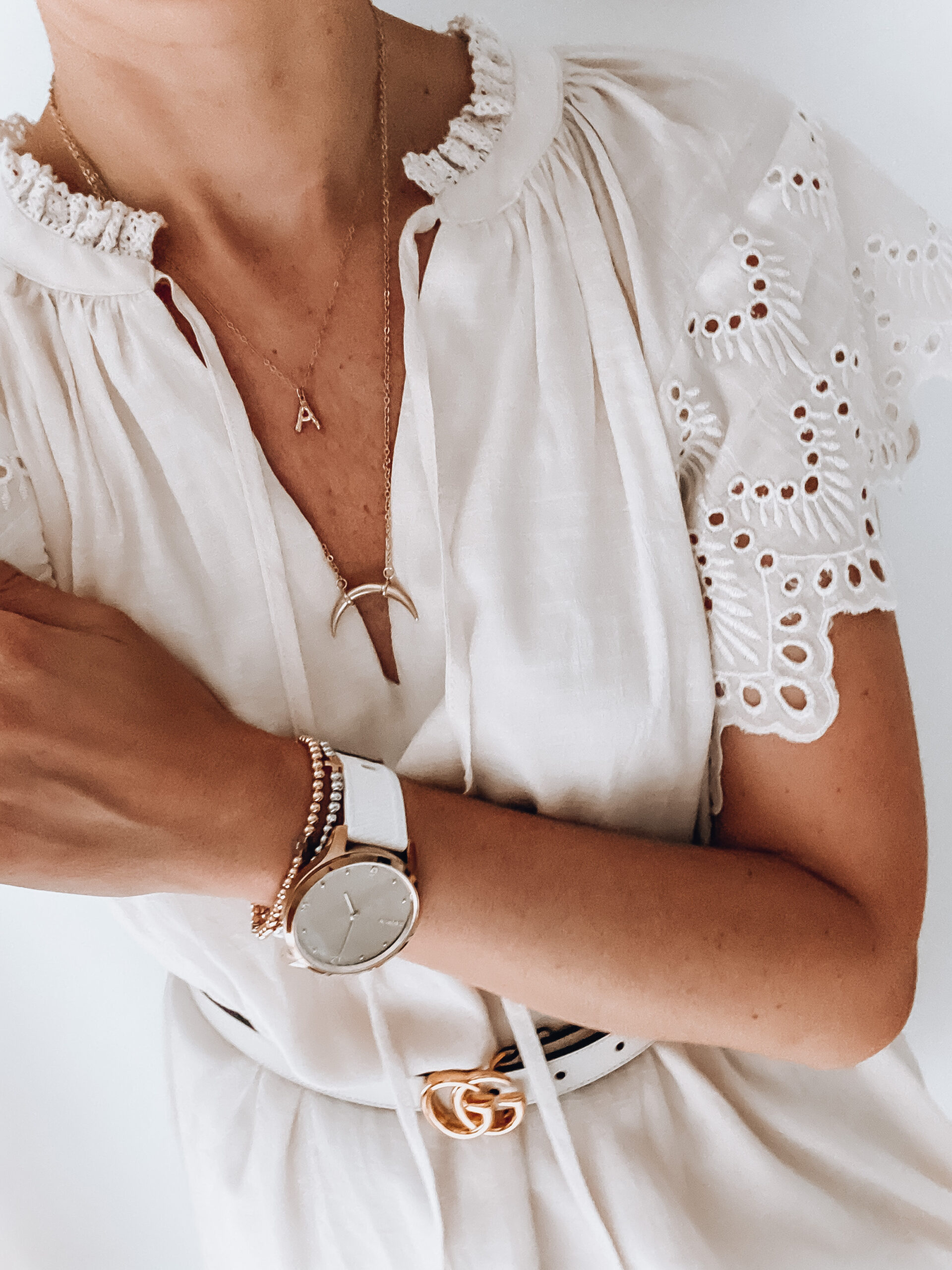 Hi Girls. I have been getting quite a few requests lately to do a follow up review on my Garmin Vivomove Luxe watch. I've been wearing my watch since October last year. I absolutely love it. I recently swapped the leather band for the silicone one so it's a new look but same great watch.
Everyone in our home (with the exception of Grant) has a Garmin watch. My go to running watch is the Forerunner which has so many new amazing features . My first Garmin fashion watch was the Vivomove HR, which is still available at great price point, read about my favorite features HERE. Reese wears the Vivomove JR, John loves his Fénix. Long story short, we are a Garmin family!

Garmin Vivomove Luxe – FAQs
Do you still like it? Do you wear it everyday? Do you wear it on your runs?
Can you get texts / receive phone calls?
I love my watch and wear it everyday. I love tracking my activity level throughout the day (steps / stairs).  I am so used to having on all the time. Last week I went for a run and left my watch at home… I was so bummed not being able to add all the steps haha.
I do wear my watch on my runs when I am not training for a race. I have been running with the Garmin Forerunner for years. Mine is actually pretty old, so I may invest in a newer model if (when) I sign up for another race. But as I mentioned, I am not training for anything now, I am just enjoying my runs without tracking speed or stats. So most of the time, I keep my Garmin Vivomove watch on. It uses your phone's GPS to track. I do want to emphasize, Vivomove is a fashion smartwatch NOT a fitness watch.
While you CAN view the text messages, you cannot reply from the watch. At first I was disappointed in that, but then again – I am never really away from my phone. When I see texts coming across the screen, I know if it's something urgent, I'll grab my phone and reply right away. You can also answer the phone, but you cannot have a conversion through the watch. So you can answer on the watch, locate the phone (in your purse, etc.) and chat via phone. I mean if you ask me, I would never try to talk to my wrist (so totally not a deal breaker. haha).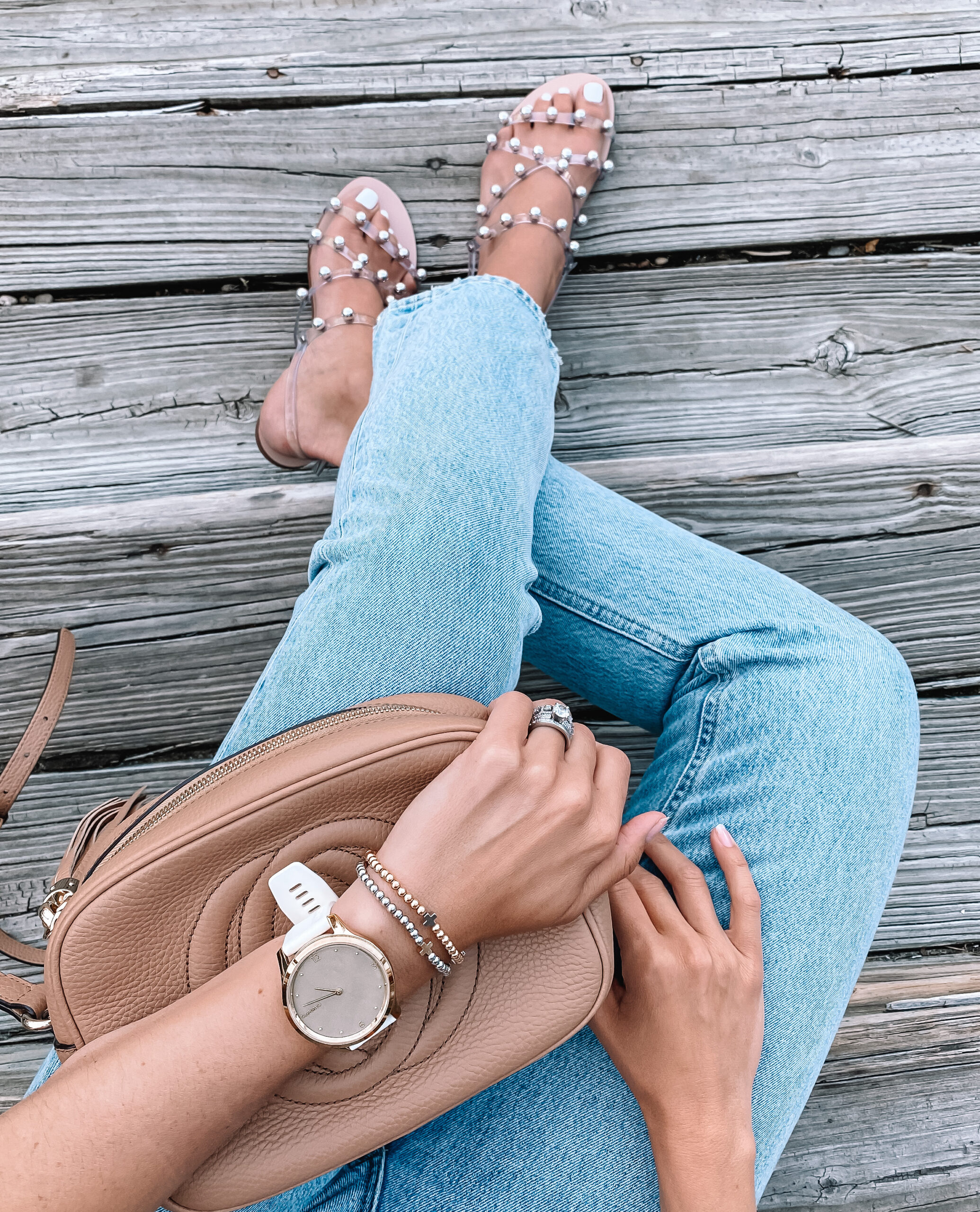 Garmin Vivomove Luxe Features
Fitness – track you steps / stairs climbed. I have to say this has become my favorite feature. I never used to track my steps, but this has been truly eye opening. Some days I am busy and active and my steps exceed 15k, but on days when I am stuck in front of my computer … the step count is low. Like REALLY LOW! This feature definitely motivates me to keep moving throughout the day. I have been participating in the #10kchallenge for the past few months. Want to join me? Super easy – keep moving throughout the day, once you hit 10k steps take a selfie (or wriste hehe) and if you choose to post on social make sure to tag me and @garminwellness
Stress tracking – This is a really cool feature because it measures and compares your heart rate when your inactive vs. when you're active. By doing this, it can indicate when certain moments in your day can elevate how you're feeling and determine when you might need to take a break. Let's just say my watch has been buzzing a lot more during home schooling days hehe.. yay for summer break.
Body Battery– such an amazing feature! Just like you want your cellphone always charged at 100%, you want your body battery high. Scale 1-100. Calculated based on stress / activity / HR variability, sleep. You should wear your watch consistently (even when you sleep) for accuracy, the watch needs to get to know you.
Sleep -Track your sleep and understand your patterns better! By wearing the watch you can see a breakdown of your light, deep and REM stages. You can also set it to monitor your Pulse OX levels when you sleep so you can gauge your blood oxygen levels.
HR – Constant HR tracking! This is huge for accuracy! Because you're wearing the watch consistently on your wrist, it can precisely and more accurately sample your heart-rate. It will alert you if it gets too high or goes too low. This is helpful to monitor how hard you're working when exercising.
Hydration – Do you drink enough water? I don't… this cool feature tracks your water intake throughout the day. You can customize your goals and it's easy to stay on track.
Period Tracking – extra grateful for this feature. I never tracked my periods before. Now I enter when my period starts, and when it ends. The widget offers educational info for every phase of the menstrual cycle (you can view these in the Connect app). You can can even log in your symptoms to better understand your cycle.
GPS – while the watch doesn't have the GPS , the watch has capability of using your phones GPS.
Battery Life – great battery life (especially if you compare to other smart watches). Battery life of 5 days! And even after the battery is dead, the watch will still work for additional 5 days (the old school analog way), 50 meter water rating.
Find My Watch and Find My Phone
Timer and Stopwatch
Calendar View
Garmin Pay – Garmin Pay works everywhere where Apple Pay works. Super safe and convenient method of payment.
My favorite features are Steps Tracking, Period Tracking, Hydration, Stress and Sleep.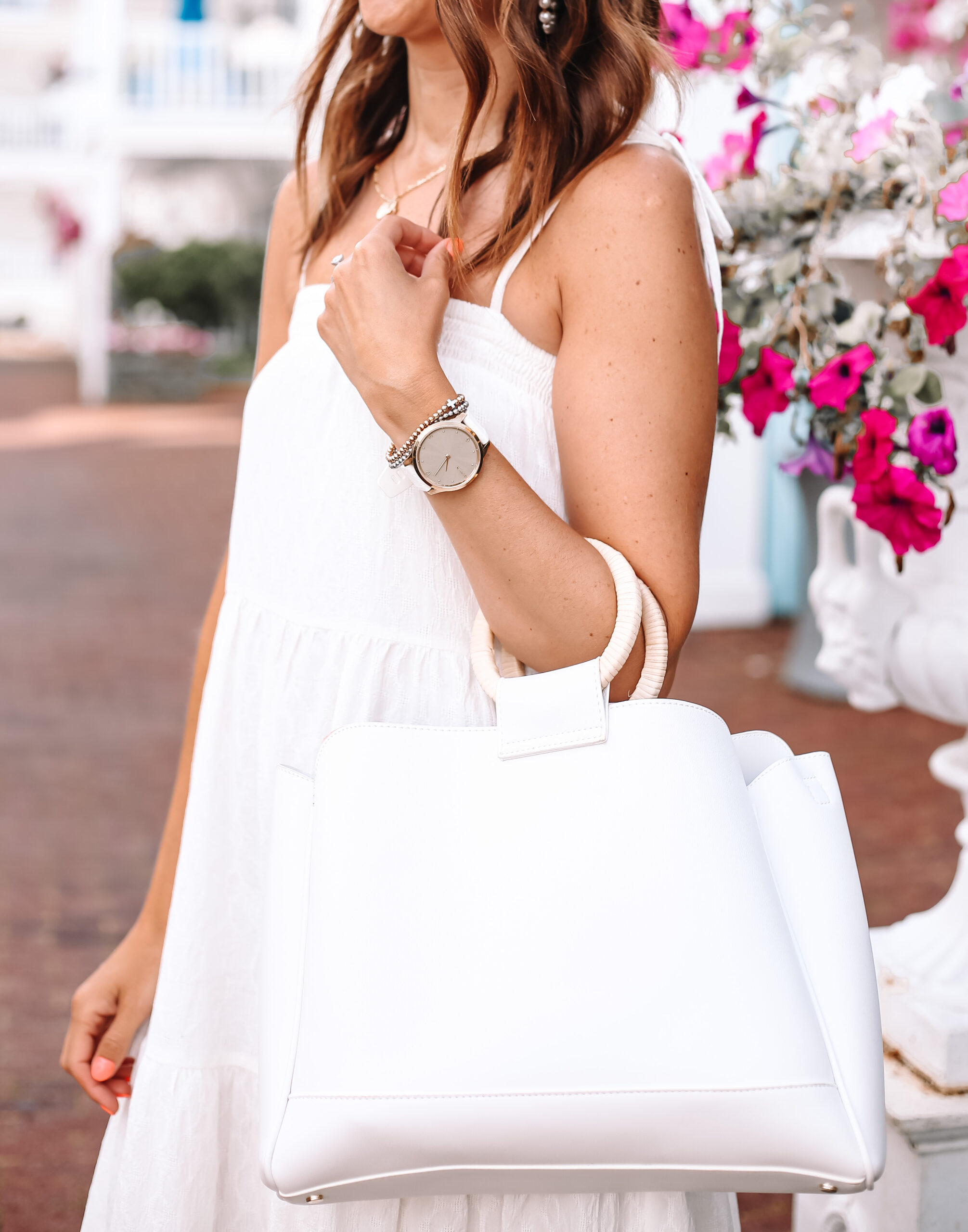 Garmin Vs Competition
HR constant HR monitoring. Other smart watches track HR every 5 min (when not in workout mode).
I love the look of my Garmin Vivomove Luxe – fashion watch with smart watch features. Other popular watch – only one sporty look (doesn't look good with dressier outfits).
Battery life –  5 days and additional 5 days  in the analog mode after battery is depleted. So Garmin is more accurate, because you don't have to take it off frequently to charge (and it's a know issue with other smart watches leaving users frustrated). It charges a lot faster vs others.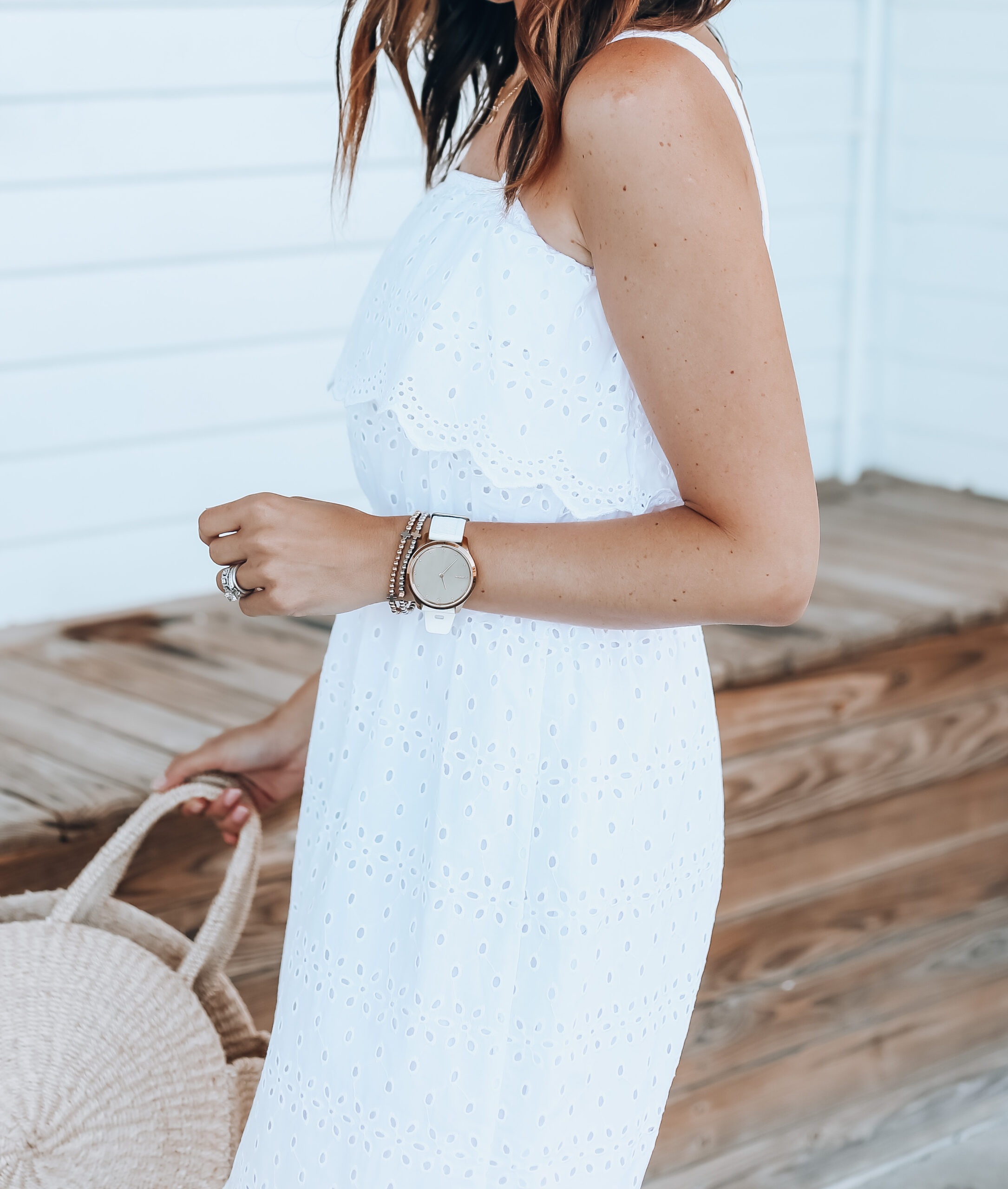 Garmin Vivomove HR Sale
Big news! Garmin Vivomove HR is on sale 50% off! I have never seen a sale like that on this watch. If you are curious about the differences in features, see side by side below. Note the Vivomove Luxe has even more feature which are not listed here, but it will give you a general idea. With the biggest differences being dual colorful vs single display, body battery, Garmin pay and menstrual & hydration tracking.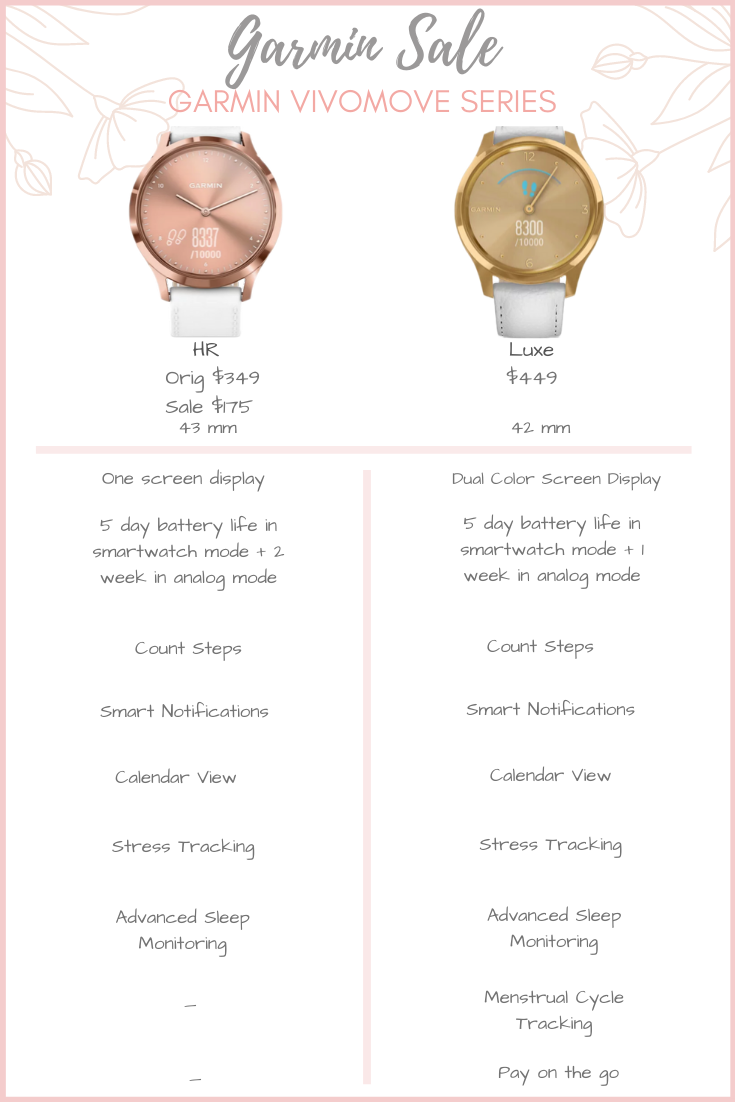 Thank you so much for visiting Blushing Rose Style. And very special thank you to Garmin for partnering with me on this post. As always, all views and opinions are mine.