Learning to Love Your Personality.
The weather is changing in New York. And my favorite time of the year is finally here. Pumpkin everything here we GO! What's great about fall is not only crisp cool air, hearty meals, but also amazing fall fashion. My birthday also happens to be right around the corner, and I wanted to share and reflect on some things that have been on my mind lately. But stay tuned more on that in a bit. Before things turn heavy, I wanted to share some fun fall outfits. I have partnered with Nordstrom on this post to share my love for great jeans (read more on how to find the perfect pair of jeans HERE), cozy layers and fun scarves. Nordstrom is my favorite retailer because it caters to all budgets! They also have such cute selections for kiddos (and since I have two) it makes it a one stop shop for my family. (This post contains affiliated links)

I came across this cocoon wrap in the accessory department and I was immediately drawn to its slouchy silhouette. It comes in 4 colors and OS. I am also wearing Paige Denim HOXTON high waisted jeans. They're super slimming and IMO totally worth the splurge. But if they're outside of your budget, grab THESE (I own these and they're one of my favorite jeans).
JEANS (SIMILAR), BOOTIES, MIXED LEOPARD PRINT SCARF,
WHITE TEE / TANK, COCOON CARDIGAN, HAT, EARRINGS

Learning to Love Your Personality.
With my birthday approaching in just few short weeks, I cannot help but reflect on this past year. But also because it is such a big milestone (I am turning 35 … yes I am officially old AF), I wanted to look back over the last decade. There is so much I can say about my life, how there has been so many changes, difficult times, etc. For all that I carry gratitude in my heart, and I am thankful for where I am and what I have (or more of who I have) in my life.
But today I wanted to start a discussion on something I had to come to terms with, accept and embrace. Learning to love your personality… Do you ever look at your friends, family members and think "I wish I was… funny like him / witty like her / fun like them"? That used to come across my mind all the time. If I had to describe myself it would go something like this: I am a good person. I am a good friend. I may be shy at times. I am intense. I guess I can be perceived as difficult. I feel misunderstood. I have driver type personality. And then I think that I wish people who have met me would think about me as sweet, friendly and fun to be around. All these years (actually most of my adult life) I wish I was… in a sense someone else. I mean how sad is that? Social settings /events would make things so much worse for me internally. Being around friends who are loud and thrive being the center of attention, would make me feel invisible. I was making myself invisible. I'd just stand there with resting b face (never intentionally), not say much… like I literally would try to leave any event, go home where I could feel relaxed and comfortable.
Learning to love your personality: I guess with age comes wisdom. I can honestly say that my thirties have been THE HAPPIEST (hands down) years of my life. So if you're weeping over your late twenties… cheer up, there is light at the end of the tunnel (and Botox hehe). It wasn't until recently I came to realize that it is ok to be ME.
Learning to Love your Personality: What I've learned
I am a likable person, and I am definitely a lovable person- just the way I am.
I have to do things that make me feel good and loved. Whether it's taking time to spend with my loved ones or taking time to myself.
I have to pay attention to my own needs, just like I do for my kids, family and friends. I do not have to commit to doing something. I used to say yes to outings, trips and events just to try to fit in. To be liked, to be considered fun, to be accepted. It is ok to skip that. DO WHAT MAKES YOU FEEL GOOD.
If there is something that makes me feel uneasy or uncomfortable, I have to speak up. Speak the truth, but always speak from the heart, with pure and clean intentions (never to hurt).
Okay enough about me! I wanted to share one more look with you. I am new to utility jackets this year. But when I found this ruffle detail Hinge jacket, I needed to have it. It combines the edgy with soft feminine lines. I am wearing XS.

JEANS, NECKLACE, JACKET, PLAID SCARF,
LEOPARD PRINT SCARF, HANDBAG, BOOTIES, EARRINGS,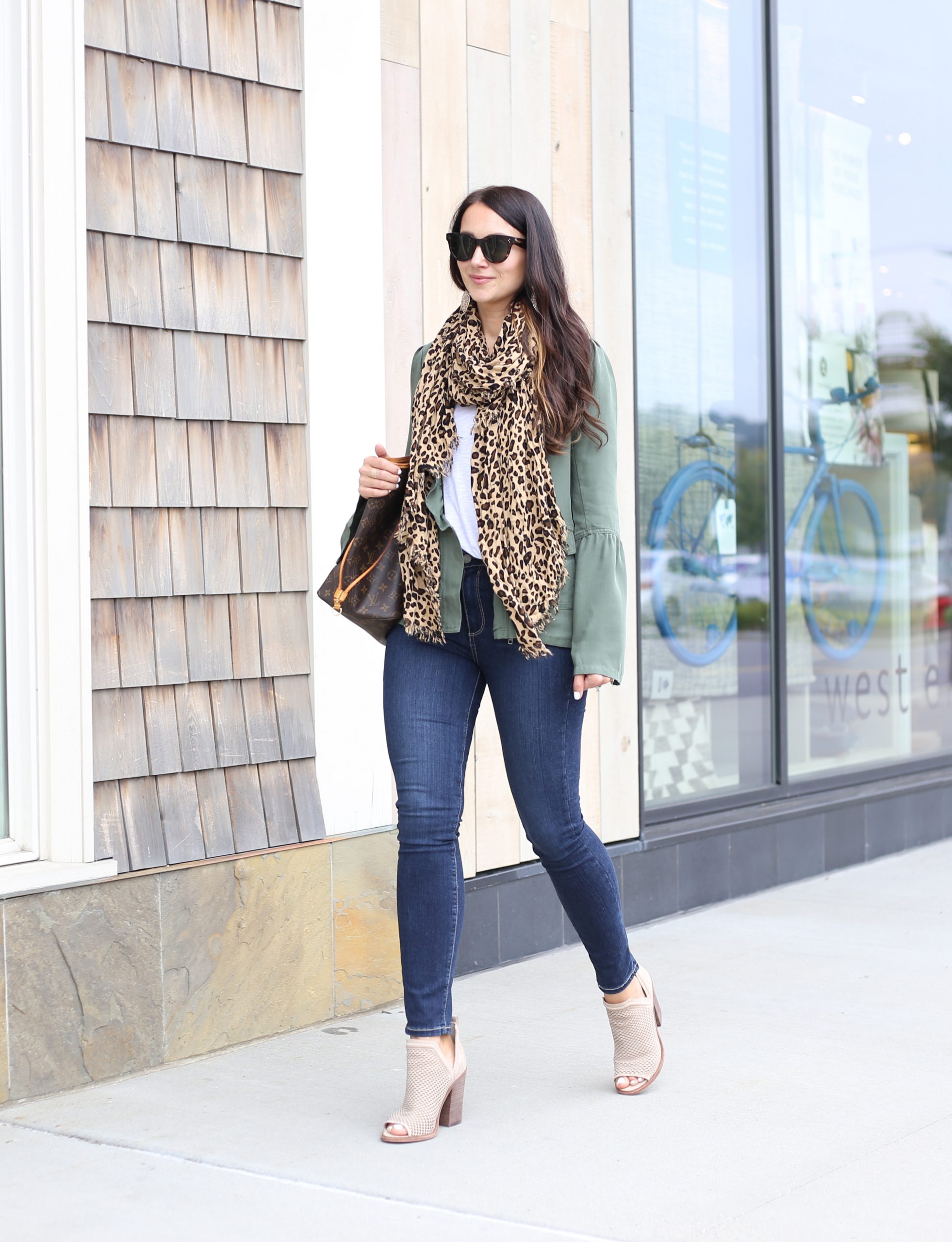 Thank you so much for visting my blog! And very special
THANK YOU to Nordstrom for sponsoring this post!
XO,
Anna