Hi girls, happy Friday girls. Chances are this may just be your favorite day of the week, am I right? I am really excited for this weekend because we have absolutely zero plans. And since I took all the holiday decor down last weekend, the only thing on my agenda is relaxation. But before you all sign off for the weekend, I wanted to share this week's Friday Five. If you are one of my newer readers, FF is a a weekly series where I share (you guessed it) 5 items I am currently obsessing over. You can check out my last FF here and here. Everything I am about to share is available (and at best price) at Walmart! I know we all rely on Walmart for the groceries and electronics. But let me tell ya, Walmart is the best when it comes to re-stocking your beauty and skincare favorites. Whether your shopping your favorite drugstore brands like Batiste or CoverGirl  or need a re-stock on Stila Stay All Day Eyeliner, you can find it all at Walmart. I must also note, the fashion department has been killing it! Check out my Walmart Athleisure try-on haul post here.
Friday Five with Walmart

Revlon One-Step Hair Dryer & Volumizer Hot Air Brush
This hair tool is a complete game changer! I have been using it for almost a year now. It works on longer and shorter hair. Based on the feedback from my followers, it works on most hair types as well. I was very skeptical at first, I already owned a very expensive hair dryer… could there be anything better and at lower price point? Um, yes! This Revlon dryer is amazing! No wonder, it sold out so fast last year, it was actually difficult to find it in stock. It provides salon-like blowout without leaving the comfort of your home. Before I got this, styling my hair felt like such a chore because of the time it took, and for the amount of tools needed. This combination not only drys your hair but is smoothing it at the same time meaning you don't have to go over it with a flat iron. It also takes me about 10 minutes or less. I couldn't recommend this more! Tip: I allow my hair to air dry for 10-15 minutes before styling (personal preference, you do not have to do that). I dry/ style my hair in small sections (about 2 inches), I find it speeds up the process. Hitting the gym? After a sweaty workout, use the dryer to bring your hair back to life.
Other  products I use while styling my hair with this tool
Sexy Hair Root Pump Spray Mousse (spray at the roots for lift and texture) // Bumble and Bumble Blow Dry Repair mixed with few drops of Oribe Gold Dust Nourishing Oil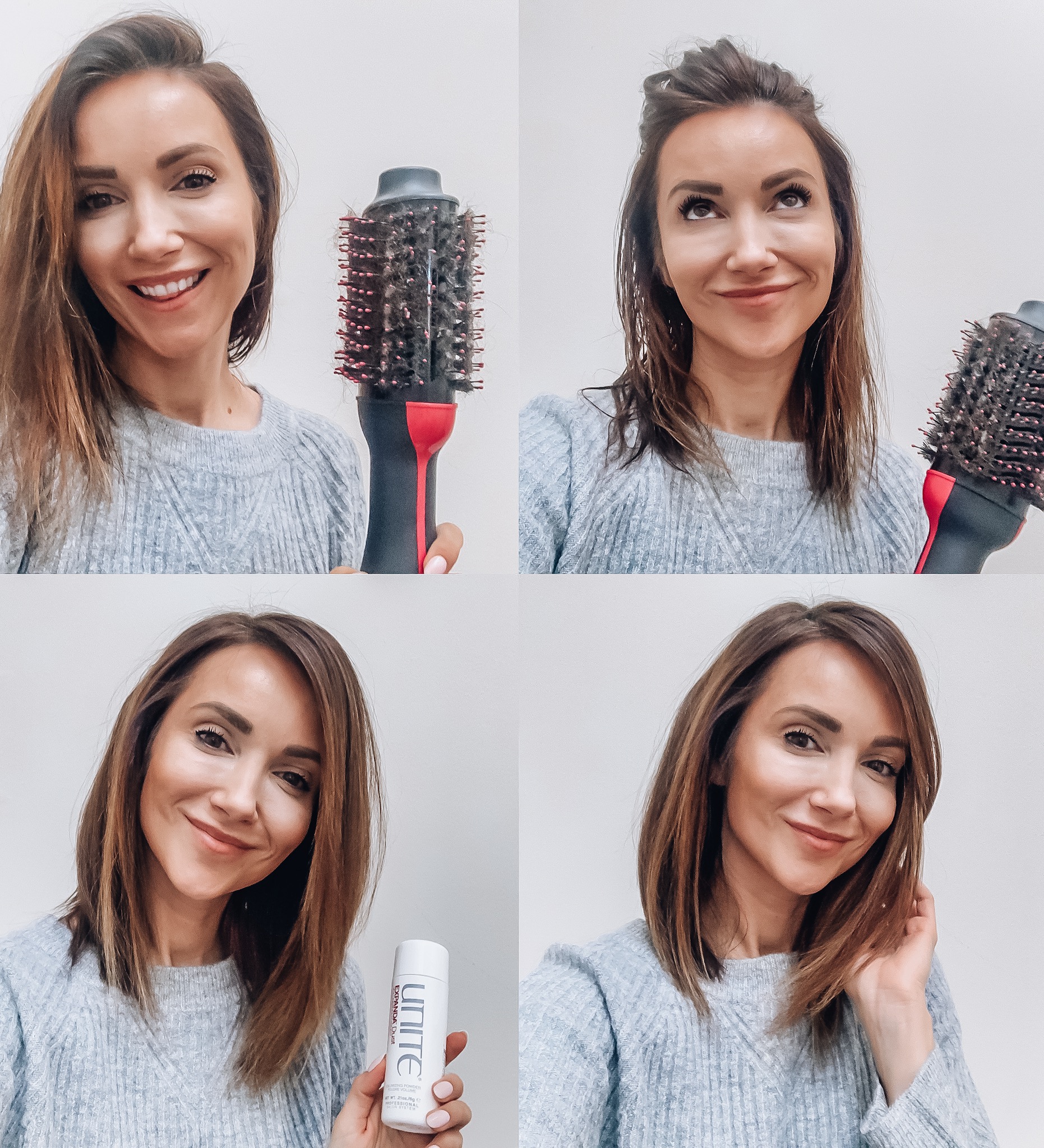 UNITE EXPANDA Dust Volumizing Powder
This is the only product from this week's FF that I am relatively new to. I have been searching for a new volumizing powder that was cost effective. My hair is naturally straight and smooth in texture, so it gets super flat even with styling. If I want my post styling volume to last few days, adding a volumizing product is a must. When my Volumizing Powder arrived, I actually thought nothing was in the bottle! Haha, it was so light.The powder is so fine, it has white color to it (when dispensed) but turns colors after you rub it in. I apply it at the roots (in several sections), I use the pointy tip of this comb to move the sections of hair and apply the product. I massage it into my hair with fingertips. The volume is amazing!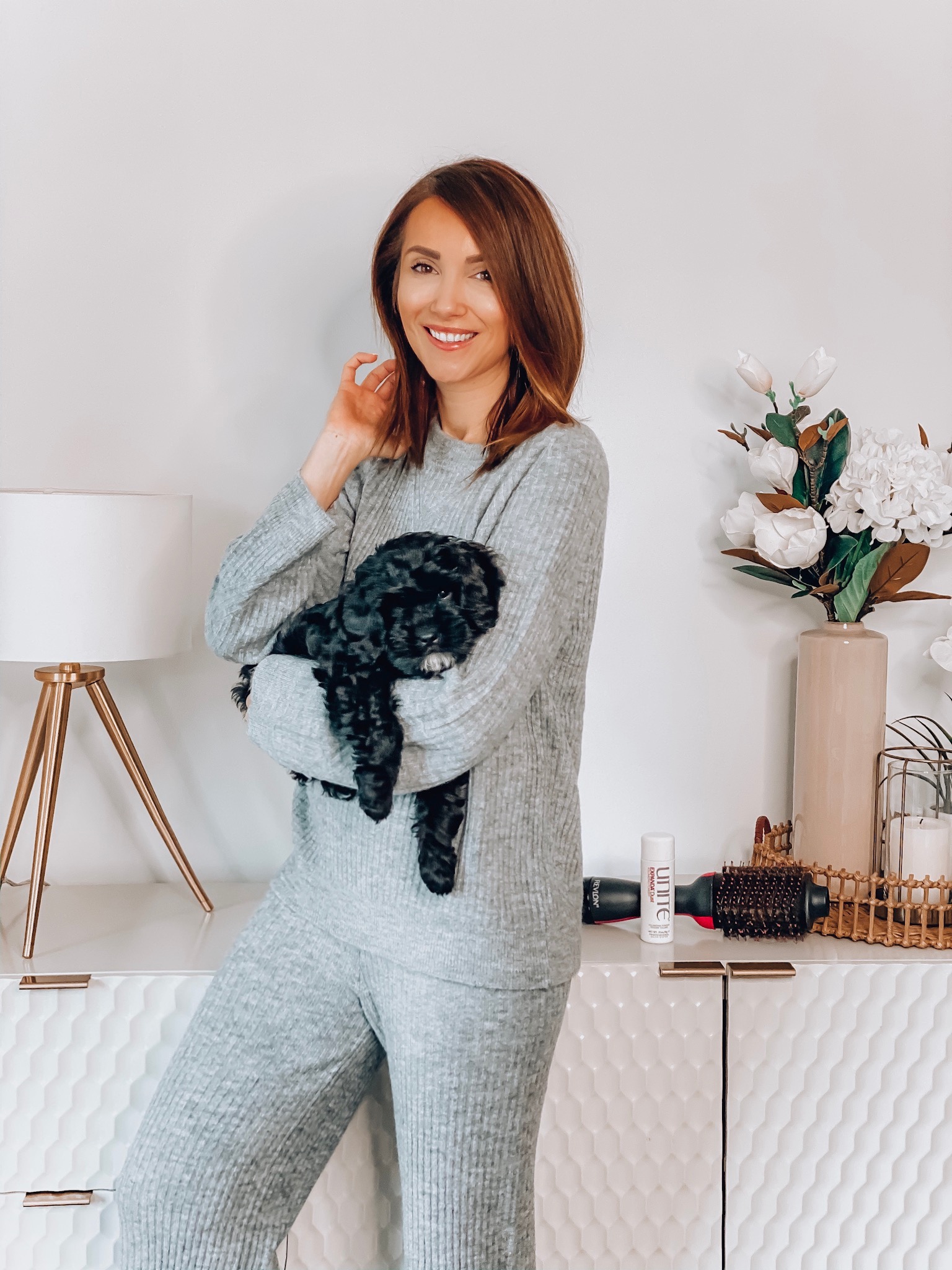 Batiste Dry Shampoo
Ok friends, let's talk about dry shampoos. I don't even know how I ever lived without this little luxury. I only wash my hair twice a week, so stocking up on my favorite dry shampoos at Walmart is just a part of the routine.  I have two favorites- the Batiste dry shampoo works so well and is at a great price point. There are so many formulas available (different fragrances and color options). For those of us who use a ton of dry shampoo, Batiste is a cost effective option.  You can grab an extra bottle for your gym or work bag. For more of a splurge, I also love the one by Living Proof. I tend to use it even as a texturizing spray.
Physicians Formula Murumuru Butter Bronzer
My favorite bronzer at a drugstore price. I have been using it since May of last year. First of all, it smells so good. I would describe the scent as beach vacation. I have sensitive and breakout prone skin, and had no issues with this product. The color is so beautiful and natural looking. For reference I use the shade called bronzer it gives me the natural sun-kissed looked. It blends and applies with ease and is buildable so it can transition with you through the year. There are three shades to choose from, which is nice for different skin tones.  Tip: I never apply the bronzer all over my face, I use it for contouring- on cheekbones, temple/hairline and jawline (think of number three when applying). I think this technique gives your face more dimension. I also love the Butter Blush form the line. My shade is vintage rouge. And if you need a highlighter, the Milani Highlighting Palette in rose glow, is a must. I can honestly say this is my all time favorite highlighter. I use a fan brush and swipe across all three colors (to blend) and then use it at the top of my cheekbones, bridge of my nose and right above the lip. Try it, you will love it.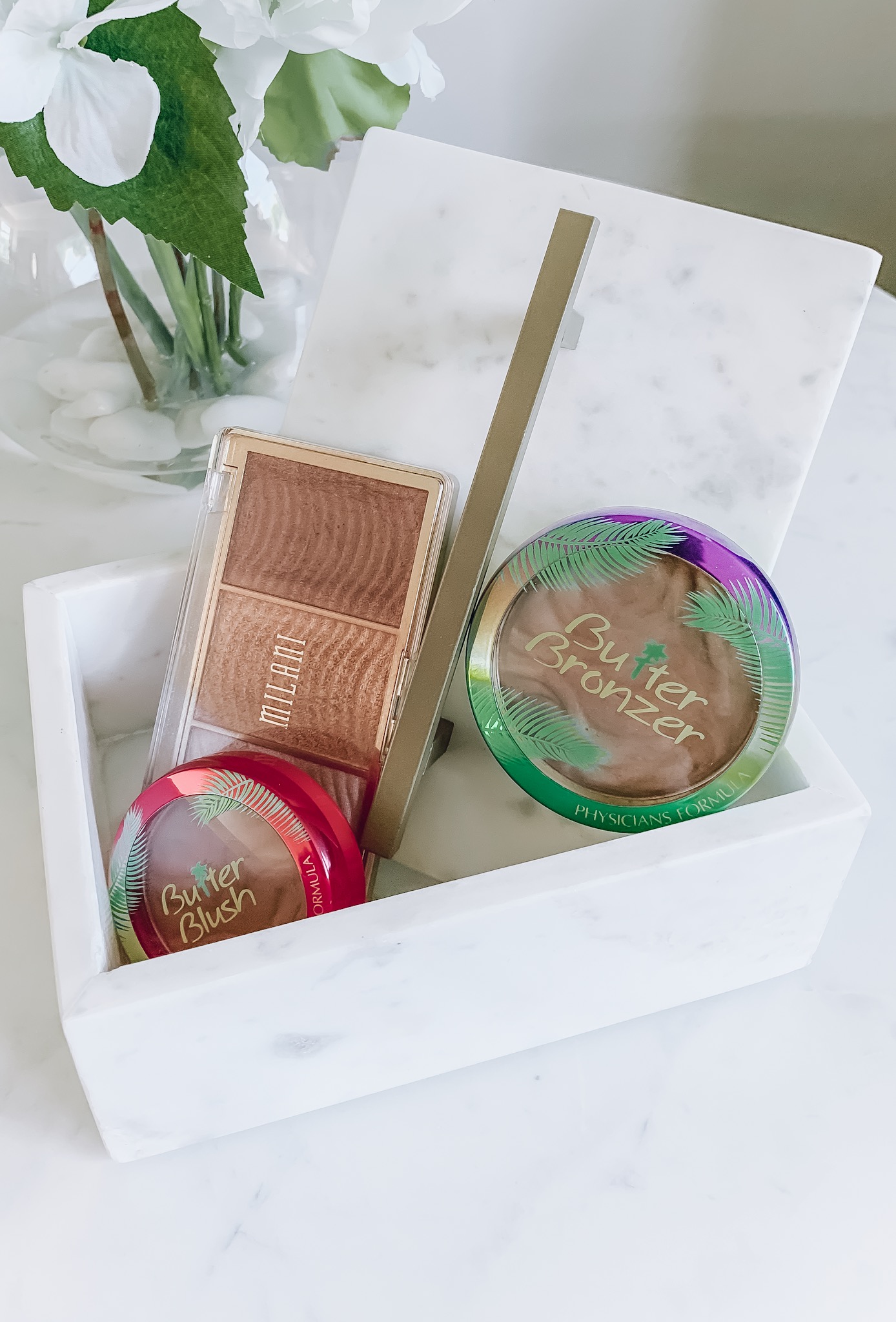 Vital Proteins Collagen Peptides
There are definitely a lot of collagen options on the market to choose from, but I personally love the Collagen Peptides by Vital Proteins. I like that it is unflavored so I can add it to any of my smoothies and I don't have to worry about it affecting the taste. I also appreciate the high-quality ingredients that are used. I also heard amazing things about the WellPath Renew Collagen Protein Powder, and it's a lot more cost effective than the VP brand. I just ordered it from Walmart and cannot wait to try! I will report back.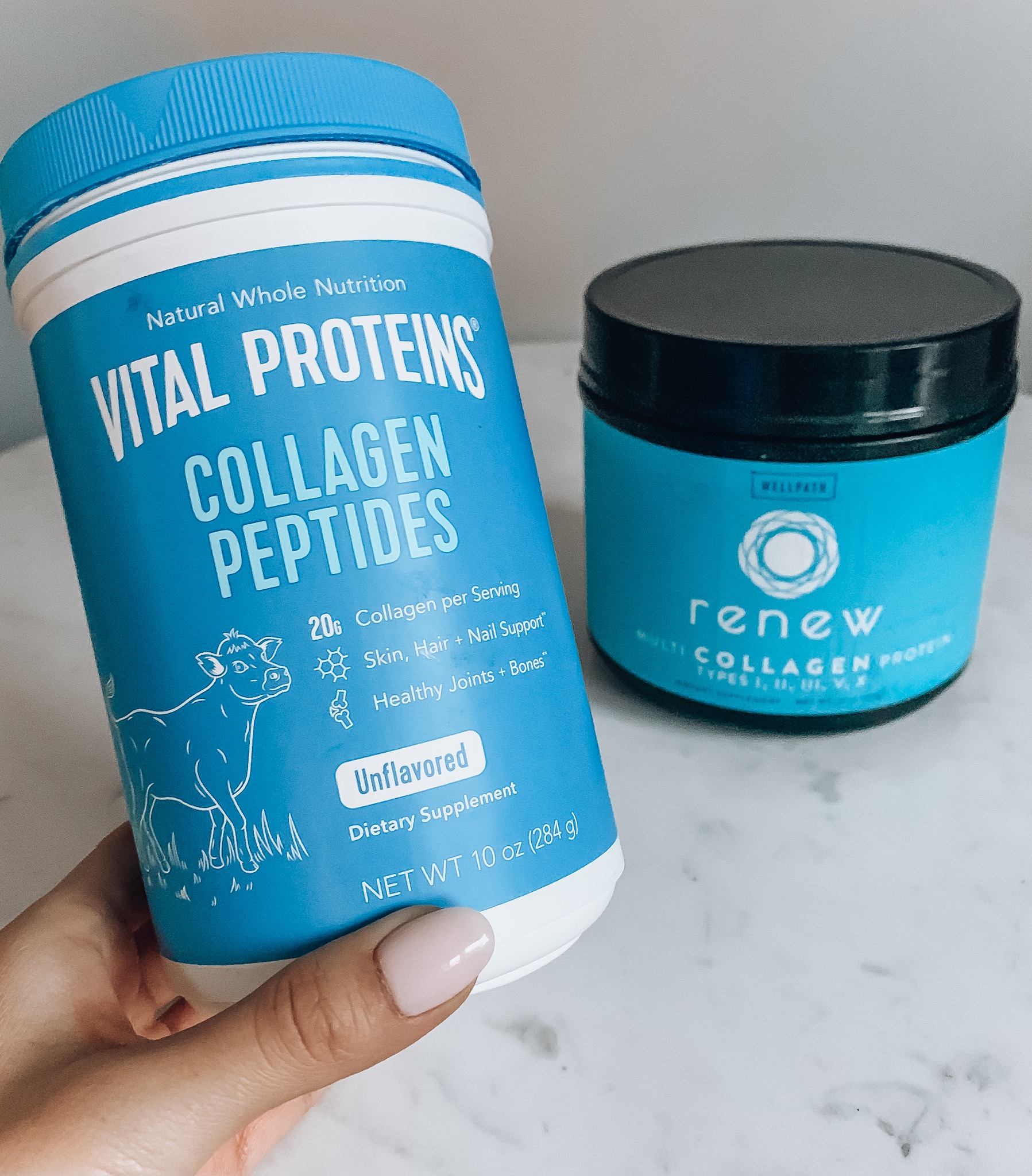 One of my goals for this year is drinking more protein shakes and smoothies – especially for breakfast in place of the yummy NY bagel. I make a Piña-colada protein shake and it's so delish! It tastes like desert. Here's the recipe.
Piña-colada protein shake
1 scoop of vanilla protein powder
1-2 scoops of VP Collagen Peptides
8oz of water (or your liquid of choice: almond milk, etc.)
Ice
1/2 frozen banana
Frozen Coconut Puree
Frozen Chunks of pineapple
Blend and enjoy!
More Walmart Beauty Favorites

And that's a wrap for this week's edition of Friday Five. Hope you gals enjoyed it. What are some of your favorite products? Thank you for visiting and please come back soon.
And very special Thank You to Walmart and RewardStyle for partnering with me on this post. As always, all views and opinions are mine.