Hi girls. I'm excited to share with you my most recent finds from Amazon. I will be talking more of my obsession of acrylic organizers and showing some really good fashion finds.
You can see my previous finds of this month in this post and read about my favorite Amazon designer dupe sunglasses here.
Acrylic Organizer Finds
I have spoken about my love of acrylic organizers and I purchased a few more to match my others. This organizer reminds me of a lazy-susan. When it first arrived, I was surprised by the size of it, but it definitely holds everything I need. You can accommodate the height of the shelves which is nice since certain bottles are bigger/smaller than others. If you have counter space, I definitely recommend this!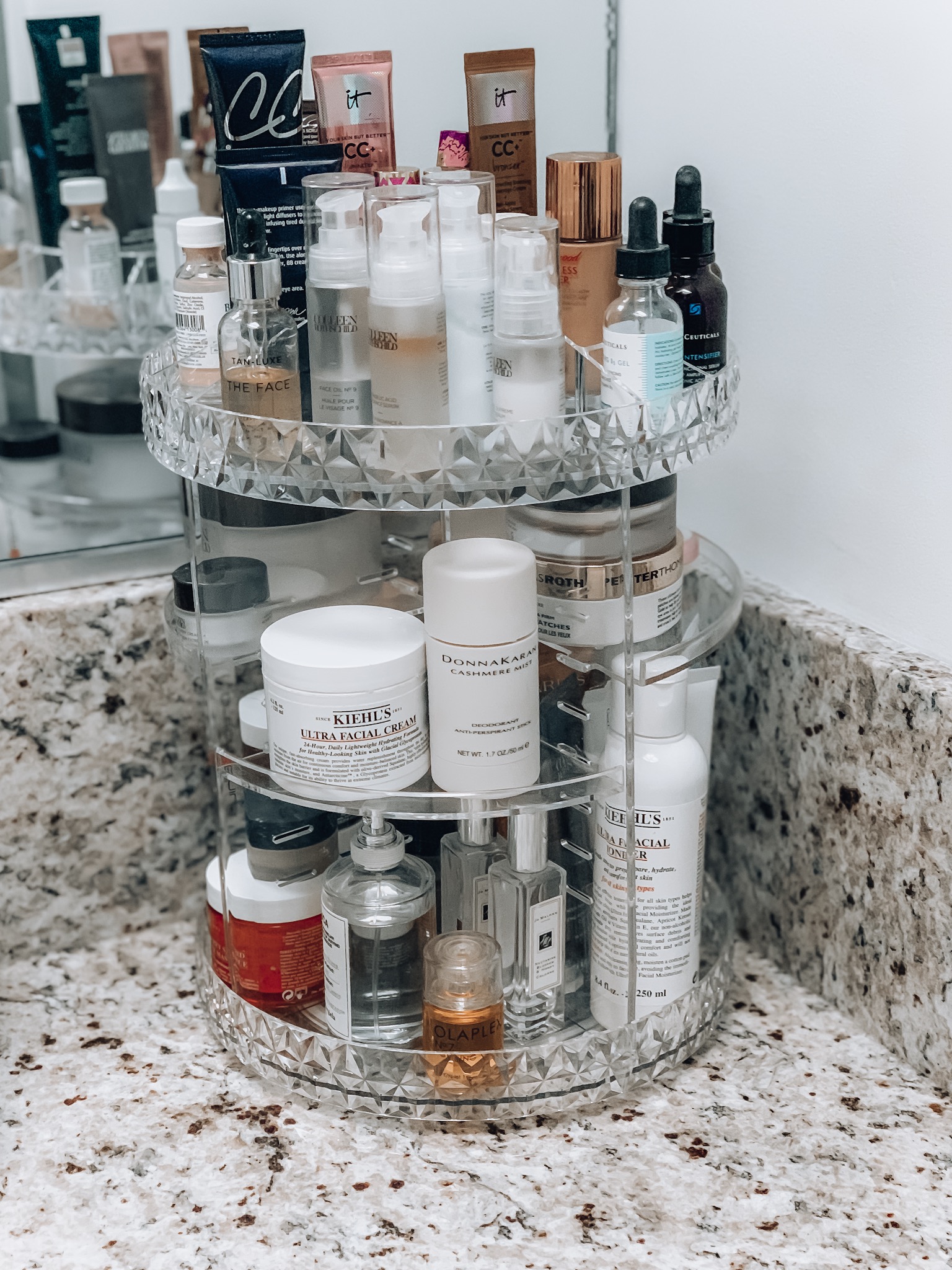 STORAGE
I swapped my other organizer for this slightly bigger one to store my lipsticks and glosses. I have so many which is funny because I really do not wear lippies on the regular! But, I wanted them to all be organized and in one place so I could easily see and access them. I want to note that these arrived wrapped so well, no scratches and they are good quality. Definitely seems like something that costs more than $25.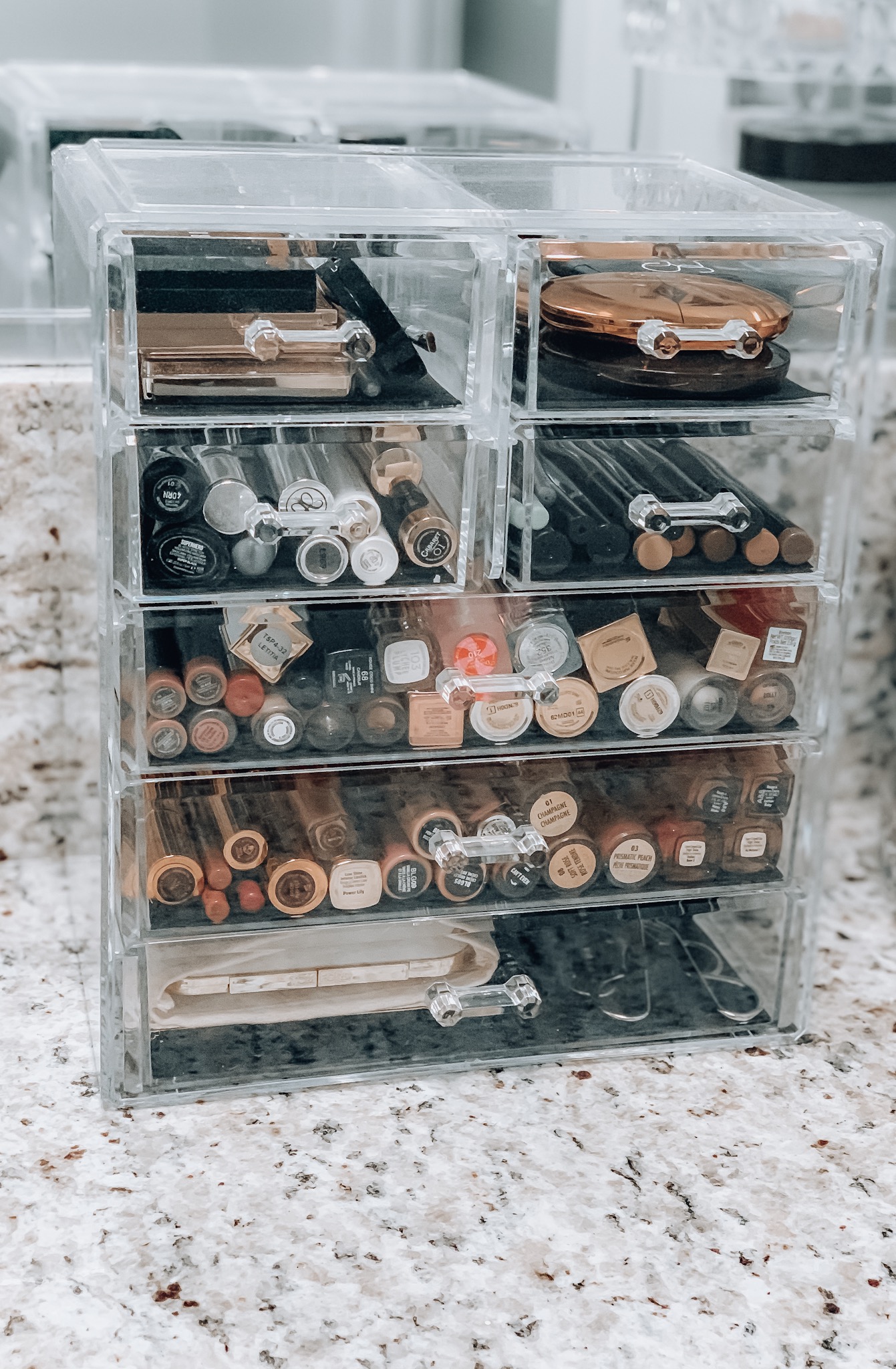 JEWELRY ORGANIZER
My jewelry situation was such a hot mess and really needed to be cleaned out. I finally took the plunge last weekend and purchased this organizer. I LOVE it. I was looking for a stand up organizer that could help me keep my layering necklaces in tact and not get tangled. It also has drawers in the middle which are a great size for storing bracelets and rings.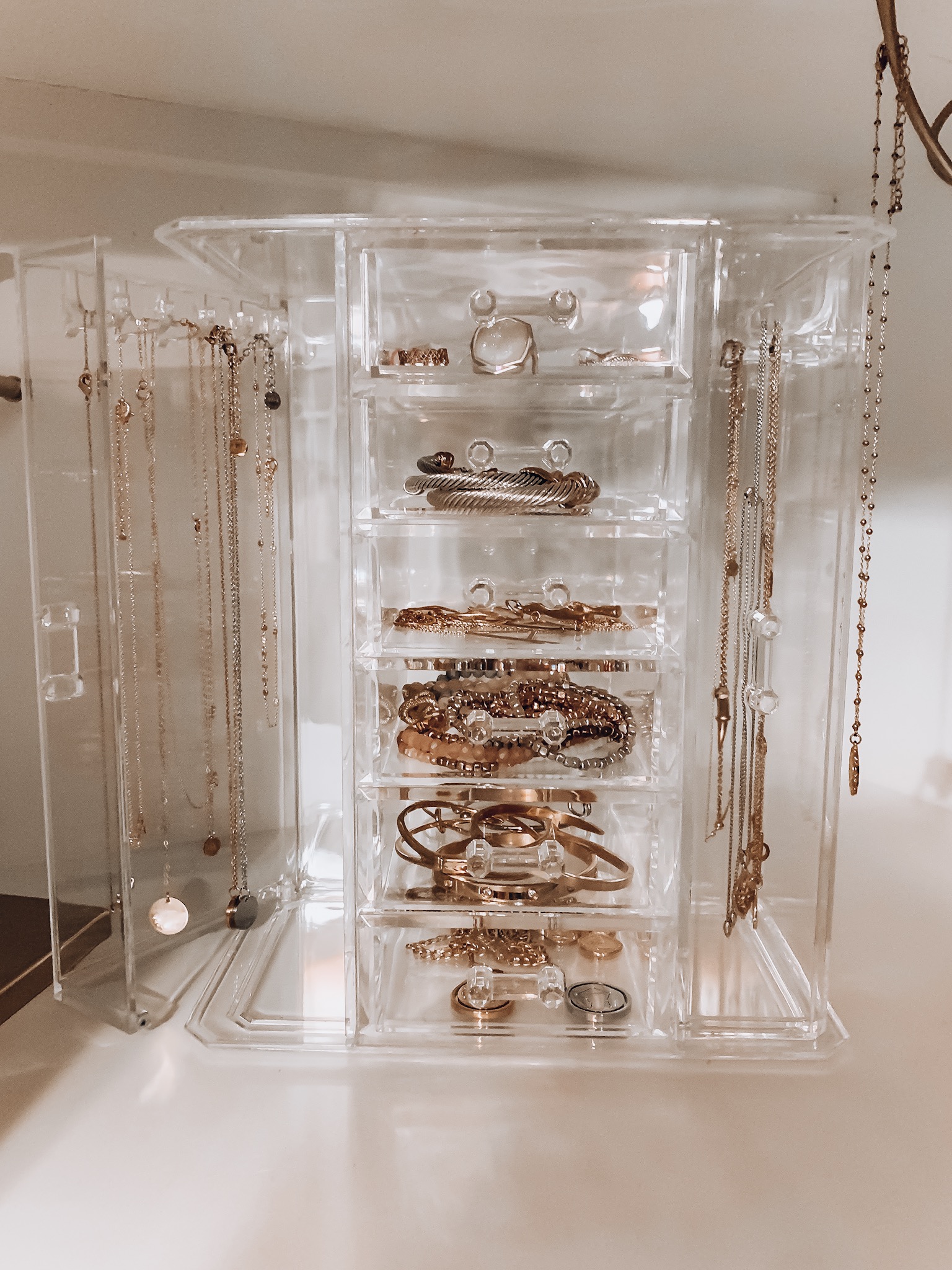 Amazon Fashion Finds
I am going to start with this very basic, oversized tee. is I am wearing size small. It is tunic length and definitely meant for leggings or skinny jeans. It has an oversized boat neck neckline so you can pull it off to one shoulder for a relaxed look. The fabric is pretty thick and feels really good on. There are multiple colors available. My necklace is also an Amazon find. Super cute, affordable statement necklace.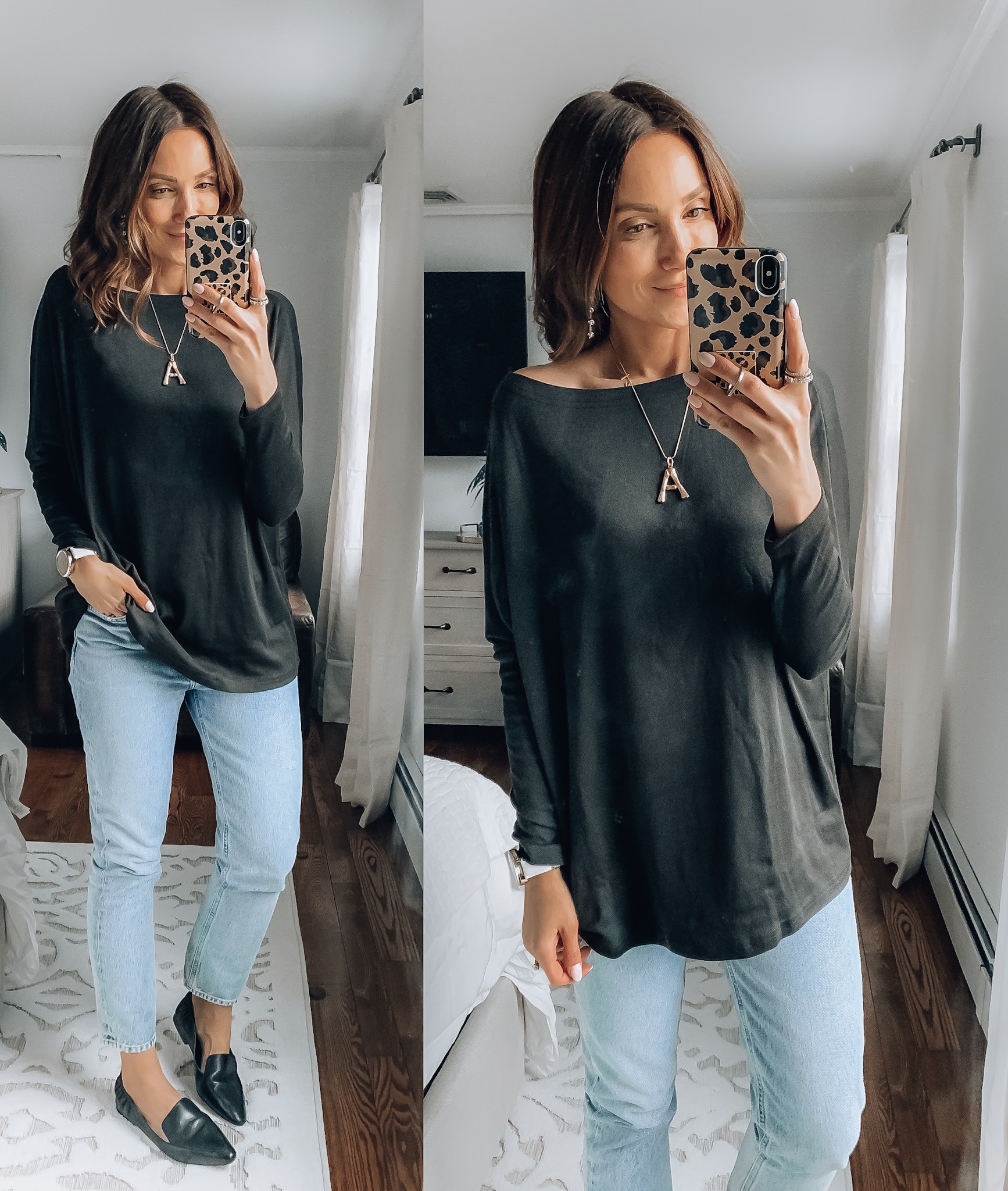 FANNY PACK
I have really been wanting a belt bag for my upcoming trips, but didn't want to spend a lot of money on one since besides traveling, I don't know how much I would use it. This one is Gucci inspired and it's under $20. It's really cute and I think this is a great option if you are looking for one without breaking the bank.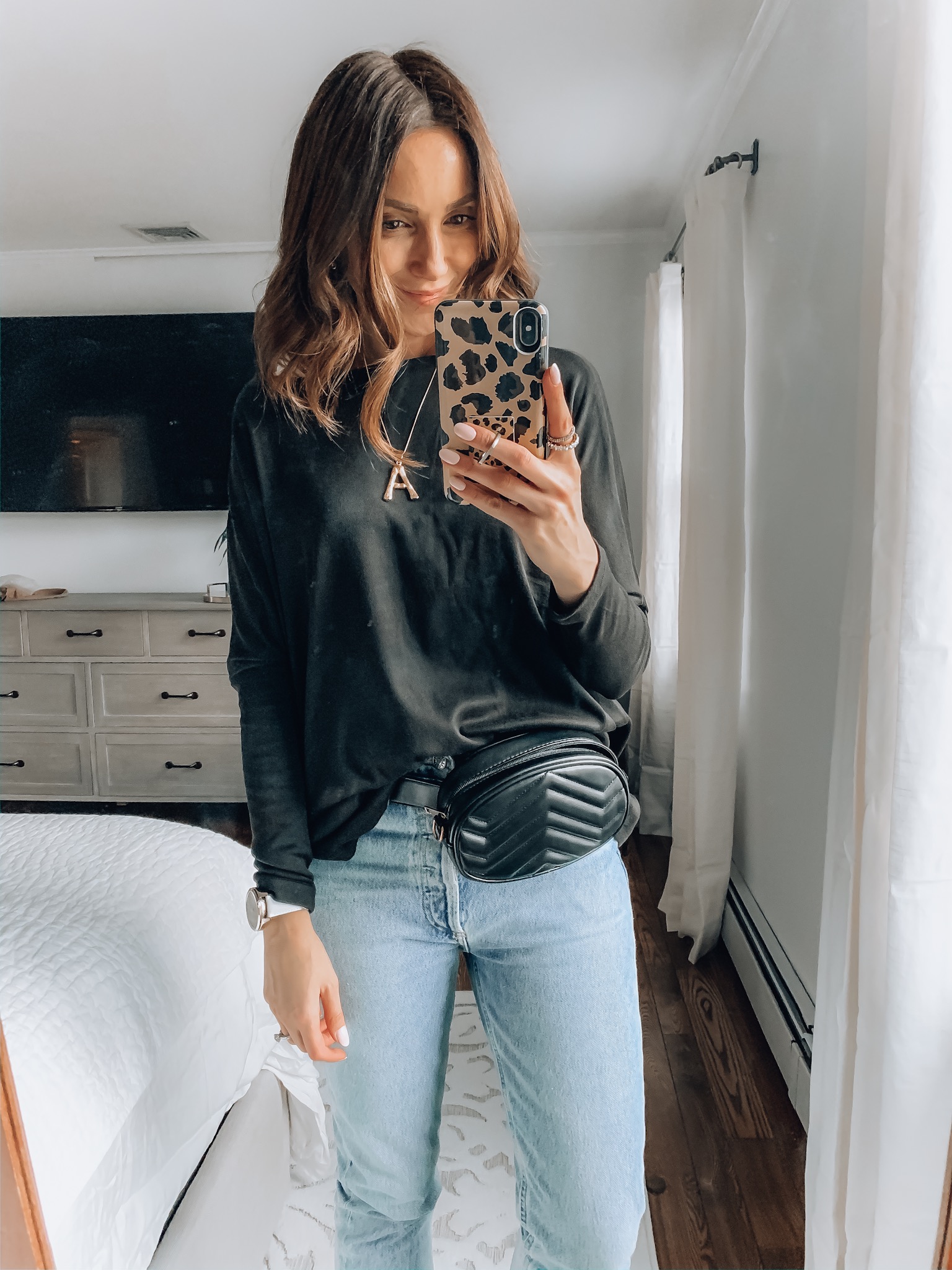 FAUX LEATHER LEGGINGS
A few of you have been asking for a review on the Amazon faux leather leggings and I'm really excited to share them with you. My first impression is that they look so good! The difference between these and Spanx is definitely the way they look. These definitely have more of a high shine, and look like leather pants vs. leggings. These have great length and the inside of these are fleece lined which makes them warmer than the Spanx. Really good for this time of year. The waist line has a thick belt so there's no muffin top or love handles.  I will say this though, the waist line is not as smoothing or sculpting as the ones from Spanx are. You can workout in Spanx, and they will keep everything feeling tight. These are definitely have more of a pant feeling. They are $25, free shipping and I think these are a great alternative for a faux leather legging look. I am wearing size small.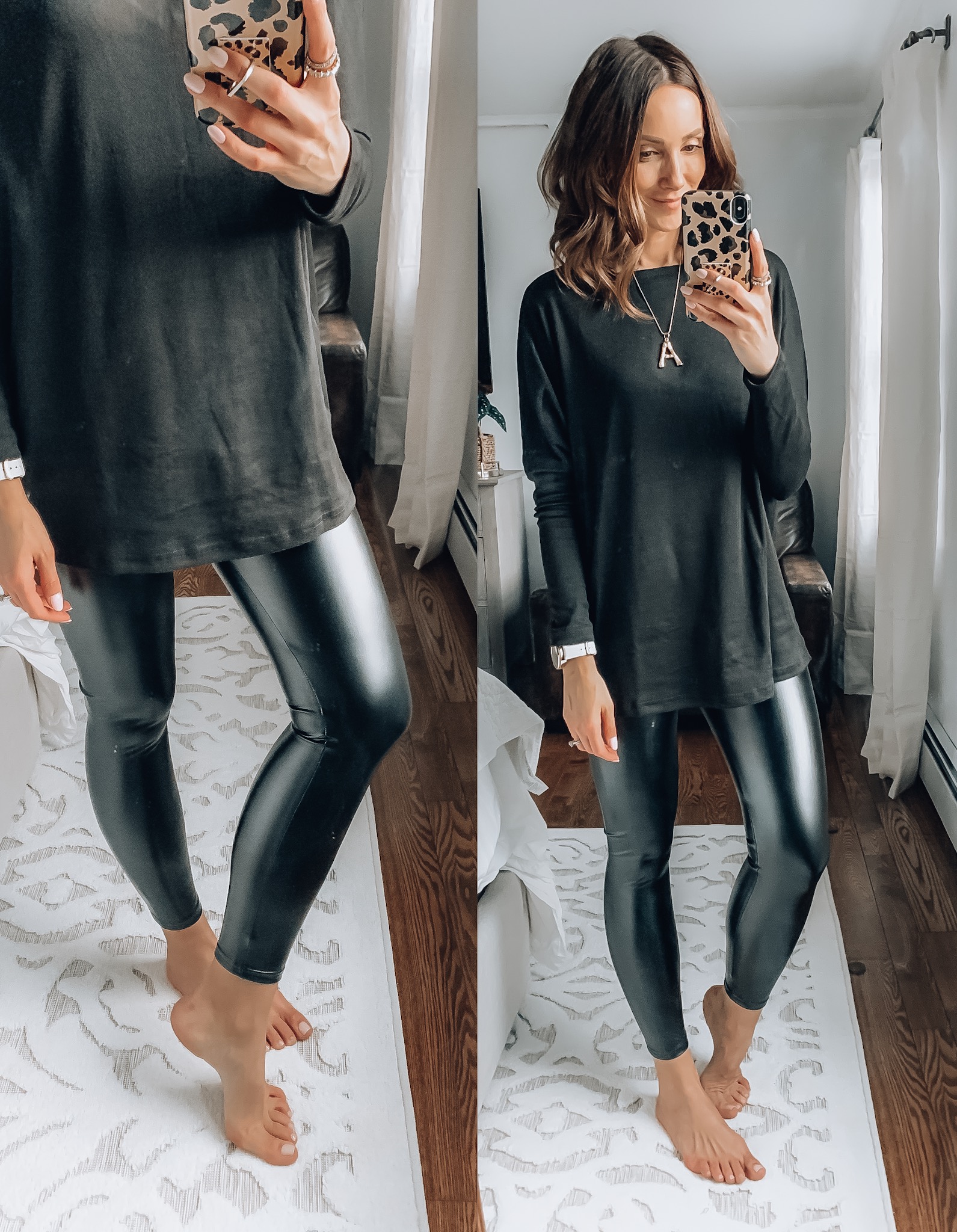 WHITE // BLACK
I ordered this dress in both colors because I couldn't tell if the white would be see through. I am happy to report it is not! It's fully lined and really pretty. Reminds me of something from Free People but this is a fraction of the cost. It does have a true baby doll/ flowy silhouette. I am 5'7 so it's just a tad shorter than I would like it to be but I am going to keep it for two family vacations I have coming up. If you are on the shorter side, I think this would fit great and be an amazing option. I am wearing size small.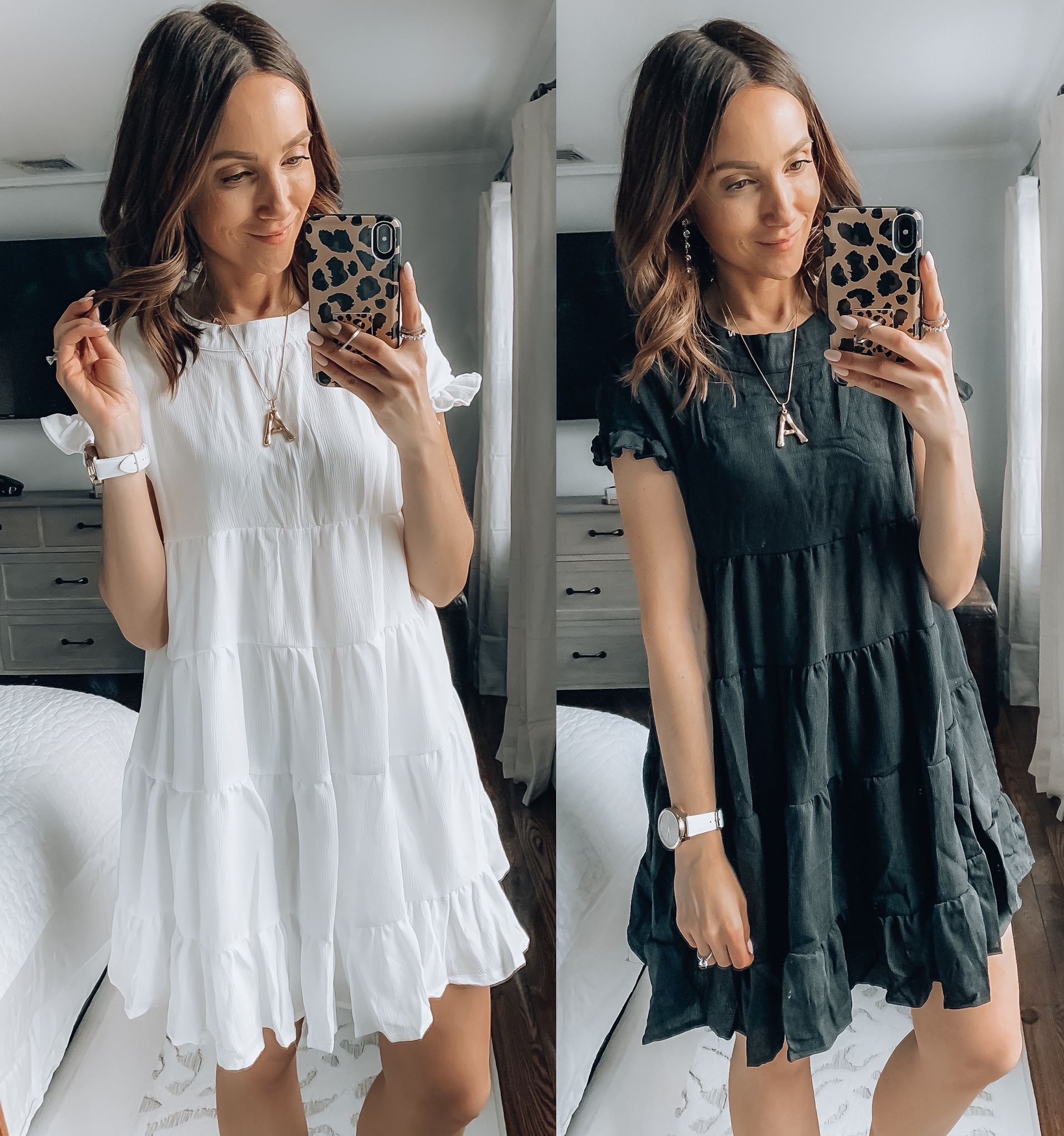 LONG SLEEVE TUNIC
This tunic actually appeared on my page as a recommended item. It's a very basic, lightweight long sleeve. I do love like the tunic length, It's not oversized and not wide. Looks great with leggings, I'm not sure I would wear it with jeans though. I am wearing size small and it's available in multiple color options.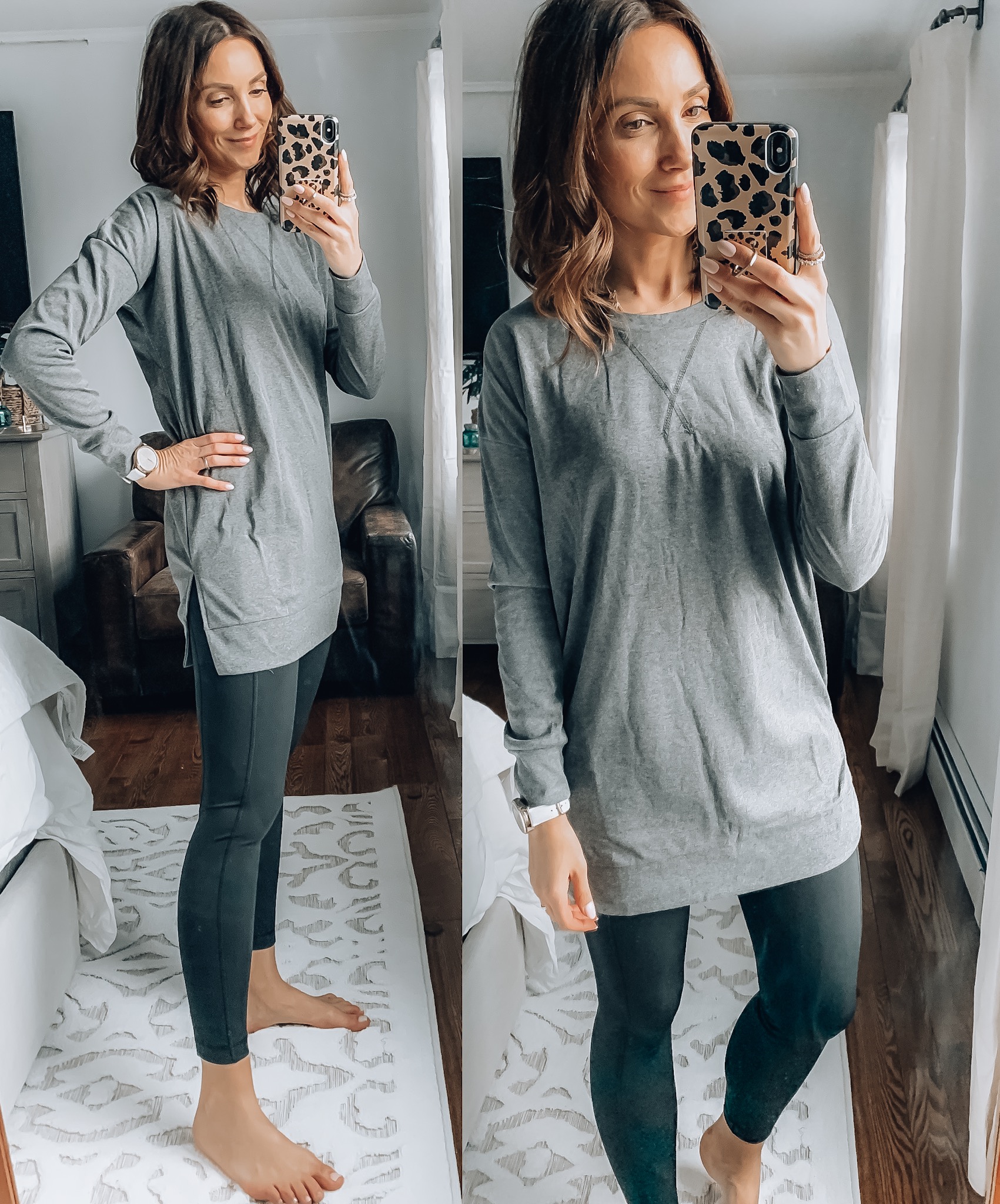 LEGGINGS // TANK
In my last Amazon finds post, I shared some workout finds but I am still searching the best Amazon workout leggings. These came very highly recommended. The brand is 90 Degree by Reflex. I love the length, they're comfortable and they have side pockets. The material is pretty thick and it does minimize any muffin top situation. They seem squat proof as well and I am wearing size small.
I am also wearing size small in the tank. You can actually wear it two ways because of the tie option in the back. It allows for either a fitted or more loose look. I do like my workout tops a little bigger, so I would suggest sizing up if you're like me. Otherwise, it fits pretty TTS.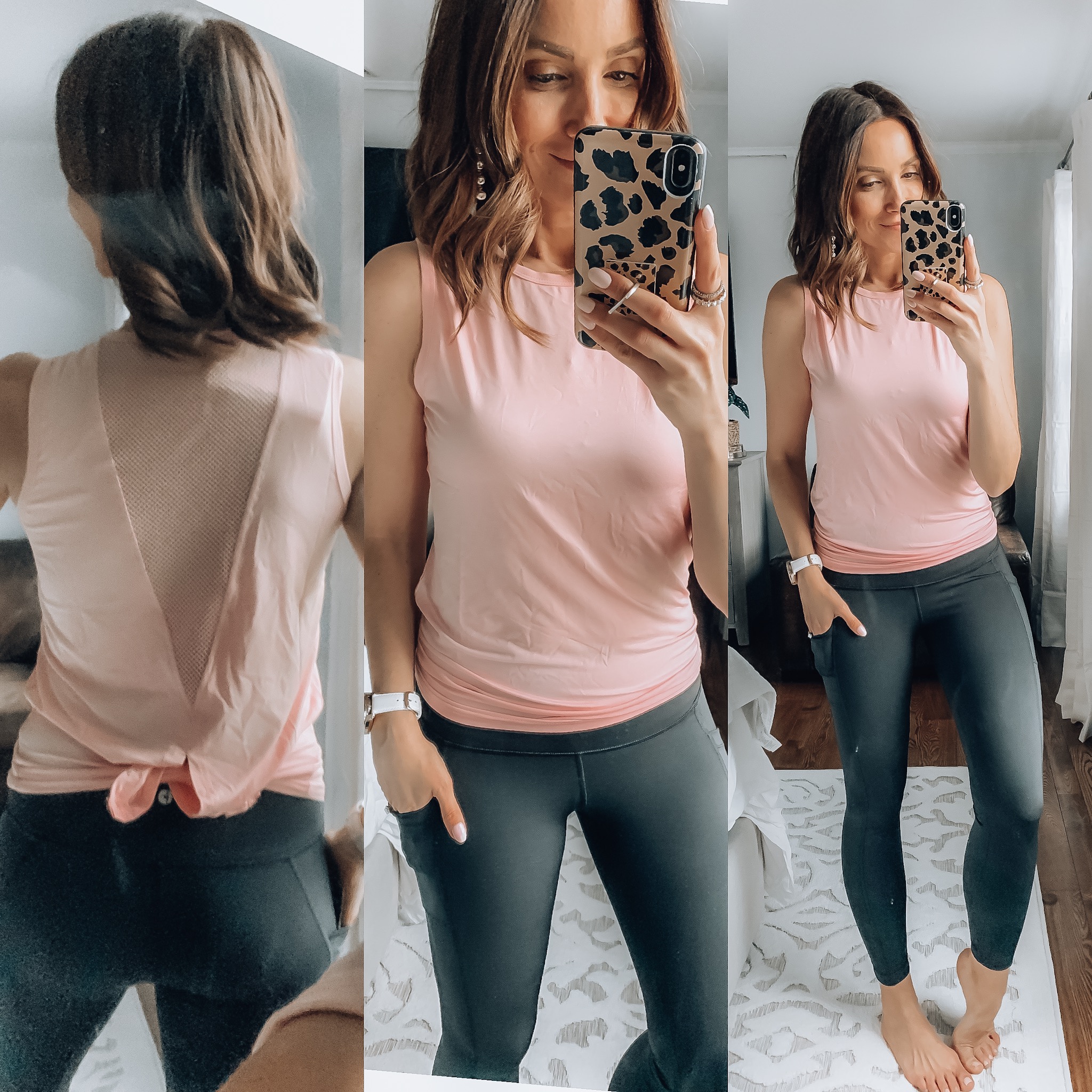 SWEATSHIRT
I found this Amazon shop a few weeks ago, and shared some of her tops in my last share. The woman who designs these is a local Long Island mom, which is so awesome. Amazon can be so impersonal and it's rare that you know the seller and where your item is coming from. She makes great trendy pieces for a fraction of the cost. There was one on Revolve that looked like this that's over $200, and these shirts are under $30. Size wise I would recommend sizing up for a more oversized fit. I am wearing size medium.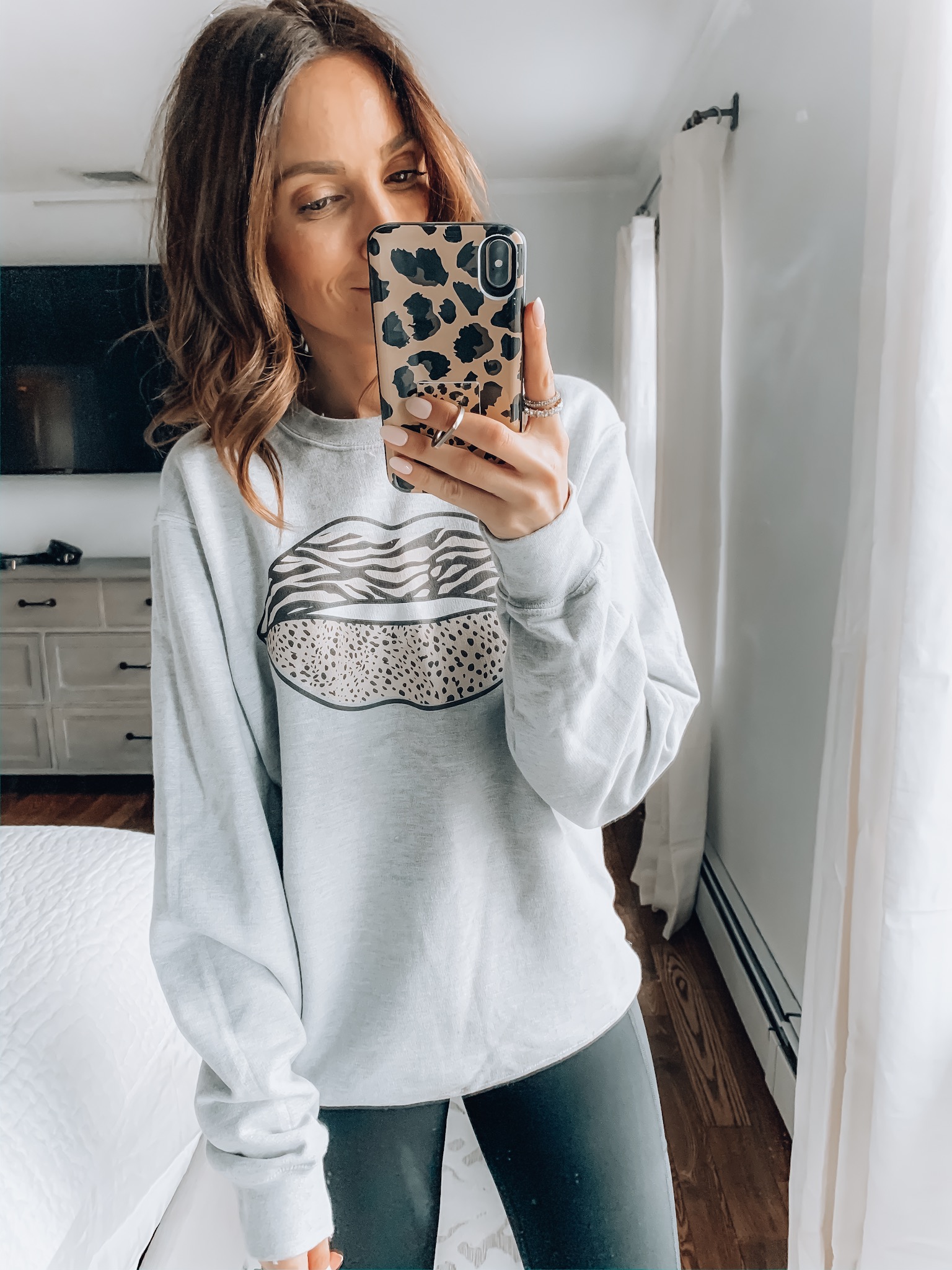 TEE
This tee is from the same designer from my sweatshirt above. Super cute and would be something great to wear on Valentine's Day. The t-shirts do run small anI am wearing size large.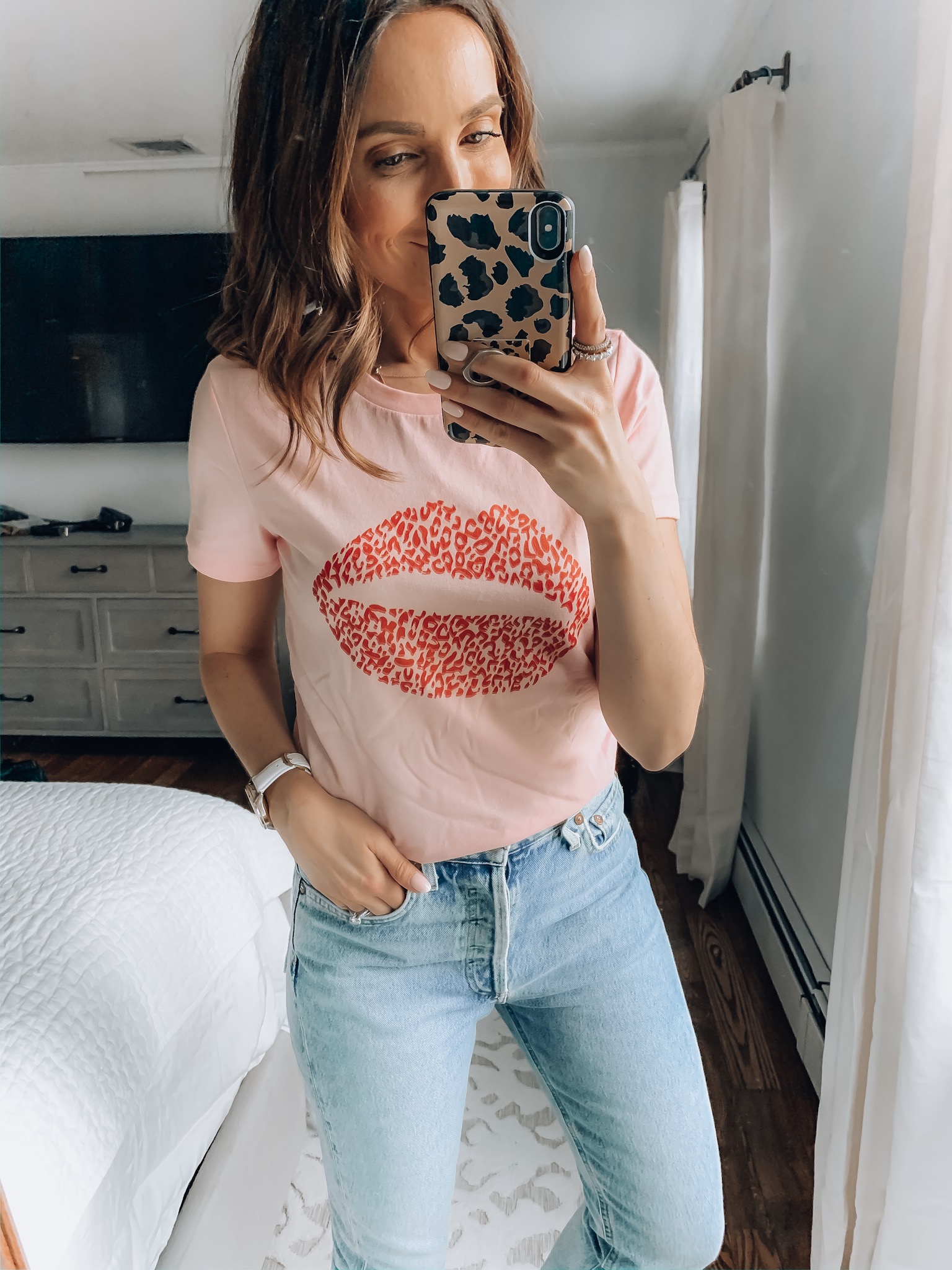 SHOWER CAP
My last item I am shearing is this super cute shower cap. I bought one from Target which was terry lined and it kept shedding into my hair. This one isn't lined so there won't be that problem.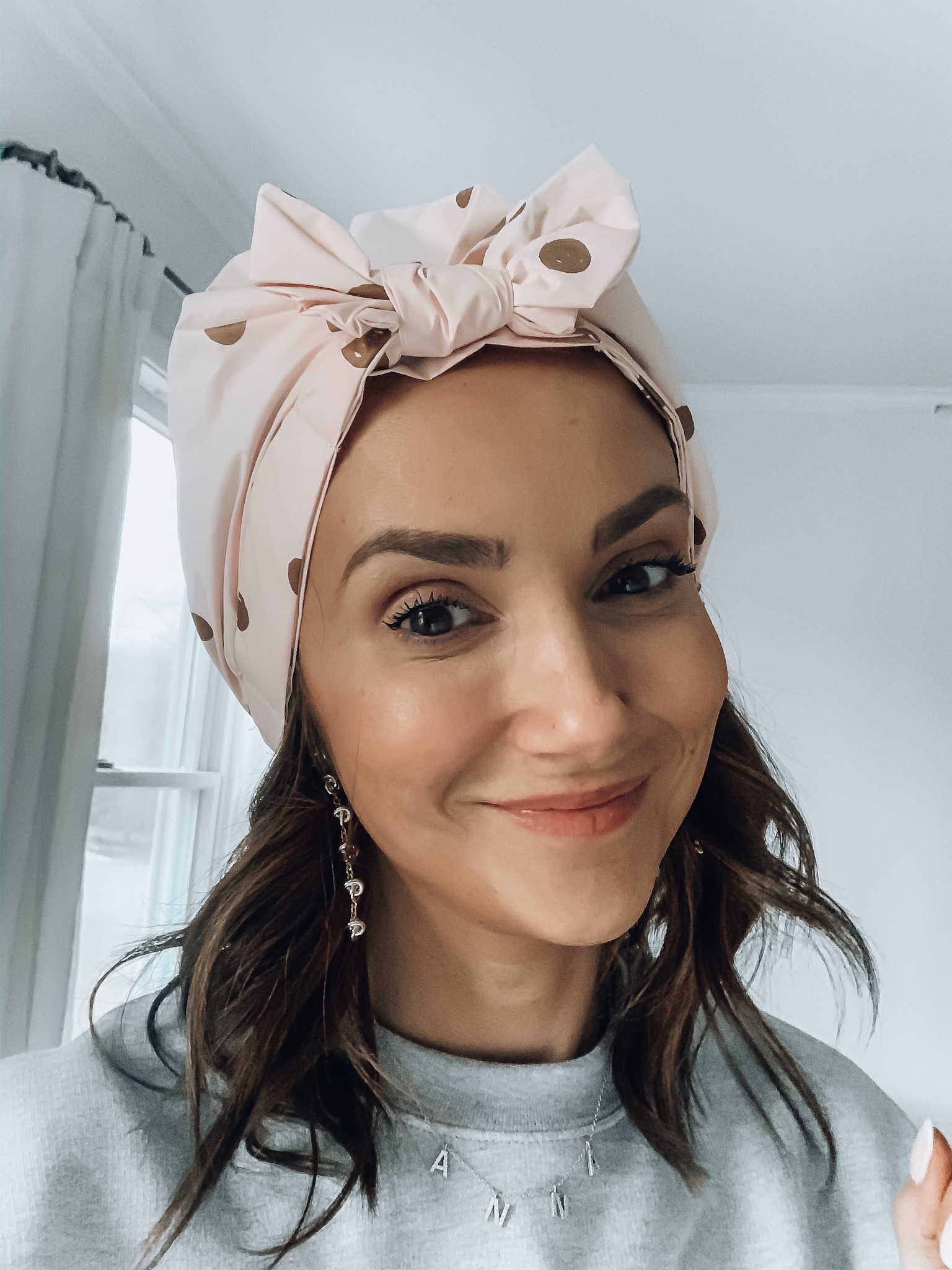 Thank you so much for stopping by Blushing Rose Style blog! Have you bought anything good on Amazon lately?