Good morning friends. I am currently in the beautiful California. I was hoping for sunshine, but instead we have rain the forecast. But the still the weather is warm – so excited to get the same warmth in NY in the near future. With spring just around the corner I am in the full clean up mode. Last weekend I spent hours organizing Reese's closet, this weekend I am planning on tackling mine. Speaking of spring, I know may of you have been asking for spring capsule wardrobe post. I got you covered girl. There will be a post coming next week. In the meantime, I wanted to share some great wardrobe staples for spring from Walmart . I know we all love Walmart for our groceries and household essentials, but trust me you need to check out the fashion department, if you haven't already. You can see some of my recent finds in THIS and THIS post.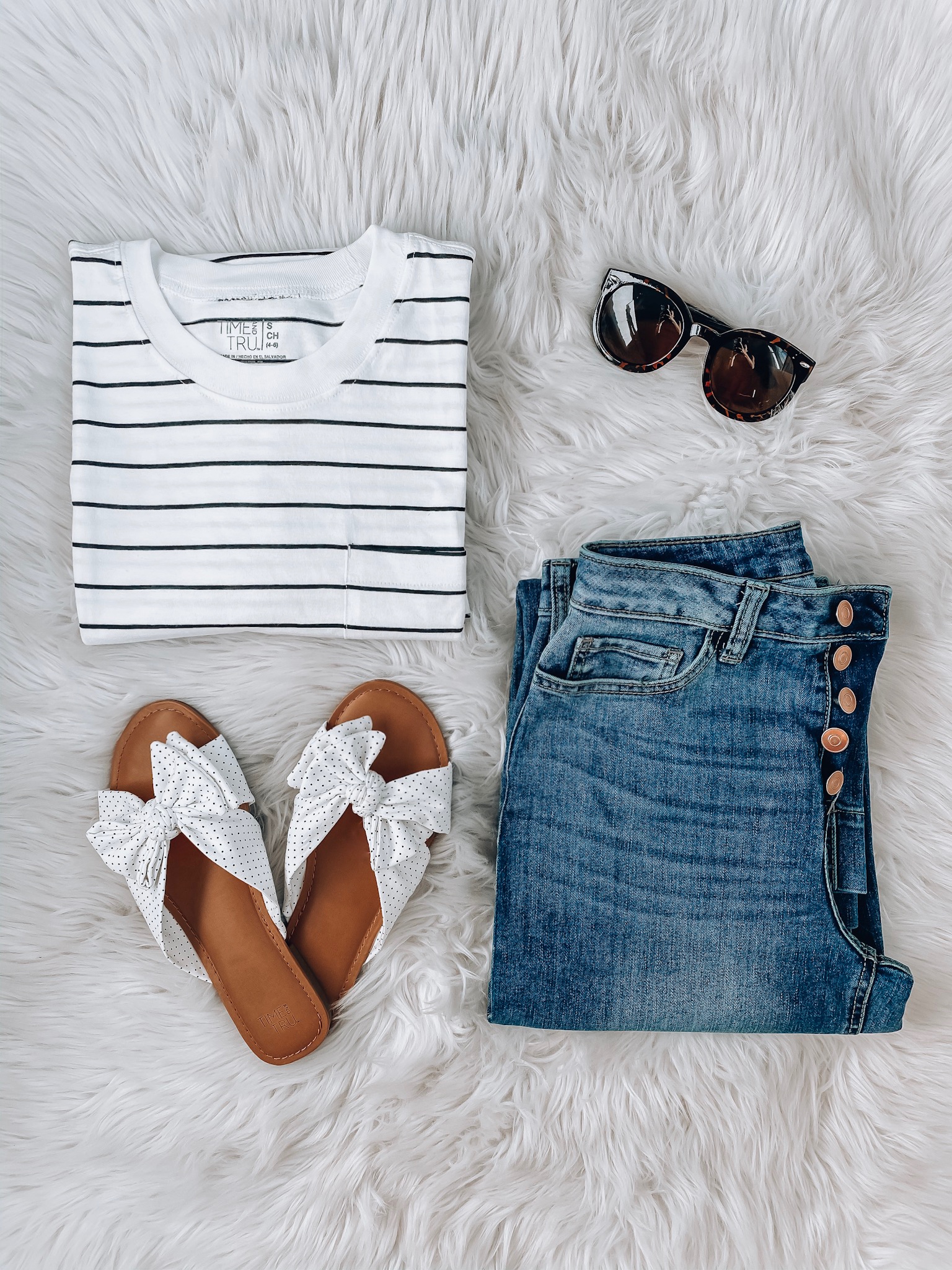 Here are my new favorite arrivals for Spring
I am going to start off with these jeans, I am wearing size 2. They fit TTS, and are super trendy with the crop wide leg fit and button fly. They're so soft and stretchy. Honestly, if you hid the tags from me I would totally think these were from Madewell. Don't you agree?! I am also super impressed with the fact that they do have pockets, but it's so smooth you cannot see the pocket imprints. Moving on to my tee, I don't know why I have such a love for striped tees, but I buy a new one every season. I am wearing size small and it fits TTS.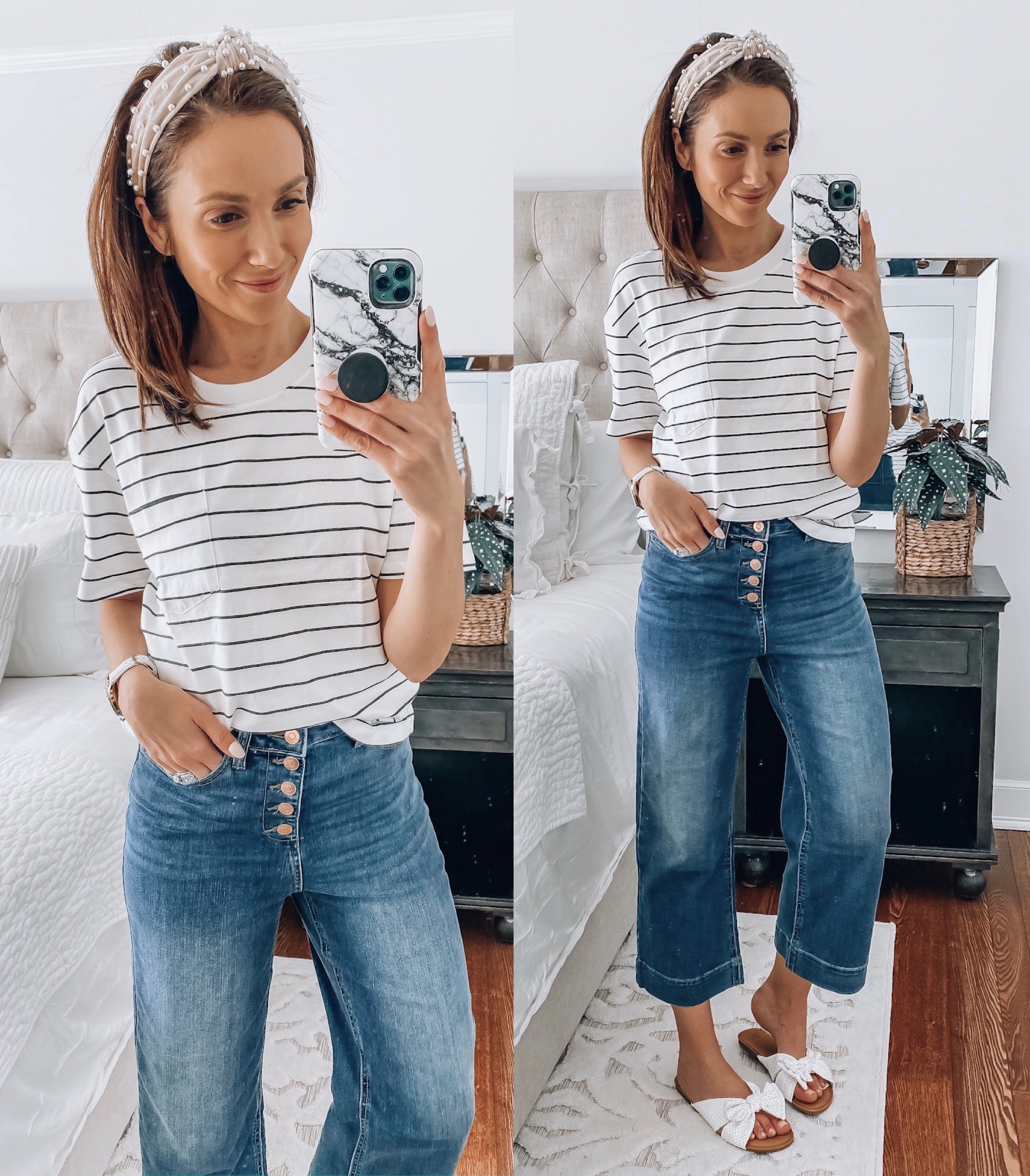 I was so excited to find these adorable bow slide sandals online! They fit TTS and for under $20, I think these will sell out quickly.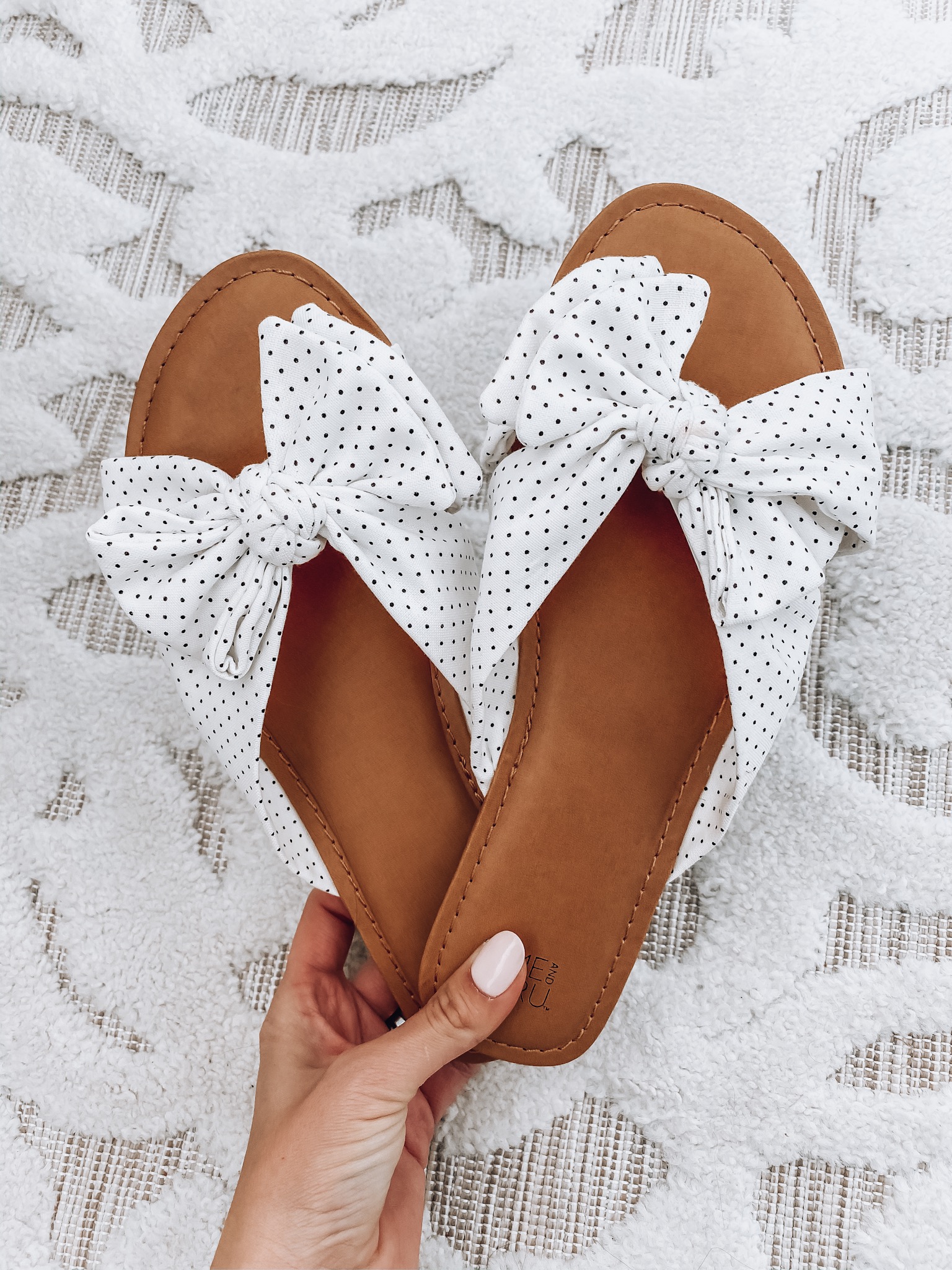 TOP // JEANS // SLIP-ONS
This puff sleeve top is the perfect shirt for anyone who is hesitant about the puff sleeve trend. I personally love the trend, but if you're hesitant these sleeves are very subtle and I am wearing size small.
I like the light wash of these jeans and I think they are a pretty option for Spring. They are mid-rise, but come up pretty high which I like. I am wearing size 2 and I would say these fit TTS since I normally wear a 26 which is right on par with these.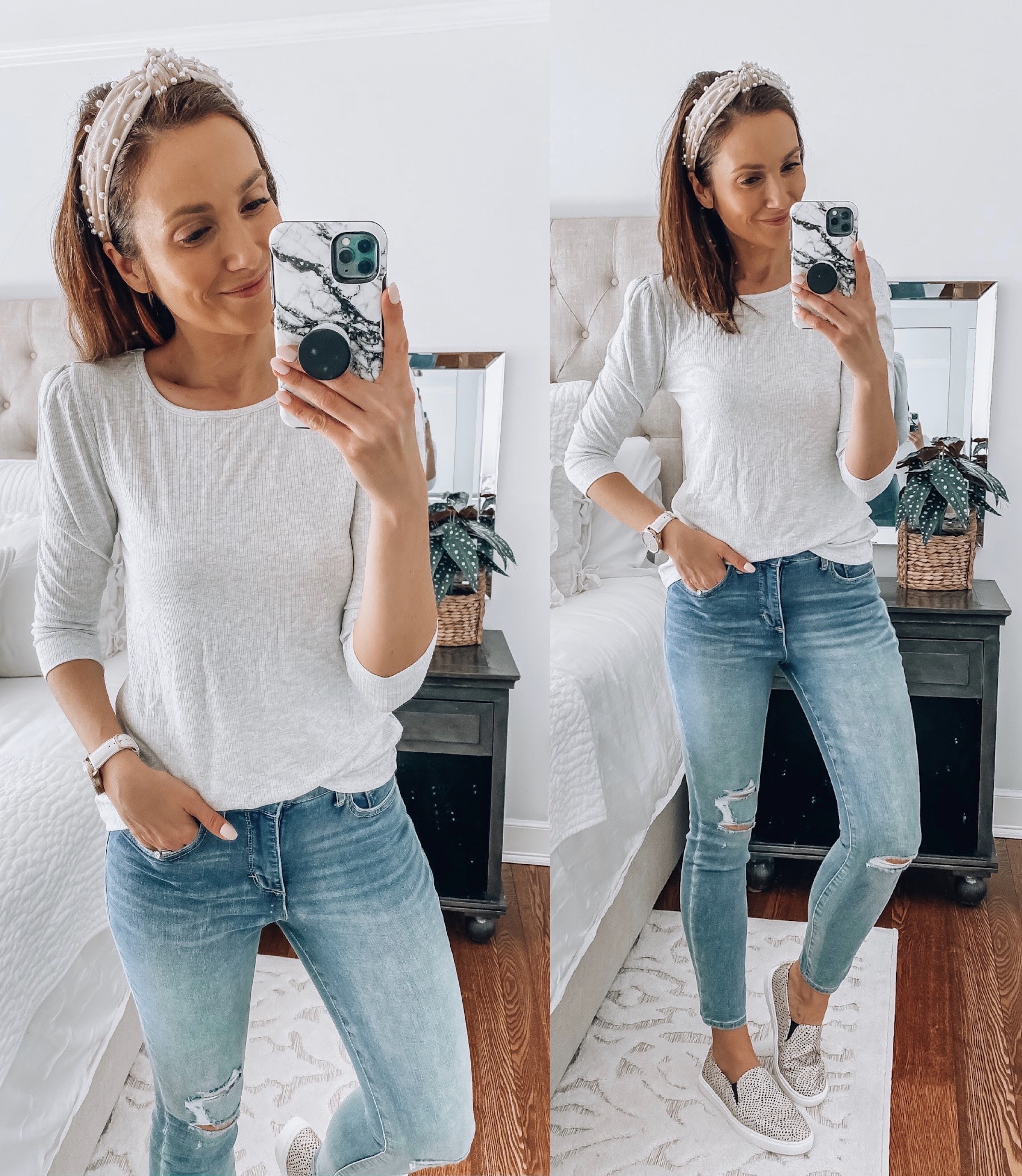 Here are a better look at my animal print slip-ons. The finish is actually textured which is pretty cool and they are very comfortable with their memory foam sole.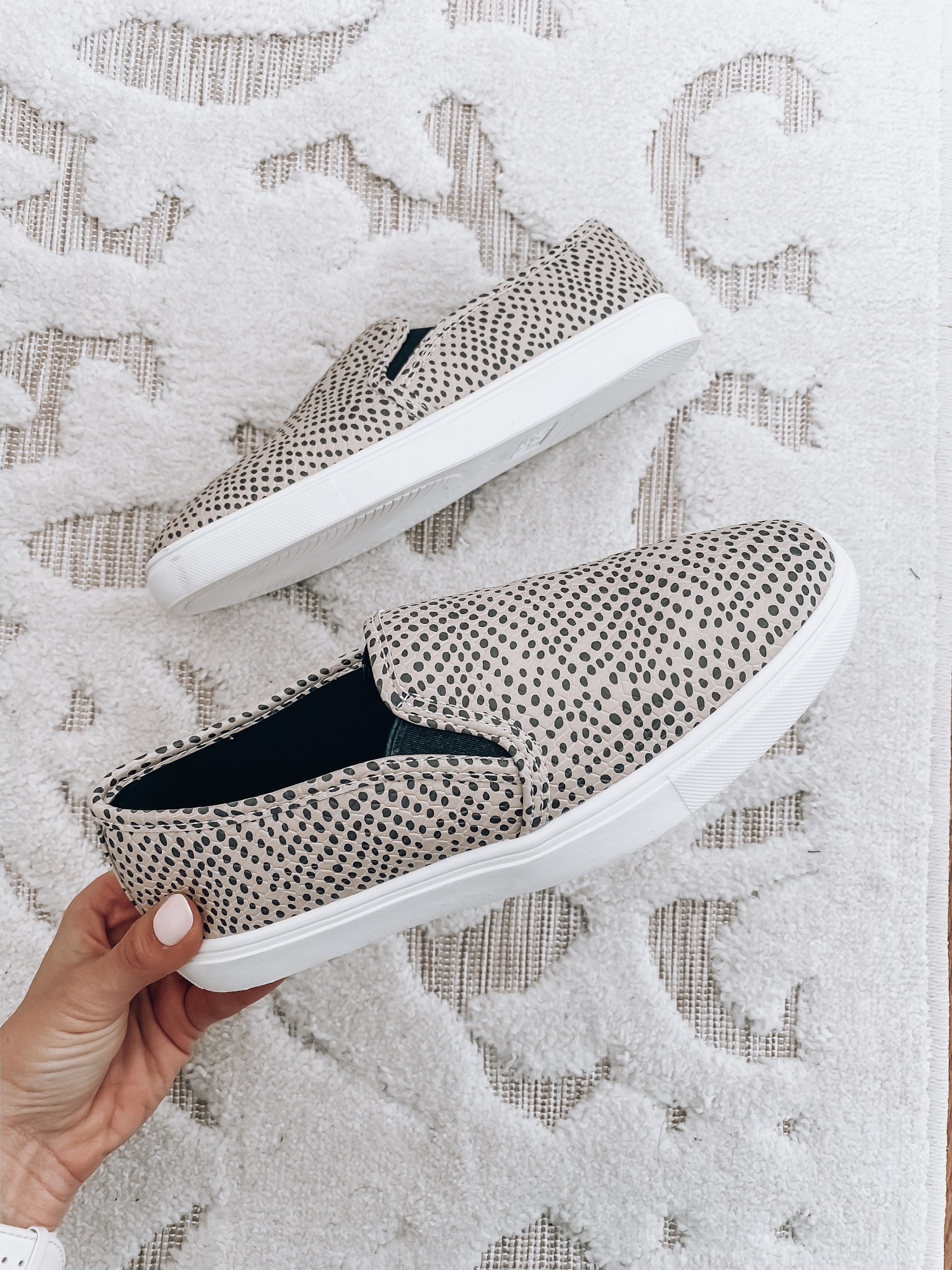 DRESS
I've been noticing wrap dresses on a lot of retailers, and this dress from Walmart is so good. It fits TTS and I am wearing size small. It has great length which makes it appropriate for work or any upcoming events you may have.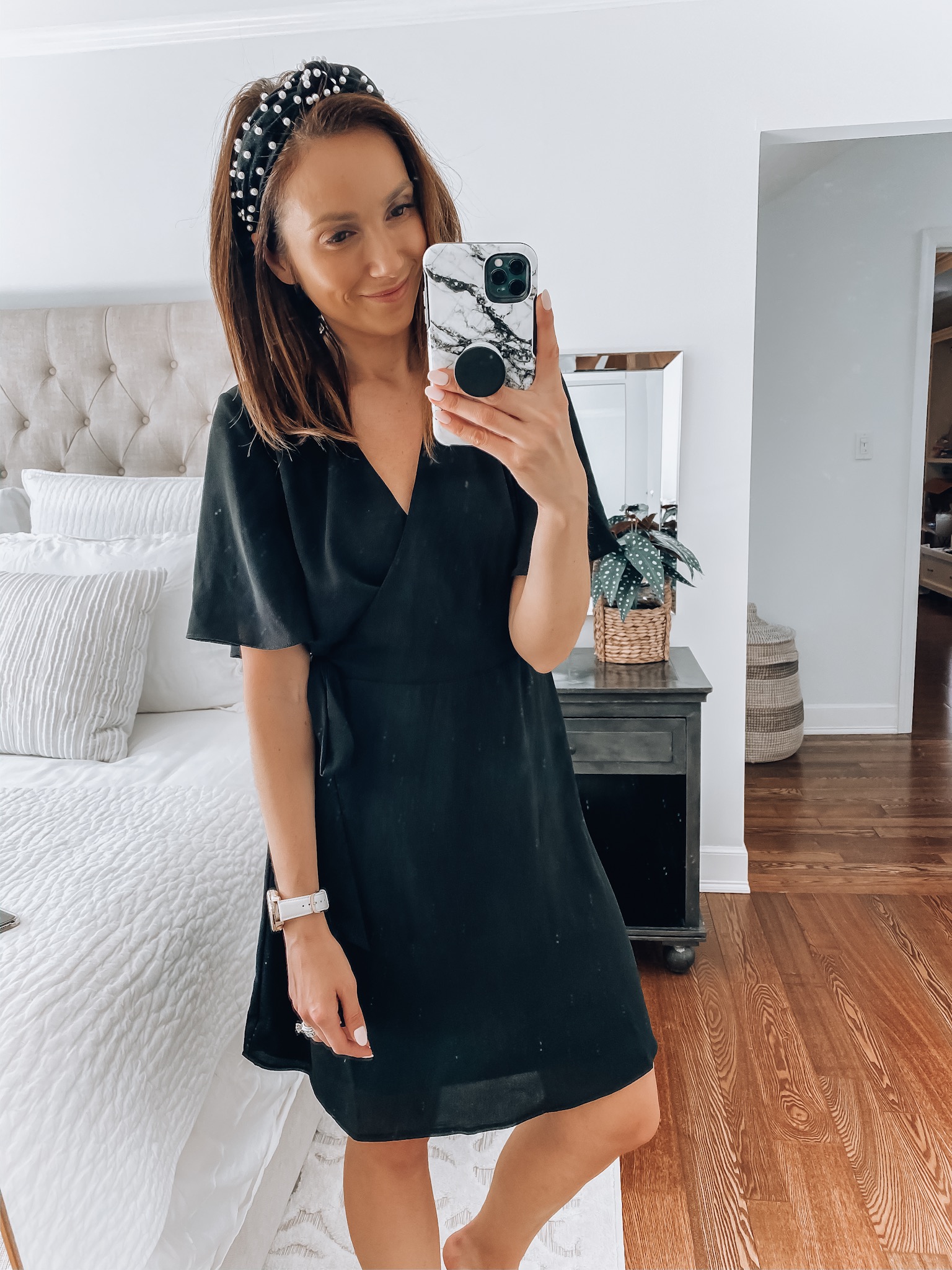 DRESS // SANDALS
When I first saw this dress online, I  thought this would be so pretty as a sun-dress/vacation style dress option. It is stunning and it has exceeded my expectations. I think this could definitely be a beautiful option for any summer party events. It's a true wrap dress. The cut is not too low, and it does have a clasp as well. I am wearing size small and it fits TTS.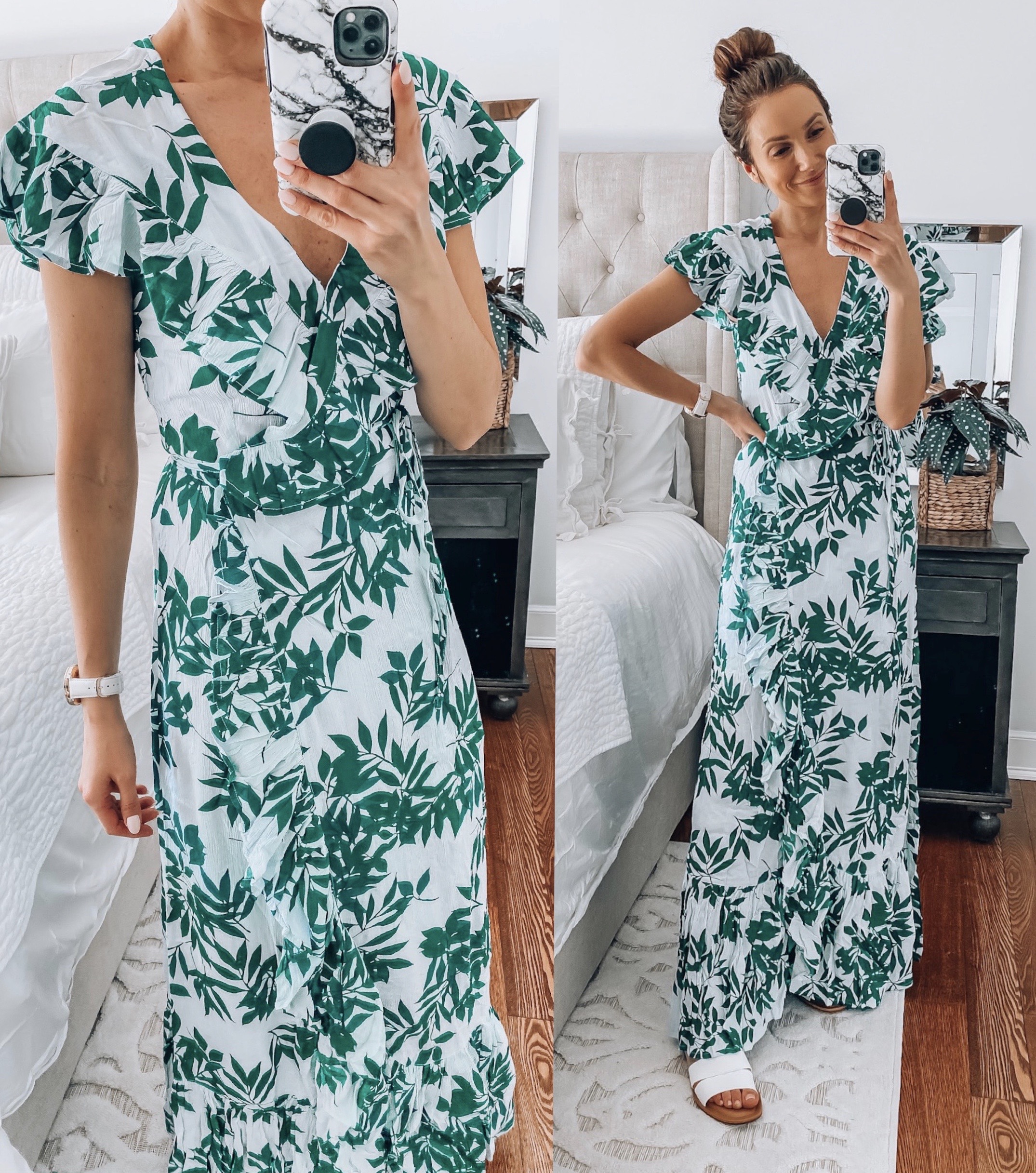 Just a closer look at these simple yet pretty slide sandals. They are under $18 and available in tan.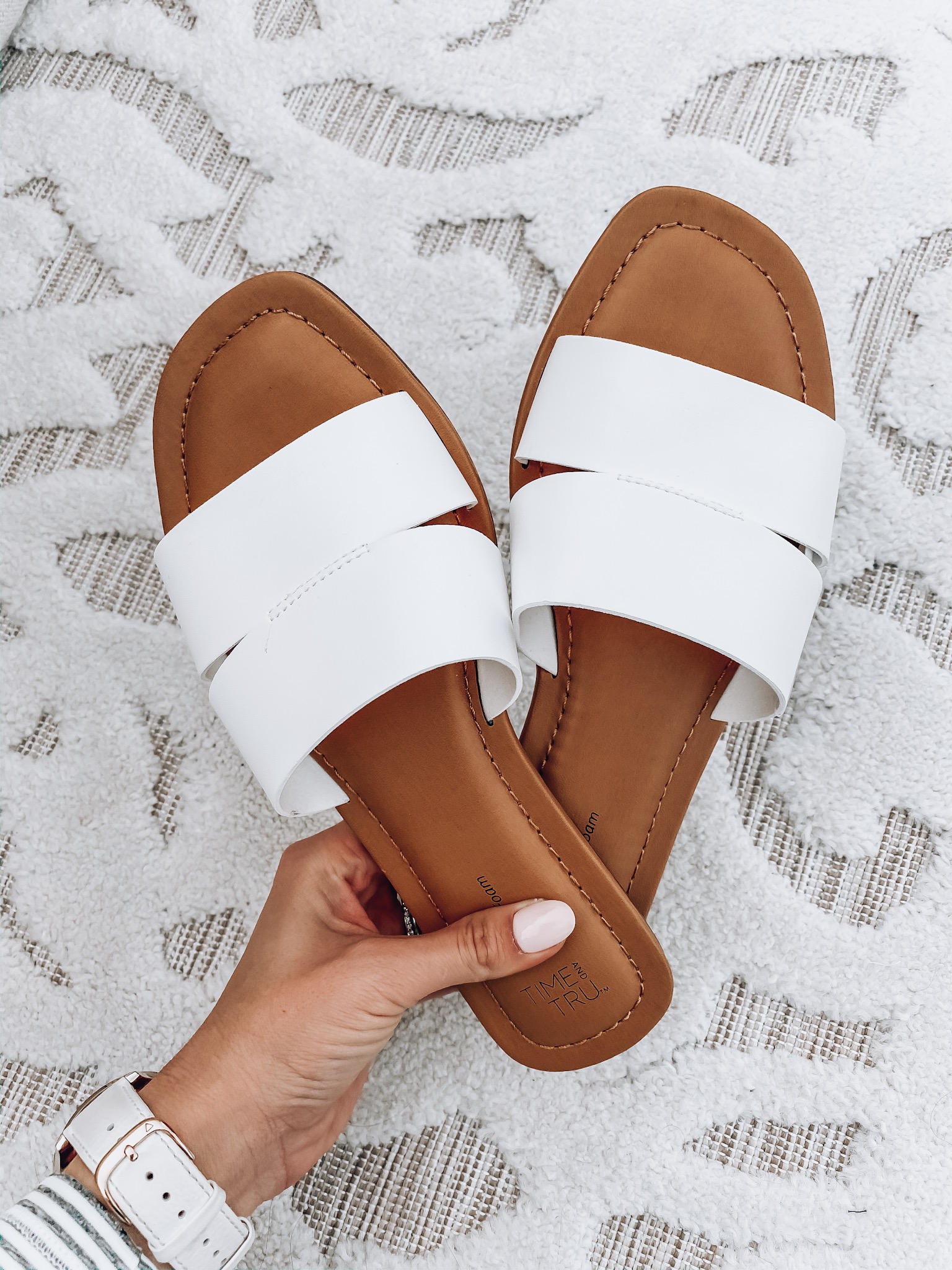 STRIPED TOP // JOGGERS 
It wouldn't be a Walmart try-on if I didn't finish it off with my athleisure picks from one of my favorites sold at Walmart, Athletic Works. I am wearing size small in these slim fit joggers. Their fabric is pretty thick and they have pockets. I am wearing size medium in the top. It looks great as a part of loungewear but I could see myself wearing it with jeans as well.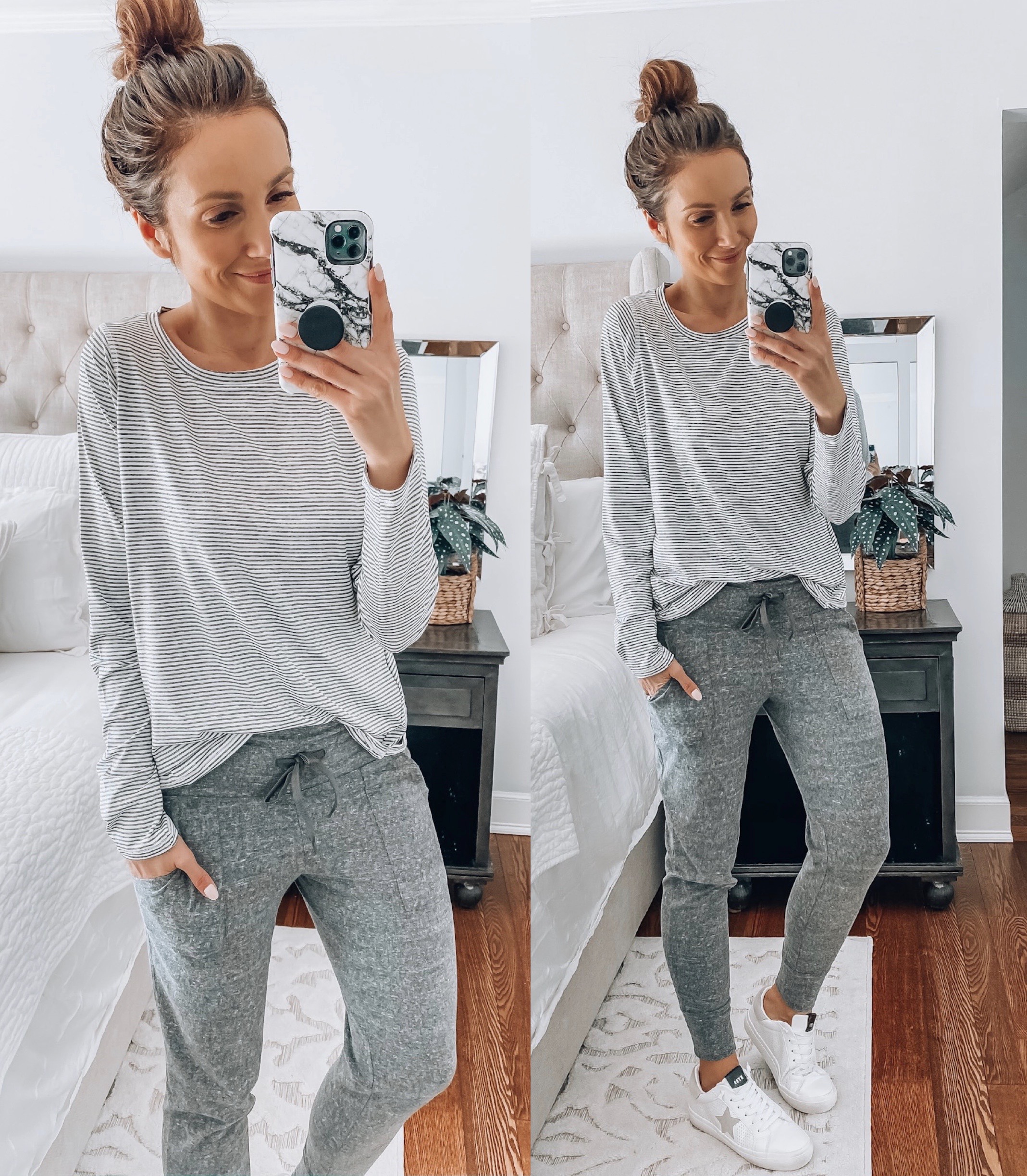 TEE // JOGGERS
I have shared these cargo joggers before, but wanted to show them again because they are so good! These have a different sheen to them and are a little thicker than the fabric ones above. They fit TTS and I am wearing size small. I'm pretty sure my tee is a workout top, but I would style it with joggers and jeans since I love the oversized neckline. I am wearing size small.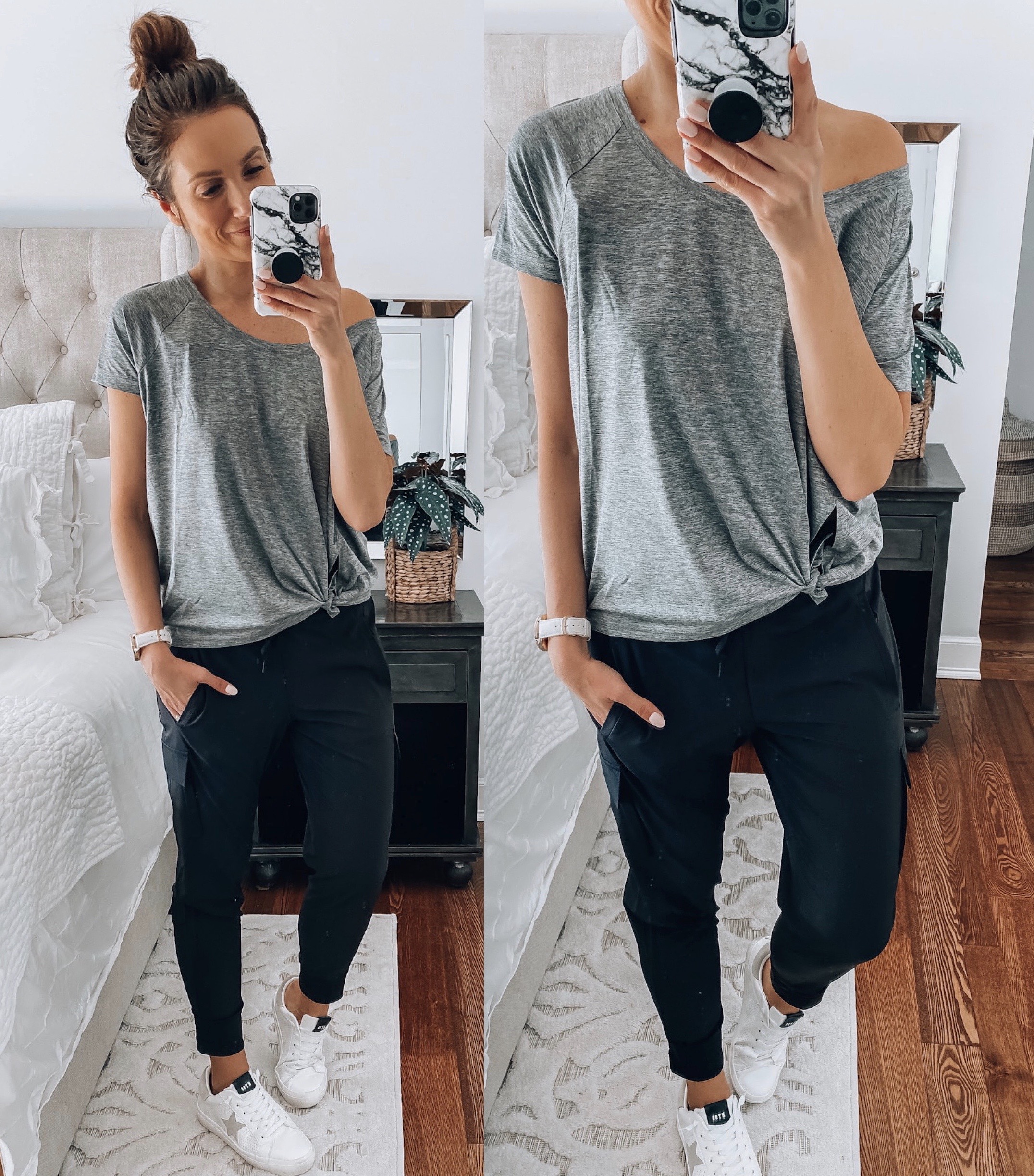 More Spring Favorites
Jeans
My favorite jeans brands from Walmart are Time and Tru and Sofia Vergara


Shoes

Tops

Dresses

Athleisure
My absolute favorite brand is Athletic Works! So good!


Which outfit was your favorite? if you purchase anything, make sure to tag me on your pictures, so I can see how you style these pieces. Thank you so much for visiting Blushing Rose Style blog. And very special thank you to Walmart and RewardStyle for partnering with me on this post. As always, all views and opinions are mine.