Hi girls. It's been a while since I've done an Abercrombie Try-On. I have some new pieces I want to share. From sweatshirts, to pullovers, denim styles and joggers, I am excited to show you my new arrivals. A lot of you have been asking for denim recommendations, I have to say AF, Express and AEO jeans are some of my favorites. I have been really into the mom jean trend lately, you can check out my Mom Jeans- Trend You Should Try post. Full review of mom style denim (different styles and washes ) in this post- keep reading!
BODY SUIT // JOGGERS // NECKLACE // MULES
I am going to start with this perfect outfit for Spring. I am wearing size small in the joggers and I am obsessed! I love the waist line and cargo pockets. They are kind of edgy, but feminine in fit and since they are a bit loose I styled it with this body suit. I ordered this bodysuit in the nude color as well, and since I loved it I ordered this black one. It fits tts, hold you in and a great closet basic in my opinion.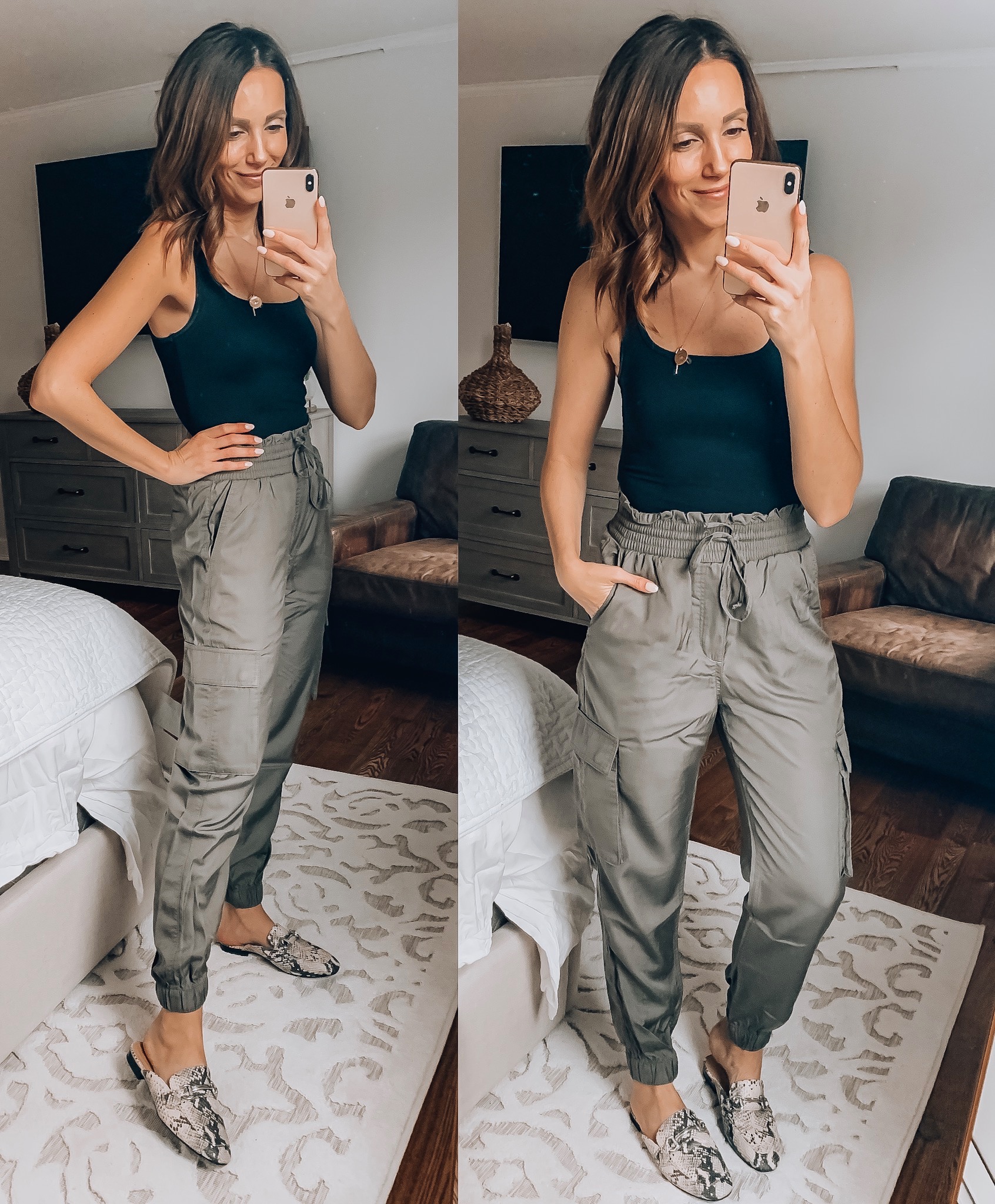 BODY SUIT // LIGHT JEANS // DISTRESSED JEANS // NECKLACE // MULES
Abercrombie Denim Review
Moving on to denim, l am going to start (RIGHT) with these distressed curve high rise mom jeans. They are high waisted, fit TTS and I am wearing size 26 which is primarily my jean size. They are a curvy fit, and I find that they have more fabric in the waist line versus other mom jeans I own, but I think these are a great option.
The second pair (LEFT) of jeans I am wearing are the high rise mom jeans. The difference between these and the curve mom jeans is there is a lot less fabric. I'm not sure if these are the most flattering jeans on me since I naturally have wider hips. I would probably pair these jeans with a longer sweater or tunic. But if you have a petite frame or narrow hips, I think these would look amazing.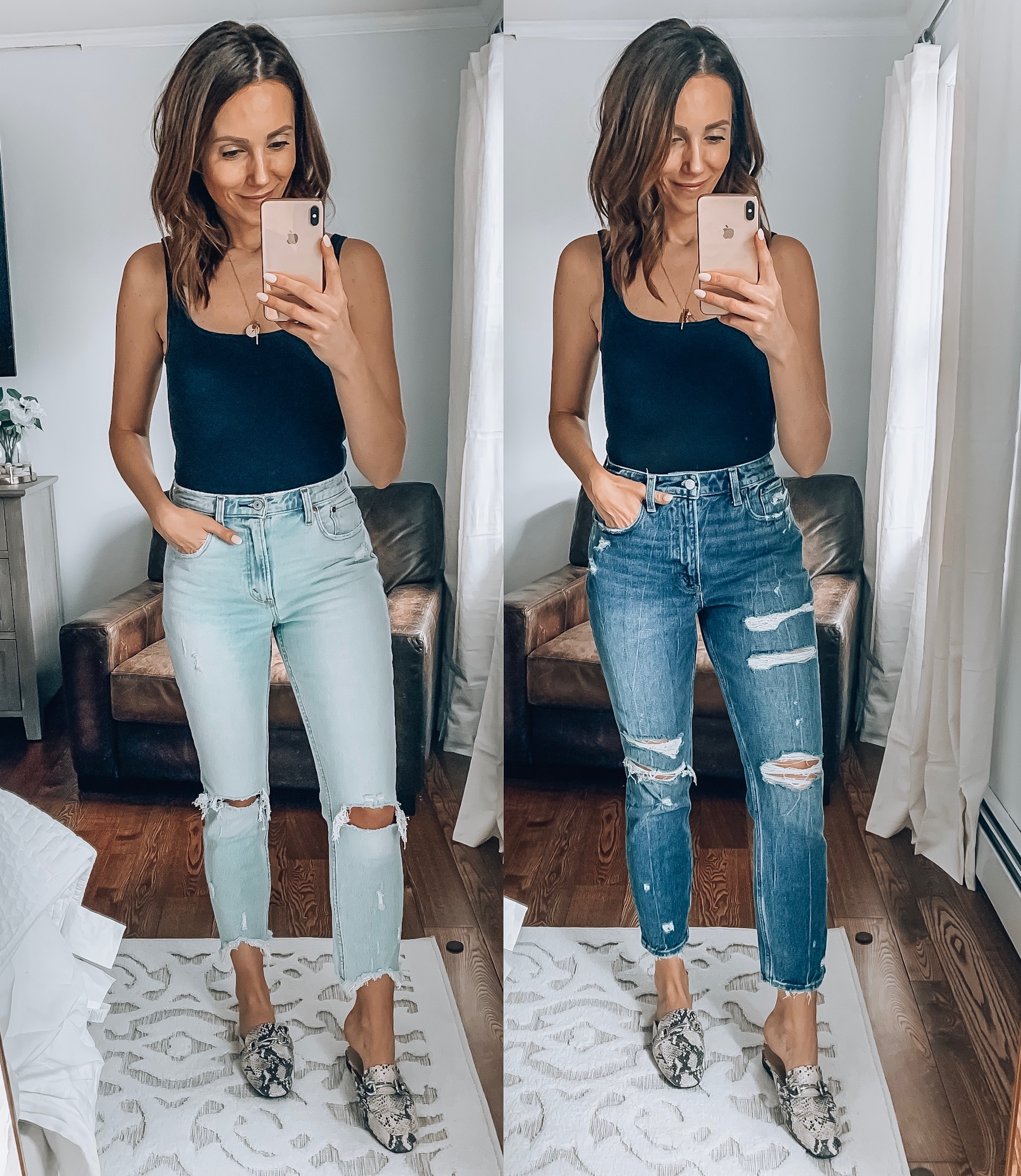 BODY SUIT // BLACK JEANS // DENIM JEANS // NECKLACE // MULES
Believe it or not, these high rise super skinny jeans are the only skinny pair of jeans from AF that I own! I love the button fly and that they are high-waisted. They are not a true black, but somewhat faded which I do like, because after a wash or two true black jeans have the tendency to look worn and faded. These have maintained their same tone after multiple washes.
The denim jeans are the ultra high rise ankle straight . I do love the fact that there is no distressing, and they are high waisted. They have a lot of stretch and are comfortable. They remind me of the mom jeans, but the ankles on this pair are a little wider.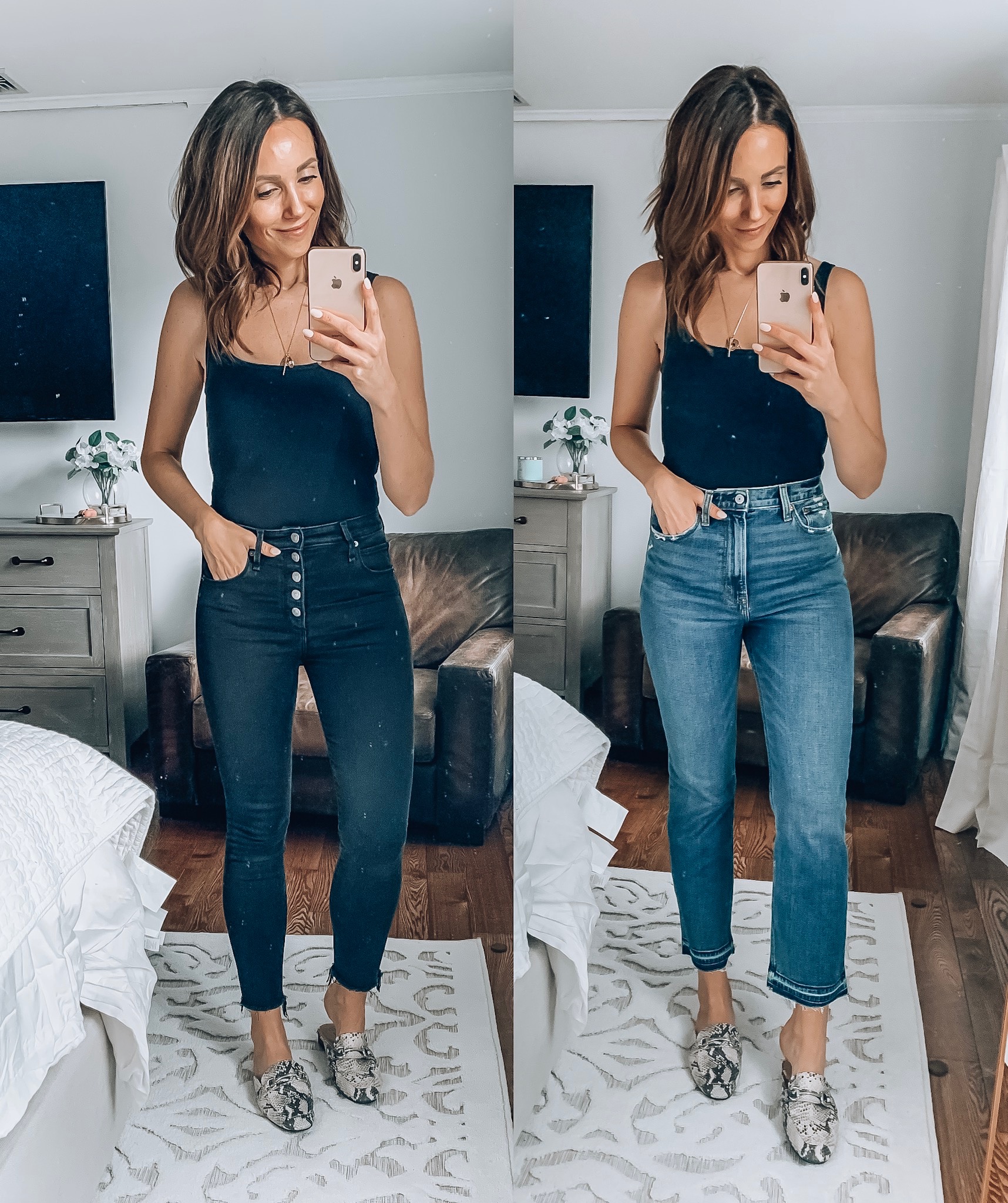 Abercrombie Sweatshirts  – Soft AF
SWEATSHIRT // JEANS // SNEAKERS
I absolutely love all the Abercrombie fleeces and sweatshirts and if you don't own any I just want to say that they are so comfortable and buttery soft. This sweatshirt is a new arrival and I love the color-blocking. This neutral color palette is great for now and will transition well into Spring. I am wearing size small and just for reference I primarily wear small in all of Abercrombie's sweatshirts and fleeces. This one is a definitely a traditional fit, but if you wanted something a bit looser, I would suggest sizing up by one size.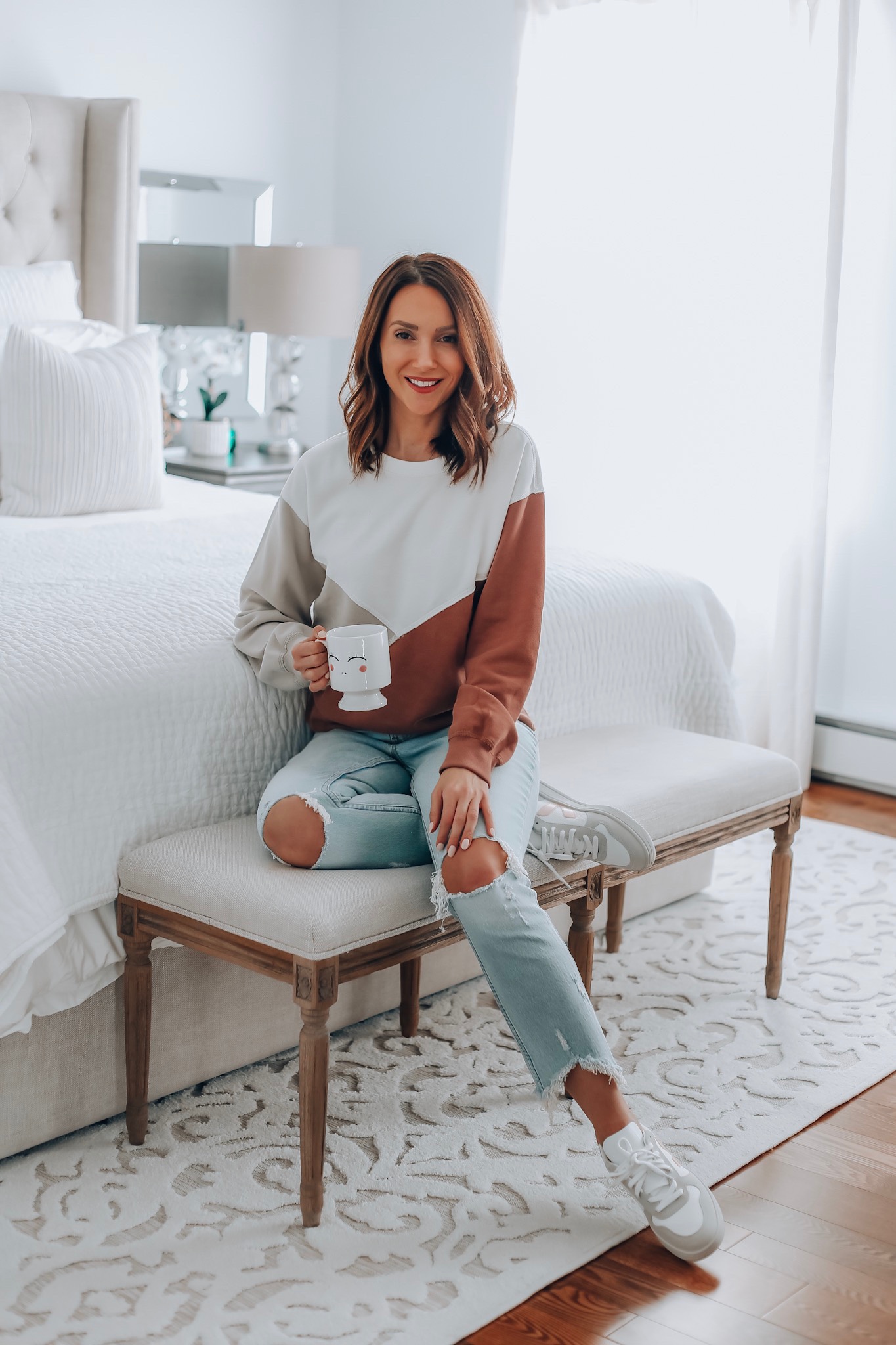 SWEATSHIRT // JEANS // SNEAKERS
So many questions about this sweatshirt! I guess you're loving the print like me! This sweatshirt has a cropped fit but it's not too short because I can raise my hand and it not go up too far. It has balloon style sleeves which is super cute. The lining is really soft and I am wearing size small.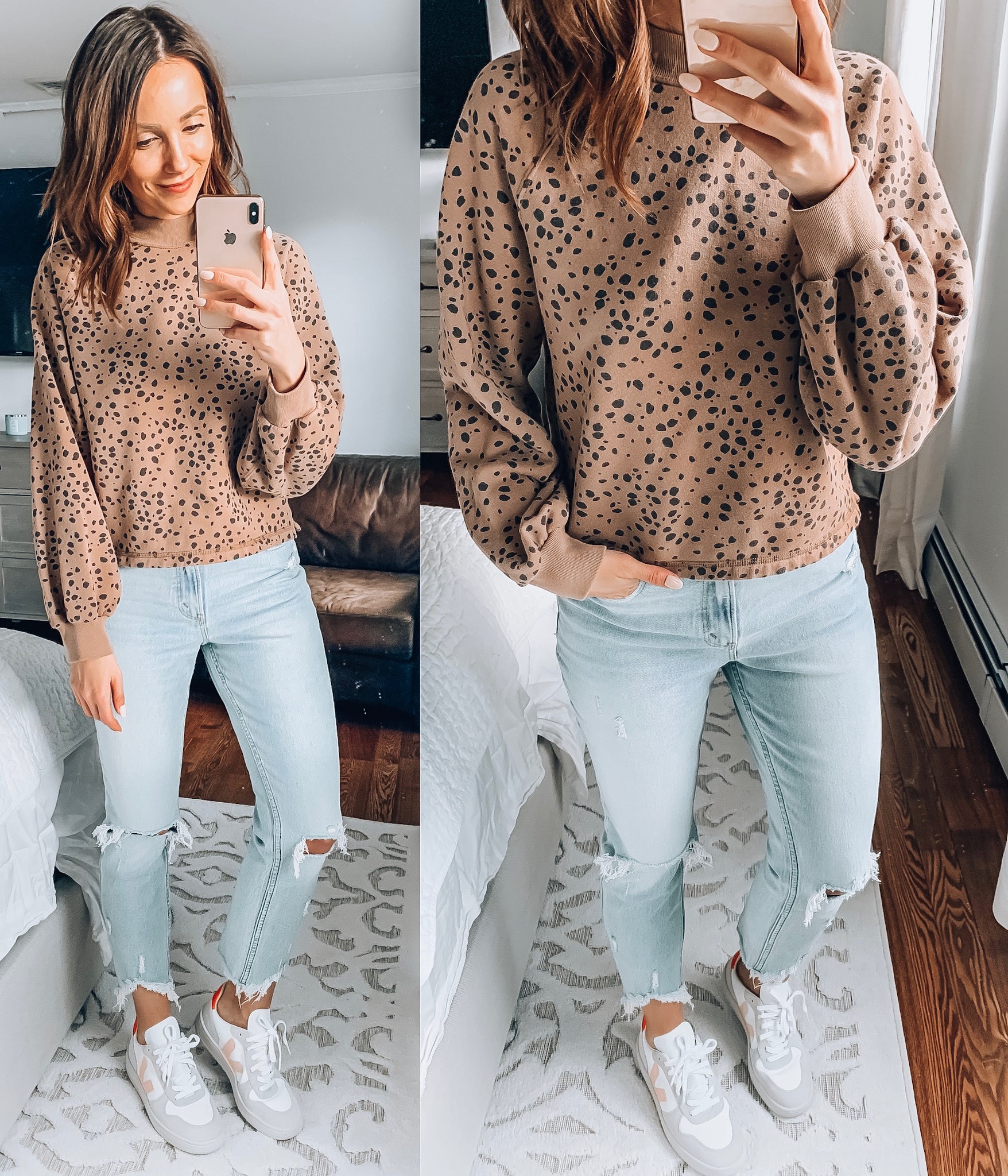 SNAP UP FLEECE // JEANS // SNEAKERS
This fleece design has been around for multiple seasons and probably a signature AF look. They did make a major improvement though which is the inside is super soft just like the outside. It is currently available in all sizes but it does tend to sell out. It's not super thick so it will transition nicely into Spring. I am wearing size small and it fits tts.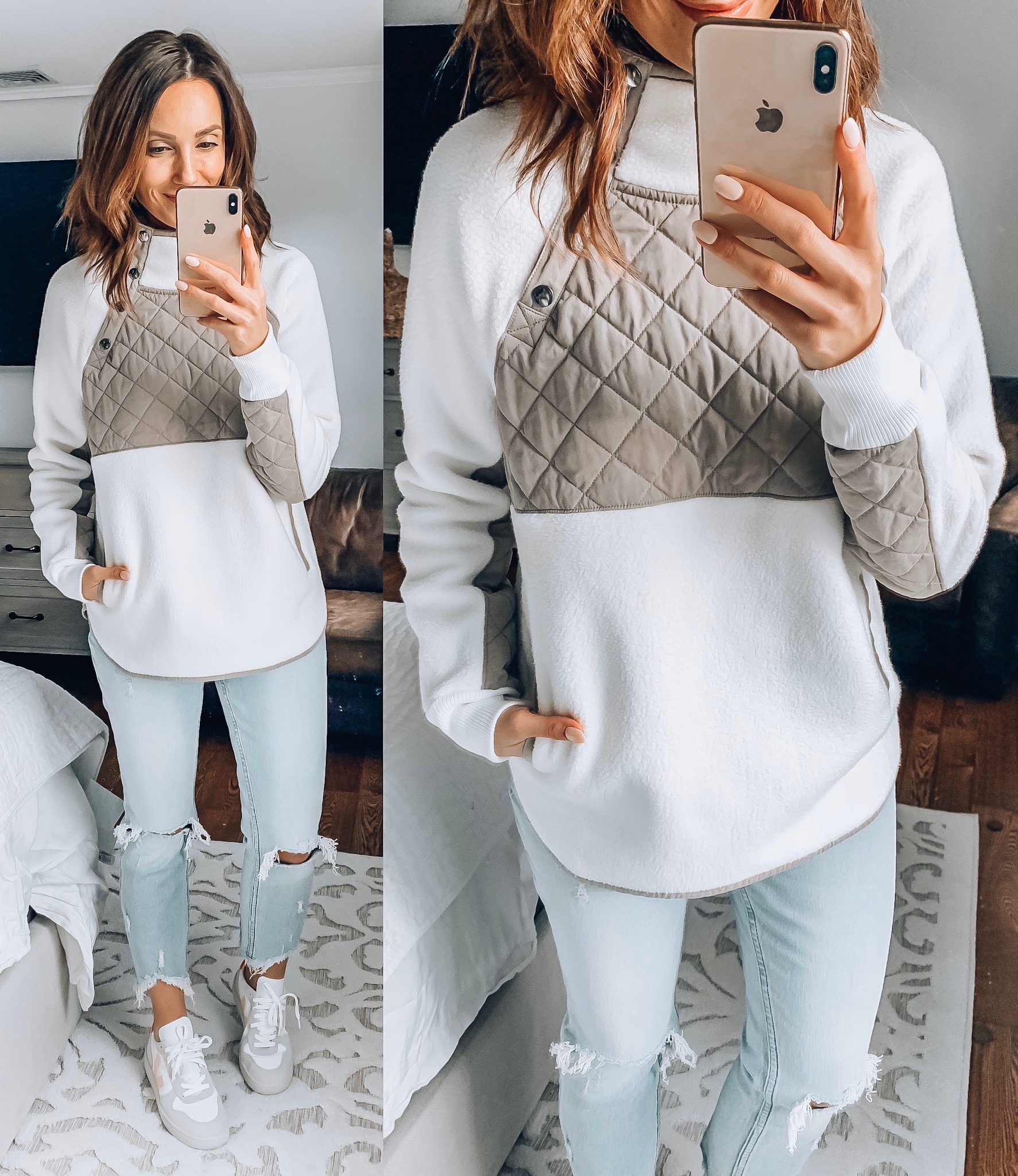 SWEATSHIRT// JEANS // SNEAKERS
I've had this sweatshirt for a couple of months now, it's super soft and has an oversized fit. It has pockets which is always a win! I am wearing size small.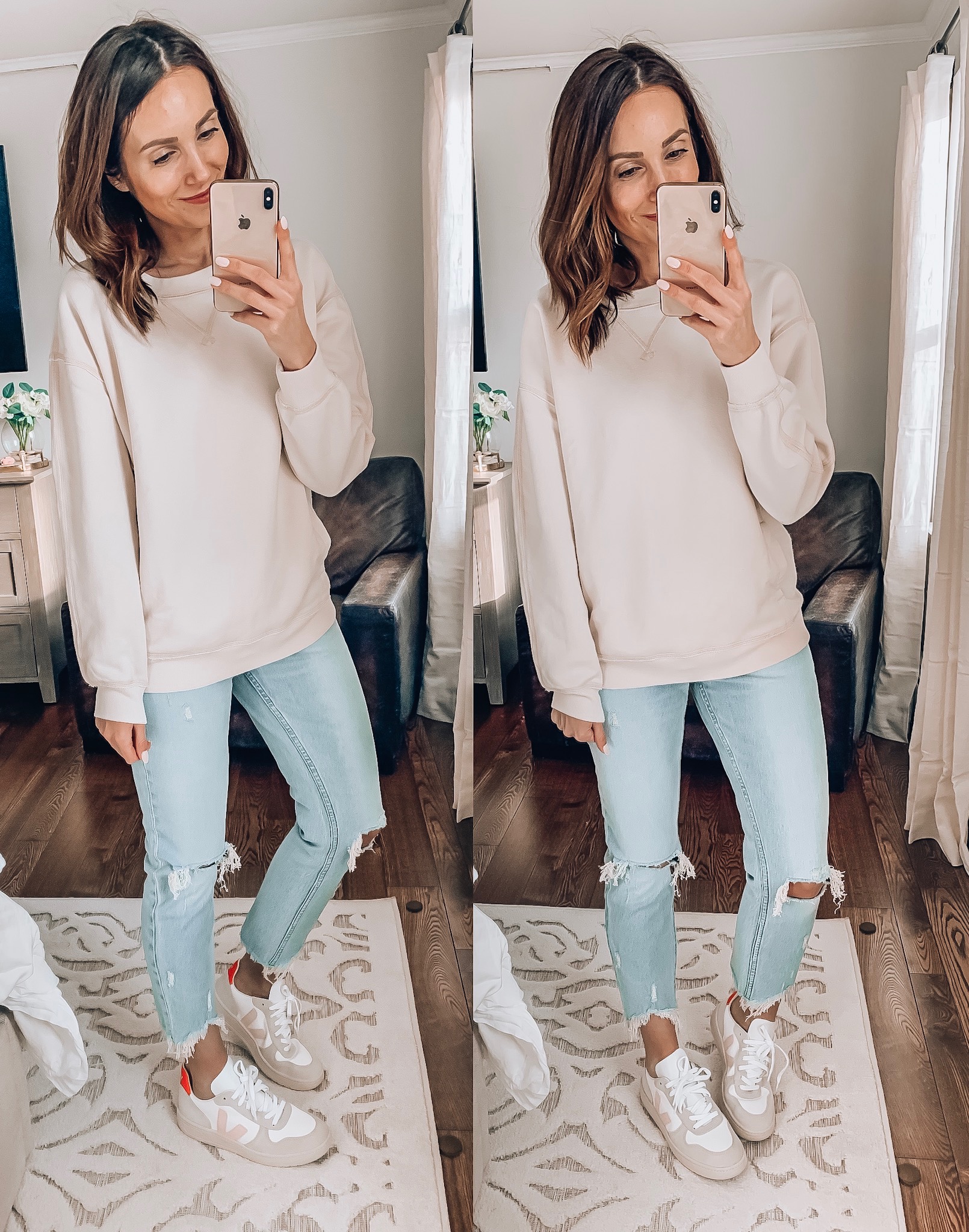 FLEECE  // JEANS
My last pullover I am sharing is this cozy number. It's super soft and on major sale right now.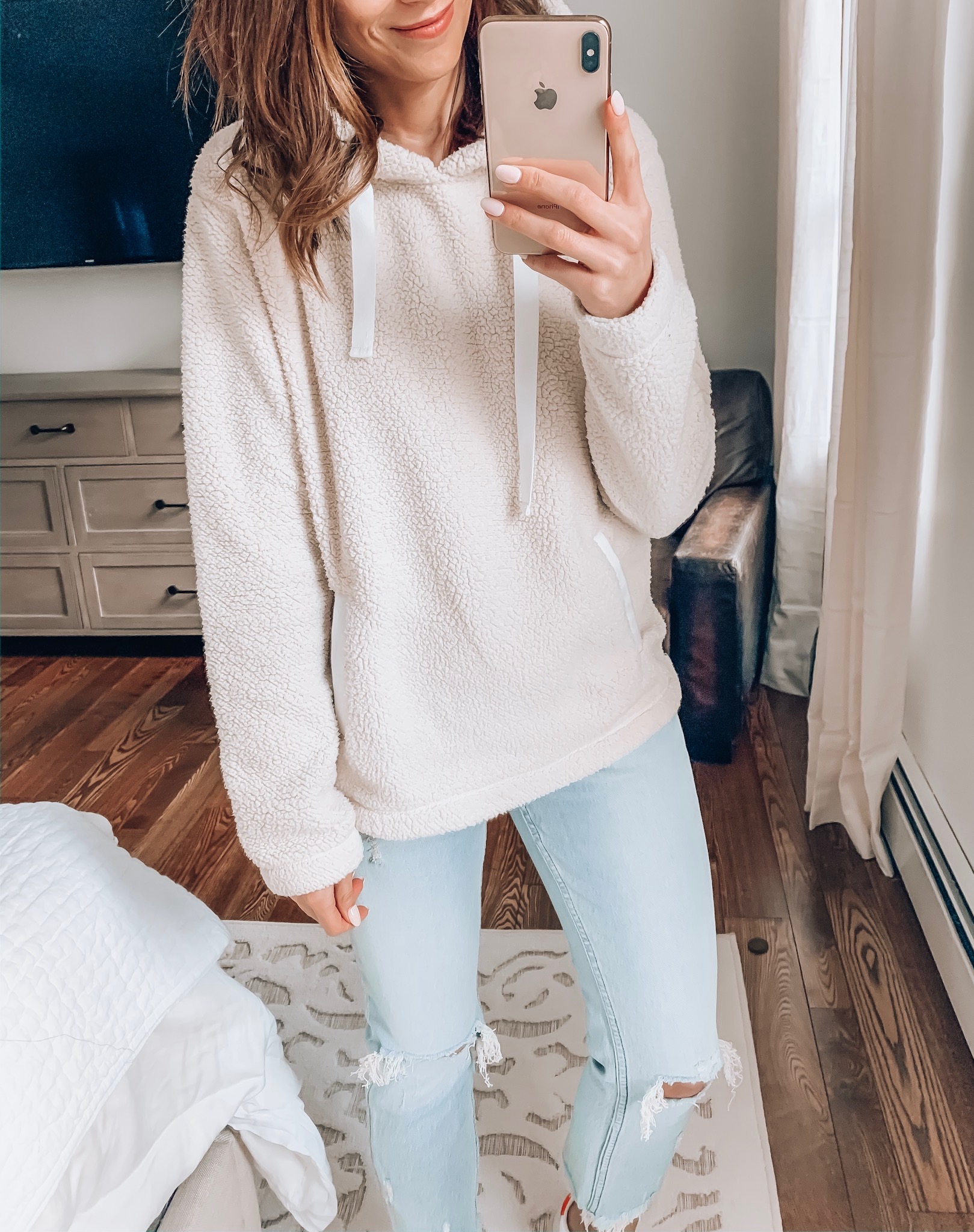 Thank you for visiting Blushing Rose Style Blog!