Hi friends. I am back with favorite beauty finds from Amazon. I'm excited to share with you 5 products I'm loving right now. If you have a product you absolutely love (and think I should try) leave a comment.
5 Amazon Beauty Products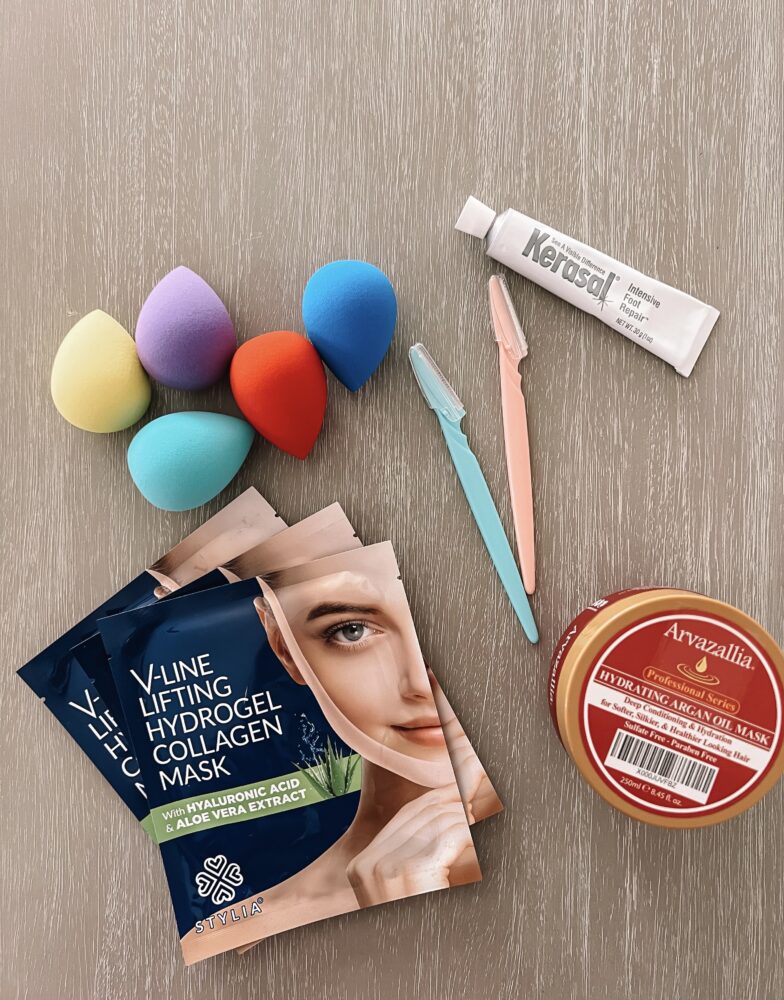 Beaky 5pc, Makeup Sponge Set

I am obsessed with these beauty sponges! 5 come in a pack for $10. The quality is amazing and a total dupe for beauty blender – I cannot tell the difference when using. These have over 70k reviews!
Tinkle Razors

Do you derma-plane? I do get it professionally done but I use tinkle razors in between. I usually shave my face once a week to take off all the peach fuzz and my skin is so smooth and after my makeup looks amazing. So affordable too, get 12 for $17 – have over 30k reviews.
V-Line Shaping Masks

These masks are so fun and while they're not miracle makers, they do visually improve your v-line. They have collagen and hyaluronic acid. Well loved on Amazon with over 7k reviews.
Kerasal Foot Cream

Do you feel weird about feet? I do, haha. But! this cream will take care of your crusty feet and get them ready for sandal weather. This cream makes your feet so smooth! Just make sure you wash your hands after use.
Argan Oil Hair Mask

I have been using this hair mask for over a year now. It's a great weekly treatment and leaves your hair hydrated without weighing down. get xanax without a doctor prescription todotvnews.com It's right under $13 and the tub will last year a while.
Thank you for visiting Blushing Rose Style blog. Have a favorite beauty product from Amazon? Let me know in comments.