The holidays are here, which means the outfits are going to be festive and glamorous. This time of year can get expensive between all the gift and food shopping, but there are always ways to save, especially with Walmart's holiday styles. We all love Walmart for the grocery runs and household essentials, but the fashion department is definitely something you need to explore, if you haven't already. I have some adorable outfits picked out for the holidays that work for any special occasions you might plan! You can see more of my favorite pieces from the gorgeous Walmart holiday collection below, so let's get started! And I should mention Walmart is so great about shipping, all my orders arrived really fast. But do not sleep on these styles, they are starting to sell out.

Glam Holiday Look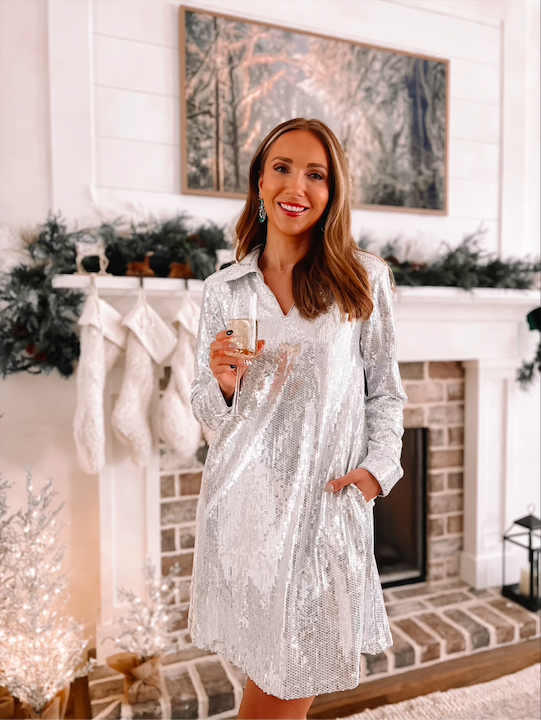 Scoop Women's Relaxed Sequin Shirt Dress
This dress is my top pick in my holiday look lineup, and I feel it will sell out fast. It's absolutely stunning and not the typical design we see during the holiday season. The V-neck and popped collar almost give this dress a relaxed look, plus it's not fitted and not too short. Long holiday parties are no problem in this dress; it's so comfortable you can look & feel fabulous all night.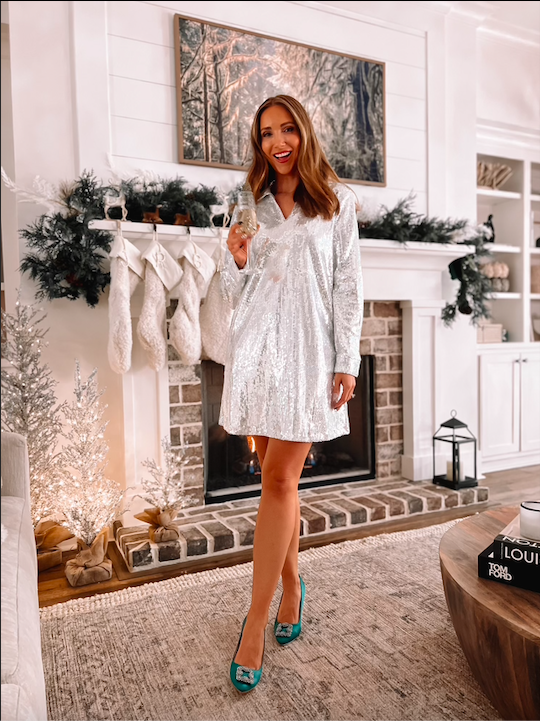 If you think this dress couldn't get any better, it has pockets! I would not sleep on this dress. The gorgeous sequins details make this the perfect holiday dress for years to come—a timeless look for a fantastic price.
Casual Chic Look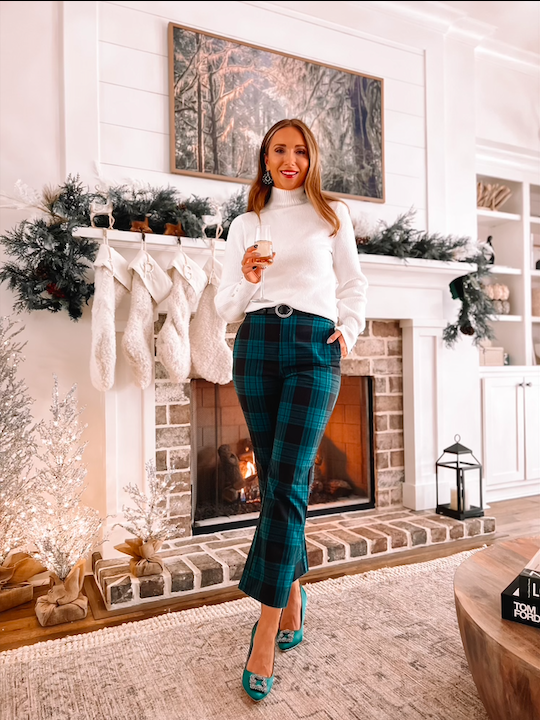 Free Assembly Women's Crop Kick Flare Trousers
I am obsessed with the plaid print on these pants, and the colorway is perfect for Christmas. These are high-waisted and made with a thicker fabric that holds you in, which is super flattering. I had to add this Scoop Pearl Centerbar Belt and feel like it makes the whole outfit. If you want to rock the plaid suit look, these pants have a matching blazer, super cute, and run true to size.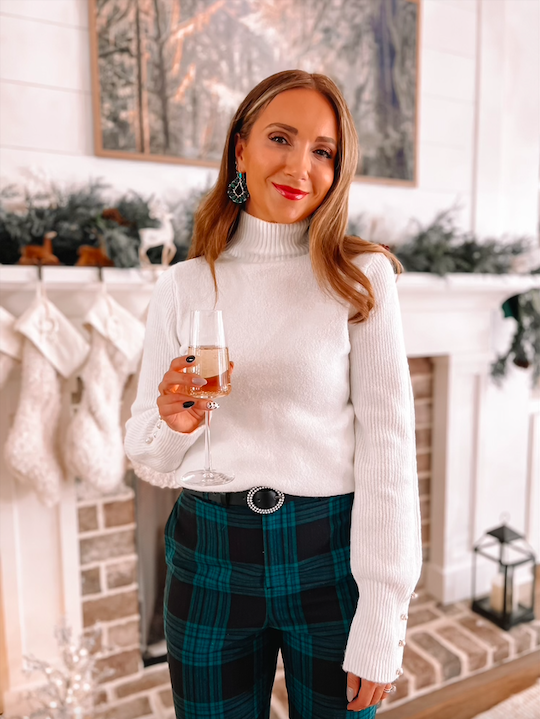 Scoop Women's Button Cuff Turtleneck Sweater
This adorable sweater needs its moment. The softest sweater and the high neckline are super flattering with this look's silhouette. I also can't get over the small details. The buttons lining the wrist are so chic and tie in the elements with the belt. I am wearing a size small for reference, which fits perfectly and tucks into my pants seamlessly.
Party Holiday Look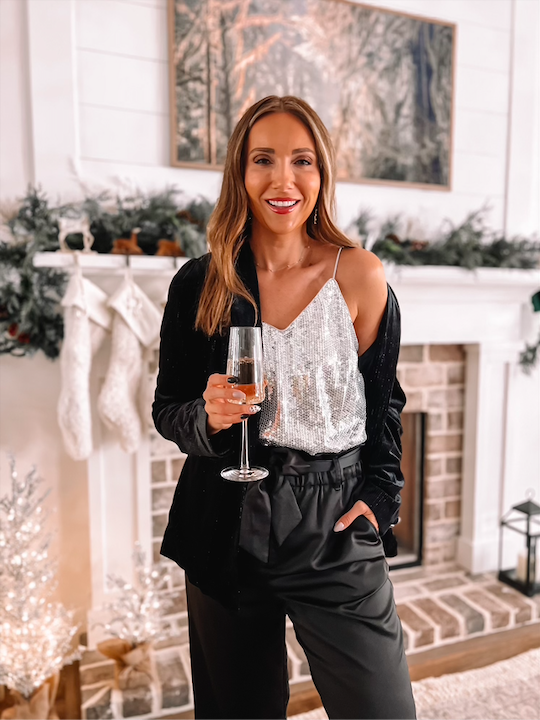 Sequin Cami Top & Satin Paperbag Waist Pants
This sequin cami is the same material as the dress above and just as stunning. I would recommend sizing down on this one. For reference, I'm wearing a small here and definitely could have gotten away with an extra small, but perfect for tucking in. The satin pants are from the Time & Tru collection, and I love the price point on these. Fantastic quality with a wide leg silhouette and high-waisted, and the belt is removable. I styled these pants with flats because they are just a tad too short on me; for reference I'm 5'7. If you are 5'6 & under, these would also work with a cute pair of pumps, nevertheless still super cute.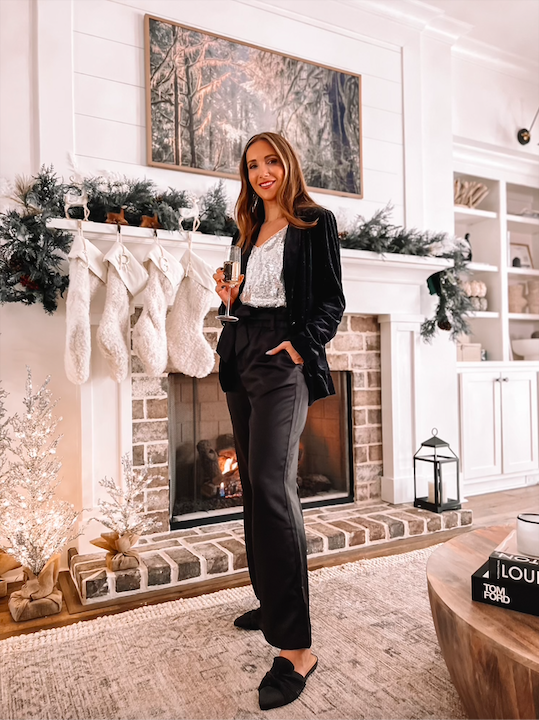 Sofia Vergara Women's Velour Blazer with Metallic Accents
You guys know I am obsessed with blazers and have been rocking them for years. Velvet has been trending this season, so I would definitely jump on this for the price point. I have no doubt this will sell out fast. The metallic thread details are perfect for the holidays but subtle enough to rock this look beyond the party season. I ordered a size small and would say this runs true to size. Not too oversized and not too tight, just the perfect fit for a chic seasonal party look.
If you love these styles as much as I do, you can shop them below. Thank you so much for visiting the Blushing Rose Style blog, and very special thanks to Walmart for partnering with me on this post. As always, all views and opinions are mine.