10 Must Have Buys from the Nordstrom Anniversary Sale. If you are still shopping, you may also want to check out the Nordstrom Anniversary Try On Session blog post HERE.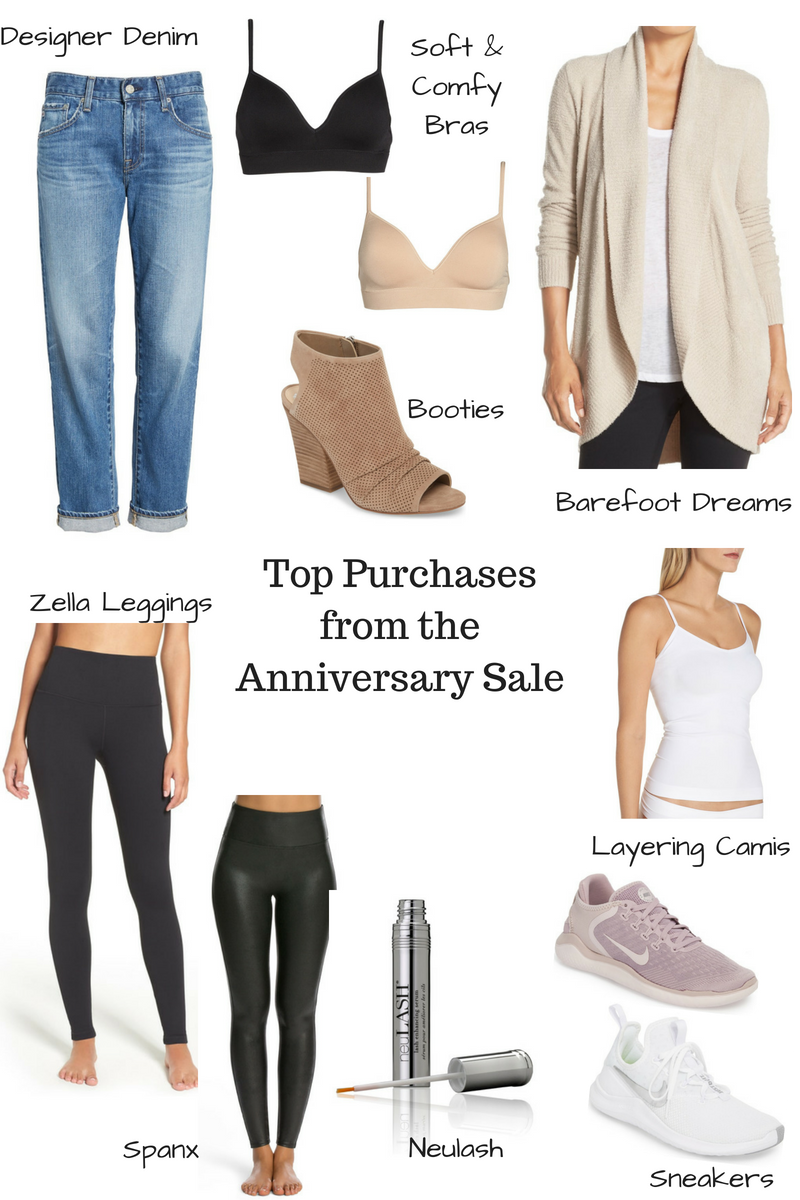 I have been raving about these leggings for the last 2 years. They only go on sale once a year (during anniversary sale). Why I love them?

They look amazing wash after wash.
You can wear them to either work out or t as athleisure with a tee or sweater.
They give you the "hugged" feeling meaning they're super slimming.
I love the fact they're high waisted… after kids this one is a must for me.
Can't beat the price! Only $35… I swear these are just as good if not better than Lululemon.
Barefoot Dreams Cardigan
This cardigan has been on my radar for years now. I was finally able to get it on sale last year. This one wardrobe staple sells out extremely fast year after year, and when the sale ends it is restocked at full price. If you are not familiar with the brand, it is known for the softest cardigans, robes and blankets. Just like the name suggests, it is dreamy

Seamless Contour Bralette

I am relatively new to this bralette. I have been wearing the free people ones religiously but because of the crochet design they can be visible, especially under the the smooth tops. I have been searching for something super comfortable and finally found this bralette! Why I love it:
Really soft and comfy
Smooth and invisible under tops
Plunge design works great with v-necks and low cut tops
Convertible back straps
Price! Only $18
Spanx

Ok if you love the Spanx faux leather leggings it may be time to grab them because they are on sale! These do go on sale several times a year, so if not this go around, you may be able to grab them during Black Friday sales. I did buy mine last during the nsale, and I am super happy with these. Another new camo design was added to the sale this year available HERE, as well as the moto version available HERE.
Booties

Every year during the NSALE I buy booties for fall. I know you not be interested in fall booties when the temperature outside exceeds 90 degrees. But most are marked down 40% , so you will definitely be kicking yourself if you don't get them now. I will give you my best tip, if you're not ready for fall footwear. Buy a pair of peep-toe booties. These you can rock late summer, fall and spring! My favorite pair from this year is the Vince Camuto Kentvi. I have been wearing them all the time and they're soooo comfy. Fit TTS.

Designer Denim

This one is not a must buy… but there are so many great deals on designer denim, so if you're into it, now is the time to buy. For me personally, this is not as appealing because I typically do not splurge on jeans. One of my favorite jeans  is THIS PAIR and it's marked down to only $40.
Layering Camis

Originally $29 now 2 for $38. There is nothing really special about these layering camis yet they're awesome! Here is why I love them:
Amazing quality (look great even after multiple washes)
Such a great staple for layering, especially in the fall when it gets cold outside.
Available in two designs (thin straps and tank)
FYI run small, so size up
Neulash Lash Enhancing Serum Duo
There are so many great beauty deals happening during the Nordstrom Anniversary Sale. Make sure to check out my post on BEST BEAUTY BUYS (also I am sharing what NOT to buy).

I have been using THIS lash serum since August of last year (got it on NSALE) It's ON SALE again! It is a true miracle worker. My lashes are naturally short,stubby and point downwards. You will see results in 4 weeks, and I would say the max result in 6 weeks. The smaller tube lasted me exactly 4 months and I have been using it daily.  And I have been using the larger tube since January and it's not done yet. So this is pretty much a year supply of lash serum! It is so much cheaper than getting lash extensions.
Sneakers

I always buy a pair or two of sneakers during anniversary sale. I am a Nike kind of girl and there are so many cute sneaks marked down 30-40% OFF. I love THESE and THESE.