Nordstrom Anniversary Sale Beauty picks.
It is so hard to believe the Nordstrom Anniversary Sale started just few days ago and so many items are already sold out. Well, good news most of the tried and true beauty items I love are still fully stocked.
Just wanted to give you all a tip. Last year, I got caught up in so many "beauty deals" … what I mean is there are a ton of limited edition palettes, gift sets, etc. available during this sale. But to be honest with you, they are kind of a waste of money. Why pay for a shadow, blush and bronzer palette, if only shadows work for you (bronzer and blush may just not be your shade). I ended up wasting money on products, I barely used. So the tip is stick with what you know 🙂 Anyways, this year I am shopping smart. I am simply buying products I already love and use on the regular basis, and just taking advantage of the discounts. Here is my top 9.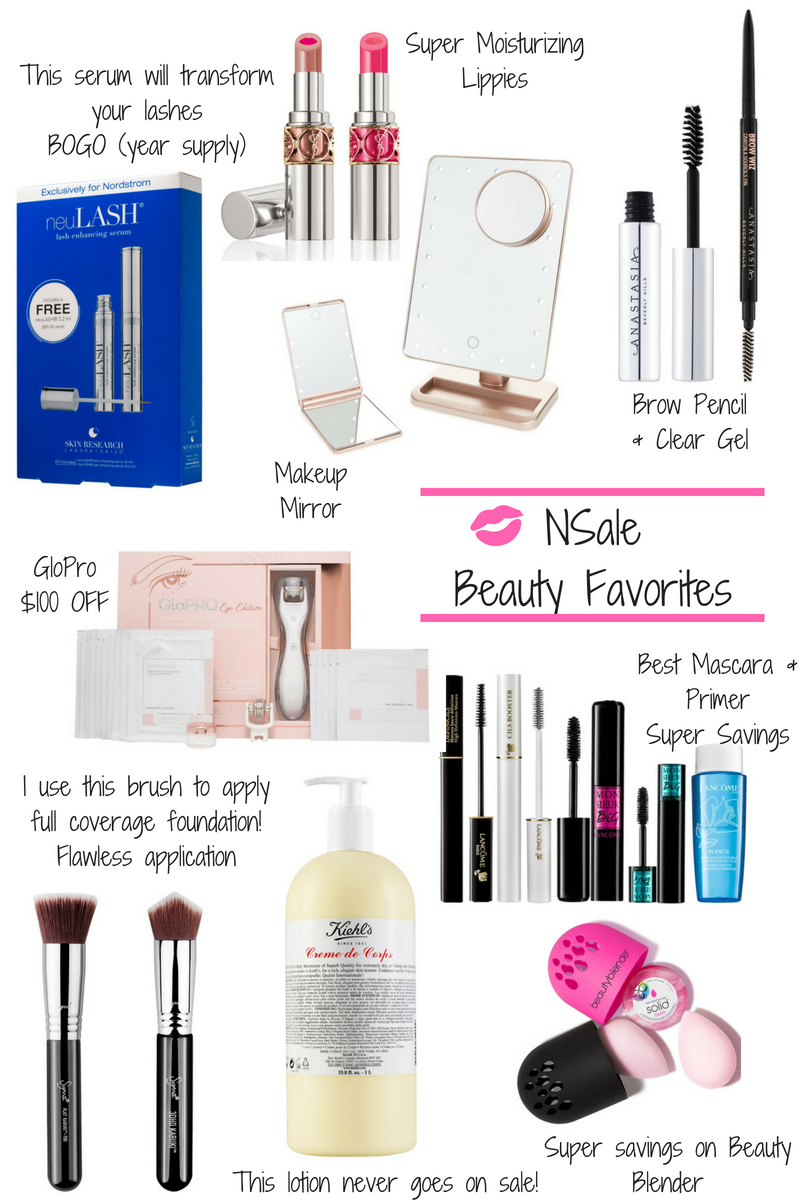 Neualash Lash Enhancing Serum Duo (reg $245) on sale $150

I have been using THIS lash serum since August of last year (got it on NSALE) It's ON SALE again! It is a true miracle worker. My lashes are naturally short,stubby and point downwards. You will see results in 4 weeks, and I would say the max result in 6 weeks. The smaller tube lasted me exactly 4 months and I have been using it daily.  And I have been using the larger tube since January and it's not done yet. So this is pretty much a year supply of lash serum! It is so much cheaper than getting lash extensions.
Best Of Lancome Lashes Mascara Set

I also swear by THIS mascara and PRIMER  ($25) combo. The primer is vitamin infused, and acts as a conditioner for your lashes as well. Both are now available in THIS SET for only $59! (it would cost you over $95 to buy separately)
Sigma Beauty Total Complexion Kabuki Brush Set

In THIS set you get 2 brushes for $33 ($50 value). I use this brush to apply full coverage foundation. In my opinion it gives it just flawless application! For full coverage I swear by the Double Wear Foundation (my color is Dawn).
Beauty Blender

Great value set. This Beauty Blender set is only $35 for a $60 value. I use beauty blender daily for concealer or tinted moisturizer application.
BeautyBio GloPro Microneedling Regeneration Tool

I got my GloPro during last year's sale. Honest opinion, the best tool will not work, if it's not being used. GloPro is an investment for sure. If you know you will stick with it, it will be worth the money. The key with this device is consistency. Use it at least 3-4 times a week. When I use it on regular basis, I see a huge difference in my skin. There are so many benefits to microneedling from increasing blood flow & collagen production, to enhancing the strength of the serums and products you are already using. if you make this investment into your skin, make a commitment to use it!
Anastasia Bevery Hills Brow Duo

Anther great value SET only $28 ($43 if bought separately). I use both every single day. Visit my Instagram profile @anna_brstyle I have a video saved in the highlights section on how I shape my brows using these.
Kiehls Creme De Corps

This bottle is HUGE. So here is the low down, it is a very expensive lotion. Is it worth it??? YES. I bought a tiny bottle at the airport back in March and fell in love. So I repurchased this large bottle. I was so excited to see it on sale. It is still a splurge, but if you break it down … this bottle will last 7- 8 months, so it makes it only $6-$7 per month.
Touch XL Dimmable Makeup Mirror

YSL Tinted Lippies