The preparation for the crazy holiday season has begun, which means spending hours shopping for loved ones. Besides the chaos of shopping and planning, this is the best time of the year. There's so much joy in the air while families spend quality time together and attend all the holiday functions. Nevertheless, there is still shopping to do, but I have something to help you prepare for the massive wave of wishlists. Today I want to share my ultimate gift guides for that special someone in your life. Whether you are shopping for him or her or everything in between, I've covered you. So let's get Started!
Gifts For Girls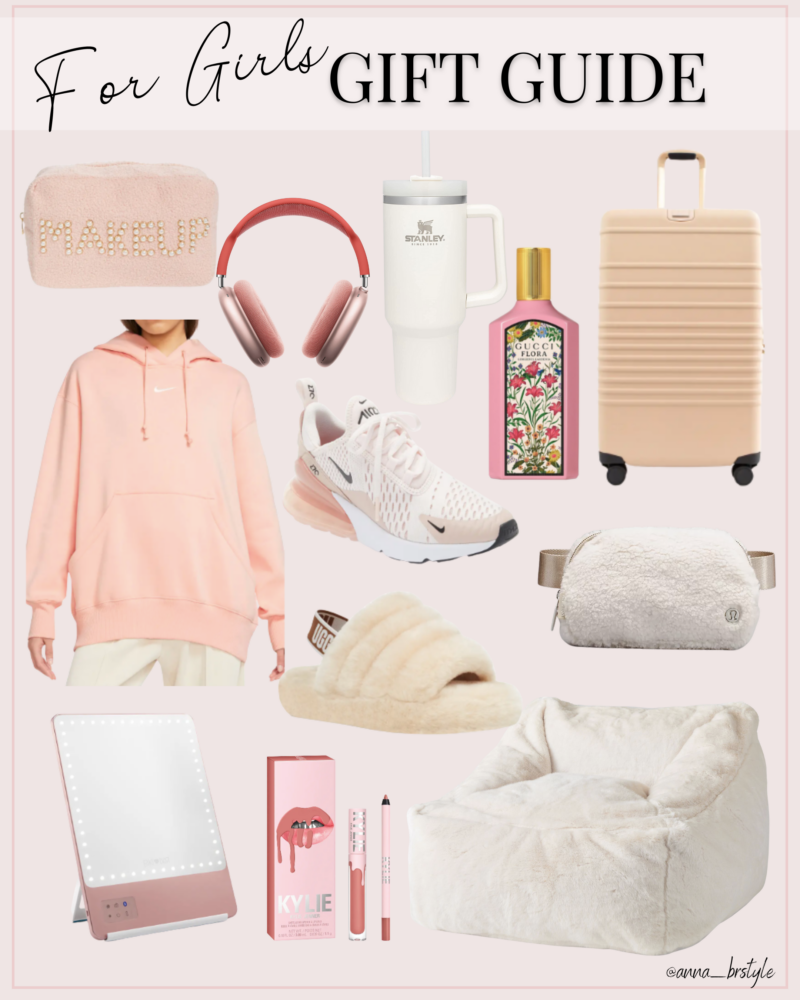 In my opinion, girls are the easiest to shop for, it might be controversial, but there are so many options in this department. Starting with a gift everyone would love is the Apple AirPods Max Wireless Over-Ear Headphones, and I'm obsessed with the pink color. Another item that is great if you're not sure what is her favorite color and want something on the safe side, this Polar Bear Ivory Modern Lounger is the perfect gift. Any girl would appreciate this gift, a comfortable spot she or her friends can hang out in. Next is the famous Flora Gorgeous Gardenia Eau de Parfum by Gucci; this scent is phenomenal, and a girl can never have too many fragrances. Finally, the last item for the girl is a must-gift idea if she doesn't already own it. The Everywhere Fleece Belt Bag by lululemon is super cute and easy to wear with almost all casual outfits and is a perfect size.

Luxury Holiday Gift Guide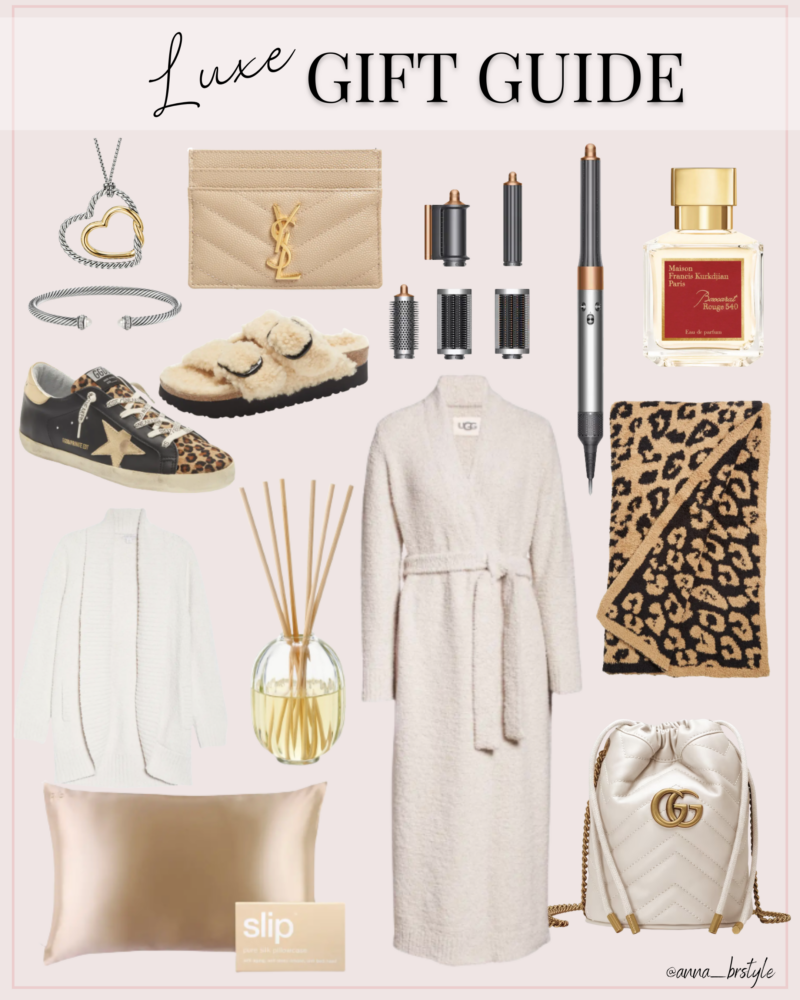 If you have someone special in your life and want to spoil them this Christmas, I have you covered in that department. For starters, the DysonAirwrap™ Multi-Styler is the main gift option, I know these are very popular, and I'm here to confirm the hype, such a fantastic hair tool. On the more chic side of things, this Gucci GG Marmont mini bucket bag is to die for absolutely the design of this bag and how much space it has. For something a little cozier, the Barefoot Dreams® In the Wild Throw Blanket is one of the best quality blankets out there, fantastic quality, and guarantees it's the softest thing you'll ever feel. Jewelry is always a safe option for gifts, and this David Yurman 4mm Cable Classic Bracelet is the perfect way of showing how much you love that person.

Cozy Girl Holiday Gifts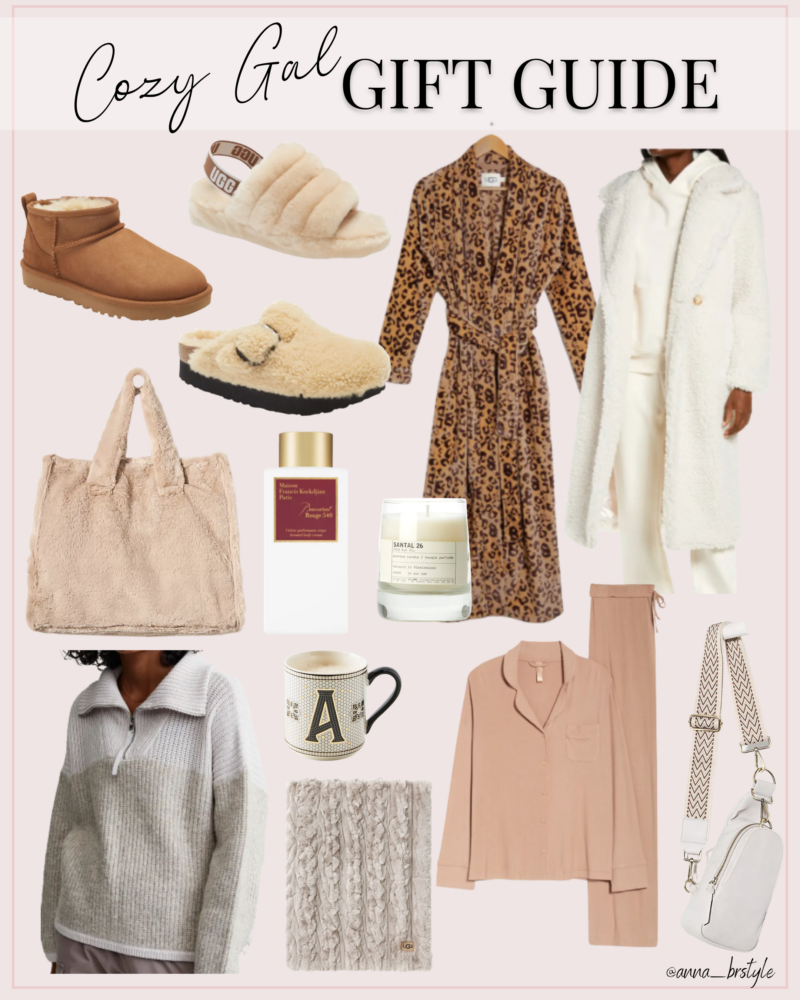 I have mentioned some cozy gift options, but these are the best finds yet. I love these gifts for Christmas because it's just a cozy time of the year, especially if you live somewhere colder. I love a good matching pajama set during the holidays, and these SKIMS Rib Pajamas are amazing quality and perfect for all year. The next item is UGG® Ultra Mini Classic Boots, which is all the rage right now and a solid gift idea. Circling back, if you live in a colder area, this UGG® Gertrude Long Teddy Coat is the most adorable winter coat and feels like a soft blanket. The last notable item is this Tiled Margot Monogram Mug, which screams cozy holidays. Not a bad idea to get some on an adorable mug with their initials; actually, it's brilliant!

Athleisure Lover
I told you I have every gift idea imaginable to help guide you through the holidays, including gifts for athleisure lovers. A good pair of leggings is a universal staple in any girl's wardrobe, and I love these Alo Airlift High Waist Midi Leggings; they are so comfortable. I know sneaker fashion has come back into style in the past few years, and if you are looking for comfortable and cute shoe, I suggest these HOKA Clifton 8 Running Shoes. The next item I love and can't live with is the Stanley 40 oz. Quencher Travel Tumbler is terrific, and I love how it's smaller at the bottom, so it fits into cupholders! Lastly, a casual bag to go with this laid-back aesthetic is crucial, and these MZ Wallace Small Metro Deluxe Tote and Gucci GG embossed belt bags are great options.

Beauty Lover Picks
Wrapping up on the gift ideas for her are some fantastic beauty products that are worth the splurge for the holidays. Starting with my favorite option is the slip Pure Silk Pillowcase. Switching to silk has many benefits for hair & skin care, plus they have attractive color options. Next holiday kit is a deal for this Charlotte Tilbury Pillow Talk Lip Secrets Set. These products are all amazing together and really do complete the perfect lip combo. Finally, this Riki Loves Riki Riki Cutie Portable Lighted Mirror is super handy for traveling and doing your makeup on the go. Speaking of on-the-go, these Los Angeles Teddy Stuff Cosmetics bags are adorable and of outstanding quality to last through all your adventures.

Holiday Gifts For Him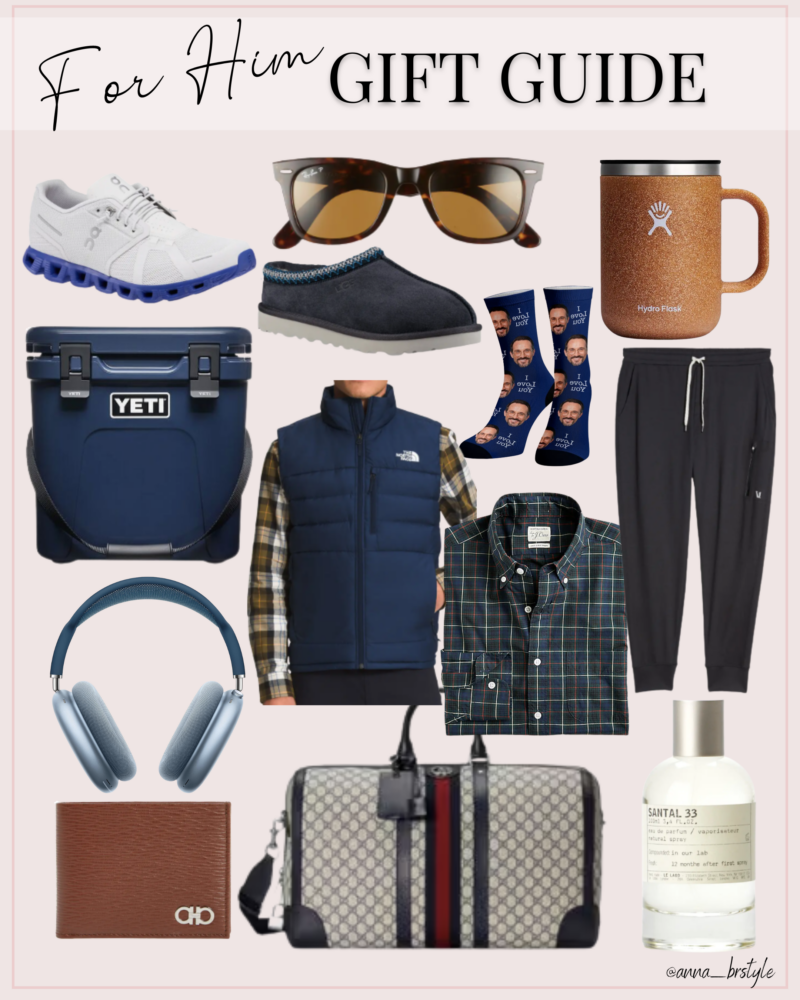 Moving onto gift options for him is probably the hardest to shop for, in my opinion. However, I think I nailed it with some solid choices starting with this Roadie 24 Yeti Cooler. This is a great option because everyone can benefit from a nice cooler. If you feel like spoiling him this year but are not too sure about what, this Gucci Savoy large duffle bag is a top pick, especially if he's a traveler. For a more practical gift idea, I always get the man in my life a wallet every year. I can't think of anything else. Another safe gift choice is this Sunday Performance Jogger Sweatpants; what guy doesn't love a nice pair of sweats for lounging around in during the holidays?

Amazon Home Gifts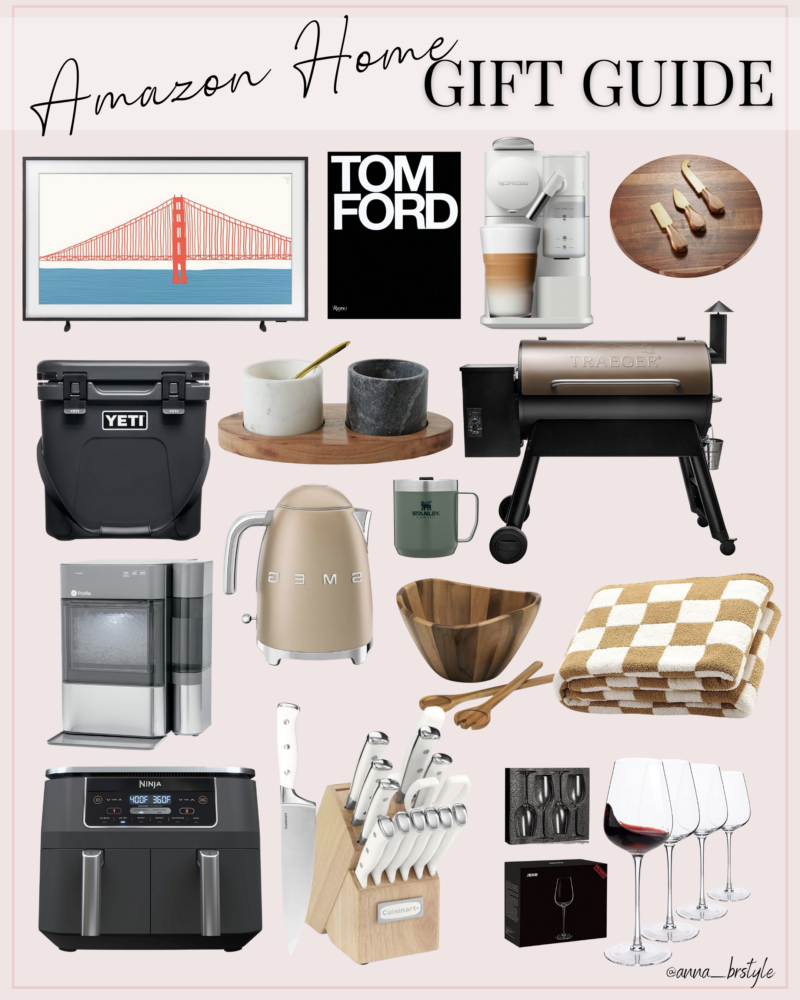 Home gifts are always a great idea for anyone, especially if you have some Christmas parties planned you need gifts for. These can be found on Amazon, making your holiday shopping much more manageable. Starting with these Hand Blown Italian Style Crystal Bordeaux Wine Glasses, love these for gifting to friends, especially if they are wine lovers like me. If someone in your life doesn't already have an Air Fryer, this is your sign of changing their life. A safe option is this Godinger Cheese Board and Knife Set, which is excellent for dinner parties or a charcuterie board date night. Last but not least, if you have friends with amazing home taste, this Tom Ford Hardcover is a fabulous coffee table piece.

Holiday Home Gifts

Moving on to specifically holiday home finds, this is where the good stuff is. I adore holiday collections of home decor, and you can usually find pieces with unique features. For example, this Frenchie Wine Bottle Holder is one of the cutest items I have seen this season and the perfect gift too! Another great option is this Champagne Chiller that will keep your drinks chilled all night on New Year's Eve. Every home can benefit from a nice throw blanket, which is great for snuggling up during the holidays. This Georgie Cozy Knitted Throw has an adorable pattern and the perfect thickness. Last but not least is the Frame TV by Samsung; this is a bit of a splurge but definitely worth it for the right person.

Holiday Party Host Essentials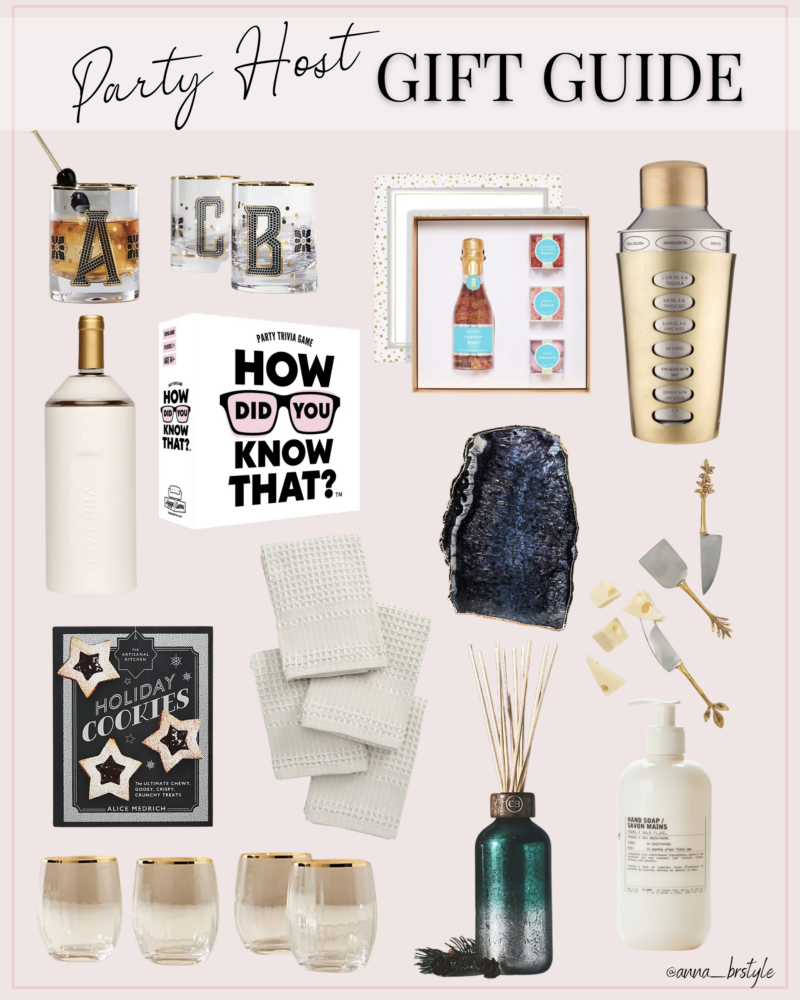 If you are attending holiday parties this year, consider your host & show your appreciation towards them with a thoughtful gift. Of course, you never want to show up to a party empty-handed, so consider bringing The Artisanal Kitchen: Holiday Cookie Book to give your host some holiday recipe inspiration for the next occasion. For serving purposes, consider grabbing these adorable Herbiflora Cheese Knives to have displayed at the function. Or, if you want to be fancy, this Agate Cheese Board is a masterpiece on its own. Last but not least, I would snag these Waffle Kitchen Towels to help with clean up during the after-party.

Gifts For Teachers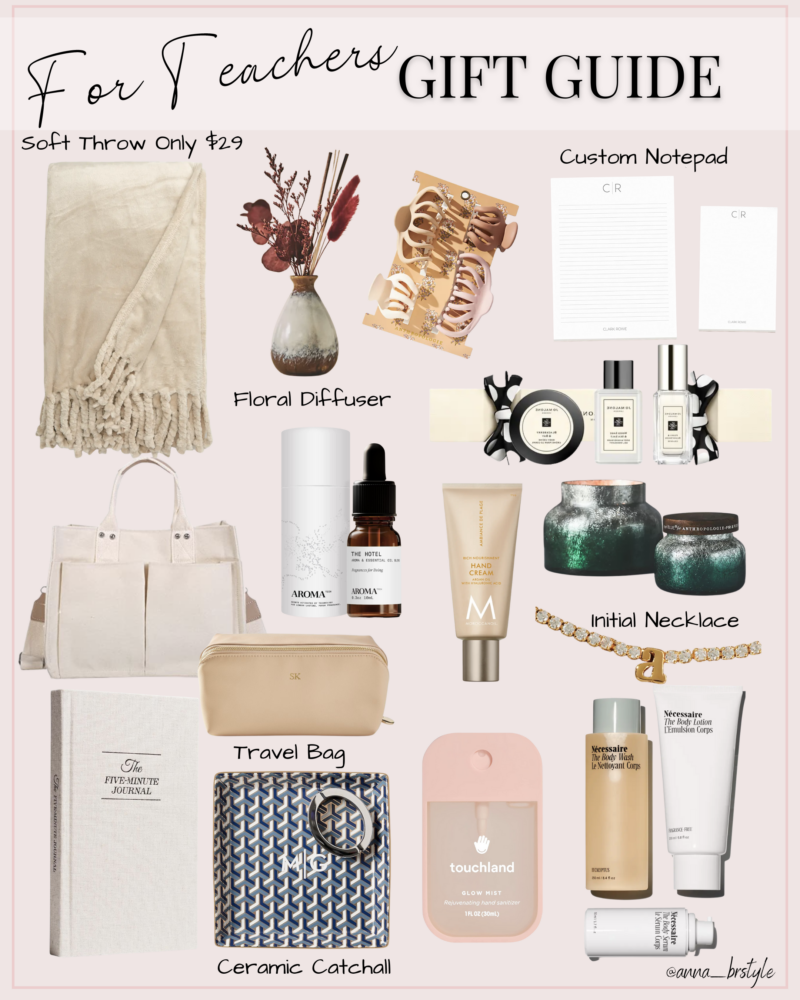 Did you think I forgot about the teachers? I told you I've covered everyone in the gift department this year. Starting with one of my favorite picks is this Floral Diffuser, which is super unique, and I think it would be super cute in a classroom. The next item is this adorable Catchall Tray that you can monograph to your teacher's initials, making it extra special. Next, this Touchland Hand Sanitizer is very to leave on the teacher's desk, a super fun gift. Finally, I love the idea of this Five Minute Journal, and I think a teacher would appreciate it just as much.

I love the holidays even though the shopping part can get overwhelming. Let me know in the comments if you want to see more gift ideas and what items you loved. Thank you so much for visiting the Blushing Rose Style blog. As always, all views and opinions are mine.